Word Count:

4500
Summary: In love, time is relative, until they run out… Regulations limit time digger Ish and time cop Kabal, born years and worlds apart, to two dates a year, making every date precious. But when Kabal announces his retirement at their tenth anniversary, what should have been a happy occasion might be their last night together. Previously appeared in Storm Moon Press' Sweethearts & Seduction anthology
A Time Traveler's Valentine
Word Count: Information not available
Summary: Morgan Patterson came to Northern Ireland for her senior college year abroad to focus on her studies far away from family drama. But she's quickly distracted by a police sergeant named Tiernan Doherty. Though he's old enough to be her da, as her new friends are quick to point out, she fancies him. And he certainly seems to be obsessed with her. Eagerly going against all good advice, Morgan becomes more and more bound to Tiernan—by ties of lust and love and protection, and maybe even duty. But there is more to their attraction than Morgan can explain with her science textbooks, and more is going on in the sleepy village where they live than she could ever have imagined. She was once so sure that fairytales were fiction. But there's no denying the strange visions and dreams she's been experiencing since coming to this place. So many of the people she's met—both those looking out for her welfare and those seeking to destroy her—seem to feel she is a special one, with powers that are only now coming fully into her possession. Will she finally begin to understand that herself before it's too late?
At the End of the Rainbow
Word Count:

36000
Summary: Being invisible makes it really hard to get laid. When half-human Kai Schiffer steps into the Interstices—the post-creation gaps between realms—his supernatural half kicks in and he literally disappears unless…well, don't ask. But in a stroke (heh) of good fortune, Kai finally has a chance to show his face (and other parts, stars willing) to his long-time crush Jovan Kos—Interstitial Law Enforcement agent, wolf warrior, occasional berserker, and best man at their mutual best friends' Imbolc wedding. Jovan, who's half in love with Kai already, is grateful his best man duties are light enough that he can focus all his attention on Kai. After all, with Enchanted Occasions Event Planning handling the Olesson-Pakulski wedding, what could possibly go wrong?
Best Beast
Word Count:

120000
Summary: U.S. Marshal James Creed has known loss, starting from the untimely death of his wife and daughter in a sudden fire. His work, chasing down and arresting outlaws across the Wild West, is all he has left to live for. Then one day, in 1876, the infamous killer Corwin Blake catches Creed by surprise and guns him down. Creed awakes after a mysterious young woman resurrects him in a basement laboratory beneath a brothel. Half alive, Creed feels torn between his need for justice and his desire to fall back into the peace of death. Creed's instincts drive him to protect the city of Santa Cruz, California, from the outlaws it harbors while searching for Blake. He uncovers a secret criminal organization, likely protecting Blake, determined to use resurrection technology for its own ends. The former marshal, now faster, stronger, and a more deadly shot than ever before, must work with a brothel madam, a bounty hunter, and the remaining marshals to uncover the criminal syndicate before they can misuse the machines of rebirth and create more mindless zombies. Meanwhile, he must also stop Blake, before the outlaw kills the only people he cares about. His own death can wait.
Bodacious Creed
Word Count:

139,000
Summary: In a condemned hotel, an intelligence operation to retrieve a DNA-altering bioweapon goes horribly wrong, sparking a scandal that could bring down an agency ... and a city along with it. Adasha Denali resolves disputes for Naion—using words, not weapons. But with her agency under fire and her mentor fed to the wolves, she'll have to get her hands dirty. Racing to discover who's undermining Naion's security and why, Adasha runs headlong into corporate mercs, an engineered spy, and a man losing his mind to a new form of intelligence. Meanwhile, the once-great immersion hacker Neon Nik is on the ugly side of broke, struggling to pay off circling loan sharks. When he inherits a piece of advanced tech that throws him into Adasha's path, threats of dismemberment become the least of his problems. Now he's got a vortex of hired killers on his heels and a decision to make: sell out or suit up.
Centricity
Word Count:

130000
Summary: The world was forever changed when a government genetic experiment created the Chromodecs from a dead alien in 1952. Decades later, when it became apparent that society needed a way to deal with a hybrid humans with unheard of powers, the CORP was created. The Chromodec Office of Restraint and Protection was a special government police agency formed to keep track of the Chromodecs. This particular tale involves two refugees, young babies who were sent down to Earth to escape being used as pawns in an interplanetary war, despite the fact that Earth itself wasn't so safe. Destined to be Q'sirrahna, or soul mates as the humans called it, Amari Losira Del Rey and Zendara Inyri Baen-Tor would grow to be more powerful than any other beings on the planet, if they could find each other first. After being forced to hide from the CORP when it's realized their powers could level entire cities, Amari and Zen will have to answer one question. Who will save the world when it all falls apart?
Children of the Stars
Word Count:

72000
Summary: Vampires and werewolves live long lives. The Sleepless City saga might have ended but the story continues… Welcome to the Vampire Guard, where legend and myth meet science and technology.   Vampires make the best spies. Throw a smart-mouthed werewolf in with three vampires, mix well, and The Vampire Guard's newest team is bound to become one of their greatest assets. Super spies with a full range of skills. Warrior, hacker, thief, and scientist.  They get in, do the job and get out before the bad guys ever know what hit them. Forge, Blair, Declan, and Lucas are thrust into the world of high-tech spies and top-secret espionage conspiracies. Recruited into the world's most elite and secret organization with one singular mission. Protect those who can't defend themselves from ruin. Life becomes complicated when an impending Presidential visit to their town, Boggslake, throws them headlong into the world of the vampires and werewolves of the Vampire Guard. Very quickly they uncover and confront a werewolf terrorist organization known as the Qiguan. Together they must thwart an assassination attempt on the open waters of Lake Superior while tracking a previously unknown biological weapon controlled by the Qiguan—a weapon which may very well mean death for one of them.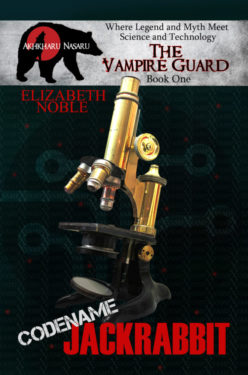 Code Name Jack Rabbit
Word Count:

119000
Summary: Most cops get to deal with living criminals, but Agent Kirsten Wren isn't most cops. A gifted psionic with a troubled past, she possesses a rare combination of abilities that makes her a powerful weapon against paranormal threats. Adrift in a society that fears people like her, she feels alone in a city of millions. In 2418, rampant violence and corporate warfare have left no shortage of angry wraiths. Most are little more than fleeting shadows or eerie whispers in the darkness, but every so often, one gathers enough strength to threaten the living. A series of attacks by androids known as dolls leave the normal police baffled. Unable to explain what made the machines malfunction, they punt the case to Division 0. Kirsten's investigation into who – or what – is behind the random murders soon makes her a target for corporate assassins. Despite her past, and the cynical city around her, she clings to the belief that no one is beyond redemption. Alas, the killer is desperate to claim as many innocent souls as possible, and one might just be hers.
Division Zero
Word Count:

135408
Summary: Alexio Asmodai is the demon king of Eaglafonn, a small outpost kingdom in the Netherworld overruled by the Demon Lord Asmodeus. It is Alexio's responsibility to protect and police the frontier borders against any threats. He is an accomplished knight, so that part came easy. Eaglafonn is a cold and isolated kingdom. Alexio needed to stay and build his castle atop the hot springs to beat an addiction to seduction sickness. After over seven centuries, he thinks his loneliness has finally come to an end when he opens a crate to find a woman sent by Asmodeus for him to keep safe. He falls for her instantly. She is a human woman, fragile, timid, and irresistible. He must follow his liege's directive, convince her to become his queen, and see that she is cared for properly in a place that is inhospitable to her existence. This leads to a realization that his castle lacks a lot to be a first-class home for a lady. Can a tainted demon prince rise to the challenge to become a true king and win the woman who stole his heart? Dread Allies 7-14 The Shadow king of Eaglafonn has chosen his queen, but his castle lacks the feminine element. To make her more comfortable, he orders the demon princes to seek out and claim their own mates. That is easier said than done. Eaglafonn is a cold dark isolated kingdom in the Netherworld. It might be easier to claim mates from the Domhain, but not everyone could survive on the brutal dangerous frontier. The other options afforded from the Netherworld come with their own dangers. The magic is unbalanced and balancing comes with a price. Claiming their mates lead the demon princes on epic mini journeys and reveals the need for Eaglafonn to take a greater role in helping Luke aid the dream. Dread Allies is a miniseries set in the Netherworld in the dream. It is an ancillary group of stories to the Draoithe saga. While it is set in that world, it is not in the direct series lineup. The dream just got darker and colder. Welcome to Eaglafonn.
Dread Allies: Shadow King
Word Count:

85000
Summary: ALSO AVAILABLE FROM INGRAM FOR BOOKSTORES We're a world beset by crises. Climate change, income inequality, racism, pandemics, an almost unmanageable tangle of issues. Sometimes it's hard to look ahead and see a hopeful future. We asked sci-fi writers to send us stories about ways to fix what's wrong with the world. From the sixty-five stories we received, we chose twelve most amazing (and hopefully prescient) tales. Dive in and find out how we might mitigate climate change, make war obsolete, switch to alternative forms of energy, and restructure the very foundations of our society, The future's not going to fix itself.
Fix the World Anthology
Word Count:

37,067
Summary: The son of a wealthy woman and an admiral tries to run away to the center of humanity only to end up… on a farm. There, he is introduced a radical new concept called "hard work." As he has to deal with life without the universe at his fingertips, he captures the attention of a farmer's daughter. And a local constable who believes an alien invasion is imminent.
Gimme Shelter (Seeds of War Book 3)
Word Count: Information not available
Summary: Charlie Harrington not only sees the dead and speaks with them, he can make them real. Lucky for him, because the love of his life, Ethan, isn't among the living. While their relationship is unusual, things are good between them until Charlie is accused of murder and Detective Daniel Briggs walks into his life. Then, for the first time in years, Charlie is attracted to someone alive. Ethan knows he should step aside and let Charlie live his life, but he just can't give Charlie up--even if staying with Charlie may eventually kill him.
He Speaks Dead
Word Count:

28000
Summary: Derek Herman is living a nightmare. Long before he was born, the planet was taken over by a mind-controlling alien race, and everyone is affected except for him. Derek does his best not to draw attention to himself, but it's not going well. Ocren Starburst is obsessed with his human neighbor. Every time he sees Derek, he wants nothing more than to grab him, hold him, and keep him forever. And four years of chasing him up the stairs in their apartment building has resulted in Derek refusing to even acknowledge his existence. That is, until Derek accuses Ocren of breaking into his apartment. Derek found a button on his living room floor, the same kind of button Ocren wears on his police uniform. And while Ocren hasn't broken in, he knows the button means someone has. Ocren's race has kept their shape-shifting abilities secret for years, but now his other form wants out to slaughter everyone that dares to get too close to Derek. And staying in control proves hard when threats toward Derek increase. Will they be able to keep Derek safe without Ocren losing control of his dragon self?
How to Soothe a Dragon
Word Count: Information not available
Summary: Genevieve doesn't know if her unhappiness and feelings of not fitting in are different from anyone else's on her college campus. Recovering from a break-up and struggling with depression, she takes comfort in her impulsive sketches of strange creatures to try to escape the dark cloud that looms over her. But the truth is her place in this world is a lot more complicated than she could ever imagine. With two strange men following her, vines that engulf her dorm overnight, and a cactus that overruns the campus library, she is forced to face the possibility that her origins are more mysterious than the fact that she was abandoned as a baby. Especially as a powerful urge takes hold of her to draw something new and frightening. Can it be that her reality is stranger than her imagination? The one thing she can't imagine is that her happiness and talents just might be the key to save or destroy an invisible world.
In The Drawing
Word Count: Information not available
Summary: Reva and Ansee face fresh threats as a new evil is imported into Tenyl and threatens the city with an undead plague. Constable Inspector Reva Lunaria's life is looking up. She's managed to put two groups of unruly adventurers in jail and she gets word that her boyfriend, Aavril, has just arrived in port. She is looking forward to a relaxing dinner, a present, and maybe some time getting reacquainted after Aavril's long absence. But Aavril's ship has delivered more than a cargo of spices and exotic merchandise and a new evil begins to take root within Tenyl. Reva's romantic evening is spoiled by news of a double murder. It should be a simple case, except that the victims have disappeared. Reva's investigation barely gets started before Lord Constable Inspector Betulla contrives a way to get Reva suspended. With Reva temporarily off the force, the murder investigation is given to Constable Inspector Pflamtael, who is looking to find the fastest resolution to the case. Meanwhile, Seeker Ansee Carya investigates what appears to be a simple missing person case, until he discovers that the missing people – including the two murder victims – have become zombies. Now, Reva, with the aid of a halpbloed cleric, must work from outside the constabulary to figure out who is creating the undead, and how to stop the creatures before all of Tenyl becomes infected.
Joy of the Widow's Tears
Word Count:

53000
Summary: Years ago, empath Elijah Long made a bad decision, and he is still paying for it. He's kept hidden from his abusive werewolf ex for years, but when he wakes in a dark room, cuffed to a wall, he knows he's out of luck. Elora, his psychic sister, will come for him, he just has to endure long enough to give her a chance to find him. Captain Kol Jaecar of Rockshade's Paranormal Investigations Department detests slow times at work, so when Elora wants time off to search for her brother, Kol treats it as if it's a real case and starts an investigation. What he assumed was a brother not picking up when his sister called turns out to be something else. Elijah experiences people's emotions so strongly, it prohibits him from living a normal life. Spending time in the city is out of the question, yet it's where Elora takes him once she finds him. Elijah does his best to keep his distance, especially from the growling man Elora brought to his rescue. Elijah will never make the mistake of getting close to a shifter again. The moment Kol smells Elijah, he knows he's his mate, but how to get close to someone who doesn't want to be near you? The man who abused Elijah is still on the loose, and Kol calls in the entire team to hunt him down. But how are they to keep Elijah safe when he can't be around people? And how will Kol stay sane if he can't touch his mate?
Mind Scrambler
Word Count: Information not available
Summary: This is book one of three. All books are full-length novels and must be read in order. All books are available now. The My Brother's Keeper Trilogy The town of Gilford has a Big and Terrible secret hidden in the ground. Infecting those it touches. Exploiting their darkness. Consuming their souls. It's hungry. It's vile. It's evil. And it wants out. Book One: The First Three Rules Marshal Jon Foster lost his purpose and his sanity the day he saw the image of his dead brother. The distraction saved Jon's life but cost the lives of innocent people including his best friend and partner. It was a price for survival Jon couldn't live with and was sure he'd never understand. Driven by grief and guilt he tried to escape his past by fleeing to a small town in the middle of nowhere. Only instead of peace, the memories festered. Then the offer of a stick of gum from a stranger changes Jon's life and puts him on a road out of the nightmare he's trapped in. Ellis Harper has lived the past twenty years isolated from the outside world and sole caretaker for his mentally disabled brother, Rudy. While Ellis loves his brother, he longs for a life he'll never be able to have. Shut away, his days consist of chores, endless cartoons, and games of Go Fish. A world that seemed to have no end until an innocent misunderstanding turns Ellis and his brother into a target for a town bully. It's a fight Ellis can never win on his own but thanks to a chance meeting with a stranger, he doesn't have to. What begins as a new journey in love for both men quickly unfolds into something neither of them could have ever imagined.
My Brother's Keeper (Book One): The First Three Rules
Word Count:

78,500
Summary: In the 23rd century, spaceships just don't go missing. FBI agent Ray Volk is assigned to a task force to investigate a tragic accident: the disappearance of interplanetary passenger liner ValuTrip Cardinal, carrying 500 souls between Mars and Earth on a routine run. What looks like a cut-and-dried case of pressure loss is complicated by the arrival of a Martian Captain. A very cute Martian Captain who keeps sticking his nose in Ray's investigation. Martian exchange student Kelly Rack knows the disappearance is no accident. She survived the ships' hijacking, but learns the former cruise entertainer leading the pirates has plans for the passengers, and they don't include sightseeing. Kelly has avoided the murderous pirates, except now an off-duty Earth Commander insists on organizing resistance for the passengers. She forces Kelly to climb through service tunnels on sabotage runs, risking capture and death. Can Ray shake down the right accomplices to capture the good ship ValuTrip Cardinal before its new captain spaces everyone on board? Will Kelly discover the pirates' hidden plans for their prisoners? The race is on, because One of Our Spaceships is Missing! Genres: Space Opera / Military Sci-Fi / Science Fiction / LGBT and Non Binary Market: Adult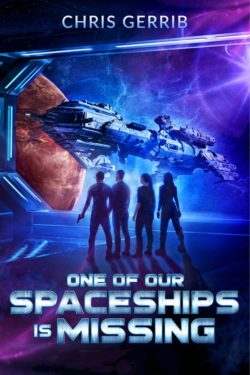 One of Our Spaceships is Missing
Word Count:

48821
Summary: More than fifty years before Leah Corbyn became a werewolf, Amélie Orne was cast out of werewolf society, manipulated into taking the blame for crimes she did not commit. After living for so long on the run as a Feral wolf, she found unexpected comfort and companionship from Leah and her lover Amy Oakley. As they grow closer, can she dare to hope for a real future together with them after a lifetime of betrayal and misery? Amélie has allies to stand with her now, but it will mean uncovering secrets long buried, and reopening dangerous old wounds...
Outcast's Song
Word Count:

95,000
Summary: Ian Trahan is a science prodigy with a genius streak like no other. Growing up in New Orleans under the strict guidance of a Deacon with a dark side, it leaves no question as to why he chose the life of crime. His understanding and use of DNA, computer hacking and looking like the guy next door, compiles a terrifying character that you will never forget!  Magda Volkov, a native Russian, works for the BAU division of the FBI.  Her clairvoyant ability is something that her director has learned to trust and use to their advantage, especially with a seeming "Ghost Killer" at hand. The deeper she gets into his psyche, the more they are both surprised when their strange vivid dreams begin to intertwine. Childhood experiences shape both the killer and the FBI agent who urgently wants to stop the grisly murders. Delve into the surprise twists and turns of this page turning thrill ride. The occasional comedic relief provides you with a brief release of the terrorizing heart palpitations!  This series is not for the faint of heart. Personas is the first in a new thrilling psychological crime series to come. Log into www.lauralollie.com to subscribe for the updates on the releases of the books to follow.
Personas Series