Word Count:
112000
Summary: The first battles against Artemis ended with both sides bloodied. Six months have passed, six months of meaningless negotiations but no hostilities. What is Artemis up to now? To a degree, it doesn't matter. Cass and Ken can't stop building, improving, tinkering:
A new, larger, more capable habitat, a true city in space.
An improved starship
A true space fighter, not just a shuttle with popguns
And they're expanding their reach onto Luna itself, trying to discover and disrupt from the inside. But a secret is about to emerge, a secret so dark and devastating even Kendra doesn't know she's been carrying it her entire life. One which could smash their plans without a shot being fired.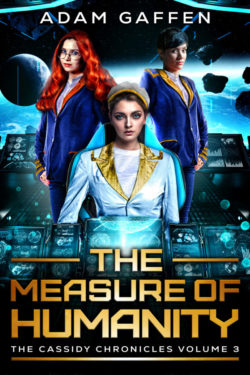 The Measure of Humanity
December 20, 2020
Word Count:
84000
Summary: Someone's hunting the Ungovernable. And they're not going to stop until every one of the crew is dead. When an enemy from ex-smuggler pilot Jez's past reappears, determined to extract revenge, the crew of the Ungovernable have two options: fight, or run. But when a hyperjump gone wrong leaves the Ungovernable crippled, her weapons down and her cloaking disabled, their options become scarce indeed. As they scramble to repair the ship with rapidly-dwindling supplies and even more rapidly-dwindling oxygen, their pursuers are inexorably closing in. And if they're going to survive, each of the crew will have to confront dangerous secrets from their past, before those secrets come back to destroy them. Time Bomb is the third book in R.M. Olson's science fiction space opera series The Ungovernable. With a crazy, close-knit crew, plenty of humour, and loads of action, Firefly meets Ocean's Eleven in this fast-paced, kick-ass, wickedly fun series.
Time Bomb
July 15, 2020
Word Count:
143365
Summary: Viva la revolucion! The Primus, Vasilia Newling, is facing her worst nightmares: A revolution on Luna Titan and the Asteroids abandoning the Solarian Union. Defections from within her own government. All because of those damned Cassidys! But she's still as ruthless as ever. And if Aiyana and Kendra thought she was playing dirty before? They're going to see how filthy she really can get. There isn't room for both the Terran Federation and the Union. This time, one is going down. For good. Return to the future for the fifth installment of The Cassidy Chronicles: Triumph's Ashes.
Triumph's Ashes
August 15, 2021
Word Count:
78000
Summary: She's lost her ship, lost her job, lost her reputation, and is on the run from the law. Jez is a damn good pilot, and she's always worked alone. Until she got picked up for smuggling, that is. Now she's an ex-con and ex-employed, and there are plenty of people with old scores to settle. So when a mysterious stranger in a battered pilot's coat comes to her with an offer that sounds too good to be true, she reluctantly agrees to listen. All she has to do is fly one little job. Four ex-convicts. One charismatic mastermind. And the most dangerous heist the System has ever seen. Firefly meets Ocean's Eleven in R.M. Olson's fast-paced, kick-ass, wickedly fun space opera series, The Ungovernable. Grab a copy and join the crew.
Zero Day Threat
May 15, 2020