Word Count:

128000
Summary: In the wake of a worsening climate crisis, magic runs rampant and demons roam across the Canadian prairies. A long-dead god stirs in the Pacific Ocean, while the wilderness is choked by invasive, screaming grass. The Cascade has shattered political stability, leaving a scandal-plagued government clinging to power in Ottawa. As catastrophe looms ahead, a precognitive rainman, Ian Mallory, stands between run-of-the-mill corruption and a nightmarish, dystopian future. It is up to a diverse and unlikely band of activists, scientists, journalists, and one underpaid, emoji-spell wielding intern to save their beleaguered country from its own worst impulses
Cascade
Word Count:

12500
Summary: SEALS Winged Insertion Command (SWIC) has based Tiger Bailey's operational SWIC-3 out of Howland Island near the Equator in the central Pacific, just a few kilometers away from Baker Island, location for the socket where Amelia Earhart Skytower terminates. Tiger Bailey's squad is tasked to drop from Low Earth Orbit (LEO) to Mayotte Island, northwest of Madagascar in the Indian Ocean, to rescue a U.S. Senator and his family who were taken hostage by pirates.
DAEDALUS COMBAT—Combat drop from Low Earth Orbit
Word Count:

15600
Summary: Following his successful base jump from Fred Noonan Skyport, Tiger Bailey undertakes the next step in the development process of the Gryphon hardshell wingsuit, a drop from Low Earth Orbit. Using the Gryphon-10 with enhanced navigation and computer control, and with a greater wingspan, he uses the Slingshot Space Launch Loop to gain Low Earth Orbit (LEO), but experiences equipment problems that nearly destroy him and doom the project. Ultimately, Tiger perseveres and drops into the Earth's atmosphere. He skips out in in several times before eventually making a harrowing but safe landing.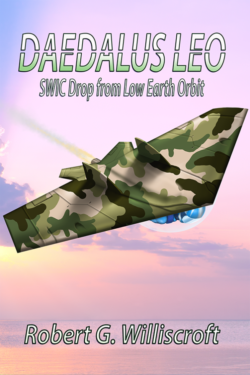 DAEDALUS LEO—SWIC drop from Low Earth Orbit
Word Count:

12300
Summary: After his successful proof-of-concept drop from Low Earth Orbit (LEO), Tiger Bailey's squad undertakes the next step in the development process of the Gryphon hardshell wingsuit, a coordinated drop from LEO by six team members. They tried to plan for every conceivable contingency, however, Mother Nature intervened with disastrous results.
DAEDALUS SQUAD—SWIC Squad drop from Low Earth Orbit
Word Count:

13500
Summary: Using a new Gryphon-7 hard-shell wingsuit, Tiger Baily, irreverent member of the Navy SEALS Winged Insertion Command, makes a harrowing first experimental base jump from the edge of Space, the Fred Noonan Skyport 80,000 meters above Jarvis Island in the Equatorial Pacific. Tiger's target, which he must reach to survive, is Kiritimati Island, a tiny isolated atoll 379 km northeast of Jarvis over ever-threatening and oh-so-deep ocean waters.
DAEDALUS: SWIC Basejump from Fred Noonan Skyport
Word Count:

94000
Summary: Braxton Thorpe has discovered a threat to the entire Solar System, but he has a problem: he's dead. Frozen at death, he awakens to find himself uploaded into an electronic matrix. Exploring beyond the matrix and the larger GlobalNet, he discovers the Oort, a distributed electronic entity older than humanity, with an unnerving secret: aliens wiped out nearly all life on Earth once, and are coming back to do it again. The mathematical entity that is Thorpe has to find a way to convince humans of the threat, and in time to do something about it. But how, and what? If you've read Niven's A World Out of Time or Taylor's We Are Legion, the opening of Icicle will only seem familiar. Buckle up for a wild ride; you ain't seen nothing.
Icicle: A Tensor Matrix
Word Count:

66000
Summary: Introducing a thrilling new space opera adventure! When a Martian politician is kidnapped en route to a summit of leaders from the Asteroid Belt, events are set in motion which will change the face of the Solar System... Katia Miranova believes in a free Belt. She's lived her entire life on Vesta, and she'll be damned if she lets a bunch of Earthers tell her how to run her station. But when Earth makes its move, Katia begins to suspect there's something more sinister at work behind the scenes... On the distant edge of the system, Francis Drake is a washed-up hack drowning in a bottle. He's seen the face of the enemy and he ran from it. But Drake is about to be dragged kicking and screaming back into the middle of a war for the very future of humankind!
Revolt on Vesta
Word Count:

138,300
Summary: Four silver foxes from Earth discover that true love and second chances are not just for the young. Fly with Me - Let the good times roll! That's Ava Martin's retirement plan at least, until gray aliens abduct her from the middle of the Nevada desert. In her hair rollers no less! Talk about a rude awakening for this UFO skeptic. Above the Storm - It all started with a dare. Robyn Martin Donahue's bestie says the Silverstar Agency can hook her up with an off worlder who will love and respect her, not try to rule her. As if. Wing and a Prayer - Happily ever after didn't work out. If Meryl Faulkner learned anything from her divorce, it's that she's not defined by any man. Especially not that annoying, self-serving…sexy winged alien who's divebombed into her orderly life. Trial by Fire - True love only happens once in a lifetime, right? Silverstar agent Nixy Vogel should be furious at the (smoking hot) alien trying to put the agency out of business. Instead, her shuttered heart burns for him. Welcome to the Silverstar Mates series, featuring intergalactic love matches for those over fifty.  Please note: This is a boxed set of books 1-4 of the Silverstar Mates series. Before you purchase this boxed set, please check your ereader to make sure you don't already own these titles individually.
Silverstar Mates Boxed Set
Word Count:

119500
Summary:  Slingshot is a love story—about a man, a woman, another man, another woman, some gender bending…and a machine, the largest ever built.      Slingshot is a mystery—about a missing aviatrix, a conspiracy, a true-believer. Slingshot is an adventure—about following a dream, the ocean-deep, outer space. Slingshot is about constructing the first space launch-loop stretching 2,600 km between Baker and Jarvis Islands in the Equatorial Pacific. It's about high finance, intrigue, unlimited ambition, heroism, fanaticism, betrayal…and about opening space to the common person. With a cast of 69, Slingshot takes you from Seattle's world financial district, to the ocean bottom at 5,000 meters off Baker Island, to the edge of space 80 km above. You play with dolphins and battle sharks. You fly and sail and dive, you work and play and love across the vast panorama of an Equatorial Pacific being put to leash to serve humanity's surge into outer space. While its accurate science and precise engineering will appeal to hard science-fiction buffs, Slingshot's major focus is the grand journey, the opening of outer space to the common person by men and women who loom larger than life as they work, play, and love.
Slingshot: Building the largest Machine in Human History
Word Count:

75000
Summary: One hundred years ago, the vampire Victory retired from a centuries-long mercenary career. She settled in Limani, the independent city-state acting as a neutral zone between the British and Roman colonies on the New Continent. Twenty years ago, Victory adopted a human baby girl, who soon showed signs of magical ability. Today, Victory is a city councilwoman, balancing the human and supernatural populations within Limani. Her daughter Toria is a warrior-mage, balancing life as an apprentice mercenary with college chemistry courses. Tomorrow, the Roman Empire invades.
Steel Victory
Word Count: Information not available
Summary: These interconnected sci-fi dystopian stories will transport you to a world teetering on the precipice of collapse. Join heroes who dare to challenge the shackles of oppression, embarking on dangerous journeys to seek freedom. As the shadow of destruction looms, some choose to fight, while others opt for escape. Yet, in the depths of tormented souls, hope emerges as a fragile yet resilient guiding light. Amidst the tapestry of deceit and cunning, clandestine agendas unfurl, weaving intricate webs of intrigue. The galaxy is engulfed in a war that threatens the fabric of existence. However, amidst the chaos, unexpected friendships and relationships are forged, transcending boundaries and divisions. Will righteousness prevail in the face of adversity? Can the seeds of change take root in the soil of uncertainty? Be enthralled by this omnibus edition, a gateway to the captivating Sehnsucht Series by Keyla Damaer.
Tales from the Sehnsucht Series Omnibus Edition
Word Count:

43000
Summary: What if the man you swore to protect ordered you to commit genocide? Fifteen hundred years after the Catastrophe, Inventor Benjamin Kerr built the domed neo-Edwardian city-state of Bridges in the center of the former U.S. Three hundred years later, Bridges is in trouble. King Taylor Kerr is elderly, the economy is struggling, and corruption is rampant. Forty years ago, a fence was built outside of the "Pot of Gold" — the city proper — to keep out the growing numbers of homeless. This number has increased to over a hundred thousand, whole generations knowing nothing but life in the tent camps. Xavier Alcatraz is head of the Palace Guard. When King Taylor is assassinated by his son, who then gives the order to slaughter everyone outside the fence, Xavier must choose between his vows and his conscience, making a choice which will affect Bridges for generations to come. Set 100 years before the Red Dog Conspiracy series, this dark, violent story brings you a collision of science fiction, steampunk, and war fiction - Downton Abbey meets Black Hawk Down in a city gone mad.
The Alcatraz Coup
Word Count:

79000
Summary: The Angel's sinister plan for humanity nears completion! Concealed in its lair, aided by the self-absorbed corporate heiress Michaela Cross, the Angel readies for ultimate victory. But that victory is not yet assured. The mysterious Djinn and her far-flung network of agents prepare to make their final, desperate stand against the alien invader. Katia Miranova has returned to Vesta. Her world is under armed occupation, but she has unlikely new allies: a hacker sent by the Djinn who just might be able to override the Angel's mind-control; and the leader of the Earth forces who helped the alien conquer Vesta in the first place! Ex-reporter Francis Drake knows he's the key to the Djinn's plans. He just doesn't know how or why. Rocketing towards Earth and a final showdown, guarded over by the irascible android Summer, Drake struggles with his conscience and fear. Five years ago, he ran from this battle. Now, he must return to save the woman he once loved ... and Humanity itself!
The Angel and the Djinn
Word Count:

36590
Summary: Can you drop from Low Earth Orbit (LEO) with just a hardshell wingsuit? Navy SEAL Derek "Tiger" Baily and his SEALS Winged Insertion Command (SWIC) develop an experimental Gryphon hardshell wingsuit that can do just that. Eventually, when the presidential front-runner is seized by pirates for ransom, Baily's 6-man SWIC team must hurtle around the world, staging critical re-entry for a rescue, challenged to solve life-or-death problems with only seconds to spare. Can they survive? Will they effect the rescue? Join Tiger Baily through all four adventures in sci-fi master Robert G. Williscroft's Daedalus series, now collected for the first time as The Daedalus Files: SEALS Winged Insertion Command (SWIC).
The Daedalus Files: SEALS Winged Insertion Command (SWIC)
Word Count:

161800
Summary: Following the dramatic events in The Starchild Compact, the starship Starchild departs on a 185-year interstellar journey. Meanwhile, the Iapetus Federation in cooperation with the Founders, descendants of the people who originally constructed Iapetus, expands to include the Mirs Complex at L-4, the Lunar Complex, a new habitat being constructed at L-5, the growing Mars settlements, and several asteroids including Daphne and Ceres. On Earth, America turns away from its world leadership position to focus on internal matters and the idea of an all-inclusive, multicultural society. Saeed Esmail, the stowaway Jihadist who played a significant role in The Starchild Compact, becomes the guiding prophet of a new form of Islam that quickly dominates the vanquished Persian Caliphate territories, and threatens the rest of the planet. Aided by Founder Asshur, the besieged Israelis reluctantly forge a new homeland on Mars, while the United States balkanizes into a half-dozen smaller units dominated by the Lone Star Conservancy under the leadership of Texan Sam Houston, who had earlier established the Lone Star Settlement on Mars. Science does not stand still. Founder researchers develop a longevity treatment that has the potential to extend human life indefinitely. The Starchild Institute, headed by former U.S. President Marc Bowles, develops advanced spacecraft, and a new form of transportation based on artificial wormholes. As the global Jihad on Earth heats up, most of the planet falls under the domination of Saeed Esmail, with only the Lone Star Conservancy, Columbia Freehold, Australia, and New Zealand left as independent territories. The Institute opens evacuation portals between Earth and Iapetus to rescue as many people as possible. While Earth sinks into medieval barbarism, the focus of human activity shifts from Earth to the Iapetus Federation as humans settle virtually every potentially habitable spot in the Solar System and begin planning for expansion into the rest of the Galaxy.
The Iapetus Federation: Exodus From Earth
Word Count:

75000
Summary: What if the person who hated you most was the only one who could save you? Thousands of gentlemen have gone bankrupt in Bridges and trouble brews between the Diamond and Spadros crime families. Yet the city is united in its desire to exact vengeance for those murdered in the zeppelin disaster. Penniless and alone, private eye Jacqueline Spadros confronts the lowest point of her life. Seen as an accomplice in the financial crisis and accused of a crime she didn't commit, Jacqui faces trial in front of a hostile jury - and could receive the death penalty. Jacqui knows she's been framed by the illusive Red Dog Gang. But will the jury believe her?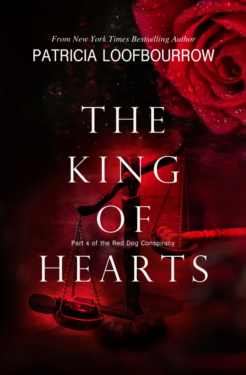 The King of Hearts: Part 4 of the Red Dog Conspiracy
Word Count:

107000
Summary: As the Oort Federation becomes a major force in the Solar System, Braxton Thorpe passes the Federation chairmanship to former US President John Butler. Thorpe's group offers humanity virtual immortality, but Isidor Orlov and his Udachny Enterprises oppose their every move. While terraforming Mars for more living space, the Mars Reds prove formidable as resisters. If the Asterian starship fighter pilots are released, will they align with Phoenix or Udachny, and who will develop the right FTL technology? In this tense space adventure, Thorpe, his team, and Max the tabby cat travel to Proxima Centauri and beyond to the Aster system, 84 lightyears distant. Will Thorpe bring together humans and Asterians in their quest for intergalactic travel? Will long life prove more than mere humans can handle?
The Oort Federation: To the Stars
Word Count:

93000
Summary: A militia officer on the hunt for a murderer. A scientist with the key to humanity's future. A girl locked in a glass tank. One seeking justice. One seeking fame. One seeking answers. With the galaxy on the brink of war, time is not on their side. Join them in their battle for survival.
The Parallels
Word Count:

131000
Summary: Are we the children of starchildren? The Starchild Compact is an adventure of heroic proportions, commencing on a planet 500 lightyears distant, arriving here just a few years from now, and ending up in the far distant expanses of the Universe. Is Saturn's moon Iapetus an artifact? To find out, Jon Stock takes his international exploration team on a 1.4 billion km journey to Saturn, but will Jihadist stowaway Saeed Ismail succeed in sabotaging the mission? On Iapetus, Jon Stock and his team meet the Founders. Where are they from? How did they get here? How will they impact Earth and the Solar System? Will the Founder's presence signal the end of humanity, or will it pave the way for a joint push to the distant reaches of the Galaxy?  The Starchild Compact is hard SciFi reminiscent of Arthur C. Clarke or James P. Hogan, with a geopolitical twist worthy of Tom Clancy or Clive Cussler.
The Starchild Compact: A Novel of Interplanetary Exploration
Word Count:

366200
Summary: This is a Kindle book and Audible book of all three volumes in the set.      The Starchild Trilogy begins with building a Space Launch Loop enabling massive movement off Earth and subsequent settlement of Cislunar-Space, Mars, and beyond.      Slingshot is the story of the struggle behind constructing the largest machine ever built stretching between Baker and Jarvis Islands in the Equatorial Pacific, and how the men and women behind Slingshot overcome the project's physical, economic, and human obstacles.      In The Starchild Compact, a team exploring Saturn's moon Iapetus discovers it to be a derelict starship, and meets the Founders, remnants of an ancient, advanced race, the Ectarians, that arrived in the Solar System 150,000 years ago. Together, they create the Starchild Institute governed by a document they call the Starchild Compact to further develop and introduce Ectarian technology to the Solar System. Using Ectarian technology, they develop near lightspeed spacecraft, artificial wormholes, FTL starships, and human longevity.      As human colonies expand into the Solar System, they form a governing coalition: The Iapetus Federation. While a united Islam pursues a global Jihad that rages across the planet putting millions to the sword, the Federation enables an exodus from Earth using artificial wormholes. From hand-to-hand combat in the oceans, to battles on Earth's surface, to the challenge of living off-Earth and reaching for the stars, our heroes fight to survive and to expand humankind to the far reaches of the universe.
The Starchild Trilogy