Word Count:
83400
Summary: Artists use all manner of materials to express their vision, to interpret the world around them, to affect the hearts and minds of their audience. But what if the artist himself were the medium? And what if artistic inspiration weren't the only force at work? If painter Stefan Cobbe and art investigator Luke Morganstern don't answer those questions fast, they stand to lose their reputations, their relationship — and their lives. **Omnibus edition contains both The Artist's Touch and Tested in Fire
Art Medium
June 18, 2018
Word Count:
113000
Summary: A twist of fate changed both their destinies. The wyrbears, once a long-lived species, were being lost to the forest in their prime. A people borne of a curse, their abilities not a gift but something wrongly taken, they nonetheless live in harmony with their animal spirits. But over time the curse they lived under changed, mutated, and now what once was a refuge from the world when they became too weary is culling mathan in their prime. Ewen mhic Friscalach, the leader of his peoples, lost his father too early and is now a widower with four children. The vow he made as a youth to break the curse afflicting wyrbears has been buried by grief and responsibility. Roi mhic Alric, a priest of Cerridwen and seer, watched his fellow priests slaughtered and his temple desecrated. The only thing that kept him going the last three horror-filled years was the vision Cerridwen had granted him of his emancipation. If freedom came at the cost of his life, well, he was more than ready for the Otherworld. A fated meeting upon a bloody field of battle. A wrong done long ago. Their choices could save a people… or send them into extinction. Either way, their love will be legend.
Caledonia Destiny
July 9, 2018
Word Count:
130000
Summary: The world was forever changed when a government genetic experiment created the Chromodecs from a dead alien in 1952. Decades later, when it became apparent that society needed a way to deal with a hybrid humans with unheard of powers, the CORP was created. The Chromodec Office of Restraint and Protection was a special government police agency formed to keep track of the Chromodecs. This particular tale involves two refugees, young babies who were sent down to Earth to escape being used as pawns in an interplanetary war, despite the fact that Earth itself wasn't so safe. Destined to be Q'sirrahna, or soul mates as the humans called it, Amari Losira Del Rey and Zendara Inyri Baen-Tor would grow to be more powerful than any other beings on the planet, if they could find each other first. After being forced to hide from the CORP when it's realized their powers could level entire cities, Amari and Zen will have to answer one question. Who will save the world when it all falls apart?
Children of the Stars
January 31, 2020
Word Count:
130000
Summary: When the slightest touch triggers visions of horror, you learn not to let anyone close. After more than a decade hiding from society, Seth Albright is sheltered. His visions make it a necessary evil. After a precocious emergence as a seer when he was eight, his mother took him to live in the woods. To protect him. When he can't take another day of isolation, Seth turns to SPIRE. There, he gets partnered with Roy Merchant as his anchor. Enough inexperienced psions have burned Roy by using him as a stepping stone to last a lifetime. Roy has seen scandals come and go in his time with SPIRE. Seth has seen atrocities most people couldn't imagine. But neither of them has seen anything like what's coming for them next. This is MM urban fantasy containing some mild BDSM elements and an age gap.
Clear Sight
March 29, 2020
Word Count: Information not available
Summary: The world of Avern has moved on. It has been almost a thousand years since the day the entire pantheon disappeared. Since the Abandonment, the mortals have learned to live without gods and goddesses. The world became mundane with little magic, and even less hope. Tyrants have risen, and those able to wield what is left of magic are powerful. Forces surge in the darkness that threaten to topple the already fragile world. The plight of the world of Avern is not unknown, however, and those that watch from a distance have decided to intervene. The mortals are sleeping, however, unknowing that two great powers will soon by vying for control.Then something happens that changes things. A young princess makes a bid for power by murdering her father. She then attempts to murder her sister, the crown princess of Lineria, Keiara. Despite a true strike, aided by dark powers, Keiara doesn't die. Instead, the strike pierces the barrier between her human soul and the soul sleeping within her, the soul of the Dark Phoenix. More than a goddess, the Dark Phoenix is the legendary mother of the gods. She is a part of the Eternal Phoenix that brought life to their world eons ago, one of the primal forces of the cosmos.
Dark and the Sword
Word Count:
109728
Summary: Henry Ross Murray was a Revolutionary War hero, and his house in Boston has been converted into a museum. Everything is original to the period… including the ghosts. The Ghost U team is called in to help figure out who's haunting the Colonial mansion in Beacon Hill. They encounter family secrets and angry spirits in the course of their investigation, and they learn that some heroes aren't as heroic as they seem. So much drama. And that's nothing compared to what's happening behind the scenes. Faces in the Fog: Ghost U Volume Two is a paranormal Reverse Harem adventure with horror elements and is intended for mature audiences.
Faces in the Fog
July 28, 2020
Word Count:
80000
Summary: Cling to the edge of your seat in this high-finance, high-stakes adventure. What do we do with knowledge of the future? Clairvoyant Ariel has been doing her best to ignore it, finding the whole thing a nuisance. But when she comes across people using similar abilities to get extremely rich, her interest is piqued. Then she discovers a second collection of gifted people. Their cause is less about money and more about ensuring the survival of the human race. That doesn't stop them from being as dangerous and crazy as the first group, however. Soon Ariel finds herself the object in a game of tug of war as each faction fights to have her--and her particular talents--on their side. She can't possibly help both groups. Aligning with either could be a terrible idea. But how can she stay out of it when so much is at stake?
Flickers of Fortune
December 21, 2014
Word Count:
46100
Summary: Miller College's Parapsychology Department has a student-run ghost hunting group that's all the rage on basic cable. The third season is about to begin filming, and the producers want to up the ante. The three macho, pseudoscience brosephs - Quinn, Tyler and Brent - are about to be joined by a very female psychic, Emma Ray. The team is instantly resentful of her presence on their show, and lead investigator Quinn has made it clear that he doesn't believe in psychics. They're going to give Emma the hardest of hard times until they can expose her as a phony. They're going to learn that Emma is the real deal, and that it's not always wise to bully a psychic when you don't know how many ghosts are in her posse...or exactly what you'll be facing in the next haunted house. "Ghosted by You" is a medium-burn Reverse Harem paranormal ghost-hunting adventure. Not suitable for readers under 18 years of age.
Ghosted By You
May 15, 2020
Word Count:
80,350
Summary: The sun and moon have been devoured by the cosmic wolves Skoll and Hati. Fimbulwinter has enveloped the world in the cold and darkness. Men prey on each other in order to survive. Amid the chaos, in the struggle for the throne, comes a war between brothers. Hakon, the illegitimate heir to the throne of Norveig, has obtained a horn that can summon a terror from the depths of the ocean. This monstrosity has been sinking the vessels of his half-brother, Jarl Erik Bloodaxe. Erik sends a company of untried heroes to infiltrate Hakon's stronghold and steal the horn. As with all things political, there are other agendas. Fjorn, the leader of the team, is Erik's half-brother who could challenge Erik for the throne. Erik's wife Gunnhild is a powerful sorceress with her own ambitions- could her goals derail the heroes? In life, sometimes a Jarl wins, and other times a Jarl wins.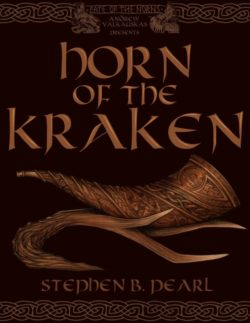 Horn of the Kraken
July 17, 2015
Word Count:
30008
Summary: Kyle Monroe's encounter with a strange, gelatinous creature in an alley leaves him scarred and forever changed, revealing odd abilities he wishes he didn't have and earning him reassignment to a precinct where all the cops have defective paranormal abilities. Just as he's starting to adjust to his fellow misfit squad mates, Kyle's new partner arrives. Tall, physically perfect, reserved and claiming he has no broken psychic talents, Vikash Soren irritates Kyle in every way. But as much as he'd like to hate Vikash, Kyle finds himself oddly drawn to him, their non-abilities meshing in unexpected ways. If they can learn to work together, they might be able to stop the mysterious killer who has been leaving mutilated bodies along the banks of the Schuylkill.
Lime Gelatin and Other Monsters
August 16, 2016
Word Count:
54000
Summary:
Lew's life is pleasantly boring until his friend Mira messes with magic she doesn't understand. While searching for her, he is pulled back in time to 1919 by a catastrophic magical accident. As he tries to navigate a strange time and find his friend in the smoky music clubs of Soho, the last thing he needs is Detective Alec Carter suspecting him of murder.
 London in 1919 is cold, wet, and tired from four years of war. Alec is back in the Metropolitan Police after slogging out his army service on the Western Front. Falling for a suspect in a gruesome murder case is not on his agenda, however attractive he finds the other man.
 They are both floundering and out of their depth, struggling to come to terms with feelings they didn't ask for and didn't expect. Both have secrets that could get them arrested or killed. In the middle of a murder investigation that involves wild magic, mysterious creatures, and illegal sexual desire, who is safe to trust?
Lost In Time
January 6, 2018
Word Count: Information not available
Summary: Love defies time, crosses the infinite distance of space, and sparks formidable magics in the hearts of those it touches. And immortality? Yeah, it's got that covered, too. In this powerful volume, Pop Seagull Publishing presents twelve science fiction and fantasy short stories on the theme of love and its role as a force of nature. Follow an ambitious 1930's journalist and her high-society boyfriend as they defend the world from evil beings that hide in shadows. Can love prevail when science fails? Take a wild ride with Zephraim Cochrane as he searches for his long lost love through inter-dimensional travel. After all, the best inventions are always made to get dates. Embark on a whirlwind romance with a creature of the Fey in seven days, a beautiful story of friendship and finding self-love before all else. Descend into a very Torontonian sort of hell in search of lost love in Melanie in the underworld... just don't forget to pet the corgi. You'll find these adventures, and many more, inside.
Love, Time, Space, Magic
March 29, 2015
Word Count:
53000
Summary: Years ago, empath Elijah Long made a bad decision, and he is still paying for it. He's kept hidden from his abusive werewolf ex for years, but when he wakes in a dark room, cuffed to a wall, he knows he's out of luck. Elora, his psychic sister, will come for him, he just has to endure long enough to give her a chance to find him. Captain Kol Jaecar of Rockshade's Paranormal Investigations Department detests slow times at work, so when Elora wants time off to search for her brother, Kol treats it as if it's a real case and starts an investigation. What he assumed was a brother not picking up when his sister called turns out to be something else. Elijah experiences people's emotions so strongly, it prohibits him from living a normal life. Spending time in the city is out of the question, yet it's where Elora takes him once she finds him. Elijah does his best to keep his distance, especially from the growling man Elora brought to his rescue. Elijah will never make the mistake of getting close to a shifter again. The moment Kol smells Elijah, he knows he's his mate, but how to get close to someone who doesn't want to be near you? The man who abused Elijah is still on the loose, and Kol calls in the entire team to hunt him down. But how are they to keep Elijah safe when he can't be around people? And how will Kol stay sane if he can't touch his mate?
Mind Scrambler
January 30, 2021
Word Count:
254
Summary: Nukekubi are a form of Japanese goblin that during the day look like ordinary folk. At night they separate their head from their body and fly around scaring people to death to feed on the energies released. Ray McAndrues, a Pagan wizard/priest, encounters a Nukekubi that is feasting on the people of Toronto and decides that he has got to put a stop to it. Ray gains allies in his quest in the form of two Japanese martial artists who have made hunting Nukekubi their life's work and his on-again, off-again girlfriend Cathy, who is also a mystic. Problems arise when east and west do not communicate wall and Cathy is his on-again, off-again girlfriend. Also, what is the centuries-spanning tie that binds Ray to the Nukekubi and will it help or hinder the quest?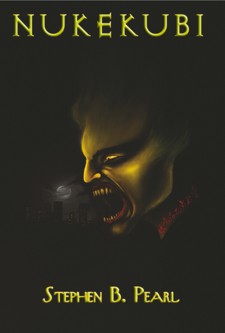 Nukekubi
January 8, 2012
Word Count:
80000
Summary: Celebrate the superhero in each of us in this unique exploration of the connections we forge. A young Nigerian telepath faces a crisis when her sister is forced into a frightening marriage, then disappears. Once Somadina cannot locate her sibling's thoughts, she seeks another telepath to help. What she finds is Lola, a busy Texan scientist who has ignored the disturbing phenomenon in her mind for decades, and has no intention of embracing this nonsense now. Yet these two women have more in common than they know, and a powerful link will be forged. When Somadina discovers her sister is a pawn in a dangerous political game, the stakes rise for everyone, including an ancient organization of telepaths compelled to intervene. For both women are stronger than they realize, and they have ignited the wrath of a fanatic willing to kill anyone to alter his nation's future.
One of One
February 20, 2012
Word Count:
90000
Summary: Join an extraordinary family on a heart-pounding adventure as they face mortal danger. Telepathy creates as many problems as it solves, as everyone in the secret organization x0 would admit. Those problems become much worse when budding psychic Lola discovers another group of telepaths associated with a powerful media empire. This group is willing to destroy anyone capable of challenging them. Soon, Lola's family and friends are in danger. Fortunately, they are gifted with astonishing abilities of their own. Yet, none of them know how to fight. It will take every power they possess, and the allegiance of a helpful warrior, to bring down the arrogant adepts who do the bidding of a man hell-bent on promoting destruction. Can the talented people Lola cares about learn to trust each other and work together in order to save the world?
One of Two
November 22, 2017
Word Count:
95,000
Summary: Ian Trahan is a science prodigy with a genius streak like no other. Growing up in New Orleans under the strict guidance of a Deacon with a dark side, it leaves no question as to why he chose the life of crime. His understanding and use of DNA, computer hacking and looking like the guy next door, compiles a terrifying character that you will never forget!  Magda Volkov, a native Russian, works for the BAU division of the FBI.  Her clairvoyant ability is something that her director has learned to trust and use to their advantage, especially with a seeming "Ghost Killer" at hand. The deeper she gets into his psyche, the more they are both surprised when their strange vivid dreams begin to intertwine. Childhood experiences shape both the killer and the FBI agent who urgently wants to stop the grisly murders. Delve into the surprise twists and turns of this page turning thrill ride. The occasional comedic relief provides you with a brief release of the terrorizing heart palpitations!  This series is not for the faint of heart. Personas is the first in a new thrilling psychological crime series to come. Log into www.lauralollie.com to subscribe for the updates on the releases of the books to follow.
Personas Series
June 6, 2020
Word Count: Information not available
Summary: The Education Continues at Providence Paranormal College! Five more books, no waiting. Read. Laugh. Catch a case of the feels. Book 6: Roundtable Redcap: Can Fred rescue his brother from the Fae Queen with just reluctant Psychic Irina to help? Book 7: Better Off Undead: Lane and his vampire punk band Night Creatures are broke and broken. Can they pick up their pieces and shine in a Battle of the Bands? Book 8: Ghost of a Chance: Ghostly Horace and his Medium, Bianca, must solve a mystery to save Professor Watkins. Book 9: Nine Lives: It's time for Olivia Adler to trust her instincts or Tony Gitano just might die for good. Book 10: Fae of Fae Knot: The family that's Fae together can't stay together. The series concludes as they bend the tantamount Faerie Law to its breaking point.
Providence Paranormal College
Word Count:
100700
Summary: When Xavier arrives home on the last day of school, he walks into a horrifying scene of his uncle being consumed by a demon. After being rescued by a vampire named Serea, he finds himself thrust into a dark reality as a fledgling witch. Now Xavier must chart a new life while within the confines of the mysterious organization known as Zora. Can Xavier and his fellow witches protect themselves and humanity from a plot that threatens their nation?
Rising
April 9, 2020
Word Count:
58,000
Summary:
Sequel to Lost in Time
Newspaper reporter Lew Tyler and his lover, Detective Alec Carter, are working out the parameters of their new relationship. Meanwhile, time traveler Lew is trying to decide whether he wants to stay in the 1920s or find a way to get back to 2016, and Alec doesn't know if he can bear the vulnerability of being in love with someone who uses such dangerous magic. Fenn is a Hunter from the Outlands, come through the Border to search for the murderous Creature and its offspring at the behest of the Ternants, who maintain the balance between Fenn's world and ours. Fenn strikes a bond with Sergeant Will Grant, Alec's second in command, who is keen to learn more about his own magical abilities. As time goes on, Will grows keen to learn more about Fenn, as well. Fenn has their own painful secret, and when they appear to have betrayed the team and goes missing in London, Will is devastated. He has to choose between following his heart or following his duty. Moving through the contrasting rich and poor areas of post-First World War London from West End hotels to the London docklands, the men need to work together to capture the Creature ... and choose who – and what -- is important enough to hold on to and what they may need to give up to make that happen.
Shadows On The Border
March 9, 2019