Word Count: Information not available
Summary: No (battle) plan survives contact with the enemy. Winning a war has never been just a cold collection of numbers on a tally sheet. The Faiths always play their part in fifteen stories exploring when things go wrong. With stories by James Chambers, Nancy Jane Moore, Maria V. Snyder, Jack Campbell (John G. Hemry), Bud Sparhawk, Peter Prellwitz, John L. French, Jeff Young, Keith R.A. DeCandido, David Sherman, Jeffrey Lyman, Judi Fleming, Danielle Ackley-McPhail, Eric V. Hardenbrook, and CJ Henderson.
Best Laid Plans
Word Count:

73000
Summary: ::The Seignso have our own plans for the remains of Genghis Khan.:: Alien warmongers have cloned an ancient emperor to lead an unstoppable army. Gifted with superhuman powers and advanced technology, he sets his sights on his home planet, Earth, and then... the stars! However, countermeasures have already been set in place. A young Iowa farm boy, oblivious to his powers or destiny, is thrust into a battle that will decide the fate of humanity against the new and improved Genghis Khan! A thrilling, interstellar adventure from the author of The Weller and War of the Worlds: Goliath!
Birthright
Word Count:

26000
Summary: Wilderness tour guide, Patrick Morgan, wakes to discover Harlan Quinn—the man he'd invited home for the night—has left, with no traces of his presence. Disconcerting as that might be, Patrick is shocked when the police turn up a week later, demanding to know Harlan's whereabouts. He's an ex-patrol officer, accused of manslaughter. Harlan Quinn is desperate. Not only has he been dismissed from the Space Patrol, on a charge he strongly denies, but now he is on the run.   He can't find a legitimate job. With no money and no prospects, what's left? When Patrick's tour group is caught up in a kidnapping plot, the last person he expects to run into is Harlan. With everything he knows, can Patrick dare to trust him?
Dangerous Love
Word Count:

16500
Summary: Spaceship Captain Luke Matthews has kept his sexuality a secret. What happens when the crew finds out? Is Lieutenant Kent as straight as he always believed? Will he hit him or kiss him, or both?
Dangerous Tension
Word Count:

24500
Summary: Heir to a wealthy shipping family, Adam S Hayes has his life carefully mapped out.  Career, marriage, family.  After establishing himself  successfully as Captain of the Patrol Ship Revel, it is time for the next step.  Marriage to Fiona Becker, daughter of the Capella space station manager, might not be the biggest romance of the year but there are strategic advantages in the alliance, and no-one is surprised when Fiona accepts his proposal. Everything is going according to plan ... until he meets Danyel King.  Tall, dark and handsome and as open about himself as he is about his homosexuality,  King throws all his plans into total confusion.  Trapped underground together after an explosion, Hayes seizes the opportunity to try something he's only dreamed of, but finds he is totally unprepared for the consequences - and the passion that flares between them. King knows exactly what he wants, and it isn't to be someone's secret lover! Troubled and confused, Hayes risks losing his chance for love as he finds himself torn between his heart and his head. Revised edition released 31st March 2016
His Guilty Secret
Word Count:

94000
Summary: Braxton Thorpe has discovered a threat to the entire Solar System, but he has a problem: he's dead. Frozen at death, he awakens to find himself uploaded into an electronic matrix. Exploring beyond the matrix and the larger GlobalNet, he discovers the Oort, a distributed electronic entity older than humanity, with an unnerving secret: aliens wiped out nearly all life on Earth once, and are coming back to do it again. The mathematical entity that is Thorpe has to find a way to convince humans of the threat, and in time to do something about it. But how, and what? If you've read Niven's A World Out of Time or Taylor's We Are Legion, the opening of Icicle will only seem familiar. Buckle up for a wild ride; you ain't seen nothing.
Icicle: A Tensor Matrix
Word Count: Information not available
Summary: When fire and steel meet flesh and bone, a soldier learns a hard truth: you're not fighting for Glory and Honor, but for survival, for you and your comrades, and you will be damned if you're going to leave any of them behind. Join us for twelve tales of military heroism and courage in the face of a hostile enemy. With stories by Brenda Cooper, Bud Sparhawk, David Sherman, Robert E. Waters, Jeff Young, James Chambers, Lisanne Norman, Robert Greenberger, Aaron Rosenberg, Christopher M. Hiles, Eric V. Hardenbrook, and Danielle Ackley-McPhail
In Harm's Way
Word Count: Information not available
Summary: Kal has always been considered too "fragile" to participate in the village activities. Her lithe stature links her to her father and distances her from everyone else. He left the village to fight in the Teristaque Wars and never returned. She meets Sarge, a strange star species of the human race who seems to know the secret of the patch from her father's uniform. Kal has always known she is different than her fellow villagers, and finally she may be closer to finding out why.
Kal's Fall
Word Count:

43000
Summary: Lieutenant Jack Alexander has wasted years, waiting for his best friend, Marc Duran, to return his affections.  Perhaps it is time to finally move on and find someone new. However, when Major Ethan Pattisson is sent to the planet Mayia to investigate the theft of hundreds of illegal weapons, Marc comes under suspicion, and Jack can't help stepping in to save him. When Jack finds himself caught in the middle between Ethan and Marc, he discovers that unrequited love might soon be the least of his problems.
Lunar Affair
Word Count:

46000
Summary: Lieutenant Mike Oliver has long dreamed of a Patrol ship berth, flying between the stars—surely this time his application will be successful. What he doesn't expect, is to be sent to establish a Patrol station on Asra, a tiny mining settlement on a frozen mudball of a planet, blanketed with nitrogen storms. Deeply resentful, Mike suspects he is being discriminated against. The only option he can see is to become celibate, at least while he is on Asra. And that means rejecting the advances of both Callan Rian, the colony's flamboyant Governor, and sexy Dane, Callan's business partner, despite the growing attraction. While sexual tension mounts between them, a far more sinister danger is lurking, and when Callan is abducted, Mike will have to choose—between his ambition and his heart. (Gay / Romantic Sci-Fi) A novella in the Aurigan Space Saga
Night Traveller
Word Count:

100,000
Summary: Lida was their last chance for an uncolonized planet. But a world-spanning fungus had colonized it first. Agetha and her husband have spent their whole lives in the fleet's zero-G. Now all is turmoil as the fleet lands, discovering they are surrounded by a single fungal biomass spanning the entire planet. To build a new home, the fleet must confront a dangerous organism, and Agetha must decide if she can raise a family in this inhospitable landscape. Jane Brighton holds tenuous command over the colony and its administrators. She and the other gene-modded leaders emerged from their four-hundred-year suspended animation to find a crew much different from the one that departed Old Earth. Jane must direct the colony's fragile growth and defend it against being overrun by the fast-growing biomass. But there is something none of the colonists know. The massive organism that spans the planet is not simply a fungal mass, nor even a chimerical combination of species that once roamed the planet. The biomass has desires and goals, and one is to know these strange beings carving out a home in its midst. Download today to read of the colony's fate in Of Mycelium and Men! Genres: Space Opera / Science Fiction / Colonization / Alien Contact / LGBT / Non Binary / Trans Market: Adult
Of Mycelium and Men
Word Count:

78,500
Summary: In the 23rd century, spaceships just don't go missing. FBI agent Ray Volk is assigned to a task force to investigate a tragic accident: the disappearance of interplanetary passenger liner ValuTrip Cardinal, carrying 500 souls between Mars and Earth on a routine run. What looks like a cut-and-dried case of pressure loss is complicated by the arrival of a Martian Captain. A very cute Martian Captain who keeps sticking his nose in Ray's investigation. Martian exchange student Kelly Rack knows the disappearance is no accident. She survived the ships' hijacking, but learns the former cruise entertainer leading the pirates has plans for the passengers, and they don't include sightseeing. Kelly has avoided the murderous pirates, except now an off-duty Earth Commander insists on organizing resistance for the passengers. She forces Kelly to climb through service tunnels on sabotage runs, risking capture and death. Can Ray shake down the right accomplices to capture the good ship ValuTrip Cardinal before its new captain spaces everyone on board? Will Kelly discover the pirates' hidden plans for their prisoners? The race is on, because One of Our Spaceships is Missing! Genres: Space Opera / Military Sci-Fi / Science Fiction / LGBT and Non Binary Market: Adult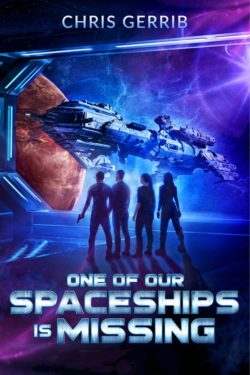 One of Our Spaceships is Missing
Word Count:

36600
Summary: Undercover agent Liam Connell stared at his captor.  He looked like a pirate from a holovid— black trousers, a white, puffy-sleeved shirt, and a purple sash wrapped jauntily around his waist. Wavy black hair fell to his shoulders and ... Connell couldn't believe it.  He actually had gold hoops hanging from his ears. The pirate ran his forefinger lightly down Connell's cheek and smiled. "Mmm! Mmmm! What do we have here?" Just what had Connell gotten himself into? (M/M Romantic Sci-Fi) Word Count 36,600
Pirate
Word Count:

66000
Summary: Introducing a thrilling new space opera adventure! When a Martian politician is kidnapped en route to a summit of leaders from the Asteroid Belt, events are set in motion which will change the face of the Solar System... Katia Miranova believes in a free Belt. She's lived her entire life on Vesta, and she'll be damned if she lets a bunch of Earthers tell her how to run her station. But when Earth makes its move, Katia begins to suspect there's something more sinister at work behind the scenes... On the distant edge of the system, Francis Drake is a washed-up hack drowning in a bottle. He's seen the face of the enemy and he ran from it. But Drake is about to be dragged kicking and screaming back into the middle of a war for the very future of humankind!
Revolt on Vesta
Word Count:

15400
Summary: Space ship Lieutenant Matthew Ferris has desired Daniel Peters, his ship's newest recruit, from the moment he saw him. But Peters is a lowly private and as the senior officer, Ferris knows he must wait for a sign that his feelings are returned before making an approach. When Peters follows him into a two-man capsule after a mission, Ferris thinks all his dreams are about to come true. What he doesn't expect is to discover a scandal that could tear his ship apart. Some call it rough play, he calls it unacceptable. A novella in the Aurigan Space Series. Gay sci-fi romance.
Rough Play
Word Count:

56800
Summary: Three Novellas: Rough Play - Lieutenant Matthew Ferris stumbles on a scandal that could tear his spaceship Jerez apart. Some call it rough play, he calls it unacceptable. His Guilty Secret - Heir to a wealthy shipping family, Adam S Hayes has his life carefully mapped out. Career, marriage, family. After establishing himself successfully as Captain of the Patrol Ship Revel, it is time for the next step. Everything is going according to plan ... until he meets Danyel King. Troubled and confused, Hayes risks losing his chance for love as he finds himself torn between his heart and his head. Dangerous Tension - Spaceship Captain Matthews has kept his sexuality a secret. What happens when the crew finds out? is Lieutenant Kent as straight as he always believed? Will he hit him or kiss him, or both? Gay romantic Sci-fi
Rough Play and More
Word Count:

107000
Summary: As the Oort Federation becomes a major force in the Solar System, Braxton Thorpe passes the Federation chairmanship to former US President John Butler. Thorpe's group offers humanity virtual immortality, but Isidor Orlov and his Udachny Enterprises oppose their every move. While terraforming Mars for more living space, the Mars Reds prove formidable as resisters. If the Asterian starship fighter pilots are released, will they align with Phoenix or Udachny, and who will develop the right FTL technology? In this tense space adventure, Thorpe, his team, and Max the tabby cat travel to Proxima Centauri and beyond to the Aster system, 84 lightyears distant. Will Thorpe bring together humans and Asterians in their quest for intergalactic travel? Will long life prove more than mere humans can handle?
The Oort Federation: To the Stars
Word Count: Information not available
Summary: Forty years after landing on Lida, the colony still isn't finished. Agetha has survived many more battles than she anticipated when she first landed on her new home planet. She's older and wiser, has gained family and lost loved ones. And yet her reward for four decades of service is to be pushed to the colony's outer edges with the other aging Generationals. But that was only the beginning of her adventure. The biomass has spent years studying the intruders who landed on its surface, carving a new home from its very essence. Never satisfied in its attempt to communicate with this new and invasive species, finally it has found a way to express its intentions. The colonists may never be the same. Discover the fate of the colony in the second book of The Biomass Conflux trilogy!
To a Fungus Unknown
Word Count:

63220
Summary: Alan Stewart, First Lieutenant on the space ship Qatar, and Captain Robin Lang of the Huan Police Force, have been best friends since their days in the Space Academy, despite the fact that Stewart is homosexual and Lang has a wife and son, Max. However Max is growing up and their friendship is threatened when Lang believes Stewart has designs on his son. When Max, now an adult and a recent recruit to the Qatar, is assaulted in a gay bar, Lang accuses Stewart.  In an attempt to protect his son at all costs, Lang finds himself drawn into a dark conspiracy of murder and blackmail. Meanwhile, Stewart has his own battles to fight.  Apart from defending himself against Lang's accusations, he discovers the young man he is falling in love with, Michael Banner, is the one man on the ship who is out of bounds, untouchable. Lives and love hang in the balance as Lang and Stewart search for the truth.
Untouchable