Word Count: Information not available
Summary: James Spencer is hardly the typical troubled youth who ends up at Whisperwood School for Boys. Instead of hating the strict schedules and tight oversight by staff, James blossoms, quickly making friends, indulging in his love of writing, and contemplating the merits of sneaking love poems to the elusive and aloof William Esher. The rumours about William's sexuality and opium reliance are prime gossip material amongst the third years…rumours that only further pique James' curiosity to uncover what William is really like beneath all that emotional armor. And, when the normally collected William stumbles in one night, shaken and ranting of ghosts, James is the only one who believes him. James himself has heard the nails dragging down his bedroom door and the sobs echoing in the halls at night. He knows others have, too, even if no one will admit it. The staff refuses to entertain such ridiculous tales, and punishment awaits anyone who brings it up. Their fervent denial and the disappearance of students only furthers James' determination to find out what secrets Whisperwood is hiding...especially if it prevents William and himself from becoming the next victims.
A Light Amongst Shadows
Word Count: Information not available
Summary: Memories of another life and lover guide her, but are they even hers? She is a Bearer—keeper of past lifetimes and gifted with strange talents. Ember must find her answers away from safe Longquan Village, snared instead in the sensuality and dangers of The City. Hidden among spider farmers and slaves, prostitutes and weavers, a nest of people like her are waiting. A powerful man outside The City raises his forces, determined to hunt down the 'demons' who could taint his followers. Threatened from without and within, can the Bearers even trust each other? Powers will rise and alliances will be forged in a dark new world. The Memory Bearers are coming. This book includes violent and mature content. Reader discretion is advised.
After the Garden
Word Count:

77000
Summary: There are worlds out there with a past. A past that is only poorly understood. The Song worlds are in that category. What are they? Why are they? What do they tell us about the rest of us? Should we investigate them or should we avoid them? What if our world was visited by the Song? Maybe that is not strong enough. What if ours is the result of a visitation by the Song. More to the point, what if they achieved what they wanted with us? What if it all went wrong? What category does the world of Forest come under? The inhabitants there only number a few thousand and they face numerous perils. Were they ever visited by the Song? Shanlee the story teller has been given the world to investigate. What is she in for? She has other things on her mind. She left the love of her life behind when she took this investigation on. Will she be waiting for her when Shanlee returns home? If she returns home? The people of Forest, the Kekimelu, have been deserted by their spirits but have not lost their beliefs. A young song writer decides he is going to ask the Song's representative on Forest some hard questions. The answers he gets may not be what he hopes for.
Air Song
Word Count:

73900
Summary: "It's not all about serving coffee and typing reports." Working for a secret organisation specialising in alien cover-ups, Connor Smith is no stranger to the abnormal or dangerous. His love life on the other hand… not so exciting. Until he reluctantly agrees to a blind date and meets the perfect bloke, Jason. Things are finally falling into place for Connor, so of course that's when he attracts an alien stalker. Noah Jones, ex-alien, has been stranded on Earth and forced to live as a human since 1648. Alone and detached from the world around him, Noah has spent centuries observing and recording humankind. In all that time, he's only experienced a connection with a human once… until he finds Connor. Even knowing Connor is in a relationship, Noah can't ignore their potential bond, or stay away. While dealing with missing alien artefacts, a dangerous and shadowy group of collectors, and the ever-present Noah, Connor finds his orderly life crumbling around him. At least he still has the perfect boyfriend… When Noah goes missing, Connor is forced to face the feelings growing between them and the mounting evidence that Jason isn't who he says he is…
Aliens, Smith and Jones
Word Count:

71000
Summary: The thrilling Voidstrider Saga continues... Shan Taishan dedicated his life to protecting Mars as an Officer of the Fleet. But now an enemy no one can see has come to the Red Planet, and it's up to Shan to save his sister and his homeworld - or see Mars fall forever! Prominent Martians have gone missing - only to turn up again days later, seemingly changed. Government leaders forward policies they'd never have supported before, and the Fleet itself seems riddled with traitors. There's a conspiracy at work, one which threatens to turn Mars into a brutal dictatorship. With his friends gone off to Eros - glittering asteroid city of sin - in search of the enigmatic Djinn, it's up to Shan alone to unravel the mystery and save his world. And when he learns the truth at last, Shan Taishan will be forced to make a terrible sacrifice -- or see his world lost forever!
An Officer of the Fleet
Word Count:

55300
Summary: Luxor City, a once lawless metropolis on the brink of civil war, is now at peace, but even in lighter times there are always shadows. In the technicolor streets of the Southern Empire, Junsu Sun, the Alpha heir to one of Luxor City's great crime families, busies himself by dealing with a blacklisted group known as the Underground. After taking down one of the Underground's notorious leaders, Junsu assumes he'll be given time to rest and recuperate, but his mother, Alpha Xijuan Sun, has a new mission for him, involving a luxury cruise and a new mate, Omega Kaito Yamaguchi, of the powerful Yamaguchi family. Ever the dutiful son, Junsu obeys his orders as if it were any other mission, but this sort of engagement isn't exactly the type of thing he's used to and Kaito Yamaguchi certainly isn't the sort of Omega he's used to either. Kaito is impatient, impassable, and impossible. He's a spoiled Omega who is pissed off that his family have reorganized his life and thrust him into this arranged mating with some Luxor City Alpha he's never met before. Kaito hasn't even seen a picture of Junsu Sun, a fact that Junsu uses to his advantage. Faced with a week spent trapped on a luxury cruise with a rude, bratty Omega who doesn't even know who he is, Junsu decides to play a little trick on his future mate. But just how far will he let things go and where is the line between a little trick and a painful deception? Meanwhile, other secrets floating between empires and continents are about to spill out onto the deck.
Between Empires and Continents
Word Count:

73000
Summary: ::The Seignso have our own plans for the remains of Genghis Khan.:: Alien warmongers have cloned an ancient emperor to lead an unstoppable army. Gifted with superhuman powers and advanced technology, he sets his sights on his home planet, Earth, and then... the stars! However, countermeasures have already been set in place. A young Iowa farm boy, oblivious to his powers or destiny, is thrust into a battle that will decide the fate of humanity against the new and improved Genghis Khan! A thrilling, interstellar adventure from the author of The Weller and War of the Worlds: Goliath!
Birthright
Word Count:

120000
Summary: U.S. Marshal James Creed has known loss, starting from the untimely death of his wife and daughter in a sudden fire. His work, chasing down and arresting outlaws across the Wild West, is all he has left to live for. Then one day, in 1876, the infamous killer Corwin Blake catches Creed by surprise and guns him down. Creed awakes after a mysterious young woman resurrects him in a basement laboratory beneath a brothel. Half alive, Creed feels torn between his need for justice and his desire to fall back into the peace of death. Creed's instincts drive him to protect the city of Santa Cruz, California, from the outlaws it harbors while searching for Blake. He uncovers a secret criminal organization, likely protecting Blake, determined to use resurrection technology for its own ends. The former marshal, now faster, stronger, and a more deadly shot than ever before, must work with a brothel madam, a bounty hunter, and the remaining marshals to uncover the criminal syndicate before they can misuse the machines of rebirth and create more mindless zombies. Meanwhile, he must also stop Blake, before the outlaw kills the only people he cares about. His own death can wait.
Bodacious Creed
Word Count:

108000
Summary: Fifty years after a coup replaced President Franklin D. Roosevelt with a fascist dictatorship, America is a land of hopelessness. Ben Adamson, a 19-year-old farm boy in southern Illinois, wants only to spend his time fishing and hunting. But when his dead brother demands justice for his suspicious fate in a colonial war, Ben and Rachel, his brother's fiancée, are drawn into an underground revolutionary movement. After staging a rally against the war, Ben and Rachel are arrested by the Internal Security Service, who have perfected the science of breaking people. Ben is given a choice: betray the rebels, including his best friend from childhood, or Rachel will be lobotomized. Although traumatized and addicted to a powerful drug, Ben refuses to doom anyone he cares about. Can he find a third option? Can he free Rachel and strike back at the dictatorship, while dodging the suspicions of police and rebels alike?
Born in Salt
Word Count:

52,000
Summary: A secret unicorn, a desperate family, and a cop dead set on hunting them down. Lem and the rag-tag gang of galactic adventurers on the starship Teapot are set to become roadies for the galaxy's hottest band – but an urgent call from Bexley's family means the rock stars will have to wait. Bexley's soon-to-be-born sibling has a big secret: wings. On planet Hwin, skeledivergence is outlawed, so the Teapot crew swoop in to help the family escape. But their planet won't let them go that easily. Hunted across the galaxy by a fanatical and eerily familiar cop, the Teapotters must find a way to outwit their pursuer and secure a future for skeledivergent people everywhere. Dive into the next adventure in this satirical space opera series. Artfully intertwining deep themes with tongue-in-cheek humour and intergalactic ridiculousness, Consider Pegasus is a must-read for fans of Ryka Aoki's Light from Uncommon Stars or TJ Berry's Space Unicorn Blues.  Scroll up and grab your copy now!
Consider Pegasus
Word Count:

12500
Summary: SEALS Winged Insertion Command (SWIC) has based Tiger Bailey's operational SWIC-3 out of Howland Island near the Equator in the central Pacific, just a few kilometers away from Baker Island, location for the socket where Amelia Earhart Skytower terminates. Tiger Bailey's squad is tasked to drop from Low Earth Orbit (LEO) to Mayotte Island, northwest of Madagascar in the Indian Ocean, to rescue a U.S. Senator and his family who were taken hostage by pirates.
DAEDALUS COMBAT—Combat drop from Low Earth Orbit
Word Count:

15600
Summary: Following his successful base jump from Fred Noonan Skyport, Tiger Bailey undertakes the next step in the development process of the Gryphon hardshell wingsuit, a drop from Low Earth Orbit. Using the Gryphon-10 with enhanced navigation and computer control, and with a greater wingspan, he uses the Slingshot Space Launch Loop to gain Low Earth Orbit (LEO), but experiences equipment problems that nearly destroy him and doom the project. Ultimately, Tiger perseveres and drops into the Earth's atmosphere. He skips out in in several times before eventually making a harrowing but safe landing.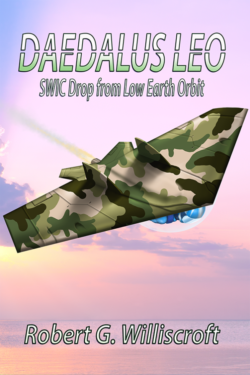 DAEDALUS LEO—SWIC drop from Low Earth Orbit
Word Count:

12300
Summary: After his successful proof-of-concept drop from Low Earth Orbit (LEO), Tiger Bailey's squad undertakes the next step in the development process of the Gryphon hardshell wingsuit, a coordinated drop from LEO by six team members. They tried to plan for every conceivable contingency, however, Mother Nature intervened with disastrous results.
DAEDALUS SQUAD—SWIC Squad drop from Low Earth Orbit
Word Count:

13500
Summary: Using a new Gryphon-7 hard-shell wingsuit, Tiger Baily, irreverent member of the Navy SEALS Winged Insertion Command, makes a harrowing first experimental base jump from the edge of Space, the Fred Noonan Skyport 80,000 meters above Jarvis Island in the Equatorial Pacific. Tiger's target, which he must reach to survive, is Kiritimati Island, a tiny isolated atoll 379 km northeast of Jarvis over ever-threatening and oh-so-deep ocean waters.
DAEDALUS: SWIC Basejump from Fred Noonan Skyport
Word Count:

79,025
Summary: Solving mysteries is her business. Finding love is her dream. Will combining the two get her killed? Victorian Era England. Stetson revels in being unconventional. So when society shies away from her independent nature, the bold woman creates an imaginary boss and opens her own detective agency. And her keen observational skills, convincing disguises, and Holmesian methods quickly bring in a string of tough-to-crack cases. Struggling to squeeze a personal life in around a series of hazardous investigations, Stetson worries she'll never find a woman of like-passions. But with her heart set on true love despite the risk, she carries on hunting for the perfect relationship. Will her clever escapades lead to death… or delight? Daring Duplicity: The Wellington Mysteries, Vol. 1, Adventures of a Lesbian Victorian Detective is a collection of five sequential novellas, each encompassing its own exciting mystery while furthering the story of Stetson's life in London. If you enjoy crime dramas, Victorian era fiction, or a sweet lesbian romance, then you'll love award-winning author Edale Lane's Daring Duplicity. Order yours today!
Daring Duplicity
Word Count:

39200
Summary: Years ago, all she wanted was to leave. Now, a web of secrets might ensnare her forever. When Iris Grey returns to her hometown of Ilmoure years after a bitter parting, she hopes for reconciliation in the face of a tragedy. Instead, she arrives to a town changed for the worse, a cold welcome from people she once loved, and a family that seems to be keeping secrets from her at every turn. When those secrets become too heavy to ignore, Iris starts to dig deeper. What she finds leads her to question her very perception of reality. Faced with old wounds and new revelations, Iris finds herself mired in a plot that threatens to swallow herself, the town, and the people she once loved.
Dark Heart of Ilmoure
Word Count:

84610
Summary:
Praise for Daughter of Maat:
"Sandy Esene has written a real page-turner. It's Dan Brown goes to Egypt with a delightful dash of Harry Potter thrown in. A wonderful read and she's got the Egyptology right!"—Bob Brier, Author of
The Murder of Tutankhamen
"If you like Egyptian Mythology and the excitement of Indiana Jones adventures, this book is for you!"— Pat Remler, Author of
Egyptian Mythology A to Z
Alex Philothea's quiet life as a research archeologist changes forever when she is tracked down by a secret society, the Keepers of the Holy and Noble Maat. Alex's father died years ago during an excavation in the remote Egyptian desert. The circumstances of his death have always been shrouded in mystery. Now the leader of this obscure organization promises to unlock the answers she has been searching for; the only thing she must do is save humankind.
Follow Alex into a world of myth and magic where the lines of reality blur at every turn.
Daughter of Maat
Word Count:

55000
Summary: Can a chance meeting rekindle their incendiary attraction? While cutting through the Interstices—the post-creation gap between realms—Smith, half-demon tech specialist for Enchanted Occasions Event Planning, spies the person he yearns for daily but dreads ever seeing again: the ifrit, Hashim of the Windrider clan. On their one literally smoldering night together, Smith, stupidly besotted, revealed his true name—a demon's greatest vulnerability. When Hashim didn't return the favor, then split the next morning with no word? Message received, loud and clear: Thanks but no thanks. Although Hashim had burned to return Smith's trust, it was impossible. The wizard who conjured him holds his true name in secret, and unless Hashim discovers it, he'll never be free. When their attraction sparks once more, the two unite to search for Hashim's hidden name—which would be a hell of a lot easier if they didn't have to contend with a convention full of food-crazed vampires on the one day out of the century they can consume something other than blood. But if they fail, Hashim will be doomed to eternal slavery, and their reignited love will collapse in the ashes. Luckily Smith is the guy who gets the job done—and Hashim is never afraid to heat things up. Devouring Flame is a 54,000-word enemies-to-lovers, second-chance paranormal rom-com featuring a down-at-heels carnival with sinister undertones, a minotaur with an affinity for flowers, a prima donna goblin berserker chef with serious knife skills, and a guaranteed HEA.
Devouring Flame
Word Count:

118937
Summary: Frank Grimes is a lowlife, no count, barely classifiable as a human, male who just happens to have enough sense to hire and retain qualified construction workers. He landed the contract to build most of Draoithe in January of 2016. He's not only worthless, but he's also criminal filth. He will do anything for an easy dollar. After the Draoithe housewarming party, his true colors shine through when he attempts to rape the architectural designer in her apartment after driving her home. Luke can't afford to let Jace kill him or allow Flame to turn him as dragonsworn, but there is no way that Frank can be allowed to just get away with what he's done. Even the Assassin King wants him dead, and he is the dragon called to serve one miscreant underking. Sentenced to house arrest and forced labor, Grimes seeks a way to fulfill the requirements Luke sets on him to gain enough respect that Javier will turn him into a canine shifter until he meets a blood demon who wants to help Luke out. Is it possible to totally rehabilitate the walking filth that is Frank Grimes into a real man in order to help him avoid certain death and turn him into a wolf? Or will the demon simply drink him dry and slowly end his miserable existence?
Draoithe: Filth and Death
Word Count:

107884
Summary: Julian Gypsun used to be a young man on his way to becoming a contractor. Everything changed when he died and was resurrected as a wizard's familiar. He was immortal and far better off physically than he had been as a human. Still, he was trapped with his life chained to a giant of a wizard who had no problem abusing him in every way imaginable. Julian was powerless to stop it without ending his own existence. That is until he was yanked bodily through his own portal, transported to Draoithe, and assigned to babysit the visiting dignitary, Amazon Warrior Princess Zephyra, and try to convince her that her people should ally themselves with Luke and Draoithe. That sounded easy, but it wasn't. He liked her. He had no clue how to act on that. Best to avoid that altogether. Keeping her safe just might equal his death. (Please see her warrior princess title.) She was old and so far out of his league. Worse, she liked him and was determined to have him. He can't even consider that. She has no idea how broken he really is.
Draoithe: Midnight Magic