Word Count: Information not available
Summary: When Selena Dillon is caught in an assassination attempt on her planet's ruler, she finds herself sentenced to twenty-five years servitude in the most feared military force, the Penal Regiments. Much to her surprise she enjoys the harsh military life and is quickly selected for officer training. But something's wrong, worlds are falling silent. There's no cry for help and no warning, just a sudden eerie silence. When a flotilla of ships is despatched to investigate they exit hyperspace to find themselves facing a massive alien armada. Outnumbered and outgunned the flotilla fight a rear-guard action, allowing one of their number to slip away and warn mankind. As worlds fall in battle, and mankind's fleets are decimated, Selena is selected to lead a team of the Penal Regiment's most battle-hardened veterans, in a last ditch attempt to destroy the aliens' home world. If she fails mankind is doomed. Little does Selena know that one of her crew is a psychopathic killer and another is the husband of his victim. Can she hold her team together, get them to their target and succeed in the attack? Selena knows that if she fails then there will be nothing at all left to go home to.
A Pride of Lions
December 3, 2013
Word Count:
73,151
Summary: Time travel. For mages, it violates their number one rule: what the Mother has written, let no one unwrite. The Mother writes the destinies of the creatures on the world of Karishian. If her writings were undone, it is feared that Creation itself could be undone. The dark mage Morgorth takes this rule to heart, but there are others who do not. Morgorth is about to claim a stone of power when it is stolen from him by a female mage he hasn't seen in decades. As they struggle for the stone, she activates it, and Morgorth is unwillingly plunged into another time and another place. It isn't long before he realizes what time he's found himself in and there are a few familiar faces. Most notable is a much younger version of Aishe. His mate. Living with a tribe who will be massacred, caring for a young lad who will become his mate, and fighting a battle against a mage who can travel from past to future at a whim—Morgorth's life has never been easy but now he must contend with the will of the Mother. Unable to change the future and the tragedies of Aishe's life, he must decide what his role in his mate's past will be, and ask himself one vital question: how does one defeat time?
Agate: Then and Now
May 2, 2017
Word Count:
184000
Summary:
An unexpected romance. A space-heist gone wrong. A galactic catastrophe in the making.
At the furthest reaches of the known galaxy, cyber-thief Rowland Hale's biggest score turns into a fight for his life.  Beaten but not broken, ex-navy captain Toar Grithrawrscion can save that life, but only by risking his own. With a toothy foe hell-bent on domination, can these two unlikely heroes come together and not only save the galaxy, but each other? Their destiny is in their hands, but only if they keep their hands to themselves. A high-adventure space epic with a touch of charming romance,
Allure of Oartheca
tells the story of two men from different worlds who must face battles both from without and from deep within – an Allure that whispers promises of rapture and destruction, that dares not be risked, and cannot be refused. If our heroes give up, they fail.  If they give in, they fail too – and the fate of the universe rests in the balance.
Allure of Oartheca
May 30, 2021
Word Count:
20000
Summary: A story born in the hollers of Eastern Kentucky. Elizabeth Robinson. An Elizabeth Robinson has lived in the hills of Eastern Kentucky as long as people have built permanent settlements in the lush, green forests. While the mountains recover from the War of Northern Aggression, the simple folk seek the healings of the Robinson women. Three generations, working the ways from the old country, live in isolation. The youngest Elizabeth Robinson, a healer by happenstance, despises her role in the family. She longs for freedom, the wilderness of her youth, an escape from a dark secret. Alone in the forest, she stumbles upon the ghost of a Yankee soldier, Samuel Henry. Determined to help Samuel pass beyond the veil, Elizabeth brings him back to her mountain home. Turning of the wheel of fortune, prosperity changes to misfortune for the Robinsons, and a menacing figure lingers like a thick fog. Generations, built on lies, force Elizabeth to face a bleak reality and make the ultimate sacrifice.
Apparitions of Elizabeth Robinson
December 19, 2019
Word Count:
92000
Summary:
The Charted Systems are in pieces. Mercy's Pledge is destroyed, and her captain dead. With no homes to return to, the remaining crew sets off on a journey to find the mythical planet of Ardulum—a planet where Emn might find her people and Neek the answers she's long sought. Finding the planet, however, brings a host of uncomfortable truths about Ardulum's vision for the galaxy and Neek's role in a religion that refuses to release her. Neek must balance her planet's past and the unchecked power of the Ardulans with a budding relationship and a surprising revelation about her own genealogy.
Ardulum: Second Don blends space opera elements and hard science into a story about two women persistently bound to their past and a sentient planet determined to shape their future.
Ardulum: Second Don
October 9, 2017
Word Count:
106,000
Summary: The planet wakes. Atalant is torn between two worlds. In uncharted space, head of a sentient planet, the new eld of Ardulum now leads the religion she once rejected. Emn is by her side, but the Mmnnuggl war brewing in the Charted Systems, threatening her homeworld of Neek, cannot be ignored. Atalant must return to the planet that exiled her in order to lead the resistance. She must return home a god, a hypocrite, a liar in gold robes, and decide whether to thrust her unwilling people into the truth of Ardulum, or play the role she has been handed and never see her family, or her world, again.
Ardulum: Third Don
June 4, 2018
Word Count:
171995
Summary: There will be time to crown a king, but first a warlord must rise. Arthur's battle summer is upon him, and he must be victorious if he is to claim his throne and rid the land of Saxon invaders. The teenage king has pulled the sword from the stone, but still the petty kings will not accept his rule. The Saxons are invading, Lot and Uriens are united against him, and he still has to prove himself to the common folk of the land. Next stop: the mysterious standing stones of the Giants' Dance and the Beltane ritual. Warfare does not wait for Arthur to catch his breath. Battle follows battle. Love is lost and found. Allies fall, enemies rise, and betrayals come to the young High King. If he stays strong, he can lead his people through a bloody summer. If not, all of Britannia will fall. Arthur alone will be responsible for the glory or ruin to come. Merlin will help him to see it through. But what secrets is the druid keeping? Arthur Rex: Dux Bellorum is the third installment in an epic retelling of the King Arthur legend. You only think you know the story.
Arthur Rex: Dux Bellorum
September 15, 2019
Word Count:
82290
Summary: Merlin has devised a test. All of the petty kings have gathered in Londinium to see who will be the next High King. Arthur and his retinue travel to the city in secret, but they are not the only ones with an interest in the Sword in the Stone. Morgana, Arthur's half-sister and the renegade queen of Rheged, has journeyed there with her Saxon lover, and petty kings have come with no kind welcome for the young High King. Arthur pulls the sword, but the kings will not accept him. He is given the temporary title of Dux Bellorum, and with Merlin at his side, he sets out to unite the tribes of Britannia as the Saxon threat grows more menacing on their eastern shore. Some battles are easy. Others are carried out in secret. It is the secret battles that Arthur will need to fear. "Arthur Rex: Ex Lapis" is the second installment of an epic retelling of the Arthurian legend. You only think you know the story.
Arthur Rex: Ex Lapis
July 20, 2019
Word Count:
100260
Summary: The High King is dead. While royal bastards and petty kings squabble for the power to take the vacant throne, only the druid Merlin and his succubus mother know where to find the late king's only legal heir. Arthur is young, idealistic, and living a quiet life at Caer Gai, protected by his foster father. Merlin put him there, and he will take him back out when the time is right, but first he has to set the stage and sweep away distractions… like the boy that Arthur loves. Merlin and his mother have plans for the hidden king, and they will stop at nothing to get him where they want him to go. But Arthur is no mere pawn, and though Merlin is a master manipulator, Arthur has ideas of his own about how his life should be. "ARTHUR REX: In Principio" is the first installment of an epic retelling of the Arthurian legend. You only think you know the story.
Arthur Rex: In Principio
March 16, 2019
Word Count:
20000
Summary: Living in a quiet house on the outskirts of town, Ginger isn't like the other girls. When she wakes up and discovers the unthinkable about her adoptive parents, she runs away and goes on a rampage straight to the only friend she has. Can she control what they both become? With a violent, growing hunger and more questions than answers, Ginger has nowhere to turn.
As Fast as She Can
April 11, 2022
Word Count:
125,000
Summary: For the past few years Yarroway L'Estrella has lived in exile, gathering arcane power.  But that power came at a price, and he carries the scars to prove it. Now he must do his duty: his uncle, the king, needs him to escort Prince Garith to his wedding, a union that will create an alliance between the two strongest countries in the known world. But Yarrow isn't the prince's only guard. A whole company of knights is assigned to the mission, and Yarrow's not sure he trusts their leader. Knight Duncan Purefroy isn't sure he trusts Yarrow either, but after a bizarre occurrence during their travels, they have no choice but to work together—especially since the incident also reveals a disturbing secret, one that might threaten the entire kingdom. The precarious alliance is strained further when a third member joins the cause for reasons of his own—reasons that may not be in the best interests of the prince or the kingdom. With enemies at every turn, no one left to trust, and the dark power within Yarrow pulling dangerously away from his control, the fragile bond the three of them have built may be all that stands between them and destruction.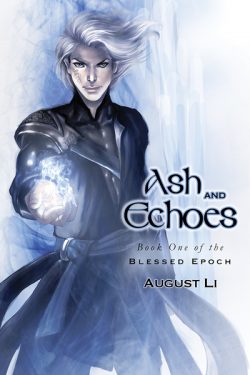 Ash and Echoes
June 15, 2012
Word Count:
83000
Summary: THERE ARE REASONS WE FEAR THE NIGHT. HE'S NOT ONE OF THEM. Bill Ryder was a dateless dork, but then he met a girl to die for – so he did. Too bad his death is about to make his life a hell of a lot more interesting. Now he's a vampire, surrounded by creatures stronger, deadlier, and much cooler than he is. They're giving him just ninety days to prove he has what it takes to be an apex predator of the night, assuming he doesn't give them a reason to dust his ass sooner. Bill isn't exactly average, though. A vamp like him hasn't been seen in centuries. He's got a few tricks up his sleeve, unexpected allies, and an attitude that makes him too obnoxious to quit. Good thing, too, because he'll need all the help he can get if he wants to keep from dying – again. Join him in this hilarious tale of bloodthirsty monsters, gory mayhem, and an unlikely hero who, fangs or not, is still at the bottom of the food chain.
Bill The Vampire
January 10, 2014
Word Count:
75000
Summary: Sleepwalking may be the death of me… again. I thought things would get better now that I no longer had assassins after my head. Although it's fun eating people who misgender me, I'm just so thirsty all the time. And until I improve, I'm barred from seeing Jack, my were-jackal boyfriend. My babysitter, I mean 'vampire mentor,' isn't much help either. As if things weren't bad enough, the amulet that started this mess is whispering to me. Calling me somewhere. I think it might be my mysterious maker. Judging by the trail of bodies they're leaving across the globe, I don't want to know what will happen if I can't keep resisting.
Bloodline of the Ancients
July 13, 2022
Word Count:
120000
Summary: U.S. Marshal James Creed has known loss, starting from the untimely death of his wife and daughter in a sudden fire. His work, chasing down and arresting outlaws across the Wild West, is all he has left to live for. Then one day, in 1876, the infamous killer Corwin Blake catches Creed by surprise and guns him down. Creed awakes after a mysterious young woman resurrects him in a basement laboratory beneath a brothel. Half alive, Creed feels torn between his need for justice and his desire to fall back into the peace of death. Creed's instincts drive him to protect the city of Santa Cruz, California, from the outlaws it harbors while searching for Blake. He uncovers a secret criminal organization, likely protecting Blake, determined to use resurrection technology for its own ends. The former marshal, now faster, stronger, and a more deadly shot than ever before, must work with a brothel madam, a bounty hunter, and the remaining marshals to uncover the criminal syndicate before they can misuse the machines of rebirth and create more mindless zombies. Meanwhile, he must also stop Blake, before the outlaw kills the only people he cares about. His own death can wait.
Bodacious Creed
August 17, 2017
Word Count:
65000
Summary: A young man sold into servitude has his loyalties tested in ways he never imagined. Raised in an orphanage in Dickens, Daniel doesn't know who his parents were, where he comes from, or even his last name. Like all orphans, on his 16th birthday, he's sold to the highest bidder. Not knowing where he's going, who's bought him, or what they even want with him, Daniel embarks on an adventure he never thought he'd take. He finds love, a family, and a secure future - yet in a split second, makes a decision he ends up regretting the rest of his life. Brothers begins fifteen years before the Red Dog Conspiracy series. Warning: Language, smoking, use of alcohol and drugs, attempted suicide by hanging, M/M underage sexuality with consent issues, forced servitude, blood, gun violence, a man being beaten by a horsewhip, murder, discussion of child prostitution, underage M/F sexuality with age gap (female older).
Brothers
June 1, 2022
Word Count:
88400
Summary: On planet Earth, it's aliens against humans and humans are losing the battle. While a few brave humans are ready to fight to regain their freedom from their alien conquerors, the future of the human race falls on Khara, a woman whose sole focus is her personal fight for survival. As the human population dwindles toward extinction, will the strange and reluctant friendship that develops between Khara and an alien show them all a new way - coexistence? Or will the human race finally be eliminated once and for all? This gritty alien invasion story is told from both human and alien points of view, a la C.J. Cherryh, and puts a new twist on the idea of "first contact."
Carapace
June 30, 2017
Word Count:
76600
Summary: Werewolves are apex predators. So why does she feel like prey? Territory, honor, the trust of her peers - Jordan Abbey has earned none of these from the supernatural residents of Rancho Robles. The werewolves shun Jordan as a creature without honor for siding with the vampires. The vampires dismiss Jordan as an unruly pet who needs to be kept on a much shorter leash. Chased out of the wilderness and not allowed to shift within the city, she is without any place for her inner wolf to run free. Someone is killing the servants of vampires. Soon vampires themselves fall victim. Each attack is linked directly to Jordan, fueling rumors that she is working to undermine the vampires' grip on the city. The werewolves dog her steps, harassing her whenever and wherever they can. Then, in the heart of vampire territory, the corpse of a werewolf who bullied Jordan is discovered. The children of the Wolf and the Bat are ready to go to war, and Jordan is caught squarely in the crossfire. Can one woman prevent the annihilation of the only place she calls home?
Chaos Hunt
June 21, 2022
Word Count:
95000
Summary: Bitten by a werewolf. Taught by a vampire. At this rate, she's going to start a war. Literature major Jordan Abbey ordered a double mocha latte, but it wasn't supposed to come with a side order bite by a love-sick werewolf. When a vampire comes to her rescue, gut instinct tells her he has questionable motives. But he's the only one she can trust to help get in touch with her inner animal. Within a week, her smart mouth lands her in trouble with the hostile alpha of the local pack and the stiff-necked vampire elder. She now has less than a moon cycle to master shape changing... or else. And the besotted werewolf who started this whole mess is stalking Jordan and killing her friends. He won't take no for an answer. In the Northern California town of Rancho Robles where the children of the Wolf and the Bat share an uneasy coexistence, one woman makes an epic mess of the status quo.
Chaos Wolf
May 15, 2018
Word Count:
75400
Summary: JT Austin. Hero of Amargosa's liberation. One of the Children of Amargosa. Now a Navy pilot. Serving with his comrade, Mitsuko Yamato, aboard the Queen Maria Sophia, he is handed what should be a milk run: Retrieve Lt. Cmdr. Edward Windsor from his garrison on a remote – and smelly – planet as he has just become king of Bonaparte, the Compact's only planetwide monarchy. However, an unknown attacker disables the Sophie, boards the ship with killer mechs, and sends JT with the new king and his entourage fleeing their ship. He will have to talk fast to make a deal with the enemy Gelt, summon his mentor Suicide for help, and get the king to safety. He will also discover he has at least one traitor in his midst. He will also discover his surrogate mother has a secret that will shatter his world.
Checkmate
February 8, 2022
Word Count:
87000
Summary: Dalí Tamareia has everything--a young family and a promising career as an Ambassador in the Sol Fed Diplomatic Corps. Dalí's path as a peacemaker seems clear, but when their loved ones are killed in a terrorist attack, grief sends the genderfluid changeling into a spiral of self-destruction.Fragile Sol Fed balances on the brink of war with a plundering alien race. Their skills with galactic relations are desperately needed to broker a protective alliance, but in mourning, Dalí no longer cares, seeking oblivion at the bottom of a bottle, in the arms of a faceless lover, or at the end of a knife. The New Puritan Movement is rising to power within the government, preaching strict genetic counseling and galactic isolation to ensure survival of the endangered human race. Third gender citizens like Dalí don't fit the mold of this perfect plan, and the NPM will stop at nothing to make their vision become reality. When Dalí stumbles into a plot threatening changelings like them, a shadow organization called the Penumbra recruits them for a rescue mission full of danger, sex, and intrigue, giving Dalí purpose again. Risky liaisons with a sexy, charismatic pirate lord could be Dalí's undoing--and the only way to prevent another deadly act of domestic terrorism.
Dalí
August 7, 2017