Word Count: Information not available
Summary: Memories of another life and lover guide her, but are they even hers? She is a Bearer—keeper of past lifetimes and gifted with strange talents. Ember must find her answers away from safe Longquan Village, snared instead in the sensuality and dangers of The City. Hidden among spider farmers and slaves, prostitutes and weavers, a nest of people like her are waiting. A powerful man outside The City raises his forces, determined to hunt down the 'demons' who could taint his followers. Threatened from without and within, can the Bearers even trust each other? Powers will rise and alliances will be forged in a dark new world. The Memory Bearers are coming. This book includes violent and mature content. Reader discretion is advised.
After the Garden
Word Count:

87000
Summary: In a world where everyone has a soulmate, uniquely powerful mage Royiora and reluctant assassin Kalo collide in the worst of ways. Royiora Daralkaen, the only mage alive able to use all five kinds of magic, has a near idyllic childhood in the country of Porescalia - before war breaks out with their antagonistic neighbors, Kloria. Kalo Porla, a naturally magic-proof individual known as a Null, is trained to be as an assassin by the authoritarian empire known as the Domain. When Kalo and his partner assassin are sent to kill a mage and his apprentice, it starts a journey neither man was prepared to begin. Content warnings: harm to children, physical and psychological abuse, implied (off-page) rape, violence, mature language, minors in implied sexual situations (teenaged romance), implied sexual situations, bigotry towards fictional races, and suggestive language.
All or None
Word Count:

88400
Summary: On planet Earth, it's aliens against humans and humans are losing the battle. While a few brave humans are ready to fight to regain their freedom from their alien conquerors, the future of the human race falls on Khara, a woman whose sole focus is her personal fight for survival. As the human population dwindles toward extinction, will the strange and reluctant friendship that develops between Khara and an alien show them all a new way - coexistence? Or will the human race finally be eliminated once and for all? This gritty alien invasion story is told from both human and alien points of view, a la C.J. Cherryh, and puts a new twist on the idea of "first contact."
Carapace
Word Count:

80435
Summary: A modern-day knight in shining armor is a man with a secret. He's an immortal direwolf shifter. A man who can trace at will into a lethally dangerous canine who holds the ability to step into the stillness and achieve any goal. When he finds himself without a career after retiring disabled from his last mission in the military, he has to rethink the direction of his life. He needs to reinvent himself before anyone realizes that he stopped aging at the age of thirty-five. He's learned just enough to make his existence a bit dangerous. The sexy high school teacher neighbor he's been near stalking has her own secret. She feels like everything and claiming her is all he can focus on. He's determined to win her as his own until a shadowy evil attacks her and reveals a situation that forces him to be the man of action that he's always been. To keep the woman he loves safe, he'll become the alpha pack leader he was born to be. A Pack Forms is the first volume in the steamy paranormal romance saga of Draoithe.
Draoithe: A Pack Forms
Word Count:

118937
Summary: Frank Grimes is a lowlife, no count, barely classifiable as a human, male who just happens to have enough sense to hire and retain qualified construction workers. He landed the contract to build most of Draoithe in January of 2016. He's not only worthless, but he's also criminal filth. He will do anything for an easy dollar. After the Draoithe housewarming party, his true colors shine through when he attempts to rape the architectural designer in her apartment after driving her home. Luke can't afford to let Jace kill him or allow Flame to turn him as dragonsworn, but there is no way that Frank can be allowed to just get away with what he's done. Even the Assassin King wants him dead, and he is the dragon called to serve one miscreant underking. Sentenced to house arrest and forced labor, Grimes seeks a way to fulfill the requirements Luke sets on him to gain enough respect that Javier will turn him into a canine shifter until he meets a blood demon who wants to help Luke out. Is it possible to totally rehabilitate the walking filth that is Frank Grimes into a real man in order to help him avoid certain death and turn him into a wolf? Or will the demon simply drink him dry and slowly end his miserable existence?
Draoithe: Filth and Death
Word Count:

107884
Summary: Julian Gypsun used to be a young man on his way to becoming a contractor. Everything changed when he died and was resurrected as a wizard's familiar. He was immortal and far better off physically than he had been as a human. Still, he was trapped with his life chained to a giant of a wizard who had no problem abusing him in every way imaginable. Julian was powerless to stop it without ending his own existence. That is until he was yanked bodily through his own portal, transported to Draoithe, and assigned to babysit the visiting dignitary, Amazon Warrior Princess Zephyra, and try to convince her that her people should ally themselves with Luke and Draoithe. That sounded easy, but it wasn't. He liked her. He had no clue how to act on that. Best to avoid that altogether. Keeping her safe just might equal his death. (Please see her warrior princess title.) She was old and so far out of his league. Worse, she liked him and was determined to have him. He can't even consider that. She has no idea how broken he really is.
Draoithe: Midnight Magic
Word Count:

91154
Summary: Flame is scarred from a past filled with lies, deceptions, and heartbreak. He is not guilty of what his brothers believe, but Blaze is the only one who knows the truth. He was betrayed by the king he had served. The girls he gave the dark gift to had been innocent. When he finds his Valkyrie, beaten, raped, broken, and fading after having been forced to accept the dark gift without her consent, Flame vows that he will do anything to save her. The light seems gone from both her and the world she finds herself in. Little does Flame know that for her to have the light again, he will sacrifice his honor, his integrity, and his life after breaking every law he can manage to break and even demand absolution for crimes he never committed. Many men say they will die for the love of their life. Flame somehow needs to do it four damn times, find a way to fix not only her broken magic, but fix her broken spirit as well, and then figure out how to live for her! All men wish to love a vampire, but Flame burns in his soul for one who holds the fire and has been granted the dark gift of an immortal vampire princess.
Draoithe: The Dark Gift
Word Count:

135408
Summary: Alexio Asmodai is the demon king of Eaglafonn, a small outpost kingdom in the Netherworld overruled by the Demon Lord Asmodeus. It is Alexio's responsibility to protect and police the frontier borders against any threats. He is an accomplished knight, so that part came easy. Eaglafonn is a cold and isolated kingdom. Alexio needed to stay and build his castle atop the hot springs to beat an addiction to seduction sickness. After over seven centuries, he thinks his loneliness has finally come to an end when he opens a crate to find a woman sent by Asmodeus for him to keep safe. He falls for her instantly. She is a human woman, fragile, timid, and irresistible. He must follow his liege's directive, convince her to become his queen, and see that she is cared for properly in a place that is inhospitable to her existence. This leads to a realization that his castle lacks a lot to be a first-class home for a lady. Can a tainted demon prince rise to the challenge to become a true king and win the woman who stole his heart? Dread Allies 7-14 The Shadow king of Eaglafonn has chosen his queen, but his castle lacks the feminine element. To make her more comfortable, he orders the demon princes to seek out and claim their own mates. That is easier said than done. Eaglafonn is a cold dark isolated kingdom in the Netherworld. It might be easier to claim mates from the Domhain, but not everyone could survive on the brutal dangerous frontier. The other options afforded from the Netherworld come with their own dangers. The magic is unbalanced and balancing comes with a price. Claiming their mates lead the demon princes on epic mini journeys and reveals the need for Eaglafonn to take a greater role in helping Luke aid the dream. Dread Allies is a miniseries set in the Netherworld in the dream. It is an ancillary group of stories to the Draoithe saga. While it is set in that world, it is not in the direct series lineup. The dream just got darker and colder. Welcome to Eaglafonn.
Dread Allies: Shadow King
Word Count:

71840
Summary: Is it better to risk it all… or never know what could have been? After surviving an abusive childhood, Vulcan remade himself upon arriving in Los Angeles, California. He became a blacksmith for the paranormal community and strives to earn the respect of the vampire covens and werewolf packs that call LA home. He also prevents the pain of loss by keeping everyone at arm's length. But he never planned on meeting a former Roman soldier by the name of Marcus Cassius Vespillo. Something sparks between them and turns into a friendship he never considered possible. He can't deny his intense attraction to the intelligent, courteous, ancient vampire. And it scares him. Though Vulcan is wary of seeking more with Cassius, an attack leaves him at death's door and forces him to reexamine his priorities. But Cassius has his own secret, one that promises tragedy and loss. And if that wasn't enough, a slayer arrives in the States, one with a bloody connection to Cassius... and Vulcan himself. Note to Readers: Second edition with revised and updated text.
Eye of the Beholder
Word Count: Information not available
Summary: Nurse Stitch has her mouth sewn shut and her memory erased. John Doe has undergone 'nightmare surgery', his memory also erased, replaced by crippling trauma and delusions. Mahmoud Farouz is a captured insurgent from Iraq who is going to be used by a special Black Op organization to make America feel fear again. When these three prisoners of a secret underground torture facility band together to escape, they cannot realize that not only has their torture been orchestrated, but so too will be their path to freedom.
Fear
Word Count: Information not available
Summary:
The war is over. Resources are scarce. The population is dwindling in the Forkstream Territories.
Pinnacle Officer Wilcox has created FERTS amidst the chaos, a facility designed to protect the female population from raiding hordes.
Beth 259201, a newly-demoted Epsilon Internee, suspects that there is something more that lurks beneath the carefully constructed order of the facility.
She has a gift, one that could brand her a defective. A novice fighter, she must use her intellect to survive. Her own life, and the lives of many more may be at risk. Will she succumb to the plans in store for her or will she conceal her secret long enough to discover her own path?
FERTS
Word Count:

115000
Summary: Battles and adventure crisscross the Viking Age! From monumental sea clashes to beleaguered mountain strongholds to war with the tribes of Eire, circumstance drives the scattered Agneson clan across the known world. And beyond the lands of Midgard, mythic hidden folk challenge our forerunner hero. The award-winning Forerunner Series epic continues…. Fleeing an arranged marriage, Kara escapes across the narrow sea to follow her warrior dreams. Escaping slavery, Cub joins Rollo's horde in Britany, while his outlawed brother Sorven fights for survival in the Welsh mountains. Uncle Karl and his warriors rally to Harald Tanglehair in his ambition to unify the wild kingdoms of the North Way, and young Thorfinn is left behind, safe and secure in a tiny fishing village... or is he? Kara gains her place in king of Dublinn's ranks to prove her mettle, but being a warrior is not what she expected, and what of these new feelings she finds for her closest companion? Will Karl and his crew perish in the great battle of Hafrsfjord? And how will an unprepared Thorfinn survive kidnapping by an 8-armed giant, leaving behind worried friends and a very angry dragon? Don't miss this 5-star epic fantasy critics are calling "whimsical and gritty," with "fabulous, engaging characters." If you enjoy the history of The Last Kingdom and Nordic myths and legends, the Forerunner Series is a grand tale not to be missed!
Kara Shieldmaiden of Eire
Word Count:

165000
Summary: What does a former assassin do when he's not out there… well… assassinating? Saving his species from extinction, of course. At least, that's what Leopold wants to do with every molecule in his body. But the task won't be fast or easy, and he can't do it alone. Enter Mastrodai—a mrrog prince who has absolutely no desire to rule, much to his father's exasperation. He craves the ability to prove his worth as a mate and to somehow atone for his actions that led to Leopold's torture at the hands of an enemy. Making humans official would be a good start. But politics rule no matter what the species, and Mastrodai has to maneuver carefully and risk what he has built to give his mate what he deserves. And when he realizes both he and Leopold have deeper feelings for Alex, one of Mastrodai's human slave women, he knows his future is out among the stars with his humans, not planet-bound with his kin. Unfortunately, before they can set their plan into motion, Leopold receives a vision that sends him reeling and questioning everything he knows about himself. A vision he must investigate, back to where he began—Lex, the backwater planet where he spent his early years, and where he swore never to return. Reader Discretion advised: Includes violence throughout, PTSD, a scene of graphic torture, and the start of a consensual MMF relationship.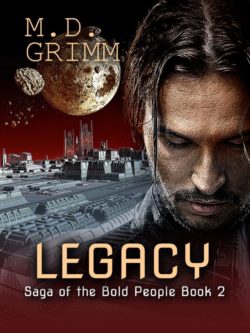 Legacy
Word Count:

195000
Summary: Belonging can sometimes be Hell Jin is 17, pansexual, blue-haired, half-Korean and a lifelong outsider. His modus operandi, after years of neglect and chaos, is never belong, never attach, because both just bring pain. What he doesn't know, and mustn't, is if he does ever belong, his lust demon father will take him to Hell forever the day he turns 18. But when he moves to the remote Scottish town of Hammer Falls, where he shouldn't fit in at all, he finds being supernatural and queer aren't quite the barriers to belonging he'd hoped. As his lust demon blood begins to show and he grows ever closer to gorgeous part-angel demonstalker Nate, how long can Jin continue to convince himself he doesn't belong and isn't getting attached? Lust & Other Demons is the first in a trilogy containing a snarky, prickly half lust demon, hot demon hunters, werebears, angst, messy love and explicit MM sex. Books 2 & 3 also contain steamy MMM+ polyamory scenes as part of a key relationship. NOTE - These books are NOT suitable for younger readers or people likely to be offended by speculative views about religion.
Lust & Other Demons
Word Count:

80,000
Summary: Cherokee attorney Baylie Smith hates pushing paper at the Bureau of Indian Affairs. When Baylie learns time travel exists, she goes to 1787 to guide her people westward to safety before the Trail of Tears. Baylie becomes a warrior woman, where her intelligence, cunning and logic help the tribe win a decisive battle against the Chickamauga Cherokees. She earns ownership of enslaved Kirk O'Malley, who the Cherokees believe is the white devil, Tsul Kalu. Baylie and Shadow Wolf fall in love and are about to marry when O'Malley manages to go forward in time. The village orders her to retrieve O'Malley to his correct time. But Kirk finds love with Mellie Henderson, and refuses to return to the past as Baylie learns she is pregnant with Wolf's 'different-abled' child. Will Baylie be able to rejoin Shadow Wolf, claim her destiny, and fulfill her part of the prophecy?
Path of the Guiding Light
Word Count:

31857
Summary: How does a nice young woman from a nice American neighborhood become a sensually augmented assassin trapped in an Arabian king's household? Is she a superhero or a monster? A victim or a villain? All will be revealed, and you can decide for yourself, while enjoying a raucous ride with Poison Patty!
Poison Patty
Word Count:

54545
Summary: Poor Poison Patty, the super sensually bio-augmented assassin, is in a powerfully pernicious predicament. Perhaps you read about it in Poison Patty, her first tragic tale? Patty used to be a gloriously gracious good girl, but that was before an awful arrogant acrimonious amoral aberrant Arabian king kidnapped her. Now she's got a bite! Even so, Patty's predicament has gotten worse. Not only is she sought after by two terribly tenacious powers, she's under the thumb of a third. Patty's also struggling with an essential existential enigma. Is she a superhero or a monster? A victim or a villain? Take a raucous run right through this second installment of Poison Patty's troublous tale and decide for yourself.
Poison Patty's Predicament
Word Count:

10360
Summary: While the cell is sparse and cold, at least this one has a bed. The figure resting there is too thin; too still, the prominent bones the result of long starvation, the stillness the product of too much anguish and abuse. He watches, though. An anxious, intelligent mind still occupies this frail and failing body, one that watches and wonders about the new guard occupying his cell each night.
Prisoner 374215
Word Count:

97000
Summary: Los Angeles is an apocalyptic wasteland. Without orientation, Colton stumbles through the vast, deserted city. He doesn't remember who he is and where he came from. Scavengers save his life from mutants and bring him to the only remaining inhabited area and safe Zone in former Hollywood. There he learns that after a devastating catastrophe called The Glitch, reality shifted, allowing nightmarish creatures from another dimension to enter our world. These co-called Dark Ones feed on suffering and violence, wanting nothing less than the complete annihilation of humanity. Colton discovers that he has extraordinary abilities and joins a league of unusual defenders: ex-cop Eric, female cyborg Bombshell and Vincent, a mighty entity from another world, disguised as a human soldier. But the Dark Ones are evil beyond imagination and with their ice-cold enforcer, the traitor Eurydice, they are a threat nearly impossible to overcome. Cunning and ruthless, Eurydice sets a ploy in action, which leads to the destruction of the Zone's defenses weakening the tiny community from within. It's up to Colton and his friends to take a desperate stand against the superior enemy and save what is left of humanity from extinction. Fast-paced, action-driven, and cinematic – an eternal fight of good vs. evil told in a way as never before.
Shadow City
Word Count: Information not available
Summary: On a parallel Earth called Kale-Ra, humans born under "star signs" are blessed with magical powers. Two factions exist: the Star Guardians, and the Shadow Guardians. Clarabelle Stewart is your average teenage girl. She doesn't have any hobbies, and manages a C+ average in most of her classes. At least, she would be average, if not for her late father. He betrayed the government while attempting to steal a treasure for a Shadow Guardian terrorist organization, the Penumbra. Ever since his death, her family has been scorned and marginalized. But when the Starlite Academy--a prestigious military school for aspiring Star Guardians--grants Clarabelle a full-ride scholarship, she realizes that this is her opportunity to turn her life around. She eagerly sets off for school, and meets a wonderful group of friends. Yet, some things are still... off. Her teacher, Slade, and her roommate, Wulfgar, claim that they know her from their past, but she doesn't remember them. And Ursula, the bubbly senior student who welcomed her into their friend group, is hiding her own set of dark, tumultuous secrets. Unbeknownst to them all, weaving backwards through the years, a sinister plot has taken hold, setting the course for each of their lives. And suddenly, the world turned upside down. Nothing is what it seems.
Star Guardians: Legend of the White Nova Volume 1