Word Count:
65000
Summary: A young man sold into servitude has his loyalties tested in ways he never imagined. Raised in an orphanage in Dickens, Daniel doesn't know who his parents were, where he comes from, or even his last name. Like all orphans, on his 16th birthday, he's sold to the highest bidder. Not knowing where he's going, who's bought him, or what they even want with him, Daniel embarks on an adventure he never thought he'd take. He finds love, a family, and a secure future - yet in a split second, makes a decision he ends up regretting the rest of his life. Brothers begins fifteen years before the Red Dog Conspiracy series. Warning: Language, smoking, use of alcohol and drugs, attempted suicide by hanging, M/M underage sexuality with consent issues, forced servitude, blood, gun violence, a man being beaten by a horsewhip, murder, discussion of child prostitution, underage M/F sexuality with age gap (female older).
Brothers
June 1, 2022
Word Count:
74000
Summary: When a curse comes calling, Dan and Chad confront their greatest challenge yet. Hauntastic Haunts is investigating the historic Ivarsson School. With Halloween right around the corner, the vlog is in peak season. Dan and Chad are eager to explore the decades-long string of strange deaths among the school's young scholars. While they delve into the mystery, both men must come to grips with Chad's newfound talents as a medium. Dan and Chad's efforts to uncover the haunting's truth meet with mixed messages from both the living and the dead. They're left wondering if this month's site is full of tricks, or if there's a treat awaiting discovery. The locals blame a curse for all the misfortune at the one-room schoolhouse, and if the pattern holds, the guys are at risk of becoming the latest victims. Join ghost hunters Dan and Chad on their third hauntastic adventure in this trans M/M paranormal romance.
Dan's Hauntastic Haunts Investigates: Ivarsson School
September 30, 2020
Word Count:
107884
Summary: Julian Gypsun used to be a young man on his way to becoming a contractor. Everything changed when he died and was resurrected as a wizard's familiar. He was immortal and far better off physically than he had been as a human. Still, he was trapped with his life chained to a giant of a wizard who had no problem abusing him in every way imaginable. Julian was powerless to stop it without ending his own existence. That is until he was yanked bodily through his own portal, transported to Draoithe, and assigned to babysit the visiting dignitary, Amazon Warrior Princess Zephyra, and try to convince her that her people should ally themselves with Luke and Draoithe. That sounded easy, but it wasn't. He liked her. He had no clue how to act on that. Best to avoid that altogether. Keeping her safe just might equal his death. (Please see her warrior princess title.) She was old and so far out of his league. Worse, she liked him and was determined to have him. He can't even consider that. She has no idea how broken he really is.
Draoithe: Midnight Magic
October 23, 2020
Word Count:
91154
Summary: Flame is scarred from a past filled with lies, deceptions, and heartbreak. He is not guilty of what his brothers believe, but Blaze is the only one who knows the truth. He was betrayed by the king he had served. The girls he gave the dark gift to had been innocent. When he finds his Valkyrie, beaten, raped, broken, and fading after having been forced to accept the dark gift without her consent, Flame vows that he will do anything to save her. The light seems gone from both her and the world she finds herself in. Little does Flame know that for her to have the light again, he will sacrifice his honor, his integrity, and his life after breaking every law he can manage to break and even demand absolution for crimes he never committed. Many men say they will die for the love of their life. Flame somehow needs to do it four damn times, find a way to fix not only her broken magic, but fix her broken spirit as well, and then figure out how to live for her! All men wish to love a vampire, but Flame burns in his soul for one who holds the fire and has been granted the dark gift of an immortal vampire princess.
Draoithe: The Dark Gift
July 29, 2019
Word Count:
42,203
Summary: Katja has long spent her life buried in the pain and sorrow of her past, a vampire abandoned to her fate for over 300 years, she never expects to meet another who could help her reclaim her existence. Raven, a poet and fellow lost soul, could be the one to spur her on, but in order to have the future she has only begun to grasp, she must uncover the truth about her origins and the awful event which left her alone centuries before. If she cannot face her past and reclaim her strength, she will lose everything.
Eyes Like Blue Fire
July 18, 2019
Word Count:
79700
Summary:
First settlers on Mars may be the last.
Emma Winters wants to explore with her robotic walkabouts.
When the tiny colony's psychologist walks out an airlock, she takes the one-way journey to Mars despite misgivings. As more deaths and illness plague humanity's tiny foothold, Emma must discover the truth before the Red Planet kills them all.
Glory on Mars
November 8, 2015
Word Count:
99000
Summary: Gavin Booker, a school librarian at Cooper Road Elementary, Raleigh, Northern Carolina, leads an orderly, normal life. Work, jogging, friends from work, his son every other weekend. Gavin is also a secret. He is a hybrid, or part-fairy, and in the Columbian Empire, hybrids are under an automatic death sentence. Magic is illegal. So is loving another man, another capital crime. Fairies are locked away in ghettoes, magical beasts, such as gryphons, unicorns, and pegasi are kept in zoos. The others, the tree and water spirits, the talking beasts, fauns, and the rest, are in hiding. This is the world in which Gavin grew up. He survived, thanks to his mother. He can never forget he is different: ministers preach against people like him constantly; hating the other is a part of every school's curriculum. But now, things are changing fast, and apparently, for the worst. Earthquakes, volcanoes, killer storms are all frequent occurrences. The medicine Gavin takes to suppress his body's glowing, isn't working. The spells cast by his doctor, a witch, are losing their power. If anyone finds out what Gavin is, he is dead. Under threat, the Empire always goes after its marginalized people. Can Gavin survive the coming catastrophe? Will he ever recover from losing the boys he loved? Can he find the fairy man who has haunted his dreams all his life before it is too late? Can his scarred heart ever heal?
In Light's Shadow
September 3, 2022
Word Count: Information not available
Summary: Some ghosts want your soul. For these ghosts, it is only the beginning. Two brothers try to forget the tragic encounter they had with the spirits of the dead. But the years, and miles, they've run aren't enough distance between them and their tormentors. As the attacks escalates, no one is safe, including their friends. In their efforts to rid themselves of the spreading evil, they find themselves in places that blur the lines of reality, life, and death.
In Shadows of The Wicked
May 4, 2018
Word Count: Information not available
Summary: Kiss, Kiss! Stories of Love and Cake - is a collection of gay romantic stories exploring love and the pursuit of happiness, featuring some of LE Franks' most beloved characters. From a squirrely shifter to holiday angst, from the poignant search for acceptance and love to the testament of enduring friendship in the face of loss. LE Franks explores the human condition with humor and a touch of snark, while making her men jump through hoops for their happily-ever-afters. This anthology includes selections of shorts and novellas from 2013-2018.
Kiss, Kiss!
September 20, 2019
Word Count:
80000
Summary: A fresh start, a queer social liberal dream, and a planet that wants to kill you. Carving out a life on Mars is no easy feat. With Earth in the throes of a devastating pandemic, autistic scientist Devon and her fellow colonists are faced with the momentous task of establishing a new society – one that learns from the past and prioritises sustainability over short-term gain. Noble aspirations are easier said than done, though – especially when the entire planet wants to kill you. Grappling with the realities of human nature and with their batteries slowly dying, the colony's 150 women and 10 men must overcome their differences to create a lasting community. But things aren't always what they seem and maybe the colonists aren't as alone as they thought… Perfect for fans of Mary Robinette Kowal's 'Lady Astronaut' series and the writing styles of Robert J. Sawyer and Becky Chambers. This thought-provoking sci-fi novel blends classic science fiction ideas with neurodiverse and LGBTQIA+ themes.
Livid Skies
January 18, 2021
Word Count:
68900
Summary: Romance, mystery, and an impossible relationship. Meet David:  Sculptor.  Wealthy.  Introvert.  Suffering from the loss of his wife.  The last thing he needs is to discover that his newly purchased mansion is haunted. Meet Sarrinah:  Born 1882, died 1903.  She was smart, well read, fun.  Too bad she can't rest in peace. Sarrinah and David are both flawed, but just so lovely – if only they can get over the tragedies of their past that are weighing them down… and the fact that one of them is a ghost.
Love Whispers Through the Veil
May 15, 2021
Word Count: Information not available
Summary: 1899 years after the Catastrophe, Bridges is run by the Mob. As its steam-driven infrastructure fails, a new faction rises. Can she stop them? The Red Dog Conspiracy follows the story of 22-year-old small-time private eye Jacqueline Spadros beginning from her first major case: the missing little brother of her best friend, whose murder ten years before in front of her still haunts her nightmares. The only clue? A Red Dog stamp across the alley from where the boy was last seen. Dodging the man - seemingly mad - who has publicly threatened her life, placating her brutal, sadistic father-in-law, and dealing with her feelings about her ex-lover, while being married to one of the city's biggest drug lords: Jacqui is a busy woman. Her life is about to get much busier. From the very first page, Jacqui is dragged into a web of lies, secrets, and betrayals which both endangers her life and the lives of those she loves. Dark, gritty, violent steampunk crime fiction which keeps you guessing to the very end. If you like crime fiction, noir, Victorian/historical, gritty steampunk, psychological thrillers, hardboiled mystery, hard sf, dystopian, or mafia romance you will love this set. This digital box set comprises Act 1 of a 13 part serial novel. Included in this set: The Jacq of Spades: Part 1 of the Red Dog Conspiracy The Queen of Diamonds: Part 2 of the Red Dog Conspiracy The Ace of Clubs: Part 3 of the Red Dog Conspiracy If made into movies, this set would be rated R for bad language, graphic violence, smoking and alcohol use, child kidnapping, teenagers murdered (a serial killer is on the loose), and sexual content (Jacqui is married, after all). Welcome to the Family.
Red Dog Conspiracy Act 1
October 10, 2017
Word Count:
40000
Summary: Spells & Stardust is Scott's first anthology - eight sci fi and fantasy shorts that run the gamut from regeneration to redemption. The Bear at the Bar: A gay fish out of water tale with a pinch of magic. Tight: What happens when your lover disappears in midair? Morgan: The year when everything changed. Re-Life: What if you were reborn in a strange new future? A New Year: They met every eleven years. And each time, Hank's life changed. Repetition: What if you wanted to go back in the closet? Gargoyle: Sometimes you get what you deserve. Sometimes it happens on All Hallows Eve. Avalon: A few bright moments in the sun, stolen from outside time. Most of these stories have been previously published in various anthologies and journals. This is the first time they have all been collected in one place.
Spells & Stardust
December 5, 2018
Word Count:
75000
Summary: The once-beautiful domed neo-Victorian city of Bridges is split between four crime families in an uneasy cease-fire. Social disparity increasing and its steam-driven infrastructure failing, a new faction is on the rise: the Red Dogs. Jacqueline Spadros has a dream life: a wealthy husband, a powerful family. But her life is not what it seems. Kidnapped from her mother's brothel and forced to marry, the murder of her best friend Air ten years before haunts her nightmares. She finds moments of freedom in a small-time private eye business, which she hides in fear of her sadistic father-in-law. Air's little brother disappears off his back porch and the Red Dogs are framed for it. With the help of a mysterious gentleman investigator hired by the Red Dogs to learn the truth, Jacqui pushes her abilities to their limits in hope of rescuing the child before the kidnapper disposes of him.
The Jacq of Spades: Part 1 of the Red Dog Conspiracy
November 12, 2015
Word Count: Information not available
Summary: She barely survived the last round. As the Red Dog Gang closes in on her Family, can she survive the next? After the devastating events of our last chapter, all private eye and mafia wife Jacqueline Spadros wants is to get her life back. Then a missing person she thought she'd never track down falls into her lap. Jacqui is thrown into a series of events which not only puts her and everyone around her into danger, but changes her life forever. Warning: on-screen murder, major consent issues, smoking, language, infidelity, betrayal, description of injury, gore, on-screen suicide, child injury This is chapter 9 of a 13-part serial novel. Please read these books in order: * The Jacq of Spades * The Queen of Diamonds * The Ace of Clubs * The King of Hearts * The Ten of Spades * The Five of Diamonds * The Two of Hearts * The Three of Spades * The Knave of Hearts <-- you are here Book 10 coming October 2023
The Knave of Hearts
October 1, 2022
Word Count:
22181
Summary:
Albert Manlii has walked this earth for more than two thousand years, but survival on his own was never easy. Now he leads a faction of highly organized vampires who carefully guard the secret of their existence. Unlike the old days, potential recruits are carefully selected and presented with an offer.
Phillip Brewer has weeks to live—if he lets his disease run its course. He doesn't want to die, but given a choice, will his desire to live outweigh his concerns about the vampires' ethics?
When the new recruit's missteps are cause for concern, can Albert control the fallout, or will Phillip's life once again be torn apart?
Keywords: gay, bisexual, paranormal, romance, vampire, vampires, paranormal, death, considering suicide, bloodmates, fated mates, novella, ebook

The Recruit
June 16, 2018
Word Count:
70000
Summary: Jacqui faces her biggest mystery yet - and her greatest fear. A drive-by shooting leaves Jacqueline Spadros with little remaining support for the life she's built apart from her estranged husband Tony. As evidence grows that the Hart Family is behind the attacks, which up to now have been laid on the doorstep of the notorious Red Dog Gang, Tony brings formal charges against the Harts before the Commission. Jacqui wants to stop the Red Dog Gang and learn the truth about Charles Hart's obsession with her. But the truth is stranger than she ever imagined. And what she learns changes everything. This is chapter 7 of a 13-part future steampunk noir series. Please begin with The Jacq of Spades and read the books in order.
The Two of Hearts
June 1, 2021
Word Count:
37000
Summary: He'll get by with a little help from his mate. When Paul's long-buried past reaches out for him, having Simon at his back should make all the difference. The shy, studious teen who ditched his hometown is now a grown man with a good life, an honorable profession, and a werewolf boyfriend. So why is still so hard to go home? A new 37,000 word novella in the same time frame as book 6 in the Hidden Wolves series brings challenges, pain, love, and their HEA for our favorite guys. Content warning for assisted suicide.
Unplanned Coda
October 23, 2021
Word Count:
55000
Summary: In Unsafe Words, the first full-length collection of her edgy, award-winning short stories, Loren Rhoads punctures the boundaries between horror, dark fantasy, and science fiction in a maelstrom of sex, drugs, and rock-n-roll. Ghosts, succubi, naiads, vampires, the Wild Hunt, and the worst predator in the woods stalk these pages, alongside human monsters who follow their cravings past sanity or sense. Featuring an introduction by Lisa Morton and cover art by Lynne Hansen, these never-before-collected stories come from the magazines Cemetery Dance, Space & Time, City Slab, and Instant City, the Wily Writers podcast, and from the books Sins of the Sirens, Demon Lovers, The Haunted Mansion Project: Year Two, Tales for the Camp Fire, and more. One story, "With You By My Side It Should Be Fine," is original to the collection.
Unsafe Words
September 20, 2020
Word Count:
48000
Summary: Bound by a dark act of hate and despair, high school freshmen, Andrew and Kiernan, learn that their untimely deaths did not bring an end to their pain, but only began the suffering of those left behind. While his lost memories return, Andrew must master seemingly impossible feats, both spiritual and physical. As a dark spirit stalks Kiernan through the borderlands of life and death, he must also face the pain his actions have caused his loved ones. To save both their souls, Andrew must convince Kiernan to return to life and open his eyes to the love and beauty which had always been there.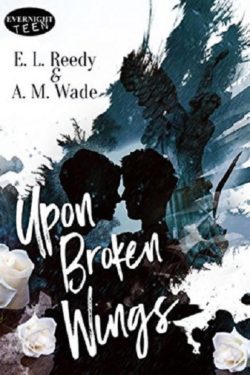 Upon Broken Wings
April 20, 2018