Word Count:

80,000
Summary: "If it weren't for bad luck, she'd have no luck at all," lament the family of Fancy Selk, who has been the victim of horrific abuse. Fancy decides it is high time she learns to make lemonade from lemons instead of always making lemons from lemonade. As she learns to survive her past abuse, young Dr. Richard "Rick" Winslow manages to go back in time to find the beautiful young woman. Rick learns Fancy is married to another man. When her husband is killed at Yorktown, she finally admits her attraction for the handsome physician, as they fall in love, only to be ripped apart not once, but twice.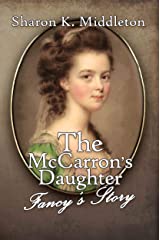 The McCarron's Daughter
Word Count:

85000
Summary: Every action has consequences. For a decade, Angel Salvatore has been the most powerful sorcerer and only necromancer in all the Northeast. Never one to ask permission nor apologies, he has acted with near impunity for years. Until now. The High Council of Sorcery has come to Boston, and Angel is their target. Charged with numerous violations of practitioner laws, his freedom and family are placed in jeopardy. If found guilty, Angel's apprentice Daniel will be imprisoned to serve out the remaining years of his apprenticeship. Isaac, his brother, is too vulnerable to be left unguarded, and Angel fears for his sanity and health. And Simeon, Elder vampire and Angel's mate refuses to see Angel convicted under the laws of the Council and his actions to keep Angel free threaten to start a war that could destroy their world. And Angel faces the severest of punishments—the castration of his gifts. The Council has never cared for the people of Boston, and Angel doubts their motives. They have come for some insidious reason, and it has nothing to do with upholding the law and everything to do with Angel. Dealing with an impending trial, a wayward ghost, and a graverobbing ring of thieves leaves Angel on the edge. He thinks he may have a handle on things until violence erupts across the city, and a stranger comes to town...a stranger with his own dark powers of necromancy. This is book 3 of a series, and the previous books should be read first for full enjoyment. Trigger Warnings are on the Copyright Page and can be seen using the Look Inside feature or by downloading a sample of this book. 85,000 words 340 pages Gay Urban Fantasy Romance
The Necromancer's Reckoning
Word Count:

75000
Summary: She just wanted an easy case ... Private eye Jacqueline Spadros, recovering from her harrowing experiences the week prior, wants nothing more than a simple, straightforward case - preferably one the Spadros Family won't find out about. Aristocratic jewel merchant Dame Anastasia Louis, aka "The Queen of Diamonds," seems to be offering the perfect arrangement. But Jacqui can't leave the madman "Black Jack" Diamond's crimes unpunished. And the more she learns, the more she begins to believe that this particular job wasn't such a good idea after all ...
The Queen of Diamonds: Part 2 of the Red Dog Conspiracy
Word Count:

55,000
Summary: Welcome back to Charybdis Station and the crew of the Blue Solace: (Seventh Book in the series) Finn Sterling is still adjusting to becoming the lieutenant of the blue fleet of Charybdis Station. As an orphan on Cardinal Hold, he never imagined he would have a position of authority as an adult and the trust his friends put in him makes failure impossible. When he is given the monumental task to find a large number of missing Vextonians, he'll take all the help he can get. When Finn's journey brings him to his mate, he discovers that finding the missing is only one part of the quest ahead of him. Aiden Crow has spent the last year consumed with grief and his search for vengeance. When he meets Finn, he knows instantly that the man is his mate, but what could he possibly offer the beautiful, smiling Cardinal? As the search for the missing draw the two men together, Crow realizes that the greatest risk he faces is losing his heart. Crow and Finn must work together to gather information so they can find the innocent before they are lost forever.
The Rebel's Mate
Word Count: Information not available
Summary: The Hunt is On! When strength becomes weakness… And hope becomes doubt… As the past collides with the future…hard… Can Suzanne—Wild Hunt biker chick and one-time member of the fae High Court—stand strong as her world falls apart? She survived an assault by redcaps, an all-out battle with the High King's armies, and her first encounter with roller derby… but how will she fare against her inner demons? Caught in the midst of a transformation she scarcely realizes and does not understand, her hard-won convictions are tested as never before. Suzanne is left with only one question—what if they're wrong? The truth could mean the difference between saving her sanity and losing her soul…
The Redcaps' Queen
Word Count:

115000
Summary: The Earth is dead. Five years after the Collapse, the remnants of humanity travel through the stars inside Forever: a living, ever-evolving, self-contained generation ship. When Eddy Tremaine and Andrissa "Andy" Hammond find a hidden world-within-a-world under the mountains, the discovery triggers a chain of events that could fundamentally alter or extinguish life as they know it, culminate in the takeover of the world mind, and end free will for humankind. Eddy, Andy, and a handful of other unlikely heroes must find the courage and ingenuity to stand against the rising tide. Otherwise they might be living through the end days of human history. "Quality, innovative worldbuilding grounds this volume in the "Liminal Sky" series. Fans of The Expanse will find plenty to enjoy here as different groups with widely varying goals and beliefs come together in a struggle to survive the vastness of space and one another." -Library Journal
The Rising Tide
Word Count:

116000
Summary: Kyri has known her share of loss in the two decades that she has been alive. She never expected to find herself a slave in Roman lands, nor did she think she had the heart to become a gladiatrix. But with her soul shattered she must fight to see her way back home again. Will she win her freedom and return to all that she has known, or will she become another kind of slave to the killer that has taken over her mind? The only thing that is certain through it all is her love and devotion to Queen Orianna.
The Sagittarius
Word Count:

131000
Summary: As the epic trilogy hurtles toward its conclusion, the fight for the future isn't over yet. It could lead to a new beginning, or it might spell the end for the last vestiges of humankind. The generation ship Forever has left Earth behind, but a piece of the old civilization lives on in the Inthworld—a virtual realm that retains memories of Earth's technological wonders and vices. A being named Lilith leads the uprising, and if she succeeds in setting its inhabitants free, they could destroy Forever. But during the generation ship's decades-long voyage, humanity has evolved. Liminals with the ability to connect with the world mind and the Inthworld provide a glimmer of hope. They'll have to face not only Lilith's minions, but also the mistrust of their own kind and persecution from a new government as homotypicals continue to fear what they can't understand. The invasion must be stopped, the Inthworld must be healed, and the people of Forever must let go of their past and embrace what they're meant to become.
The Shoreless Sea
Word Count:

55,000
Summary: Morgan Murray is an easy, fun-loving guy. He excels at being a soldier, but never wanted more out of life. Somehow, he ends up in a position of authority on Dru's new ship, the Blue Sparrow. Now he has to deal with what he dreads most. Responsibilities. Dru and her crew are given the task of finding Wyatt Morrick and telling him about his father's death. Along the way, Morgan soon learns that responsibility can be painful, difficult, and frightening. It can also lead to something very special. Dr. Wyatt Morrick is in trouble. Big trouble. He and his medical crew are stuck on a planet under attack. He may not be a soldier, but he has patients and friends to worry about. With very few supplies left, something has to give for them to survive. The whole planet's future is at stake and he is stuck hiding in a cave. When Morgan saves Wyatt and his friends, the two men are given a gift, each other. Their love can't stop the Concord, though, and someone has to. Morgan has to grow and accept his responsibilities, and Wyatt has to move on from his father's death. That death just happens to be a little more complicated then Wyatt expected.
The Soldier's Mate
Word Count:

75000
Summary: Be careful what you wish for … After eleven years trapped in the Spadros crime syndicate, 23-year-old private eye Jacqueline Spadros is an independent woman, free to run her investigation business. But her problems are only beginning. Deeply in debt, Jacqui is in danger from both the rogue Spadros men calling themselves "The Ten of Spades" and the ruthless Red Dog Gang — who may be one and the same. Jacqui is determined to find Black Maria, the key to the identity of the Red Dog Gang's secretive leader. To survive long enough to do that, Jacqui needs a paying case. The one she's offered may put her in the most danger of all …
The Ten of Spades: Part 5 of the Red Dog Conspiracy
Word Count:

70000
Summary: Jacqui faces her biggest mystery yet - and her greatest fear. A drive-by shooting leaves Jacqueline Spadros with little remaining support for the life she's built apart from her estranged husband Tony. As evidence grows that the Hart Family is behind the attacks, which up to now have been laid on the doorstep of the notorious Red Dog Gang, Tony brings formal charges against the Harts before the Commission. Jacqui wants to stop the Red Dog Gang and learn the truth about Charles Hart's obsession with her. But the truth is stranger than she ever imagined. And what she learns changes everything. This is chapter 7 of a 13-part future steampunk noir series. Please begin with The Jacq of Spades and read the books in order.
The Two of Hearts
Word Count:

115300
Summary: The Battle of Albrith is over. The battle for Faneria has just begun. Magic is forbidden in Faneria. That's why it came as a complete surprise when the king's city was attacked by a band of rogue mages. Though they were thwarted, Damian Sires, instrumental in their defeat, is known for only one thing—her magic. She returns home to a cold welcome and an even greater threat looming. For Niabi, servant of the Gods of Light, is amassing an army far to the west. After Niabi fought the Goddess of Chaos in the streets of Albrith with no thought to the damage she caused, Damian knows that this Army of Light spells disaster. Guarded at all times and accompanied by a former mercenary with a dark past, Damian sets out to stop Niabi from wreaking havoc on her country. However, even more dangerous secrets and plots are about to emerge...
The Unseen Force
Word Count:

100212
Summary: The America of our near-future is divided across socio-economic and technological-philosophical lines. The Traditionalists eschew any and all post-human technologies in favor of tangible materials. They uphold strict hierarchical structures based on religion, family, and leadership. They long for the return of the global markets wiped out by a world-shaking disaster called The Great Tide. The Interconnected stand in stark opposition to their ways, living without property, family, or religion, and modifying their bodies with the help of new and invasive technologies. They speak to each other wordlessly, employing a technological telepathy they call 'thexting' to communicate mind to mind, and embrace the gifting economy of Merit to maintain their post-scarcity lifestyles. Marto, the traveling Interconnected historian, has exiled himself to protect the ones he loves from his dark secret. In his absence, Helen, a runaway Traditionalist aristocrat, struggles to find her place among the Interconnected, unwilling to return to her cruel family. Reyleena, the former head of security in the Interconnected town of Reverside, has returned to a life of quiet solitude, broken occasionally by the impositions of The Other, an omnipresent AI, who will not leave her alone. Meanwhile, Barnabas, the Traditionalist leader of New Atlantic, fights to return to his township in the wake of an attack. Nora, his sister, remains in Reverside and must come to terms with her new life in captivity.
The Wakeful Wanderer's Guide
Word Count:

59000
Summary: THE WELLER IS BACK! Still healing from his battle with the distillers in Iowa City, legendary weller Matt Freeborn crosses into Missouri, where foes both old and new await him. Finding himself dangerously low on precious ammunition for the Well Digger, the desperate weller accepts a perilous job on the mighty Mississippi. Armed with only his wits and experience, Freeborn must descend into places no sane man would dare go and face unknown terrors that hunger and hunt in absolute darkness. From the author of Vengeance for My Valentine and War of the Worlds: Goliath!
The Weller - Fear of the Dark
Word Count: Information not available
Summary: I couldn't settle like a tree. I needed to find insight, some passionate cause or grand discovery. A moment worth heartbreak. Rowena & her friends rely on their expanding mage abilities to survive in an unknown, wilder world. THE WILDER WORLD is Volume 2 in the completed trilogy, TALES OF ARDONNA: WOODSPELL SERIES, a fairy tale for adults.
The Wilder World
Word Count:

78,000
Summary: A new year has begun, and the annual Sower's Festival gala is brimming with Dockhaven's elite and their entourages. Some attend for the spectacle, some for the exotic indulgences, some to augment or gamble away fortunes. Others come to play opening moves in more subtle competitions, ones that will not realize their endgames for months to come. After a winter of convalescence, Aliara Rift wonders whether she is ready to return to the Thung Toh and if her remade body will betray her. Her mate, Duke Sylandair Imythedralin, has many concerns, the foremost being the looming destruction of the only home in which the two of them have truly felt safe. Together they will thwart land barons, politicians, and assassins as they navigate their way through a single day in Ismae's greatest port city. They Eat Their Own is the second Thung Toh Jig, a science fantasy action adventure following members of Ismae's preeminent covert organization as they execute contracts for Dockhaven's most powerful and ruthless citizens.
They Eat Their Own
Word Count: Information not available
Summary: In Book 2 of The Fairville Woods series - the sequel to "From The Ashes" - the ghost of a little girl begins to haunt Lundy, in a stark reminder that Karel's curse has not been completely broken. Harlan is now a happy fixture in her life, unbeknownst to her parents, but the school year begins and she finds herself dealing with mean girls, popular guys, and troubled friends, as well as her developing physical relationship with Harlan. But even with Karel's coven gone, all is not right in Fairville - children are missing from the elementary school, and Harlan and Dr. Weinhelm sense an alarming presence in the town. Lundy begins to have dreams about a mad woman who has lost her children, while the little girl ghost leaves her clues she doesn't understand. The vampires from the Smoky Mountains reluctantly arrive to help defeat a creature from ancient, frightening legends - one whose existence yields an unlikely clue to the new nature of Lundy's curse.
Through The Eyes
Word Count: Information not available
Summary: Bioinformatics whiz Victor Eastmore at long last gains control over his frightening mirror resonance syndrome, but he still believes his grandfather was murdered. Victor's best hope for finding justice lies in New Venice, a tourist town in the Louisiana Territories where his family's company is exploring new treatment options for so-called "Broken Mirrors" and the stim addicts who experience similar symptoms–blank outs, synesthesia, and euphoria. Only by confronting Samuel Miller, the MRS "patient zero" who was responsible for the Carmichael Massacre, can Victor learn the truth. To do that, Samuel must first be weaned off Personil, the drug that keeps his mirror resonance syndrome in check. Can Victor learn the data egg's darkest secrets without unleashing a violent madman? Meanwhile, a cult dedicated to the sanctity and purity of human life disrupts New Venice with protests and vandalism. When they take an interest in stopping BioScan from medicating MRS patients, including Samuel Miller, Victor finds himself with unlikely allies and divided loyalties. As pressure builds for the nations of the American Union to pass new legislation to control Broken Mirrors, Victor must become an effective advocate for people with MRS or risk being institutionalized along with them. A fast-paced sequel to Broken Mirror, Tortured Echoes continues the sci-fi detective saga of Resonant Earth. In this installment, fans of Broken Mirror will finally get answers to their questions: Why was Jefferson Eastmore killed? How did it happen? Who was responsible? Revisit the world of self-driving cars, stunsticks, brainhackers, and herbalism with Victor, Elena, Ozie, Tosh, and Karine, and several new figures that might help Victor chart a new course for his future, or condemn him to madness.
Tortured Echoes
Word Count:

54000
Summary: Silas Thornwood's worst nightmare has come to life. Darien's familiar Pip is gravely injured, and Darien and Jasper have been kidnapped. Someone ruthless and violent is holding the man Silas loves prisoner, for purposes he doesn't want to imagine. Silas needs help from his friends to locate and rescue Darien. And when he does, those responsible― whether sorcerer, human, or demon― are going to be truly, utterly sorry…
Trapped by Greed
Word Count:

41000
Summary: NO ONE FIGHTS DIRTIER THAN AN ARCHAEOLOGIST ​Foul-mouthed Dr. Nel Bently has every archaeologist's dream: a pristine site, new crew, and a private patron to fund her passion for dirt. With her trowel barely into the dry earth of Chile's coast, however, Nel learns their work is being sabotaged. The local activists Los Pobladores take issue with anyone brave or stubborn enough to set boots on their land. Nel refuses to give up the site that will make her career to vandals and looters, but she must protect both her friends and her life's work. With a benefactor playing chess with their lives, radiocarbon dates that are downright supernatural, and angry militants who may actually have a point, Nel is ready to fight dirty.
Travelers