Word Count: Information not available
Summary: What if you learned a terrorist might destroy a structure 20 kilometers tall, murdering thousands of people inside? Nick Sorrows is an undercover agent with the Bureau of Environmental Security. He is ordered to discover the plans of Jon Janicks and The Mother Earth Insurgency, which is determined to stop the hijacking of clean energy by greedy corporations. After a riot in Seattle, and an attack on a wind power farm in California, Sorrows learns about the MEI's most audacious plan yet. Will Agent Sorrows stop the terrorist Janicks from killing thousands? Winner of an Honorable Mention in the 2017 Writers of the Future science fiction contest, the Mother Earth Insurgency: A Novelette is the first thrilling story in the series Tales From A Warming Planet, which is set in a near-future world ravaged by climate change.
The Mother Earth Insurgency: A Novelette (Tales From A Warming Planet Book 1)
September 14, 2017
Word Count:
86600
Summary: Why would someone, apparently chosen at random, have their consciousness swapped with someone else in another reality? How would someone, apparently chosen at random, have their consciousness swapped with someone else in another reality? Why would another three persons, apparently chosen at random, have their consciousness swapped with three other someone elses in another reality? Why would the entire bridge crew of a starship, apparently… well, you get the picture. What will happen to all these very confused people? How does the Alternate Reality News Service get scoops on these events so quickly? Why are their reporters acting so dodgy – do they have something to hide, or just issues? Who are the Pops, and can they help? Does the editor know what's going on, and if she does would she even tell Noomi (our favourite TA investigator)? What was that noise from her office when Noomi was 'interviewing' her? Why am I asking you these questions when you haven't even read the story yet?
The Multiverse is a Nice Place, But I Wouldn't Want to Live There
August 14, 2017
Word Count: Information not available
Summary: Josephine Mann is bored. New York City had better watch out! Set in an 1874 that never exactly was, and following the events of The Marvelous Mechanical Man, Jo is left to her own devices while Alistair Conn testifies at the trial of the villain Paul Blessant. But Jo is never one to sit idly by, and soon finds herself caught up in a whirlwind of blackmail, deception, and danger as she tries to help her childhood friend, Bridget Doyle, now Mother Mary Frances of the convent where they were raised, get to the bottom of things! If you like your heroines sassy, self-reliant, and Steampunk, then this book is for you!
The Nearly Notorious Nun
September 7, 2016
Word Count:
85000
Summary: Every action has consequences. For a decade, Angel Salvatore has been the most powerful sorcerer and only necromancer in all the Northeast. Never one to ask permission nor apologies, he has acted with near impunity for years. Until now. The High Council of Sorcery has come to Boston, and Angel is their target. Charged with numerous violations of practitioner laws, his freedom and family are placed in jeopardy. If found guilty, Angel's apprentice Daniel will be imprisoned to serve out the remaining years of his apprenticeship. Isaac, his brother, is too vulnerable to be left unguarded, and Angel fears for his sanity and health. And Simeon, Elder vampire and Angel's mate refuses to see Angel convicted under the laws of the Council and his actions to keep Angel free threaten to start a war that could destroy their world. And Angel faces the severest of punishments—the castration of his gifts. The Council has never cared for the people of Boston, and Angel doubts their motives. They have come for some insidious reason, and it has nothing to do with upholding the law and everything to do with Angel. Dealing with an impending trial, a wayward ghost, and a graverobbing ring of thieves leaves Angel on the edge. He thinks he may have a handle on things until violence erupts across the city, and a stranger comes to town...a stranger with his own dark powers of necromancy. This is book 3 of a series, and the previous books should be read first for full enjoyment. Trigger Warnings are on the Copyright Page and can be seen using the Look Inside feature or by downloading a sample of this book. 85,000 words 340 pages Gay Urban Fantasy Romance
The Necromancer's Reckoning
May 27, 2018
Word Count:
93000
Summary: A militia officer on the hunt for a murderer. A scientist with the key to humanity's future. A girl locked in a glass tank. One seeking justice. One seeking fame. One seeking answers. With the galaxy on the brink of war, time is not on their side. Join them in their battle for survival.
The Parallels
March 10, 2020
Word Count:
73440
Summary: Once upon a time, two handsome young princes fell in love, faced down adversity, and lived happily-ever-after…until one romantic evening, they unwittingly ate a confection laced with a mind-wiping toxin. In this light fantasy world, four realms have settled into an uneasy peace. A surprise twist to a prearranged marriage agreement spawns this story of unexpected love, newfound courage, and heroic adventure. Join Princes Efren and Marcelo on their heart-warming journey as they sort through misleading twists and turns to defeat devious foes. Twice! Contains the stories: The Contingency Plan: An untimely death throws a marriage arrangement, the final phase of a treaty, into disarray. Now the Crown Prince of Zioneven can make his own choice from among the princess's younger siblings. As a royal son in the matriarchal sovereignty of Sheburat, Prince Marcelo grew up knowing Royal sons never married. Never. Period. Except Prince Efren isn't from Sheburat, and he has other plans. The Best-Laid Plans: A death that wasn't what it seemed … A kidnapping that isn't what it seems … Time is running out. Enmeshed in political intrigue, death, and a kidnapping, will Prince Efren untangle the web of clues in time to save his naïve young husband, or will Prince Marcelo dig deep to discover a previously untapped inner strength and determination to facilitate his own survival? Change of Plans: Once upon a time, two handsome young princes fell in love, faced down adversity, and lived happily-ever-after… until one romantic evening, they unwittingly ate a confection laced with a mind-wiping toxin. Are their chances at rekindling their love doomed? Or will their ignominious new beginning propel them toward a more teasingly fun rapport? Also contains three bonus scenes not included with the individual stories.
The Plans Trilogy Box Set
SALE
May 28, 2022
Word Count:
95000
Summary: Paul Levinson's astonishing science fiction novel is a surprise and a delight: In the year 2042, Sierra, a young graduate student in Classics, is shown a new dialog of Socrates, recently discovered, in which a time traveler tries to argue that Socrates might escape death by travel to the future! Thomas, the elderly scholar who has shown her the document, disappears, and Sierra immediately begins to track down the provenance of the manuscript with the help of her classical scholar boyfriend, Max. The trail leads her to time machines in gentlemen's clubs in London and in New York, and into the past--and to a time traveler from the future, posing as Heron of Alexandria in 150 AD. Complications, mysteries, travels, and time loops proliferate as Sierra tries to discern who is planning to save the greatest philosopher in human history. Fascinating historical characters from Alcibiades to William Henry Appleton, the great nineteenth-century American publisher, to Hypatia and Socrates himself appear. With surprises in every chapter, Paul Levinson has outdone himself in The Plot to Save Socrates.
The Plot to Save Socrates
February 7, 2006
Word Count:
103,300
Summary: Legends tell of large cats defending the principality of Tournai, but such creatures are only myth. Or are they? Prince Philip inherited the throne of Tournai at a young age, and since then, his life has centered around ruling his country and resisting those pressuring him to do as they want both in matters of governance and those more personal. He's become isolated and lonely. Amory is the second son of a wealthy merchant who has never approved of anything about him or had any use for him. Until now. When kind-hearted Amory is offered to the prince in exchange for more time for Amory's merchant father to complete a commission, both Philip and Amory are horrified. But Philip agrees to keep Amory at the palace, where they gradually become friends, then lovers. For the first time in his life, Philip is free to share not only his heart, but the magical shape-shifting ability that runs in the royal bloodline—something the royal family has kept secret from all but those closest to them for generations. Neither Amory nor Philip imagined falling in love, and they certainly don't expect what those who oppose their relationship will do to keep them apart—maybe even resorting to murder.
The Prince's Consort
March 16, 2020
Word Count:
75000
Summary: She just wanted an easy case ... Private eye Jacqueline Spadros, recovering from her harrowing experiences the week prior, wants nothing more than a simple, straightforward case - preferably one the Spadros Family won't find out about. Aristocratic jewel merchant Dame Anastasia Louis, aka "The Queen of Diamonds," seems to be offering the perfect arrangement. But Jacqui can't leave the madman "Black Jack" Diamond's crimes unpunished. And the more she learns, the more she begins to believe that this particular job wasn't such a good idea after all ...
The Queen of Diamonds: Part 2 of the Red Dog Conspiracy
October 1, 2016
Word Count:
55,000
Summary: Welcome back to Charybdis Station and the crew of the Blue Solace: (Seventh Book in the series) Finn Sterling is still adjusting to becoming the lieutenant of the blue fleet of Charybdis Station. As an orphan on Cardinal Hold, he never imagined he would have a position of authority as an adult and the trust his friends put in him makes failure impossible. When he is given the monumental task to find a large number of missing Vextonians, he'll take all the help he can get. When Finn's journey brings him to his mate, he discovers that finding the missing is only one part of the quest ahead of him. Aiden Crow has spent the last year consumed with grief and his search for vengeance. When he meets Finn, he knows instantly that the man is his mate, but what could he possibly offer the beautiful, smiling Cardinal? As the search for the missing draw the two men together, Crow realizes that the greatest risk he faces is losing his heart. Crow and Finn must work together to gather information so they can find the innocent before they are lost forever.
The Rebel's Mate
January 24, 2020
Word Count:
141000
Summary: The starstream is beautiful. But beauty turns deadly when an ancient AI bent on destruction uses it to travel uptime, to our near-future. The Mindaru are dead. Or so exiled-Earthman John Bandicut and his alien companions believe, when they return to Shipworld after saving the Orion Nebula and countless inhabited worlds. But now another horde from this ancient and malicious AI colony is swarming toward the present from its birthplace deep in the past. Their opening: a temporal disturbance in the starstream, a hyperspatial thoroughfare used by myriad civilizations. The disturbance emanates from the planetary defenses of nearby Karellia, whose people know nothing of the starstream or the galaxy-threatening Mindaru. Only Bandicut and his friends have the knowledge and experience to act. But several of Bandicut's company have gone missing. Bandicut and Li-Jared must team with the pandimensional Ruall and her gokat—the oddest aliens Bandicut has met since the shadow-people—and journey to Karellia to find a way to cut off the timestream. Meanwhile, on Shipworld, the "missing" Ik meets another human of Earth—a former lover of Bandicut's—and embarks with her on a perilous mission far back into deep time, seeking a way to stop the Mindaru at their source. The Chaos Chronicles returns at last in The Reefs of Time, part one of a heartstopping, two-part adventure. Concluded in Crucible of Time—from Nebula-nominated Jeffrey A. Carver! PRAISE FOR THE REEFS OF TIME / CRUCIBLE OF TIME: "Classic science fiction with engaging characters and richly imagined worlds!" --Greg Bear; author of The Unfinished Land and The War Dogs Trilogy "Jeffrey A. Carver's remarkable long-awaited duology The Reefs of Time / Crucible of Time is a welcome addition to The Chaos Chronicles, certifying his continuing mastery of action and adventure at the boundaries of space opera and hard SF." --Steve Miller, co-author of The Liaden Universe "Rich, dignified prose wedded to excellent and imaginative storytelling on the grandest scale. If you've grown weary of the hasty, hyperkinetic stories and styles that typify so many other independently-published novels, come home to Jeffrey Carver's timeless and triumphant The Reefs of Time." --Charles E. Gannon, author of the Caine Riordan world "Mind-blowing in its complexity... I settled in to enjoy a wild ride." --Ann Tonsor Zeddies, author of Riders of Leviathan and Steel Helix "Underpins its stunning science fiction and character-driven narrative with a strong theme of 'coming home'... As narratives intertwine at separate ends of the timescale, Carver's talent for weaving incredible technology and worldbuilding with meaningful character moments is a standout." --Terence MacManus, Aurealis Magazine PRAISE FOR THE CHAOS CHRONICLES: "Remarkably expansive vision." --Analog "Masterfully captures the joy of exploration." -- Publishers Weekly "Master craftsman of compelling hard science fiction." -- Booklist One of the best SF novels of the year -- Science Fiction Chronicle "A dazzling, thrilling, innovative space opera." --Kirkus "Fertile imagination and... a host of engagingly sympathetic characters." --Library Journal
The Reefs of Time
July 23, 2019
Word Count:
115000
Summary: The Earth is dead. Five years after the Collapse, the remnants of humanity travel through the stars inside Forever: a living, ever-evolving, self-contained generation ship. When Eddy Tremaine and Andrissa "Andy" Hammond find a hidden world-within-a-world under the mountains, the discovery triggers a chain of events that could fundamentally alter or extinguish life as they know it, culminate in the takeover of the world mind, and end free will for humankind. Eddy, Andy, and a handful of other unlikely heroes must find the courage and ingenuity to stand against the rising tide. Otherwise they might be living through the end days of human history. "Quality, innovative worldbuilding grounds this volume in the "Liminal Sky" series. Fans of The Expanse will find plenty to enjoy here as different groups with widely varying goals and beliefs come together in a struggle to survive the vastness of space and one another." -Library Journal
The Rising Tide
August 10, 2020
Word Count:
115000
Summary: A group of strangers meets at Ragazzi, an Italian restaurant, for a cooking lesson that will change them all. They quickly become intertwined in each other's lives, and a bit of magic touches each of them. Meet Dave, the consultant who lost his partner; Matteo and Diego, the couple who run the restaurant; recently-widowed Carmelina; Marcos, a web designer getting too old for hook-ups; Ben, a trans author writing the Great American Novel; teenager Marissa, kicked out for being bi; and Sam and Brad, a May-September couple who would never have gotten together without a little magic of their own. Everyone in the River City has a secret, and sooner or later secrets always come out.
The River City Chronicles
May 30, 2018
Word Count:
115000
Summary: A group of strangers meets at Ragazzi, an Italian restaurant, for a cooking lesson that will change them all. They quickly become intertwined in each other's lives, and a bit of magic touches each of them. Meet Dave, the consultant who lost his partner; Matteo and Diego, the couple who run the restaurant; recently-widowed Carmelina; Marcos, a web designer getting too old for hook-ups; Ben, a trans author writing the Great American Novel; teenager Marissa, kicked out for being bi; and Sam and Brad, a May-September couple who would never have gotten together without a little magic of their own. Everyone in the River City has a secret, and sooner or later secrets always come out. Narrated by Michael Lysan.
The River City Chronicles
November 10, 2021
Word Count:
110000
Summary: Five years later, and the living is easy. Well, it would be if you were anyone except Cass and Kendra. Yes, they inherited enough money so they can pursue their dreams. Cass's teleportation system is becoming accepted all over the planet, and Kendra's starship is nearly ready for its first flight. Throw in a pair of precocious daughters and what more could they want? Except the universe has other plans for them. A global crisis is brewing, one which the United Earth government has kept under wraps, one which will end up with 9 billion dead in 20 years. And a brilliant bureaucrat at the UE has decided the Cassidy's are exactly the people to help. Now they have another project: helping the UE break the crippling Artemis Accords. Unfortunately, Artemis and the Solarian Union don't want to give them up. This time it's going to take more than quick talking and a fast car if they're going to continue their dreams.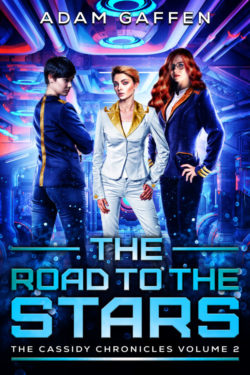 The Road to the Stars
September 15, 2020
Word Count:
23,454
Summary: First contact with an alien race calling themselves Humans. Kai and Tishla face a food crisis, and the humans offer a solution, a plant they call "Potato". But will this root be the cure the humans claim, or will it make things worse?
The Roots of War: Seeds of War Book 1
June 18, 2018
Word Count:
116000
Summary: Kyri has known her share of loss in the two decades that she has been alive. She never expected to find herself a slave in Roman lands, nor did she think she had the heart to become a gladiatrix. But with her soul shattered she must fight to see her way back home again. Will she win her freedom and return to all that she has known, or will she become another kind of slave to the killer that has taken over her mind? The only thing that is certain through it all is her love and devotion to Queen Orianna.
The Sagittarius
August 31, 2018
Word Count:
70000
Summary:
DEVILS IN TOP HATS! BLOOD RUNNING IN THE STREETS! 'THE SATANIC GANGS OF NEW YORK' DEBUTS IN PRINT AND DIGITAL
From Frank Schildiner, an author known for delivering his own take on any genre he tackles, and his own author imprint, SCHILDINER'S WORLDS, comes a supernatural historical epic pulled from one of the most violent periods of America's past.
"Bill the Butcher's back. He climbed his way out of Hell itself and told the Devil to kiss his tail. The Butcher's going to clean the streets of all the greasy foreigners and make New York a place run by good white men again."
These words greeted Stephen Roberts upon returning to Manhattan. Though the infamous Bill "The Butcher" Poole died forty years ago, the streets were ablaze with his return. The infamous brotherhood known as the Bowery Boys were painting the streets with blood and their titanic leader appeared unkillable despite being shot in the head a dozen times.
Knowing there was more to this tale than met the eye, Stephen Roberts pitted his skills and will against the Butcher and The Satanic Gangs of New York.
THE SATANIC GANGS OF NEW YORK. From Schildiner's Worlds and Pro Se Productions.
Featuring a haunting cover and print formatting by Antonino lo Iacono, THE SATANIC GANGS OF NEW YORK is available for 12.99 via Amazon at
tinyurl.com/mr33pke5
.
This unique occult crime novel is also available on Kindle formatted by lo Iacono and Marzia Marina for $0.99 for a limited time at
tinyurl.com/5efpjfdb
. Kindle Unlimited Members can read this thrilling adventure for free!
For more information on this title, interviews with the author, or digital copies for review, email editorinchief@prose-press.com.
The Satanic Gangs of New York
February 12, 2022
Word Count:
50000
Summary: Werewolves, vampires, and King Arthur converge in the Lavender Valley.  Living safely in a valley set aside for them and protected by magic under a peace negotiated by King Arthur, the blood song and Lunae have left the past behind, seemingly. A prophecy has promised that a girl will be born of a certain family line and that she will give incredible power to her mate. Stella is of the right line, but she carries the blood of both sides, half vampire, half werewolf.  She's half outcast with the wolves that raised her.  She's been told all her life that she can't be the girl of prophecy, that she'll never be good enough to be the luna of the clan. Aurelius is the silver haired alpha. Raised in Camelot, Arthur expects the boy he raised to bring the wolves and the blood song into the civilized world. The only thing Aurelius has from his father is a letter telling him to marry Onyx. Stella and Aurelius have a forbidden love that is about to wreck the civilized world. Only on the NovelStar app, first six chapters free! Come read a world where chivalry meets wild instinct!
The Scent of Lavender
August 17, 2021
Word Count:
107,680
Summary: Though he is the youngest son of a royal duke, Etan is a scholar at heart, happiest in a library surrounded by his books. He contentedly juggles his work for the prince's government with his studies of the history and legends of Tournai, a subject of particular interest to him because he shares the secret magical Talent that runs in the royal bloodline. However, Etan's peaceful world turns upside down when his best friend—the man he secretly loves—unexpectedly marries someone else. Tristan is the oldest son of a wealthy merchant, raised to shoulder responsibility for the family business one day. That day comes far sooner than anticipated, and he makes a deathbed promise to his father to marry the woman his father chose and become head of the company and family. Tristan values his friendship with Etan and has always been attracted to him, but he can't forsake his duty to his father, even if it means giving up the possibility of having Etan as a lover. A year later, Tristan is a widower with an infant daughter and a mother who demands he marry again quickly—something Tristan resists. Circumstances throw Etan and Tristan together again, but even as they succumb to the desires they've always harbored, Etan battles his feelings, wary of being cast aside once more. When the unimaginable happens, Etan and Tristan must come together and support each other through the ordeal…and maybe beyond.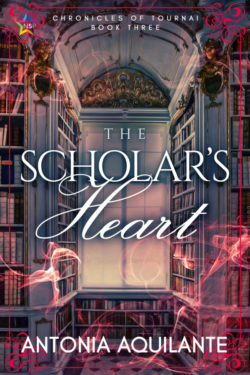 The Scholar's Heart
July 13, 2020