Word Count: Information not available
Summary: In one night, change comes with the strike of a match as Leo Riley loses everything. Giacomo Bianco's hitmen burned his home to the ground with his family inside. Leo will pay any price for his revenge. He will need power. Oguina, the mythical woman turned monster, can give it to him. But at what cost? Bianco gazes into an abyss that stares back. His fall to madness is a one-way trip Leo aims to stop at all costs before Bianco kills again. In his quest for vengeance, Leo teeters over that same cliff. Monster and Mafioso fight for dominance over Fall River's streets. Bianco's got more up his sleeve than anyone suspects, including the means to make his power absolute. Even new powers and strange allies might not be enough to ensure Leo's victory. Who is the real monster? Bianco, Oguina, or Leo himself?
A Change In Crime
Word Count:
56000
Summary: New Hopeland was built to be the centre of the technological age, but like everywhere else, it has its dark side. Assassins, drug dealers and crooked businessmen form a vital part of the city's make-up, and sometimes, the police are in too deep themselves to be effective. But hey, there are always other options … For P.I. Cassie Tam, business has been slow. So, when she's hired to investigate the death of a local VR addict named Eddie Redwood, she thinks it'll be easy money. All she has to do is prove to the deceased's sister Lori that the local P.D. were right to call it an accidental overdose. The more she digs though, the more things don't seem to sit right, and soon, Cassie finds herself knee deep in a murder investigation. But that's just the start of her problems. When the case forces Cassie to make contact with her drug dealing ex-girlfriend, Charlie Goldman, she's left with a whole lot of long buried personal issues to deal with. Then there's her client. Lori Redwood is a Tech Shifter, someone who uses a metal exoskeleton to roleplay as an animal. Cassie isn't one to judge, but the Tech Shifting community has always left her a bit nervous. That wouldn't be a problem if Lori wasn't fast becoming the first person that she's been genuinely attracted to since splitting with Charlie. Oh, and then there's the small matter of the police wanting her to back off the case. Easy money, huh? Yeah, right.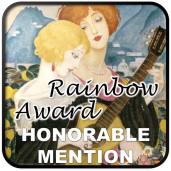 Honorable Mention: Rainbow Awards 2017 - Lesbian Sci-Fi Category
Addict
May 8, 2017
Word Count: Information not available
Summary: Step through a portal in time - and steal a piece of history! Iria and Madge, witches extraordinaire, have summoned Joshua Norton I, self-declared Emperor of the United States, back from the nineteenth century to help them save the city of San Francisco from a demon of greed. Mammon, their infernal adversary, is running a real estate scam to end all real estate scams, and he's got his own helping hand from the city's past: Etta Place, famous in her day as the accomplice of Butch Cassidy and partner of the Sundance Kid. As Norton dodges mafia foot soldiers alongside another of San Francisco's larger-than-life figures from yesteryear on the fog-shrouded streets of Chinatown long ago, Iria and Madge find themselves face to face with Mammon and Etta in modern day - and trapped in very different timelines. It'll take all their ingenuity, bravery, and prowess to fix time itself, steal the prize, and get these three heroes back together!
All the Pomp of Earthly Majesty
April 28, 2020
Word Count:
55300
Summary: Luxor City, a once lawless metropolis on the brink of civil war, is now at peace, but even in lighter times there are always shadows. In the technicolor streets of the Southern Empire, Junsu Sun, the Alpha heir to one of Luxor City's great crime families, busies himself by dealing with a blacklisted group known as the Underground. After taking down one of the Underground's notorious leaders, Junsu assumes he'll be given time to rest and recuperate, but his mother, Alpha Xijuan Sun, has a new mission for him, involving a luxury cruise and a new mate, Omega Kaito Yamaguchi, of the powerful Yamaguchi family. Ever the dutiful son, Junsu obeys his orders as if it were any other mission, but this sort of engagement isn't exactly the type of thing he's used to and Kaito Yamaguchi certainly isn't the sort of Omega he's used to either. Kaito is impatient, impassable, and impossible. He's a spoiled Omega who is pissed off that his family have reorganized his life and thrust him into this arranged mating with some Luxor City Alpha he's never met before. Kaito hasn't even seen a picture of Junsu Sun, a fact that Junsu uses to his advantage. Faced with a week spent trapped on a luxury cruise with a rude, bratty Omega who doesn't even know who he is, Junsu decides to play a little trick on his future mate. But just how far will he let things go and where is the line between a little trick and a painful deception? Meanwhile, other secrets floating between empires and continents are about to spill out onto the deck.
Between Empires and Continents
May 10, 2021
Word Count:
125662
Summary: When humans forsake the temples, the gods need to find other employment. Hades opens Brandywine Investigations after his divorce and his subsequent move to the modern world. If he was hoping for boring infidelity cases and lost dogs, he's sorely mistaken as murder and mayhem find his agency and his extended family at an astonishing rate. Includes: Canines, Crosshairs & Corpses: Brandywine Investigations #1 No Enemy But Time: Brandywine Investigations #2 Dragons, Diamonds & Discord: Brandywine Investigations #3
Brandywine Investigations: Open For Business (BI 1-3)
April 27, 2016
Word Count: Information not available
Summary: Someone killed Grandfather Jefferson. Victor is sure of it. But he's the only one. Diagnosed with mirror resonance syndrome and shunned by Semiautonomous California society, Victor suffers from "blank outs," hallucinations, and vivid nightmares. He violently overreacts to even minor confrontations. Victor's grandfather devoted his life to researching and curing mentally ill Broken Mirrors like Victor, but now that he's gone, Victor must walk a narrow path between sanity and reclassification—a fate that all but guarantees he'll lose his freedom. Victor is determined to uncover the truth about his grandfather's death and grows increasingly suspicious of the medicine he must take to help manage his "symptoms." As he tries to sort his allies from his enemies, a conspiracy with global implications emerges. Can he trust his Aunt Circe, the only person in his family who's even somewhat sympathetic to his plight? His former classmate-turned-brainhacker Ozie, who wields information as damaging as any weapon and who seems intent on luring Victor away from his home? What about his old friend Elena, who reappears in his life abruptly, claiming to have miraculously overcome a devastating addiction? With its self-driving cars, global firearms ban, and a cure for cancer, the world of Broken Mirror may sound utopic, but history has taken a few wrong turns. The American Union is a weak and fractious alliance of nations in decline. Europe, a superpower, manipulates its citizens through technology. And Asia is reeling from decades of war. Amid shifting geopolitical sands, Broken Mirrors like Victor find themselves at a crossroads: evolve or go extinct. Broken Mirror is the first novel in a sci-fi cyberpunk detective saga tailor-made for fans of William Gibson, Haruki Murakami, and Neal Stephenson.
Broken Mirror
January 22, 2016
Word Count: Information not available
Summary: If he succeeds, he gets angel wings. If he fails, he gets unspeakable pain. What if Charlie wants neither?  Urban fantasy light short story with a touch of gay romance in a slightly noir short story with a very happy ending. In another Los Angeles, two Nephilim take hell-horses into battle against Angels, risking everything in an effort to give Hell's lowliest slaves a chance at freedom. Eventually, every Nephilim must face Choosing Day, and for Charlie Chrysalis, the day has arrived. At Angel Headquarters in Los Angeles, the Angel Sidriel—Charlie's guardian and also his worst enemy—asks the key question: "Spirit or Flesh?" If he chooses Spirit, Sid will certainly do everything he can to make sure Charlie fails, but he's made up his mind. His test: solve Region Six Immigration Crimes Case D665. It looks like a piece of cake. But can Charlie bring down Sidriel's brand of justice upon innocent, unfortunate souls, even if it means he must silence his heart and sacrifice the respect—and possibly love—of the one man he doesn't want to disappoint?
Charlie Chrysalis
February 1, 2021
Word Count:
72000
Summary: Vampires and werewolves live long lives. The Sleepless City saga might have ended but the story continues… Welcome to the Vampire Guard, where legend and myth meet science and technology.   Vampires make the best spies. Throw a smart-mouthed werewolf in with three vampires, mix well, and The Vampire Guard's newest team is bound to become one of their greatest assets. Super spies with a full range of skills. Warrior, hacker, thief, and scientist.  They get in, do the job and get out before the bad guys ever know what hit them. Forge, Blair, Declan, and Lucas are thrust into the world of high-tech spies and top-secret espionage conspiracies. Recruited into the world's most elite and secret organization with one singular mission. Protect those who can't defend themselves from ruin. Life becomes complicated when an impending Presidential visit to their town, Boggslake, throws them headlong into the world of the vampires and werewolves of the Vampire Guard. Very quickly they uncover and confront a werewolf terrorist organization known as the Qiguan. Together they must thwart an assassination attempt on the open waters of Lake Superior while tracking a previously unknown biological weapon controlled by the Qiguan—a weapon which may very well mean death for one of them.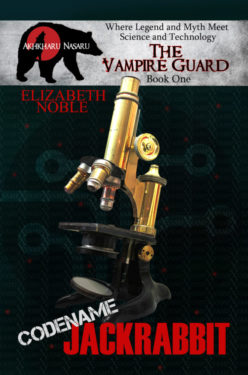 Code Name Jack Rabbit
January 12, 2021
Word Count:
26000
Summary: Wilderness tour guide, Patrick Morgan, wakes to discover Harlan Quinn—the man he'd invited home for the night—has left, with no traces of his presence. Disconcerting as that might be, Patrick is shocked when the police turn up a week later, demanding to know Harlan's whereabouts. He's an ex-patrol officer, accused of manslaughter. Harlan Quinn is desperate. Not only has he been dismissed from the Space Patrol, on a charge he strongly denies, but now he is on the run.   He can't find a legitimate job. With no money and no prospects, what's left? When Patrick's tour group is caught up in a kidnapping plot, the last person he expects to run into is Harlan. With everything he knows, can Patrick dare to trust him?
Dangerous Love
October 19, 2021
Word Count:
79,025
Summary: Solving mysteries is her business. Finding love is her dream. Will combining the two get her killed? Victorian Era England. Stetson revels in being unconventional. So when society shies away from her independent nature, the bold woman creates an imaginary boss and opens her own detective agency. And her keen observational skills, convincing disguises, and Holmesian methods quickly bring in a string of tough-to-crack cases. Struggling to squeeze a personal life in around a series of hazardous investigations, Stetson worries she'll never find a woman of like-passions. But with her heart set on true love despite the risk, she carries on hunting for the perfect relationship. Will her clever escapades lead to death… or delight? Daring Duplicity: The Wellington Mysteries, Vol. 1, Adventures of a Lesbian Victorian Detective is a collection of five sequential novellas, each encompassing its own exciting mystery while furthering the story of Stetson's life in London. If you enjoy crime dramas, Victorian era fiction, or a sweet lesbian romance, then you'll love award-winning author Edale Lane's Daring Duplicity. Order yours today!
Daring Duplicity
January 19, 2022
Word Count: Information not available
Summary:
Durham, North Carolina has industry, commerce, fine universities, a world-famous baseball team, technopagans, vampires, and its very first superhero and supervillain.
As Withrow Surrett, self-declared vampire lord of North Carolina, digs in to see what's up in his own back yard, two mortals - The Bull's Eye and El Diablo - make headlines fighting crimes and committing them. With the help of friends old and new, Withrow has to track down both hero and villain before his city decides to go looking for even weirder things that go bump in the night!
The fists fly fast and furious in the third installment of this vampire and urban fantasy series, perfect for fans of Rick Gualtieri, Jeff Strand, or Christopher Moore.
Deal with the Devil
August 21, 2017
Word Count:
118937
Summary: Frank Grimes is a lowlife, no count, barely classifiable as a human, male who just happens to have enough sense to hire and retain qualified construction workers. He landed the contract to build most of Draoithe in January of 2016. He's not only worthless, but he's also criminal filth. He will do anything for an easy dollar. After the Draoithe housewarming party, his true colors shine through when he attempts to rape the architectural designer in her apartment after driving her home. Luke can't afford to let Jace kill him or allow Flame to turn him as dragonsworn, but there is no way that Frank can be allowed to just get away with what he's done. Even the Assassin King wants him dead, and he is the dragon called to serve one miscreant underking. Sentenced to house arrest and forced labor, Grimes seeks a way to fulfill the requirements Luke sets on him to gain enough respect that Javier will turn him into a canine shifter until he meets a blood demon who wants to help Luke out. Is it possible to totally rehabilitate the walking filth that is Frank Grimes into a real man in order to help him avoid certain death and turn him into a wolf? Or will the demon simply drink him dry and slowly end his miserable existence?
Draoithe: Filth and Death
February 14, 2020
Word Count:
91154
Summary: Flame is scarred from a past filled with lies, deceptions, and heartbreak. He is not guilty of what his brothers believe, but Blaze is the only one who knows the truth. He was betrayed by the king he had served. The girls he gave the dark gift to had been innocent. When he finds his Valkyrie, beaten, raped, broken, and fading after having been forced to accept the dark gift without her consent, Flame vows that he will do anything to save her. The light seems gone from both her and the world she finds herself in. Little does Flame know that for her to have the light again, he will sacrifice his honor, his integrity, and his life after breaking every law he can manage to break and even demand absolution for crimes he never committed. Many men say they will die for the love of their life. Flame somehow needs to do it four damn times, find a way to fix not only her broken magic, but fix her broken spirit as well, and then figure out how to live for her! All men wish to love a vampire, but Flame burns in his soul for one who holds the fire and has been granted the dark gift of an immortal vampire princess.
Draoithe: The Dark Gift
July 29, 2019
Word Count:
135408
Summary: Alexio Asmodai is the demon king of Eaglafonn, a small outpost kingdom in the Netherworld overruled by the Demon Lord Asmodeus. It is Alexio's responsibility to protect and police the frontier borders against any threats. He is an accomplished knight, so that part came easy. Eaglafonn is a cold and isolated kingdom. Alexio needed to stay and build his castle atop the hot springs to beat an addiction to seduction sickness. After over seven centuries, he thinks his loneliness has finally come to an end when he opens a crate to find a woman sent by Asmodeus for him to keep safe. He falls for her instantly. She is a human woman, fragile, timid, and irresistible. He must follow his liege's directive, convince her to become his queen, and see that she is cared for properly in a place that is inhospitable to her existence. This leads to a realization that his castle lacks a lot to be a first-class home for a lady. Can a tainted demon prince rise to the challenge to become a true king and win the woman who stole his heart? Dread Allies 7-14 The Shadow king of Eaglafonn has chosen his queen, but his castle lacks the feminine element. To make her more comfortable, he orders the demon princes to seek out and claim their own mates. That is easier said than done. Eaglafonn is a cold dark isolated kingdom in the Netherworld. It might be easier to claim mates from the Domhain, but not everyone could survive on the brutal dangerous frontier. The other options afforded from the Netherworld come with their own dangers. The magic is unbalanced and balancing comes with a price. Claiming their mates lead the demon princes on epic mini journeys and reveals the need for Eaglafonn to take a greater role in helping Luke aid the dream. Dread Allies is a miniseries set in the Netherworld in the dream. It is an ancillary group of stories to the Draoithe saga. While it is set in that world, it is not in the direct series lineup. The dream just got darker and colder. Welcome to Eaglafonn.
Dread Allies: Shadow King
May 15, 2020
Word Count: Information not available
Summary: Here you'll find tales of the supernatural, betrayal and murder; the mistakes that lead to the fall of empires and the constant tug of war that haunts mankind. There's a blend of science fiction, fantasy and horror - from a modern day detective facing a serial killer to a future utopia filled with disloyalty. Lovers of romance will find a little something for them too, but within these bright sparks of hope shades of darkness lurk.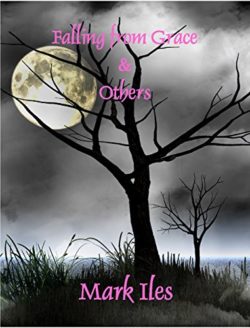 Falling from Grace, & Others
October 27, 2014
Word Count:
40000
Summary: Officer Alex Wolf responds to a lot of 'paranormal' calls that aren't. Exotic pet birds aren't monsters and unusual dog breeds aren't aliens. It's a good thing he likes the animal control officers, but he both yearns for and dreads those calls where he runs into ACO Jason Shen. Jason's scent is so delicious that Wolf has a difficult time humaning around him. Animal control calls take a disturbing turn, though, when Wolf and his lizard-man partner, Krisk, discover the impossibly mummified bodies of rats and an unfortunate mother cat. The rescue of the cat's sole surviving kitten not only gives Wolf more time with Jason, which is both perplexing and wonderful, but also leads to dangerous discoveries. Something inconceivable stalks the city and its officers of the law. Wolf has to figure out what it is before it can attack and drain the life from the people and the kitten he loves.
Feral Dust Bunnies
May 23, 2017
Word Count:
98263
Summary: Quinn and Valerian have come through the trials of facing an undead lich queen and the perils of falling in love. Now they work to restore AURA to its previous strength and efficiency while navigating their new life with each other. Fortunately, they're not in this alone. Kai Hiltas has taken over as the head of the research department at AURA and has become everyone's favourite workaholic, everyone except his lover Tenzin, who has had enough of his late nights and broken promises. As Kai tries to salvage his relationship, he finds a teacher for Quinn, who also happens to be one of Valerian's new officers, Flax Wolfheart, a sexy elf with trouble written all over him. Flax has motives beyond simply teaching Quinn to control his magic. He's trying to recover from his own losses and failures, but he has a plan. The two newest elvish crossovers, Ash and Sage, are sizzling hot and might even like him. With them as backup as he tracks a deadly stone mage and figures out how to teach Quinn, Flax sees his chance to impress Val and snag a place by his captain's side. On the hunt for both danger and redemption, Flax's pursuit leads him ultimately down trails he never expected.
Flax's Pursuit
July 14, 2015
Word Count:
120600
Summary: Captain Talis just wants to keep her airship crew from starving, and maybe scrape up enough cash for some badly needed repairs. When an anonymous client offers a small fortune to root through a pile of atmospheric wreckage, it seems like an easy payday. The job yields an ancient ring, a forbidden secret, and a host of deadly enemies. Now on the run from cultists with powerful allies, Talis needs to unload the ring as quickly as possible. Her desperate search for a buyer and the fallout from her discovery leads to a planetary battle between a secret society, alien forces, and even the gods themselves. Talis and her crew have just one desperate chance to make things right before their potential big score destroys them all.
Flotsam
February 1, 2022
Word Count:
126000
Summary: Not once in the past five years has Castle Warden Sho Renjimantoro regretted following his best friend to Aart. How can he regret it when he finds open acceptance regarding his sexuality from everyone around him (even if they don't understand it), and he gets to be with the man most important to him? No, finding someone in this country is a fantasy best forgotten. General Arman Brahms, finally home from deployment, has waited over two years to show Ren he's wrong, that fantasies can come true. Unfortunately, his plans get put on hold to help Ren solve the crisis unfolding in the castle. Someone is doing their level best to make sure the engagement of Prince Charles and Princess Alexandria of Scovia falls through—by fair means or foul. In addition, they're trying to make Ren deemed incompetent and dismissed from his position. While hunting for the perpetrator, Ren and Arman do everything in their power to protect those they're sworn to before the irredeemable occurs. And along the way, prove that even an ordinary life can become extraordinary.
Fourth Point of Contact
October 18, 2018
Word Count:
37,067
Summary: The son of a wealthy woman and an admiral tries to run away to the center of humanity only to end up… on a farm. There, he is introduced a radical new concept called "hard work." As he has to deal with life without the universe at his fingertips, he captures the attention of a farmer's daughter. And a local constable who believes an alien invasion is imminent.
Gimme Shelter (Seeds of War Book 3)
September 14, 2018