Word Count:

108000
Summary: Now what? As Kendra recovers from her wounds, Artemis is planning their next strike. But so are others. Artemis has been too corrupt for too long; their own people are ready to take control. It's just going to take a little encouragement...
A Quiet Revolution
Word Count:

115000
Summary: Aaron Okonkwo, a Nigerian scientist, travels with a crew in the 24th century to evaluate Viridis, which proves to be a beautiful and fabulous world. There, Aaron discovers a strange, alien species and amazing machines and technology left in a vast underground complex by a mysterious race called the Creators. Aaron soon falls under the irresistible, seductive spell of Nightsong, a green alien female with ominous and bewitching powers. However, an even greater danger rises. He will be forced to fight for the planet's survival against a ruthless invasion of many ships to conquer and enslave the planet – just as Africa itself was once enslaved. Aaron knows it's A Senseless Act of Beauty to try to reclaim his ancient warrior heritage and fight back against such overwhelming odds, but he knows he must try.
A Senseless Act of Beauty - John B. Rosenman
Word Count:

77000
Summary: There are worlds out there with a past. A past that is only poorly understood. The Song worlds are in that category. What are they? Why are they? What do they tell us about the rest of us? Should we investigate them or should we avoid them? What if our world was visited by the Song? Maybe that is not strong enough. What if ours is the result of a visitation by the Song. More to the point, what if they achieved what they wanted with us? What if it all went wrong? What category does the world of Forest come under? The inhabitants there only number a few thousand and they face numerous perils. Were they ever visited by the Song? Shanlee the story teller has been given the world to investigate. What is she in for? She has other things on her mind. She left the love of her life behind when she took this investigation on. Will she be waiting for her when Shanlee returns home? If she returns home? The people of Forest, the Kekimelu, have been deserted by their spirits but have not lost their beliefs. A young song writer decides he is going to ask the Song's representative on Forest some hard questions. The answers he gets may not be what he hopes for.
Air Song
Word Count:

95000
Summary: Feared by her own kind. Hunted by extraterrestrial forces. Can one super soldier find her place among the stars? Lieutenant Tabitha Chiu is plagued by doubt and conflict. Still heartbroken over the loss of her AI companion and marooned on a faraway moon, the space marine and her ragtag team of super-powered civilians stand as the last line of defense against alien hunters. But when her powers pick up whispered threats of approaching invaders, she's horrified to discover her own people have betrayed her squad. Barely escaping assassination, Tabitha and her fellow psionics flee the hateful moon to the sanctuary of a single surviving combat ship where she hopes to reunite with her AI friend. But when her newly resurrected acquaintance hijacks the craft, the nonbinary fighter is torn between protecting those she loves best and saving humanity from annihilation. Can this conflicted officer and her misfit allies defeat a formidable enemy intent on driving them to extinction? Amp Squad is the electrifying second book in the Ship Whisperer military science fiction series. If you like strong LGBTQ+ characters, unusual weaponry, and fearsome space battles, then you'll love this pulse-pounding story. Buy Amp Squad to launch into a gut-wrenching thrill ride today!
Amp Squad
Word Count: Information not available
Summary: Ardulum. The planet that vanishes. The planet that sleeps. Neek makes a living piloting the dilapidated tramp transport, Mercy's Pledge, and smuggling questionable goods across systems blessed with peace and prosperity. She gets by—but only just. In her dreams, she is still haunted by thoughts of Ardulum, the traveling planet that, long ago, visited her homeworld. The Ardulans brought with them agriculture, art, interstellar technology…and then disappeared without a trace, leaving Neek's people to worship them as gods. Neek does not believe—and has paid dearly for it with an exile from her home for her heretical views. Yet, when the crew stumbles into an armed confrontation between the sheriffs of the Charted Systems and an unknown species, fate deals Neek an unexpected hand in the form of a slave girl—a child whose ability to telepathically manipulate cellulose is reminiscent of that of an Ardulan god. Forced to reconcile her beliefs, Neek chooses to protect her, but is the child the key to her salvation, or will she lead them all to their deaths?
Ardulum. First Don.
Word Count:

106,000
Summary: The planet wakes. Atalant is torn between two worlds. In uncharted space, head of a sentient planet, the new eld of Ardulum now leads the religion she once rejected. Emn is by her side, but the Mmnnuggl war brewing in the Charted Systems, threatening her homeworld of Neek, cannot be ignored. Atalant must return to the planet that exiled her in order to lead the resistance. She must return home a god, a hypocrite, a liar in gold robes, and decide whether to thrust her unwilling people into the truth of Ardulum, or play the role she has been handed and never see her family, or her world, again.
Ardulum: Third Don
Word Count: Information not available
Summary: Un appel de détresse mystérieux amène l'équipage de l'Hermès jusqu'à un vaisseau militaire en perdition… et désert. À l'intérieur, du sang et des viscères jonchent les couloirs, et un seul survivant, prisonnier d'une cellule de détention. Attiré par le bel homme traumatisé, l'agent de com' de l'équipage, Isaac Ozawa, prend Turk sous sa responsabilité, lui offrant la gentillesse et la chaleur dont il a besoin après les horreurs qu'il a vécues. Isaac sait d'expérience ce que c'est qu'être différent, d'être un paria, et cela renforce leur lien. Jadis pilote prometteur, il a vu son cerveau être endommagé lorsque l'implant devant servir à piloter les puissants chasseurs de la flotte n'a pas fusionné correctement. Le cerveau de Turk n'en mène pas plus large. Le résultat d'une expérience militaire ratée, ses compétences naturelles ont été augmentées à un niveau dangereux. Lorsqu'un amiral sans morale et avide de puissance kidnappe Isaac et se sert de lui pour convaincre Turk de devenir l'arme cataclysmique dont il rêve par-dessus tout, les deux hommes et leurs compagnons se lancent dans une bataille éperdue pour leur liberté…
Attraction gravitationelle
Word Count:

93000
Summary: When a change in collective conscious sends the Outsiders, a group of aliens, to the shadows below the city, humans reason that the demonization of their peers is simply more "humane." There's no question, nor doubt. Just acceptance. Lydia had embraced that sense of "truth" for as long as she can remember. The daughter of a powerful governor, she has been able to live her life with more comforts than most. Comforts can be suffocating, though, and when the opportunity to teach Outsider children in their private, "humane" community becomes available, she takes it. What she finds beneath the city is far from the truth she had grown to know. There she meets Alessia, an Outsider with the knowledge and will to shake the foundation of all those who walk above ground. The two find a new and unexpected connection despite a complete disconnect from the technological world. Or perhaps in spite of it. Still, it takes a lot more than an immutable connection to change the world. Lydia, Alessia, and a small group of Outsiders must navigate a system of corruption, falsehoods, and twists none of them ever saw coming, all while holding on to the hope to come out alive in the end. But it's a risk worth taking, and a future worth fighting for.
Beneath the Surface
Word Count:

73000
Summary: ::The Seignso have our own plans for the remains of Genghis Khan.:: Alien warmongers have cloned an ancient emperor to lead an unstoppable army. Gifted with superhuman powers and advanced technology, he sets his sights on his home planet, Earth, and then... the stars! However, countermeasures have already been set in place. A young Iowa farm boy, oblivious to his powers or destiny, is thrust into a battle that will decide the fate of humanity against the new and improved Genghis Khan! A thrilling, interstellar adventure from the author of The Weller and War of the Worlds: Goliath!
Birthright
Word Count:

81000
Summary: Alessia is an Outsider—a member of the not-quite-human community that has recently been released from their underground prison. Shortly after their liberation, Alessia is given an ultimatum: obey all the United Earth Alliance's demands, or her mother will forever remain a hostage—a mother she'd believed dead for fifteen years. Reluctantly, she agrees, though she has no idea what those demands may be or how she will balance her obligations to the UEA with her responsibilities to her people and her family. As the UEA tightens its grip on humans and Outsiders alike, it becomes clear that meaningful social change will not be possible without a revolution. Alessia and her peers embark on a mission to discover just how far the government is willing to go to maintain their monopoly on power. What Alessia and her comrades discover, however, goes much deeper than they'd ever anticipated. Who are the Outsiders, really? What secrets of their destiny lay hidden within a top-secret space station? And why are the Outsiders linked to an emerging disease the UEA seems desperate to keep secret?  As they delve deeper, it isn't only Alessia's identity that will be called into question, but the fate of the entire planet.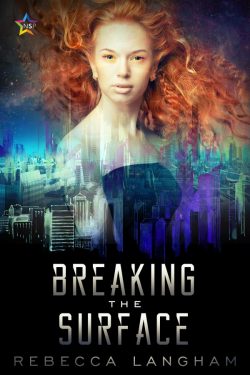 Breaking the Surface
Word Count:

55000
Summary: In a world where humans are genetically designed, altered and sold for pleasure and breeding, a young prince of the powerful Cassian Dynasty decides to take a mate and sire heirs. Not wishing to saddle himself with royal and meddlesome in-laws, and a wife he would have no desire to bed, Prince Edward goes to Heritage Breeders, and finds far more than just a warm body to carry on his lineage. Percy is the result of a master DNA architect designing himself his own personal slave and breeder. Yet when his creator and Master dies, leaving Percy alone at the mercy of the callous stable masters and the new owner of Heritage, he fears his future. Afraid he'll be bought by a wretched old man or a deviant monster, Percy is terrified when he is dragged from his cell and presented to the most prestigious client Heritage has ever welcomed...a Cassian Royal. Prince Edward is immediately infatuated with the shy, nervous and enchantingly beautiful Percy, and claims him for his own. Yet not everyone is pleased by a royal purchasing a breeder, especially one like Percy, and tensions rise both in Heritage and in the palace. Torn between need, duty, a king's command and the innermost desires of their hearts, Edward and Percy are set on path that is anything but easy. Can Percy trust Edward with his heart as he does his body? Can Edward keep an angry king and unseen enemies away from the young slave who is steadily stealing his heart? And what happens when Nature takes its course, and Percy's true purpose is fulfilled?
Bred For Love
Word Count:

130000
Summary: The world was forever changed when a government genetic experiment created the Chromodecs from a dead alien in 1952. Decades later, when it became apparent that society needed a way to deal with a hybrid humans with unheard of powers, the CORP was created. The Chromodec Office of Restraint and Protection was a special government police agency formed to keep track of the Chromodecs. This particular tale involves two refugees, young babies who were sent down to Earth to escape being used as pawns in an interplanetary war, despite the fact that Earth itself wasn't so safe. Destined to be Q'sirrahna, or soul mates as the humans called it, Amari Losira Del Rey and Zendara Inyri Baen-Tor would grow to be more powerful than any other beings on the planet, if they could find each other first. After being forced to hide from the CORP when it's realized their powers could level entire cities, Amari and Zen will have to answer one question. Who will save the world when it all falls apart?
Children of the Stars
Word Count:

130000
Summary: When the slightest touch triggers visions of horror, you learn not to let anyone close. After more than a decade hiding from society, Seth Albright is sheltered. His visions make it a necessary evil. After a precocious emergence as a seer when he was eight, his mother took him to live in the woods. To protect him. When he can't take another day of isolation, Seth turns to SPIRE. There, he gets partnered with Roy Merchant as his anchor. Enough inexperienced psions have burned Roy by using him as a stepping stone to last a lifetime. Roy has seen scandals come and go in his time with SPIRE. Seth has seen atrocities most people couldn't imagine. But neither of them has seen anything like what's coming for them next. This is MM urban fantasy containing some mild BDSM elements and an age gap.
Clear Sight
Word Count:

119000
Summary: Most cops get to deal with living criminals, but Agent Kirsten Wren isn't most cops. A gifted psionic with a troubled past, she possesses a rare combination of abilities that makes her a powerful weapon against paranormal threats. Adrift in a society that fears people like her, she feels alone in a city of millions. In 2418, rampant violence and corporate warfare have left no shortage of angry wraiths. Most are little more than fleeting shadows or eerie whispers in the darkness, but every so often, one gathers enough strength to threaten the living. A series of attacks by androids known as dolls leave the normal police baffled. Unable to explain what made the machines malfunction, they punt the case to Division 0. Kirsten's investigation into who – or what – is behind the random murders soon makes her a target for corporate assassins. Despite her past, and the cynical city around her, she clings to the belief that no one is beyond redemption. Alas, the killer is desperate to claim as many innocent souls as possible, and one might just be hers.
Division Zero
Word Count:

51700
Summary: The Mythric Kingdom has raided the Five Cities. Sebastian has been rescued and Christopher is now the one in chains. The leader of the rescue team, the ice dragon Prince Azanel, says that Sebastian is his Mate. The face Sebastian dreamed while he was in captivity belongs to Azanel, but he still loves Christopher – but is that love real, or is it only conditioning? A soldier named Cavan claims to be Sebastian's closest friend, and the King of Mythria, Goxtli, has sent him and a strange creature named Kliyo to bring Sebastian home. Nothing feels familiar, and Sebastian knows that he's surrounded by lies. His time in the Countess's custody is over, but the battle for Sebastian's soul is just beginning. And the Countess and Lord Ashmar cast a very long shadow... This is a dark LGBT science fiction/fantasy romance not suitable for anyone under 18 years of age. Contains dark, adult themes, graphic gay sex and BDSM elements.
Dragon's Gambit
Word Count:

57000
Summary: Previously on Dragon War Chronicles, the first strike was made against their enemies, but the cost was heavy. Mourning their losses Danica still must prepare for dragons that will be coming to woo her. She already knows the dragon she wants to mate to, but will she convince Kollin that she's ready to commit? Of all the dragons going to Toulouse to meet Danica and see if they have a chance only one has a completely different agenda. He knows which dragon he wants and it isn't Danica. Will Xavier win the heart of Danica's brother? Anchin Luu, Danica's brother and manager of her Las Vegas casino, Dragon's Hoard, has spent his whole life alone due to his deadly nature. A broken experiment and retired assassin Anchin isn't sure what to make of the water dragon that has invaded his life. Love is in the air, but so is gunpowder. SLIPs going missing, Coyotes crashing parties, and a mating you'll never forget are all in store for you on the next exciting installment of Dragon War Chronicles. Attention: This book contains explicit sexual content between consenting dragons, depictions of relationships that are MF and MM with a dash of doublemint fun. Dragon War Chronicles is a continuous series. It is best read in order. SYN Consulting Secrets Revealed First Strike Dragon's Hoard
Dragon's Hoard
Word Count:

51200
Summary: Sebastian is a cryptomorph, a lab-created creature blending the DNA of man and beast. He is not a man. He is an object. A pet. A product. This is the story he's been told, but his heart tells him it's a lie. The truth is out there somewhere, and if he can escape from the Countess and the Community that wants to breed more golden dragonels like him, he might be able to find it. Christopher is a veterinarian tasked with the care of the dragonel, and he's not supposed to see the man behind the dragon. Sebastian calls to a part of him that he thought was long dead, and he would do anything for him now. Anything but tell him the truth. "Dragonel" is a M/M dystopian science fantasy intended for mature audiences. Not suitable for anyone under 18 years old.
Dragonel
Word Count:

83000
Summary: Desperate for a cure, Amanda will trade anything. Even her supernatural echo power. Plagued by schizophrenia, Amanda often has trouble distinguishing her delusions from the insights of her supernatural echo power. When her case catches the interest of a Cordovan geneticist, she soon discovers there's a fine line between a patient and a test subject. Even worse, the treatment for her disease might also erase her power. With Amanda left vulnerable by her treatment, the crew is in a race to save both her and the other test subjects. But their lone ship is no match for the Cordovan's advanced technology.  Can Amanda use her power to save them before her consciousness is erased? Echo is the thrilling continuation of the New Dawn science fiction series. If you like complex characters, clashing cultures, and supernatural powers, you'll love this multi-realm space opera.
Echo
Word Count:

58000
Summary: Previously on Dragon War Chronicles, our heroes recovered and were preparing to take the fight to a still unknown enemy. Meanwhile, startling breeding experiments were revealed. Three sites are discovered in Russia that could hold all the answers they've been looking for. Three strike teams are assembled led by Xander, Kollin, and Tyler. Three simultaneous attacks are combined to make one devastating first strike against their hidden enemies. What horrors will they discover? What plans will be revealed? Why is a member of the Dragon Council showing up on Danica's doorstep with ultimatums? Find out in the next exciting installment of Dragon War Chronicles. Warning: This book contains explicit sexual contact between consenting adults. There are romantic, BDSM, and purely sexual relations shown that are MM and MF. There is also high sexual tension and alpha male posturing that will make you laugh and roll your eyes along with plenty of snark and definite teasing of dwarf-like dragons. Dragon War Chronicles is a continuous series. It is best read in order. SYN Consulting Secrets Revealed First Strike Dragon's Hoard
First Strike
Word Count:

85000
Summary: ALSO AVAILABLE FROM INGRAM FOR BOOKSTORES We're a world beset by crises. Climate change, income inequality, racism, pandemics, an almost unmanageable tangle of issues. Sometimes it's hard to look ahead and see a hopeful future. We asked sci-fi writers to send us stories about ways to fix what's wrong with the world. From the sixty-five stories we received, we chose twelve most amazing (and hopefully prescient) tales. Dive in and find out how we might mitigate climate change, make war obsolete, switch to alternative forms of energy, and restructure the very foundations of our society, The future's not going to fix itself.
Fix the World Anthology