Word Count:

89000
Summary: The magnetic poles have shifted. Powers ignite in their veins. But are their emerging Unhidden talents strong enough to defend them from annihilation? Anna Taylor is barely holding her anxiety at bay. With scales growing on her body and shocking magic now at her command, the teacher flees after being outed by a student and attacked by an angry mob. And after arriving at a safehouse on a farm in Ireland for training and protection, she feels unprepared for her first mission to neutralize an explosive threat. Vietnam vet Maximilian Hurley subdues his demons with drink. So when an Unhidden agent comes to Australia to recruit him, and a fire mysteriously destroys his plane, the troubled pilot doesn't have much to lose. Teaming up with Anna, the tough-talking Aussie battles through his PTSD as they save Cork from a devastating bombing. As the group of talents grows to a core crew of six, Anna and Max discover there's little peace as a coalition of xenophobic extremists rises against those with Unhidden Blood. And now their combined powers might be the only thing standing in the way of their total extermination… Can Anna, Max, and the squad stem a tsunami of chaos and death? Taming of the Few is the first book in the Guardians of PHAE Irish urban fantasy series. If you like snarky banter, spectacular world-building, and nail-biting tension, then you'll love Rowan Dillon's urban fantasy adventure. Buy Taming of the Few to defend a powerful destiny today!
Taming of the Few
Word Count: Information not available
Summary: Almost three thousand years after an extinction level event on Earth, mankind seeks to regain its former glory, in a new world where magic and technology collide. Laney Herder, a commoner in the realm of Wexbury, finds herself thrust into the world of nobles and knights.  At the side of her Lady Celeste, Knight of the Realm, she goes on an epic journey from being a simple chicken farmer to one of the greatest heroes of the realm, while helping the Lands of Sparo avoid a second Great Mage War. Can kindness and innocence, defeat the oncoming storm?
Techromancy Scrolls: Adept
Word Count:

79000
Summary: Justin is a merman who has been raised on land. He hates his fins and wants nothing to do with his heritage. Lucas is an ambitious merman who has lived his whole life in Atlantis. He has spent his adulthood hiding his sexuality because homosexual relationships are forbidden in the underwater city. Now he has been sent on a mission by King Nereus to locate his oldest son and return him to Atlantis to take his place as the heir to the throne. Although his mission seems impossible, Lucas finds help from the Atlantean Goddess of Love, little knowing she has her own reasons for bringing Lucas and Justin together. Justin is no stranger to immortals, having been raised by two of them, but he has no idea of the consequences of angering the Goddess of Love. When he insults her, she curses him to find love only to lose it forever shortly after. As the love 'em and leave 'em type Justin isn't overly concerned, at least until Lucas enters his life and he sees how the curse will end. Together they could have the greatest love of their lives, but only if they can appease the furious goddess before their time runs out.
Tempestuous Tides
Word Count:

52000
Summary: Six months ago, Stefan Cobbe was at rock bottom: grief-stricken, guilt ridden, debt laden, artistically blocked, and living on charity in an isolated mountain cabin. But after reconciling with his first love, Luke, and moving to Sarasota with him, Stefan is preparing for his first major show. Yes, he still has debts, and no, Luke doesn't understand Stefan's desire for independence. But compared to last year? No contest. Luke Morganstern ought to be happy. After all, his art-investigation business has recovered and he's got his boyfriend back. But Stefan stubbornly refuses to move in with him or accept Luke's financial help, and it's really starting to bug him. Who knew that the biggest test of their relationship wouldn't be time or distance, but his own insecurities? After Luke's next job—a trip to Italy to retrieve a mysterious artifact—he plans to convince Stefan that it's time to totally commit. But when Luke returns, he changes, and Stefan begins to suspect that the person in Luke's skin isn't Luke at all. He can hardly go to the police and claim his lover is the victim of a supernatural hijacking though. He needs alternative help to find Luke and get him back, because he refuses to let anyone—or anything—come between them again.
Tested in Fire
Word Count:

11220
Summary: Thomas East was meant to be the youngest Arch-Mage in history, a magical genius and a solver of problems. But he hadn't expected quite so many problems -- not to mention the endless meetings, bureaucracy, and political negotiations. So he's currently hiding in a sleepy California seaside town, working in an ice cream parlor and avoiding everyone he's let down ... until a firebird in need of rescue crashes into his shop. Nicholas Incandesco has far too many problems. He's a firebird, a shapeshifter, and a power source, and a lot of magicians could use someone with his gifts. He's also technically a murder suspect with two magical bounty hunters on his trail. He just wants someplace safe to land, and the attractive witch behind the ice cream counter might offer a sweet refuge. This encounter might be exactly what both Nicholas and Tom need to find themselves ... and rescue each other.
The Arch-Mage's Firebird
Word Count:

108,720
Summary: As the first-born son of a royal duke and cousin to the prince, Cathal has always put his duty to family and country first, even when it conflicts with his own wishes. When Cathal's father arranges a marriage between him and Velia, cousin to the emperor of Ardunn, without consulting him, he sees no alternative but to go along with his plans for the good of Tournai. But it's Velia's companion, Flavia, who fascinates Cathal from the moment he first sets eyes on her. Cathal doesn't know Flavia is really Flavian, an artist masquerading as a woman to escape Ardunn, a restrictive and repressive place where Flavian's preference for men is forbidden. Even when Cathal discovers Flavian's identity, even as he struggles with his obligations and duty, he cannot fight his attraction to the sharp-tongued artist. Flavian is intrigued by him as well, but Cathal is still betrothed to Velia, and Flavian worries he is more taken with the feminine illusion Flavian presents than the man beneath it. He came to Tournai to start a new life—a safe one—as an artist, and an inconvenient attraction to his friend's betrothed, a man who happens to be a member of the royal family, is not a part of his plans. While both men battle their longings for each other, spies from Ardunn infiltrate the capital, attempting to uncover Tournai's weaknesses and secrets. They are also searching for Flavian, who possesses a magical Talent giving him the ability to see the truth of a person just by painting their portrait—something that would be invaluable to Ardunn's emperor.
The Artist's Masquerade
Word Count:

98000
Summary: The Big Cinch embeds readers in a magic-laced St. Louis, once known as Mound City, home of the indigenous Americans' Mississippian ancestors. Little evidence of their civilization survives in 1924, apart from the popular Piasa monster image, invoked to sell plows as well as ornament civic pageants. Sean Joye, a recent Irish immigrant, tried to avoid fae attention and ignore his magical abilities since childhood. A young veteran of 1922's Irish Civil War, he aims to atone for his assassin past and make a clean life in America.  Sean helps a wealthy, powerful, magic-dabbling family—founders of the most exclusive club in town, the Piasa Lodge--with a discreet inquiry or two. Sexually involved with a secretive, high-society flapper, he falls hard for her fiancé, a Great War flying ace with a few secrets of his own. But Sean asks the wrong questions about a kidnapped toddler and missing Native American artifacts and becomes a suspect in his lover's bludgeoning and a tycoon's murder. Can he master the paranormal abilities he's rejected for so long in time to protect the innocent and save his own skin?
The Big Cinch
Word Count:

43000
Summary: Nick Adore has been in hiding for six years. He does his best to pass himself off as human and only wants to be left alone. But one day, he walks in on a robbery. Instead of quietly walking away, he reveals himself as a blood witch, and now the werewolf king demands to see him. Conri Biast is king. He has been the king of Norbridge for eleven years, but someone is trying to take him down. For months, he's known there's a blood witch in his territory who refuses to pay his respects, and that puts him on the top of his list of suspects. But when he goes to confront the witch, things don't turn out the way he'd planned. The witch is his mate. Nick doesn't want to be anywhere near Conri. Being close to kings always ends with him getting hurt, but he finds himself sucked into the power struggle. Conri doesn't know who he can trust, but he knows he needs Nick by his side. Together, they're strong, but are they strong enough to keep the throne?
The Blood Witch
Word Count: Information not available
Summary: Pulled into a magical world,  two twelve-year-olds must learn to work together in order to defeat a trio of evil witches and unravel a curse that has enslaved an entire land.
The Crystal Throne
Word Count:

126000
Summary: YOUR NEXT READ IS NOW BOARDING She can speak all languages. He can smell evil intent. They're enemies. They crave each other. With international settings, a conspiracy plot, star-crossed lovers, and sharp writing, The Demon in Business Class is a stunning debut novel spanning continents and genres. Zarabeth travels the world for a shady executive, laying the groundwork for global war. Gabriel offers a second chance to the criminals that a visionary leader sees in dreams. One rainy night in Scotland, they meet... Now, it's complicated. There's also the investigator, the witch, the playboy, the gangster, the cultist, the pre-school teacher, the two angels… And, the demon. Fans of Jeff VanderMeer, Michel Faber, and David Mitchell will love this stylish hybrid-genre novel. The Demon in Business Class is an international story of fantasy, intrigue, and love, on the uneasy ground where the human meets the divine. "If William Gibson wrote paranormal .... weaves the dark worlds of the occult and big business into an intoxicating tale." – D. J. Butler, author of Witchy Eye "Creative spark? Anthony Dobranski ignites a creative bonfire ...A masterwork of invention." – Mary Kay Zuravleff, author of Man Alive! "... a swank cocktail of international intrigue, steeped in the supernatural, mixed with literary flair .... so sleek it flies off the page...." - Zach Powers, author of First Cosmic Velocity
The Demon in Business Class
Word Count:

114000
Summary: A Slow Burn Meet Cute! Baker. Wizard. God of Space and Time. Cupcake enthusiast. How long will it take to fan the flames and enrage this gentle phoenix? Start counting. What's a wounded and lonely little cinnamon roll to do? Stripped of his psychic powers, Calico Winghorse flees his homeworld and travels to 19th century Earth via his inter-dimensional portal. As a mixed-blood phoenix trapped in human form, he opens a bakery in the San Francisco Bay Area and quietly nurses his wounds. But the unique method of his arrival draws the unwanted attention of Infinity Corporation. Representing this angelic-run company is Agustin Chavez de la Cruz, the Demon Lord of California. Even though Agustin is IC's heir, he finds himself demoted from his duties to concentrate on his new assignment: take absolute control of Calico's portal. But Calico refuses to sell at any price. He is also very busy ensuring that the good people of the city are getting their fill of baked goods. Before Agustin can formulate a more gracious avenue of acquiring the gateway, the demanding head of IC interferes, further complicating matters. So as negotiations stumble along, Calico and Agustin come to realize they both want more than a stuffy business arrangement. However, due to Calico's injuries, the portal remains vulnerable to the darker forces that want it at any cost. Agustin will have to push both his angelic heritage, as well as his own psychic powers to the very limits to heal this sweet baker, who is also the portal world's God of Space and Time. The Demon Lord of California is the first book of an LGBTQ+ paranormal-fantasy series. You won't want to miss a first love found, hidden worlds, and a recovering workaholic grasping at his second chance. All centered around the control of an otherworldly portal. So curl up with your favorite beverage, and hang out with Cal and Gus for a while. You'll be happy you did!
The Demon Lord of California
Word Count: Information not available
Summary: As the son of a wealthy man, Enitan Javed has spent his life frivolously—drinking, fighting, and making love. But after his father dies, Enitan is unjustly accused of murdering him and is given the harshest sentence possible. Judged irredeemable, he is banished to the Downs. As even young children know, nothing lives in the Downs except demons who delight in torturing the condemned. Brutalized by the men who transport him to his fate, Enitan has nothing left but his thirst for vengeance. His plummet to the Downs nearly kills him, and Enitan finds himself battered and helpless in a frightening, mysterious land. But many surprises await him there, including a strange man named Rig. And the realization that the demons he must face aren't at all the ones he expected.
The Downs
Word Count:

108100
Summary: Corentin is a scholar with a secret—his magical Talent allows him to turn into a dragon, and he isn't alone in that ability. Long ago, dragons were hunted fiercely, until they went into hiding, becoming things of legend. Corentin has traveled the world with one aim—to protect his people and keep their secret safe. Drawn to the principality of Tournai by news of someone close to discovering that secret, he hopes to avert suspicion. His attraction to the too-serious Bastien isn't convenient for his purpose, but it isn't something he can ignore either. Lord Bastien, Earl of Ardesia, inherited his title unexpectedly when his parents were killed in a sailing accident along with the parents of his cousin, Prince Philip. Since then, Bastien has devoted his life to the obligations of his family and estate—so much so, that it has caused tension between him and his siblings. His world is further shaken when he receives an anonymous letter informing him that the tragic boating accident may, in fact, have been murder. Bastien throws himself into investigating whether the allegations are true and finding out who killed his parents. As Corentin and Bastien become closer, the mystery of Bastien's parents' death draws him further into danger. Corentin feels compelled to protect Bastien, but the threat is closer than they know. Now, Corentin must decide whether preserving his secret—and potentially his people's safety—is more important than saving the man he loves.
The Dragon's Devotion
Word Count:

87000
Summary: Professor Bryce MacLeod has devoted his entire life to environmentalism. But how effective can he be in saving the planet when he can't even get his surly neighbor to separate his recycling? Former Queen's Enforcer Mal Kendrick doesn't think his life could get any worse: he's been exiled from Faerie with a cursed and useless right hand. When he's not dodging random fae assassins in the Outer World, he's going toe-to-toe with his tree-hugging neighbor. And when he discovers that the tree-hugger is really a druid, he's certain the gods have it in for him—after all, there's always a catch with druids. Then he's magically shackled to the man and expected to instruct him in Supernatural 101. All right, now things couldn't possibly get worse. Until a mysterious stranger offers a drunken Mal the chance to gain back all he's lost—for a price. After Mal accepts, he discovers the real catch: an ancient secret that will change his and Bryce's life forever. Ah, what the hells. Odds are they won't survive the week anyway.
The Druid Next Door
Word Count:

75000
Summary: Uncovering and divulging an outlandish conspiracy will put a hard bump into any journalist's career, and Armin can only blame himself when he's dispatched from Frankfurt's skyscrapers into the depths of rural France on the unglamorous job of writing about a cobbing workshop. Natural building is messy, dirty and sweaty work, but it has its consolations. For example, Van, the greying but undeniably hot master cobber teaching the workshop. Sure, the man is a hopeless tree-hugger, with embarrassing notions about ancient folklore and religions, but he's still worth a week-long fling, right? When Van is revealed in all his majesty and power as a long forgotten forest god, however, the week-long fling might well become entangled with eternity, on the edge between life, death, madness, and immortality.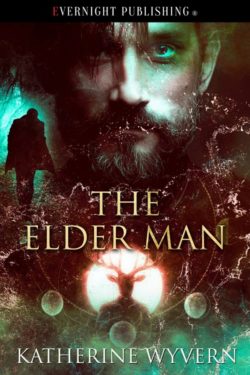 The Elder Man
Word Count:

103800
Summary: Second son of an earl and cousin to the Crown Prince, Griffen has worked hard to forge a career in diplomacy for the principality of Tournai, but he never expected his diplomatic skills would be necessary for a problem so personal to him and his family. A delegation from the mysterious kingdom of Ivria has come to Tournai to make sure the secret of their people—the magical Talent allowing them to change into dragons—and therefore their kingdom itself remain safe. The delegation is concerned with Corentin, an Ivrian, and the man Griffen's older brother is soon to marry. The Ivrians seem to want to drag Corentin back to Ivria for the offense of revealing their secret, but Griffen refuses to let it happen. His determination puts him into contact—and conflict—with Kirill, a negotiator for the king of Ivria who possesses the dragon Talent himself. The two clash and connect, getting closer and pulling away as they try to negotiate the needs of their people and an unwanted attraction between themselves. However, just as trust might be growing between them, a plot is uncovered and a member of the Ivrian delegation murdered. Griffen and Kirill must discover who is behind both for the safety of their countries and the people they love…and for a chance to be together.
The Envoy's Honor
Word Count:

120000
Summary: A woman with the strength to rebel. A shapeshifter who wears the souls of the dead. Together, they face a lethal enemy. Em helped create it. Now she must craft its defeat. In a city owned by industrialists, Em sells her magic to make ends meet. The extraction procedure is brutal and potentially deadly. Desperate for change, she joins an underground resistance movement to weaponize her magic and stop the abuse of workers. Meanwhile, a mysterious voice wakes Ruk from a decades long slumber and compels him to become human. He wants to break free but is torn between his shapeshifter instincts and the needs of the soul that sustains him. On streets haunted by outcasts and predatory automatons, a new danger emerges – an ever-growing corruption of magic and science. Em and Ruk must put aside their differences and pursue it – each for their own reasons. What they discover will forever change their lives… Or end them. The Eternal Machine is set in a 19th Century alternative reality Australian city, where magic and science are equally valid disciplines.
The Eternal Machine
Word Count:

24000
Summary: A prince without power In a land where magic is commonplace, Prince Llyskel has none. He can't command spells, he has never been taught to fight, and as the fifth son of the King, he will never rule. Everyone believes he's a weakling, most of all himself. Powerlessness is Llyskel's problem—and his pleasure. In his secret fantasies, the prince dreams of nothing more than finding himself helpless at another man's hands… particularly the hands of Captain Ariv of the Guards. Then Ariv makes Llyskel's dream a reality, and as the powerless prince surrenders to the soldier's desire, he finds his own true strength at last. But a web of royal politics is closing around Llyskel, threatening to tear him from his lover, and it will take all his newfound courage to escape… 24,000 words | 76 pages (pdf) contains five shaded black-and-white illustrations by Yana Goya
The Fifth Son
Word Count: Information not available
Summary: "It is so packed with action that there was no place where I could say, 'Ok time for bed now. I'll finish it tomorrow.' A must read." ~Amazon Reviewer Fale doesn't know why she has visions of the queen's past life. All she knows is that her magic becomes dangerously faulty every time she sees into the past. Through the visions, the mystery of Effailya's banishment and life of slavery is solved; the reasons of her heated parting with Gryndoll are revealed, as well as who was the queen's secret lover. And how that could possibly relate the Source Wizard to the Queen of Mages, herself. The Source Wizard Gasten sends out his best efforts, but the new queen stays one step ahead of him. He may have found a way to send his spell to her. And if not, he's found the old wizard's journals, which are sure to give her weaknesses. The Final Rescue is a face-paced adventure as the wizards and mages race toward their mutual destruction. A strong female lead not only survives her dystopian society… she solves the mystery of a hidden war, only to cause a new one, then battles both sides to rule it herself. It's a conclusion for fans who fell in love with The Hunger Games, Divergent, and The Reader series. If you're hooked on genre-blending, suspenseful, fantasy romance novels, with adventure, you'll love The Final Rescue!
The Final Rescue
Word Count: Information not available
Summary: Mikal despised the idea of working with an Imperial, for reasons both personal and political, but only the invaders' magic could repair the artifact weapon that was the last link to a family he'd left behind. Rian was a magician by trade, trying to escape the obligations of his noble birth, and the life his family planned out for him. Living incognito at the border of Imperial territory, he found his solitude interrupted by a mysterious visitor with an impossible commission. Their meeting will set in motion a chain of events that will irrevocably alter everything they know of the world, and set their two civilizations on a course to ruin.
The First Age