Word Count: Information not available
Summary: Every night the monsters hunt. A city that is the whole world: Theosophy and her companions in the City militia do their best to protect the civilians from the monsters, but they keep crawling from the Rift and there's nowhere to run. Theosophy knows she'll die fighting. It's the best kind of death she's seen, and at least she can save lives in the meantime. They say the Scarred carve you up while you're still alive. A village in the shadow of a forest: Refugees from the border whisper about the oncoming Scarred, but Briony can't convince her brother to relocate his children to safety. Briony will do anything to protect them. She owes them that much, even if it means turning to forbidden magic. When Theosophy and Briony accidentally make contact across the boundaries of their worlds, they realize that solutions might finally be within reach. A world beyond the City would give Theosophy's people an escape, and the City's warriors could help Briony protect her family from the Scarred. Each woman sees in the other a strength she lacks—and maybe something more. All they need to do is find a way across the dimensions to each other before their enemies close in.
City of Hope and Ruin
May 11, 2016
Word Count:
130000
Summary: When the slightest touch triggers visions of horror, you learn not to let anyone close. After more than a decade hiding from society, Seth Albright is sheltered. His visions make it a necessary evil. After a precocious emergence as a seer when he was eight, his mother took him to live in the woods. To protect him. When he can't take another day of isolation, Seth turns to SPIRE. There, he gets partnered with Roy Merchant as his anchor. Enough inexperienced psions have burned Roy by using him as a stepping stone to last a lifetime. Roy has seen scandals come and go in his time with SPIRE. Seth has seen atrocities most people couldn't imagine. But neither of them has seen anything like what's coming for them next. This is MM urban fantasy containing some mild BDSM elements and an age gap.
Clear Sight
March 29, 2020
Word Count:
7700
Summary: A lion sleeps in the hearts of brave men. When Prince Theodorin refuses to wed the general's youngest son because he loves another, he is trapped on a cursed island. He spends his days trying to escape, his nights listening to his lover's soothing voice echoing through the forest. His attempts to escape only lead back to where he started… until an encounter with a lion reveals a crack in the illusion. Theo has to believe, or he may never find his way home. Previously appeared in Wilde City Press' Bedtime Stories anthology
Click Your Heels
February 14, 2018
Word Count: Information not available
Summary: Eclectic, imaginative, and unexpected, Community of Magic Pens features forty genre-spanning flash and short stories--including fantasy, humor, science fiction, romance, historical fiction, satire, and mystery--bringing together a rich group of diverse voices from a wide range of backgrounds and intersections. Fountain pens, markers and ink, charcoals, spy pens, a braille writer, a printing press, virtual reality, and a supernatural pizza: whether revealing unspoken truths, fighting injustice, or finding friendship and love, our pens have power. Join us as a recent graduate of superhero school struggles to understand her gift, a disabled android interviews for a job, a queen's conscripted artist must pull reality from illustrations on parchment, and a grandmother's secret room is…better kept a secret. Tales of struggle and triumph, compassion and hope: Community of Magic Pens is a celebration of our shared story.
Community of Magic Pens
Word Count: Information not available
Summary:
A long forgotten god. An abandoned Temple full of undead. Can the Favor of Isadon really bring the dead back to life?
The Age of Mortals temporarily forgotten, Elise Bresch and Ragan Ermolt regroup to focus on returning their friend and companion, Athala Dohn, from the Nether. Or wherever Meodryt's fateful bite sent her. Following instructions that are little more than campfire tales leads them to Marska, a long-abandoned city full of rumors - and bandits. Finding the fabled Temple of Isadon - a relic of centuries past - is easy, but getting inside proves to be a bit tougher. Elise and Ermolt refuse to leave empty handed; their goal is to retrieve the Favor of Isadon, a magic relic of the forgotten God of Death, and use it to bring Athala back. But the guardians of the Temple - including the fearsome Champion - refuse to just let them take it. Will Elise and Ermolt overcome the trials of Isadon's Temple, or will the long-dead God of Death gain two new servants?
Crossroad
 is the fourth book in the Heroes by Necessity saga of sword and sorcery fantasy novels. If you like magical Dungeons and Dragons inspired worlds, multifaceted and diverse characters, and pulse-pounding action, then you'll love Riley S. Keene's epic tale.
Crossroad
March 31, 2019
Word Count:
115800
Summary: Continuing his reluctant odyssey, the storyteller Jafar al-Sharif must cope with fiendish assassins, a city of apes, the King of the Winds, the Isle of Illusions and a mysterious long-vanished underwater city as he attempts to save the life of his beloved daughter. This is Book 3 of the Parsina Saga, a journey through a world of djinni, flying carpets and high adventure in exotic realms -- with the fate of the world at stake.
Crystals of Air and Water
Word Count:
75000
Summary: Temp worker David Evans has been dreaming of Dr. Alun Kendrick ever since that one transcription job for him, because holy cats, that voice. Swoon. So when his agency offers him a position as Dr. Kendrick's temporary office manager, David neglects to mention that he's been permanently banished from offices. Because, forgiveness? Way easier than permission. Alun Kendrick, former Queen's Champion of Faerie's Seelie Court, takes his job as a psychologist for Portland's supernatural population extremely seriously. Secrecy is paramount: no non-supe can know of their existence. So when a gods-bedamned human shows up to replace his office manager, he intends to send the man packing. It shouldn't be difficult—in the two hundred years since he was cursed, no human has ever failed to run screaming from his hideous face. But cheeky David isn't intimidated, and despite himself, Alun is drawn to David in a way that can only spell disaster: when fae consort with humans, it never ends well. And if the human has secrets of his own? The disaster might be greater than either of them could ever imagine.
Cutie and the Beast
July 24, 2017
Word Count: Information not available
Summary: The world of Avern has moved on. It has been almost a thousand years since the day the entire pantheon disappeared. Since the Abandonment, the mortals have learned to live without gods and goddesses. The world became mundane with little magic, and even less hope. Tyrants have risen, and those able to wield what is left of magic are powerful. Forces surge in the darkness that threaten to topple the already fragile world. The plight of the world of Avern is not unknown, however, and those that watch from a distance have decided to intervene. The mortals are sleeping, however, unknowing that two great powers will soon by vying for control.Then something happens that changes things. A young princess makes a bid for power by murdering her father. She then attempts to murder her sister, the crown princess of Lineria, Keiara. Despite a true strike, aided by dark powers, Keiara doesn't die. Instead, the strike pierces the barrier between her human soul and the soul sleeping within her, the soul of the Dark Phoenix. More than a goddess, the Dark Phoenix is the legendary mother of the gods. She is a part of the Eternal Phoenix that brought life to their world eons ago, one of the primal forces of the cosmos.
Dark and the Sword
Word Count:
84610
Summary:
Praise for Daughter of Maat:
"Sandy Esene has written a real page-turner. It's Dan Brown goes to Egypt with a delightful dash of Harry Potter thrown in. A wonderful read and she's got the Egyptology right!"—Bob Brier, Author of
The Murder of Tutankhamen
"If you like Egyptian Mythology and the excitement of Indiana Jones adventures, this book is for you!"— Pat Remler, Author of
Egyptian Mythology A to Z
Alex Philothea's quiet life as a research archeologist changes forever when she is tracked down by a secret society, the Keepers of the Holy and Noble Maat. Alex's father died years ago during an excavation in the remote Egyptian desert. The circumstances of his death have always been shrouded in mystery. Now the leader of this obscure organization promises to unlock the answers she has been searching for; the only thing she must do is save humankind.
Follow Alex into a world of myth and magic where the lines of reality blur at every turn.
Daughter of Maat
November 18, 2018
Word Count: Information not available
Summary:
Durham, North Carolina has industry, commerce, fine universities, a world-famous baseball team, technopagans, vampires, and its very first superhero and supervillain.
As Withrow Surrett, self-declared vampire lord of North Carolina, digs in to see what's up in his own back yard, two mortals - The Bull's Eye and El Diablo - make headlines fighting crimes and committing them. With the help of friends old and new, Withrow has to track down both hero and villain before his city decides to go looking for even weirder things that go bump in the night!
The fists fly fast and furious in the third installment of this vampire and urban fantasy series, perfect for fans of Rick Gualtieri, Jeff Strand, or Christopher Moore.
Deal with the Devil
August 21, 2017
Word Count: Information not available
Summary: More than two thousand years ago, the healer Lochlann Doran was the first Fae to leave the Realm after the Sundering of the Fae and human worlds. After centuries of wandering the human world, seeking his SoulShare, he has spent all his magick, and lost all his hope. Garrett Templar is the star pole dancer at Purgatory, the hottest gay nightclub in Washington, D.C. If his past hadn't taught him the futility of hope, his present surely would; HIV-positive since age 18, his illness has suddenly and inexplicably mutated into drug-impervious AIDS. A SoulShare bond with Garrett may give Lochlann back his magick, his gift of healing. But it also might kill him. And if he survives the return of his magick, the Marfach and its host are waiting to use the dancer as bait in a deadly trap. Only an impossible love can save them both. And everyone knows Fae don't love….
Deep Plunge
June 22, 2015
Word Count:
75000
Summary: After decades of unrequited love, this kangaroo will jump at the chance for a date. Any date. Lovelorn kangaroo shifter Hamish Mulherne, drummer for the mega-hit rock band Hunter's Moon, waited years for the band's jaguar shifter bassist to notice him. Instead, she's just gotten married and is in a thriving poly relationship. How is Hamish supposed to compete with that? But with everyone else in the band mated and revoltingly happy, he needs somebody. Since he can't expect true love to strike twice, he signs up with Supernatural Selection. Because what the hell. When Zeke Oz was placed at Supernatural Selection through the Sheol work-release program, he thought he was the luckiest demon alive. But when he seems responsible for several massive matchmaking errors, he's put on notice: find the perfect match for Hamish, or get booted back to Sheol for good. The only catch? He has to do it without the agency's matchmaking spells, and Hamish simply will not engage. But Zeke starts to believe that the reason all of Hamish's dates fizzle is because nobody in the database is good enough for him. And Hamish realizes that his perfect match might be the cute demon who's trying so hard to make him happy.
Demon on the Down-Low
February 25, 2019
Word Count: Information not available
Summary: To fulfill her destiny, Athala Dohn must slay the dragon of the God of Night. There's just one small problem: everyone is trying to stop her. The city of Jirda is under the control of an interloper known as the Prophet. They have convinced the people of Jirda that Athala and her companions are the enemy, and they've sworn to stop Elise, Ermolt, and Athala from carrying out Ydia's plans to bring about the Age of Mortals. Athala has never heard of the Prophet before coming to Jirda. But she has a sinking suspicion she knows who they are. With a whole city against them, will Athala and her companions have any chance of taking on the dragon Undyt, or will the Prophet's darkest desires be filled? Destiny is the third book in the epic Heroes by Necessity series, a Dungeons-and-Dragons inspired take on the fantasy genre, overflowing with rich world building, diverse characters, and heart-pounding adventure
Destiny
July 31, 2018
Word Count:
26900
Summary:
Lord Marcus is on a quest to slay the dragon, rescue the princess, and live happily ever after. Falling for the dragon was never part of the plan.
When Lord Marcus set out on his quest, it seemed a simple enough task to accomplish. Slay the dragon and rescue the princess, securing his father's approval and earning his happily ever after--only the princess is a witch and the dragon is nowhere to be seen. Instead he finds a young man who has a very big secret and is in far greater need of rescuing. Marcus's well planned quest might have taken an unexpected turn, but his happy ending could still be within his grasp, if he can earn the trust of a dragon who has been betrayed and hurt by everyone he has ever known.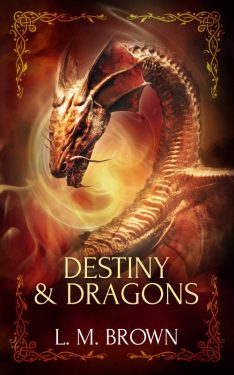 Destiny & Dragons
June 25, 2019
Word Count: Information not available
Summary: Diamondsong is a unique high fantasy saga told in ten parts. For lifetimes, the Ja-lal have prevented contact with the dangerous fairies of the forest. As tensions grow, those barriers are beginning to crumble. Blending rich worldbuilding with progressive themes, Diamondsong is a tale of power, identity, relationships—and magic. Part 01: Escape Dime has just left her career as a Ja-lal Intelligence agent, ready to roll her own dice. When, instead, she's accosted by winged invaders, some truths quickly fade—while others solidify. Begin Dime's journey with this unexpected tale of pursuit and discovery.
Diamondsong: Escape
June 19, 2017
Word Count:
84000
Summary: Diego and Finn's peaceful life in Montana shatters when Diego unwittingly rips a hole in the Veil to the Otherworld---mysterious prophecies, dying fae, hostile government agents, and there's so much more that could still go wrong. After defeating an evil wendigo, a man and his pooka lover deserve a little quiet. Unfortunately, Diego and Finn's hard-won peace is disturbed when Diego, in a jealous rage, unwittingly rips a hole in the impenetrable Veil to the Otherworld. Separated, stuck on the other side of the Veil where Finn has to face old conflicts and Diego is the only human in a land of fae, the two of them navigate rocky waters between huge egos and ancient feuds. Worse still, some of the fae are dying of a mysterious illness and everyone believes Diego is the key to a cure. Things can't possibly get any worse, can they? Oh, yes---they can when the US government gets involved.
Diego
June 5, 2014
Word Count: Information not available
Summary: They told him he was chosen, but everything they told him was a lie. Sookahr believes he's destined to change the world. With his rodent companion and a motley crew of fellow serpents, he journeys to the farthest outpost of Serpentia, determined to prove himself. The quest leads him to the very edge of the jungle, where Sookahr encounters, not only sabotage, but a dark secret that could shake the foundation of his civilization. Betrayed and abandoned, Sookarh must discover his own power, harness the magic inside his dreams, and decide who he really wants to be. Because if he can't rise to the challenge, expose his enemy, and uncover the truth, he won\'t just lose his way. He'll lose his friends, his place in society… and his life. In a world ruled by reptiles, one snake must fulfil his destiny to overthrow corruption, expose a dark secret, and save his people… from themselves. 2020 Leo Literary Award Winner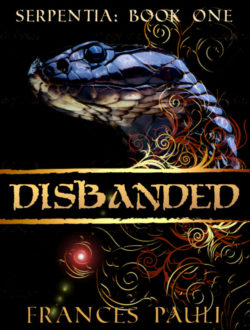 Disbanded
April 4, 2022
Word Count:
103456
Summary: In the wake of birth and betrayal, Ushna takes the God Ashur to Tristan in a last desperate bid to save Tristan's life—and is helpless to do anything but watch as Ashur instead buries him in a grave. Though he has no desire to go on living, having now lost Brian and Tristan, Ushna has no choice. Not only do their children need him, the mysterious Simurgh has come out of hiding and forces him to continue on—for there is much to do and little time to do it, especially with treachery and danger closing in on them from every side. Note: Dragon's Eye is the 5th book in the Sumeria's Sons series and features a poly (M/M/M) relationship. This book was previously released by another publisher and has been re-edited.
Dragon's Eye
November 18, 2019
Word Count:
51700
Summary: The Mythric Kingdom has raided the Five Cities. Sebastian has been rescued and Christopher is now the one in chains. The leader of the rescue team, the ice dragon Prince Azanel, says that Sebastian is his Mate. The face Sebastian dreamed while he was in captivity belongs to Azanel, but he still loves Christopher – but is that love real, or is it only conditioning? A soldier named Cavan claims to be Sebastian's closest friend, and the King of Mythria, Goxtli, has sent him and a strange creature named Kliyo to bring Sebastian home. Nothing feels familiar, and Sebastian knows that he's surrounded by lies. His time in the Countess's custody is over, but the battle for Sebastian's soul is just beginning. And the Countess and Lord Ashmar cast a very long shadow... This is a dark LGBT science fiction/fantasy romance not suitable for anyone under 18 years of age. Contains dark, adult themes, graphic gay sex and BDSM elements.
Dragon's Gambit
April 25, 2020
Word Count:
80435
Summary: A modern-day knight in shining armor is a man with a secret. He's an immortal direwolf shifter. A man who can trace at will into a lethally dangerous canine who holds the ability to step into the stillness and achieve any goal. When he finds himself without a career after retiring disabled from his last mission in the military, he has to rethink the direction of his life. He needs to reinvent himself before anyone realizes that he stopped aging at the age of thirty-five. He's learned just enough to make his existence a bit dangerous. The sexy high school teacher neighbor he's been near stalking has her own secret. She feels like everything and claiming her is all he can focus on. He's determined to win her as his own until a shadowy evil attacks her and reveals a situation that forces him to be the man of action that he's always been. To keep the woman he loves safe, he'll become the alpha pack leader he was born to be. A Pack Forms is the first volume in the steamy paranormal romance saga of Draoithe.
Draoithe: A Pack Forms
May 28, 2018