Word Count:
40000
Summary: Officer Alex Wolf responds to a lot of 'paranormal' calls that aren't. Exotic pet birds aren't monsters and unusual dog breeds aren't aliens. It's a good thing he likes the animal control officers, but he both yearns for and dreads those calls where he runs into ACO Jason Shen. Jason's scent is so delicious that Wolf has a difficult time humaning around him. Animal control calls take a disturbing turn, though, when Wolf and his lizard-man partner, Krisk, discover the impossibly mummified bodies of rats and an unfortunate mother cat. The rescue of the cat's sole surviving kitten not only gives Wolf more time with Jason, which is both perplexing and wonderful, but also leads to dangerous discoveries. Something inconceivable stalks the city and its officers of the law. Wolf has to figure out what it is before it can attack and drain the life from the people and the kitten he loves.
Feral Dust Bunnies
May 23, 2017
Word Count:
60000
Summary: Diego's impulse to rescue a naked bridge jumper starts as just that—talk the man down and get him to social services. But there's something odd about this homeless person, more than just his delusions of being a pooka, and something so vulnerable that Diego's determined to help him stabilize rather than see him institutionalized or deported. Finn went into the dreaming centuries ago to escape a heartbreak he couldn't bear. Now that he's back, he finds the Veil to the Otherworld closed. The fae courts have abandoned him in a poisoned human world where a displaced pooka has little chance of survival. His human rescuer is kind and compassionate—and shockingly familiar. One thing at a time, though. He needs Diego to believe he's not human first.
Finn
May 22, 2018
Word Count: Information not available
Summary: Rian Sheridan is a foundling, a Falls Road corner boy, whose world went up in flames beside an Orangemen's bonfire of hatred last July the Twelfth. A pain he barely remembers is a siren's call, taunting him, daring him to find its source and lose himself to it. And he searches in the only place he knows, the S&M underground of Belfast. Cuinn an Dearmad is the last surviving Fae Loremaster. He's just seen the beginning of the death of the Realm, the home of the Fae race and their haven from the twisted evil of the Marfach. The only hope of saving the Realm starts with finding the Prince Royal of Fire he himself stole from the cradle, and lost in the human world, many years ago. He has a few guesses about where that hope ends, none of which bode well for him. Rian and Cuinn are an impossible pairing, two SoulShared Fae. Any two Fae strike sparks, but these two Fae are an explosive combination. Drawn into an escalating series of sexual collisions, their passion will save — or destroy — two worlds.
Firestorm
July 8, 2015
Word Count:
41000
Summary: When a satanic wizard runs the insane asylum, nobody believes the inmates, even when they're sane. Jonah is entirely normal in every respect but one: whenever he's frightened he turns into his evil alter ego, Maldeus. When Jonah discovers Maldeus is working with the asylum doctor to sacrifice women on a giant pentagram, he's thrust into the middle of a diabolic plot involving occult magic, invisible people, and a perverted, sex-crazed blue demon! Will he keep his wits about him as he pretends to be Maldeus and stop the rise of Satan?
Five Maidens on the Pentagram
September 13, 2020
Word Count:
23000
Summary: Alex always thought love was enough to keep him and Gio together. Why did they need wedding rings or legal certificates? But now, with Gio lost in a coma after a fire has destroyed their home, his partner's mother banishes Alex from his side. Locked in a gray limbo inside his head, memories are all Gio has left, and the urge to let go is getting stronger. Nothing can keep Alex from Gio's side, even if he has to break the rules. In their stolen moments alone together, Alex fights to reach Gio, one memory at a time. What if Alex's voice is the only thing that can bring Gio back?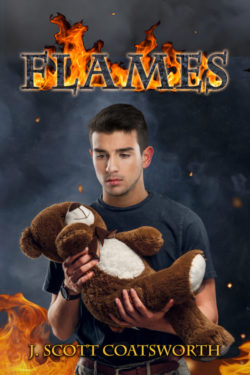 Flames
June 10, 2021
Word Count:
98263
Summary: Quinn and Valerian have come through the trials of facing an undead lich queen and the perils of falling in love. Now they work to restore AURA to its previous strength and efficiency while navigating their new life with each other. Fortunately, they're not in this alone. Kai Hiltas has taken over as the head of the research department at AURA and has become everyone's favourite workaholic, everyone except his lover Tenzin, who has had enough of his late nights and broken promises. As Kai tries to salvage his relationship, he finds a teacher for Quinn, who also happens to be one of Valerian's new officers, Flax Wolfheart, a sexy elf with trouble written all over him. Flax has motives beyond simply teaching Quinn to control his magic. He's trying to recover from his own losses and failures, but he has a plan. The two newest elvish crossovers, Ash and Sage, are sizzling hot and might even like him. With them as backup as he tracks a deadly stone mage and figures out how to teach Quinn, Flax sees his chance to impress Val and snag a place by his captain's side. On the hunt for both danger and redemption, Flax's pursuit leads him ultimately down trails he never expected.
Flax's Pursuit
July 14, 2015
Word Count:
120600
Summary: Captain Talis just wants to keep her airship crew from starving, and maybe scrape up enough cash for some badly needed repairs. When an anonymous client offers a small fortune to root through a pile of atmospheric wreckage, it seems like an easy payday. The job yields an ancient ring, a forbidden secret, and a host of deadly enemies. Now on the run from cultists with powerful allies, Talis needs to unload the ring as quickly as possible. Her desperate search for a buyer and the fallout from her discovery leads to a planetary battle between a secret society, alien forces, and even the gods themselves. Talis and her crew have just one desperate chance to make things right before their potential big score destroys them all.
Flotsam
February 1, 2022
Word Count:
92000
Summary: A tragic secret. A trial of pain. Gust holds a secret close to his heart, and it festers like an infected wound. While part of him wants to tell Lance so they can deal with it together, he fears what it will do to his friend. The last thing he wants to do is hurt the man he is falling in love with. And it never seems the right time as they pursue Ulfr's warriors and elude hunting parties of royal soldiers. Lance wants nothing more than to confess his love and undying loyalty to Gust. But he fears rejection. He has Gust's friendship and dares not ask for more. He's not yet a man worthy to ask for more. And as he continues on his self-imposed mission to cut down Ulfr's warriors, he begins to wonder if he will ever find the redemption he so fiercely seeks. When word of a new Scourge reaches them, their journey brings them to the war-ravaged kingdom of Grekenus. It is there that Lance is forced to face the actions of his past, and once again his life hangs in the balance. Now it is only Gust who can defend him against those thirsty for blood… and to Lance himself.
Forgiving Lance
August 25, 2020
Word Count:
120,000
Summary: Tokyo high school student Tsukino Ayumu never wanted to stand out. He's always been content to run at the middle of the pack and go unnoticed, and he doesn't expect much to change when he moves to the small fishing village of Yuuyake to live with his grandfather. In Yuuyake, Ayumu makes his first real friend in Ikehara Haruki and forges close ties with two girls, Shizuka and Chou. Together, the four friends muddle through the messy world of dating and relationships while trying to succeed in school and prepare for the world they'll enter when it ends. Fate has other plans for them, though, and Ayumu in particular, as an invisible threat targets the village's young people. After being plagued by disturbing, violent dreams, Ayumu learns what the spirit world expects of him. He must learn to fight and to lead—but he's only ever been ordinary. With the support of friends he would die to protect, Ayumu faces a destiny only he can fulfill. But others have taken an interest in Ayumu. The mysterious Fox-Hat and Neko know more about Ayumu than he knows about himself, and they lead him onto a path that might end in the destruction of them all.
Fox-Hat and Neko
July 16, 2015
Word Count: Information not available
Summary: Imagine that every sixteen years, you died and started over, with no memory of the past. Could true love ever find you? Only if it were immortal. In 1915, a coven of vampires attacked the town of Fairville, MA, the disappearances making headlines. Sixteen-year-old Lundy Guillory and the boy who loved her, Harlan Wallace, discovered the culprits, so the vampires devised a cruel punishment: Lundy was cursed to die and be reborn every sixteen years, each time retaining no memory of her past lives. Harlan was turned into a vampire, so that, immortal, he would be tortured with the task of finding her again in every new life, and telling her their story. Over ninety years later, Lundy Lawson and her parents move into Fairville, one month before her sixteenth birthday, with desperate hopes that the doctors there will be able to help Lundy, whose health has been diminishing steadily. But Lundy begins to have strange dreams. First there seems to be a ghost in the library, trying to reach her; then a stranger shows up at her window at night - Harlan, unearthly, impossibly pale and sharp-teethed, and madly in love with her. It's Lundy's first lifetime back in the town where it all began, and this time she and Harlan have their chance to break the vampire's curse.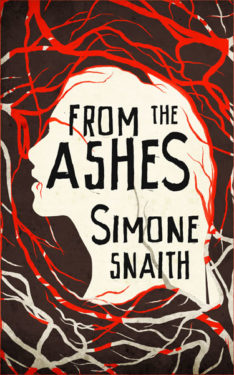 From The Ashes
November 14, 2012
Word Count: Information not available
Summary: "I have great responsibilities, but my path ahead is as foggy and blurred as the path behind me." With forester Taruif freed, Kelnaht has claimed him openly at Solstice before tribe and Ma'terra as his partner, but with their third, Ianys, bound by an old promise, their triad is still incomplete. Sneaking around puts the most strain on Ianys. He and Kelnaht must keep their relationship a secret or he will lose his daughter, Atèn. When several children fall ill with more than a summer bug, truth seeker Kelnaht is assigned once more to investigate. What he finds is deadly and threatens the life of every underage child in the tribe, including Atèn. Then a wounded traveller is found in the forest, left to die after a vicious attack. With Taruif and his apprentice on the hunt for a cure, Kelnaht focusses on the attacks, but the clues are few and more children are infected. Nothing seems to connect until both the traveller and Atèn dream of the same grey-haired elf. Driven by fear for his daughter, Ianys pulls away from his lovers. Kelnaht can only pray Ma'terra will guide him to a solution that brings them all together and keeps Atèn safe from harm.
Full Circle
August 15, 2016
Word Count: Information not available
Summary: Conall Dary is the mightiest mage born to the Fae race in more than two thousand years, ever since the Sundering of the Fae and human worlds. But that power condemns him to an untouched, virginal life — sex calls to power, and his power is enough to drain the magick, the life, from his entire world. Exiled from the Realm for refusing to turn his talent to service a Noble's petty revenge fantasies, his soul is torn in two and his magickal gifts blocked. Josh LaFontaine is a gifted tattoo artist with a heart of gold. While doing a good turn for an ex-boyfriend, he's stunned when a gorgeous red-haired twink appears out of nowhere at his feet during New York City's Pride march. The Marfach was thwarted in its first attempt to capture a Fae. But when a terrible accident separates Conall and Josh before they bond, it's a race to see who finds the mage first, the monster who will use him as a weapon to destroy his race, or his SoulShare.
Gale Force
June 10, 2015
Word Count:
40000
Summary: An outcast necromancer and a half-demon clerk need to save the world from seashell zombies. No pressure. Everyone's always told Aspic that trouble can't help following him because of his heritage. Determined to put the lie to half-demon stereotypes, he's finally landed a good, quiet job as an herbalist's clerk where the owner trusts him to man the shop alone. What could go wrong selling coriander and thyme? When Geoffrey first enters the shop, Aspic finds the little man's eccentric appearance startling, then intriguing. Geoffrey explains, in stops and starts, that he is a theoretical necromancer researching replacements for blood magic. His current line of inquiry involves seashells—do they have any in stock? Aspic's co-workers warn him that Geoffrey is a walking disaster, but he finds himself more and more drawn to a necromancer concerned with ethical death magic. Aspic is with Geoffrey in his lab when he has his first success, but the results aren't at all what he was aiming for. Instead of raising the dead rabbit on his table, the ritual animates the seashell and rock spell components, which flee the lab and cause havoc. They soon discover that the spell-animated objects are "zombies" in that they can "infect" other inanimate things. An unorthodox necromancer and an exasperated shop clerk are going to need some unconventional help to find a working de-animation spell before the world is overrun by zombie seashells and stones gone mad. Geoffrey the Very Strange is part of the Magic Emporium series. Each book stands alone, but each one features an appearance by Marden's Magic Emporium, a shop that can appear anywhere, but only once and only when someone's in dire need. This book contains theoretical necromancy, unexpected spell outcomes, some extraordinarily angry seashells, and a guaranteed HEA.
Geoffrey the Very Strange
March 18, 2021
Word Count:
125889
Summary: Alex Philothea, the newly appointed director of the Keepers of the Holy and Noble Maat, is fighting to save the agency her ancestors have led for over two millennia. Operating in deep cover, KHNM shields the mortal realm against the lethal chaos of the Immortals. As Alex battles the Gods over the agency's existence, she is in a race against time to contain dangerous magical artifacts. If the Gods succeed in shuttering the agency and these ancient objects fall into unworthy hands, humanity will pay a deadly price. Deep in the Netherworld, adventurer Jorge Trinculo unearths a primordial book of magic. It exposes one of KHNM's darkest secrets. For years, the agency has been erasing the memories of his encounters with the Immortals. As his old life floods back, he realizes all that he has lost. In Jorge's pursuit of revenge, his future becomes entwined with that of a power-hungry magician. A magician who has waited patiently, for centuries, to possess the forbidden book and wield its lethal magic against the mortal realm.
Gift of the Sphinx
October 15, 2020
Word Count:
47,956
Summary: *Enjoy three out-of-print stories for the price of one!* Sometimes the greatest romance can be found in the vastness of space... TRASH AND TREASURES Tucker has spent his entire life as an interstellar trash man. But ever since his mother died, he's been alone, and certainly lonely. So when he discovers the derelict ship he scooped up has an occupant—a beautiful young man named Ronan—Tucker is thrilled. Ronan is royalty and running from his tyrannical mother, determined to keep a powerful object out of her hands. But when he strikes a deal with the adorable Tucker, he wonders if it's time to stop running. Or during one's loneliest hour... NIGHT GUARDIANS William was a soldier until an IED severely wounded and scarred his body. Now he lives a quiet life in a small village in the Black Forest and is the caretaker of the church and caregiver to the local priest. He's grown fond of the two stone gargoyles on the bell tower and often speaks to them, reminding himself of Quasimodo. But on his thirty-seventh birthday he learns a stunning secret—the gargoyles aren't what they seem. Or among dear friends in their darkest time of need... A GIANT'S FRIEND For three years, Jeth and Kodie and their soldiers have guarded a hostile mountain pass against the invading Dathians in a war that has waged for decades. Jeth has the blood of giants running through his veins, and it has caused bigotry and death to dog his steps his entire life. After a childhood tragedy shatters his world, it takes the courage and loyalty of his best friend, Kodie, to protect him from himself. Jeth knows he's a danger to everyone around him and joins the army to control and focus the black rage inherited from his bestial bloodline. Kodie follows his friend into the army, determined to stay close to the one he loves most. He has never revealed his deeper feelings for Jeth, and is ignorant of Jeth's own feelings. Their bond is too precious for either of them to risk rejection. Yet they might have to take the chance when Kodie's life is threatened, and their enemy forges an alliance with a giant clan. Jeth must call upon his darker heritage to brave the hostile environment to make an alliance of his own—with a giant clan that knows more about him than he does himself.
Guardians of a Giant's Treasure
January 9, 2018
Word Count: Information not available
Summary: Tiernan Guaire was exiled from the Fae Realm a century and a half ago for his brother's murder. His soul torn in half, he lives by his vows - never to trust, never to love. And if he can only be whole by finding and loving the human with the other half of his soul? He's content to live broken and half-souled. Kevin Almstead's future, the career he's worked for as long as he can remember, has been taken away by a vote of the partners at his law firm. Chance brings him to Purgatory, the hottest all-male nightclub in Washington, D.C., to a meeting with a Fae, with long blond hair, ice-blue eyes, and a smile promising pleasures he's never dreamed of. But there's no such thing as chance. But Tiernan isn't the only one to find Kevin in Purgatory. The most ancient enemy of the Fae race sees in the handsome lawyer a way to destroy the world from which it, too, was exiled. And only the strength of a true SoulShare bond can keep it from what it seeks.
Hard as Stone
May 25, 2015
Word Count:
52900
Summary: Havesskadi has won the Rainbow Award for Best Asexual Debut Book (2018-2019), and second place in the Best Asexual Book (Asexual – Contemporary, Fantasy and Paranormal Romance & Romantic Comedy | 2018-2019) category. The red dragon is hunting her own. Up in the icy peaks of the northern mountains, Orsie Havesskadi spends his days hiding from her, but eventually he is found and his dragon magic stolen. Cursed to wander the lands as a mortal unless he recovers his magic before twenty-four rising crescents have passed, Orsie embarks on an arduous journey. Spurred by the whispers in his mind, his quest takes him to a castle hidden deep in a forest. Arkeva Flitz, a skilled garrison archer, discovers an abandoned castle in the woods. Trapped there, he spends his days with his two companions, one cruel, the other soothing. One day, a young man arrives at his gates, and soon they are confined by heavy snowfalls and in danger from what slumbers in the shadows of the castle.
Havesskadi
Word Count: Information not available
Summary: If ultimate power corrupts, how does one learn to be incorruptible? I'm Aliyah Morgenstern. All of my life, I grew up on tales of my great-grandfather's magic bringing light and healing to the world. Then, I bonded with my dragonet Ember on my sixteenth birthday, which means I'll be scary powerful someday. There's one problem. Mom's kept secrets that everyone at my new school seems to know. Turns out, I've got an infamously criminal uncle and now everyone's waiting for me to do something evil. After my first horrible day at school I'm convinced I'm going to do something evil. My biggest challenge this year isn't history, math, Gym, or even the dreaded Magiscience Lab. No, it's keeping a devastating secret from almost everyone, including my own family. I'm an extramagus. Is evil really my destiny, or can I fight it somehow?
Hawthorn Academy Year One
Word Count: Information not available
Summary: The system is broken and if I'm not careful, it'll break me too. While my peers get excited for college, I brace for disaster. I've learned at Hawthorn Academy that danger can happen to anyone. To the jock. To the class clown. To my brother. Now I'm in the line of fire. All known extramagi must have their abilities tested. The way they do it is a horrifying secret. After witnessing one last year, I made a plan to expose the ugly truth. But there's a mind magus on campus now, threatening me. And he's totally within his rights to do so. Mr. Fairbanks leads the Board of Trustees, which demoted the headmaster and expelled my brother. Last year's threat was only a symptom of bigger problems. Half the Trustees play quid pro quo while the rest flex their authority for personal vendettas. Mr. Fairbanks blames me for his daughter's troubles. Mrs. Onassis says I poisoned her son's mind. And Mr. Pierce thinks I'm taking advantage of his children. All because extramagi are supposedly evil. But now I suspect we're scapegoats the influential families pin blame on. They say you make your own future. But can I survive the present first?
Hawthorn Academy Year Three
December 9, 2020
Word Count: Information not available
Summary: The only way to stop a threat is to eclipse it. And last year, we discovered an enormous one. Temperance Fairbanks: the most powerful and sadistic water magus ever to set foot on campus. Hawthorn Academy will host a series of extramural challenges. That means we're hosting shifters, changelings, psychics, and even a vampire. Temperance vowed to hurt them any way she can, and she's already got help. My roommate Grace has a plan. Social warfare, breaking reputations and hearts, including her own. And she wants me to be her muscle. Last year I almost burned the school down. But this time, I might just be sitting on a powder keg.
Hawthorn Academy Year Two
June 30, 2020