Word Count:

24000
Summary: A HISTORY OF TROUBLE A Beacon Hill Sorcerer Collection A collection of brand-new short stories, featuring characters from The Beacon Hill Sorcerer Series by bestselling author SJ Himes. Red Wine and Blood The Blood Wars raged for centuries across Boston. Witness a brief glimpse into the brutal history of the Wars with Ignacio Salvatore and the vampire he loves, Ashwin Metcalfe, in 1897. A History of Trouble Angel was joking when he asked O'Malley if someone resurrected a mammoth. Little did he know that was exactly what someone did. Experience the untold story of what happened that unfortunate night at the Boston Public Museum. A Dragon in the City What happens when Eroch goes adventuring in Beacon Hill without Angel? Chaos, pure chaos. Fae's Gold Daniel is helping the newly-resurrected fae Ruairi Brennan become accustomed to modern-day living. A boring trip to the bank quickly escalates, and Daniel calls Angel for help. The day goes downhill from there but ends in a comfy meal in a pub for an ancient fae warrior and a necromancer's apprentice. This is an collection, featuring vignettes and short stories from the universe of The Beacon Hill Sorcerer series. For full enjoyment, the Beacon Hill Sorcerer Series Books 1 through 3 should be read before reading this collection.
A History of Trouble
Word Count: Information not available
Summary: James Spencer is hardly the typical troubled youth who ends up at Whisperwood School for Boys. Instead of hating the strict schedules and tight oversight by staff, James blossoms, quickly making friends, indulging in his love of writing, and contemplating the merits of sneaking love poems to the elusive and aloof William Esher. The rumours about William's sexuality and opium reliance are prime gossip material amongst the third years…rumours that only further pique James' curiosity to uncover what William is really like beneath all that emotional armor. And, when the normally collected William stumbles in one night, shaken and ranting of ghosts, James is the only one who believes him. James himself has heard the nails dragging down his bedroom door and the sobs echoing in the halls at night. He knows others have, too, even if no one will admit it. The staff refuses to entertain such ridiculous tales, and punishment awaits anyone who brings it up. Their fervent denial and the disappearance of students only furthers James' determination to find out what secrets Whisperwood is hiding...especially if it prevents William and himself from becoming the next victims.
A Light Amongst Shadows
Word Count: Information not available
Summary: Memories of another life and lover guide her, but are they even hers? She is a Bearer—keeper of past lifetimes and gifted with strange talents. Ember must find her answers away from safe Longquan Village, snared instead in the sensuality and dangers of The City. Hidden among spider farmers and slaves, prostitutes and weavers, a nest of people like her are waiting. A powerful man outside The City raises his forces, determined to hunt down the 'demons' who could taint his followers. Threatened from without and within, can the Bearers even trust each other? Powers will rise and alliances will be forged in a dark new world. The Memory Bearers are coming. This book includes violent and mature content. Reader discretion is advised.
After the Garden
Word Count:

87000
Summary: In a world where everyone has a soulmate, uniquely powerful mage Royiora and reluctant assassin Kalo collide in the worst of ways. Royiora Daralkaen, the only mage alive able to use all five kinds of magic, has a near idyllic childhood in the country of Porescalia - before war breaks out with their antagonistic neighbors, Kloria. Kalo Porla, a naturally magic-proof individual known as a Null, is trained to be as an assassin by the authoritarian empire known as the Domain. When Kalo and his partner assassin are sent to kill a mage and his apprentice, it starts a journey neither man was prepared to begin. Content warnings: harm to children, physical and psychological abuse, implied (off-page) rape, violence, mature language, minors in implied sexual situations (teenaged romance), implied sexual situations, bigotry towards fictional races, and suggestive language.
All or None
Word Count: Information not available
Summary: Twenty four short stories, written by E.D.E. Bell between 2014 and 2020. Primarily a fantasy collection – sprinkled with humor, romance, and hope. Stories of wizards, Beatles, and a great many frustrated women.
Awkward Tomatoes
Word Count: Information not available
Summary: Someone killed Grandfather Jefferson. Victor is sure of it. But he's the only one. Diagnosed with mirror resonance syndrome and shunned by Semiautonomous California society, Victor suffers from "blank outs," hallucinations, and vivid nightmares. He violently overreacts to even minor confrontations. Victor's grandfather devoted his life to researching and curing mentally ill Broken Mirrors like Victor, but now that he's gone, Victor must walk a narrow path between sanity and reclassification—a fate that all but guarantees he'll lose his freedom. Victor is determined to uncover the truth about his grandfather's death and grows increasingly suspicious of the medicine he must take to help manage his "symptoms." As he tries to sort his allies from his enemies, a conspiracy with global implications emerges. Can he trust his Aunt Circe, the only person in his family who's even somewhat sympathetic to his plight? His former classmate-turned-brainhacker Ozie, who wields information as damaging as any weapon and who seems intent on luring Victor away from his home? What about his old friend Elena, who reappears in his life abruptly, claiming to have miraculously overcome a devastating addiction? With its self-driving cars, global firearms ban, and a cure for cancer, the world of Broken Mirror may sound utopic, but history has taken a few wrong turns. The American Union is a weak and fractious alliance of nations in decline. Europe, a superpower, manipulates its citizens through technology. And Asia is reeling from decades of war. Amid shifting geopolitical sands, Broken Mirrors like Victor find themselves at a crossroads: evolve or go extinct. Broken Mirror is the first novel in a sci-fi cyberpunk detective saga tailor-made for fans of William Gibson, Haruki Murakami, and Neal Stephenson.
Broken Mirror
Word Count:

65000
Summary: A young man sold into servitude has his loyalties tested in ways he never imagined. Raised in an orphanage in Dickens, Daniel doesn't know who his parents were, where he comes from, or even his last name. Like all orphans, on his 16th birthday, he's sold to the highest bidder. Not knowing where he's going, who's bought him, or what they even want with him, Daniel embarks on an adventure he never thought he'd take. He finds love, a family, and a secure future - yet in a split second, makes a decision he ends up regretting the rest of his life. Brothers begins fifteen years before the Red Dog Conspiracy series. Warning: Language, smoking, use of alcohol and drugs, attempted suicide by hanging, M/M underage sexuality with consent issues, forced servitude, blood, gun violence, a man being beaten by a horsewhip, murder, discussion of child prostitution, underage M/F sexuality with age gap (female older).
Brothers
Word Count:

128000
Summary: In the wake of a worsening climate crisis, magic runs rampant and demons roam across the Canadian prairies. A long-dead god stirs in the Pacific Ocean, while the wilderness is choked by invasive, screaming grass. The Cascade has shattered political stability, leaving a scandal-plagued government clinging to power in Ottawa. As catastrophe looms ahead, a precognitive rainman, Ian Mallory, stands between run-of-the-mill corruption and a nightmarish, dystopian future. It is up to a diverse and unlikely band of activists, scientists, journalists, and one underpaid, emoji-spell wielding intern to save their beleaguered country from its own worst impulses
Cascade
Word Count:

52,500
Summary: The cerebral interface has revolutionised society. Need a ride? With a thought, the cab is on its way. Want an adventure? Enter a VR 5 computer game nearly indistinguishable from reality. Amanda arranges for her Big Sisters Program little sister, Rachel, to spend a day gaming as a fourteenth birthday present. Amanda never suspects that her insane ex-boyfriend, Jim, will use a computer virus to trap her and her companions in the game. A pleasant diversion becomes a life and death struggle as her party seek a way to come back to the real world without triggering a program that will cause nanobots to rip their brains to shreds. To complicate matters, in the game scenario the adventurers have been transformed into cats. Will the party survive? Will Amanda admit that Rachel's older brother, Tyrell, might just be her future? Will the computer virus Jim used to trap them become a cyber plague that could kill thousands?
Cats
Word Count:

89000
Summary: THE POWER TO DESTROY A KINGDOM. THE POWER TO HEAL A HEART. Ari's new powers have awakened, threatening to tear apart a kingdom already on the edge. Sent back to Valon to face her father's—and the people's—judgement, Ari must decide how far she'll go to reclaim her former life, if that's even possible anymore. In the heart of the turmoil, Iata, the reigning ruler, is losing control of his increasingly unstable magics. As his secrets threaten to spill out, his brother's wife, Haneri, draws ever closer—and he's not sure he wants her to stop. At the border to Kidaa Space, Rhys grapples with the ominous and impossible patterns in the Kidaa attacks, and comes face to face with the Kidaa themselves in a harrowing meeting that could change the future of the kingdom. And Dressa, who secretly married an enemy prince, must now face the consequences of that marriage. Because Lesander was activated by her family. And Lesander has a choice: obey her family, or betray her wife. With enemies without and enemies within, can the Truthspoken save their kingdom, or is this kingdom doomed to fall? Court of Magickers collects episodes 94-150 of The Stars and Green Magics, previously published in serial form. Note: This book has main characters who use gender-neutral pronouns (they/them/their, fae/faer/faerself).
Court of Magickers
Word Count:

42,203
Summary: Katja has long spent her life buried in the pain and sorrow of her past, a vampire abandoned to her fate for over 300 years, she never expects to meet another who could help her reclaim her existence. Raven, a poet and fellow lost soul, could be the one to spur her on, but in order to have the future she has only begun to grasp, she must uncover the truth about her origins and the awful event which left her alone centuries before. If she cannot face her past and reclaim her strength, she will lose everything.
Eyes Like Blue Fire
Word Count: Information not available
Summary: The Dissolution approaches, and all will change. "Science fantasy with fantastic queer rep" -J.S. Fields, Author of the Ardulum Series The Dissolution approaches. Sam has saved the Assembly of Species, but at a terrible cost. Locked in his apartment, his memories gone and his best friend abducted, he is once again crippled with anxiety. Meanwhile, Enos struggles to free her brother from imprisonment, alone for the first time in her life. Her true species has been revealed, and there are hints the deadliest of her kind survived an ancient war. But the Nether contains more secrets. A musical chime disrupts daily life, signaling changes to its very fabric. To solve this mystery, Sam must face his anxiety and confront truths about his memories and unique abilities. Only then can he save his friends from the machinations of the Life Coalition, by understanding the reality behind the Facets of the Nether. If you like epic fantasy, space opera and music-based magic, you'll love William C. Tracy's Dissolution Cycle. Download Facets of the Nether today and discover the diverse cultures, genders, and alien species of an epic science fantasy space opera! The Dissolution Cycle (Epic Space Opera, LGBT): Book 1: The Seeds of Dissolution Book 2: Facets of the Nether Book 3: Fall of the Imperium Book 4: Tales of the Dissolutionverse (Novella collection)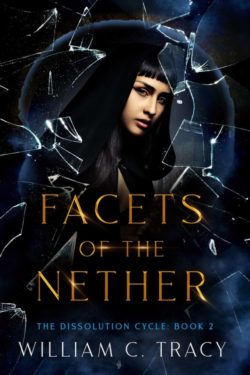 Facets of the Nether
Word Count: Information not available
Summary: The Dissolution is here. It is both an end, and a beginning. "Science fantasy with fantastic queer rep" -J.S. Fields, Author of the Ardulum Series The Dissolution has begun. Sam is finally reunited with Enos and Inas, only to see his new home under siege by beings that dissolve reality at a single touch. Even as they battle their personal demons, the three apprentices must also fight to save their home. Enos lashes out at those she loves, plagued by voices she's consumed, and Inas must risk his sanity to access ancient memories of the Nether. Sam must learn how he uniquely affects the Symphony, but there is little time to master what usually takes a lifetime. The Nether is leaderless and the Assembly is in chaos. The three apprentices must counter an invasion by aliens who rip the Symphony, and the very universe, apart. Ancient antagonists will resurface, a battle must be fought, and the secrets of the Nether and the universe will be laid bare in this final book of the Dissolution Cycle. If you like epic fantasy, space opera and music-based magic, you'll love William C. Tracy's Dissolution Cycle. Download Fall of the Imperium today and discover the diverse cultures, genders, and alien species of an epic science fantasy space opera! The Dissolution Cycle (Epic Space Opera, LGBT): Book 1: The Seeds of Dissolution Book 2: Facets of the Nether Book 3: Fall of the Imperium Book 4: Tales of the Dissolutionverse (Novella collection)
Fall of the Imperium
Word Count: Information not available
Summary: Nurse Stitch has her mouth sewn shut and her memory erased. John Doe has undergone 'nightmare surgery', his memory also erased, replaced by crippling trauma and delusions. Mahmoud Farouz is a captured insurgent from Iraq who is going to be used by a special Black Op organization to make America feel fear again. When these three prisoners of a secret underground torture facility band together to escape, they cannot realize that not only has their torture been orchestrated, but so too will be their path to freedom.
Fear
Word Count:

41000
Summary: When a satanic wizard runs the insane asylum, nobody believes the inmates, even when they're sane. Jonah is entirely normal in every respect but one: whenever he's frightened he turns into his evil alter ego, Maldeus. When Jonah discovers Maldeus is working with the asylum doctor to sacrifice women on a giant pentagram, he's thrust into the middle of a diabolic plot involving occult magic, invisible people, and a perverted, sex-crazed blue demon! Will he keep his wits about him as he pretends to be Maldeus and stop the rise of Satan?
Five Maidens on the Pentagram
Word Count: Information not available
Summary: Elderly, unarmed, and extremely dangerous. Ajay Andersen was the best hacker the NSA had ever hired. He sank corporations, toppled governments, and broke cryptography. All of it. Retirement hasn't slowed him down one bit, thank you very much. When his estranged daughter shows up on his doorstep with his two granddaughters, Ajay will do anything to keep them safe. He'll hack biotech corporations and criminal enterprises alike. He'll brave the woods of Minnesota. Nobody after his girls will be safe, but the more he digs, the more he dredges up the shadows of his own dangerous past. He only needs to know one thing: What makes his granddaughters so darn dangerous?
Grandfather Anonymous
Word Count: Information not available
Summary: Seasoned, strange, and dangerously clever Some invitations are impossible to refuse. When Ajay and Kylie are invited to a dinner party hosted by one of the wealthiest women around, Ajay sees it as an opportunity to dig into her past. He needs to find what shady business she's been up to and how dangerous she really is. Never mind that she's Kylie's grandmother. What starts out as a dinner party turns quickly to trouble when a guest is murdered. Was the killer the billionaire socialite, the odd chef, or one of the other guests? Ajay needs to cut through the complex connections between the reluctant guests, because one of them is a killer–but they aren't the only one. Too old to learn decent manners? Maybe. Too old to solve a murder? Not this grandfather.
Grandfather-Guardian
Word Count:

17000
Summary: "...an apocalyptic survival story that moves with the speed of a raging river..." This is how the world ends. For one man, this is how it begins. Donald Kerston's life up to now could only be described as a nightmare. But what he wakes up to suddenly becomes much worse. Struggling for his very survival, for the first time he finds friends and a future - only to be confronted with the one thing he didn't ever want to face.
Gutshot: The Catastrophe
Word Count: Information not available
Summary: Genevieve doesn't know if her unhappiness and feelings of not fitting in are different from anyone else's on her college campus. Recovering from a break-up and struggling with depression, she takes comfort in her impulsive sketches of strange creatures to try to escape the dark cloud that looms over her. But the truth is her place in this world is a lot more complicated than she could ever imagine. With two strange men following her, vines that engulf her dorm overnight, and a cactus that overruns the campus library, she is forced to face the possibility that her origins are more mysterious than the fact that she was abandoned as a baby. Especially as a powerful urge takes hold of her to draw something new and frightening. Can it be that her reality is stranger than her imagination? The one thing she can't imagine is that her happiness and talents just might be the key to save or destroy an invisible world.
In The Drawing
Word Count: Information not available
Summary:
The Past doesn't easily Forgive. Or Forget.
Distraught over the loss of his crewmates, Caspian Robeaux no longer believes he can pretend to be part of the crew of the
USCS Tempest
. He has to face the fact he's become an outsider and that's who he'll always be. He has no place on a Coalition starship anymore. But the mission must continue and until it's complete, he's stuck on board. Will he find a way to cope, or will the ghosts of his mistakes drive him mad first? Meanwhile Commander Evelyn Diazal is dealing with her own issues. After a visit with her infirmed father goes horribly wrong, she begins to see and hear things that aren't really there. Afraid her father somehow passed his madness on to her; Evie does everything she can to cover up her problems until it puts another crewmember in mortal danger. Amidst all of this, the
Tempest
has traveled far beyond the borders of Coalition space, searching for the mysterious
Andromeda
threat. However what they find is far more dangerous and destructive than they ever could have imagined. Will Cas and Evie manage to pull the crew together to survive, or will their ailments cripple them before the
Tempest
can escape?
Full of action, humor and characters you can't help but root for, JOURNEY'S EDGE is the rousing fourth chapter in the hugely popular INFINITY'S END saga!
Journey's Edge