Word Count: Information not available
Summary: James Spencer is hardly the typical troubled youth who ends up at Whisperwood School for Boys. Instead of hating the strict schedules and tight oversight by staff, James blossoms, quickly making friends, indulging in his love of writing, and contemplating the merits of sneaking love poems to the elusive and aloof William Esher. The rumours about William's sexuality and opium reliance are prime gossip material amongst the third years…rumours that only further pique James' curiosity to uncover what William is really like beneath all that emotional armor. And, when the normally collected William stumbles in one night, shaken and ranting of ghosts, James is the only one who believes him. James himself has heard the nails dragging down his bedroom door and the sobs echoing in the halls at night. He knows others have, too, even if no one will admit it. The staff refuses to entertain such ridiculous tales, and punishment awaits anyone who brings it up. Their fervent denial and the disappearance of students only furthers James' determination to find out what secrets Whisperwood is hiding...especially if it prevents William and himself from becoming the next victims.
A Light Amongst Shadows
Word Count:

87000
Summary: In a world where everyone has a soulmate, uniquely powerful mage Royiora and reluctant assassin Kalo collide in the worst of ways. Royiora Daralkaen, the only mage alive able to use all five kinds of magic, has a near idyllic childhood in the country of Porescalia - before war breaks out with their antagonistic neighbors, Kloria. Kalo Porla, a naturally magic-proof individual known as a Null, is trained to be as an assassin by the authoritarian empire known as the Domain. When Kalo and his partner assassin are sent to kill a mage and his apprentice, it starts a journey neither man was prepared to begin. Content warnings: harm to children, physical and psychological abuse, implied (off-page) rape, violence, mature language, minors in implied sexual situations (teenaged romance), implied sexual situations, bigotry towards fictional races, and suggestive language.
All or None
Word Count:

107000
Summary: An ancient evil in Anne's head aims to ruin her tranquil life and end humanity. It must be Tuesday. A house of her own with a white picket fence, complete with a loving partner, Anne Perrin finally has the life of her dreams — including the job she always wanted and a caring family to share it all with. But every Eden has its Pandora's Box. Anne's personal heaven is marred by a malevolent presence in her head who, if given a choice, would use her to usher in a dark age, ending humanity as she knows it. The only thing holding it at bay is an unpredictable computer implant in her chest that seems to have its own agenda. Two unexpected visitors turn Anne's delicate world upside down in completely different ways — one better than she could have ever hoped, one catastrophically terrible — pitting Anne in a nightmare battle against the very people she holds dearest: her family.
Angels Found
Word Count:

144000
Summary: Ancient evil meets modern-day waitress — and a mysterious organization known as Z-Tech. Anne Perrin is resigned to a life driven by an adolescent trauma — a strict routine, no socializing (outside of the safety of her waitressing job), and no romantic relationships. Determined to change her life before it's too late, Anne's first date in a decade turns into a struggle of life-and-death, plunging her into a world she didn't know existed, where super-science may be humanity's only hope against an ancient threat.
Angels in the Mist
Word Count:

136000
Summary: With his career firmly established and his reputation as a successful PI growing, Hades should have the perfect life with his human lover, his faithful ferryman, his dogs and the parts of his family still speaking to him. But murder and chaos are never far away for death lords as his nephew Dionysus and his oldest friend Charon are drawn into the maelstrom. Includes: Books, Bulls & Bacchanals: Brandywine Investigations #4 Midwinter Dancing: Brandywine Investigations #4.5 Pack Up The Moon: Brandywine Investigations #5 Please note: Books, Bulls & Bacchanals has been re-edited for this edition.
Brandywine Investigations: Family Matters
Word Count:

52,500
Summary: The cerebral interface has revolutionised society. Need a ride? With a thought, the cab is on its way. Want an adventure? Enter a VR 5 computer game nearly indistinguishable from reality. Amanda arranges for her Big Sisters Program little sister, Rachel, to spend a day gaming as a fourteenth birthday present. Amanda never suspects that her insane ex-boyfriend, Jim, will use a computer virus to trap her and her companions in the game. A pleasant diversion becomes a life and death struggle as her party seek a way to come back to the real world without triggering a program that will cause nanobots to rip their brains to shreds. To complicate matters, in the game scenario the adventurers have been transformed into cats. Will the party survive? Will Amanda admit that Rachel's older brother, Tyrell, might just be her future? Will the computer virus Jim used to trap them become a cyber plague that could kill thousands?
Cats
Word Count:

137000
Summary: Have you ever made a ship's AI proud? Really, truly proud? Captain Alastri has. She's a child of Doro, a frontier world governed by a temperamental AI that represents the thoughts and feelings of all its citizens. Never heard of it? Well, it did get destroyed, which is where her ship's AI steps in, to regale us with how Alastri's past led directly to this catastrophe. When Alastri was 17, she witnessed a failed mediation between the ever-wronged citizen Ceres and Doro's governing AI. That day didn't just reveal a range of competing philosophies. It also led to treason, the loss of her ship, and the destruction of her home 25 years on. Connecting the dots from that day is the only way Alastri can hope to prevent further disaster for her system. And yes, this she does, most splendidly—at least, if you can believe a ship's ridiculously proud AI. Inspired by The Brothers Karamazov, a.k.a. "Dostoevsky in Space"!
Children of Doro
Word Count:

32000
Summary: After a job gone wrong, Special Agent Olgo is trapped within the bowels of Mars with no means of escape. The device that imprisons the trauma within them is about to fail, and the past terrors kept hidden by it must be contained for Olgo's sanity and everyone's safety. From the darkness comes a tiny voice, and a tinier hope: "Hello?" *** The first book in the 'Cold Rush' Verse follows Agent Olgo as their corporate masters give them what could be their big break: a mission to Mars. But trying to change the working conditions in the planet's underground cities proves more challenging than the agent could have imagined. When a wearable device Olgo uses to block emotions begins to fail, an unlikely friendship changes everything as Olgo struggles to prevent spilling more blood on the Red Planet.
Cold Rising
Word Count:

89000
Summary: THE POWER TO DESTROY A KINGDOM. THE POWER TO HEAL A HEART. Ari's new powers have awakened, threatening to tear apart a kingdom already on the edge. Sent back to Valon to face her father's—and the people's—judgement, Ari must decide how far she'll go to reclaim her former life, if that's even possible anymore. In the heart of the turmoil, Iata, the reigning ruler, is losing control of his increasingly unstable magics. As his secrets threaten to spill out, his brother's wife, Haneri, draws ever closer—and he's not sure he wants her to stop. At the border to Kidaa Space, Rhys grapples with the ominous and impossible patterns in the Kidaa attacks, and comes face to face with the Kidaa themselves in a harrowing meeting that could change the future of the kingdom. And Dressa, who secretly married an enemy prince, must now face the consequences of that marriage. Because Lesander was activated by her family. And Lesander has a choice: obey her family, or betray her wife. With enemies without and enemies within, can the Truthspoken save their kingdom, or is this kingdom doomed to fall? Court of Magickers collects episodes 94-150 of The Stars and Green Magics, previously published in serial form. Note: This book has main characters who use gender-neutral pronouns (they/them/their, fae/faer/faerself).
Court of Magickers
Word Count: Information not available
Summary: The world of Avern has moved on. It has been almost a thousand years since the day the entire pantheon disappeared. Since the Abandonment, the mortals have learned to live without gods and goddesses. The world became mundane with little magic, and even less hope. Tyrants have risen, and those able to wield what is left of magic are powerful. Forces surge in the darkness that threaten to topple the already fragile world. The plight of the world of Avern is not unknown, however, and those that watch from a distance have decided to intervene. The mortals are sleeping, however, unknowing that two great powers will soon by vying for control.Then something happens that changes things. A young princess makes a bid for power by murdering her father. She then attempts to murder her sister, the crown princess of Lineria, Keiara. Despite a true strike, aided by dark powers, Keiara doesn't die. Instead, the strike pierces the barrier between her human soul and the soul sleeping within her, the soul of the Dark Phoenix. More than a goddess, the Dark Phoenix is the legendary mother of the gods. She is a part of the Eternal Phoenix that brought life to their world eons ago, one of the primal forces of the cosmos.
Dark and the Sword
Word Count: Information not available
Summary:
Durham, North Carolina has industry, commerce, fine universities, a world-famous baseball team, technopagans, vampires, and its very first superhero and supervillain.
As Withrow Surrett, self-declared vampire lord of North Carolina, digs in to see what's up in his own back yard, two mortals - The Bull's Eye and El Diablo - make headlines fighting crimes and committing them. With the help of friends old and new, Withrow has to track down both hero and villain before his city decides to go looking for even weirder things that go bump in the night!
The fists fly fast and furious in the third installment of this vampire and urban fantasy series, perfect for fans of Rick Gualtieri, Jeff Strand, or Christopher Moore.
Deal with the Devil
Word Count:

100,000
Summary: When Fancy sent Richard from Barbados, she did not tell him her plans. Richard arrives unexpectedly after she and Kirk go to Ireland. Richard discovers she has adopted Kirk's daughter, and he concludes she will never abandon Kirk. Brokenhearted, Richard returns to the future before Fancy can tell him her marriage to Kirk is void. Richard's departure allows Kirk to woo Fancy again in earnest and they remarry. The couple sail to Bermuda, where Kirk leaves Fancy and the children at Spring Haven to sail to Barbados. A hurricane destroys the Spring Haven house. Fancy takes the children to the mainland and on to the safety of McCarron's Corner. En route, she learns Kirk's ship was destroyed in the hurricane and Kirk is believed to be dead. At McCarron's Corner, Fancy manages to go forward in time, where Richard finds her. She gives Richard another chance. They fall in love again, marry, and she writes a best-selling memoir, which attracts unwanted attention. Will they survive when a stalker's dangerous obsession threatens to destroy their future?
Diary of the Reluctant Duchess
Word Count:

80435
Summary: A modern-day knight in shining armor is a man with a secret. He's an immortal direwolf shifter. A man who can trace at will into a lethally dangerous canine who holds the ability to step into the stillness and achieve any goal. When he finds himself without a career after retiring disabled from his last mission in the military, he has to rethink the direction of his life. He needs to reinvent himself before anyone realizes that he stopped aging at the age of thirty-five. He's learned just enough to make his existence a bit dangerous. The sexy high school teacher neighbor he's been near stalking has her own secret. She feels like everything and claiming her is all he can focus on. He's determined to win her as his own until a shadowy evil attacks her and reveals a situation that forces him to be the man of action that he's always been. To keep the woman he loves safe, he'll become the alpha pack leader he was born to be. A Pack Forms is the first volume in the steamy paranormal romance saga of Draoithe.
Draoithe: A Pack Forms
Word Count: Information not available
Summary: The Dissolution approaches, and all will change. "Science fantasy with fantastic queer rep" -J.S. Fields, Author of the Ardulum Series The Dissolution approaches. Sam has saved the Assembly of Species, but at a terrible cost. Locked in his apartment, his memories gone and his best friend abducted, he is once again crippled with anxiety. Meanwhile, Enos struggles to free her brother from imprisonment, alone for the first time in her life. Her true species has been revealed, and there are hints the deadliest of her kind survived an ancient war. But the Nether contains more secrets. A musical chime disrupts daily life, signaling changes to its very fabric. To solve this mystery, Sam must face his anxiety and confront truths about his memories and unique abilities. Only then can he save his friends from the machinations of the Life Coalition, by understanding the reality behind the Facets of the Nether. If you like epic fantasy, space opera and music-based magic, you'll love William C. Tracy's Dissolution Cycle. Download Facets of the Nether today and discover the diverse cultures, genders, and alien species of an epic science fantasy space opera! The Dissolution Cycle (Epic Space Opera, LGBT): Book 1: The Seeds of Dissolution Book 2: Facets of the Nether Book 3: Fall of the Imperium Book 4: Tales of the Dissolutionverse (Novella collection)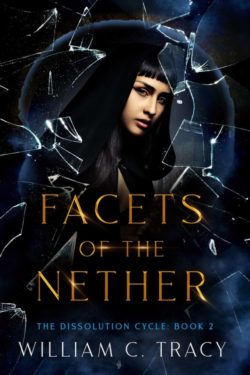 Facets of the Nether
Word Count: Information not available
Summary: The Dissolution is here. It is both an end, and a beginning. "Science fantasy with fantastic queer rep" -J.S. Fields, Author of the Ardulum Series The Dissolution has begun. Sam is finally reunited with Enos and Inas, only to see his new home under siege by beings that dissolve reality at a single touch. Even as they battle their personal demons, the three apprentices must also fight to save their home. Enos lashes out at those she loves, plagued by voices she's consumed, and Inas must risk his sanity to access ancient memories of the Nether. Sam must learn how he uniquely affects the Symphony, but there is little time to master what usually takes a lifetime. The Nether is leaderless and the Assembly is in chaos. The three apprentices must counter an invasion by aliens who rip the Symphony, and the very universe, apart. Ancient antagonists will resurface, a battle must be fought, and the secrets of the Nether and the universe will be laid bare in this final book of the Dissolution Cycle. If you like epic fantasy, space opera and music-based magic, you'll love William C. Tracy's Dissolution Cycle. Download Fall of the Imperium today and discover the diverse cultures, genders, and alien species of an epic science fantasy space opera! The Dissolution Cycle (Epic Space Opera, LGBT): Book 1: The Seeds of Dissolution Book 2: Facets of the Nether Book 3: Fall of the Imperium Book 4: Tales of the Dissolutionverse (Novella collection)
Fall of the Imperium
Word Count:

97000
Summary: The seas spell freedom. Pirates and kraken, boats and submarines, deadly sirens, mermaids, and the women who face them all. These are our heroes. High seas adventure, fantasy, and magic weave together in this sapphic anthology focusing on the joy of the unbounded oceans. If you like diverse stories with lesbian and sapphic heroines exploring oceans, battling sea monsters, and seducing pirates, buy Farther Reefs today! With stories by: Sarah Day and Tim Pratt, Kim Pritekel, Kyoko M. Sara Codair, William C. Tracy, N.L. Bates, Robin C.M. Duncan, Vanessa Ricci-Thode, Margaret Adelle, and J.S. Fields Genres: Science Fiction / Fantasy / Adventure / Lesbian / LGBT and Non Binary Market: Adult
Farther Reefs
Word Count: Information not available
Summary: Elderly, unarmed, and extremely dangerous. Ajay Andersen was the best hacker the NSA had ever hired. He sank corporations, toppled governments, and broke cryptography. All of it. Retirement hasn't slowed him down one bit, thank you very much. When his estranged daughter shows up on his doorstep with his two granddaughters, Ajay will do anything to keep them safe. He'll hack biotech corporations and criminal enterprises alike. He'll brave the woods of Minnesota. Nobody after his girls will be safe, but the more he digs, the more he dredges up the shadows of his own dangerous past. He only needs to know one thing: What makes his granddaughters so darn dangerous?
Grandfather Anonymous
Word Count:

17000
Summary: "...an apocalyptic survival story that moves with the speed of a raging river..." This is how the world ends. For one man, this is how it begins. Donald Kerston's life up to now could only be described as a nightmare. But what he wakes up to suddenly becomes much worse. Struggling for his very survival, for the first time he finds friends and a future - only to be confronted with the one thing he didn't ever want to face.
Gutshot: The Catastrophe
Word Count:

40289
Summary: For many, the United States is a land of opportunity and new beginnings – unless you happen to be 'different' from everyone else.  Hadi Shahir is one of those people, different in more ways than one. Hadi can manipulate fire; he is 'Evolved'. All he wants is a new life and new adventures in this land of opportunity. His dreams become endless nightmares, however, that begin with an inexplicable hate crime that leaves the young man traumatized and untrusting of the world around him. A chance encounter with a pretty face cracks that shell, showing him that not everyone in Chicago is out to get him until a rash of violent, deadly fires breaks out around the city. Suddenly, all eyes focus on Hadi when too many coincidences bring his abilities to the forefront. In a matter of moments, Hadi jumps to the top of the AEC's most-wanted list. His quiet life as a bartender quickly turns into a tangled mess of chaos, lies, and murder that drag the entire city of Chicago down in flames with the remnants of Hadi's ruined life.
Hellfire
Word Count:

64,178
Summary: It is said that long ago Herne, the god of the Hunt, could use his Horn to make wolves obey his commands. A legend that Amy Oakley, Alpha of the Howlers pack, learned as a child and stopped believing in long before her first change beneath the full moon. After spending three years fighting for her lovers and packmates' right to live among the werewolves of Londinium, all she wants is a chance to breathe, go back to running her pub, and never see the manipulative Marcel Charron again. As an ancient prophecy begins to unfold, can Amy and the Howlers find the Horn of Herne and keep it out of Marcel's hands, or will his web of schemes and plots spell doom for their pack and the rest of London's werewolves?
Herald's Call