Word Count: Information not available
Summary: Memories of another life and lover guide her, but are they even hers? She is a Bearer—keeper of past lifetimes and gifted with strange talents. Ember must find her answers away from safe Longquan Village, snared instead in the sensuality and dangers of The City. Hidden among spider farmers and slaves, prostitutes and weavers, a nest of people like her are waiting. A powerful man outside The City raises his forces, determined to hunt down the 'demons' who could taint his followers. Threatened from without and within, can the Bearers even trust each other? Powers will rise and alliances will be forged in a dark new world. The Memory Bearers are coming. This book includes violent and mature content. Reader discretion is advised.
After the Garden
November 14, 2014
Word Count:
87000
Summary: In a world where everyone has a soulmate, uniquely powerful mage Royiora and reluctant assassin Kalo collide in the worst of ways. Royiora Daralkaen, the only mage alive able to use all five kinds of magic, has a near idyllic childhood in the country of Porescalia - before war breaks out with their antagonistic neighbors, Kloria. Kalo Porla, a naturally magic-proof individual known as a Null, is trained to be as an assassin by the authoritarian empire known as the Domain. When Kalo and his partner assassin are sent to kill a mage and his apprentice, it starts a journey neither man was prepared to begin. Content warnings: harm to children, physical and psychological abuse, implied (off-page) rape, violence, mature language, minors in implied sexual situations (teenaged romance), implied sexual situations, bigotry towards fictional races, and suggestive language.
All or None
August 15, 2020
Word Count: Information not available
Summary: Twenty four short stories, written by E.D.E. Bell between 2014 and 2020. Primarily a fantasy collection – sprinkled with humor, romance, and hope. Stories of wizards, Beatles, and a great many frustrated women.
Awkward Tomatoes
November 26, 2020
Word Count:
60000
Summary: The war is over, and there are no winners. Just a broken galaxy. Now humans and aliens must share this war-torn galaxy. None of this matters to Drake, though, he's just an artist. He's tagging along on the busted up ship Trystero, along with its ragtag crew. Together, they traverse the Demilitarized Zone between Terran and Gra'al borders, taking on any job they can find. Big or small. Human or alien. The galaxy changes when the crew encounters a derelict alien ship, its crew slaughtered. With his dying breath, a crewman points them to a box. In it? An abandoned alien baby. When their government refuses to get involved, Drake and the crew need to return the baby they've been calling Bruce home, a bloodthirsty warlord on their tail. His quest? Find Bruce and claim the Gra'al throne, declaring a new war on humanity. Drake never wanted to be a hero... now he's all that stands in the way of a fragile peace between humans and aliens.
Broken Ascension
January 28, 2020
Word Count:
65000
Summary: A young man sold into servitude has his loyalties tested in ways he never imagined. Raised in an orphanage in Dickens, Daniel doesn't know who his parents were, where he comes from, or even his last name. Like all orphans, on his 16th birthday, he's sold to the highest bidder. Not knowing where he's going, who's bought him, or what they even want with him, Daniel embarks on an adventure he never thought he'd take. He finds love, a family, and a secure future - yet in a split second, makes a decision he ends up regretting the rest of his life. Brothers begins fifteen years before the Red Dog Conspiracy series. Warning: Language, smoking, use of alcohol and drugs, attempted suicide by hanging, M/M underage sexuality with consent issues, forced servitude, blood, gun violence, a man being beaten by a horsewhip, murder, discussion of child prostitution, underage M/F sexuality with age gap (female older).
Brothers
June 1, 2022
Word Count: Information not available
Summary: If he succeeds, he gets angel wings. If he fails, he gets unspeakable pain. What if Charlie wants neither?  Urban fantasy light short story with a touch of gay romance in a slightly noir short story with a very happy ending. In another Los Angeles, two Nephilim take hell-horses into battle against Angels, risking everything in an effort to give Hell's lowliest slaves a chance at freedom. Eventually, every Nephilim must face Choosing Day, and for Charlie Chrysalis, the day has arrived. At Angel Headquarters in Los Angeles, the Angel Sidriel—Charlie's guardian and also his worst enemy—asks the key question: "Spirit or Flesh?" If he chooses Spirit, Sid will certainly do everything he can to make sure Charlie fails, but he's made up his mind. His test: solve Region Six Immigration Crimes Case D665. It looks like a piece of cake. But can Charlie bring down Sidriel's brand of justice upon innocent, unfortunate souls, even if it means he must silence his heart and sacrifice the respect—and possibly love—of the one man he doesn't want to disappoint?
Charlie Chrysalis
February 1, 2021
Word Count: Information not available
Summary: Eclectic, imaginative, and unexpected, Community of Magic Pens features forty genre-spanning flash and short stories--including fantasy, humor, science fiction, romance, historical fiction, satire, and mystery--bringing together a rich group of diverse voices from a wide range of backgrounds and intersections. Fountain pens, markers and ink, charcoals, spy pens, a braille writer, a printing press, virtual reality, and a supernatural pizza: whether revealing unspoken truths, fighting injustice, or finding friendship and love, our pens have power. Join us as a recent graduate of superhero school struggles to understand her gift, a disabled android interviews for a job, a queen's conscripted artist must pull reality from illustrations on parchment, and a grandmother's secret room is…better kept a secret. Tales of struggle and triumph, compassion and hope: Community of Magic Pens is a celebration of our shared story.
Community of Magic Pens
Word Count:
80000
Summary: Other stories will take you to Mars. This one will take you inside the boardroom, the pub, and the bedroom with the people planning the mission. Gurdeep is an engineer and a soldier. Georgie's a food scientist. One is pragmatic with a tough outer shell; the other's an optimist, a person of ideas and compassion. In the span of a single afternoon, the couple find themselves in charge of planning a self-sustaining colony on Mars. Together, they're humanity's last hope for survival. They have 160 slots to fill with experts from all over the world as they set about designing an all-new society with its own government, economy, and culture – and that's just the tip of the iceberg. Among those chosen for the mission is Devon, an autistic scientist with a unique skill set who finds life on Earth strange and alienating. Maybe a whole new planet is exactly what's needed. With 1,114 days until the launch, excitement and tensions run high. Earth's second chance hangs in the balance. Between strict genetic requirements and the dangers of the dystopian almost-present, will everyone make it to the final countdown? This is a work of neurodiverse, culturally diverse, gender-bendy, socio-politico-economic, drunken-arguments-in-the-pub science fiction – not bang-bang-pew-pew science fiction.
Devon's Island
January 20, 2020
Word Count: Information not available
Summary: Diamondsong is a unique high fantasy saga told in ten parts. For lifetimes, the Ja-lal have prevented contact with the dangerous fairies of the forest. As tensions grow, those barriers are beginning to crumble. Blending rich worldbuilding with progressive themes, Diamondsong is a tale of power, identity, relationships—and magic. Part 01: Escape Dime has just left her career as a Ja-lal Intelligence agent, ready to roll her own dice. When, instead, she's accosted by winged invaders, some truths quickly fade—while others solidify. Begin Dime's journey with this unexpected tale of pursuit and discovery.
Diamondsong: Escape
June 19, 2017
Word Count: Information not available
Summary: They told him he was chosen, but everything they told him was a lie. Sookahr believes he's destined to change the world. With his rodent companion and a motley crew of fellow serpents, he journeys to the farthest outpost of Serpentia, determined to prove himself. The quest leads him to the very edge of the jungle, where Sookahr encounters, not only sabotage, but a dark secret that could shake the foundation of his civilization. Betrayed and abandoned, Sookarh must discover his own power, harness the magic inside his dreams, and decide who he really wants to be. Because if he can't rise to the challenge, expose his enemy, and uncover the truth, he won\'t just lose his way. He'll lose his friends, his place in society… and his life. In a world ruled by reptiles, one snake must fulfil his destiny to overthrow corruption, expose a dark secret, and save his people… from themselves. 2020 Leo Literary Award Winner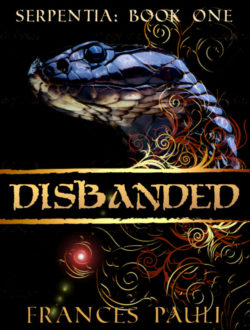 Disbanded
April 4, 2022
Word Count:
91154
Summary: Flame is scarred from a past filled with lies, deceptions, and heartbreak. He is not guilty of what his brothers believe, but Blaze is the only one who knows the truth. He was betrayed by the king he had served. The girls he gave the dark gift to had been innocent. When he finds his Valkyrie, beaten, raped, broken, and fading after having been forced to accept the dark gift without her consent, Flame vows that he will do anything to save her. The light seems gone from both her and the world she finds herself in. Little does Flame know that for her to have the light again, he will sacrifice his honor, his integrity, and his life after breaking every law he can manage to break and even demand absolution for crimes he never committed. Many men say they will die for the love of their life. Flame somehow needs to do it four damn times, find a way to fix not only her broken magic, but fix her broken spirit as well, and then figure out how to live for her! All men wish to love a vampire, but Flame burns in his soul for one who holds the fire and has been granted the dark gift of an immortal vampire princess.
Draoithe: The Dark Gift
July 29, 2019
Word Count:
135408
Summary: Alexio Asmodai is the demon king of Eaglafonn, a small outpost kingdom in the Netherworld overruled by the Demon Lord Asmodeus. It is Alexio's responsibility to protect and police the frontier borders against any threats. He is an accomplished knight, so that part came easy. Eaglafonn is a cold and isolated kingdom. Alexio needed to stay and build his castle atop the hot springs to beat an addiction to seduction sickness. After over seven centuries, he thinks his loneliness has finally come to an end when he opens a crate to find a woman sent by Asmodeus for him to keep safe. He falls for her instantly. She is a human woman, fragile, timid, and irresistible. He must follow his liege's directive, convince her to become his queen, and see that she is cared for properly in a place that is inhospitable to her existence. This leads to a realization that his castle lacks a lot to be a first-class home for a lady. Can a tainted demon prince rise to the challenge to become a true king and win the woman who stole his heart? Dread Allies 7-14 The Shadow king of Eaglafonn has chosen his queen, but his castle lacks the feminine element. To make her more comfortable, he orders the demon princes to seek out and claim their own mates. That is easier said than done. Eaglafonn is a cold dark isolated kingdom in the Netherworld. It might be easier to claim mates from the Domhain, but not everyone could survive on the brutal dangerous frontier. The other options afforded from the Netherworld come with their own dangers. The magic is unbalanced and balancing comes with a price. Claiming their mates lead the demon princes on epic mini journeys and reveals the need for Eaglafonn to take a greater role in helping Luke aid the dream. Dread Allies is a miniseries set in the Netherworld in the dream. It is an ancillary group of stories to the Draoithe saga. While it is set in that world, it is not in the direct series lineup. The dream just got darker and colder. Welcome to Eaglafonn.
Dread Allies: Shadow King
May 15, 2020
Word Count:
71,661
Summary: A dead-end job, a slob for a boyfriend, and neglectful friends: this is Kat Wallace's life. Ever since her best friend got married, Kat has been struggling to find happiness. All that changes when she meets Melody Adebayo, a field agent with the mysterious transdimensional company Clockwork & Associates. Melody's job is to send the consciousness of others to a scarier dimension in order to make them kinder and more grateful for their lives, which, in theory, will influence them to do good. But when Kat is sent to B-215, she awakes in a world beyond her wildest dreams. She's wealthy, well-liked, and has a successful career. Kat realizes she doesn't need to find happiness in her own world ... she can just steal it from her other self. Because of a certain (ahem) incident, Melody owes a lot of money to her evil ex-girlfriend, and Kat works out a deal with her in order to keep visiting B-215. With each visit, a sinister plot unfolds. Kat discovers her life is at risk, and she isn't alone in this dimension. To eliminate the threat, she must team up with Melody, but can the two uncover the truth before Kat loses her life? More important, will they be able to move on from the mistakes they made in the past and find love with each other?
Duality
April 4, 2020
Word Count: Information not available
Summary: Bart is just a simple folk trying to get by. With a posse comprisin' of a sparkle-loving horse, an unsettled ghost, and a magic old whiskey bottle, they wander from town to town in search of some needed coin, and maybe a brighter day.
Just Bart
April 4, 2021
Word Count:
93000
Summary: When the magical secrets of The Emerald Isle beckon, will she survive answering the call? Pittsburgh, 1846. Valentia McDowell wishes she could rest. Plagued by nightmares of her grandmother's mysterious brooch lost in Ireland, the well-off woman grows more troubled when a fire ravages her family's business. But as she buries herself in the rebuilding efforts, she can't shake the sense that a powerful inheritance awaits her across the ocean… if she can weather the treacherous journey. Horrified when the voyage claims her brother's life and afflicts her with malaria, Valentia believes her grief will be for nothing if she returns from the famine-struck island empty-handed. But as she nears her gran's birthplace and the last known location of the heirloom, the determined woman draws ever closer to a force beyond her imagination… and a battalion of deadly danger. Can Valentia uphold a destiny she doesn't yet understand without losing everyone she loves? Legacy of Hunger is the sweeping first book in The Druid's Brooch historical fantasy series. If you like compelling female characters, immersive authenticity, and a dash of magic, then you'll love Christy Nicholas's transatlantic quest. Buy Legacy of Hunger to trace a family treasure today!
Legacy of Hunger
November 14, 2020
Word Count:
44000
Summary: Gu Non couldn't stop thinking about the magic. They'd lied to her about it. They'd lied to everyone. No one lied to Gu Non. Lord's Dome is a slipstream fantasy about a girl who refuses to believe that the fate of her family is to suffer, the mining elder who must suddenly decide whether to trust this lone girl, and their search for the truth of an enigmatic god while the unyielding everstorm rages overhead.
Lord's Dome
August 11, 2020
Word Count:
48338
Summary: Every story has a beginning…. Dragons. Angels fear them and demons follow them. Formidable beasts of incredible power, they fight each other to the death for dominance. But dwindling dragon numbers cause alarm among the angelic ranks. Surely when the dragons have finished killing each other, the victors will search elsewhere for conquest… maybe even the Upper Realm. Roland, an angelic artist of significant talent, doesn't know what to believe. Part of him longs to see a dragon in person, and his peaceful life of contentment is wearing thin. He wants passion, desire, adventure, and love. He gets more than he bargained for when he and his sister are ambushed and captured by demons, and they bring him to a creature who surpasses Roland's wildest imaginings. But the mighty dragon Asagoroth is not all that he seems. Something sparks between him and Roland. Something neither anticipated. Something that will shake the cosmos to its core. Note to readers: this is the second edition, fully revised and updated.
On Wings of Passion
February 2, 2021
Word Count:
50963
Summary: Trystan is an unchosen angel—shunned by society, bullied, and without a future. In a hidden well, Trystan discovers a carving of a dragon, who were once the commanders of demons and now believed extinct. But Trystan learns the carving doesn't depict an ordinary dragon. Stories tell that millennia ago, the great dragon Asagoroth and his demon army nearly conquered the three realms but was killed by the five elders. The powerful angels combined their life forces to cast a spell, sacrificing their lives. But history is full of falsehoods. The five elders only managed to imprison the dragon, and Asagoroth had cast his own spell—one of releasement. It only needs the blood of a certain angel to liberate him from his cage…. Asagoroth, enemy of angels, conqueror of realms, is free. But even as the angels prepare for war, the great dragon surprises them with an ultimatum: hand over the angel who awakened him or face annihilation. Note to readers: this is the second edition, fully revised and updated. The current audiobook is based on the first edition.
On Wings of Thunder
January 5, 2021
Word Count:
110725
Summary: 133 years. Time is up. Lead Engineer Tara and her partner Sasha face the coming end of the facility generator. For generations It has served thousands of people who have been hiding underground from the ravages of the war, and the lingering Enemy above. Up and down the Grand Elevator, though the entire facility, every resident's life will be shaken when the generator sparks its last amp. The Great Actual, the anarchistic Citizens, and all of the regressed sub-societies in between will have to face the unknowns of the surface. Old fears will pale against new circumstances beyond their imagination, and new attention brings judgment upon all.
Rubberman's Exodus
August 16, 2022
Word Count:
70,000
Summary: Do you know what your problem is? Coral knows hers. People have been telling this tenderhearted 13th-century woman for years. So when a heroic army officer proposes, she decides she's stronger than people realize and her dreams have come true. Except, the perfect man turns out to be less than ideal. And she's gotten pregnant. And her homeland is gripped with fear of a pending Mongol invasion and she cries about everything now that she's with child. When a friend suggests the ever-caring Coral possesses a power well beyond what anyone imagines, Coral's sister decides this formidable talent is what the realm needs. Can Coral raise a baby, placate an absent military husband who thinks he's stopping the invasion, and help her sister save her homeland? This is just the sort of problem encountered by a woman who cares too much.
She's the One Who Cares Too Much
February 12, 2021