Word Count:

80000
Summary: Beware the demon prince who's sick and tired of running. Federico Duomo is dead, to begin with. But this is only the first bit of Shax's problems resolved. Powerful crime lords and an obscenely wealthy oligarch are still determined to destroy him and his crew, and Fluffy's original owner may be coming after the Brimstone now, too. It would be splendid to be able to take on one thing at a time. Adding to the external conflicts, life on board the Brimstone has only grown increasingly stranger. Shax has no idea what to do with the seven partly human children that Heckle rescued from slavers. Heckle himself has grown short-tempered, even with Mac. Someone from Julian's past catches up to them on Barbary. It's enough to put a demon off his cinnamon buns. Shax isn't panicking, though. In fact he's had it up to his handsome royal nose with the people he loves having to live in constant fear. The fox has turned at bay and the Brimstone's enemies are in for a shock. The demon prince of thieves is coming for them.
A Fine Mess: Brimstone 7
Word Count: Information not available
Summary: I sat up and focused on now, where magic was undoubtedly happening. Rowena must battle both past and present to achieve the future she craves. A WAYWARD WIND is the final volume in TALES OF ARDONNA: WOODSPELL SERIES, a fairy tale for adults.
A Wayward Wind
Word Count:

128,000
Summary: Alien Bonds is about two people, a human woman and a Wakanrean man, who meet on his world, Wakanreo, and instantly mate from a  biological reaction that occurs only in Wakanreans. But even though Dina goes home with Kuaron that night, she does not love him. You cannot love someone you don't know.  Over the next several months her feelings for him change, as do his for her. On one level, this is simply a love story. But the story also explores the culture and history of Wakanreo. It shows what a world would be like if looks didn't matter—if people had no choice in who they paired off with. and thus sex had nothing to do with morality.  How would this uncontrollable mating affect the societies that formed on this unique world? In human history, much of the stratification of society was achieved by people only marrying within their own social order. What if it wasn't possible to enforce that kind of discrimination?
Alien Bonds
Word Count:

71000
Summary: The thrilling Voidstrider Saga continues... Shan Taishan dedicated his life to protecting Mars as an Officer of the Fleet. But now an enemy no one can see has come to the Red Planet, and it's up to Shan to save his sister and his homeworld - or see Mars fall forever! Prominent Martians have gone missing - only to turn up again days later, seemingly changed. Government leaders forward policies they'd never have supported before, and the Fleet itself seems riddled with traitors. There's a conspiracy at work, one which threatens to turn Mars into a brutal dictatorship. With his friends gone off to Eros - glittering asteroid city of sin - in search of the enigmatic Djinn, it's up to Shan alone to unravel the mystery and save his world. And when he learns the truth at last, Shan Taishan will be forced to make a terrible sacrifice -- or see his world lost forever!
An Officer of the Fleet
Word Count: Information not available
Summary: It's her first job...and it's already going wrong. Freshly graduated from university with a degree in engineering, Crystal approaches her placement on the wormhole-constructive ship Crossing Paths with nothing but enthusiasm. But while Crystal gets used to the ins and outs of a multispecies, multicultural ship, tension brews both at work and back home. Not murdering her coworker Jai is hard enough; the last thing she needs are the terrifying errors cropping up on her maps. Reality and space are either tearing themselves apart - or someone else is attacking them. With conspiracies lurking everywhere, friendship won't be enough to see her through these dangerous new problems... Fans of Becky Chambers' Wayfarers series will enjoy this sometimes joyful, sometimes dark personal adventure set in a world of politics, bureaucracy - and piracy.
And The Stars Will Sing
Word Count: Information not available
Summary: Ardulum. The planet that vanishes. The planet that sleeps. Neek makes a living piloting the dilapidated tramp transport, Mercy's Pledge, and smuggling questionable goods across systems blessed with peace and prosperity. She gets by—but only just. In her dreams, she is still haunted by thoughts of Ardulum, the traveling planet that, long ago, visited her homeworld. The Ardulans brought with them agriculture, art, interstellar technology…then disappeared without a trace, leaving Neek's people to worship them as gods. Neek does not believe—and has paid dearly for it with exile from her home for her heretical views. Yet, when the crew stumbles into an armed confrontation between the sheriffs of the Charted Systems and an unknown species, fate deals Neek an unexpected hand in the form of a slave girl—a child whose ability to telepathically manipulate cellulose is reminiscent of that of an Ardulan god. Forced to reconcile her beliefs, Neek chooses to protect her, but is the child the key to her salvation, or will she lead them all to their deaths?
Ardulum: First Don
Word Count: Information not available
Summary: Ardulum. The planet of myth. The planet of unwanted destiny. The Charted Systems are in pieces. Mercy's Pledge is destroyed, and her captain dead. With no homes to return to, the remaining crew sets off on a journey to find the mythical planet of Ardulum—a planet where Emn might find her people, and Neek the answers she's long sought. Finding the planet, however, brings a host of uncomfortable truths about Ardulum's vision for the galaxy and Neek's role in a religion that refuses to release her. Neek must balance her planet's past and the unchecked power of the Ardulans with a budding relationship and a surprising revelation about her own genealogy. Ardulum: Second Don blends space opera elements and hard science into a story about two women persistently bound to their past and a sentient planet determined to shape their future.
Ardulum: Second Don
Word Count: Information not available
Summary: The planet wakes. Atalant is torn between two worlds. In uncharted space—head of a sentient planet—the new Eld of Ardulum now leads the religion she once rejected. Emn is by her side but the Mmnnuggl war brewing in the Charted Systems—threatening her homeworld of Neek—cannot be ignored. Atalant must return to the planet that exiled her in order to lead the resistance. She must return home a god, a hypocrite, a liar in gold robes, and decide whether to thrust her unwilling people into the truth of Ardulum, or play the role she has been handed and never see her family, or her world, again.
Ardulum: Third Don
Word Count:

21,400
Summary: When do dreams become reality? Orin sells dandelion latex at a no-name market, barely scraping by. Mette is a princess. Maybe. What Orin does know is that for thirty seconds every night, Mette visits Orin in xir dreams. Orin has long since written the fancy ghost woman off as a recurring nightmare, but when Mette insists upon meeting in real life, Orin's inner world turns out to be more substantive than imaginary. Along with best friend Blathnaid, Orin embarks on a journey to discover the truth behind xir otherworldly connection--determined to free xir mind and finally get a good night's sleep. But it's an ancient, planetary magic that binds Orin to Mette, and Orin's dandelions may be their only chance to survive the separation. If you want a fun, queer romp through a sci-fi planet with magic and dragons (of a sort), download Awry with Dandelions today! Note: this book uses xie/xir pronouns for Orin. Genres: Space Opera / Science Fiction / Romance / LGBT Lesbian Non Binary Market: Adult and New Adult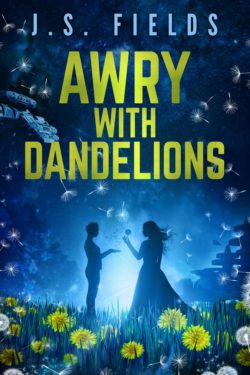 Awry With Dandelions
Word Count: Information not available
Summary: No (battle) plan survives contact with the enemy. Winning a war has never been just a cold collection of numbers on a tally sheet. The Faiths always play their part in fifteen stories exploring when things go wrong. With stories by James Chambers, Nancy Jane Moore, Maria V. Snyder, Jack Campbell (John G. Hemry), Bud Sparhawk, Peter Prellwitz, John L. French, Jeff Young, Keith R.A. DeCandido, David Sherman, Jeffrey Lyman, Judi Fleming, Danielle Ackley-McPhail, Eric V. Hardenbrook, and CJ Henderson.
Best Laid Plans
Word Count:

73000
Summary: ::The Seignso have our own plans for the remains of Genghis Khan.:: Alien warmongers have cloned an ancient emperor to lead an unstoppable army. Gifted with superhuman powers and advanced technology, he sets his sights on his home planet, Earth, and then... the stars! However, countermeasures have already been set in place. A young Iowa farm boy, oblivious to his powers or destiny, is thrust into a battle that will decide the fate of humanity against the new and improved Genghis Khan! A thrilling, interstellar adventure from the author of The Weller and War of the Worlds: Goliath!
Birthright
Word Count:

18000
Summary: ★A novella-length collection of female-centered MF, MMF and MFM★ Detailed SF erotica with wisps of romance and hints of humour. Female p.o.v. Women with sass and men who know how to be deeply intimate. With her and each other. Alien Tryst Planetary Surveyor Icara believes she is alone on the frozen planet, until she stumbles into Alien Hybrid Benj'in and his bonded mate, veteran Cyborg Jake. Survival in the cold soon gives way to the heat of passion, and the intimate promise of being fully filled. But Icara's debt to her employers threatens to tear the new lovers apart. Hot Pursuit Starship Captain Lanie Talbot prides herself on being responsible, until forbidden passions rise between her, Lt. Commander Nico Demelov, and his genetically modified partner Az. As the three pursue dangerous hijackers, Lanie craves submission to Az's primal nature, but she's already violated one rule by taking her First Officer Nico to her bed... Dirty Diplomacy Captain Siva is stranded in deep space with two demanding, lustful aliens. The demonic-looking alien ambassador wants an apology for the delay, while his well-built warrior husband is brazenly trying to seduce the Captain... and succeeding. If Siva can swallow her pride and say sorry, interplanetary relations will take a very passionate turn.
Bisexual Alien Collection: Three Hot and Steamy Sci-Fi Menage Shorts
Word Count:

124,000
Summary: Journalist Will Corwin has returned from his ordeal as a captive of the hybrid alien Warlord, Nod Korvus. But even as he attempts to settle back into his life and career, he finds the experience won't let go of him. His mind becomes increasingly fractured by the trauma, to the point that he's no longer even sure what is real and what isn't. Dr. Amelia Warren wants to help him heal, but to do so means that she needs to call in a professional, which Will both resists as well as resents. Can she get through to him, before he does irreparable damage to himself and their relationship? When Will glimpses a path toward healing, it's by finishing the last work of Father Damien Morgan, the priest who befriended Will, and who Nod Korvus brutally murdered, as a way of punishing him. Will wants to complete the school Father Morgan was building, but the Church has cancelled the project. Will decides to revive the project, calling upon his family resources for assistance. And when help is offered, it means turning his life upside down. Can Will build the school without abandoning the rest of his responsibilities? And, if he does, will it provide the healing he so desperately needs? And what of Amelia, and his stepson, Jonah? Must he leave them behind for the long months that building the school will take? What form will his healing take, and will there be something left of his life when it is done? And what new dangers lurk in the village of Burden? This is Burden of the Stars, the third book in Broken Stars, the steamy romantic sci-fi series by Chad Grayson.
Burden of the Stars
Word Count:

117,600
Summary: The Action Packed Conclusion to the Peridot Shift Trilogy Peridot is on the edge of annihilation. Once life-giving, the world's Trade Winds are transforming people into soulless monsters. The surviving Alchemist gods neglect their followers or take advantage of them. Even worse, a delicate peace has been wasted, and everything and everyone is at stake, especially Meran, the mistreated embodiment of the planet. Captain Talis and the crew of Fortune's Storm must try to do some good with what's left of Peridot in the hope that, together, they'll reclaim the hidden pieces of Meran's soul before the chaos seals her disastrous fate.
Cast Off
Word Count: Information not available
Summary: It's not easy being the child of legends When her brother goes missing, the first hint of a larger plot against her famous family, Beau must find her inner hero--if she & her friends can avoid getting killed first. CHASING SUNSET is a stand-alone sequel to the WOODSPELL SERIES and one of the TALES OF ARDONNA.
Chasing Sunset
Word Count:

197000
Summary: Saving a life can change the course of history. Destin is torn away from his chicks and his bonded when the Terrens invade Aries 7. Experimented on in Terren labs, and made to work their mines, the GyrFalconi struggle to survive. Destin becomes their caretaker, endeavoring to save as many as possible, despite the emotional toll. Amidst the battle for survival, the universe shines on him and he bonds with not one but four people who give him a reason to keep fighting. When Valespia sends its Legions to the GyrFalconi's aid, Destin and his bonded are eventually freed, only to face new cruelties from their own people. Freedom comes with its own trials, though, as a divide forms in GyrFalconi society between the winged and the wingless. Destin and his bonded are given a chance at true happiness and they keep what they claim, no matter what. Tags: The Twenty-Year War where Terrens really mucked things up, so many hatchlings, Love not Lust (yes, using caps there seemed necessary), survivors, bisexual characters, all the cute hatchlings, talking to spirits, low heat, protective chantelle, evil empress, courageous stags, polyamorous, Destin keeps collecting bonded, avian species screech... a lot, non-human ace spectrum characters, found family, underestimated batore, so many stags, Mar'Sani mentor, did I mention the cutest chicks ever? CHERISH is the fourth book in the award-winning Valespian Pact series. Trigger warnings can be found in the Author's Note. Please download a sample of this book or use the Look Inside feature. 196,000 words.
Cherish
Word Count:

137000
Summary: Have you ever made a ship's AI proud? Really, truly proud? Captain Alastri has. She's a child of Doro, a frontier world governed by a temperamental AI that represents the thoughts and feelings of all its citizens. Never heard of it? Well, it did get destroyed, which is where her ship's AI steps in, to regale us with how Alastri's past led directly to this catastrophe. When Alastri was 17, she witnessed a failed mediation between the ever-wronged citizen Ceres and Doro's governing AI. That day didn't just reveal a range of competing philosophies. It also led to treason, the loss of her ship, and the destruction of her home 25 years on. Connecting the dots from that day is the only way Alastri can hope to prevent further disaster for her system. And yes, this she does, most splendidly—at least, if you can believe a ship's ridiculously proud AI. Inspired by The Brothers Karamazov, a.k.a. "Dostoevsky in Space"!
Children of Doro
Word Count:

33000
Summary: Clarity (noun) Four definitions to inspire writers around the world and an unlimited number of possible stories to tell: 1) Coherent and intelligible 2) Transparent or pure 3) Attaining certainty about something 4) Easy to see or hear Clarity features 300-word speculative flash fiction stories from across the rainbow spectrum, from the minds of the writers of Queer Sci Fi.
Clarity
Word Count:

89,000
Summary: A heart-rending loss… Flora Bock will never forgive the Anferthian invaders for murdering her birth-parents. Growing up with the grandson of her sworn enemies is living a nightmare—until the day she sees him through the eyes of a young woman. But giving her heart to him is the ultimate betrayal of her parents' memory. A life in peril… There are precious few places in the galaxy where Fander K'nil is safe. One look into Flora's beautiful, hate-filled eyes is proof enough that Terr is not one of those places. He must keep her at a distance and stay alive long enough to fulfill his destiny. No matter what his heart desires. An empire at stake… Just as Fander and Flora begin to discover the depth of their feelings for each other, they are thrust into a deadly game of politics and assassination with an enemy who stops at nothing to stay in power. With the lives of everyone they love at risk, they must find a way to avert a new invasion before it's too late—even if it means making the ultimate sacrifice.
Collision
Word Count:

416800
Summary: Colonists struggle to build their lives, but first they have to survive. Read the complete series through generations.
Glory on Mars - Emma joins the first settlers amid death and betrayal. She must learn the truth before Mars kills them all.
Born on Mars - Jake didn't ask to be born into a failing habitat, but new arrivals bring hope and peril. Can he save his friends and family?
Hermit on Mars - Sig will rescue the ungrateful Martian prospectors, even if it kills him.
Water on Mars - Scoundrels on Mars and Earth drag Bliss into their lethal schemes.
Storm on Mars - An AI may be a psychopath's only friend. Zeker's always close by when something weird happens.
Colony on Mars - All 5 Books