Word Count:
52000
Summary: Has kidnapping Zeus ruined Dargon and Alpha's chance at love? The sole survivor on a science vessel adrift in deep space, Zeus was adopted by the Emperor and Empress of the Mar'Sani, though he is both human and blind, and seen by many as unfit to join the royal family. Though they were able to repair his vision, Zeus does not trust his eyes, and the nobles of his parents' court refuse to ever trust a frail and treacherous human. Dargon Kal-Turak, along with his symbiote and lover, Alpha, command one of the most dangerous ships in the stars. After narrowly escaping a trap, they dock in a space port to make repairs but find that the Psionics hunting them are closing in fast. In desperation they kidnap the port's master mechanic, unaware that the man they've brought on board is more than he seems and will bring far more upheaval to their ship, their lives, and the stars than any of them could have imagined. **Alpha Trine is a 52k sci-fi romance. It was re-edited July 2018 and some concepts were expanded upon. Neither the plot nor characters were changed.
Alpha Trine
August 9, 2019
Word Count:
46000
Summary: Lieutenant Mike Oliver has long dreamed of a Patrol ship berth, flying between the stars—surely this time his application will be successful. What he doesn't expect, is to be sent to establish a Patrol station on Asra, a tiny mining settlement on a frozen mudball of a planet, blanketed with nitrogen storms. Deeply resentful, Mike suspects he is being discriminated against. The only option he can see is to become celibate, at least while he is on Asra. And that means rejecting the advances of both Callan Rian, the colony's flamboyant Governor, and sexy Dane, Callan's business partner, despite the growing attraction. While sexual tension mounts between them, a far more sinister danger is lurking, and when Callan is abducted, Mike will have to choose—between his ambition and his heart. (Gay / Romantic Sci-Fi) A novella in the Aurigan Space Saga
Night Traveller
May 1, 2018
Word Count:
111,000
Summary:
New York: two years after the Third World War. Humanity is rebuilding its cities brick by brick; the damage done to the people, however, is a lot harder to repair.
Dan Hardacre is one of those people. An aspiring stage actor and experienced draft-dodger, Dan struggles to find his place within the Utopic rebuild of New York City. When he's not caught up with the duties of work, Dan lives a quiet life in mourning for his mother, Dyani, who went missing when he was a teenager.
One night, Dan experiences a vivid, terrifying nightmare that puts him right on the front lines of the war for which he dodged the draft; it ends with him facing Death itself in the form of a metallic, faceless humanoid creature that calls itself the Valkyrie. To investigate the reason behind his haunting experience, Dan seeks out a meeting with his estranged father, who reveals the startling truth about Dan's dream: it wasn't a dream.
With this newfound knowledge and the powers it brings, Dan makes it his mission to return to the scene of his nightmare. However, he soon comes to know that confronting the Valkyrie not only endangers him but the war-withstanding world he leaves behind.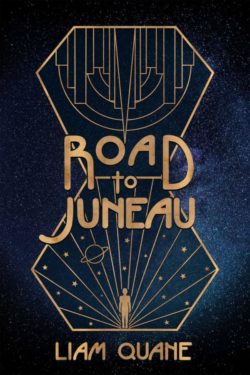 ROAD TO JUNEAU
May 18, 2021
Word Count:
56800
Summary: Three Novellas: Rough Play - Lieutenant Matthew Ferris stumbles on a scandal that could tear his spaceship Jerez apart. Some call it rough play, he calls it unacceptable. His Guilty Secret - Heir to a wealthy shipping family, Adam S Hayes has his life carefully mapped out. Career, marriage, family. After establishing himself successfully as Captain of the Patrol Ship Revel, it is time for the next step. Everything is going according to plan ... until he meets Danyel King. Troubled and confused, Hayes risks losing his chance for love as he finds himself torn between his heart and his head. Dangerous Tension - Spaceship Captain Matthews has kept his sexuality a secret. What happens when the crew finds out? is Lieutenant Kent as straight as he always believed? Will he hit him or kiss him, or both? Gay romantic Sci-fi
Rough Play and More
September 5, 2018
Word Count:
93000
Summary: The danger threatening the Valespian Pact could tear Zeus, Dargon, and Alpha apart. The peaceful respite for which Zeus and his intended, Dargon and Alpha, had been hoping for is shattered when Zeus is unexpectedly drawn into the Waters of Poseidon and told that the safety they've been promised is a trap. But the Fal'Amoric aren't the only important cargo on the Oethra 7, and countless others are depending on the success of their mission. If Zeus hopes to break the silent siege on Valespia and protect those most precious to him, he will need not just powerful allies but the fortitude to survive overwhelming odds. **Striker is a 93k sci-fi romance that has mature themes and content as well as a polyamorous relationship. This 2nd edition has been re-edited and 5k words added to add clarity.
Striker
August 12, 2019
Word Count:
55,000
Summary: Welcome back to Charybdis Station and the crew of the Blue Solace: (Sixth Book in the series) Draif Ando started life as a slave on Vextonar. When he was fifteen, he met his best friend, Leti Ando, and life got a lot better. Now he's a Charybdis Station captain and works closely with the Lord Admiral of the Station. He is a free man, finally has a purpose of his own, and has the the best lieutenant in the galaxy by his side. If he's so content, why does he yearn for more, and why is he suddenly picturing children with his eyes and Lucas' ears and tail? Lucas Meluth knew that Draif was his life mate from the moment they met. He also knew that Draif was demisexual and wasn't attracted to Lucas. Not at first. Now, Lucas notices the way Draif's eyes follow him and the way Draif's innocent touches are suddenly not so innocent. Has the time come for their friendship to turn into more? Draif and Lucas may finally be figuring their relationship out, but their enemies are approaching and it's time to protect Charybdis Station and rid the galaxy of Humans First, once and for all.
The Captain's Mate
August 29, 2019
Word Count:
56,000
Summary: Welcome back to Charybdis Station and the crew of the Blue Solace: (Fifth Book in the series) Beck Brackenstone is a simple Grell. He loves his family and friends and enjoys tinkering in his shop. His greatest dream is to meet his life-mate, settle down, and raise a bunch of babies. When he finally does meet his mate, he realizes how completely unprepared he really is. How do you court an assassin? How do you keep your brain from melting when your mate smiles? Guild Master Beol is not a simple man. He runs one of the most prominent assassins guilds in the galaxy and has a troubled past. He has responsibilities and contracts to worry about and no time for a mate. When he meets Beck, that all changes. His Grell completely bewitches him and sparks something inside him that he thought died a long time ago. The problem is that Beck has secrets that even his most trusted friends don't know, and Beol has some major trust issues. The two men may appear to be a horrible match, but in truth, they are perfect for one another. Unfortunately the Crellic Queen and Humans First are terrorizing the galaxy and Charybdis Station is their next target. They will need to trust in one another and their friends to end the Queen's path of destruction once and for all.
The Engineer's Mate
May 16, 2019
Word Count:
54,000
Summary: Welcome back to Charybdis Station and the crew of the Blue Solace: (Fourth Book in the series) Sebastian Dolarnio has a past. His parents sold him into indentured servitude when he was seventeen which led him to enforced prostitution. Fortunately, with the help of some very good friends, him and his daughter are safe and have a home - a beautiful, accepting place with more family than he ever dreamed of having. Then there's his mate. A handsome, wonderful man calls Sebastian "mate" and Sebastian knows he doesn't deserve him. He has to find a way to be worthy of his new home and his new mate. A strange Crellic book provides him with the answer to his problems, but it comes with complications of its own. Alois has been dreaming of finding his life-mate since he was a kid. He knows that Sebastian is a dream come true, but how can he convince his mate of that plus fight the baggage he carries from his own past? When Sebastian begins a strange, wonderful journey, Alois knows that he has to be the loving and supportive mate that Sebastian deserves. The two men build a life together and learn to love one another, but the galaxy is in turmoil and Charybdis Station is in the middle of it all.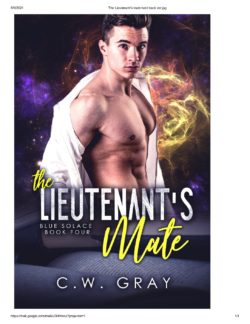 The Lieutenant's Mate (Blue Solace Book 4)
March 10, 2019
Word Count:
55,000
Summary: Welcome back to Charybdis Station and the crew of the Blue Solace: (Seventh Book in the series) Finn Sterling is still adjusting to becoming the lieutenant of the blue fleet of Charybdis Station. As an orphan on Cardinal Hold, he never imagined he would have a position of authority as an adult and the trust his friends put in him makes failure impossible. When he is given the monumental task to find a large number of missing Vextonians, he'll take all the help he can get. When Finn's journey brings him to his mate, he discovers that finding the missing is only one part of the quest ahead of him. Aiden Crow has spent the last year consumed with grief and his search for vengeance. When he meets Finn, he knows instantly that the man is his mate, but what could he possibly offer the beautiful, smiling Cardinal? As the search for the missing draw the two men together, Crow realizes that the greatest risk he faces is losing his heart. Crow and Finn must work together to gather information so they can find the innocent before they are lost forever.
The Rebel's Mate
January 24, 2020
Word Count:
55,000
Summary: Morgan Murray is an easy, fun-loving guy. He excels at being a soldier, but never wanted more out of life. Somehow, he ends up in a position of authority on Dru's new ship, the Blue Sparrow. Now he has to deal with what he dreads most. Responsibilities. Dru and her crew are given the task of finding Wyatt Morrick and telling him about his father's death. Along the way, Morgan soon learns that responsibility can be painful, difficult, and frightening. It can also lead to something very special. Dr. Wyatt Morrick is in trouble. Big trouble. He and his medical crew are stuck on a planet under attack. He may not be a soldier, but he has patients and friends to worry about. With very few supplies left, something has to give for them to survive. The whole planet's future is at stake and he is stuck hiding in a cave. When Morgan saves Wyatt and his friends, the two men are given a gift, each other. Their love can't stop the Concord, though, and someone has to. Morgan has to grow and accept his responsibilities, and Wyatt has to move on from his father's death. That death just happens to be a little more complicated then Wyatt expected.
The Soldier's Mate
January 11, 2019