Word Count:

55300
Summary: Luxor City, a once lawless metropolis on the brink of civil war, is now at peace, but even in lighter times there are always shadows. In the technicolor streets of the Southern Empire, Junsu Sun, the Alpha heir to one of Luxor City's great crime families, busies himself by dealing with a blacklisted group known as the Underground. After taking down one of the Underground's notorious leaders, Junsu assumes he'll be given time to rest and recuperate, but his mother, Alpha Xijuan Sun, has a new mission for him, involving a luxury cruise and a new mate, Omega Kaito Yamaguchi, of the powerful Yamaguchi family. Ever the dutiful son, Junsu obeys his orders as if it were any other mission, but this sort of engagement isn't exactly the type of thing he's used to and Kaito Yamaguchi certainly isn't the sort of Omega he's used to either. Kaito is impatient, impassable, and impossible. He's a spoiled Omega who is pissed off that his family have reorganized his life and thrust him into this arranged mating with some Luxor City Alpha he's never met before. Kaito hasn't even seen a picture of Junsu Sun, a fact that Junsu uses to his advantage. Faced with a week spent trapped on a luxury cruise with a rude, bratty Omega who doesn't even know who he is, Junsu decides to play a little trick on his future mate. But just how far will he let things go and where is the line between a little trick and a painful deception? Meanwhile, other secrets floating between empires and continents are about to spill out onto the deck.
Between Empires and Continents
Word Count:

55000
Summary: In a world where humans are genetically designed, altered and sold for pleasure and breeding, a young prince of the powerful Cassian Dynasty decides to take a mate and sire heirs. Not wishing to saddle himself with royal and meddlesome in-laws, and a wife he would have no desire to bed, Prince Edward goes to Heritage Breeders, and finds far more than just a warm body to carry on his lineage. Percy is the result of a master DNA architect designing himself his own personal slave and breeder. Yet when his creator and Master dies, leaving Percy alone at the mercy of the callous stable masters and the new owner of Heritage, he fears his future. Afraid he'll be bought by a wretched old man or a deviant monster, Percy is terrified when he is dragged from his cell and presented to the most prestigious client Heritage has ever welcomed...a Cassian Royal. Prince Edward is immediately infatuated with the shy, nervous and enchantingly beautiful Percy, and claims him for his own. Yet not everyone is pleased by a royal purchasing a breeder, especially one like Percy, and tensions rise both in Heritage and in the palace. Torn between need, duty, a king's command and the innermost desires of their hearts, Edward and Percy are set on path that is anything but easy. Can Percy trust Edward with his heart as he does his body? Can Edward keep an angry king and unseen enemies away from the young slave who is steadily stealing his heart? And what happens when Nature takes its course, and Percy's true purpose is fulfilled?
Bred For Love
Word Count:

26000
Summary: Wilderness tour guide, Patrick Morgan, wakes to discover Harlan Quinn—the man he'd invited home for the night—has left, with no traces of his presence. Disconcerting as that might be, Patrick is shocked when the police turn up a week later, demanding to know Harlan's whereabouts. He's an ex-patrol officer, accused of manslaughter. Harlan Quinn is desperate. Not only has he been dismissed from the Space Patrol, on a charge he strongly denies, but now he is on the run.   He can't find a legitimate job. With no money and no prospects, what's left? When Patrick's tour group is caught up in a kidnapping plot, the last person he expects to run into is Harlan. With everything he knows, can Patrick dare to trust him?
Dangerous Love
Word Count:

82000
Summary: The Blackwood Pack saga begins…Follow the journey of the Blackwood Pack, seven brothers who are wolf shifters in search of their fated mates – stories about love at first sight with twists and turns, angst and humor, romance and adventure. Each book has two men who meet, fall in love, mate and achieve an HEA but the stories also chronicle the continuing saga of the Blackwood Pack. For more than 100 years, Steel, one of the last Dire Wolves, has been looking for his mate the Fates promised him. Discouraged after meeting his latest date, he takes a short cut home, seeing in a naked hitchhiker everything he envisions the man of his dreams to be. His wolf and body tell him the man is his fated mate but why can't he pick up his scent? Robbed of his car, clothes and money, Jackson, Alpha of the Blackwood Pack, is left with no choice but to thumb a lift, frantic to get home to his six brothers. He's been protecting them from a rival pack who massacred most of his family and wants to finish off the rest. When Steel rolls down his window, Jackson knows he's found his fated mate but it would be too dangerous to claim him with his pack under attack. After the intervention of an Oracle and a Witch, Jackson finds the Fates gave him an unusual gift that made him unique-- and just for Steel. Navigating the mine field this revelation brings, Jackson and Steel must figure out how to make their relationship work while dealing with external forces determined to kill them and the rest of the Blackwood pack.
Dire Warning
Word Count:

80435
Summary: A modern-day knight in shining armor is a man with a secret. He's an immortal direwolf shifter. A man who can trace at will into a lethally dangerous canine who holds the ability to step into the stillness and achieve any goal. When he finds himself without a career after retiring disabled from his last mission in the military, he has to rethink the direction of his life. He needs to reinvent himself before anyone realizes that he stopped aging at the age of thirty-five. He's learned just enough to make his existence a bit dangerous. The sexy high school teacher neighbor he's been near stalking has her own secret. She feels like everything and claiming her is all he can focus on. He's determined to win her as his own until a shadowy evil attacks her and reveals a situation that forces him to be the man of action that he's always been. To keep the woman he loves safe, he'll become the alpha pack leader he was born to be. A Pack Forms is the first volume in the steamy paranormal romance saga of Draoithe.
Draoithe: A Pack Forms
Word Count:

118937
Summary: Frank Grimes is a lowlife, no count, barely classifiable as a human, male who just happens to have enough sense to hire and retain qualified construction workers. He landed the contract to build most of Draoithe in January of 2016. He's not only worthless, but he's also criminal filth. He will do anything for an easy dollar. After the Draoithe housewarming party, his true colors shine through when he attempts to rape the architectural designer in her apartment after driving her home. Luke can't afford to let Jace kill him or allow Flame to turn him as dragonsworn, but there is no way that Frank can be allowed to just get away with what he's done. Even the Assassin King wants him dead, and he is the dragon called to serve one miscreant underking. Sentenced to house arrest and forced labor, Grimes seeks a way to fulfill the requirements Luke sets on him to gain enough respect that Javier will turn him into a canine shifter until he meets a blood demon who wants to help Luke out. Is it possible to totally rehabilitate the walking filth that is Frank Grimes into a real man in order to help him avoid certain death and turn him into a wolf? Or will the demon simply drink him dry and slowly end his miserable existence?
Draoithe: Filth and Death
Word Count:

107884
Summary: Julian Gypsun used to be a young man on his way to becoming a contractor. Everything changed when he died and was resurrected as a wizard's familiar. He was immortal and far better off physically than he had been as a human. Still, he was trapped with his life chained to a giant of a wizard who had no problem abusing him in every way imaginable. Julian was powerless to stop it without ending his own existence. That is until he was yanked bodily through his own portal, transported to Draoithe, and assigned to babysit the visiting dignitary, Amazon Warrior Princess Zephyra, and try to convince her that her people should ally themselves with Luke and Draoithe. That sounded easy, but it wasn't. He liked her. He had no clue how to act on that. Best to avoid that altogether. Keeping her safe just might equal his death. (Please see her warrior princess title.) She was old and so far out of his league. Worse, she liked him and was determined to have him. He can't even consider that. She has no idea how broken he really is.
Draoithe: Midnight Magic
Word Count:

91154
Summary: Flame is scarred from a past filled with lies, deceptions, and heartbreak. He is not guilty of what his brothers believe, but Blaze is the only one who knows the truth. He was betrayed by the king he had served. The girls he gave the dark gift to had been innocent. When he finds his Valkyrie, beaten, raped, broken, and fading after having been forced to accept the dark gift without her consent, Flame vows that he will do anything to save her. The light seems gone from both her and the world she finds herself in. Little does Flame know that for her to have the light again, he will sacrifice his honor, his integrity, and his life after breaking every law he can manage to break and even demand absolution for crimes he never committed. Many men say they will die for the love of their life. Flame somehow needs to do it four damn times, find a way to fix not only her broken magic, but fix her broken spirit as well, and then figure out how to live for her! All men wish to love a vampire, but Flame burns in his soul for one who holds the fire and has been granted the dark gift of an immortal vampire princess.
Draoithe: The Dark Gift
Word Count:

135408
Summary: Alexio Asmodai is the demon king of Eaglafonn, a small outpost kingdom in the Netherworld overruled by the Demon Lord Asmodeus. It is Alexio's responsibility to protect and police the frontier borders against any threats. He is an accomplished knight, so that part came easy. Eaglafonn is a cold and isolated kingdom. Alexio needed to stay and build his castle atop the hot springs to beat an addiction to seduction sickness. After over seven centuries, he thinks his loneliness has finally come to an end when he opens a crate to find a woman sent by Asmodeus for him to keep safe. He falls for her instantly. She is a human woman, fragile, timid, and irresistible. He must follow his liege's directive, convince her to become his queen, and see that she is cared for properly in a place that is inhospitable to her existence. This leads to a realization that his castle lacks a lot to be a first-class home for a lady. Can a tainted demon prince rise to the challenge to become a true king and win the woman who stole his heart? Dread Allies 7-14 The Shadow king of Eaglafonn has chosen his queen, but his castle lacks the feminine element. To make her more comfortable, he orders the demon princes to seek out and claim their own mates. That is easier said than done. Eaglafonn is a cold dark isolated kingdom in the Netherworld. It might be easier to claim mates from the Domhain, but not everyone could survive on the brutal dangerous frontier. The other options afforded from the Netherworld come with their own dangers. The magic is unbalanced and balancing comes with a price. Claiming their mates lead the demon princes on epic mini journeys and reveals the need for Eaglafonn to take a greater role in helping Luke aid the dream. Dread Allies is a miniseries set in the Netherworld in the dream. It is an ancillary group of stories to the Draoithe saga. While it is set in that world, it is not in the direct series lineup. The dream just got darker and colder. Welcome to Eaglafonn.
Dread Allies: Shadow King
Word Count:

64,178
Summary: It is said that long ago Herne, the god of the Hunt, could use his Horn to make wolves obey his commands. A legend that Amy Oakley, Alpha of the Howlers pack, learned as a child and stopped believing in long before her first change beneath the full moon. After spending three years fighting for her lovers and packmates' right to live among the werewolves of Londinium, all she wants is a chance to breathe, go back to running her pub, and never see the manipulative Marcel Charron again. As an ancient prophecy begins to unfold, can Amy and the Howlers find the Horn of Herne and keep it out of Marcel's hands, or will his web of schemes and plots spell doom for their pack and the rest of London's werewolves?
Herald's Call
Word Count:

54000
Summary: "Tell me of your homeworld…" "Nope. And that's the last time you watch that movie before bed, baby boy." Talos cut off Kikoi who pouted. "Fine. Then tell me about when Uncle Majid finally stopped being so grumpy and murdery all the time." Kikoi batted his thick eyelashes. "Okay, I can tell you all about that. Well, I don't think he'll ever stop being murdery as you put it." Talos settled into his customary story telling position. "Some would say that story begins well over two thousand years ago when I first met my best friend and powerful unicorn shadow. Some others would say it started a little over a thousand years ago when tragedy struck. But I think it starts when my eldest brother, the crazy half-giant vampire that he is, retired and went on a quest for redemption."  Kikoi draped himself across Talos as he closed his eyes. "Little did Majid and Odin know that Fate sent a tough, smart, wasn't going to take lip from them polar bear to cross their path when they needed it most…" Majid's best friend, Talos, has found his mate and finally recognized his lover of the past several hundred years as his other mate. The mate Majid had spent the last eleven hundred years trying to forgive was back in his life. Will Majid rescue one mate only to lose the other? Or will the fierce polar bear, Siku, give him a chance to redeem himself? Will Odin forgive himself for the actions that tore Majid from his life? And will the not so little bear find him to be a worthy mate? Or is he doomed to die on a quest for redemption? Will Siku find his place not only within the relationship his mates clearly already have but also the entirely different world that is city life? Or is he just fooling himself that he can get over the wall between him and his mates? Bloodlines of Fate is an urban fantasy series set in a world destroyed by humans and resurrected by supernatural beings. This book contains depictions of omega polar bears who will eat you in self-defense, sturdy hair brushes that break naughty butts, timeouts for coloring and painting toes, and a family reunion for the history books. Majid is part two of a two-part story arch that tells the love story of two triads (MMM). It is necessary to read Talos to fully enjoy this book that does end in a HEA despite bickering chefs who try to burn the estate down. This is a type of omegaverse with mpreg.
Majid
Word Count:

94560
Summary: Leah Corybn was a regular mail carrier who thought she had been bitten by a dog, until the next full moon revealed that she had become a werewolf. After months of hiding her secret in the city of London, she is about to learn she is not alone. As she attempts to navigate a world she never knew existed, can she find her place among the wolves of Londinium, or will she fail to prove herself in time?
Orphan's Cry
Word Count:

48821
Summary: More than fifty years before Leah Corbyn became a werewolf, Amélie Orne was cast out of werewolf society, manipulated into taking the blame for crimes she did not commit. After living for so long on the run as a Feral wolf, she found unexpected comfort and companionship from Leah and her lover Amy Oakley. As they grow closer, can she dare to hope for a real future together with them after a lifetime of betrayal and misery? Amélie has allies to stand with her now, but it will mean uncovering secrets long buried, and reopening dangerous old wounds...
Outcast's Song
Word Count:

111,000
Summary:
New York: two years after the Third World War. Humanity is rebuilding its cities brick by brick; the damage done to the people, however, is a lot harder to repair.
Dan Hardacre is one of those people. An aspiring stage actor and experienced draft-dodger, Dan struggles to find his place within the Utopic rebuild of New York City. When he's not caught up with the duties of work, Dan lives a quiet life in mourning for his mother, Dyani, who went missing when he was a teenager.
One night, Dan experiences a vivid, terrifying nightmare that puts him right on the front lines of the war for which he dodged the draft; it ends with him facing Death itself in the form of a metallic, faceless humanoid creature that calls itself the Valkyrie. To investigate the reason behind his haunting experience, Dan seeks out a meeting with his estranged father, who reveals the startling truth about Dan's dream: it wasn't a dream.
With this newfound knowledge and the powers it brings, Dan makes it his mission to return to the scene of his nightmare. However, he soon comes to know that confronting the Valkyrie not only endangers him but the war-withstanding world he leaves behind.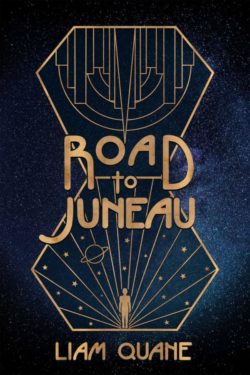 ROAD TO JUNEAU
Word Count:

6000
Summary: The Mother Dark. The Chained Goddess The Serpent of Judgment In the space between the Realm of Mortality, the Expanse of the Celestial Choir, and the Void, Shi Coils around Hir throne. Hir opelecant gaze looks not to the singing stars nor the great black ocean of lucious agony. Instead, they look to the chains that bind the Goddess to this place. They were at first chains of sadism and dark intent. Every link forged by the Void to keep her from the love of Hir children in Mortality. Yet as she undulated within their grasp, her own sensual mind learned their construction. Now Shi is no longer a Goddess in chains, but a Goddess of chains. Forging new links in secret, Shi imbues them with the stories of Hir many children. Hir mystical eyes look into the glowing loop of eldritch metal. The patterns of silver-blue that formed as it cooled told the story of a love triangle that defies the boundaries of normality. A deathly howl echoes into the night, a young girl is visited in her dreams by the wolf's immortal spirit. He teaches her of his kind, the Uadeans. As she grows up, the wolf becomes more handsome to her own maturing sentiments, and she falls in love. Yet this love was not meant for the wolf, but for his mate. Now, years after, Jenova stands at the edge of life and death. Having earned her right to stand with the others of the pack, the woman prepares herself for the Heartsblood Rite. She must challenge one of these lycanthropic beings to ritual combat. The prize is the Heart of an Uadean and all the power that comes with it. Jenova faces her opponent in the ritual circle, the lust of the crowd overwhelming her human senses. She has not intention of killing tonight. The heart offered as the prize is that of the she-wolf Jenova had been chosen to love... And to bear the children she cannot.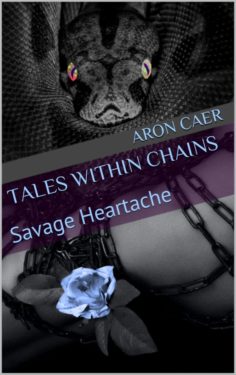 Tales within Chains
Word Count:

77400
Summary: In the aftermath of his father's funeral, Dom Wesa, the new Alpha of Luxor City's Central Empire, stumbles upon an Omega in desperate need of help. The Omega, Lin Vasiliev, wakes to find he's been taken into Dom's home to be rehabilitated. Dom thinks the young addict may have information about the illicit drug trade going on in his Empire. He gets Lin sober to question him only to discover that Lin is new in town and ignorant of Luxor's laws. Dom and Lin are both suspicious of each other at first for their own reasons, but as that wariness wears away a deep attraction develops between them. Dom dotes on Lin, leaving the once stone-broke Omega bathed in finery he never could have imagined. They start planning for Lin's upcoming heat, when they will be driven together by their kindling bond and strong compatibility as an Alpha and Omega pair. However, in the midst of their swelling romance, Luxor's most notorious Alpha reappears sparking a gang war that threatens to turn the entire city into a battleground.
The Empires of Luxor City