Word Count: Information not available
Summary: Rudyard Albert Goldstein, inventor of the Biomic Network Algorithm, made piece with death once in the 22nd century, but an idiot doctor hijacked his mind, placing it in the care of Nessie, an impish AI guardian. Nessie preserved him from a civilization-ending asteroid strike so that he could help his descendants survive contact with an alien species 923,000 years, four months, and three days later. Then, he died again, merged with a worm-a-pede alien male who narrowly survived fulfilling his mating duties. They expired peacefully on a cliff top, pondering the nature of existence—and the promise of abominable liaisons. Two deaths should be quite sufficient for any genius to endure. Somehow, Nessie resurrected him from oblivion. His descendants needed him again. New hostile aliens roamed the Earth—along with an immortal, alien-human hybrid whose agenda was unclear. Was the healthy young body Nessie had prepared for him, along with the prospect of finally discovering "the meaning of it all" enough of a bribe to risk dying a third time? Apparently so. Readers of Raham's A Singular Prophecy (Biostration, 2011), and A Once-Dead Genius in the Kennel of Master Morticue Ambergrand (Penstemon Publications, 2018) will reconnect with old friends (both human and alien). But even those new to the author's quirky sense of humor will enjoy this third and final adventure that spans the breadth of time and space.
A Twice-Dead Genius Comporting With Misunderstood Abominations
Word Count:

73000
Summary: Vampires and werewolves live long lives. The Sleepless City saga might have ended but the story continues… Someone is hunting supernaturals.  Vampire Simon Hawthorne and his human partner Ben Leyton's plans for a peaceful holiday with family are hijacked by the New Zealand Supernatural Council. Tensions are on the rise in Wellington. Supernatural councillors are disappearing. Werewolves are suspicious of anyone human or vampire. If they don't work together, their enemy has already won. And no one with a connection to the supernatural world is safe.
Double Exposure
Word Count:

80435
Summary: A modern-day knight in shining armor is a man with a secret. He's an immortal direwolf shifter. A man who can trace at will into a lethally dangerous canine who holds the ability to step into the stillness and achieve any goal. When he finds himself without a career after retiring disabled from his last mission in the military, he has to rethink the direction of his life. He needs to reinvent himself before anyone realizes that he stopped aging at the age of thirty-five. He's learned just enough to make his existence a bit dangerous. The sexy high school teacher neighbor he's been near stalking has her own secret. She feels like everything and claiming her is all he can focus on. He's determined to win her as his own until a shadowy evil attacks her and reveals a situation that forces him to be the man of action that he's always been. To keep the woman he loves safe, he'll become the alpha pack leader he was born to be. A Pack Forms is the first volume in the steamy paranormal romance saga of Draoithe.
Draoithe: A Pack Forms
Word Count:

111,000
Summary:
New York: two years after the Third World War. Humanity is rebuilding its cities brick by brick; the damage done to the people, however, is a lot harder to repair.
Dan Hardacre is one of those people. An aspiring stage actor and experienced draft-dodger, Dan struggles to find his place within the Utopic rebuild of New York City. When he's not caught up with the duties of work, Dan lives a quiet life in mourning for his mother, Dyani, who went missing when he was a teenager.
One night, Dan experiences a vivid, terrifying nightmare that puts him right on the front lines of the war for which he dodged the draft; it ends with him facing Death itself in the form of a metallic, faceless humanoid creature that calls itself the Valkyrie. To investigate the reason behind his haunting experience, Dan seeks out a meeting with his estranged father, who reveals the startling truth about Dan's dream: it wasn't a dream.
With this newfound knowledge and the powers it brings, Dan makes it his mission to return to the scene of his nightmare. However, he soon comes to know that confronting the Valkyrie not only endangers him but the war-withstanding world he leaves behind.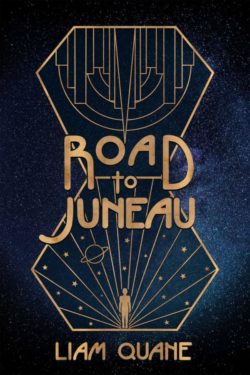 ROAD TO JUNEAU
Word Count:

4576
Summary: Sometimes, we get second chances -- at love, to make things right, to say good-bye the way it should have been said. Darian promised his dying husband Randy he would go through with the plan to teach summer school in Bath, England. Randy insisted; it was always Darian's dream to live in England, go, do it. But once there, in Tintagel, on a street in Coverack, a small Cornish seaside village, Darian sees Randy. Grief can make us see things, right? So Darian tells himself, until the man whom he buried, whose ashes he carried with him to England, sits down beside him on a bench in front of Bath Abbey, with screaming seagulls nearby. It seems the dead can come back. But why and how? Has Randy come to take Darian with him? Or is something else going?
Seagulls
Word Count:

71513
Summary: To be soulmates they first have to survive. A serial killer stalks the streets of Boggslake, Ohio. The victims are always found in pairs, one human and one vampire. Simon Hawthorne has been a vampire for nearly a hundred years, and he has never seen anything like it. Neither have the other supernaturals he works with to keep the streets safe for both their kind and the humans. One meeting with Simon finds Ben Leyton falling for a man he knows is keeping secrets, but he can't ignore the growing attraction between them. A recent arrival in Boggslake, Ben finds it very different from his native New Zealand, but something about Simon makes Ben feel as though he's found a new home. After a close friend falls victim to the killer, Simon is torn between revealing his true nature to Ben, and walking away to avoid the reaction he fears. But with the body count rising and the murders becoming more frequent, either, or both of them, could be the killer's next target.
Shades of Sepia
Word Count:

70000
Summary: Do you know what your problem is? Celestine, the fifth of seven sisters, is tired of hearing about hers. Father thinks she's frivolous because she likes pretty clothes and caters to the crowds in the taverns who adore her music. Mother thinks that because she's the most social daughter in the family, she can't keep quiet about anything. They're both wrong. Celestine hides a secret she has kept for most of her life. As the family beauty and a talented musician with a lyrical voice, she has the best prospects for marriage to a prince. When such a liaison never happens, people assume Celestine is too choosy. But even in somewhat tolerant Ilari, a daughter hates to disappoint her family. How can she tell them she's in love with a princess instead? Lucky for Celestine, all her sisters are obsessed with an invading army headed to their realm. Celestine would rather ignore the threat and enjoy the freedom their lack of attention gives her. But, her voice can unlock a power that may help save Ilari. And the woman she loves is determined to fight these invaders. And her family, for all their talents, seems clueless about how to motivate the masses. Celestine knows she can inspire the citizens of Ilari to do what needs to be done. Is it time to put her inhibitions aside and use her voice to save those she cares about?
She's the One Who Can't Keep Quiet
Word Count:

18619
Summary: Varon Cambeul has made it to the top: Royal Magician of the Kingdom of Lothia, at the right hand of the King, who is his lover. He has always kept the promise he made to his mother and his apprenticeship master: he has used his magic for good. This promise is tested when the King asks him to make a curse, a curse that will be cured by the King and so everyone will love him. Helping the King is using his magic for good, right? But, is Varon doing this because he has fallen in love with the King? What about those who will suffer from the curse and slowly transformed into ghosts, people like Theo and Russell in the town where the curse is released? Can Varon undo this great wrong? Can he save Theo and Russell and the others as they turn invisible? How can he love someone who is not doing good?
Susurrus
Word Count:

87000
Summary: Professor Bryce MacLeod has devoted his entire life to environmentalism. But how effective can he be in saving the planet when he can't even get his surly neighbor to separate his recycling? Former Queen's Enforcer Mal Kendrick doesn't think his life could get any worse: he's been exiled from Faerie with a cursed and useless right hand. When he's not dodging random fae assassins in the Outer World, he's going toe-to-toe with his tree-hugging neighbor. And when he discovers that the tree-hugger is really a druid, he's certain the gods have it in for him—after all, there's always a catch with druids. Then he's magically shackled to the man and expected to instruct him in Supernatural 101. All right, now things couldn't possibly get worse. Until a mysterious stranger offers a drunken Mal the chance to gain back all he's lost—for a price. After Mal accepts, he discovers the real catch: an ancient secret that will change his and Bryce's life forever. Ah, what the hells. Odds are they won't survive the week anyway.
The Druid Next Door
Word Count:

54000
Summary: A young magic user who wants desperately to live. A jaded recluse who has forgotten what living means. They're each other's only chance. Toby's wild magic is killing him. The mage guilds have given up on him, and it's only a matter of time before he dies in a spectacular, catastrophic bang. His only hope is an exiled wizard who lives in seclusion—and is rumored to have lost his mind. The years alone on his hilltop estate have not been good for Darius Valstad. After the magical accident that disfigured him and nearly drowned Pittsburgh, he drifts through his days, a wraith trapped in memories and depression. Until a stricken young man collapses on his driveway, one who claims Darius is his last chance. For the first time in fifteen years, Darius must make a choice—leave this wild mage to his fate or take him in and try to teach him, which may kill them both. The old Darius, brash and commanding, wouldn't have hesitated. Darius the exile isn't sure he can find the energy to try.
The Mage on the Hill
Word Count:

76144
Summary: Fairy tales. Prince Charming fights evil, wins the princess, lives happily ever after. Three sons, three wishes, witches, dragons, a quest, and happily ever after. These stories are part of our cultural fabric. The stories change in retellings to reflect contemporary culture, such as Princess Charming, or heroes and heroines as people of color. In this collection, queer characters take center stage in stories that grew out of questions: What if the prince falls in love with Cinderella's gay stepbrother? What if Rumpelstiltskin doesn't really want the Queen's child but rather the King himself? What if Beauty and the Beast are two men? These stories explore metaphors of magic and the magical, this time, with a gay perspective. What price must be paid for happily ever after? Duty or love? Is love worth great sacrifice? Once upon a time ...
The Wicked Stepbrother and Other Stories
Word Count:

55000
Summary: With great burrito comes great responsibility. Pete's food truck at the University of New Mexico isn't going well. Seniors dare freshman to eat his burritos. Frats use them for pledges and pranks. Rumors fly around campus that they are chupacabra ground up with rat. Pete needs a change, and it comes in the form of a physics experiment gone awry. After being sucked into the past, he stumbles across an ingredient that goes great in one of his creations. First, there was Marty McFly. Then there was Bill and Ted. And now Pete--
Time Burrito
Word Count:

93765
Summary: Home, a place where we belong and are safe and loved. Home, the house in which we grew up, a neighborhood, a culture, even a country. Home is a state of mind, it is a place of the heart, and in the heart. Finding home, coming home, and bringing home the one we love is a journey, a journey that can be a dangerous adventure. For the lovers in these stories, adventures can include quests and fighting dragons and demons, past and present, physical as well as mental and emotional. Rocket launchers need to be dodged, the Wild Hunt needs to be outrun. For some of the lovers here, home has been lost, or they have been forced to leave, as is too common for LGBT+ youth. In this collection queer positive speculative fiction stories, explore the idea of what and where home is in the lives of these lovers. Will they survive their quests, defeat their monsters? Will they find a place to call home?  
To Bring Him Home and Other Tales
Word Count:

113,100
Summary: Markus a wizard from a parallel Earth travels to our world in a bid to stop a blight that is destroying his own. Here he meets Alcina, a Wiccan Priestess, who is in a custody battle over her son, Tim, against Carl, the boy's sire, who abandoned her when she was pregnant eight years before. Carl has the backing of a dangerous religious cult in his bid to take Tim. Together Markus and Alcina face the forces of intolerance and hate to save a child and a world and thaw two warm harts too long trapped in the ice of betrayal. Meanwhile, Markus' best friend and his ex-fiancée, who is now a vampire, battle the authorities who are likely to hang Markus upon his return because he has done research into forbidden magics.
Worlds Apart