Word Count: Information not available
Summary: They had one choice… …lie or become lab rats. It was supposed to be an uneventful camping trip before the start of another grueling year in high school. Days later, when the enigmatic agent Victor Kraze confronts Quinn and Blake, they realize they must never speak about what they found in the woods. But now, something is different. Why are the basic elements unpredictably reacting to Quinn and Blake at home and in school? What changed? What really happened in the woods? They need help, but they don't have much time. Can the boys discover the key to controlling their self-proclaimed superpowers before they accidentally hurt someone they love? Before the nosy and relentless Agent Kraze changes his mind? ACCIDENTAL AWAKENING is the first book of The Guardian Series and is part of the Spekter Superhero Universe. Get it now.
Accidental Awakening
Word Count: Information not available
Summary: Memories of another life and lover guide her, but are they even hers? She is a Bearer—keeper of past lifetimes and gifted with strange talents. Ember must find her answers away from safe Longquan Village, snared instead in the sensuality and dangers of The City. Hidden among spider farmers and slaves, prostitutes and weavers, a nest of people like her are waiting. A powerful man outside The City raises his forces, determined to hunt down the 'demons' who could taint his followers. Threatened from without and within, can the Bearers even trust each other? Powers will rise and alliances will be forged in a dark new world. The Memory Bearers are coming. This book includes violent and mature content. Reader discretion is advised.
After the Garden
Word Count:

107000
Summary: An ancient evil in Anne's head aims to ruin her tranquil life and end humanity. It must be Tuesday. A house of her own with a white picket fence, complete with a loving partner, Anne Perrin finally has the life of her dreams — including the job she always wanted and a caring family to share it all with. But every Eden has its Pandora's Box. Anne's personal heaven is marred by a malevolent presence in her head who, if given a choice, would use her to usher in a dark age, ending humanity as she knows it. The only thing holding it at bay is an unpredictable computer implant in her chest that seems to have its own agenda. Two unexpected visitors turn Anne's delicate world upside down in completely different ways — one better than she could have ever hoped, one catastrophically terrible — pitting Anne in a nightmare battle against the very people she holds dearest: her family.
Angels Found
Word Count: Information not available
Summary: They aren't above killing… …and now his family and boyfriend are missing. Everyone thinks The Order's dangerous new super villain Nightmare wants to destroy the world, but Quinn knows better. This is different. This time, it's personal. The stakes have never been higher, and Quinn—as the superhero Blue Spekter—has a crazy plan that just might work. Can he defeat Nightmare and The Order before it's too late? If he fails and Nightmare slaughters him, who will stop the maniacal super villain from destroying everything and everyone they love? BALANCE OF POWER is the fifth book of The Guardian Series and is part of the Spekter Superhero Universe. Remember all those cool things that happened before? Well, this book wraps all that stuff up. Read it now! You know you want to!
Balance of Power
Word Count:

120000
Summary: U.S. Marshal James Creed has known loss, starting from the untimely death of his wife and daughter in a sudden fire. His work, chasing down and arresting outlaws across the Wild West, is all he has left to live for. Then one day, in 1876, the infamous killer Corwin Blake catches Creed by surprise and guns him down. Creed awakes after a mysterious young woman resurrects him in a basement laboratory beneath a brothel. Half alive, Creed feels torn between his need for justice and his desire to fall back into the peace of death. Creed's instincts drive him to protect the city of Santa Cruz, California, from the outlaws it harbors while searching for Blake. He uncovers a secret criminal organization, likely protecting Blake, determined to use resurrection technology for its own ends. The former marshal, now faster, stronger, and a more deadly shot than ever before, must work with a brothel madam, a bounty hunter, and the remaining marshals to uncover the criminal syndicate before they can misuse the machines of rebirth and create more mindless zombies. Meanwhile, he must also stop Blake, before the outlaw kills the only people he cares about. His own death can wait.
Bodacious Creed
Word Count:

130000
Summary: The world was forever changed when a government genetic experiment created the Chromodecs from a dead alien in 1952. Decades later, when it became apparent that society needed a way to deal with a hybrid humans with unheard of powers, the CORP was created. The Chromodec Office of Restraint and Protection was a special government police agency formed to keep track of the Chromodecs. This particular tale involves two refugees, young babies who were sent down to Earth to escape being used as pawns in an interplanetary war, despite the fact that Earth itself wasn't so safe. Destined to be Q'sirrahna, or soul mates as the humans called it, Amari Losira Del Rey and Zendara Inyri Baen-Tor would grow to be more powerful than any other beings on the planet, if they could find each other first. After being forced to hide from the CORP when it's realized their powers could level entire cities, Amari and Zen will have to answer one question. Who will save the world when it all falls apart?
Children of the Stars
Word Count: Information not available
Summary: The world has changed, and new superheroes—and villains—have emerged! Seventeen-year-old Carlos Domínguez wants to change the world. Believing a lie and following a dark promise to become a superhero, he finds himself cold and alone in dark woods with no memories. Driven by fear, he runs, somehow knowing the powerful forces that hunt him must not find him. Luck is on Carlos' side, and he finds shelter from the winter cold with a kind, elderly couple. Life quickly becomes awkward when Vanessa, a beautiful redhead claiming to be his girlfriend, tries to bring him back to The Order, the organization that gave him superhuman abilities. Things start to unravel when the superhero Blue Spekter finds him, triggering memories of home, high school, his real girlfriend, and life back in New Hampshire. Carlos must decide what kind of superhero he wants to become while slowly regaining his memories and discovering who he is—and why he hates the hero in blue and distrusts the man in black. But when you can't remember who you are or what you believe in, how do you tell truth from lie? DAWN OF THE SUPERHERO AGE is the first book of The Superhero Age series and is part of the Spekter Superhero Universe™. Get it now.
Dawn of the Superhero Age
Word Count: Information not available
Summary:
Durham, North Carolina has industry, commerce, fine universities, a world-famous baseball team, technopagans, vampires, and its very first superhero and supervillain.
As Withrow Surrett, self-declared vampire lord of North Carolina, digs in to see what's up in his own back yard, two mortals - The Bull's Eye and El Diablo - make headlines fighting crimes and committing them. With the help of friends old and new, Withrow has to track down both hero and villain before his city decides to go looking for even weirder things that go bump in the night!
The fists fly fast and furious in the third installment of this vampire and urban fantasy series, perfect for fans of Rick Gualtieri, Jeff Strand, or Christopher Moore.
Deal with the Devil
Word Count:

28000
Summary: Monty has a special power that no one else possesses. And he hates it. He just wants to live a quiet cheese sandwich and tap water life. Fate, being the fickle bitch it is, has other plans. His best friends, Lark and Sean, have abilities as well and the trio encounter three mysterious people who show them, they are not alone. It would be nice if any of them had useful abilities, but take what you can get, right? As a result, Monty is forcibly dragged into a world of coffee-addicted villains, half-competent goons, and pompous windbags. Monty must use his wits against the witless to save himself and his friends. To do so he must embrace being the DICK WIGGLER.
Dick Wiggler and Other Useless Superpowers
Word Count:

41000
Summary: A yuletide wedding brings tidings of comfort, joy… and peril. Eighteen months ago, Tarik Jaso, Duke of Arles, would have been thrilled if Sander Fiala, Duke of Roses, sank beneath the waves along with his stupid boat. That was then. Now, Tarik can't wait to head out on a private sail with Sander—a sail that will culminate in a highly public, politically significant wedding. Their union will be the first one between North and South Abarran royalty in centuries. If all goes to plan, it will usher in a new era of peace and cooperation between their countries. But as the big day approaches, their meticulous arrangements begin to fall apart. Can Sander and Tarik weather the storm of political opposition, familial objection, and outright betrayal to reach the altar at last? Duke the Hall is a 41,000-word M/M superhero rom-com featuring two dukes determined to tie the knot, relatives both helpful and annoying, spiteful thunderstorms, superhero sabotage, and hints that things are not all they seem. Note: Duke the Hall is not a stand-alone story. It's the sequel to Duking It Out and as such contains spoilers for the earlier book.
Duke the Hall
Word Count:

54,646
Summary: Kaede Hiyashi is sick and tired of living in the shadow of his father, supervillain Doctor Terror. Brilliant but crazy, Doctor Terror sends his son to Corwyn, California, for reasons Kaede can't imagine. Sent to accompany and protect him is Ash, a genetically modified supersoldier raised and trained by an infamous death cult. Corwyn is lousy with superheroes, led by the obnoxious Dark Justice. Kaede finds himself dancing around Dark Justice as he digs into his father's mysterious business and teaches his socially awkward—but physically lethal—bodyguard to acclimate to "normal" life. Can these two wacky supervillains figure out what Doctor Terror wants them to do, solve the riddle of the villain known as Black Hand, and keep Dark Justice from raining on their bloody parade? The course of love—and world domination—never did run smooth.
Hearts of Darkness
Word Count:

40289
Summary: For many, the United States is a land of opportunity and new beginnings – unless you happen to be 'different' from everyone else.  Hadi Shahir is one of those people, different in more ways than one. Hadi can manipulate fire; he is 'Evolved'. All he wants is a new life and new adventures in this land of opportunity. His dreams become endless nightmares, however, that begin with an inexplicable hate crime that leaves the young man traumatized and untrusting of the world around him. A chance encounter with a pretty face cracks that shell, showing him that not everyone in Chicago is out to get him until a rash of violent, deadly fires breaks out around the city. Suddenly, all eyes focus on Hadi when too many coincidences bring his abilities to the forefront. In a matter of moments, Hadi jumps to the top of the AEC's most-wanted list. His quiet life as a bartender quickly turns into a tangled mess of chaos, lies, and murder that drag the entire city of Chicago down in flames with the remnants of Hadi's ruined life.
Hellfire
Word Count:

52000
Summary: To escape an arranged marriage, the king needs a fake fiancé. Stat. King Bastien's father locked him into an ironclad betrothal contract with Lady Helena Rey when the two of them were only seven years old. Bas and Helena have never been friends—and not only because she marked their first meeting by dropping a frog down his shirt. He's been unsuccessfully petitioning Parliament to annul the damn contract ever since he took the throne nine years ago. But with the deadline for officially confirming the engagement rapidly approaching, Bas is getting desperate. Enter commoner Nico Pereira, manager of the Royal Crest Vineyards, who nurses a secret crush on the king. He's at the New Palace to unveil a  wine that's the first joint venture between North and South Abarra. No problem, right? Except Nico has a secret: He has a superpower. Not a very strong superpower, but because powers are a privilege reserved for Royals, it still puts him at risk for arrest and prosecution. Nico can usually mask his limited foresight gift under the guise of being an incredibly efficient administrator. But when King Bastien asks him to be his fake fiancé? Well. Nico never saw that coming. Nothing if not loyal, Nico accepts the faux-posal, although close proximity to Bastien makes him more than a little… uncomfortable, and the increased scrutiny of government officials threatens to expose his illegal ability. Good thing this engagement is temporary, because being the king's ex will be a lot less onerous than prison or exile. Or, if the attacks from a shadowy conspiracy continue, with being dead. King's Ex is a 52,000-word M/M superhero rom-com featuring a fake engagement, class differences, improbably pristine clothing, dueling secrets, a guaranteed HEA, and a kitten.
King's Ex
Word Count:

80000
Summary: Celebrate those who light a candle in the darkness in this compelling and eye-opening tale. Teddie is into country music, her old pick-up truck and getting through high school with as little drama as possible. Yet somehow her best friend, Michelle, talks her into spending a semester in Darjeeling, India. The thrilling adventure turns treacherous when she uncovers a seedy underworld in which young women are bartered and sold—including her friends. As she fights to understand a depravity she never dreamed existed, a stranger makes her an unexpected offer. He will train her to find her missing friends, but she will need to have trust in abilities she barely believes exist and more courage than she ever thought she could summon. And there will be no going back. Given the choice between this and abandoning her friends to their horrifying fate, the decision is simple. She must rise to the challenge. But how can she be a superhero when she doesn't know what her power is? (Layers of Light is part a collection of interrelated stand-alone novels. It contains some non-graphic mature content and references to human trafficking and the sex trade.)
Layers of Light
Word Count:

59600
Summary: The exciting sequel to Mindflight. On the planet Iwagen, Richard and Mara Cheney have taken over their late parents' project, a hospice for telepausal Dur-ill telepaths, hoping to start a new telepathic generation. But someone else is interested in Dur-ill telepaths, too. A mind-being called the Mentad has been growing on Dur-ill worlds, absorbing Dur-ill telepaths into itself and becoming a collective consciousness with many bodies. It learns about the Cheneys' hospice and stages a deadly raid. When his sister is taken by the Mentad, Richard must seek the aid of the Terran Intelligence Agency, the very group responsible for trying to kill his parents. With Agency assistance,Richard will stop at nothing to free his sister and the others from the Mentad's clutches.
Mindsearch
Word Count:

165000
Summary: British superheroes, melodramatic Mages, snarky secret agents, one hell of a found family, and a whole load of weird people. Also, there's a duck. This is the painfully bizarre origin story of Rexley Nova. When Rex was four years old, he became one of the world's first superhumans. When Rex turns twenty, he feels the drive to use his scientifically given abilities to protect the world. He leaves home to become a member of the Secret Superhero Security team, alongside three of his friends and Danger City's own superhero, Polaris. Rex fights murderous Mages, evil organisations, criminal mafias, his agency appointed psychiatrist, his own anxious brain, and the most frightening of all, his attraction to a certain blue-eyed superhero.
Novas Got Nerve
Word Count: Information not available
Summary: By day, Ruby Killingsworth is a billionaire media mogul. By night, she's a magic wielding supervillain. Her worst day ever came last year when a ritual gone wrong robbed her of the ability to use her powers, and now she will stop at nothing to get them back. With the help of her old pal, Loki (yes, that Loki), and the band of supernatural minions he sends to her aid, Ruby sets out to unlock the secrets of an ancient African gem-- which proves easier said than done. And she's going about this while simultaneously working to seduce her neighbor: fellow billionaire Jaccob Stevens-- also known as Stardust, the city's preeminent superhero, also known as the city's least eligible man. Did I mention he hates magic? As though that isn't enough, Ruby must also deal with the unwanted attentions of a certain Lyle Prather: notorious former reality TV star and recently inaugurated President of the United States (sound familiar?). The going is tough, but Ruby just might be tougher. And a trickster god is never on anybody's side but his own....
Rites & Desires
Word Count:

111,000
Summary:
New York: two years after the Third World War. Humanity is rebuilding its cities brick by brick; the damage done to the people, however, is a lot harder to repair.
Dan Hardacre is one of those people. An aspiring stage actor and experienced draft-dodger, Dan struggles to find his place within the Utopic rebuild of New York City. When he's not caught up with the duties of work, Dan lives a quiet life in mourning for his mother, Dyani, who went missing when he was a teenager.
One night, Dan experiences a vivid, terrifying nightmare that puts him right on the front lines of the war for which he dodged the draft; it ends with him facing Death itself in the form of a metallic, faceless humanoid creature that calls itself the Valkyrie. To investigate the reason behind his haunting experience, Dan seeks out a meeting with his estranged father, who reveals the startling truth about Dan's dream: it wasn't a dream.
With this newfound knowledge and the powers it brings, Dan makes it his mission to return to the scene of his nightmare. However, he soon comes to know that confronting the Valkyrie not only endangers him but the war-withstanding world he leaves behind.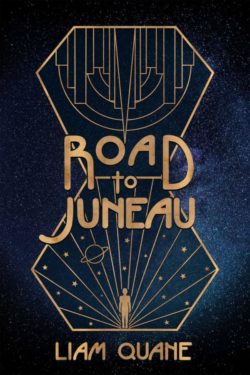 ROAD TO JUNEAU
Word Count: Information not available
Summary: On a parallel Earth called Kale-Ra, humans born under "star signs" are blessed with magical powers. Two factions exist: the Star Guardians, and the Shadow Guardians. Clarabelle Stewart is your average teenage girl. She doesn't have any hobbies, and manages a C+ average in most of her classes. At least, she would be average, if not for her late father. He betrayed the government while attempting to steal a treasure for a Shadow Guardian terrorist organization, the Penumbra. Ever since his death, her family has been scorned and marginalized. But when the Starlite Academy--a prestigious military school for aspiring Star Guardians--grants Clarabelle a full-ride scholarship, she realizes that this is her opportunity to turn her life around. She eagerly sets off for school, and meets a wonderful group of friends. Yet, some things are still... off. Her teacher, Slade, and her roommate, Wulfgar, claim that they know her from their past, but she doesn't remember them. And Ursula, the bubbly senior student who welcomed her into their friend group, is hiding her own set of dark, tumultuous secrets. Unbeknownst to them all, weaving backwards through the years, a sinister plot has taken hold, setting the course for each of their lives. And suddenly, the world turned upside down. Nothing is what it seems.
Star Guardians: Legend of the White Nova Volume 1
Word Count:

15473
Summary: Three superheroes in love! Or one superhero, one former sidekick, and one redeemed supervillain, at least... Ryan, John, and Holiday have been partners -- in every sense of the word -- for two years. They've saved the world, fallen in love, and remodeled the secret base to include bookshelves and a bigger bed. But Ryan and John have always been the public face of the team. The world still believes Holiday's a villain. And he's been using that reputation to stay undercover and share information. Tonight, though, Holiday comes home injured, and his partners aren't sure the mission's worth his life. Contains lasagna, superhero theatrics, home renovation, a thunderstorm, and very enjoyable use of superpowers in bed.
Sundown, Holiday, Beacon