Word Count:
125,000
Summary: For the past few years Yarroway L'Estrella has lived in exile, gathering arcane power.  But that power came at a price, and he carries the scars to prove it. Now he must do his duty: his uncle, the king, needs him to escort Prince Garith to his wedding, a union that will create an alliance between the two strongest countries in the known world. But Yarrow isn't the prince's only guard. A whole company of knights is assigned to the mission, and Yarrow's not sure he trusts their leader. Knight Duncan Purefroy isn't sure he trusts Yarrow either, but after a bizarre occurrence during their travels, they have no choice but to work together—especially since the incident also reveals a disturbing secret, one that might threaten the entire kingdom. The precarious alliance is strained further when a third member joins the cause for reasons of his own—reasons that may not be in the best interests of the prince or the kingdom. With enemies at every turn, no one left to trust, and the dark power within Yarrow pulling dangerously away from his control, the fragile bond the three of them have built may be all that stands between them and destruction.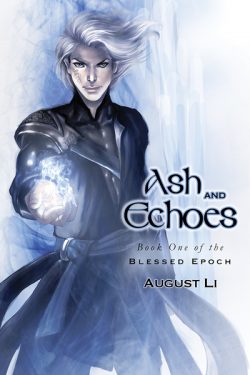 Ash and Echoes
June 15, 2012
Word Count: Information not available
Summary: Un appel de détresse mystérieux amène l'équipage de l'Hermès jusqu'à un vaisseau militaire en perdition… et désert. À l'intérieur, du sang et des viscères jonchent les couloirs, et un seul survivant, prisonnier d'une cellule de détention. Attiré par le bel homme traumatisé, l'agent de com' de l'équipage, Isaac Ozawa, prend Turk sous sa responsabilité, lui offrant la gentillesse et la chaleur dont il a besoin après les horreurs qu'il a vécues. Isaac sait d'expérience ce que c'est qu'être différent, d'être un paria, et cela renforce leur lien. Jadis pilote prometteur, il a vu son cerveau être endommagé lorsque l'implant devant servir à piloter les puissants chasseurs de la flotte n'a pas fusionné correctement. Le cerveau de Turk n'en mène pas plus large. Le résultat d'une expérience militaire ratée, ses compétences naturelles ont été augmentées à un niveau dangereux. Lorsqu'un amiral sans morale et avide de puissance kidnappe Isaac et se sert de lui pour convaincre Turk de devenir l'arme cataclysmique dont il rêve par-dessus tout, les deux hommes et leurs compagnons se lancent dans une bataille éperdue pour leur liberté…
Attraction gravitationelle
April 25, 2016
Word Count: Information not available
Summary:
Kimolijah Adani—Class 2 gridTech, beloved brother, most promising student the Academy's ever had the privilege of calling their own, genius mechanical gridstream engineer, brilliantly pioneering inventor... and dead man. But that's what happens when a whiz kid messes with dynamic crystals and, apparently, comes to the attention of Baron Petra Stanslo. Killed for his revolutionary designs, Kimolijah Adani had been set to change the world with his impossible train that runs on nothing more than gridstream locked in a crystal. Technically it shouldn't even be possible, but there is no doubt it works. Bas is convinced the notoriously covetous and corrupt Stanslo had something to do with Kimolijah Adani's tragic and suspicious end. A Directorate Tracker, Bas has finally managed to catch the scent of Kimolijah Adani's killer, and it leads right into Stanslo's little desert barony. For almost three years, Bas has tried to find a way into Stanslo's Bridge, and when he finally makes it, shock is too small a word for what—or, rather, whom—he finds there.
Blue on Black
June 16, 2015
Word Count:
170,000
Summary: An assassin's unexpected mercy granted Octavian Rose his life and freed him from his father's control, but it left him with little more than the clothes on his back and the determination not to waste his chance at a life of his choosing. As Octavian sets out to make a name for himself, he refuses to compromise his ideals for money or status—a decision tested as he works his way up the ranks as a mercenary fighter and novice mage. Along the way he forges friendships, takes lovers, and makes bitter enemies, all while striving for the power he feels he deserves and can wield fairly. With the advent of the Blessed Epoch and the discovery of new cultures, the world is changing. Octavian's decisions will affect not only those closest to him but will have profound worldwide consequences that he cannot begin to imagine. For twenty years, Octavian does what he must, and his choices bring him brilliant victories alongside crushing losses. Time and again, he must choose between what is right for all and what is beneficial to him, while hoping for the wisdom to tell the difference. FREE Short—A Lesson and a Favor Eight years before meeting Yarrow and Duncan in Ash and Echoes, the man now known as Sasha lived and breathed for a single purpose: to kill for gold and the glory of his cult and dark god without emotion or hesitation. In this lost tale of Sasha's early career, he's dispatched on a difficult mission—one with a surprise in store for him. FREE Short—Archer's Regret  Sylvain Damasca has seen and done it all since walking away from his wealthy family and the promise of a future title. He's had more men, money, and adventure than he can count—including a part in the founding of Rosecairn—but he's restless, and no amount of gold, wine, or casual companionship can scratch his itch. It might be time to deal with the one thing he left unfinished, if he can find the courage to face the only man who ever got underneath his skin.
Cairn and Covenant
September 22, 2015
Word Count:
120,000
Summary: Whose hand will orchestrate the change in the world? The decade-long war with Johmatra is over, but peace hangs by a thread in Garith's kingdom. Yarrow, isolated in his island realm, refuses to abide by the treaty or to follow the dictates of the priestesses. Others—Octavian Rose among them—are uneasy with the growing military power of the temples, and the mage island of Espero remains a tenuous ally. Garith knows his people cannot weather another conflict and that infighting will leave their lands vulnerable to further invasion. The arrival of a Johmatran ambassador with his own agenda calls everyone's loyalties into question. Sides will be chosen, and the consequences of those choices will have repercussions no one can foresee. Even among the turmoil, Yarrow is determined to have his vengeance against the thirteen goddesses and heal the world's magic. But how far will he go, and what lines is he willing to cross? As unlikely alliances are forged and enemies are revealed, Prince Thane seems to be the key to forgotten knowledge that will shape the future—and some will do whatever it takes to control him.
Calling and Cull
September 22, 2016
Word Count: Information not available
Summary: "No one's son, no one's brother, no one's father, no one's lover. He is Untouchable. It is his fate!" In Ada, where the Jin who once ruled it are now prisoners in camps, an assassin stalks the corrupt lords and Court officials who steal the full-Bloods and bleed them for their illegal magic. A Ghost, Untouchable, Fen Jacin-rei's kind were once the Voices of the Ancestors, channels and Catalysts, their minds open repositories for the will of the spirits of long-dead magicians. His fate should be one of insanity and indigence, solitude and eventual starvation--so how is it that Fen Jacin-rei survives? How is it that he can push sanity through the screaming madness of the Ancestors in his head? And how is it that an Untouchable, with whom it is death to interfere, has managed to hang on to not only his sanity, but the family he loves and for whom he's apparently willing to kill? Kamen Malick has every intention of finding out. More than what he seems, Malick answers to different laws than those of the Adan. And the gods who make them don't necessarily care about justice. When Malick and his own small band of assassins ambush Fen in an alley, Malick tenders the vicious Untouchable only the tamest of the multitude of propositions he fully intends to offer later: Join us or die. Determined to decode the intrigue that surrounds Fen--and to have the Untouchable for himself--Malick sets to unraveling the mysteries of Fen's past, whether Fen cooperates or not. As Fen's secrets slowly unfold, Malick is drawn into a crusade that isn't his, but resonates a little too closely to his own drive for vengeance against one whose past betrayals still haunt him. Irony is a bitter thing when Malick discovers that the one he wants is already hopelessly entangled with the one he hunts.
Ghost
November 4, 2014
Word Count:
82500
Summary: A mysterious distress call draws the crew of courier ship Hermes to what appears to be an empty, drifting troop vessel--empty except for the blood and gore spattered corridors and a lone survivor locked in a holding cell. Drawn to the handsome, traumatized man, the crew's comm officer, Isaac Ozawa, makes Turk his personal responsibility, offering him the kindness and warmth he needs after the horror he experienced. Isaac knows firsthand what it's like to be different and an outcast, and this cements their bond. Once a promising pilot, Isaac was left with a damaged body when his brain didn't meld with the high-tech implant needed to fly fighter ships. Turk's brain is no better. The result of a military experiment gone wrong, his natural abilities have been augmented to a dangerous degree. When an amoral, power-hungry admiral kidnaps Isaac and uses him to convince Turk to become the cataclysmic weapon he's hungered for, it will take Turk's strength, the ingenuity of the Hermes crew, the help of the enigmatic Drak'tar, and Isaac's own stubborn will to save them.
Gravitational Attraction
May 11, 2021
Word Count:
102300
Summary: 2nd Edition As he pursues a man who is not what he seems, Constable Dallin Brayden learns the lines between enemy and ally, truth and deception, and conscience and obedience are not only blurred, but malleable. Constable Dallin Brayden knows who he is, what he's about, and he doesn't believe in Fate. "Wilfred Calder" has no idea who he is or what he's about, and he's been running from Fate for as long as he can remember. When Wil flees after witnessing a murder, it's Dallin's job to pursue him. Along the way, he's pulled into a maelstrom of ancient myth, fanatical religion, and the delicate politics of a shaky truce between two perpetually warring countries—all of which rests on the slender shoulders of the man he knows is not Wilfred Calder. Even Dallin's success proves a hollow victory. Wil is vengeful, rebellious, and lethal, and his tale of magic and betrayal rocks the carefully constructed foundations of Dallin's world. Suspicious and only half believing, Dallin must question not only his own integrity and his half-forgotten past, but the morality and motives of everyone around him—including those who hold his own country's fate in their hands.
Guardian
August 15, 2017
Word Count:
140,000
Summary: Despite their disparate natures, Yarrow, Duncan, and Sasha united against overwhelming odds to save Prince Garith's life. Now Garith is king and the three friends may be facing their undoing. Distraught over Yarrow's departure to find the cure to his magical affliction, Duncan struggles with his new role as Bairn of Windwake, a realm left bankrupt and in turmoil by his predecessor. Many of Duncan's vassals conspire against him, and Sasha's unorthodox solutions to Duncan's problem have earned them the contempt of Garith's nobles. When word reaches Duncan and Sasha that Yarrow is in danger, they want nothing more than to rush to his aid. But Duncan's absence could tip Windwake into the hands of his enemies. In addition, a near-mythic order of assassins wants Sasha dead. Without Yarrow, Duncan and Sasha can't take the fight to the assassins. They are stuck, entangled in a political world they don't understand. But finding Yarrow may cause more problems, and with his court divided, King Garith must strike a balance between supporting his friends and assuaging the nobles who want Duncan punished—and Sasha executed.
Ice and Embers
March 15, 2014
Word Count: Information not available
Summary: His sanity once more in question, Fen finds himself faced with the reality of what the gods wants from him this time. And with Malick suddenly unavailable, Fen will have to face it alone. ...Or maybe not. Old enemies and new allies seek 'Kamen's Untouchable' and it's going to take everything Fen's got to figure out which ones are which. And it's going to take perhaps more than Fen's got to figure out which ones are even real.
Incendiary
April 21, 2015
Word Count:
160,000
Summary: Sasha was born to, and has always defined himself by, the secret assassins' Order of the Crimson Scythe. He chose the love of Yarrow L'Estrella and Duncan Purefroy over his duty to his clan, forfeiting his last mission and allowing Prince Garith to live. Now, the order—previously Sasha's family—has branded him a traitor. He's marked, and that means the brethren of the Crimson Scythe won't stop until Sasha is dead. Garith's twin kingdoms balance on the brink of war, and all three men have reasons to help the king, whether loyalty, duty, the interests of their own lands, or gold in their pockets. Still, Yarrow and Duncan are willing to abandon their reasons to seek out and destroy the assassins' order to keep Sasha safe. But Sasha isn't sure that's what he wants. Loyalties are strained by both foreign invaders and conspirators in their midst. It's hard to know which side to choose with threats piling up from every direction and war looming, inevitable, on the horizon. Their world teeters on the precipice of change, and Sasha, Duncan, and Yarrow can only hope the links they've forged will hold if Garith's kingdom is torn apart.
Iron and Ether
June 23, 2015
Word Count: Information not available
Summary: Still recovering from the events in Ada, Fen and Malick have apparently gotten all the reprieve they're going to get on their voyage to Tambalon. Shortly after stepping ashore, old ghosts resurface and new dangers arise. Dealing with past lives and legendary beings is somehow just as critical as tracking down the vicious creatures that have been abducting and murdering citizens of Tambalon. With the threat of banpair all too close, Malick is put at odds with those who should be his allies, in order to protect Fen and hand him the choices the minions of the gods don't necessarily want Fen to have.
Koan
February 24, 2015
Word Count: Information not available
Summary: The amorality of gods makes it hard to tell 'bad' from 'good' and 'right' from 'wrong'. Fen doesn't care. All Fen cares about is saving his family, and he'll risk anything and anyone that gets in his way. Including his own soul. No longer willing to wait for the machinations of the gods' minions, Fen accepts the trade Malick has offered and together they set out to rescue Fen's family and kill the man Fen has loved for years. With the Ancestors still screaming in his head, and with the duplicity and manipulations whirling around him, Fen finds it harder and harder to do without the silence Malick can offer him. Malick has his own reasons to hand over everything Fen wants, and equally compelling reasons to withhold everything Fen needs. Over his head, and timing as bad as ever, Malick must devise a way to do his god's bidding without breaking his god's laws—and keep Fen sane and on Malick's side in the bargain.
Weregild
December 30, 2014
Word Count: Information not available
Summary: Read Wolf's-own: the four-book fantasy epic featuring Fen Jacin-rei—Incendiary, Catalyst, Once-Untouchable—and Kamen Malick, who is determined to decode the intrigue that surrounds him. Fen's mind is host to the spirits of long-dead magicians, and Fen's fate should be one of madness and ignoble death. So how is it Fen lives, carrying out shadowy vengeance for his subjugated people and protecting the family he loves? With a threat all too close and a secret he needs to explain, Malick is at odds with those who should be his allies, and no matter how much he wants to protect Fen, it may be more than he can manage when he's trying to keep them alive.
Wolf's-own Bundle
July 5, 2016