Word Count:

121000
Summary: A child's memory. A journey's end. Lance doesn't remember the time before Ulfr found him. It's a dark pit in his mind that he avoids at all costs. And yet, despite his best efforts, pieces start to fall, and echoes from the past begin to ring. However, he has little time to comprehend their meaning, since the Captain of the Imperial Army herself has come to collect him and bring him to the capital city of the Nifdem Empire. Whisked away to the gilded streets and glittering court of the Hill of Tarran, and then to the snowy reaches of Swenen, Lance and Gust will learn the answers to questions they've had from the start. And be forced to acknowledge their roles in the survival of the empire and the ripple effects of their actions. But such knowledge can come at a steep price. As allies and enemies begin to step from the shadows, Lance will learn the truth of his past and the price of his redemption, and all the pain that comes with them. While Gust will have to decide what he's willing to sacrifice to safeguard the one he loves.
Avenging Lance
Word Count:

73,667
Summary: Lord Morgorth is haunted by dreams of his father. Though Morgorth killed him, his father's presence and brutality won't completely die. But now he has more to worry about—in the form of the Council of Mages' inquiry into the duel between Morgorth and an elder of the council. Morgorth expects sabotage and prepares accordingly. He fears for Aishe's life, knowing that the best way to sabotage the inquiry is to eliminate the witnesses. He sets into motion a desperate plan that, though it will protect Aishe, could put a strain on their relationship not easily removed. Yet the true danger lurks unseen, and it will take all of Morgorth's skill, strength, and devotion to Aishe, to save his mate from the hold of a foe Morgorth has yet to tangle with: a dream demon. Now Morgorth must throw aside caution, restraint, and fear if he is to save the one most dear to him. He must call upon the power of the one thing he hates more than even his father: a stone of power. But even if he manages to save Aishe, his mate's experiences in Dreamworld—at the mercy of the dream demon—have changed him forever and could shatter their bond irrevocably.
Carnelian: Dreams and Visions
Word Count:

76,765
Summary: Home. Family. Those words often invoke a sense of love and comfort. But for the dark mage Morgorth, they mean hate and pain. As the seventh son of a seventh son, many believe Morgorth's destiny is to become the Destroyer. His father embraced such a future and trained Morgorth through torture and fear to become his weapon. Morgorth managed to escape his father's cruelty, but not the nightmares that still haunt him. For many years he's lived with the stain of his father's savagery, but now he must confront his nightmares head-on. His father has found a stone of power. Morgorth must return to his land of birth, to the memories he's tried his entire life to suppress. Aishe is determined to help Morgorth defeat his inner demons, but he knows he might not be enough to save Morgorth from embracing his darkness. They know it will be a fight to the death and that Morgorth won't be the same if he survives. With Aishe by his side, Morgorth hunts for his father, and finds answers to questions he never dared to ask—and must live with the truths they reveal.
Emerald: Good and Evil
Word Count:

71840
Summary: Is it better to risk it all… or never know what could have been? After surviving an abusive childhood, Vulcan remade himself upon arriving in Los Angeles, California. He became a blacksmith for the paranormal community and strives to earn the respect of the vampire covens and werewolf packs that call LA home. He also prevents the pain of loss by keeping everyone at arm's length. But he never planned on meeting a former Roman soldier by the name of Marcus Cassius Vespillo. Something sparks between them and turns into a friendship he never considered possible. He can't deny his intense attraction to the intelligent, courteous, ancient vampire. And it scares him. Though Vulcan is wary of seeking more with Cassius, an attack leaves him at death's door and forces him to reexamine his priorities. But Cassius has his own secret, one that promises tragedy and loss. And if that wasn't enough, a slayer arrives in the States, one with a bloody connection to Cassius... and Vulcan himself. Note to Readers: Second edition with revised and updated text.
Eye of the Beholder
Word Count:

92000
Summary: A tragic secret. A trial of pain. Gust holds a secret close to his heart, and it festers like an infected wound. While part of him wants to tell Lance so they can deal with it together, he fears what it will do to his friend. The last thing he wants to do is hurt the man he is falling in love with. And it never seems the right time as they pursue Ulfr's warriors and elude hunting parties of royal soldiers. Lance wants nothing more than to confess his love and undying loyalty to Gust. But he fears rejection. He has Gust's friendship and dares not ask for more. He's not yet a man worthy to ask for more. And as he continues on his self-imposed mission to cut down Ulfr's warriors, he begins to wonder if he will ever find the redemption he so fiercely seeks. When word of a new Scourge reaches them, their journey brings them to the war-ravaged kingdom of Grekenus. It is there that Lance is forced to face the actions of his past, and once again his life hangs in the balance. Now it is only Gust who can defend him against those thirsty for blood… and to Lance himself.
Forgiving Lance
Word Count:

81000
Summary: A baby's laughter. A mind uncaged. Lance is known as Scourge, the warrior in the black armor, the dog of the warlord Ulfr Blackwolf. He was just a boy when Ulfr found him and molded him into the perfect weapon. He slaughters and pillages on command, merciless and numb, devoid of emotions. Then a baby girl laughs at him during a raid. And everything changes. When Gust, a talented healer, is out deer hunting and stumbles across a magnificent horse bearing a mortally wounded rider, he has no idea that his life is about to change forever. Gust applies all his skills to his patient, determined to save the rider's life, and is rewarded when the man opens his eyes. As friendship, and more, bloom between warrior and healer, so does the danger over the horizon. Ulfr has not forgotten, and Lance must take his first steps on the long road to redemption.
Healing Lance
Word Count:

67000
Summary: Morgorth and Aishe must contend with a deadly threat that could spell disaster for their world. Payshthas were the first of the Mother's intelligent children. It is rare for true friendship to form between them and another species—which makes Morgorth's bond with Enfernlo unique. And it is due to their friendship that Morgorth doesn't hesitate to answer Enfernlo's plea for help. A thief has stolen something vital from Enfernlo's colony—a stone of power. Their hunt for the stone leads them to a war torn kingdom, and Aishe can hardly stomach what he sees. The devastation urges him to assist however he can, no matter the risk. Meanwhile, Morgorth is faced with reminders of the monster he used to be, and contemplates how far he's come, and yet how far he still has to go. And when his estranged mentor joins them on their search, Morgorth is forced to confront his resentment and sense of betrayal, and use Master Ulezander as a tool to save the payshthas. Forced into a deadly quest where trust is in short supply, and faced with challengers for the stone, Morgorth must put his faith in those he loves and in himself... and become a champion not just of the Mother but for Karishian itself.
Jade: First and Last
Word Count:

165000
Summary: What does a former assassin do when he's not out there… well… assassinating? Saving his species from extinction, of course. At least, that's what Leopold wants to do with every molecule in his body. But the task won't be fast or easy, and he can't do it alone. Enter Mastrodai—a mrrog prince who has absolutely no desire to rule, much to his father's exasperation. He craves the ability to prove his worth as a mate and to somehow atone for his actions that led to Leopold's torture at the hands of an enemy. Making humans official would be a good start. But politics rule no matter what the species, and Mastrodai has to maneuver carefully and risk what he has built to give his mate what he deserves. And when he realizes both he and Leopold have deeper feelings for Alex, one of Mastrodai's human slave women, he knows his future is out among the stars with his humans, not planet-bound with his kin. Unfortunately, before they can set their plan into motion, Leopold receives a vision that sends him reeling and questioning everything he knows about himself. A vision he must investigate, back to where he began—Lex, the backwater planet where he spent his early years, and where he swore never to return. Trigger Warning: Includes violence throughout, PTSD, a scene of graphic torture, and the start of a consensual menage relationship.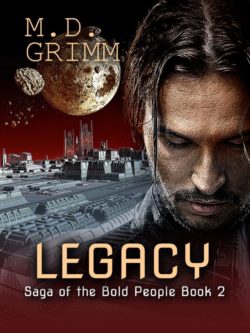 Legacy
Word Count:

64,390
Summary: The time has come. The Dark Mage, Lord Morgorth, and Aishe of the Ravena Tribe, are to become bondmates. Morgorth is equal parts nervous and excited. He wants to unite with Aishe in the sacred dialen ceremony, to proclaim their devotion to the world, to show everyone that Aishe is his equal and deserving of respect. After all they've survived together, why shouldn't they make the cosmic promise before friends and family? But duty must often come before pleasure. When Morgorth's estranged mentor, Master Ulezander, comes to him with a time-sensitive mission involving a major stone of power, Morgorth has little choice but to acquiesce. Aishe knows his mate struggles with the revelation of his true destiny, after a lifetime of defining himself as the future Destroyer of Karishian. All he can do is reassure Morgorth that being the Savior is a far better fate for both of them. But as Morgorth and Aishe leap through worlds and dimensions in pursuit of a stone of power, more pieces to the puzzle of Morgorth's destiny are revealed. And they form an image of sacrifice and tragedy. The dark cloud of an ancient enemy looms ever closer, and the path to becoming the Savior might prove more monstrous than that of the Destroyer.
Sapphire: Home and Abroad