Welcome to the advanced "filter" search page. This page lists all the books on the Liminal Fiction site. Use the filters at the left to narrow down the list of books, and then hit "Go". If your results come up blank, your combination of filters may be too specific.
Note: you may need to scroll down within each filter box to see all the options.
You can also add a keyword in the search box – this searches the title, author, and book summary fields.
To change the order of your results, use the sort order pulldown at right.
To start over, hit the clear all link – this will clear your search parameters/filters and restore all books to the page.
clear all
Genre
Fantasy
Fantasy - Alternate History
Fantasy - Comedy
Fantasy - Contemporary
Fantasy - Dark Fantasy
Fantasy - Erotica
Fantasy - Faery & Fae
Fantasy - Fairy Tale / Folklore
Fantasy - Fantasy of Manners
Fantasy - Gothpunk
Fantasy - Heroic
Fantasy - High & Other World
Fantasy - Historical
Fantasy - Hopepunk
Fantasy - Knights & Castles
Fantasy - Latinpunk
Fantasy - LGBTQ+
Fantasy - LitRPG
Fantasy - Low Fantasy
Fantasy - Magical Realism
Fantasy - Mythic
Fantasy - Mythpunk
Fantasy - New Adult
Fantasy - Paranormal
Fantasy - People of Color
Fantasy - Piratepunk
Fantasy - Quiet
Fantasy - Romance
Fantasy - RPG
Fantasy - Slipstream
Fantasy - Steampunk
Fantasy - Sword & Sorcery
Fantasy - Urban & Magical Beings
Fantasy - Weird Fantasy
Fantasy - Young Adult
Fantasy – Gods and Heroes
Horror
Horror - Angels & Devils
Horror - Comedy
Horror - Fairy Tale/Folklore
Horror - Ghosts & Haunted Houses
Horror - Gothic
Horror - LGBTQ+
Horror - LitRPG
Horror - Lovecraftian/Cthulhu
Horror - Man-Made Horrors
Horror - Monsters
Horror - Mythic
Horror - New Adult
Horror - Noir
Horror - Occult
Horror - People of Color
Horror - Post-Apocalyptic
Horror - Psychic Talents
Horror - Psychological
Horror - Shifters
Horror - Splatterpunk
Horror - Vampires
Horror - Weird Horror
Horror - Werewolves
Horror - Witches
Horror - Young Adult
Horror - Zombies
Nonfiction
Nonfiction - Writing Guides
Paranormal
Paranormal - Angels & Devils
Paranormal - Comedy
Paranormal - Dark
Paranormal - Ghosts & Haunted Houses
Paranormal - LGBTQ+
Paranormal - LitRPG
Paranormal - Magical Beings
Paranormal - Monsters
Paranormal - New Adult
Paranormal - People of Color
Paranormal - Psychic Talents
Paranormal - Reincarnation
Paranormal - Romance
Paranormal - Shifters
Paranormal - Vampires
Paranormal - Young Adult
Paranormal - Zombies
Poetry
Sci Fi
Sci Fi - Alien Invasion
Sci Fi - Alien Races
Sci Fi - Aliens
Sci Fi - Alternate / Parallel Reality
Sci Fi - Alternative History
Sci Fi - Apocalyptic Fiction
Sci Fi - Artificial Intelligence
Sci Fi - Biopunk
Sci Fi - Christian
Sci Fi - Climate Fiction (Cli-Fi)
Sci Fi - Clockpunk
Sci Fi - Clones
Sci Fi - Colonization
Sci Fi - Comedy
Sci Fi - Cyberpunk
Sci Fi - Cyberspace
Sci Fi - Decopunk
Sci Fi - Detective
Sci Fi - Dieselpunk
Sci Fi - Distant Planet
Sci Fi - Dying Earth
Sci Fi - Dystopian & Post-Apocalyptic
Sci Fi - First Contact
Sci Fi - Frontier
Sci Fi - Furry
Sci Fi - Galactic Empire
Sci Fi - Generation Ship
Sci Fi - Genetic Manipulation
Sci Fi - Gothpunk
Sci Fi - Greenpunk
Sci Fi - Hard Sci Fi
Sci Fi - Hollow Earth
Sci Fi - Hopepunk
Sci Fi - Human Evolution
Sci Fi - Immortality
Sci Fi - LGBTQ+
Sci Fi - LitRPG
Sci Fi - Lost Worlds
Sci Fi - Military
Sci Fi - Mind Uploads
Sci Fi - Multiverse
Sci Fi - Mutants
Sci Fi - Nanopunk
Sci Fi - Near Future
Sci Fi - New Adult
Sci Fi - Nowpunk
Sci Fi - People of Color
Sci Fi - Piratepunk
Sci Fi - Pulp
Sci Fi - Realistic
Sci Fi - Robots/Androids
Sci Fi - Romance
Sci Fi - RPG
Sci Fi - Science Fantasy
Sci Fi - Singularity
Sci Fi - Slipstream
Sci Fi - Social
Sci Fi - Soft
Sci Fi - Solarpunk
Sci Fi - Space Exploration
Sci Fi - Space Opera
Sci Fi - Space Western
Sci Fi - Spacepunk
Sci Fi - SpyFi
Sci Fi - Steampunk
Sci Fi - Superheroes & Villains
Sci Fi - Terraforming
Sci Fi - Teslapunk
Sci Fi - Theological
Sci Fi - Time Travel
Sci Fi - Transhuman
Sci Fi - Uplift
Sci Fi - Utopian
Sci Fi - Virtual Reality
Sci Fi - Weird Sci Fi
Sci Fi - Young Adult
Tropes
Abandoned Place
AI Uprising
Alien Artifacts
Alien Eggs
Alien Invasion
Alien Ruins
Aliens Among Us
Aliens as God
Aliens in History
Ancient Astronauts
Ancient Weapon
Antihero
Arthurian Legends
Asteroid Miner
Astral Projection
Bad Robot
Band of Brothers/Sisters
Band of Misfits
Bar Tales
Becoming a Monster
Benevolent Aliens
Beyond the Grave Communication
Big Sword
Black and White Morality
Body Modifications
Bodysnatchers
Book of Spells
Born Hero
Burial Ground/Cemetary
Changing Painting
Chosen One
Clones
Conspiracy
Crazy Clairvoyants
Cross-Species Friendships
Cryosleep
Dark Enemy
Dark Lord
Death by Sex
Demonic Possession
Dragonriders
Dying World
Dystopian Governments
Enemy to Ally
Evil Megacorporation
Evolving Powers
Fallen Hero
Farmer to Hero
Farmer to Royalty
Fated Mates
Fellowship
Fetus of Doom
First Contact
Fish Out of Water
Found Family
FTL
Galactic Civilization
Generation Ships
Good Robots
Haunted House
Here Comes the Cavalry
Humanity is Dangerous
Humanity is Good
Humans Evolved From Aliens
Hunted
I Am Your Father
I See Dead People
Immortality
Inaccessible Magic
Interspecies Adoption
Interspecies Romance
Interstellar Travel
Killer Aliens
Library of Secrets
Lost Civilization
Lucky Novice
Mad Scientist
Magic Furniture
Magic Talisman
Magical Disaster
Marooned
Mirror Shows True Self
Modern Human in Fantasy World
Museum/Store of the Unusual
No Cell Coverage
Old Person in the Woods
Oxygen Leak
Parallel Worlds
Past People/Future Tech
Person in Distress
Portals
Possession
Post-Apocalyptic
Powerful Artifact
Prophesy
Pseudo European Society
Psionic Powers
Quest
Redemption Arc
Reluctant Hero
Reluctant Vampires
Robin Hood Legends
Roguish Thief
Secret Heir
Secret Royalty
Secret Society
Sentient AI
Sentient Spaceships
Sex Magic
Singularity
Space Battles
Space Dentistry
Space Detectives
Space is Empty
Space is Full
Space Medicine
Space Pilot
Space Pirates
Space Psychology
Space Smugglers
Superpowers
Sword of Destiny
Time Loop
Time Travel
Training
Ultimate Evil
Undiscovered Planet
Uploaded Consciousness
Vengeful Spirit
Villain to Hero
Waiting/Sleeping Evil
Wise Mentor
Tag
author - american
author - arabian
author - australian
author - belgian
author - british
author - canadian
author - dutch
author - european
author - french
author - italian
author - new zealander
author - saudi arabian
format - anthology
format - audiobook
format - book
format - box set
format - collection
format - free
format - hardcover
format - illustrated novel
format - kindle
format - kindle unlimited
format - large print
format - netgalley
format - novel
format - novel >100K
format - novel <100K
format - novel 40-100K
format - novella 15k-40K
format - novellette <15k
format - omnibus edition
format - paperback
format - payhip
format - planner
format - prequel
format - self published
format - sequel
format - series
format - shared universe
format - short stories
format - short story <15K
identity - aromantic
identity - asexual
identity - bisexual
identity - demisexual
identity - gay
identity - gender fluid
identity - intersex
identity - lesbian
identity - non-binary
identity - pansexual
identity - polyamorous
identity - transgender
potential trigger
potential trigger - abduction-captivity
potential trigger - addiction
potential trigger - avalanche
potential trigger - blood
potential trigger - death
potential trigger - gore
potential trigger - graphic torture
potential trigger - murder
potential trigger - rape
potential trigger - sexual abuse
potential trigger - stalking
potential trigger - suicidal ideation
potential trigger - suicide
potential trigger - torture
potential trigger - traumatic past
potential trigger - violence
what - concept - amnesia
what - concept - curse
what - condition - blindness
what - condition - disability
what - condition - mental illness
what - condition - ptsd
what - element - ferocious poodle
what - holiday - general
what - topic - cartel
what - topic - chinese medicine
what - topic - chinese mythology
what - topic - climate change
what - topic - compassion
what - topic - crime
what - topic - desert survival
what - topic - disaster
what - topic - flying
what - topic - genetic engineering
what - topic - harem
what - topic - haunting
what - topic - japanese mythology
what - topic - learning disabilities
what - topic - legend
what - topic - magic
what - topic - multicultural
what - topic - music
what - topic - natural disaster
what - topic - non-violence
what - topic - politics
what - topic - ransom
what - topic - reincarnation
what - topic - religion
what - topic - revenge
what - topic - science experiment
what - topic - secret
what - topic - secret organization
what - topic - superstition
what - topic - taboo
what - topic - technology
what - topic - terrorism
when - period - 16th century
when - period - 17th century
when - period - 18th century
when - period - 1920s
when - period - 1930s
when - period - 1950s
when - period - 1960s
when - period - 1970s
when - period - 1980s
when - period - 1990s
when - period - 19th century
when - period - 20th century
when - period - ancient greece
when - period - ancient rome
when - period - edwardian
when - period - georgian
when - period - great war
when - period - middle ages
when - period - near future
when - period - prehistoric
when - period - prohibition
when - period - victorian
where - fictional - moon colony
where - general - alternate universe
where - general - carnival
where - general - castle
where - general - cave
where - general - cruise ship
where - general - forest
where - general - military
where - general - mountains
where - general - private school
where - general - rural
where - general - small town
where - general - swamp
where - general - uncharted island
where - general - underground
where - general - underwater
where - Mars
where - non-Earth planet
where - space - international space station
where - space - space station
where - space station
where - spaceship
who - description - alpha male
who - description - alphas and omegas
who - description - tattoos
who - magical humans
who - occupation - apothecary
who - occupation - archaeologist
who - occupation - artist
who - occupation - assassin
who - occupation - astronaut
who - occupation - astronomer
who - occupation - author
who - occupation - baker
who - occupation - barista
who - occupation - bodyguard
who - occupation - botanist
who - occupation - bounty hunter
who - occupation - castle laird
who - occupation - computer programmer
who - occupation - contractor
who - occupation - coroner
who - occupation - cowboys
who - occupation - detective
who - occupation - doctor
who - occupation - engineer
who - occupation - ex-convict
who - occupation - federal agent
who - occupation - guard
who - occupation - hacker
who - occupation - healer
who - occupation - herbalist
who - occupation - historian
who - occupation - horsemaster
who - occupation - innkeeper
who - occupation - inventor
who - occupation - journalist
who - occupation - king
who - occupation - knight
who - occupation - law enforcement
who - occupation - librarian
who - occupation - lord
who - occupation - mage
who - occupation - marine
who - occupation - mechanic
who - occupation - medical
who - occupation - mercenary
who - occupation - military
who - occupation - missionary
who - occupation - motorcycle rider
who - occupation - musician
who - occupation - nurse
who - occupation - pilot
who - occupation - pirate
who - occupation - police
who - occupation - politician
who - occupation - priest
who - occupation - prince
who - occupation - prisoner
who - occupation - professor
who - occupation - psychic
who - occupation - royalty
who - occupation - sailor
who - occupation - scientist
who - occupation - security
who - occupation - serial killer
who - occupation - servant
who - occupation - sex worker
who - occupation - sheriff
who - occupation - soldier
who - occupation - space marines
who - occupation - spaceship captain
who - occupation - spy
who - occupation - starship captain
who - occupation - student
who - occupation - superhero
who - occupation - tattoo artist
who - occupation - teacher
who - occupation - thief
who - occupation - tracker
who - occupation - undercover agent
who - occupation - warrior
who - occupation - writer
who - religion - catholic
who - religion - jewish
who - religion - muslim / islamic
who - religion - pagan
who - religion - shinto
who - sea dragon shifter
who - shifter
who - type - alien
who - type - altered human
who - type - angels
who - type - badass heroine
who - type - bear shifters
who - type - bigfoot
who - type - centaur
who - type - cyborg
who - type - demons
who - type - dragon shifters
who - type - dragons
who - type - elves
who - type - fae
who - type - fox
who - type - ghosts
who - type - god
who - type - griffins
who - type - incubus
who - type - kitsune
who - type - merman
who - type - nekomata
who - type - nephilim
who - type - panther shifters
who - type - reindeer shifters
who - type - robot / cyborg
who - type - sea god
who - type - selkie
who - type - spiders
who - type - spirit
who - type - succubus
who - type - unicorns
who - type - vampires
who - type - vegan
who - type - werecats
who - type - werewolves
who - type - witch
who - type - wizard
who - type - wolf
who - type - yokai
who - type - zombies
who - world defender
Showing all books.
Word Count:
70000+
Summary: Is there redemption after mass murder? Is there redemption after genocide? Is there redemption when one isn't even seeking it? Brianna'Tal had been running for years, running from her past, from her sister She found peace and Isolation She was content and happy, or so she thought Until a freak accident brought a mysterious woman into her life Love was not part of the plan, nor was it something she understood, And certainly not something she deserved But it is what she got You may remember Brianna from M.R. Gross' first novel The Malevolent Witch. The Unfolding takes place some 5 years after The Malevolent Witch. We hear Brianna's story, her side of events, does her reasoning justify her actions? This is a stand alone novel, it can be completely enjoyed without reading The Malevolent Witch. Author Note: I've read books, watched tv and movies that supposedly had autistic characters, but the vast majority of them were written by non-autistic people/writers. Brie is autistic, and I believe I represented a Neurodiverse woman authentically.
The Unfolding
May 25, 2019
Word Count:
115300
Summary: The Battle of Albrith is over. The battle for Faneria has just begun. Magic is forbidden in Faneria. That's why it came as a complete surprise when the king's city was attacked by a band of rogue mages. Though they were thwarted, Damian Sires, instrumental in their defeat, is known for only one thing—her magic. She returns home to a cold welcome and an even greater threat looming. For Niabi, servant of the Gods of Light, is amassing an army far to the west. After Niabi fought the Goddess of Chaos in the streets of Albrith with no thought to the damage she caused, Damian knows that this Army of Light spells disaster. Guarded at all times and accompanied by a former mercenary with a dark past, Damian sets out to stop Niabi from wreaking havoc on her country. However, even more dangerous secrets and plots are about to emerge...
The Unseen Force
June 19, 2020
Word Count: Information not available
Summary: Fourth of the Virian Chronicles Darien sets out for the Crystal Planet, Viria, to discover her Virian heritage and find out more about the troubled history of her mother's side of the family. Accompanied by her new companions, she explores the beautiful and savage world of her ancestors, making new friends and enemies as well as uncovering old family secrets. Follow Darien into unknown territory as she learns about herself and experiences both wonders and tragedies on her spiritual journey.
The Virian Fellowship (Virian Chronicles Book 4)
June 8, 2015
Word Count:
65000
Summary: Can home be a place you've never been, a place no one has ever been? The White Cloud is the most audacious experiment the human species has ever undertaken—to search for a new Earth. The ship and its crew exist for a solitary purpose—to reach a distant planet and establish a colony. However, the vast majority of people undertaking this journey will not live to see its result, nor were they part of the decision-making process to leave. A novel-in-stories, following the many generations who make the journey, The Voyage of the White Cloud asks how you can find meaning as a slave to destiny, a mere stepping-stone in history.These are the stories of the most ordinary people on a most extraordinary journey.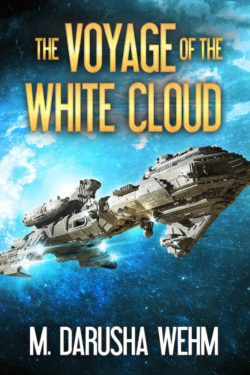 The Voyage of the White Cloud
November 27, 2018
Word Count:
27000
Summary: Kit has loved Elf for as long as he can remember. Since he first met him, when he was but a child. Elf says he loves him but will not consummate that love. How much longer can Kit wait after all he is human and death stands at his shoulder as it does with all humans. Is this a simple love story? Can a love ever be simple? Well no, particularly when a human loves an elf and they are both male. And can anything be simple when fairies come and go as they please and can act as they please should something displease them. What displeases them most? The spread of people not fairy for one. This tale is one of many that result from the impact of the Fair Ones, fairies if you would prefer, on the inhabitants of the realms beyond Fairy. It came about in an attempt to answer three questions. Are the Fair Ones fair? Can you fall in love with someone from another race, another species, another realm? And should that be so, can gender be an issue? Ah well humans, as always, that is for you to decide as you seem to be the only ones with such concerns.
The Weavers of Fair Falls
January 22, 2019
Word Count:
52000
Summary: Never in our wildest dreams did we imagine it could happen to us... In the years since the Twelve-Minute War, the world has fallen into darkness and chaos. The combined impact of nuclear, biological, and chemical agents has rendered the majority of the world's water unfit for human consumption. Only the bravest men and women dare to venture out into the desolate, radioactive wasteland to collect this precious commodity. Matt Freeborn is one such man... a weller. A lone drifter, Freeborn's gaze is fixed ever east, away from the horrors of his past. Danger is always one step behind, however, as the weller's precious cargo makes him a prime target for attack. Savage road pirates, grotesque mutants, ravenous cannibals, and ruthless private armies all lurk behind every dune. Armed with his trusty sidearm, the Well Digger, Freeborn is fully prepared to handle any of these terrors, but there are still things even the weller fears: the bogeymen of the wastes... distillers. A high-octane, post-apocalyptic thrill ride from the author of Birthright and War of the Worlds: Goliath!
The Weller
October 9, 2015
Word Count:
59000
Summary: THE WELLER IS BACK! Still healing from his battle with the distillers in Iowa City, legendary weller Matt Freeborn crosses into Missouri, where foes both old and new await him. Finding himself dangerously low on precious ammunition for the Well Digger, the desperate weller accepts a perilous job on the mighty Mississippi. Armed with only his wits and experience, Freeborn must descend into places no sane man would dare go and face unknown terrors that hunger and hunt in absolute darkness. From the author of Vengeance for My Valentine and War of the Worlds: Goliath!
The Weller - Fear of the Dark
March 21, 2020
Word Count:
87000
Summary: Summary of Book: Their leap of faith could unleash magic -- or plunge them into darkness. Henry Thorn has worked at Larkin's since graduating high school. He likes it -- especially when he can use his secret skill of hiding inside shadows so his boss can't find them. Without that talent, he would never had survived growing up different. When a hire enters the store, Henry's other latent talent kicks in. He can smell an emotional response even before he lays eyes on the redhead. Jamey Currey came out, and his conservative parents promptly kicked him out. He, too, is different -- he senses Henry's attraction the moment they met. The first time they kiss, torrential rains fall from skies split by lightning. Their kiss also awakens the Watchers, diabolical hunters who will stop at nothing -- even extermination -- to keep magic suppressed. With the help of a friendly coven of friendly witches, the boys embark on a quest to discover an ancient key to restoring magic to the world, and to understand mysteries of their own hearts. The question is, will this quest cost them their lives?
The Werewolf and His Boy
August 26, 2020
Word Count: Information not available
Summary:
Bad things happen for a reason.
Adam Neive's expiration date is closer than he would like, and it's only a matter of time before he loses his position as a Ganymede counter-boy. When a friend helps him secure a part-time job at a whiskey bar, his only thought is to escape the looming shadow of the brothels. He never expected another run-in with the witch Sebastian.
Fourteen months after being booted from his coven, Sebastian has become convinced his brother's death is connected to the wolves of The Whiskey Den. He just needs Adam's help to discover how. But things are not always as they seem, and justice is more elusive than expected.
When an announcement from the House of Witches changes everything, Adam will need to choose between life within the safety of the king's Monastery and the uncertainty of the city. While Sebastian will have to decide if his family's honor and the life he thought he had lost forever is worth more than the life he's only begun to realize he wants.
The Whiskey Den
October 31, 2021
Word Count:
76144
Summary: Fairy tales. Prince Charming fights evil, wins the princess, lives happily ever after. Three sons, three wishes, witches, dragons, a quest, and happily ever after. These stories are part of our cultural fabric. The stories change in retellings to reflect contemporary culture, such as Princess Charming, or heroes and heroines as people of color. In this collection, queer characters take center stage in stories that grew out of questions: What if the prince falls in love with Cinderella's gay stepbrother? What if Rumpelstiltskin doesn't really want the Queen's child but rather the King himself? What if Beauty and the Beast are two men? These stories explore metaphors of magic and the magical, this time, with a gay perspective. What price must be paid for happily ever after? Duty or love? Is love worth great sacrifice? Once upon a time ...
The Wicked Stepbrother and Other Stories
September 23, 2020
Word Count:
86000
Summary:
Eight hundred years ago, the Zhen Empire discovered a broken human colony ship drifting in the fringes of their space. The Zhen gave the humans a place to live and folded them into their Empire as a client state. But it hasn't been easy. Not all Zhen were eager to welcome another species into their Empire, and humans have faced persecution. For hundreds of years, human languages and history were outlawed subjects, as the Zhen tried to mold humans into their image. Earth and the cultures it nourished for millennia are forgotten, little more than legends.
One of the first humans to be allowed to serve in the Zhen military, Tajen Hunt became a war hero at the Battle of Elkari, the only human to be named an official Hero of the Empire. He was given command of a task force, and sent to do the Empire's bidding in their war with the enigmatic Tabrans. But when he failed in a crucial mission, causing the deaths of millions of people, he resigned in disgrace and faded into life on the fringes as a lone independent pilot.
When Tajen discovers his brother, Daav, has been killed by agents of the Empire, he, his niece, and their newly-hired crew set out to finish his brother's quest: to find Earth, the legendary homeworld of humanity. What they discover will shatter 800 years of peace in the Empire, and start a war that could be the end of the human race.
The Widening Gyre
March 14, 2019
Word Count: Information not available
Summary: Second of the Virian Companions Second of the Virian Companions, telling the back-story of Lyle Menehari. Born into a high-ranking Carpathian family, Lyle's future is all mapped out for him, or so he thinks. When he meets a mysterious new tutor and learns about his true nature, a whole new world of opportunities is opened up for him. Training to become a spy and assassin turns out to be very different from what Lyle had expected. His new tutor has some extremely unconventional teaching methods and Lyle is constantly challenged while he prepares for the role which he is destined to perform for his family. Throughout all his trials, Lyle is inspired and influenced by the enigmatic legendary assassin known only by the code-name of The Window Man, a figure whom he has admired since his childhood. He discovers that he has far more in common with his hero than he ever imagined. Learning to deal with loss and disappointment is all part of the experience, as well as coming to terms with a particularly cruel prophecy. Can he overcome the prophecy and carve out a happy future for himself?
The Window Man (Virian Companions Book 2)
February 2, 2019
Word Count:
95717
Summary: When an enemy army threatens eleven-year old Mara's home, she makes up her mind to save her family, one way or another. But when the knights protecting her village arrest her favorite aunt for witchcraft, she discovers that the difference between friend and foe may not be as obvious as she once thought. This is a story of war and espionage, set in a low fantasy world. It is also about a child getting to know her mother and father in a new way.
The Witches of Crannock Dale
October 1, 2019
Word Count:
115,756
Summary: In a post-apocalyptic world where tyranny and medieval torture reign supreme and witch burnings are an everyday occurrence, a top Witchfinder must confront the very Church he serves when he learns of its dark past and twisted plans for the future. The Church of the Deiparous rules with an iron fist and its rising star, Witchfinder Imperator Malachi Thorne, is committed to leading its cause. Thorne is a man on the fast track to greater things so when a convicted traitor and heretic escapes his grip, he won't tolerate it marring his perfect record. As he pursues his quarry, he must confront demons, sorcery, and a cult of witches out for his blood. But when Thorne comes face to face with the Church's dark past and its twisted present, his faith is tested to its limits. Now Thorne must decide who and what he believes in—and what he will do about it.
The Witchfinder
September 23, 2021
Word Count: Information not available
Summary: Too much family drama at home. That's what Morgan Patterson was thinking when she left the States to finish her final year of college studying abroad in Northern Ireland. She quickly finds herself immersed in a hidden world of magic and danger with the man of her dreams at the center of it. Only he's not a man. Tiernan Doherty is an honest-to-goodness faerie lord with family drama of his own. There's a blood feud to be settled, not to mention a messy chain of duty that binds him to the queen of the dark fae, a woman he truly despises. None of that matters to Morgan, though. She realizes Tiernan's not just the man of her dreams, he's the man she's meant to protect. But what she does to protect him surprises everyone, threatening the longstanding peace between humans and faeries, and causing more than enough tears for them all. "These Are for Tears," is the third book in the Will-o'-the-Wisp Stories, a serialized, epic urban fantasy that proves nothing is what it seems, promises are meant to be kept and words are binding things.
These Are for Tears
October 29, 2020
Word Count:
78,000
Summary: A new year has begun, and the annual Sower's Festival gala is brimming with Dockhaven's elite and their entourages. Some attend for the spectacle, some for the exotic indulgences, some to augment or gamble away fortunes. Others come to play opening moves in more subtle competitions, ones that will not realize their endgames for months to come. After a winter of convalescence, Aliara Rift wonders whether she is ready to return to the Thung Toh and if her remade body will betray her. Her mate, Duke Sylandair Imythedralin, has many concerns, the foremost being the looming destruction of the only home in which the two of them have truly felt safe. Together they will thwart land barons, politicians, and assassins as they navigate their way through a single day in Ismae's greatest port city. They Eat Their Own is the second Thung Toh Jig, a science fantasy action adventure following members of Ismae's preeminent covert organization as they execute contracts for Dockhaven's most powerful and ruthless citizens.
They Eat Their Own
May 19, 2020
Word Count: Information not available
Summary:
Lucky Denver has wandering feet, sticky fingers and an unreliable moral compass—he's never had a home and he's not so sure he cares about what he's missing.
Arnold Kreed who runs a small-town B&B knows what a home should be. So does his home, The Oaks—aka Mildred—and she has some very definite opinions on who should stay and who should go.
Mildred wants Lucky to stay—and while Kreed is surprised, he can't really blame the old girl. He's getting sort of attached himself. Lucky might be fine with the house's eccentricities, but he's not so sure Kreed will be fine with the man attached to Lucky's real name. When Kreed falls ill, Lucky needs to make a decision—wander away like he's always done or stay and be his better self. Kreed's hoping he'll stay—and so is The Oaks, and Mildred has a way of getting what she wants.
Thief in the Light
April 15, 2020
Word Count:
130,000
Summary: Under the dirty streets of Ismae's greatest port city, an old nightmare waits for Sylandair and Aliara, one that is stealing Dockhaven's children, one only they can end. When the pair escaped their owner and abuser years ago, they left him behind in a ball of blue flame, but as more children disappear near the city's desalinization plant, their suspicions turn to the predator they believed dead. Accompanied by their less-than-reliable puka scout Schmalch, they delve into the forgotten depths of the patchwork city. Their search will lead to a twisting world of corruption and experimentation, uncover horrors greater than any they imagined, and summon memories they never wanted to exhume. A dark science fantasy action-adventure horror, Things They Buried is the first full-length novel of Ismae, a world where science sometimes appears as magic and history as myth, where monsters make themselves and heroes are wholly unintentional. This novel contains adult themes and violence.
Named to Kirkus Reviews' Best Books of 2019
Imadjinn Awards Best Fantasy Novel, Imaginarium Con 2020
Independent Book Publishers Awards (IPPY) Gold Medalist (Fantasy)
Things They Buried
February 19, 2019
Word Count:
36000
Summary:
"Wanna know what sucks most about an apocalypse? You don't get to pick which kind you get!"
Surviving a worldwide plague can lead to unlikely alliances, especially in Hanning County.
It's hard enough for Ashley Korrs keep the tribe of young survivors alive and together, but the pressure is on to learn all she can from their unlikely sage, Toby Cracken, the handyman, before he succumbs to his mental decline. When Toby is snatched by a violent gang, Ashley must consider cozying up with old adversaries to rescue him. Adversaries like the notorious MacKenzie Tanner—a girl as manageable as a wolverine stuck in a water bucket with the lid on—and her twin outlaw boyfriends who may be the chaos needed to free Toby... if Ashley can keep the whole thing from going off the rails.
Dirty secrets are exposed as the truth comes to light in this story of small town reputations, rivalries, and survival.
"Rich with pulpy apocalyptic dysfunction, 'gritty' is not a raw enough description—put on your grown-up pants before taking this journey."
Reader Advisory: This novella contains violence, explicit language, graphic sexual content, and gritty, adult situations; kinda like life.
This'n Apocalypse Or Not?
July 16, 2014
Word Count:
129,000
Summary: Nate is caught between two dangerously hot vampires who can compel people to do whatever they want and a ruthless necromancer who wants Nate for all the wrong reasons—and that's only the start of his problems. Escort Nate prides himself on two things: his ability to please his clients and his normality – living in the monster capital of the world, ordinary is rare. Hunter, a darkly charming vampire with more charisma than is good for him, decides Nate is just what he needs. Nate's sympathetic nature and skill in the bedroom are put to the ultimate test. But Hunter wants Nate for someone else – his brother, Ben. Nate is immediately attracted by the control with which Ben holds his sensitive nature in force. Too afraid of becoming a monster to allow himself to feel, Ben struggles to resist Nate's generosity of emotion. As a vindictive necromancer makes Ben his target of revenge, Nate discovers that making people feel good doesn't compare to making Ben feel. As Nate's normal world crumbles around him, and he desperately searches for a way to save Ben, Nate is unable to escape becoming the necromancer's latest victim. But Nate's death is only the beginning. Coming back to life in the bathroom of Gunn, a Department Seven officer who hates the vampire family that Ben and Hunter belong to, Nate doesn't know who to trust or even what he is. As the necromancer's trap pulls tighter around himself and Ben, Nate is forced to let go of normal and embrace powers he doesn't fully understand. In defiance of Ben's vampire sire and hunted by Department Seven, Nate and Ben finally learn to trust and rely on each other. But when the necromancer succeeds in capturing Ben, Nate alone can come to his rescue.
Thorns and Fangs
January 18, 2016