Word Count:

85788
Summary: Kris Starr used to be famous. Rock and roll. Sold-out shows. Literal magic. Empathic talents and screaming fans. But he has a problem or two. He's having a hard time writing new music. It's Midwinter, which means he's surrounded by depressing holiday cheer. And he's in love with Justin, his manager, who has a talent for rescuing almost- or once-famous bands ... and who's hiding secrets of his own. Justin Moore, on the other hand, is very good at keeping those secrets -- he's had to be for years. One secret involves a demonic inheritance that would make him a target of suspicion. Another involves his past. And the third involves Justin's feelings for Kris Starr, rock and roll icon and now his client ... and a powerful empath.
A Demon for Midwinter
Word Count:

85000
Summary: With the world clinging to a fragile peace forced on the Fae by humanity after the Faerie Wars, metalsmith Alex Blackwood is plunged into the world of the half-fae who traffick in illegal magical artifacts. Her best friend's murder and his cryptic last message place her in the crosshairs of a scheme to reignite the decade-old war between humans and fae. Worse, violent attacks against her and the arrival of a fae knight on a mission force Alex to face a devastating revelation of who and what she is. To catch a killer, retrieve a dangerous artifact, and stop a war, Alex will have to accept that she's an unregistered fae "halfer" with a unique magical talent—a talent that would change everything she believes about her past, her art, and her future. Her world is crumbling around her, and Alex will have to decide who to trust if she and the world are going to survive.
A Drop of Magic
Word Count: Information not available
Summary: Science Fiction & Fantasy Translation Award Winner Best Translated Book Award Shortlist "The celebrated Châteaureynaud, who over the course of a distinguished career has created short tales that are not exactly contes cruels but which linger on the edge of darkness and absurdity." —New York Times Georges-Olivier Châteaureynaud is well known to readers of French literature. This comprehensive collection—the first to be translated into English—introduces a distinct and dynamic voice to the Anglophone world. In many ways, Châteaureynaud is France's own Kurt Vonnegut, and his stories are as familiar as they are fantastic. A Life on Paper presents characters who struggle to communicate across the boundaries of the living and the dead, the past and the present, the real and the more-than-real. A young husband struggles with self-doubt and an ungainly set of angel wings in "Icarus Saved from the Skies," even as his wife encourages him to embrace his transformation. In the title story, a father's obsession with his daughter leads him to keep her life captured in 93,284 unchanging photographs. While Châteaureynaud's stories examine the diffidence and cruelty we are sometimes capable of, they also highlight the humanity in the strangest of us and our deep appreciation for the mysterious. Reviews "Châteaureynaud is a master craftsman, encapsulating weighty themes with pith and heart. In his hands, the short story is a Gothic cathedral whittled from a wine cork." —The Believer "Châteaureynaud celebrates the quiet, hidden beauties of the world and the objects or knowledge we hold tight like talismans to protect us from its losses and horrors." —The Quarterly Conversation "Châteaureynaud makes expert thematic use of both light and shadow to reveal his fantastical realms of wonder and fear. His unassuming prose startles as it entrances, holding readers on the edge of elegantly rendered, fantastical dream-worlds while all at once alluding to their more nightmarish qualities. In the style of Kafka and Poe, Châteaureynaud makes the supernatural seem not only present, but ubiquitous, inclined to encroach at any moment on the humdrum lives of unsuspecting mortals. More sinister than fairy tales, yet not quite definable as horror stories, Châteaureynaud's whimsical writings leave one unsettled and alert, appreciating anew the possibilities of the chilly night air while simultaneously feeling the urge to draw nearer to the fire—just in case." —Catherine Bailey, Three Percent "The collection will perhaps appeal especially to those who enjoy their fiction short and concise, not to mention intense and decidedly peculiar. If you . . . are interested in dream-logic, fantastic situations, the unexplainable and/or macabre . . . this volume delivers again and again." —Neon Magazine "Châteaureynaud's stories are disorienting, bizarre, mythical. The stories don't end with epiphanies or a tidy wrapping-up. Some of the endings are abrupt, even unsatisfying; they feel more like a beginning. So what? A Life on Paper is fantastic in both meanings: it's fantastic, as in strange, unreal, weird, imaginary; and it's fantastic, as in absolutely fucking awesome. People will call A Life on Paper magical realism. A few will call it irrealism. I don't care what you call it. I just want you to read it." —Bookslut "Both classic and modern, strange and simple, Châteaureynaud's stories remind not only of Vonnegut but of Gogol and Kafka. What's endearing about the stories is the amount of tenderness running through them. Even in stories about bizarre cruelty (the title story tells of a father who had his daughter photographed a dozen times a day for her entire life), affection provides the glue." —Time Out Chicago "A Life on Paper is a brief selection from more than thirty years of fiction. Châteaureynaud has a backlist for American readers that this book makes enticingly tangible, almost real. His own work is such that it might be subject of one of his stories. This might be all there is, the rest pure fabrication. The unreal, awaiting translation." —Rick Kleffel, The Agony Column "These 22 curious tales verging on the perverse will strike new English readers of Châteaureynaud's work as a wonderful find. Beautiful prose featuring ingenuous protagonists and clever, unexpected forays into horror are the hallmarks of these mischievous stories." —Publishers Weekly "Georges-Olivier Châteaureynaud is 63 and has never published a book in English until now. A Life on Paper: Selected Stories, brilliantly translated by Edward Gauvin, opens the door at last. . . . Nothing matters in this book unless it has been told, everything is told. Open this book." —John Clute, Strange Horizons "Châteaureynaud's dance steps are so nimble that he seems, without effort, to show us what is best in others." —Brooklyn Rail "Châteaureynaud has sometimes been called the Kurt Vonnegut of France. However, this collection of 22 of Châteaureynaud's stories—which are often other-worldly and not infrequently unsettling—may speak to some readers more directly of Kafka." —Christian Science Monitor "As weird as they are elegant, as delicious as they are unsettling, these fables place Châteaureynaud in the secret brotherhood that has only exemplars, no definition: Kafka, Bruno Schulz, Nathanael West, Aimee Bender. We are lucky indeed to have them, in a very skilled translation." —John Crowley (Little, Big) Table of Contents Foreword by Brian Evenson
A Life on Paper
Word Count: Information not available
Summary: Step through a portal in time - and steal a piece of history! Iria and Madge, witches extraordinaire, have summoned Joshua Norton I, self-declared Emperor of the United States, back from the nineteenth century to help them save the city of San Francisco from a demon of greed. Mammon, their infernal adversary, is running a real estate scam to end all real estate scams, and he's got his own helping hand from the city's past: Etta Place, famous in her day as the accomplice of Butch Cassidy and partner of the Sundance Kid. As Norton dodges mafia foot soldiers alongside another of San Francisco's larger-than-life figures from yesteryear on the fog-shrouded streets of Chinatown long ago, Iria and Madge find themselves face to face with Mammon and Etta in modern day - and trapped in very different timelines. It'll take all their ingenuity, bravery, and prowess to fix time itself, steal the prize, and get these three heroes back together!
All the Pomp of Earthly Majesty
Word Count: Information not available
Summary: Twenty four short stories, written by E.D.E. Bell between 2014 and 2020. Primarily a fantasy collection – sprinkled with humor, romance, and hope. Stories of wizards, Beatles, and a great many frustrated women.
Awkward Tomatoes
Word Count:

70000
Summary: As far as rock star Gareth Kendrick, the last true bard in Faerie, is concerned, the only good Unseelie is . . . well . . . there's no such thing. Two centuries ago, an Unseelie lord abducted Gareth's human lover, Niall, and Gareth has neither forgotten nor forgiven. Niall O'Tierney, half-human son of the Unseelie King, had never lost a wager until the day he swore to rid the Seelie court of its bard. That bet cost him everything: his freedom, his family—and his heart. When he's suddenly face-to-face with Gareth at the ceremony to join the Seelie and Unseelie realms, Niall does the only thing inhumanly possible: he fakes amnesia. Not his finest hour, perhaps, but he never revealed his Unseelie heritage, and to tell the truth now would be to risk Gareth's revulsion—far harder to bear than two hundred years of imprisonment. Then a new threat to Gareth's life arises, and he and Niall stage a mad escape into the Outer World, only to discover the fate of all fae resting on their shoulders. But before they can save the realm, they have to tackle something really tough: mending their own broken relationship.
Bad Boy's Bard
Word Count:

11500
Summary: A dark fairy tale in a modern Greek setting. Hiding in the mountains, a harpy and her adopted daughter struggle to survive. Iphis has always known that survival comes hand in hand with loneliness, but when she catches feelings for a girl in the nearby town, her heart yearns for a different kind of future. When she's suddenly attacked by a group of enraged harpies, things only become more complicated... and dangerous.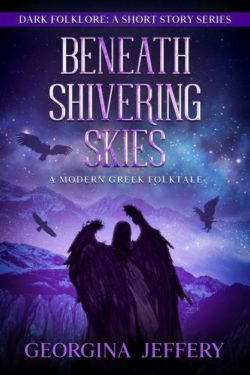 Beneath Shivering Skies
Word Count:

36000
Summary: Being invisible makes it really hard to get laid. When half-human Kai Schiffer steps into the Interstices—the post-creation gaps between realms—his supernatural half kicks in and he literally disappears unless…well, don't ask. But in a stroke (heh) of good fortune, Kai finally has a chance to show his face (and other parts, stars willing) to his long-time crush Jovan Kos—Interstitial Law Enforcement agent, wolf warrior, occasional berserker, and best man at their mutual best friends' Imbolc wedding. Jovan, who's half in love with Kai already, is grateful his best man duties are light enough that he can focus all his attention on Kai. After all, with Enchanted Occasions Event Planning handling the Olesson-Pakulski wedding, what could possibly go wrong?
Best Beast
Word Count:

8700
Summary: A dark fairy tale in a modern Norwegian setting. Ida, a young girl grieving the loss of her mother, is wandering in the snowy wilderness when she meets the mysterious Maja - a huldra from myth and legend. Taking comfort in Maja's kind arms, Ida makes a desperate wish for her family to be whole again... and gets far more than she bargained for. With her own home turned against her, Ida must race across the wild valley to save her Pappa and confront the huldra before time runs out.
Beyond Thundering Waters
Word Count:

83000
Summary: THERE ARE REASONS WE FEAR THE NIGHT. HE'S NOT ONE OF THEM. Bill Ryder was a dateless dork, but then he met a girl to die for – so he did. Too bad his death is about to make his life a hell of a lot more interesting. Now he's a vampire, surrounded by creatures stronger, deadlier, and much cooler than he is. They're giving him just ninety days to prove he has what it takes to be an apex predator of the night, assuming he doesn't give them a reason to dust his ass sooner. Bill isn't exactly average, though. A vamp like him hasn't been seen in centuries. He's got a few tricks up his sleeve, unexpected allies, and an attitude that makes him too obnoxious to quit. Good thing, too, because he'll need all the help he can get if he wants to keep from dying – again. Join him in this hilarious tale of bloodthirsty monsters, gory mayhem, and an unlikely hero who, fangs or not, is still at the bottom of the food chain.
Bill The Vampire
Word Count:

136000
Summary: With his career firmly established and his reputation as a successful PI growing, Hades should have the perfect life with his human lover, his faithful ferryman, his dogs and the parts of his family still speaking to him. But murder and chaos are never far away for death lords as his nephew Dionysus and his oldest friend Charon are drawn into the maelstrom. Includes: Books, Bulls & Bacchanals: Brandywine Investigations #4 Midwinter Dancing: Brandywine Investigations #4.5 Pack Up The Moon: Brandywine Investigations #5 Please note: Books, Bulls & Bacchanals has been re-edited for this edition.
Brandywine Investigations: Family Matters
Word Count:

125662
Summary: When humans forsake the temples, the gods need to find other employment. Hades opens Brandywine Investigations after his divorce and his subsequent move to the modern world. If he was hoping for boring infidelity cases and lost dogs, he's sorely mistaken as murder and mayhem find his agency and his extended family at an astonishing rate. Includes: Canines, Crosshairs & Corpses: Brandywine Investigations #1 No Enemy But Time: Brandywine Investigations #2 Dragons, Diamonds & Discord: Brandywine Investigations #3
Brandywine Investigations: Open For Business (BI 1-3)
Word Count:

128000
Summary: In the wake of a worsening climate crisis, magic runs rampant and demons roam across the Canadian prairies. A long-dead god stirs in the Pacific Ocean, while the wilderness is choked by invasive, screaming grass. The Cascade has shattered political stability, leaving a scandal-plagued government clinging to power in Ottawa. As catastrophe looms ahead, a precognitive rainman, Ian Mallory, stands between run-of-the-mill corruption and a nightmarish, dystopian future. It is up to a diverse and unlikely band of activists, scientists, journalists, and one underpaid, emoji-spell wielding intern to save their beleaguered country from its own worst impulses
Cascade
Word Count: Information not available
Summary:
Lucee Fearney legitimately inherited the leadership of the Fae faction known as Eleriannan, but what will happen when they find out that she still only has the magical skills of a Mortal?
---
When unexpected, dangerous visitors show up at the door of Maithe House, they bring word of an enemy that none of the Fae know how to fight. Even if Lucee can learn to trust herself and lean on her friends for help, will it be enough to take down the powerful and mysterious foe  known as the Mealladhan? Rejoin Lucee, Cullen, Merrick, Vali, Sousa, and all the other Mortal-born and Fae of Baltimore in another magical, musical adventure! 
Now with 100% more outdoor summer music festivals, uncanny graffiti, and shadowy forces.
Cast a Shadow of Doubt
Word Count: Information not available
Summary: It's not easy being the child of legends When her brother goes missing, the first hint of a larger plot against her famous family, Beau must find her inner hero--if she & her friends can avoid getting killed first. CHASING SUNSET is a stand-alone sequel to the WOODSPELL SERIES and one of the TALES OF ARDONNA.
Chasing Sunset
Word Count:

33000
Summary: Clarity (noun) Four definitions to inspire writers around the world and an unlimited number of possible stories to tell: 1) Coherent and intelligible 2) Transparent or pure 3) Attaining certainty about something 4) Easy to see or hear Clarity features 300-word speculative flash fiction stories from across the rainbow spectrum, from the minds of the writers of Queer Sci Fi.
Clarity
Word Count: Information not available
Summary: Eclectic, imaginative, and unexpected, Community of Magic Pens features forty genre-spanning flash and short stories--including fantasy, humor, science fiction, romance, historical fiction, satire, and mystery--bringing together a rich group of diverse voices from a wide range of backgrounds and intersections. Fountain pens, markers and ink, charcoals, spy pens, a braille writer, a printing press, virtual reality, and a supernatural pizza: whether revealing unspoken truths, fighting injustice, or finding friendship and love, our pens have power. Join us as a recent graduate of superhero school struggles to understand her gift, a disabled android interviews for a job, a queen's conscripted artist must pull reality from illustrations on parchment, and a grandmother's secret room is…better kept a secret. Tales of struggle and triumph, compassion and hope: Community of Magic Pens is a celebration of our shared story.
Community of Magic Pens
Word Count:

80000
Summary: The pandemic came and the world changed. Lives have changed; work has changed. The boundaries between reality and fantasy have become as blurred as those between life and work. Corporate Catharsis: The Work From Home Edition explores the impact of the COVID pandemic on everyone's personal and professional lives through speculative fiction. Featuring stories by Alicia Adams, Antaeus, Pauline Barmby, Steven D. Brewer, Dominick Cancilla, Adrienne Canino, Graham J. Darling, Derek Des Anges, Manny Frishberg, Alex Grehy, Jon Hansen, Alexa Kellow, Jack Nash, Helen Obermeier, Frank Sawielijew, William Shaw, Steve Soult, N.L. Sweeney, Kimberley Wall, and Richard Zaric.
Corporate Catharsis
Word Count: Information not available
Summary: Two friends. Two worlds. A selfish desire that threatens them both. Raijin killed a witch and found himself cursed. Sandro went to Raijin's aid and became an assassin's target. Neither expected that they would trigger the biggest upheaval their world had seen in a thousand years. And that it was the love between them that would lift the curse. Cursed, the second book in the Balance of Magic series, is a slow-burn m/m fantasy romance featuring friends-to-lovers who become soulmates, irate death gods, curses, inept, narcissistic politicians, curious, compassionate witches, and a found family.
Cursed
Word Count:

22000
Summary: All Jet wants is a fun night out at the club he's finally old enough to get into. Okay, not all -- he also wants mystery, adventure, love, college tuition, and a new best friend who isn't too busy to spend time with him. But he wasn't expecting any of those to find him at Club Nox. And he definitely wasn't expecting a gorgeous stranger to offer him his heart's desire in exchange for ... his actual heart? What kind of crazy deal is this? And what does the alluring Darken mean when he says it's too late for Jet to change his mind? Why can't Jet take off the heart-shaped pendant? Darken feels a little guilty about tricking the cute goth boy at the club into taking on his curse. But what choice did he have? Any one person can only wear the heart pendant for so long before it drains them, and he's served his three years. As curses go, this one honestly isn't so bad. And maybe Jet will let Darken sweeten the deal with a few kisses. He isn't sticking around now that he's free, though. And he definitely isn't falling in love again. That's what got him into this mess in the first place. Soon Jet realizes Darken told him the truth: Jet has made a bargain he can't escape. Does he even want to, if Darken is part of the package? If only human hearts were as easy to win as magical ones...
Dark Arts For Bright Hearts