Word Count:

84000
Summary: Edmund is heir to the throne of Thalassa and a wielder of Water magic. Devoted to his kingdom and his duty to it, Edmund can do nothing but acquiesce to an arranged marriage with the queen of a neighboring kingdom. The marriage and the child it is required to produce will seal an alliance between Thalassa and Aither that is vital to Thalassa's safety, and far more important than Edmund's personal misgivings. Arden is the younger brother of Aither's queen and a wielder of Air magic. Raised in the politics of the court to support his sister's rule, he understands the alliance is important to Aither, even as he worries about his sister marrying someone she's never met. When Edmund arrives in Aither to prepare for the wedding, Arden is tasked with helping him settle in at court. As they spend more time together, Edmund and Arden develop a close friendship, then stronger feelings, but with Edmund's wedding approaching, they must hide their feelings, even from themselves. When someone tries to assassinate the queen, Edmund is blamed, and Arden rescues him before he can be executed for a crime he didn't commit. To prevent a war between their kingdoms and protect them from a dangerous enemy, Edmund and Arden will have to discover who wants to pit Aither and Thalassa against each other and mend relations between the two kingdoms as they evade those searching for them—all while finding a way to be together.
A Dance of Water and Air
Word Count: Information not available
Summary: **Also available in "Guardians of a Giant's Treasure" anthology** For three years, Jeth and Kodie and their soldiers have guarded a hostile mountain pass against the invading Dathians in a war that has waged for decades. Jeth has the blood of giants running through his veins, and it has caused bigotry and death to dog his steps his entire life. After a childhood tragedy shatters his world, it takes the courage and loyalty of his best friend, Kodie, to protect him from himself. Jeth knows he's a danger to everyone around him and joins the army to control and focus the black rage inherited from his bestial bloodline. Kodie follows his friend into the army, determined to stay close to the one he loves most. He has never revealed his deeper feelings for Jeth, and is ignorant of Jeth's own feelings. Their bond is too precious for either of them to risk rejection. Yet they might have to take the chance when Kodie's life is threatened, and their enemy forges an alliance with a giant clan. Jeth must call upon his darker heritage to brave the hostile environment to make an alliance of his own—with a giant clan that knows more about him than he does himself.
A Giant's Friend
Word Count:

86611
Summary: Prince Edmund of Thalassa and Prince Arden of Aither are eagerly anticipating their upcoming wedding, but the danger to their kingdom hasn't lessened. They have a plan, but they won't be able to carry it out alone: they need a strong wielder of each Element, whom they can trust implicitly, to carry out the magic. Rhys is a commoner and wielder of Earth magic. He and his sister have made a living from the use of their magic for years and have become highly respected in scholarly circles, though he prefers a more simple life with his plants. When a message from Prince Arden reaches them asking for their help, they don't hesitate. They stop only to request that Gaz, a strong Fire wielder and the man Rhys has long been enamored of, accompany them on the journey to Thalassa's royal palace. What no one knows is that Gaz was once known as Prince Gareth of Thalassa and is Edmund's younger brother, long believed dead. He fled his home after his Fire Affinity made itself known and put him in danger, and he had no intention of ever going back. But he can't keep himself from going to his brother's aid, despite the risk of discovery and of the weight of his secrets potentially crushing his fledgling relationship with Rhys. Working against time, they must find a way to come together in a magical working the likes of which none of them has ever imagined, or their homelands will surely burn.
A Harmony of Fire and Earth
Word Count:

93700
Summary: A princess on the run. A captain on the hunt for treasure. When their paths cross, will they be each other's salvation? Keola is a mermaid – and bound for marriage to a foreign human prince. Unable to face a life cut off from the ocean with a man she despises, she chooses freedom at a terrible cost. Posing as a human wavesinger to remain hidden from her pursuers, she finds work on the ship of the dashing captain Anaar Kahlani.Anaar is searching for a mythical treasure and believes that Keola is the key to finding it. Amidst the hunt for fame and fortune, Anaar begins to fall for the mysterious wavesinger. Confronted with a secret and a dangerous revelation, she must decide what price she is willing to pay for untold riches – and for love. When Keola's past catches up with her, can they survive the oncoming storm together, or will the trials ahead demand more of them than they are willing to sacrifice?
A Melody in the Deep
Word Count: Information not available
Summary:
In every legend of Fairyland, the fairies have their own reasons for crossing the border…
Oliver has spent his life as the crown prince, preparing to rule but in no hurry about it, enjoying life and taverns with Tirian, his fairy-companion and best friend. But when the traditional Vision Quest calls— and a dragon appears—Oliver finds himself facing difficult questions about heroism, sacrifice… and the emotions he's discovering about Tir. But Tirian has secrets of his own, about his purpose, his magic, his feelings for Oliver, and a prophecy that will change the fates of two kingdoms forever.
A Prophecy for Two
Word Count:

95900
Summary: "There is always a way." Kelnaht, Taruif, and Ianys are meant to be together, but old promises and the decree of the elders prevent them from claiming each other openly at Solstice. Kelnaht can investigate murder and foul play, but he can't see how he can keep both his lovers without breaking the rules. But if he believes in the guide's words and trusts his faith in Ma'terra, they will find a way to clear the fog and puddles from their paths. The Forester Kelnaht, a cloud elf, is a truth seeker caught between love and faith, when a murder reveals an illicit affair between two tree elves he desires more than he can admit. Kelnaht's former lover Ianys once betrayed him, and the shunned forester Taruif is not allowed to talk to anyone but the guide, their spiritual pathfinder. Lost and Found A stripling goes missing from the tribe, and heavy rainfall hides all traces of his whereabouts. With days creeping by without a lead, it's hard to keep the tribe's spirits up, more so when Kelnaht's own future depends on the elders. Taruif has been shunned for almost twenty turns, but now that a possible forester's apprentice is coming of age, the elders consider reducing his sentence. Taruif could be set free. Full Circle When several children fall ill with more than a summer bug, truth seeker Kelnaht is assigned to investigate. What he finds is deadly and threatens the life of every underage child in the tribe, including Ianys' daughter Atèn. Then a wounded traveller is found in the forest, left to die after a vicious attack.
A Triad in Three Acts
Word Count:

73,151
Summary: Time travel. For mages, it violates their number one rule: what the Mother has written, let no one unwrite. The Mother writes the destinies of the creatures on the world of Karishian. If her writings were undone, it is feared that Creation itself could be undone. The dark mage Morgorth takes this rule to heart, but there are others who do not. Morgorth is about to claim a stone of power when it is stolen from him by a female mage he hasn't seen in decades. As they struggle for the stone, she activates it, and Morgorth is unwillingly plunged into another time and another place. It isn't long before he realizes what time he's found himself in and there are a few familiar faces. Most notable is a much younger version of Aishe. His mate. Living with a tribe who will be massacred, caring for a young lad who will become his mate, and fighting a battle against a mage who can travel from past to future at a whim—Morgorth's life has never been easy but now he must contend with the will of the Mother. Unable to change the future and the tragedies of Aishe's life, he must decide what his role in his mate's past will be, and ask himself one vital question: how does one defeat time?
Agate: Then and Now
Word Count: Information not available
Summary: Collection of twenty-two short fantasy and science fiction stories. A wizard seeking an apprentice won't take no for an answer, and a would-be apprentice attempts the impossible to find a mentor. A twin discovers her sister's new job is a lot different than she expects. And what's the deal with the cat whiskers?
Agents, Adepts & Apprentices
Word Count:

87000
Summary: In a world where everyone has a soulmate, uniquely powerful mage Royiora and reluctant assassin Kalo collide in the worst of ways. Royiora Daralkaen, the only mage alive able to use all five kinds of magic, has a near idyllic childhood in the country of Porescalia - before war breaks out with their antagonistic neighbors, Kloria. Kalo Porla, a naturally magic-proof individual known as a Null, is trained to be as an assassin by the authoritarian empire known as the Domain. When Kalo and his partner assassin are sent to kill a mage and his apprentice, it starts a journey neither man was prepared to begin. Content warnings: harm to children, physical and psychological abuse, implied (off-page) rape, violence, mature language, minors in implied sexual situations (teenaged romance), implied sexual situations, bigotry towards fictional races, and suggestive language.
All or None
Word Count:

70,034
Summary: Every story has more than one point of view. As the mate to the dark mage Morgorth, Aishe has learned a lot about magick, love, and himself. He tries to find a home with Morgorth, to be accepted into his world; to survive in a world full of magick, treachery, and deception. But all the while he struggles to keep a secret about his past and their intertwined destinies. Despite all the obstacles thrown at both of them, Aishe is determined to stay by Morgorth's side, no matter what the future brings—even if that future turns dark with death should Morgorth embrace his grim destiny. But when Morgorth leaves with his mentor to collect another stone of power, Aishe is left behind. It is then a surprise attack comes and Aishe, determined to protect and defend his new home, decides to take the invaders on by himself. It might prove too much for him to handle...especially when he learns the one who leads the invaders is a mage. This book allows us a glimpse inside the mind of Lord Morgorth's better half, a dialen named Aishe: his motivations, his personal sorrows, and his struggle to find a place to call home.
Amethyst: Bow and Arrow
Word Count:

15500
Summary: When Dominick has to attend a six-day dragon mating ceremony, he wants to avoid speaking to anyone for fear his severe stutter will send possible suitors running. However, Lysander and Zachary, both from different cultures with a thing for redheads, refuse to let him hide. Worse, they actively pursue him, even after Dominick mucks up their first encounter. Against the backdrop of a ceremony that takes testing endurance, strength, and acoustics to new heights, differences between languages, customs, and expectations create an obstacle course where any misstep could send the men home… alone.
An Invitation To Love
Word Count:

97,641
Summary:
A quest for power. A growing evil. Can a scholar of magic keep an incredible discovery from the forces of chaos?
Wizard and bookworm Athala Dohn pursues her research with a fiery passion. So when she uncovers evidence of an ancient spell buried deep within the city, she won't rest until she's the one who makes the find. Determined to outwit potentially-deadly magical protections, Athala brings help: a Conscript, Elise Bresch, and a barbarian, Ragan Ermolt. Together they enter the sewers completely unprepared for what awaits… With undead skeletons, giant rats, and even a dragon in their path, Athala never expected a set of metal bars to thwart her. But when a corrupt man imprisons and tortures her and her friends, the scholar realizes her curiosity may have unleashed destruction upon all of Neuges. Athala has one chance to escape captivity and claim the spell before the Age of Mortals slips from humanity's grasp.
Ancients
is the first book in the Heroes by Necessity saga of sword and sorcery fantasy novels. If you like magical Dungeons and Dragons inspired worlds, multifaceted and diverse characters, and pulse-pounding action, then you'll love Riley S. Keene's epic tale.
Buy Ancients today!
Ancients
Word Count:

125,000
Summary: For the past few years Yarroway L'Estrella has lived in exile, gathering arcane power.  But that power came at a price, and he carries the scars to prove it. Now he must do his duty: his uncle, the king, needs him to escort Prince Garith to his wedding, a union that will create an alliance between the two strongest countries in the known world. But Yarrow isn't the prince's only guard. A whole company of knights is assigned to the mission, and Yarrow's not sure he trusts their leader. Knight Duncan Purefroy isn't sure he trusts Yarrow either, but after a bizarre occurrence during their travels, they have no choice but to work together—especially since the incident also reveals a disturbing secret, one that might threaten the entire kingdom. The precarious alliance is strained further when a third member joins the cause for reasons of his own—reasons that may not be in the best interests of the prince or the kingdom. With enemies at every turn, no one left to trust, and the dark power within Yarrow pulling dangerously away from his control, the fragile bond the three of them have built may be all that stands between them and destruction.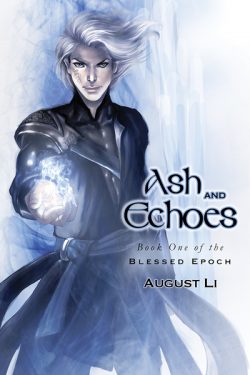 Ash and Echoes
Word Count:

121000
Summary: A child's memory. A journey's end. Lance doesn't remember the time before Ulfr found him. It's a dark pit in his mind that he avoids at all costs. And yet, despite his best efforts, pieces start to fall, and echoes from the past begin to ring. However, he has little time to comprehend their meaning, since the Captain of the Imperial Army herself has come to collect him and bring him to the capital city of the Nifdem Empire. Whisked away to the gilded streets and glittering court of the Hill of Tarran, and then to the snowy reaches of Swenen, Lance and Gust will learn the answers to questions they've had from the start. And be forced to acknowledge their roles in the survival of the empire and the ripple effects of their actions. But such knowledge can come at a steep price. As allies and enemies begin to step from the shadows, Lance will learn the truth of his past and the price of his redemption, and all the pain that comes with them. While Gust will have to decide what he's willing to sacrifice to safeguard the one he loves.
Avenging Lance
Word Count:

135500
Summary: The Dragon is awake, and he's ready to rejoin the game. When the Valsharess compelled the novice Sister Sirana to leave for the Surface, she also commanded the Lead Sister Jaunda to leave her beloved city for the dark labyrinth of the underground wilderness. Jaunda seeks the lair of a legendary creature who's been asleep since before she was born. After spans of searching, she approaches her goal at last, only to discover he just woke up ... and he wants to play. Meanwhile, Sirana waits for her bodyguard to rise out of an abrupt and powerful sleep. In the aftermath of the Temple City's fall, surrounded by battle-weary refugees and bustling Dwarves, she and others around her discover the wounds which must be healed before fighting continues. Sister Seekers is dark epic fantasy for adults with an ever-broadening scope. The saga genre-hops a bit so things never get stale. Found Family is a core theme throughout. Perfect for fans of entwined plots, challenging themes, immersive worldbuilding, and elements of erotic horror. Sexuality and inner conflict play into character growth with nuanced intrigue, intense action, and fantastical magic.
Awake in the Dark: Sister Seekers 9
Word Count: Information not available
Summary: How does a world armed with bows, arrows and catapults, where steam power is just beginning to replace horses and sailing ships, avert a conquest from beyond the stars? Prince Regilius has been engineered to combat the Dalthin, a predatory alien species that enslaves worlds telepathically, and to do so he must unite his people. But when his mother murders his father, the land descends into chaos and his task may prove impossible. Faced with slaying the one who gave him life in order to protect his world, he seeks a better way. Set in a vast and varied land where telepaths and those with unusual mental abilities tip the course of events, Awakening goes to the heart of family, friendship and betrayal. "In AWAKENING Raymond Bolton presents us with an intricate and interesting problem, characters you care for, aliens who -are- alien, and a carefully-thought-out future."—Mike Resnick "Raymond Bolton's genre shattering Awakening is a skillfully woven hybrid of science fiction and fantasy that brings cultural conflict to a whole new, thoroughly believable level that goes straight to the heart of what really matters."—Matthew J. Pallamary – author of Land Without Evil and Spirit Matters. "Bolton navigates through the plot lines and the mixed genres (Science Fiction but not exactly, Fantasy but not entirely, Paranormal but not completely) with the clear gesture of the conductor of a large orchestra. A new voice and author who is bound to grow a faithful readership."—Massimo Marino, international award-winning author of The Daimones Trilogy "it's a grand debut. An ambitious and well considered SF crossover [that] breathes originality into the genre"—BookViral
Awakening
Word Count: Information not available
Summary: Twenty four short stories, written by E.D.E. Bell between 2014 and 2020. Primarily a fantasy collection – sprinkled with humor, romance, and hope. Stories of wizards, Beatles, and a great many frustrated women.
Awkward Tomatoes
Word Count:

174300
Summary: My sister is in grave danger, captive in the city of Witch Hunters. As Manalar prepares for war, her only chance lies with infiltrators from Augran. I shall join them. The prosperous port of Augran thrives in diverse trade with the Dwarven Clans. The Bishops of Manalar have withdrawn defiantly into the Temple of the Sun, scorning their past allies. The Ma'ab Empire has sent their dark army out of the Far North, seeking not riches but a small, well-protected spring high upon a mountain. The sacred pool of Manalar is said to bless all mages who control it. On the fringe, there's Gavin and me. Each dedicated to our purpose, we garner allies from Augran and the Clans of Taiding willing to see them through. My Dragonblood bodyguard, Mourn, reinforces our strengths as we expect others like us to jump out of hiding and into the fray. I failed one sister. I will not fail another. Sirana's desperate search upon the Surface reaches its culmination in Battle for Manalar, where foes and allies unite and clash in this transformative event driven by opportunity, righteousness, and reprisal. Sister Seekers is dark epic fantasy for adults with an ever-broadening scope. The saga genre-hops a bit so things never get stale. Found Family is a core theme throughout. Perfect for fans of entwined plots, challenging themes, immersive worldbuilding, and elements of erotic horror. Sexuality and inner conflict play into character growth with nuanced intrigue, intense action, and fantastical magic.
Battle for Manalar: Sister Seekers 8
Word Count:

135000
Summary: I am the dark foreigner among pale-skinned mercenaries, crossing exposed grasslands. My only ally is a sinister scholar hiding scars from past rituals. He alone knows I carry a child. Each day assaults my senses and leads me farther away from home. Inevitably, my mission will lead out of isolation to the first Human settlement in my path. With few watching my back and more tempted to exploit it, I wade into an unforgiving test of my training and vigilance, determined not to be pulled down. Twisted portents and pious zealotry expose danger in every direction, while new, threatening dreams of distant sands muddle my Queen's past with my present. As all close in around me, I must find a way to serve the Valsharess and slip free of man-made chains which would enslave me. In Black Witch, Death Mage, far-reaching threads and mystical visions constrict to bind those within it, pulling the tales of present and past closer than they've been in thousands of years. Sister Seekers is dark epic fantasy for adults with an ever-broadening scope. The saga genre-hops a bit so things never get stale. Found Family is a core theme throughout. Perfect for fans of entwined plots, challenging themes, immersive worldbuilding, and elements of erotic horror. Sexuality and inner conflict play into character growth with nuanced intrigue, intense action, and fantastical magic.
Black Witch, Death Mage: Sister Seekers 5
Word Count: Information not available
Summary:
Kimolijah Adani—Class 2 gridTech, beloved brother, most promising student the Academy's ever had the privilege of calling their own, genius mechanical gridstream engineer, brilliantly pioneering inventor... and dead man. But that's what happens when a whiz kid messes with dynamic crystals and, apparently, comes to the attention of Baron Petra Stanslo. Killed for his revolutionary designs, Kimolijah Adani had been set to change the world with his impossible train that runs on nothing more than gridstream locked in a crystal. Technically it shouldn't even be possible, but there is no doubt it works. Bas is convinced the notoriously covetous and corrupt Stanslo had something to do with Kimolijah Adani's tragic and suspicious end. A Directorate Tracker, Bas has finally managed to catch the scent of Kimolijah Adani's killer, and it leads right into Stanslo's little desert barony. For almost three years, Bas has tried to find a way into Stanslo's Bridge, and when he finally makes it, shock is too small a word for what—or, rather, whom—he finds there.
Blue on Black