Word Count: Information not available
Summary: Science Fiction & Fantasy Translation Award Winner Best Translated Book Award Shortlist "The celebrated Châteaureynaud, who over the course of a distinguished career has created short tales that are not exactly contes cruels but which linger on the edge of darkness and absurdity." —New York Times Georges-Olivier Châteaureynaud is well known to readers of French literature. This comprehensive collection—the first to be translated into English—introduces a distinct and dynamic voice to the Anglophone world. In many ways, Châteaureynaud is France's own Kurt Vonnegut, and his stories are as familiar as they are fantastic. A Life on Paper presents characters who struggle to communicate across the boundaries of the living and the dead, the past and the present, the real and the more-than-real. A young husband struggles with self-doubt and an ungainly set of angel wings in "Icarus Saved from the Skies," even as his wife encourages him to embrace his transformation. In the title story, a father's obsession with his daughter leads him to keep her life captured in 93,284 unchanging photographs. While Châteaureynaud's stories examine the diffidence and cruelty we are sometimes capable of, they also highlight the humanity in the strangest of us and our deep appreciation for the mysterious. Reviews "Châteaureynaud is a master craftsman, encapsulating weighty themes with pith and heart. In his hands, the short story is a Gothic cathedral whittled from a wine cork." —The Believer "Châteaureynaud celebrates the quiet, hidden beauties of the world and the objects or knowledge we hold tight like talismans to protect us from its losses and horrors." —The Quarterly Conversation "Châteaureynaud makes expert thematic use of both light and shadow to reveal his fantastical realms of wonder and fear. His unassuming prose startles as it entrances, holding readers on the edge of elegantly rendered, fantastical dream-worlds while all at once alluding to their more nightmarish qualities. In the style of Kafka and Poe, Châteaureynaud makes the supernatural seem not only present, but ubiquitous, inclined to encroach at any moment on the humdrum lives of unsuspecting mortals. More sinister than fairy tales, yet not quite definable as horror stories, Châteaureynaud's whimsical writings leave one unsettled and alert, appreciating anew the possibilities of the chilly night air while simultaneously feeling the urge to draw nearer to the fire—just in case." —Catherine Bailey, Three Percent "The collection will perhaps appeal especially to those who enjoy their fiction short and concise, not to mention intense and decidedly peculiar. If you . . . are interested in dream-logic, fantastic situations, the unexplainable and/or macabre . . . this volume delivers again and again." —Neon Magazine "Châteaureynaud's stories are disorienting, bizarre, mythical. The stories don't end with epiphanies or a tidy wrapping-up. Some of the endings are abrupt, even unsatisfying; they feel more like a beginning. So what? A Life on Paper is fantastic in both meanings: it's fantastic, as in strange, unreal, weird, imaginary; and it's fantastic, as in absolutely fucking awesome. People will call A Life on Paper magical realism. A few will call it irrealism. I don't care what you call it. I just want you to read it." —Bookslut "Both classic and modern, strange and simple, Châteaureynaud's stories remind not only of Vonnegut but of Gogol and Kafka. What's endearing about the stories is the amount of tenderness running through them. Even in stories about bizarre cruelty (the title story tells of a father who had his daughter photographed a dozen times a day for her entire life), affection provides the glue." —Time Out Chicago "A Life on Paper is a brief selection from more than thirty years of fiction. Châteaureynaud has a backlist for American readers that this book makes enticingly tangible, almost real. His own work is such that it might be subject of one of his stories. This might be all there is, the rest pure fabrication. The unreal, awaiting translation." —Rick Kleffel, The Agony Column "These 22 curious tales verging on the perverse will strike new English readers of Châteaureynaud's work as a wonderful find. Beautiful prose featuring ingenuous protagonists and clever, unexpected forays into horror are the hallmarks of these mischievous stories." —Publishers Weekly "Georges-Olivier Châteaureynaud is 63 and has never published a book in English until now. A Life on Paper: Selected Stories, brilliantly translated by Edward Gauvin, opens the door at last. . . . Nothing matters in this book unless it has been told, everything is told. Open this book." —John Clute, Strange Horizons "Châteaureynaud's dance steps are so nimble that he seems, without effort, to show us what is best in others." —Brooklyn Rail "Châteaureynaud has sometimes been called the Kurt Vonnegut of France. However, this collection of 22 of Châteaureynaud's stories—which are often other-worldly and not infrequently unsettling—may speak to some readers more directly of Kafka." —Christian Science Monitor "As weird as they are elegant, as delicious as they are unsettling, these fables place Châteaureynaud in the secret brotherhood that has only exemplars, no definition: Kafka, Bruno Schulz, Nathanael West, Aimee Bender. We are lucky indeed to have them, in a very skilled translation." —John Crowley (Little, Big) Table of Contents Foreword by Brian Evenson
A Life on Paper
Word Count:

171995
Summary: There will be time to crown a king, but first a warlord must rise. Arthur's battle summer is upon him, and he must be victorious if he is to claim his throne and rid the land of Saxon invaders. The teenage king has pulled the sword from the stone, but still the petty kings will not accept his rule. The Saxons are invading, Lot and Uriens are united against him, and he still has to prove himself to the common folk of the land. Next stop: the mysterious standing stones of the Giants' Dance and the Beltane ritual. Warfare does not wait for Arthur to catch his breath. Battle follows battle. Love is lost and found. Allies fall, enemies rise, and betrayals come to the young High King. If he stays strong, he can lead his people through a bloody summer. If not, all of Britannia will fall. Arthur alone will be responsible for the glory or ruin to come. Merlin will help him to see it through. But what secrets is the druid keeping? Arthur Rex: Dux Bellorum is the third installment in an epic retelling of the King Arthur legend. You only think you know the story.
Arthur Rex: Dux Bellorum
Word Count:

82290
Summary: Merlin has devised a test. All of the petty kings have gathered in Londinium to see who will be the next High King. Arthur and his retinue travel to the city in secret, but they are not the only ones with an interest in the Sword in the Stone. Morgana, Arthur's half-sister and the renegade queen of Rheged, has journeyed there with her Saxon lover, and petty kings have come with no kind welcome for the young High King. Arthur pulls the sword, but the kings will not accept him. He is given the temporary title of Dux Bellorum, and with Merlin at his side, he sets out to unite the tribes of Britannia as the Saxon threat grows more menacing on their eastern shore. Some battles are easy. Others are carried out in secret. It is the secret battles that Arthur will need to fear. "Arthur Rex: Ex Lapis" is the second installment of an epic retelling of the Arthurian legend. You only think you know the story.
Arthur Rex: Ex Lapis
Word Count:

100260
Summary: The High King is dead. While royal bastards and petty kings squabble for the power to take the vacant throne, only the druid Merlin and his succubus mother know where to find the late king's only legal heir. Arthur is young, idealistic, and living a quiet life at Caer Gai, protected by his foster father. Merlin put him there, and he will take him back out when the time is right, but first he has to set the stage and sweep away distractions… like the boy that Arthur loves. Merlin and his mother have plans for the hidden king, and they will stop at nothing to get him where they want him to go. But Arthur is no mere pawn, and though Merlin is a master manipulator, Arthur has ideas of his own about how his life should be. "ARTHUR REX: In Principio" is the first installment of an epic retelling of the Arthurian legend. You only think you know the story.
Arthur Rex: In Principio
Word Count:

11500
Summary: A dark fairy tale in a modern Greek setting. Hiding in the mountains, a harpy and her adopted daughter struggle to survive. Iphis has always known that survival comes hand in hand with loneliness, but when she catches feelings for a girl in the nearby town, her heart yearns for a different kind of future. When she's suddenly attacked by a group of enraged harpies, things only become more complicated... and dangerous.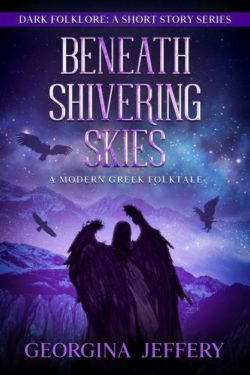 Beneath Shivering Skies
Word Count:

30020
Summary: Willem's father never approved of his artistic talents, his choices in life, or the fact that he's gay. When the only thing Horst leaves to Willem is the family cat, he thinks it's his father's last insult from the grave. That is, until the cat starts talking to him. Though Willem's lost his boyfriend, his home, and his job, Kasha, who claims to be a magic cat, reassures him that all will be well. All he needs is Willem's trust and a good pair of boots. But giving boots to a talking cat has unexpected consequences when odd events ambush Willem at every turn, such as the appearance of a handsome stranger in his arms at night. While he begins to suspect Kasha's plans might be dangerous for all involved, how can he distrust such a charming kitty in cowboy boots?
Boots
Word Count:

33000
Summary: Clarity (noun) Four definitions to inspire writers around the world and an unlimited number of possible stories to tell: 1) Coherent and intelligible 2) Transparent or pure 3) Attaining certainty about something 4) Easy to see or hear Clarity features 300-word speculative flash fiction stories from across the rainbow spectrum, from the minds of the writers of Queer Sci Fi.
Clarity
Word Count:

75000
Summary: Temp worker David Evans has been dreaming of Dr. Alun Kendrick ever since that one transcription job for him, because holy cats, that voice. Swoon. So when his agency offers him a position as Dr. Kendrick's temporary office manager, David neglects to mention that he's been permanently banished from offices. Because, forgiveness? Way easier than permission. Alun Kendrick, former Queen's Champion of Faerie's Seelie Court, takes his job as a psychologist for Portland's supernatural population extremely seriously. Secrecy is paramount: no non-supe can know of their existence. So when a gods-bedamned human shows up to replace his office manager, he intends to send the man packing. It shouldn't be difficult—in the two hundred years since he was cursed, no human has ever failed to run screaming from his hideous face. But cheeky David isn't intimidated, and despite himself, Alun is drawn to David in a way that can only spell disaster: when fae consort with humans, it never ends well. And if the human has secrets of his own? The disaster might be greater than either of them could ever imagine.
Cutie and the Beast
Word Count: Information not available
Summary: Date With Death is a lighthearted romp through the cemetery of romance, where new love may rise from a shallow grave like a body washed out in the rain. Trekking across the veil to the great beyond and back, that thing that goes bump in the night, seeks the one whom to bump in the night, as mutual passion flares up from the shadows. The usually stoic Dustin Ney has a more interesting and complicated past than even his dearest friend Arman had thought imaginable. Invited by his parents to their home out west, Dustin embarks on a road trip with his companions. When worlds collide, Dustin's true self emerges as Date With Death explores the beginning's of new love, the dying of old one's and the rotting shells of stagnate friendships being cast off like husks.
Date With Death
Word Count:

84610
Summary:
Praise for Daughter of Maat:
"Sandy Esene has written a real page-turner. It's Dan Brown goes to Egypt with a delightful dash of Harry Potter thrown in. A wonderful read and she's got the Egyptology right!"—Bob Brier, Author of
The Murder of Tutankhamen
"If you like Egyptian Mythology and the excitement of Indiana Jones adventures, this book is for you!"— Pat Remler, Author of
Egyptian Mythology A to Z
Alex Philothea's quiet life as a research archeologist changes forever when she is tracked down by a secret society, the Keepers of the Holy and Noble Maat. Alex's father died years ago during an excavation in the remote Egyptian desert. The circumstances of his death have always been shrouded in mystery. Now the leader of this obscure organization promises to unlock the answers she has been searching for; the only thing she must do is save humankind.
Follow Alex into a world of myth and magic where the lines of reality blur at every turn.
Daughter of Maat
Word Count:

107884
Summary: Julian Gypsun used to be a young man on his way to becoming a contractor. Everything changed when he died and was resurrected as a wizard's familiar. He was immortal and far better off physically than he had been as a human. Still, he was trapped with his life chained to a giant of a wizard who had no problem abusing him in every way imaginable. Julian was powerless to stop it without ending his own existence. That is until he was yanked bodily through his own portal, transported to Draoithe, and assigned to babysit the visiting dignitary, Amazon Warrior Princess Zephyra, and try to convince her that her people should ally themselves with Luke and Draoithe. That sounded easy, but it wasn't. He liked her. He had no clue how to act on that. Best to avoid that altogether. Keeping her safe just might equal his death. (Please see her warrior princess title.) She was old and so far out of his league. Worse, she liked him and was determined to have him. He can't even consider that. She has no idea how broken he really is.
Draoithe: Midnight Magic
Word Count:

89000
Summary: An uneasy truce between the four races has lasted for twenty years. Until now. The Dusters, a race of cat people from the north, have invaded and now former soldier Mika must make a grim choice: take up the sword again or watch everything he loves burn. With his old friend from the military, Gair, and a mysterious, half-breed Duster, Mika makes his way from his Northern border home to the southern capital, across the frozen wastes of the Duster homelands, and deep underground where the legendary Gallochs dwell. He is desperate to unravel the mystery of the invasion and how it's connected to his origin. But hunted by his own kind and unable to trust his companions, he discovers that to save his family, he may have to defeat not only the Duster army but the very Gods themselves. Penned by award-winning author, Adam Stemple, Duster is an epic, page-turning fantasy for adult readers who like their tales grim and dark but with just enough light at the end of the tunnel to keep them wanting more. Fans of Martin's Game of Thrones, Abercrombie's The First Law Trilogy, and Estes' Fatemarked will all find something to enjoy within. "I can, without reservation, recommend everything Adam Stemple has written, and Duster is no exception." — Steven Brust, best-selling author of The Baron of Magister Valley "No one writes bastard-son-of-a-bitch characters as brilliantly as Adam Stemple." — Naomi Kritzer, Hugo-Award-Winning Author of Catfishing on Catnet Praise for Adam's first novel, Singer of Souls "One of the best first novels I have ever read." — SFWA Grand Master, Ann McCaffrey *STARRED REVIEW* "A dour, nihilistic, absolutely marvelous grunge fantasy!" — Ray Olson, Booklist "Fans of Charles de Lint and Clive Barker will find much to like!" — Publishers Weekly
Duster
Word Count:

125889
Summary: Alex Philothea, the newly appointed director of the Keepers of the Holy and Noble Maat, is fighting to save the agency her ancestors have led for over two millennia. Operating in deep cover, KHNM shields the mortal realm against the lethal chaos of the Immortals. As Alex battles the Gods over the agency's existence, she is in a race against time to contain dangerous magical artifacts. If the Gods succeed in shuttering the agency and these ancient objects fall into unworthy hands, humanity will pay a deadly price. Deep in the Netherworld, adventurer Jorge Trinculo unearths a primordial book of magic. It exposes one of KHNM's darkest secrets. For years, the agency has been erasing the memories of his encounters with the Immortals. As his old life floods back, he realizes all that he has lost. In Jorge's pursuit of revenge, his future becomes entwined with that of a power-hungry magician. A magician who has waited patiently, for centuries, to possess the forbidden book and wield its lethal magic against the mortal realm.
Gift of the Sphinx
Word Count: Information not available
Summary: Daring the old gods. Defying the new. The making of a legend—and a truly innovative re-imagining of Robin Hood. --- Rob of Loxley and his older sister Marion have been groomed from birth to take their parents' places within the Old Religion. Despite this, when Rob finds an injured nobleman's son in the forest, neither he nor Marion understand what befriending young Gamelyn could mean for the future of their beliefs. Already the ancient spirits are fading beneath the iron of nobleman's politics and the stones of Church subjugation. More, the druid elders warn that Rob and Gamelyn are cast as sworn adversaries, locked in timeless and symbolic struggle for the greenwood's Maiden. Instead, in a theological twist only a stroppy dissident could envision, Rob swears he'll defend the sacred woodland of the Horned God and Lady Huntress to his last breath—if his god will let him be lover, not rival, to the one fated as his enemy. But in the eyes of Gamelyn's Church, sodomy is unthinkable... and the old pagan magics are an evil that must be vanquished.
Greenwode
Word Count:

36000
Summary: IN-NO-VA-TION (Noun) 1) A new idea, method, or device. 2) The introduction of something new. 3) The application of better solutions to meet unarticulated needs. Three definitions to inspire writers around the world and an unlimited number of possible stories to tell. Here are 120 of our favorites. Innovation features 300-word speculative flash fiction stories from across the rainbow spectrum, from the minds of the writers of Queer Sci Fi.
Innovation
Word Count:

115000
Summary: Battles and adventure crisscross the Viking Age! From monumental sea clashes to beleaguered mountain strongholds to war with the tribes of Eire, circumstance drives the scattered Agneson clan across the known world. And beyond the lands of Midgard, mythic hidden folk challenge our forerunner hero. The award-winning Forerunner Series epic continues…. Fleeing an arranged marriage, Kara escapes across the narrow sea to follow her warrior dreams. Escaping slavery, Cub joins Rollo's horde in Britany, while his outlawed brother Sorven fights for survival in the Welsh mountains. Uncle Karl and his warriors rally to Harald Tanglehair in his ambition to unify the wild kingdoms of the North Way, and young Thorfinn is left behind, safe and secure in a tiny fishing village... or is he? Kara gains her place in king of Dublinn's ranks to prove her mettle, but being a warrior is not what she expected, and what of these new feelings she finds for her closest companion? Will Karl and his crew perish in the great battle of Hafrsfjord? And how will an unprepared Thorfinn survive kidnapping by an 8-armed giant, leaving behind worried friends and a very angry dragon? Don't miss this 5-star epic fantasy critics are calling "whimsical and gritty," with "fabulous, engaging characters." If you enjoy the history of The Last Kingdom and Nordic myths and legends, the Forerunner Series is a grand tale not to be missed!
Kara Shieldmaiden of Eire
Word Count:

108000
Summary: All legends spring from a seed of truth. Humble Kai aspires to become more than the petite, inconsequential young woman her community sees. Persistence pays off when the village holy leaders reveal a prophecy—Kai might actualize her dream of being a hero if she completes three seemingly impossible tasks. Princess Solveig, descendant of the famous shieldmaiden Sigrid the Valiant, believes she was born to accomplish great things, but her poor eyesight, weak constitution, and lack of physical expertise hold her back. Convinced she can never realize her ambitions, Solveig settles for living vicariously through her warrior girlfriend. The appearance of a dangerous jötunn wreaking havoc in the kingdom brings the two would-be champions together. Solveig feels both threatened and skeptical when Kai arrives in her father's great hall with a "magic" sword, claiming she's there to save the day after more promising protectors have failed. With many lives at stake, will rivalry push Solveig and Kai apart, or will they inspire each other to realize the greatness both women desire to achieve—and to survive the coming battle? Gear up for action and the dramatic storytelling of Edale Lane in this hero's journey sapphic Viking historical romance. If you like to root for an underdog, experience epic world building, and enjoy women with swords, you'll love Legacy of the Valiant, the second book in the Tales from Norvegr series. Buy your copy today!
Legacy of the Valiant
Word Count:

53000
Summary: England, 1910 Monty, along with his best friend Bishop, investigates an odd seal-like creature swimming in Manchester Lake. The pair soon realize they've found a selkie when the magnificent animal transforms into the most gorgeous man either of them has ever seen. Determined to discover the origins of the mystical man, they bundle him into Bishop's brand-new electric automobile and whisk him off to London. There they find a host of distractions: a tastefully debauched house party hosted by silver-tongued aristocrats, and a queerly European-inspired novelty called the night club. Both are filled with a cast of characters sometimes amusing and sometimes frightening. And as the night unfolds, Monty comes face-to-face with ghoulish agents of the occult as well as revelations from the past. Most surprisingly of all, Monty finds himself falling for the beautiful creature from the lake, who seems equally interested in him. Can he really find himself in love with a man he has only just met? Or do they have a deeper connection which goes much further back? And what does it all have to do with the memories of his trip to Paris three years prior? The mystery of the selkie from Manchester Lake is only the beginning, and before their adventure is finished Monty will see the culmination of long suppressed secrets explode in a firestorm of magic and passion!
Manchester Lake
Word Count:

100000
Summary: The Nephilim loom over Niflheim. Gods, Dharkan and mortals fight amongst themselves in their shadow. And Time is on no one's side. The gods are outmatched, their talents useless against the Nephilim's technology. Desperate, they turn on each other. New alliances form and fall apart, for there can be no peace when survival is at stake. Psyche, torn between a goddess's duty and a mortal's hate, sets off on her own to learn the truth behind her fate, unaware of the danger following her. Meanwhile, Chronos' own agenda involves a power so dangerous and unpredictable it's been long forsaken by both the gods and the Nephilim. Will it be worth the risk?
Nephilim's Hex
Word Count:

26000
Summary: Jealous angels with no genitals discover the passion and ecstasy that humans experience through sex. In revenge, the frustrated but impotent celestial beings banish the men to the wilderness. Will the women save the human race, or will they become the mothers of great evil?
Not Far from Eden