Word Count:

85000
Summary: With the world clinging to a fragile peace forced on the Fae by humanity after the Faerie Wars, metalsmith Alex Blackwood is plunged into the world of the half-fae who traffick in illegal magical artifacts. Her best friend's murder and his cryptic last message place her in the crosshairs of a scheme to reignite the decade-old war between humans and fae. Worse, violent attacks against her and the arrival of a fae knight on a mission force Alex to face a devastating revelation of who and what she is. To catch a killer, retrieve a dangerous artifact, and stop a war, Alex will have to accept that she's an unregistered fae "halfer" with a unique magical talent—a talent that would change everything she believes about her past, her art, and her future. Her world is crumbling around her, and Alex will have to decide who to trust if she and the world are going to survive.
A Drop of Magic
Word Count: Information not available
Summary: Dan Ackerman received the 2018-2019 Rainbow Award for Gay Contemporary General Fiction. Two titles shared the honor: The Things that Come and That Doesn't Belong Here. Dan is a dominant, innovative, unique voice in LGBTQ fiction. Angels shouldn't pal around with demons, especially not ones they've been sent to assassinate. They shouldn't work with them or cook them dinner, or strike a deal with the Devil for them either. Sunshine probably isn't a very good angel. The demon in question is Felix Specter. He's forgiven Sunshine for stabbing him all those years ago. He's got a lot on his plate: a curse, his mental health, and a questionable love life. Finding out Sunshine owes the Devil a few favors doesn't help. Neither did that kiss, not that Felix will talk about it anyway. On top of everything else, Sunshine and Specter have a case to solve. They handle issues that human detectives can't, like monsters in the sewer, mages doing illegal charms, and runaway witches. But they've always dealt with anything the city has to offer. Would could be different this time?
A Lady Who Looks Good When She's Crying
Word Count:

11500
Summary: A dark fairy tale in a modern Greek setting. Hiding in the mountains, a harpy and her adopted daughter struggle to survive. Iphis has always known that survival comes hand in hand with loneliness, but when she catches feelings for a girl in the nearby town, her heart yearns for a different kind of future. When she's suddenly attacked by a group of enraged harpies, things only become more complicated... and dangerous.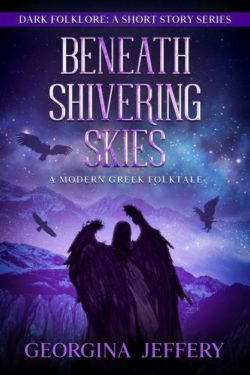 Beneath Shivering Skies
Word Count:

68000
Summary: They'll take a leap into the unknown to protect the world. There's something seriously wrong with Earth's magic. A demon has appeared unsummoned out of thin air, familiars can't return Home, and as Grim points out, rats smell like summer in the middle of winter. Grim and Pip can deal with rats; Silas can banish one wayward demon. But soon there are other demons, more each day, and Silas's old mansion is full of mysteries. He and Darien will need their familiars, their friends, plus a whole lot of luck, as they search beyond Earth for the forces that have changed their world. And to have any chance of getting safely home, Silas will have to confront a past he's avoided for ten long years.
Beset by Demons
Word Count: Information not available
Summary: When Centriel roams the Earth in a dark mood and atypical despair, in a mountain clearing, far from humankind, he unexpectedly discovers a runner, followed by a petite hunter. The way the woman treats the giant fugitive amuses the Archangel, but he quickly learns that neither of them are what they seem to be. Simin Arnatt is an extraordinary woman. Her occupation as a Bounty Hunter takes her all over the world, as she follows her prey to the most unusual places. She would have never expected to meet the famous Centriel while on a hunt. When he offers to help her, she feels the enormous attraction, but she knows, with the secret she holds, she could never dare to hope for love. Neither of them could guess that with her next assignment, Hell is breaking loose… [embed]https://youtu.be/dK4mKAhhvow[/embed]
Bounty Hunter
Word Count:

52000
Summary: Rakurai hunts demons. He doesn't consort with gods. Until he meets Tenzen. Tenzen cares for souls. He despises the callous, self-absorbed Yuvine. Until he meets Rakurai. A rescue and a sacrifice make a death god and a hunter fall in love, but a life of bliss is a long way off. Someone is disturbing the balance of magic and threatening two worlds. And while desire draws Rakurai and Tenzen together, duty, assassins, and clan politics keep them apart. Who will Tenzen and Rakurai save in the end? Two worlds or each other? *** Caught starts a new mm paranormal romance series, A Balance of Magic, featuring mortals and immortals from both sides of the veil, old promises, new revelations, and a bloody fight between love and duty. It is the first book of a trilogy and ends with a HFN. The characters will get their HEA in the final book. *** Tags: Tenzen doesn't look where he's going, how do you rescue a death god, Rakurai is honourable and Tenzen has no social skills, spending all your life alone does that to a god, yes - sharing a hot tub is a great idea; who is so stupid to send human assassins after a Yuvine hunter, Tenzen loses the plot - and his immortality, Rakurai is a mother hen, especially when Tenzen looks like that, this library is out of this world, Tenzen refuses to fall off the bridge, Rakurai can't decide which world he'd rather live in, that's what having a son does to you, a cinnamon roll death god in a rage, that happy ending is a long time coming.
Caught
Word Count:

33000
Summary: Clarity (noun) Four definitions to inspire writers around the world and an unlimited number of possible stories to tell: 1) Coherent and intelligible 2) Transparent or pure 3) Attaining certainty about something 4) Easy to see or hear Clarity features 300-word speculative flash fiction stories from across the rainbow spectrum, from the minds of the writers of Queer Sci Fi.
Clarity
Word Count:

22277
Summary:
Witch's corpse. Witch's ticket. Witch's party.
As a counter-boy at a high-end men's boutique, Charlie Jessup's life consists of little more than work and sleep. That, and enough flirting to help guarantee his commission on sales will pay his rent. So when a twist of fate, and some behavior unbecoming that of a Ganymede employee, leaves him in possession of a dead man's pass to a mysterious Club 669, Charlie has no desire to waste it.
Every seventeen years, the House of Witches throws a party like no other. It's invitation-only, and for centuries it has helped ensure peace between the covens. It's the last place Caspian wants to be, but with the death of Queen Avel, and his own imminent rise to the throne, it's more important than ever that he attends. The stability of the House depends on it.
In four days a new king will be crowned, but when Charlie unintentionally crashes a gathering of the most secretive of all the Great Houses, he sets in motion a series of events that could disrupt the transition of power, and threaten the future of the House of Witches forever.
Club 669
Word Count:

74000
Summary: Sometimes you have to fight fire with fire. Darien's ready for a quiet life— back to studying, sleeping with his ridiculously appealing necromancer, playing magical Fetch with his dog-familar. But breaking the demon portals was only a temporary solution, when there are sorcerers out there rebuilding them. Much as he'd like to shove the rest of the job on someone else, Darien's not willing to see his world burn. Silas is ready to turn the whole hunting-dark-sorcerers mess over to the Guild. Except he doesn't trust his council members as far as he can throw them, the sorcerer Chicago has sent sets his teeth on edge, and if they get it wrong, Darien's life is at risk. So with Grim at his side, and Pip encouraging Darien, they, Jasper, and Magda will take on one more hunt to find and stop the portal-builders.
Consumed by Fire
Word Count:

80000
Summary: The pandemic came and the world changed. Lives have changed; work has changed. The boundaries between reality and fantasy have become as blurred as those between life and work. Corporate Catharsis: The Work From Home Edition explores the impact of the COVID pandemic on everyone's personal and professional lives through speculative fiction. Featuring stories by Alicia Adams, Antaeus, Pauline Barmby, Steven D. Brewer, Dominick Cancilla, Adrienne Canino, Graham J. Darling, Derek Des Anges, Manny Frishberg, Alex Grehy, Jon Hansen, Alexa Kellow, Jack Nash, Helen Obermeier, Frank Sawielijew, William Shaw, Steve Soult, N.L. Sweeney, Kimberley Wall, and Richard Zaric.
Corporate Catharsis
Word Count: Information not available
Summary: Two friends. Two worlds. A selfish desire that threatens them both. Raijin killed a witch and found himself cursed. Sandro went to Raijin's aid and became an assassin's target. Neither expected that they would trigger the biggest upheaval their world had seen in a thousand years. And that it was the love between them that would lift the curse. Cursed, the second book in the Balance of Magic series, is a slow-burn m/m fantasy romance featuring friends-to-lovers who become soulmates, irate death gods, curses, inept, narcissistic politicians, curious, compassionate witches, and a found family.
Cursed
SALE
Word Count:

22000
Summary: All Jet wants is a fun night out at the club he's finally old enough to get into. Okay, not all -- he also wants mystery, adventure, love, college tuition, and a new best friend who isn't too busy to spend time with him. But he wasn't expecting any of those to find him at Club Nox. And he definitely wasn't expecting a gorgeous stranger to offer him his heart's desire in exchange for ... his actual heart? What kind of crazy deal is this? And what does the alluring Darken mean when he says it's too late for Jet to change his mind? Why can't Jet take off the heart-shaped pendant? Darken feels a little guilty about tricking the cute goth boy at the club into taking on his curse. But what choice did he have? Any one person can only wear the heart pendant for so long before it drains them, and he's served his three years. As curses go, this one honestly isn't so bad. And maybe Jet will let Darken sweeten the deal with a few kisses. He isn't sticking around now that he's free, though. And he definitely isn't falling in love again. That's what got him into this mess in the first place. Soon Jet realizes Darken told him the truth: Jet has made a bargain he can't escape. Does he even want to, if Darken is part of the package? If only human hearts were as easy to win as magical ones...
Dark Arts For Bright Hearts
Word Count: Information not available
Summary: Date With Death is a lighthearted romp through the cemetery of romance, where new love may rise from a shallow grave like a body washed out in the rain. Trekking across the veil to the great beyond and back, that thing that goes bump in the night, seeks the one whom to bump in the night, as mutual passion flares up from the shadows. The usually stoic Dustin Ney has a more interesting and complicated past than even his dearest friend Arman had thought imaginable. Invited by his parents to their home out west, Dustin embarks on a road trip with his companions. When worlds collide, Dustin's true self emerges as Date With Death explores the beginning's of new love, the dying of old one's and the rotting shells of stagnate friendships being cast off like husks.
Date With Death
Word Count:

34000
Summary: Zepheira is the best Demon Tracker working for the Good side. With her unusual looks, her phenomenal sense of smell, and her bravery, she quickly draws 'The Big 7's attention to her talent. They hire her to find one of them. Leaving her familiar surroundings and regular work environment unsettles Zepheira at first. But the challenge to prove herself and to increase the reputation of her infallibility tempts her. She is convinced she will be a great asset to 'The Big 7'. Little does she know she will be a much greater asset in Heaven's fight against Evil. Zepheira suddenly becomes more than a hired tracker. She finds herself an important pawn in the game of love, heat, and fire. Will her courage and sacrifice be sufficient to dance with the flames? [video width="1920" height="1080" mp4="https://www.limfic.com/wp-content/uploads/2023/02/Demon-Tracker-Book-Trailer-v2.mp4"][/video]
Demon Tracker
Word Count:

82000
Summary: The Blackwood Pack saga begins…Follow the journey of the Blackwood Pack, seven brothers who are wolf shifters in search of their fated mates – stories about love at first sight with twists and turns, angst and humor, romance and adventure. Each book has two men who meet, fall in love, mate and achieve an HEA but the stories also chronicle the continuing saga of the Blackwood Pack. For more than 100 years, Steel, one of the last Dire Wolves, has been looking for his mate the Fates promised him. Discouraged after meeting his latest date, he takes a short cut home, seeing in a naked hitchhiker everything he envisions the man of his dreams to be. His wolf and body tell him the man is his fated mate but why can't he pick up his scent? Robbed of his car, clothes and money, Jackson, Alpha of the Blackwood Pack, is left with no choice but to thumb a lift, frantic to get home to his six brothers. He's been protecting them from a rival pack who massacred most of his family and wants to finish off the rest. When Steel rolls down his window, Jackson knows he's found his fated mate but it would be too dangerous to claim him with his pack under attack. After the intervention of an Oracle and a Witch, Jackson finds the Fates gave him an unusual gift that made him unique-- and just for Steel. Navigating the mine field this revelation brings, Jackson and Steel must figure out how to make their relationship work while dealing with external forces determined to kill them and the rest of the Blackwood pack.
Dire Warning
Word Count:

132,000
Summary: Rules were made to be broken. From terraformed outposts to magical realms, journey to worlds where deadly plants, rampant biodiversity, or failed colonies have created irresistible opportunities for those brave enough to seize them. New worlds, found family, mystical secrets, and deadly science weave together in this lesbian-centric anthology focusing on a very different kind of first time—a first encounter with a world, or being, entirely unlike our own. If you like diverse stories with lesbian heroines practicing science, magic, and seduction, buy Distant Gardens today!
Distant Gardens
N.L. Bates , Sara Codair , Robin C.M. Duncan , J.S...
Word Count:

73000
Summary: Vampires and werewolves live long lives. The Sleepless City saga might have ended but the story continues… Someone is hunting supernaturals.  Vampire Simon Hawthorne and his human partner Ben Leyton's plans for a peaceful holiday with family are hijacked by the New Zealand Supernatural Council. Tensions are on the rise in Wellington. Supernatural councillors are disappearing. Werewolves are suspicious of anyone human or vampire. If they don't work together, their enemy has already won. And no one with a connection to the supernatural world is safe.
Double Exposure
Word Count:

34000
Summary: Koyu thought she had done her duty, but deep inside she knows it will never be over. She is bound to her master forever and will have to execute his every command. But when he demands she'll invade his sworn enemy's dreams, she chooses to rebel. Koyu risks her existence to help the 'other side' by purposely disobeying her master's orders. Koyu knows she'll pay with her life for her impertinence. Is there, indeed, no hope for her? [embed]https://youtu.be/ASa3ptKCwjo[/embed]
Dream Walker
Word Count:

62,900
Summary: A werewolf and seven vampires are all that stand between the world and complete annihilation. When Kai Richter and Ori Bier met, sparks flew. Then a train blew up. Tracking an organism deadly to not only humans, but vampires and werewolves alike, brings Kai and Ori into the Vampire Guard. Decades later, they, along with Operative Team Jack Rabbit, come face to face with the horrors that same virus produces. Dead bodies are coming back to life, and rational people are becoming violent and brutal killers. A massacre is taking place nearly a mile under the Atlantic Ocean. Two teams of The Vampire Guard are in the thick of it, fighting to survive.
Endosymbiont
Word Count: Information not available
Summary: Mortal. Immortal. Musician. Mage. On a journey from the boroughs of New York to the heart of Tir na nÓg, from innocence to the deepest darkest crevices of her soul, Kara O'Keefe found power and strength in the discovery of self. But with that peace came a hard truth. As a bridge connecting many worlds, none of them held a place for her. She must find her own way, forge her own path. To honor a vow to Granddame Rose, a matriarch of the Kalderaš Clan, Kara joins the Romani caravan, only to find herself even more of an outsider than before. While she strives for acceptance, and to honor her vow, little does she know she has once more become a lure to an ancient and deadly enemy, drawing danger into the midst of her unsuspecting hosts. Once savior of the world, Kara must now save herself and the innocents around her. She has come into her legacy, but where will destiny take her? **** Based on the Eternal Cycle Series of Novels: Yesterday's Dreams Tomorrow's Memories Today's Promise **** Includes six bonus short stories.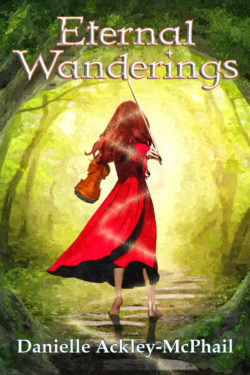 Eternal Wanderings