Word Count:
81500
Summary: We aren't a we without all of us. Chaos reigns in The Sleepless City and it's really beginning to piss Detective Jonas Forge off. He's separated from his soulmate, Blair Turner. A separation he fears might be permanent. Nothing is going right. It's as if the universe is conspiring against him. A long closed off door buried deep within his psyche cracks open when a turn of events he never saw coming flips his world upside down. There's a monster behind that door and he's not sure where the monster leaves off and he begins. Hallucinations grip the town and everyone in it, threatening to tear the family in Boggs's Castle to shreds. The only way forward is to bare all to each other. While Forge and Declan confront horrors from their shared past, they all learn a terrible truth about vampires—one not even imagined in their worst nightmare. Demons lurk around every corner, seeking to cause havoc. Unless the tenuous thread woven between Blair and Forge is strong enough to pull Forge to safety, those demons might just be his demise. Can they turn it all around and control a monster in order to defeat a demon? If you like imperfect heroes with tarnished pasts who don't know how to quit, then you'll love Shifting Chaos by Elizabeth Noble, the action-packed, emotional conclusion to The Sleepless City. Author's note: This book was originally published in 2015. It has been rewritten with new chapters and scenes and re-edited.
Shifting Chaos
October 10, 2020
Word Count:
47,000
Summary: A collection of tales filled with monsters, be they human or beast, ranging in setting from dystopia to pitch black noir and even general silliness. From the ludicrous to the frighteningly plausible; from deep space to after the end of the world. There are clumsy werewolves and bloody revenge, monster sleep overs and a dieting fad sure to kill your appetite. Whether looking into the past or the future, you're sure to find that stuff gets really weird.
Shotgun Bastards and Other Stories
July 18, 2018
Word Count:
35000
Summary: THE TIME TO STAND UP FOR YOURSELF IS NOW – AND ALWAYS! Past and present shatter like glass as Iria and Madge, lovers and witches in modern-day San Francisco, send their friend and ally Emperor Norton back in time to snatch a key to the city's soul from one of its most turbulent events: the Compton's Cafeteria riots! As the abused and exploited LGBTQIA+ people of the Tenderloin neighborhood rise up against their violent oppressors, our heroes find their plans foiled by Mammon, their demonic foe, when he sends his lieutenant Etta Place to ambush them in the present while he attacks them in the past. As Norton and Place dance a deadly duel in the shadow of one of the city's greatest monuments, Iria and Madge must use their most powerful arts and quickest wits to wage a battle of wills and weapons across multiple moments in time. Betrayals abound and secrets are revealed as everyone involved—good and evil, wicked and wise—joins the battle for their own soul, the soul of the city, and their place in its future! Servant/Sovereign is the time-bending urban fantasy series from award-winning author Michael G. Williams, set in the Shadow Council World of Quincy Harker.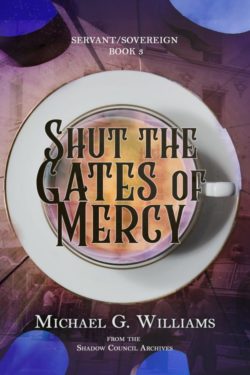 Shut the Gates of Mercy
February 10, 2022
Word Count: Information not available
Summary:
Becca Thornton, divorced, middle-aged and trying to embrace a quiet life, discovers that there are still plenty of surprises to be had when her menopause kicks in with bonus lycanthropy. And she's not the only one. The seemingly peaceful and dull town of Wolf's Point has its own all-female werewolf pack and Becca has just become its newest member. But it's not all protecting Wolf's Point, midnight meetings at the Women's Club and monthly runs through the woods. There are werewolf hunters in town and now they've got Becca and the Wolf's Point Pack in their sights. As if that wasn't enough, Becca's cute lesbian werewolf neighbor, Erin, is starting to haunt her dreams as well as her doorstep. What's a newbie werewolf to do, between the hot flashes and the unexpected physical transformations? Can Becca overcome her fears and help the werewolves defeat their greatest enemy?
Silver Moon
May 15, 2017
Word Count:
76,000
Summary: Abandoned by his werewolf lover, the only thing Reylan wants is to return to his vampire life of blood and beautiful boys. It's a solid plan, until his first meal as a single man tries to kill him. Hoping to free his young would-be assassin from the religious zealots that sent him, Reylan enlists the help of Iain Grieg, a charismatic priest with unsettling knowledge of the night's secrets. Surrounded by conflicting agendas and an army fuelled by hate, Reylan fights to secure his future, if he can only trust the mysterious priest and bury the ghosts of the past.
Sins of the Son
January 20, 2019
Word Count: Information not available
Summary: What do you do when you're the last of your kind, hunted every day of your life? Become a famous pop star! Dylan Rivers is the last siren in existence. His family were slaughtered by the evil oil barons, his homeland ravaged and stolen from him. He is a target for hatred, the last thorn in the side of those who just want to see him a corpse. For him to survive is the biggest middle finger to his enemies. He could hide in the dark, be terrified of his own shadow, but that isn't Dylan Rivers. Music is Dylan's life, as are the pleasures that can be found with his celebrity lifestyle—good food, beautiful clothes, fabulous parties, and gorgeous men. He particularly enjoys the company of his two favourite bodyguards—a handsome fae and a delicious werewolf—who are always on hand to look after his body in more ways than one. Something is stirring… Pleasure of the flesh drowns out pain, pushes away the sting of broken memories. He cannot fully remember what had happened to bring down his once glorious realm, but one day the opportunity to discover the full truth presents itself, and everything points to him. Dylan must travel the river of prophecy… There is change in the air, whispers on the water. His life is about to be turned upside down, for the idea of hope has risen... The last siren has a debt to pay… Join singing sensation Dylan Rivers in a journey of discovery, danger and seduction! A dark and steamy urban fantasy tale, with a Why Choose? MM romance. *This series is set in the same universe as Coldharbour Chronicles. However, there is no need to have read that series to enjoy this one.*
Siren's Debt
May 24, 2019
Word Count:
46809
Summary: When a ferocious book attacks Carrington at his own birthday party, he believes it's an isolated incident. But similar books soon pop up all over town, menacing innocent people with harsh bits of poetry and blank verse that deliver damaging physical blows. It's a frustrating case with too many variables and not enough answers, and the stakes go up with each attack. With the help of his misfit squad mates at the 77th and the public library's rare book department, the missing pieces decrease but not Carrington's vexations. His commanding officer rakes him over the coals at the beginning of every shift. His police partner has lost patience with what she sees as his delusional relationship choices and his inability to pick the right man in a vast field of two. City Hall demands that the books be stopped immediately. It's enough to put a nutritionally-challenged vampire off his skim blood.
Skim Blood and Savage Verse
March 7, 2017
Word Count:
100000
Summary: Fifteen years ago, Liane's America was shaken by a magical war between elves and Moon Demons that left many human cities in flames and many people turned into monsters. It's mostly calmer now — but Liane's high school friend is turned into a cat-monster under suspicious circumstances, and then Liane herself is turned into a snake-armed girl under even more suspicious circumstances. As she investigates, she uncovers terrible secrets behind the war — and is cursed to be transformed into a woeful shape if she reveals them. Can she save her country without sacrificing her humanity and personality?
Snake-Armed Girl
September 18, 2018
Word Count:
106,750
Summary: Caleb Davies and Agni Pradesh are worried about their teammate and lover, Temple Chevalier. Not only has he lost his long-time partner, Fu Li, but he nearly died fighting a demon himself. Also, Temple isn't sure he's ready for a new teammate after Li. Caleb and Agni are even more concerned that their three-way relationship with Temple exists less because he loves them and more because he's hiding from the pain of Li's loss. 1932 shapes up to be a terrible year for the Soldiers as they welcome the New Year fighting demons and then end up investigating a case that pairs them up with the Knights Templar. This would normally be a good thing, but it forces Temple to face his painful past. Worse yet, the case leads right to Astaroth, a Prince of Hell, who might prove to be an unbeatable foe.
Soldiers of the Sun
August 21, 2015
Word Count:
49000
Summary: Thrust into the role of Prince of the Lycans, Tristan strives to find his footing in a life suddenly rife with secrets and lies—and danger. Betrayed by a Goddess meant to safeguard him, desperate to protect his consort and their growing tribe, he can only prepare for the worst and struggle to hope. And then the worst comes to kill them...
Songs of the Earth
January 7, 2015
Word Count:
49000
Summary: Thrust into the role of Prince of the Lycans, Tristan strives to find his footing in a life suddenly rife with secrets and lies—and danger. Betrayed by a Goddess meant to safeguard him, desperate to protect his consort and their growing tribe, he can only prepare for the worst and struggle to hope. And then the worst comes to kill them...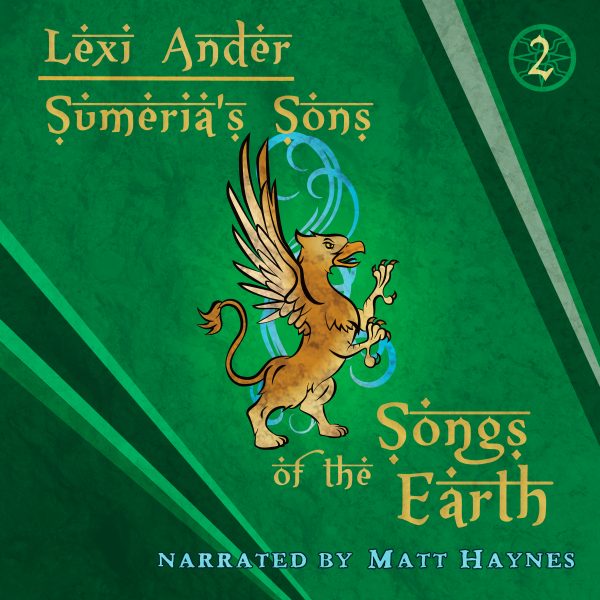 Songs of the Earth (Audiobook)
December 3, 2018
Word Count: Information not available
Summary: Welcome to the Fillery Hotel, home to the Bells and Balls Convention, and last stop for a runaway fairy prince and the grumpy demon hunter who loves him. Dick Slumber is a growly demon hunter with a three-legged cat he doesn't want and a secret he must keep at all costs. But Dick has a problem—he's not who he says he is, and he's running out of ways to hide it. Gin Lark is a feisty fairy prince whose job is to help his sister keep demons out of the human realm. But Gin has a problem—he doesn't possess an ounce of magic, and somebody wants him dead. When Gin goes into hiding as a hotel housekeeper, and Dick is hired to find him, they discover themselves in the center of a cursed hotel, a resurrected pinball convention with its own secrets, and a tear in the sky called the rift, which is about to let loose a horde of demons. Falling in love should be the last thing on Dick and Gin's to-do list—unless love is the only thing that can save them. Sorcery's Kiss is book one of an exciting new MM paranormal fantasy series called Demon Tales and Fairy Games, where demons, fairies, and trolls live with unsuspecting humans. Sometimes light, sometimes dark, always sweet, magical, and romantic. Happily ever after guaranteed. Each book is linked but tells a complete story. No cheating, no unkindness.
Sorcery's Kiss
June 20, 2022
Word Count:
56000
Summary: Sergeant David Lucas was an elite US Army Ranger deployed in Afghanistan until werewolves took down his unit. Caught in the middle of a fight between light and dark, Lucas finds himself the guardian of the young djinn Vash. As forces he doesn't understand circle them, Lucas struggles to make sense of everything while keeping Vash safe. He wanted to be a soldier, that was all he ever wanted to be. Shooting things he understands, but how can he survive when he runs into things bullets can't stop? Even with new friends around, turning furry might be more than Lucas can deal with. Failure could mean the end of a world he no longer comprehends. And worse, what does a strong ex-ranger do when he's forced to deal with girl's fashions for the first time in his life? Magic from the Middle East and West collide with the fate of one little djinn girl hanging in the balance.
Spark
October 12, 2020
Word Count: Information not available
Summary:
What's real? What's imagined?
Viviane is schizophrenic. It's genetic—from her mother's side of the family. She can usually handle her hallucinations, but when one of them starts killing people, Viviane discovers that nothing in her world is as mundane as she thought it was. Especially not her fiancé who brings his own special magic to their relationship. It's a long fall from the moon, and Reality will never be the same.
Escape with Viviane into the dark of night where romance is thwarted by the sinister machinations of family politics and the clash between two very different worlds.
Stalking the Moon
April 24, 2020
Word Count: Information not available
Summary: On a parallel Earth called Kale-Ra, humans born under "star signs" are blessed with magical powers. Two factions exist: the Star Guardians, and the Shadow Guardians. Clarabelle Stewart is your average teenage girl. She doesn't have any hobbies, and manages a C+ average in most of her classes. At least, she would be average, if not for her late father. He betrayed the government while attempting to steal a treasure for a Shadow Guardian terrorist organization, the Penumbra. Ever since his death, her family has been scorned and marginalized. But when the Starlite Academy--a prestigious military school for aspiring Star Guardians--grants Clarabelle a full-ride scholarship, she realizes that this is her opportunity to turn her life around. She eagerly sets off for school, and meets a wonderful group of friends. Yet, some things are still... off. Her teacher, Slade, and her roommate, Wulfgar, claim that they know her from their past, but she doesn't remember them. And Ursula, the bubbly senior student who welcomed her into their friend group, is hiding her own set of dark, tumultuous secrets. Unbeknownst to them all, weaving backwards through the years, a sinister plot has taken hold, setting the course for each of their lives. And suddenly, the world turned upside down. Nothing is what it seems.
Star Guardians: Legend of the White Nova Volume 1
April 22, 2018
Word Count: Information not available
Summary: The Triangle Anchorpoint City, 2082. Half a year after the death of his lover Takeshi, Rory remains devastated, deflecting Nick's attempts to drawhim out. Lorcan takes it upon himself to coax Rory back to life. Thenan innocent gesture of affection explodes into a sensational scandal,forcing them to make choices they would otherwise never have considered. Will their friendship survive the pressure of Nightwalker politics, or will their relationship be just another casualty of war? The Spacers In memory of his love for Tobias, Rafael became Antonio's closest friend and ally, supporting his protege's advancement in the Spacer Guilddespite Nick's deep disapproval. Captain of the Jumpvessel Singularity,Antonio has spent his entire adult life navigating the void between thestars, blissfully avoiding any part of the fate decreed for him in thewar between the White Wind and the Red. Mentor and student are reunited when Antonio returns home on the one hundredth anniversary of hisfather's death, intending to stay only long enough to pay his respectsto a man he never had a chance to know and the family he left behind.But in a world where immortality is commonplace, death is not alwayswhat it seems, and destiny is not so easily cast aside. The Spy Razheel has served the Court of Shadows with honor for over a century as the Night's Herald, never openly taking sides in the divide betweenNightwalker and Daywalker alliances. Now, after thirty thousand yearsof conflict, something new walks the Earth, which may be the greatestweapon yet in the battle between the races. As Antonio's fate becomesclear, she steps seamlessly into the role of revolutionary, and hercarefully planned insurrection will set the Nightwalker race on the path to final victory, or to total extinction.
Starlight
February 18, 2012
Word Count: Information not available
Summary: As her children begin lives of their own, Victory struggles with the loneliness of an empty nest. Just when the city of Limani could not seem smaller, an old friend requests that she come out of retirement for one final mercenary contract—to bodyguard his granddaughter, a princess of the Qin Empire. For the first time in a century, the Qin and British Empires are reopening diplomatic relations. Alongside the British delegation, Victory and her daywalker Mikelos arrive in the Qin colony city of Jiang Yi Yue. As the Qin weredragons and British werewolves take careful steps toward a lasting peace between their people, a connection between the Qin princess and a British nobleman throw everyone's plans in disarray. Meanwhile, a third faction stalks the city under the cover of darkness. This is not a typical romance. It's a good thing Victory is not a typical vampire.
Steel Blood
July 19, 2017
Word Count: Information not available
Summary: Warrior-mage partners Toria Connor and Kane Nalamas have reached the pinnacle of their mercenary career, known far and wide and offered their pick of jobs. Mixing business with friendship, they accept a long-term contract across the ocean in Londinium, even though it means a six-month separation from their loved ones in Limani. Lady Zhinu Wallace has no actual need for bodyguards, with her ability to change form into a dragon, but she wants the status and support of her long-time friends as she makes her official debut into British noble society. What should be a simple job, escorting the client to teas, business meetings, and galas, grows complicated when Zhinu is accused of murder. Her arrest thrusts Kane and Toria into the mystery of a dead scientist, a pickpocket with intriguing tattoos, and a magically encoded notebook. Toria and Kane split up to untangle all the threads that lead to a lab filled with impossible technology. But to save lives, the partners must work closer together than ever before -- merging not only their magic, but their very souls.
Steel Justice
July 28, 2021
Word Count: Information not available
Summary: Funerals are usually the end of the story, not the beginning. Newly graduated warrior-mages Toria Connor and Kane Nalamas find themselves the last remaining mages in the city when a mage school teacher mysteriously falls ill and dies. But taking over the school themselves isn't in the cards. They're set to become professional mercenaries–if they make it through the next 18 months as journeymen first. The debate over whether to hunt mutated monsters in the Wasteland or take posh bodyguard jobs is put on hold when a city elder hires them to solve the mystery of the disappearing mages. Toria and Kane's quest brings them to the British colonial city of New Angouleme, where their initial investigation reveals that the problem is even greater than they feared. But when a friend is kidnapped, they'll have to travel to the other side of the globe to save her, save themselves, and save magic itself.
Steel Magic
July 5, 2016
Word Count: Information not available
Summary: The shadows are talking and they won't take no for an answer. Victory has returned safely to present-day Limani, sure that nothing so strange as time travel can ever happen to her again. Until the shadows begin speaking to her. And it turns out she's not the only one. Along with her sire Asaron and daywalker Mikelos, Victory will travel to a realm outside anything she could ever imagine. A previously unknown, ancient enemy threatens to tear apart the fabric of the world, and everything Victory thought she knew about magic will be completely rewritten. In this unfamiliar world, accompanied by long-lost companions, Victory must find her way home once more. But if the shadows have manipulated her life all along, will she have a home to return to? Or will the darkness consume Limani as well?
Steel Shadows
August 8, 2019