Word Count:
76208
Summary: She will do anything to protect those she loves – even risk losing her soul. Fifteen-year-old Keilena hates the Ascended, the powerful magic-possessors who rule Pellotal and think their own laws don't apply to them. She lives a quiet life with her carpenter father, enlivening it by getting into mischief whenever she can. Everything changes when a stranger arrives with a secret about her identity that destroys her current life. Forced to take a journey led by people she can't trust, Keilena hatches a plot to deceive the most dangerous people in the country by choosing a different destination. She wants nothing to do with her emerging magical abilities which scare those around her and which she fear might corrupt her soul and turn her evil. Desperate to protect her father and the friends travelling with them, though, she must use them again and again against increasingly deadly enemies. Will Keilena succeed in keeping everyone alive on this deadly journey and will she still recognise herself at the end? This is the gripping first novel in a Young Adult epic fantasy series and is perfect for fans of Tolkien, Robin Hobb and Bella Forrest.
A Perilous Journey (Ascended 1)
August 25, 2020
Word Count: Information not available
Summary: A survivor with no memory and a warrior looking for her path unite against the pirate horde. Two hundred soldiers walk into the burning sands of Gypta, but only a handful make it out. When Magda Stoner wakes in an infirmary halfway across the world, she discovers her memories of the desert are gone. Something happened that tore her mind and soul apart, and the only thing keeping her sane is the fact that she can't remember a thing. Ascara d'Jharaena ael Korphen is a warrior, not a soldier, and trying to fit herself into the lesser role at Veritas Traders has left her body battered and broken in the same infirmary where Magda recovers. As they both mend, they meet a survivor of a pirate attack that included gifted attackers. Finding themselves without a unit or mission, they propose a daring plan to infiltrate the pirate horde and bring them to justice. Can the pirates be stopped? Or will Magda and Ascara be caught before they even begin? This is the first prequel in the Towers of the Earth fantasy adventure series.
A Pinch of Salt
January 25, 2020
Word Count: Information not available
Summary:
In every legend of Fairyland, the fairies have their own reasons for crossing the border…
Oliver has spent his life as the crown prince, preparing to rule but in no hurry about it, enjoying life and taverns with Tirian, his fairy-companion and best friend. But when the traditional Vision Quest calls— and a dragon appears—Oliver finds himself facing difficult questions about heroism, sacrifice… and the emotions he's discovering about Tir. But Tirian has secrets of his own, about his purpose, his magic, his feelings for Oliver, and a prophecy that will change the fates of two kingdoms forever.
A Prophecy for Two
August 21, 2018
Word Count: Information not available
Summary: He believes in science, but only magic can help his mom. Twelve-year-old Finn is used to people in his family disappearing. His twin sister, Faith, drowned when they were three years old. A few months ago, his mom abandoned him and his dad with no explanation. Finn clings to the concrete facts in his physics books—and to his best friend, Gabi—to ward off his sadness. But then his grandmother tells him a secret: the women in their family are Travelers, able to move back and forth in time. Finn's mom is trapped somewhere in the timeline, and she's left Finn a portal to find her. But to succeed, he'll have to put his trust in something bigger than logic. "This is an incredible book, no matter which time universe you're in. I couldn't put it down. One of my favorite debut novels of the year."—Erin Entrada Kelly, New York Times bestselling author and 2018 Newbery Medal winner
A Time Traveler's Theory of Relativity
October 1, 2019
Word Count: Information not available
Summary: In the shadows, treachery and betrayal grow unseen. The state funeral of Princess Olivia at Port Ruth marks the end of the Queen of the Desert's reign of terror. As Lucinda, Magda and Ascara attend this grand ceremony, all is not as it seems. A storm of secrets and lies emerge from the shadows and the darkness threatens to destroy them all. No matter where Magda goes, her heritage calls to her. Even when they make their way home, peace and safety are still not theirs. Malice and betrayal, hidden and out of sight, finds the three women and threatens to pull them under the waves of death and pain once more. For the Trinity of Truth: Raven, Fire and Ice, there can be only one way forward, but at what price? This is the third in the Towers of the Earth fantasy adventure series.
A Touch of Darkness
April 2, 2020
Word Count:
94000
Summary:
To have a future, they must face their past. Magda, Ascara, and Lucinda must draw upon the strength of their trinity to seek out the truths of the past that hold the key to their future. They travel north, to Magda's place of birth amongst the Oceanics. For Magda, this is an unwelcoming place, a reminder that she was banished and dealt a cruel fate. Named Stoner and landlocked, for an Oceanic this is a dishonour and a fate worse than death. To return to the float again would place her life, and those with her, at risk. In the freezing waters of the far north, Magda finds herself defending her honour and birthright.  She must succeed as their fate depends upon it. Failure is not an option, the costs are too high. Will Magda allow the past to hold her back, or will she find her destiny? A Touch of Ice is the fourth book in the Towers of the Earth fantasy adventure series.
A Touch of Ice
June 9, 2020
Word Count: Information not available
Summary: Hidden in the shadows, something unseen is hunting them all. The Raven Tower summons the trinity to return home. Neither the tower nor magic tell them why. One by one the soldiers tasked with defending its people, fall to an insidious contagion. Once infected, they succumb to a rabid and animalistic state. If they survive, then they become minions of the dark to spread their touch even further. Magda, Ascara and Lucinda must seek out the dark places foretold by the clan dreamers. When they do, they discover more than they expected. As the rot at the heart of Veritas takes hold, no cure is in sight. When all seems lost, they must face their deadliest foe yet. Now, the war on humanity has become deadly serious. The trinity must triumph. The world depends upon it.
A Touch of Purple
June 1, 2022
Word Count: Information not available
Summary: As foretold, the Trinity of Truth must finally face the Mistress of the Night. Lucinda, Ascara, and Magda have survived several dangerous encounters with the various agents of Sh'Na. It is time for them to brave the beast herself in the pyramid from Lucinda's dreams. Magda, however, has met this Queen of the Desert before. Now her past history has risen to confront her with the evidence of her mistakes, and brings new dangers to the trinity. Although she can draw strength from her bonds with Lucinda and Ascara, she fears that even the power of the three of them will not be enough to withstand Sh'Na's evil. But there is more to face than just the desert beast. There are other dangers directed at the three women, and they must act with care and forethought, or be caught in the traps of others. From the city of Port Ruth, their troop travels into the burning lands of sand and sun, where they will face Sh'Na in a battle for more than their lives. Failure will mean the end of the world as they know it. Success will bring a new truth, and the revelation of a new path for all three of them. The trinity must continue to work together, not only to save the world, but also the very nature of time itself. "When the Hours are true, the gates of time will open". In the end, will the trinity prevail? Or will darkness rise again? This is the second in the Towers of the Earth fantasy adventure series.
A Touch of Rage
March 2, 2020
Word Count: Information not available
Summary:
Three women. One bloody mystery, and a prophesy that transcends time.  People have gone missing and no one knows where they've gone. The only clue left behind is blood, lots of blood, and a single silver brooch. Magda Stoner, captain of the airship Verity, has questions, and the Order for which she works has no answers to give. She has been directed to enlist assistance from Lucinda Ravensburgh, a tower witch and truthsayer. Lucinda sees truth in everything she touches, a gift, or curse, enhanced by the magic of the tower in which she resides. It's a gift that comes with great responsibility and a duty to those she serves. When Magda asks for aid, Lucinda cannot refuse. Whilst Magda and Lucinda seek the evil behind the disappearances, all manner of threats imperil their lives. Ascara is the warrior who must protect them as their search becomes more and more dangerous. At the moment Lucinda touches the silver brooch, all three lives are changed forever.  Three must become one if these strong women are to succeed when traversing the path of justice. But the path they tread is littered with lies, deception, betrayal, and dark forces. No matter what, the Trinity of Truth must form and hold strong. "Wise birds whisper, Rage of Fire, Strength of Ice". This is the first in the Towers of the Earth fantasy adventure series. (Note previously released as Raven, Fire and Ice in 2018)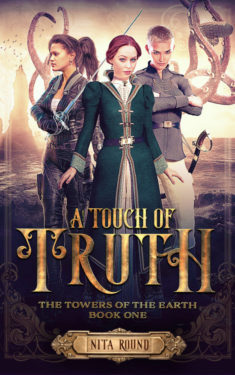 A Touch of Truth
March 2, 2020
Word Count:
95900
Summary: "There is always a way." Kelnaht, Taruif, and Ianys are meant to be together, but old promises and the decree of the elders prevent them from claiming each other openly at Solstice. Kelnaht can investigate murder and foul play, but he can't see how he can keep both his lovers without breaking the rules. But if he believes in the guide's words and trusts his faith in Ma'terra, they will find a way to clear the fog and puddles from their paths. The Forester Kelnaht, a cloud elf, is a truth seeker caught between love and faith, when a murder reveals an illicit affair between two tree elves he desires more than he can admit. Kelnaht's former lover Ianys once betrayed him, and the shunned forester Taruif is not allowed to talk to anyone but the guide, their spiritual pathfinder. Lost and Found A stripling goes missing from the tribe, and heavy rainfall hides all traces of his whereabouts. With days creeping by without a lead, it's hard to keep the tribe's spirits up, more so when Kelnaht's own future depends on the elders. Taruif has been shunned for almost twenty turns, but now that a possible forester's apprentice is coming of age, the elders consider reducing his sentence. Taruif could be set free. Full Circle When several children fall ill with more than a summer bug, truth seeker Kelnaht is assigned to investigate. What he finds is deadly and threatens the life of every underage child in the tribe, including Ianys' daughter Atèn. Then a wounded traveller is found in the forest, left to die after a vicious attack.
A Triad in Three Acts
August 15, 2016
Word Count: Information not available
Summary: Years ago, the true king of the vampires sacrificed his throne and his fated love for the common good. But it wasn't enough… Rune knows the Adini Treasure is real, and he wants it. With the treasure, he'll have the power to crush his enemy—the Adi 'el Lumi—forever. Isaac longs for love but is sick of waiting for it.  When he witnesses the murder of a strange vampire with an even stranger map, he isn't sure what he's found. But he isn't letting it go. Not even for the swoon-worthy vampire prince who comes to claim it. When a witch's calling card leads Rune to a snarky vampire with secrets and a sassy human with a treasure map, he takes them on a perilous hunt into the forgotten vampire cities. His worst fears and darkest desires await him. With everything at stake, he'll have only one chance to either fulfill his destiny… or save Isaac, his fated love.
A Vampire's Honor
February 11, 2020
Word Count: Information not available
Summary: Aegis Alight (2020 Collection) is a free collection of twelve stories published in each month of 2020. These are stories of other worlds, other places. Stories of creatures helping, of cryptids descending from otherness to join those in need. The stories can be read on Ava Kelly's website or on their Patreon. The collection is available for download as an .epub file.
Aegis Alight 2020
Word Count:
73,151
Summary: Time travel. For mages, it violates their number one rule: what the Mother has written, let no one unwrite. The Mother writes the destinies of the creatures on the world of Karishian. If her writings were undone, it is feared that Creation itself could be undone. The dark mage Morgorth takes this rule to heart, but there are others who do not. Morgorth is about to claim a stone of power when it is stolen from him by a female mage he hasn't seen in decades. As they struggle for the stone, she activates it, and Morgorth is unwillingly plunged into another time and another place. It isn't long before he realizes what time he's found himself in and there are a few familiar faces. Most notable is a much younger version of Aishe. His mate. Living with a tribe who will be massacred, caring for a young lad who will become his mate, and fighting a battle against a mage who can travel from past to future at a whim—Morgorth's life has never been easy but now he must contend with the will of the Mother. Unable to change the future and the tragedies of Aishe's life, he must decide what his role in his mate's past will be, and ask himself one vital question: how does one defeat time?
Agate: Then and Now
SALE
May 2, 2017
Word Count: Information not available
Summary: Collection of twenty-two short fantasy and science fiction stories. A wizard seeking an apprentice won't take no for an answer, and a would-be apprentice attempts the impossible to find a mentor. A twin discovers her sister's new job is a lot different than she expects. And what's the deal with the cat whiskers?
Agents, Adepts & Apprentices
September 1, 2017
Word Count:
87000
Summary: In a world where everyone has a soulmate, uniquely powerful mage Royiora and reluctant assassin Kalo collide in the worst of ways. Royiora Daralkaen, the only mage alive able to use all five kinds of magic, has a near idyllic childhood in the country of Porescalia - before war breaks out with their antagonistic neighbors, Kloria. Kalo Porla, a naturally magic-proof individual known as a Null, is trained to be as an assassin by the authoritarian empire known as the Domain. When Kalo and his partner assassin are sent to kill a mage and his apprentice, it starts a journey neither man was prepared to begin. Content warnings: harm to children, physical and psychological abuse, implied (off-page) rape, violence, mature language, minors in implied sexual situations (teenaged romance), implied sexual situations, bigotry towards fictional races, and suggestive language.
All or None
August 15, 2020
Word Count: Information not available
Summary: Step through a portal in time - and steal a piece of history! Iria and Madge, witches extraordinaire, have summoned Joshua Norton I, self-declared Emperor of the United States, back from the nineteenth century to help them save the city of San Francisco from a demon of greed. Mammon, their infernal adversary, is running a real estate scam to end all real estate scams, and he's got his own helping hand from the city's past: Etta Place, famous in her day as the accomplice of Butch Cassidy and partner of the Sundance Kid. As Norton dodges mafia foot soldiers alongside another of San Francisco's larger-than-life figures from yesteryear on the fog-shrouded streets of Chinatown long ago, Iria and Madge find themselves face to face with Mammon and Etta in modern day - and trapped in very different timelines. It'll take all their ingenuity, bravery, and prowess to fix time itself, steal the prize, and get these three heroes back together!
All the Pomp of Earthly Majesty
April 28, 2020
All Things Huge And Hideous
August 27, 2020
Word Count:
30500
Summary: Caleb has been cursed for two hundred years. He is doomed to watch every man he has sex with forget him as soon as they part company. Each of his lovers then meets their true love within hours of leaving his presence. As rumours about his strange ability spread, more and more men come to his bed, hoping to find love—just not with him. When Ethan's best friend makes him an appointment with the mysterious Caleb, Ethan is sceptical but curious. Despite a shaky start, Ethan and Caleb connect sexually and emotionally then soon begin to wonder if Ethan has the power to break the curse by being the only one to remember Caleb after he leaves. Whether Ethan remembers Caleb or not, with a warlock standing between them, the road to happiness is going to be tough.
Always Forgotten
May 23, 2019
Word Count:
70,034
Summary: Every story has more than one point of view. As the mate to the dark mage Morgorth, Aishe has learned a lot about magick, love, and himself. He tries to find a home with Morgorth, to be accepted into his world; to survive in a world full of magick, treachery, and deception. But all the while he struggles to keep a secret about his past and their intertwined destinies. Despite all the obstacles thrown at both of them, Aishe is determined to stay by Morgorth's side, no matter what the future brings—even if that future turns dark with death should Morgorth embrace his grim destiny. But when Morgorth leaves with his mentor to collect another stone of power, Aishe is left behind. It is then a surprise attack comes and Aishe, determined to protect and defend his new home, decides to take the invaders on by himself. It might prove too much for him to handle...especially when he learns the one who leads the invaders is a mage. This book allows us a glimpse inside the mind of Lord Morgorth's better half, a dialen named Aishe: his motivations, his personal sorrows, and his struggle to find a place to call home.
Amethyst: Bow and Arrow
SALE
April 2, 2017
Word Count:
15500
Summary: When Dominick has to attend a six-day dragon mating ceremony, he wants to avoid speaking to anyone for fear his severe stutter will send possible suitors running. However, Lysander and Zachary, both from different cultures with a thing for redheads, refuse to let him hide. Worse, they actively pursue him, even after Dominick mucks up their first encounter. Against the backdrop of a ceremony that takes testing endurance, strength, and acoustics to new heights, differences between languages, customs, and expectations create an obstacle course where any misstep could send the men home… alone.
An Invitation To Love
February 13, 2020