Word Count: Information not available
Summary:
"Once upon a time" is a phrase that immediately conjures images of enchantment. Royal balls, magical creatures, love at first sight... We are taken to a fantasy world where anything is possible. The Queen of Clocks and Other Steampunk Tales brings together the magic of fairytale and the allure of cogs and gears. Within these pages, find dancing automatons, industrial age fairies, a mermaid with wind-up legs, heroes of the steam age, and more. Drawing from classic tales of the Brothers Grimm, Carlo Collodi, Charles Perrault, Hans Christian Andersen, and Homer, these original interpretations are sure to delight fans of steampunk and fairytales alike.
The Queen of Clocks and Other Steampunk Tales
Word Count: Information not available
Summary: The race is on. Beware the henchmen. Fale and her friends are on an epic journey to find the magic machine that will open dimensions, allowing her to rescue the mage slaves—her people—from the hands of an evil Source Wizard. Still accepting her role as queen, she welcomes her new powers. But the group is not alone. Henchmen wait for them when they least expect it. Tensions are already high, but when Izzy—Alloy City's socialite—decides to wage war on Fale, the situation becomes toxic. Fale is devastated. She's lost her way of life, her identity, her guardian, and now her best friend. Worse, she pushed Keron—her hot boxer crush—away so he could focus on his job, but sharing a tent with him is excruciating when passions boil over. She'd give it all up if it weren't for her trusty sidekick, Lisle—the wizard—who loves her, but wants to see her succeed and to find his own purpose. They sail to an island in her visions that no one believes is there. Fale is relieved to be on her way, but fear of what awaits her, plus the constant state of tension in her group, immobilizes her. She's miserable, just trying to make every choice a good one. Things will never be the same as they were back home, she will never be the same. Fale doesn't know what they will find once they reach the island. She doesn't know why she's having memories of Queen Effailya's life, making her magic misfire at inopportune times. She has no clue how they'll manage to get a huge machine onto the boat and back to the mountain mages' estate. Impatient for answers, she seeks clues to the mystery. She may find everything she's looking for—she might not—but the price for winning will be higher than she ever imagined. ★If you like epic quests, sword and sorcery, mages, wizards, love triangles and plot twists, you'll love this complicated emotional must-read. You won't want to put it down. Fans of the first book, The Key of F, The Hunger Games, Eve, and The Rise of Isaac will enjoy this character-driven story.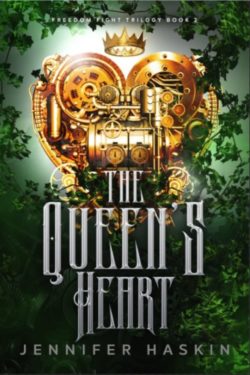 The Queen's Heart
Word Count: Information not available
Summary: The Hunt is On! When strength becomes weakness… And hope becomes doubt… As the past collides with the future…hard… Can Suzanne—Wild Hunt biker chick and one-time member of the fae High Court—stand strong as her world falls apart? She survived an assault by redcaps, an all-out battle with the High King's armies, and her first encounter with roller derby… but how will she fare against her inner demons? Caught in the midst of a transformation she scarcely realizes and does not understand, her hard-won convictions are tested as never before. Suzanne is left with only one question—what if they're wrong? The truth could mean the difference between saving her sanity and losing her soul…
The Redcaps' Queen
Word Count: Information not available
Summary: Do you think ghosts haunt only houses? As a repo man, Mel just pulled off the smoothest take of his life. Kate, a college student, was undecided on which major to pursue. All of their plans went out the window the night Mel found Kate in the back of a '74 Nova. When Mel becomes a suspect in Kate's murder, he must leave his life behind and make a new start in Sacramento, where he and Kate meet other people with supernatural gifts. But not everything is sunshine and roses in California. Awakening to power comes at a cost, and all ghosts eventually become monsters. Can Mel trust these new friends in Sacramento? Can he help Kate find some peace without landing himself in jail? The fateful night Mel slipped behind the wheel of an old Chevy, it wasn't just the car that became repossessed.
The Repossessed Ghost
Word Count:

45000
Summary: Manifesto the Great comes from a dynasty of leaders who treat women like breeding machines. When his father dies, he must take over as leader, but will he be able to keep control of the women? Planet Hy Man is a planet as pure as a baby's belly button until a spaceship arrives; a spaceship full of men and women who have spent a lifetime of celibacy. Sex, like roast chicken and football being off the menu until a planet was found.  They hurl themselves into a frenzy of real meat, real air, and sex until a leader emerges to create order, civilization and a sewage system. Manifesto the Great watches as his forefathers pollute the planet, treat women as walking wombs, and make dodgie robots until it is his turn.  Will he rise over the tidal wave of discontented women, or will he drown under a sea of underwire and oestrogen? The Rise Of Manifesto The Great is the first of three prequels to the Planet Hy Man science-fiction comedy series. If you like high-mileage heroines, fast-paced satire, and meticulously crafted universes, then you'll love Kerrie Noor's otherworldly farce. 
The Rise Of Manifesto The Great
Word Count:

115000
Summary: A group of strangers meets at Ragazzi, an Italian restaurant, for a cooking lesson that will change them all. They quickly become intertwined in each other's lives, and a bit of magic touches each of them. Meet Dave, the consultant who lost his partner; Matteo and Diego, the couple who run the restaurant; recently-widowed Carmelina; Marcos, a web designer getting too old for hook-ups; Ben, a trans author writing the Great American Novel; teenager Marissa, kicked out for being bi; and Sam and Brad, a May-September couple who would never have gotten together without a little magic of their own. Everyone in the River City has a secret, and sooner or later secrets always come out. Narrated by Michael Lysan.
The River City Chronicles
Word Count:

115000
Summary: A group of strangers meets at Ragazzi, an Italian restaurant, for a cooking lesson that will change them all. They quickly become intertwined in each other's lives, and a bit of magic touches each of them. Meet Dave, the consultant who lost his partner; Matteo and Diego, the couple who run the restaurant; recently-widowed Carmelina; Marcos, a web designer getting too old for hook-ups; Ben, a trans author writing the Great American Novel; teenager Marissa, kicked out for being bi; and Sam and Brad, a May-September couple who would never have gotten together without a little magic of their own. Everyone in the River City has a secret, and sooner or later secrets always come out.
The River City Chronicles
Word Count:

80000
Summary: Wounded, betrayed and alone, Cal has escaped to Tarquis, losing everything… again. In Sanquous, dark forces are mustering as it edges closer to all out war. Their leader missing, the Ilfannde face the wrath of the Draguul and their tyrannical High Priest. If ever there was a time for a saviour to arise, it's now. The question is, will she?
The Rod of Xerus
Word Count:

116000
Summary: Kyri has known her share of loss in the two decades that she has been alive. She never expected to find herself a slave in Roman lands, nor did she think she had the heart to become a gladiatrix. But with her soul shattered she must fight to see her way back home again. Will she win her freedom and return to all that she has known, or will she become another kind of slave to the killer that has taken over her mind? The only thing that is certain through it all is her love and devotion to Queen Orianna.
The Sagittarius
Word Count:

106000
Summary: Murderous magic, vanished races, killer relics, and drunken faeries--who knew the end of the world would look like this? Taryn St. Giles thought she knew all about elves. She dreamed of the long-vanished elves as a child and has spent the past fifteen years digging through their abandoned ruins in Beccia. Six months ago, Taryn found out everything she thought she knew about the elves was wrong. Two weeks ago she found out how very wrong she'd been. Taryn and Alric have been captured to answer for crimes against a long-lost people. Crimes that could bring down an entire kingdom and revolve around a small, glass gargoyle. Part of a weapon that destroyed an extremely powerful race, now only known as the Ancients, it, and its fellow pieces are deadly to any who have them. Knowledge of the relics found by Taryn and Alric have spread far. Dangerous bands of long dead creatures, ghosts, and nightmares out of myths are waking up and hunting for the relics. And Taryn. Winner of the RT Book Reviewers' Choice- Fantasy Adventure
The Sapphire Manticore
Word Count:

50000
Summary: Werewolves, vampires, and King Arthur converge in the Lavender Valley.  Living safely in a valley set aside for them and protected by magic under a peace negotiated by King Arthur, the blood song and Lunae have left the past behind, seemingly. A prophecy has promised that a girl will be born of a certain family line and that she will give incredible power to her mate. Stella is of the right line, but she carries the blood of both sides, half vampire, half werewolf.  She's half outcast with the wolves that raised her.  She's been told all her life that she can't be the girl of prophecy, that she'll never be good enough to be the luna of the clan. Aurelius is the silver haired alpha. Raised in Camelot, Arthur expects the boy he raised to bring the wolves and the blood song into the civilized world. The only thing Aurelius has from his father is a letter telling him to marry Onyx. Stella and Aurelius have a forbidden love that is about to wreck the civilized world. Only on the NovelStar app, first six chapters free! Come read a world where chivalry meets wild instinct!
The Scent of Lavender
Word Count:

107,680
Summary: Though he is the youngest son of a royal duke, Etan is a scholar at heart, happiest in a library surrounded by his books. He contentedly juggles his work for the prince's government with his studies of the history and legends of Tournai, a subject of particular interest to him because he shares the secret magical Talent that runs in the royal bloodline. However, Etan's peaceful world turns upside down when his best friend—the man he secretly loves—unexpectedly marries someone else. Tristan is the oldest son of a wealthy merchant, raised to shoulder responsibility for the family business one day. That day comes far sooner than anticipated, and he makes a deathbed promise to his father to marry the woman his father chose and become head of the company and family. Tristan values his friendship with Etan and has always been attracted to him, but he can't forsake his duty to his father, even if it means giving up the possibility of having Etan as a lover. A year later, Tristan is a widower with an infant daughter and a mother who demands he marry again quickly—something Tristan resists. Circumstances throw Etan and Tristan together again, but even as they succumb to the desires they've always harbored, Etan battles his feelings, wary of being cast aside once more. When the unimaginable happens, Etan and Tristan must come together and support each other through the ordeal…and maybe beyond.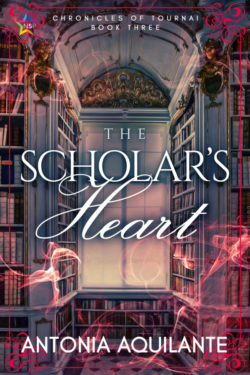 The Scholar's Heart
Word Count:

119000
Summary: Enter the world of Mulgara, where conquerors and ghouls and sordid necromancers await. "In The Scrolls of Sin, David Rose paints a fully realized fantasy realm with ingenious plotting, complex characterization, and cleverly lush language. It's also viscerally involving. The collection is so steeped in the sin of the title that it plunges the reader into a sordid otherworld of corruption, treachery, violence, torture, lust, murder, and dark magic — though not without fleeting moments that grope toward something like tenderness and redemption." --- Matt Cardin, author of To Rouse Leviathan
The Scrolls of Sin
Word Count:

31000
Summary: Pip Leighton is in a fix. His sister's marriage hinges on him staving off the family's impending financial ruin by taking the job of secretary to Lord Cross, a reclusive man with a temper befitting his name. Developing a passion for his employer was not on the cards. Neither was getting caught up in the deep mystery surrounding Foxwood Court and its resident ghost, but Pip has never been one to shirk a duty. As Pip delves deeper into the past, he discovers that his only hope for a future with Cross may depend on a man long dead—a man with a curious resemblance to himself. Written for lovers of gothic romance and ghost stories, The Ghost and the Secretary is the first in a series of gay romance novellas.
The Secretary and the Ghost
Word Count: Information not available
Summary:
Music and magic. Steampunky science. The Dissolution is coming.
Eighteen year old recluse Sam van Oen lives with his aunt, takes online college courses, works in technical support, and tries not to remember the freak storm that killed his parents ten years ago. But anxiety and reclusion bring up memories he doesn't want. Just as Sam gathers courage to send in his application for college away from home, the temperature drops and the sun goes dim. Ice forms in August, and a portal opens in his fireplace. This time, Sam can't run. This time he's sucked in. Now Sam must survive in the flourishing capital of ten alien species, home to thousands who can change the Symphony underlying the universe and alter reality. Sam's anxiety attacks and fear of crowds transforms the Nether into a frightening, expansive city. To find his home again, Sam must learn to control the music inside him, while devastating voids threaten to destroy the Nether and everyone he has grown to love. "
Simply Put, This is a Brilliant Book. Read it Now.
" -Scattered Thoughts and Rogue Words Blog If you're looking for an awesome ride across multiple homeworlds filled with magic, science, music, and diverse alien species, don't miss the first book in William C. Tracy's Dissolution Cycle! The Dissolution Cycle (Epic Space Opera, LGBT): Book 1: 
The Seeds of Dissolution
Book 2: 
Facets of the Nether
Book 3: 
Fall of the Imperium
Book 4: 
Tales of the Dissolutionverse
 (Novella collection)
The Seeds of Dissolution
Word Count:

114000
Summary: The mayhem returns! New adventures beyond The Lost Ancients original six book series- Taryn, her drunken faeries, and most of her friends, survived the fight for the relics left behind by the missing people known as the Ancients. Now a new adventure awaits as they find there are deeper and older dangers loose in the world. Taryn just wants to have a normal life, hopefully with the love of her life and her crazed drunken faeries. Sadly, hoping doesn't always make it so. There are dangers moving up from the south, a kingdom far removed from Beccia and all Taryn knows. Hidden messages, killer jewelry, and possessed weapons are all invading her dreams of normalcy. Too many people know who she really is. And they know how to use her as a weapon. Taryn and her friends have to figure out the clues as friends start vanishing. And the faeries really had nothing to do with it. Really. If you miss the mayhem of the faeries—come back around for another ride! While this is a new series-- it is STRONGLY recommended that you have read The Lost Ancients series first. LOTS of spoilers!
The Seeker's Chest
Word Count: Information not available
Summary: In a world of magic, in an empire built on intrigue and the wealth of metals, a young girl named Amarta must sell her visions of the future to keep her family from starving. What happens when Amarta comes to the attention of those with money and power? Will her visions be enough? In a tapestry of loyalty, magic, and gold, Amarta and her strange ability will become the key to everyone's ambitions. To survive, she must do more than predict the future. She must create it.
The Seer
Word Count: Information not available
Summary: When a new witch threat rises, only Hunter Astley can stop them… In the face of dark magic and evil witches, a secret witch-hunting society works tirelessly to keep them at bay. The Malleus Maleficarum Council have strict rules and practises for eradicating magic. Due to their work, witches have been almost forgotten, relegated to myth; but rumours are starting to emerge of a new power that will throw the world into chaos. As the only 7th generation witch-hunter, Hunter Astley is the best the MMC has to offer. With the help of his colleagues, it's a race to track down this new threat and stop them… in any way he can. Part one of the Witch-Hunter trilogy. Free download from most ebook retailers.
The Shadow Rises (Witch-Hunter #1)
Word Count:

87000
Summary: In the interstellar kingdom of Valoris, the balance of power has changed. Dressa Rhialden has all she ever wanted—except she only wanted Lesander, gorgeous prince of an enemy high house, not the kingdom meant for her sister. Unfortunately, her betrothal came with both, and now she has a lot of catching up to do. But she's falling hard for Lesander in the meantime, and with her kingdom on the line and Lesander maybe her enemy, is falling in love really a good idea? When alien attacks that shouldn't be possible plague her kingdom's distant worlds, Dressa's new position is put to the test. Why are the pacifist Kidaa attacking now, and were the attacks made by the Kidaa at all? There's more going on than an internal power shift, and she has far more secrets to uncover to keep her kingdom safe. Ari Rhialden had her whole life planned out: excel at being the Truthspoken Heir, controlling her kingdom with her shapeshifting powers, and then one day excel at ruling the kingdom. But when she contracts an incurable illness and loses her ability to shapeshift, those plans are derailed. Ari's sent undercover to a resort world for treatment, but all is not right in paradise. A young gardener with a mysterious past is taking too much interest in Ari's new persona, and a possessive duke is bent on capturing her attention for himself. Are these just the ordinary machinations of noble guests or something far more sinister? In a kingdom where subterfuge is the norm, coincidence is never just that, and now events are rapidly spinning out of control. Can Dressa and Ari find their way to truth before the kingdom comes crumbling down around them? The Shadow Rule is the second season of The Stars and Green Magics, an epic space fantasy serial set in a diverse, queernorm universe with shapeshifting royals, plotting nobles, and space magic! The Shadow Rule collects episodes 37-93, the complete second season. This book has main characters who are queer, nonbinary, trans, agender, genderfluid, ace and/or aro, lesbian, fat, POC, disabled, ND, and generally awesome. (Not all rep is stated, some is implied.) Barring the occasional burst of strong language, this book is PG-13.
The Shadow Rule
Word Count:

70190
Summary: Tucker Ferguson thought his life was moving along in a predictable fashion—working as an athletic trainer by day, clubbing and partying at night. Then he receives a mysterious plea for help on his cell phone, and he soon finds himself trapped in an alternate dimension he can't escape. Other odd things are happening elswhere in Colville, New York, though. Wry, plain-spoken Police Officer Dean Williamson and his earnest, dedicated partner Khalil Mansour have been chasing a petty thief who has the ability to appear out of nowhere and disappear again at will. When they make the connection between Tucker's disappearance and the thief's antics, the situation takes a turn in a markedly sinister direction. The three men are drawn into the connections between our world and the Shambles—that mysterious, shadowy place where all the lost things go. Lost socks, lost car keys—and lost people. And when a young megalomaniac decides that she wants the Shambles to be her kingdom, regardless of whose life it costs, Tucker is jerked out of his complacency into a world where there are no rules—and Mansour and Williamson may be the only ones who can save his life.
The Shambles