Word Count:

11500
Summary: A dark fairy tale in a modern Welsh setting. The lives of a diver and a reclusive mermaid collide. Will one be the death of the other? When Erin comes to the aid of a sea creature caught in fishing nets, she's shocked to discover she's rescued an injured mermaid. Though it quickly disappears, Erin is determined to find the creature again. A twist of circumstance finds her trapped in the mermaid's lair, wrestling with her own conscience and the instinct to survive... This is a standalone novelette of about 11,500 words, and is the third installment in the Dark Folklore series.
Across Screaming Seas
Word Count:

20000
Summary: A story born in the hollers of Eastern Kentucky. Elizabeth Robinson. An Elizabeth Robinson has lived in the hills of Eastern Kentucky as long as people have built permanent settlements in the lush, green forests. While the mountains recover from the War of Northern Aggression, the simple folk seek the healings of the Robinson women. Three generations, working the ways from the old country, live in isolation. The youngest Elizabeth Robinson, a healer by happenstance, despises her role in the family. She longs for freedom, the wilderness of her youth, an escape from a dark secret. Alone in the forest, she stumbles upon the ghost of a Yankee soldier, Samuel Henry. Determined to help Samuel pass beyond the veil, Elizabeth brings him back to her mountain home. Turning of the wheel of fortune, prosperity changes to misfortune for the Robinsons, and a menacing figure lingers like a thick fog. Generations, built on lies, force Elizabeth to face a bleak reality and make the ultimate sacrifice.
Apparitions of Elizabeth Robinson
Word Count:

11500
Summary: A dark fairy tale in a modern Greek setting. Hiding in the mountains, a harpy and her adopted daughter struggle to survive. Iphis has always known that survival comes hand in hand with loneliness, but when she catches feelings for a girl in the nearby town, her heart yearns for a different kind of future. When she's suddenly attacked by a group of enraged harpies, things only become more complicated... and dangerous.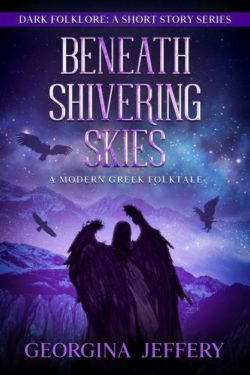 Beneath Shivering Skies
Word Count:

8700
Summary: A dark fairy tale in a modern Norwegian setting. Ida, a young girl grieving the loss of her mother, is wandering in the snowy wilderness when she meets the mysterious Maja - a huldra from myth and legend. Taking comfort in Maja's kind arms, Ida makes a desperate wish for her family to be whole again... and gets far more than she bargained for. With her own home turned against her, Ida must race across the wild valley to save her Pappa and confront the huldra before time runs out.
Beyond Thundering Waters
Word Count:

90000
Summary: MANKIND IS NO LONGER THE DOMINANT SPECIES. When Harrison Kent suggests an outing to a remote campsite in Colorado, his friends are all eager for a few days of fun and adventure. What awaits them, though, is far more than they ever bargained for. They learn that Sasquatch is real, but these are not the shy creatures of legend. A madness has claimed them, erasing their once peaceful nature and leaving in its wake a ravenous horde of monsters that's about to descend upon the unsuspecting residents of a remote town. But the woods hold more than one secret. The cast of a low budget reality show is filming in the area and they have information that could even the odds. Harrison and his friends will need to team up with them for a desperate last stand against the rampaging beasts. Because if not, they'll all learn what it truly means to be at the bottom of the food chain.
Bigfoot Hunters
Word Count:

49549
Summary: He is known as "The Living Curse" and the progenitor of the species know as "vampire". He is the Darkness that even the shadows hide from and the plague that no man can cure. He is the prophecy of all that is to come and the sworn enemy of Huntress and angel alike. He is the beginning and has the will power and strength to survive to the very end... His name is Cain.
Cain
Word Count:

17651
Summary: Damien is a 14 year old orphan that has grown up  in foster homes all his life. He finds out that he is a "Vampeal" , a child born from a vampire and human. If that wasn't bad enough Damien is a teenager that is dealing with his feelings for other boys. Damien is put into a home that the foster parents are very religious and he ends up on the street. Patrick is Damien's caseworker and if fresh out of college is assigned to look after him but finds out that Damien is no longer at the foster home. So Patrick sets out to look for him, which turns out to be a very dangerous road for both of them.
Child under the stairs
Word Count:

33000
Summary: Clarity (noun) Four definitions to inspire writers around the world and an unlimited number of possible stories to tell: 1) Coherent and intelligible 2) Transparent or pure 3) Attaining certainty about something 4) Easy to see or hear Clarity features 300-word speculative flash fiction stories from across the rainbow spectrum, from the minds of the writers of Queer Sci Fi.
Clarity
Word Count:

135000
Summary: "Aye, well, what is an angel, anyway?" At Samhain, things in Llwyncudd are taking a turn for the strange and bizarre. The red dragon is spotted around town trying to dig its own grave whilst his vessel is happily participating in life elsewhere. Did Stewart's dragon spirit leave him? Michael, can't live with the thought. Meanwhile, Dr Lilibeth Blackthorne, PsyD, has moved to town at her brother Sam's suggestion. Many of its residents are in desperate need of her counselling services and she's uniquely qualified—even if she's never particularly seen multiple personalities quite like this. Fairy-halfling Arthen also joins the town after being raised in the local fairy village on the other side. Despite the odd cultural clashes of living in a society that requires silly things like clothing, he is making many new friends and is more special than his former masters would have him believe. Join our friends as they battle their demons from the darker side of the veil in Green Hills and Battlefields—the thrilling fifth book of the Green Hills Series by Celyn Kendrick!
Green Hills and Battlefields
Word Count:

36000
Summary: INK (NOUN) Five definitions to inspire writers around the world and an unlimited number of possible stories to tell: 1) A colored fluid used for writing 2) The action of signing a deal 3) A black liquid ejected by squid 4) Publicity in the written media 5) A slang word for tattoos Ink features 300-word speculative flash fiction stories from across the rainbow spectrum, from the minds of the writers of Queer Sci Fi.
Ink
Word Count: Information not available
Summary: Love defies time, crosses the infinite distance of space, and sparks formidable magics in the hearts of those it touches. And immortality? Yeah, it's got that covered, too. In this powerful volume, Pop Seagull Publishing presents twelve science fiction and fantasy short stories on the theme of love and its role as a force of nature. Follow an ambitious 1930's journalist and her high-society boyfriend as they defend the world from evil beings that hide in shadows. Can love prevail when science fails? Take a wild ride with Zephraim Cochrane as he searches for his long lost love through inter-dimensional travel. After all, the best inventions are always made to get dates. Embark on a whirlwind romance with a creature of the Fey in seven days, a beautiful story of friendship and finding self-love before all else. Descend into a very Torontonian sort of hell in search of lost love in Melanie in the underworld... just don't forget to pet the corgi. You'll find these adventures, and many more, inside.
Love, Time, Space, Magic
Word Count:

254
Summary: Nukekubi are a form of Japanese goblin that during the day look like ordinary folk. At night they separate their head from their body and fly around scaring people to death to feed on the energies released. Ray McAndrues, a Pagan wizard/priest, encounters a Nukekubi that is feasting on the people of Toronto and decides that he has got to put a stop to it. Ray gains allies in his quest in the form of two Japanese martial artists who have made hunting Nukekubi their life's work and his on-again, off-again girlfriend Cathy, who is also a mystic. Problems arise when east and west do not communicate wall and Cathy is his on-again, off-again girlfriend. Also, what is the centuries-spanning tie that binds Ray to the Nukekubi and will it help or hinder the quest?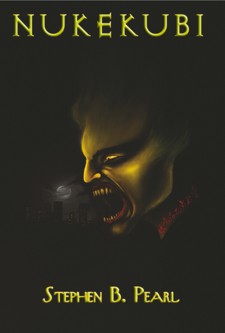 Nukekubi
Word Count:

38000
Summary: RISE (noun / verb) Eight definitions to inspire writers around the world, and an unlimited number of possible stories to tell: 1) An upward slope or movement 2) A beginning or origin 3) An increase in amount or number 4) An angry reaction 5) To take up arms 6) To return from death 7) To become heartened or elated 8) To exert oneself to meet a challenge Rise features 300-word speculative flash fiction stories from across the rainbow spectrum, from the minds of the writers of Queer Sci Fi.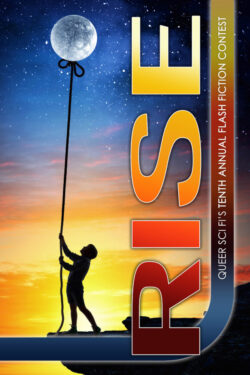 Rise
Word Count: Information not available
Summary: In this second instalment of the Damien the Devil series, we see Damien has found a new, more permanent home outside the foster system with Pat, Damien's Renfield and caseworker, and his twin brother Matt. He is also enjoying a budding romantic relationship with Brian, another boy from the foster home. But after the two of them are caught kissing, Damien is kicked out on the streets in the middle of the night-only to find himself in a very dangerous situation with a vampire. Brian, feeling guilty about the whole situation, goes looking for Damien the next evening, only to fall victim to the vampire's trap himself. Damien and Pat save Brian, but he's unable to remember what happened that night-until he starts to be plagued with nightmares. Meanwhile, Damien is too afraid to reveal to Brian that he is a vampeal: a half-vampire and half-human. Will they both be able to handle the truth of what each other is hiding?
Shattered Recollection
Word Count:

58161
Summary: So what's a young gay boy living in the eighty's from suburbs of Dayton, Ohio to do, when he comes out to his family, only to finds out his family has been keeping their own secrets. Jason Wynwood just turned 18 finding out he is in a long bloodline of witches. As Jason searches for love, he falls for a mysterious black haired gentleman named Damien. Jason is thrown into a dangerous world of magic with witches, vampires and werewolves, and a glittery nightlife sexual pleasures. He also discovers Young gay men have been turning up dead at rest stops all over surrounding areas. Police suspect that it's the work of a serial killer. But when a friend ends up dead it becomes personal. Can Jason find the killer before anyone else turns up dead?
Skeletons in the Closet
Word Count:

24,074
Summary: While Sacrum Umbra showed us the darkness of our own shadow, and In Ventre Tuo the guts of our inner monster, The Lesser Apocrypha is still another beast altogether. Meant to gather together the stranger stories, it contains some of the more surreal and ephemeral stories, the ones that just are without much rhyme or reason. Stories like an odd moment in the park, the strange child who won't stop haunting you, an alien invasion that gets very personal, an AI born of a lolcat, monsters in the woods, and a spell gone terribly wrong.
The Lesser Apocrypha
Word Count:

120552
Summary: Like a spout pushing its way through soil extending deep mighty roots as it grows firm and tall, Michael like those around him has become renewed in the sun. The Wheel of Creation continues to turn through tragedy and triumph with secrets and mysteries revealed, truth discarding deceit to rot away into dust. Terror still lurks in shadow, hinting at battles yet to come and while the union of souls may reign down catastrophe upon all involved, there is a newly shared optimism that this town, rebirthed and revived again after decades can meet the oncoming storm together. Bonded in battle, humbled in heart new friendships have replaced old animosities as all the residents are finding their place in creation.Despite the odds, the couple continues their path toward blending, but if the sun sets on their hopes or the union is not supported by the Mother, disaster could befall not just Michael and Kurra but the entire Grove.Book four of The Place Of Things is Blood. The blood spilled and shared through trial and combat, forged in a family or spilled through injury, death, or pain and joy. Will the Great Mother approve of a blending of souls, or will the remains and splatter of not just Michael, but all those he holds dear be splashed in chunks upon the wedding alter.As this story concludes in the middle it continues on like the cycle of the seasons. Never ceasing always evolving. Until next time, Love from the Sacred Grove.
The Place Of Things Book Four: Blood
Word Count:

216321
Summary: Root by Daniel Fisher, the third book in the Place of Things series is the continuing story of Michael and his new, rather unique fiancée. From the Winter's Solstice to the Vernal Equinox we find our lovers and their friends explore new and creative ways to adapt to life-altering events. Having relocated and now a resident in the sanctuary town of Sacred Grove, Michael is finding his place among the mythical, mystical, and mostly immortal residents who've hidden away from the outside world. Not only is he coming out of his own isolation, but they are also finding he is dragging them out of self-imposed exile as well. Sometimes against their instincts. As his and Kurra's love deepens, new mysteries are added to the mysteries and his and their worlds will never be the same.As the union between two souls from two drastically different worlds draws closer, new mysteries, challenges, and threats crop up for Michael, the mortal, and all the immortals that get caught in his wake. Enchantments and wards may not be enough to hold back the onslaught of supernatural forces if the wedding gets bumpy. Many may yet perish if things go awry. May the Goddess help them all.Book four, the conclusion to this tale coming soon.
The Place Of Things Book Three: Root
Word Count: Information not available
Summary: There are creatures lurking in our world. Obscure creatures long relegated to myth and legend. They have been sighted by a lucky-or unlucky-few, some have even been photographed, but their existence remains unproven and unrecognized by the scientific community. These creatures, long thought gone, have somehow survived; creatures from our nightmares haunting the dark places. They swim in our lakes and bays, they soar the night skies, they hunt in the woods. Some are from our past, and some from other worlds, and others that have always been with us-watching us, fearing us, hunting us. These are the cryptids, and Systema Paradoxa tells their tales. *** Life and Death and Family Secrets... Sheridan Cascaden faces more than memories when she receives a call in the darkest hours summoning her home. Sent away five years prior to safeguard her from the evil that claimed her mother, Sheridan hasn't been back since. She returns to find her home in a disturbing state and her father straddling the Veil, with no explanation of what happened. Not only must she deal with her own demons, but she will have to delve into his if she is to unlock the mystery and save Papa's life. But where lies the line between truth and madness among the shifting shadows? And can Sheridan navigate it before it's too late... for both of them?
The Play of Light
Word Count: Information not available
Summary: When Joan's husband dies, she is forced to move with her young son, Joey, from home to home. But at each home, an evil follows, forcing Joan and Joey to move again and again, hunted. They never know why they're being hunted. All they can do is run away from the constant threat until, hopefully, it gives up the chase … or they find a savior who can either end it, or help them to fight it forever.
Widow