Word Count:

20000
Summary: Living in a quiet house on the outskirts of town, Ginger isn't like the other girls. When she wakes up and discovers the unthinkable about her adoptive parents, she runs away and goes on a rampage straight to the only friend she has. Can she control what they both become? With a violent, growing hunger and more questions than answers, Ginger has nowhere to turn.
As Fast as She Can
Word Count:

90000
Summary: MANKIND IS NO LONGER THE DOMINANT SPECIES. When Harrison Kent suggests an outing to a remote campsite in Colorado, his friends are all eager for a few days of fun and adventure. What awaits them, though, is far more than they ever bargained for. They learn that Sasquatch is real, but these are not the shy creatures of legend. A madness has claimed them, erasing their once peaceful nature and leaving in its wake a ravenous horde of monsters that's about to descend upon the unsuspecting residents of a remote town. But the woods hold more than one secret. The cast of a low budget reality show is filming in the area and they have information that could even the odds. Harrison and his friends will need to team up with them for a desperate last stand against the rampaging beasts. Because if not, they'll all learn what it truly means to be at the bottom of the food chain.
Bigfoot Hunters
Word Count:

30000
Summary: There are creatures lurking in our world. Obscure creatures long relegated to myth and legend. They have been sighted by a lucky—or unlucky—few, some have even been photographed, but their existence remains unproven and unrecognized by the scientific community. These creatures, long thought gone, have somehow survived; creatures from our nightmares haunting the dark places. They swim in our lakes and bays, they soar the night skies, they hunt in the woods. Some are from our past, and some from other worlds, and others that have always been with us—watching us, fearing us, hunting us. These are the cryptids, and Systema Paradoxa tells their tales. * * * 1942. Gallup, New Mexico. Marine recruiters have come to town looking to fill their ranks with a secret weapon against the Axis powers—what would become Navajo Code Talkers—but not everyone supports the prospect of young native men going off to war. When one new recruit is found dead, and a rancher's cattle are mutilated, whispers of witchcraft and skinwalker filter through the town and interest in enlisting wanes. Is there evil afoot, or is that just what opponents to the cause want everyone to think? Whether guided by magic, mischief, or malevolence, without a doubt, nothing is as it seems…
Breaking the Code
Word Count:

33000
Summary: Clarity (noun) Four definitions to inspire writers around the world and an unlimited number of possible stories to tell: 1) Coherent and intelligible 2) Transparent or pure 3) Attaining certainty about something 4) Easy to see or hear Clarity features 300-word speculative flash fiction stories from across the rainbow spectrum, from the minds of the writers of Queer Sci Fi.
Clarity
Word Count:

120412
Summary: Sarah's got daddy issues. He lives in her head, built her out of fish, and killed millions of people. But he's really sorry. Honest. A father that lives in your head wouldn't be so bad if he wasn't the killer of millions. At least it's comforting to know that he didn't murder the fishes used to create your body. Or the seagull. Sarah hides her illegal nanite origins in an effort to build an ordinary life, but the legacy of dad's horrors makes it difficult. Especially when new but familiar zombie-like abominations begin to appear in the city.
Echoes of Erebus
Word Count:

79,000
Summary: Left for dead behind enemy lines, prince Dominel seeks refuge in an abandoned stronghold of the slaughtered wizards. There he is recruited and trained by undead mages in the once forbidden magics so that he can close the doors into the world of man and halt the advance of the horde of monsters known as the storm. Can the strength of a lone wizard stand against a god of evil bent on ruling all the worlds of monsters and men. Will other races stand as friends or foes in Dominel's quest? Can Dominel open himself to memories of his past lives without fracturing his sanity and becoming a worse threat than the monsters he seeks to halt? And what of the man who is prince, king and wizard? What space is left for him in a life of crushing duty and wondrous enchantment? For the answers read on
Havens in the Storm
Word Count:

36000
Summary: INK (NOUN) Five definitions to inspire writers around the world and an unlimited number of possible stories to tell: 1) A colored fluid used for writing 2) The action of signing a deal 3) A black liquid ejected by squid 4) Publicity in the written media 5) A slang word for tattoos Ink features 300-word speculative flash fiction stories from across the rainbow spectrum, from the minds of the writers of Queer Sci Fi.
Ink
Word Count: Information not available
Summary:
Bad "Things" lurk in dark, abandoned spaces...
Love, Death, & The After: Abandoned Spaces picks up the story where Rainey and her Team, along with Kendale's survivors, left off in Darkness.
Escaping a late-night Nagual attack, and with her lover held together by "shoelaces and bailing wire," Rainey encounters the secret behind the Nagual hidden within a black site lab--a secret from The Before with a treacherous purpose in The After.
Stopping the Nagual plan is hard enough, but her team has betrayed the trust of the town's survivors, while an attack by the Nagual's "Maker" and his militant allies looms. When someone compromises Preston's life, Rainey might be out of time and luck altogether.
The black site's lead scientist puts his agenda on hold until he and his militia support team can eliminate Rainey and her team. Tesla has a golden opportunity to test his Nagual creations against an old nemesis and the geopolitical forces standing in the way of his greater destiny.
Meanwhile, the emergent Nagual, Adam and Cain, have plans of their own.
Book 2 of 3 in this four part series, "Love, Death, & The After: Abandoned Spaces" brings a science-fiction take on cutting edge bioengineering that pits the limits of romance, loyalty, and community against a violent world hell-bent on devouring it all.
Book 1: Love, Death, & The After: Darkness
Book 2: Love, Death, & The After: Abandoned Spaces
Book 3: Love, Death, & The After: Never Again
Love, Death, & The After: Abandoned Spaces
Word Count: Information not available
Summary: As the Conover family drives from L.A. to Chicago strange things begin to happen. Nine year old Michael sees a face form in the window of the family car. Two creepy children stare at fourteen year old Alison at a motel. A car follows the family for many miles, then hits their car and drives away. Wherever the Conover family goes, wherever they look, they see a large woman and her children coming closer. The woman and her children are superhumanly strong. They can enter a locked room without opening the door. Confused and scared, the Conovers can't comprehend what is happening to them. Everywhere they turn they see the woman and her children. The woman is Mama, and as she teaches her children, like a lioness teaching her cubs to hunt, the Conovers realize that they are the prey.
Mama
Word Count:

299
Summary: This action filled, edge of your seat dystopian adventure is set in the near future, when a space probe is returning to Earth from the Cares 1 Asteroid with geological and biological samples frozen in ice for billions of years. It's big news, the discovery of ancient organisms from an extra-terrestrial body. After the samples arrive at Interplan Astro-Research facility in the quiet city of Worcester Massachusetts, with the world's media gathered, eager to hear official announcement that the samples are indeed biological, thus discovering evidence of complex life beyond our planet. Not everyone's excited or happy about having alien lifeforms coming to Earth, and one group of terrorists have planted a thermobaric bomb in an elevator shaft of the facility. The bomb detonates and the facility explodes, killing hundreds of people, workers, protestors, scientists and TV crews, but far from destroying the samples, the explosion has released them from their level one quarantine and unleashes a deadly parasite that quickly infects the citizens of Worcester with infestations of strand red worms that infest the living. Despite efforts to contain the "Cares Pestis" AKA the "MR. Ripple" it spreads fast and becomes through the USA and beyond, causing a complete breakdown of society. But then comes something else, something far more menacing that threatens the very existence of human life on earth, and for Colonel Troy Glass and his fiancé Yvette, a deadly struggle for survival begins as they head west, to a secret government facility known as Haven. On their way, they pick up an eclectic group of fellow survivors, who together, battle against all the odds, both human and alien…
Mr. Ripple
Word Count: Information not available
Summary: In a city whose gritty underbelly might try to eat you... weird creatures that normally inhabit band dreams roam the streets. Lovecraftian horror have day jobs, things that defy imagination are running convenience stores and fast food joints. Twila Matthews, an underpaid shapeshifting private detective is hired on a simple missing person's case. But when she finds her target dead, an unraveling conspiracy leads Twila and her crew into the darkest parts of the city in direct confrintation with the most evil and diabolical of monsters. Published by Black Bed Sheet Books
Night Shall Overtake
Word Count:

125650
Summary: My sister deserved her death, but I didn't kill her. The infamous Sisterhood couldn't care less - it's the perfect excuse to make their move. My name is Sirana. I am a young Noble trapped in a most wretched spot: accused of assassinating my sister, the Matron's heir. If I take the blame, I am next on the sacrificial altar. Dark Elves live for intrigue in our underground matriarchy. We bend the rules for the cunning and the bold. To survive, I must play the game. Court intrigue, demonic rituals, and mind-rending trials against deadly foes surround me, pervasive webs spun by our sadistic priesthood and the Queen's brutal enforcers. Through it all, the Red Sisters delight in watching me. I must prove myself beneath their ravenous gazes, or I will become the next meal for our dark goddess. A.S. Etaski spins the first threads of an intense and epic tale with No Demons But Us, in which the trials of a young Davrin Elf test her resolve to rise from the depths of fear and hatred tearing her down. Sister Seekers is mature, dark epic fantasy with an ever-broadening scope. Found Family is a core theme throughout the saga, and fans of Dungeons & Dragons will discover homebrew grounds. Perfect for fans of entwined plots, challenging themes, elements of erotic horror, and immersive worldbuilding. Sexuality and inner conflict play into the character growth with nuance, intrigue, action, and fantastical magic. The series begins underground with an isolated race of Dark Elves whose intricate webs first ensnare then catapult us to places a Red Sister can only imagine in her dreams.
No Demons But Us: Sister Seekers 1
Word Count:

254
Summary: Nukekubi are a form of Japanese goblin that during the day look like ordinary folk. At night they separate their head from their body and fly around scaring people to death to feed on the energies released. Ray McAndrues, a Pagan wizard/priest, encounters a Nukekubi that is feasting on the people of Toronto and decides that he has got to put a stop to it. Ray gains allies in his quest in the form of two Japanese martial artists who have made hunting Nukekubi their life's work and his on-again, off-again girlfriend Cathy, who is also a mystic. Problems arise when east and west do not communicate wall and Cathy is his on-again, off-again girlfriend. Also, what is the centuries-spanning tie that binds Ray to the Nukekubi and will it help or hinder the quest?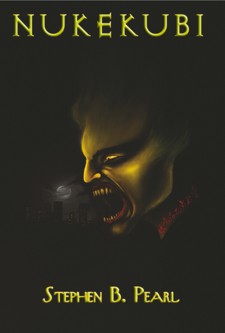 Nukekubi
Word Count:

94560
Summary: Leah Corybn was a regular mail carrier who thought she had been bitten by a dog, until the next full moon revealed that she had become a werewolf. After months of hiding her secret in the city of London, she is about to learn she is not alone. As she attempts to navigate a world she never knew existed, can she find her place among the wolves of Londinium, or will she fail to prove herself in time?
Orphan's Cry
Word Count:

105000
Summary: A girl detective. A boy genius. A warrior princess. A young magician. Four young people with extraordinary gifts. For years, they solved mysteries, caught crooks, and slayed monsters. They were secret heroes, keeping an idyllic small town in the middle of America safe from the things that lurked in the dark. Then, the year of their high school graduation, the darkness came for them. During what the media called "New Year's Evil," a demonic force rose to turn their hometown into a literal Hell on Earth. They gathered to stop it. They fought. And they won. The rest of the world never discovered the truth behind the disaster. For 20 years, the four tried living like normal people. Now their past is coming back to haunt them. The darkness is gathering once more. They're summoned back to their hometown to face it, along with everything else they left behind. Last time, they saved the world. This time, they'll have to do something much harder. They'll have to save each other. For fans of Stephen King, Neil Gaiman, and Victoria Schwab, REUNION is the story of what happens when the good guys grow up.
Reunion
Word Count: Information not available
Summary: For some, the zombies are a good thing. The man who calls himself Marcus Black spent years hiding his true identity from the world, killing to feed the shadow that lives inside him. Now the dead walk the earth and he's just trying to survive. With the dead a constant threat, Marcus is forced to suppress his true self and fight against the shadow that lives inside him. Losing that fight will leave him exposed and could cost him his life. When he discovers an abandoned camp deep in the forest Marcus believes he's finally found a home. A place where he can once again unleash the shadow. Isolated. Quiet. Safe. It's perfect. Until the outside world intrudes and Marcus finds himself caught between the living and the dead. Hiding behind a veneer of humanity, Marcus struggles to find a way to get rid of the new arrivals. But as his mask begins to slip, he discovers that he may not be the only one with a deadly secret. Dexter meets The Walking Dead in this gripping new horror series. Get Serial Killer Z today and face the dead.
Serial Killer Z
Word Count: Information not available
Summary: Every patient zero has a doctor. Edward Taylor just killed a man. It wasn't the first time but it could be the last. For the last twenty years, he's been careful, hiding his true self behind a mask of humanity. But now someone out there knows what Edward is, and he has no idea what they're planning to do with that knowledge. When he's approached by a journalist working to bring down controversial research lab, Hunter Neurologics, Edward's personal and work life collide. Cornered, and with his paranoia growing, he's forced to take action and triggers a sequence of events that might just unleash a plague of the dead on the world. Dexter meets The Walking Dead in this gripping prequel to the brand new horror series, Serial Killer Z.
Serial Killer Z: Infection
Word Count: Information not available
Summary: The dead are not the only threat. After being forced to leave the safety of Camp Redfern, serial killer, Marcus Black, has found himself a new home. Hidden in a cave deep in the mountains, he's free to unleash his true self and hunt the dead that infest the world. When a chance encounter with a group of scavengers turns violent, Marcus flees to a nearby town. Sanctuary is a safe haven for those lucky enough to survive the swarms of zombies that roam the landscape, but the cracks are beginning to show. As life in Sanctuary unravels, Marcus is caught between two factions vying for control in a cold war that threatens to spill over into violence at any moment. Forced to take sides, and with tensions rising, Marcus must decide which is more important - revenge or freedom. Dexter meets The Walking Dead in this gripping new horror series. Get Serial Killer Z: Sanctuary today and face the dead.
Serial Killer Z: Sanctuary
Word Count: Information not available
Summary: Secrets are never forgotten. Marcus Black is a killer. He hides behind a mask of humanity, preying on the living and the dead to feed the shadow that lives within him. When the outbreak began he fled to the mountains, but someone out there knows his true identity, and they've summoned him back to the city. Now the shadow is missing, and without it, he's lost. Returning home, Marcus finds the city has changed. The military run brutal work camps while the rich throw parties. Contact with the rest of the world has been lost, and there are rumors of swarms of the dead laying waste to nearby cities. When Marcus meets Cali Hart, a colleague from his former life, she eagerly draws him deeper into this bizarre new world and offers him a way to reawaken the shadow. Desperate to get back to his old life, Marcus is drawn to the idea, but should he trust Cali? Or is her own shadow more dangerous than his? Dexter meets The Walking Dead in this gripping horror series. Get Serial Killer Z: Shadows today and face the dead.
Serial Killer Z: Shadows
Word Count:

81,198
Summary: Tyler Vaughan is a wildlife biologist who spends his days ear-tagging elk and monitoring bear populations in the Oregon Cascades. . . until the day one of his remote cameras captures an image of a strange, thin, eyeless humanoid—right around the time that children start disappearing from the nearby town of Crooked Creek. Tyler, his would-be girlfriend Rainey Carrington, and the skeptical, blustering Chief of Police Dale Blodgett, are reluctantly drawn into investigating a terrifying possibility—that their town is being visited by the specter of Slender Man, an evil entity long associated with kidnapping of children. The stakes only get higher when their inquiries turn them into targets. Will they be able to stop whoever is abducting the children of Crooked Creek, or will they be the next ones to disappear?
Signal to Noise