Word Count:
20000
Summary: Living in a quiet house on the outskirts of town, Ginger isn't like the other girls. When she wakes up and discovers the unthinkable about her adoptive parents, she runs away and goes on a rampage straight to the only friend she has. Can she control what they both become? With a violent, growing hunger and more questions than answers, Ginger has nowhere to turn.
As Fast as She Can
April 11, 2022
Word Count:
90000
Summary: MANKIND IS NO LONGER THE DOMINANT SPECIES. When Harrison Kent suggests an outing to a remote campsite in Colorado, his friends are all eager for a few days of fun and adventure. What awaits them, though, is far more than they ever bargained for. They learn that Sasquatch is real, but these are not the shy creatures of legend. A madness has claimed them, erasing their once peaceful nature and leaving in its wake a ravenous horde of monsters that's about to descend upon the unsuspecting residents of a remote town. But the woods hold more than one secret. The cast of a low budget reality show is filming in the area and they have information that could even the odds. Harrison and his friends will need to team up with them for a desperate last stand against the rampaging beasts. Because if not, they'll all learn what it truly means to be at the bottom of the food chain.
Bigfoot Hunters
Word Count:
51700
Summary: The Mythric Kingdom has raided the Five Cities. Sebastian has been rescued and Christopher is now the one in chains. The leader of the rescue team, the ice dragon Prince Azanel, says that Sebastian is his Mate. The face Sebastian dreamed while he was in captivity belongs to Azanel, but he still loves Christopher – but is that love real, or is it only conditioning? A soldier named Cavan claims to be Sebastian's closest friend, and the King of Mythria, Goxtli, has sent him and a strange creature named Kliyo to bring Sebastian home. Nothing feels familiar, and Sebastian knows that he's surrounded by lies. His time in the Countess's custody is over, but the battle for Sebastian's soul is just beginning. And the Countess and Lord Ashmar cast a very long shadow... This is a dark LGBT science fiction/fantasy romance not suitable for anyone under 18 years of age. Contains dark, adult themes, graphic gay sex and BDSM elements.
Dragon's Gambit
April 25, 2020
Word Count:
120412
Summary: Sarah's got daddy issues. He lives in her head, built her out of fish, and killed millions of people. But he's really sorry. Honest. A father that lives in your head wouldn't be so bad if he wasn't the killer of millions. At least it's comforting to know that he didn't murder the fishes used to create your body. Or the seagull. Sarah hides her illegal nanite origins in an effort to build an ordinary life, but the legacy of dad's horrors makes it difficult. Especially when new but familiar zombie-like abominations begin to appear in the city.
Echoes of Erebus
June 12, 2010
Word Count:
90000
Summary: Intenze is the newest designer drug. Take it, and nightmares come alive. "Edging" is a better rush than the Tower of Terror. It's a fraction of the price of a Six Flags admission. And it's the most addictive high that the tiny suburb of New London has ever known. For Rick Carlson, the junkies roaming the streets don't even scratch the surface of what worries him. He's trying to win back his cheating wife. He's trying to protect his residents at Belmont Assistant Living from their own drug-addled grandchildren. And he's trying to save his twin boy and girl from their mother's murderous paranoia. But he can't save them all. The fears of all those who edge summon the Thirst—a living miasma that thrives on terror. It is bringing a storm. And time is running out.
EDGING
March 30, 2017
Word Count:
79,000
Summary: Left for dead behind enemy lines, prince Dominel seeks refuge in an abandoned stronghold of the slaughtered wizards. There he is recruited and trained by undead mages in the once forbidden magics so that he can close the doors into the world of man and halt the advance of the horde of monsters known as the storm. Can the strength of a lone wizard stand against a god of evil bent on ruling all the worlds of monsters and men. Will other races stand as friends or foes in Dominel's quest? Can Dominel open himself to memories of his past lives without fracturing his sanity and becoming a worse threat than the monsters he seeks to halt? And what of the man who is prince, king and wizard? What space is left for him in a life of crushing duty and wondrous enchantment? For the answers read on
Havens in the Storm
February 10, 2020
Word Count:
36000
Summary: INK (NOUN) Five definitions to inspire writers around the world and an unlimited number of possible stories to tell: 1) A colored fluid used for writing 2) The action of signing a deal 3) A black liquid ejected by squid 4) Publicity in the written media 5) A slang word for tattoos Ink features 300-word speculative flash fiction stories from across the rainbow spectrum, from the minds of the writers of Queer Sci Fi.
Ink
August 10, 2021
Word Count:
36000
Summary: IN-NO-VA-TION (Noun) 1) A new idea, method, or device. 2) The introduction of something new. 3) The application of better solutions to meet unarticulated needs. Three definitions to inspire writers around the world and an unlimited number of possible stories to tell. Here are 120 of our favorites. Innovation features 300-word speculative flash fiction stories from across the rainbow spectrum, from the minds of the writers of Queer Sci Fi.
Innovation
August 8, 2020
Word Count: Information not available
Summary:
Bad "Things" lurk in dark, abandoned spaces...
Love, Death, & The After: Abandoned Spaces picks up the story where Rainey and her Team, along with Kendale's survivors, left off in Darkness.
Escaping a late-night Nagual attack, and with her lover held together by "shoelaces and bailing wire," Rainey encounters the secret behind the Nagual hidden within a black site lab--a secret from The Before with a treacherous purpose in The After.
Stopping the Nagual plan is hard enough, but her team has betrayed the trust of the town's survivors, while an attack by the Nagual's "Maker" and his militant allies looms. When someone compromises Preston's life, Rainey might be out of time and luck altogether.
The black site's lead scientist puts his agenda on hold until he and his militia support team can eliminate Rainey and her team. Tesla has a golden opportunity to test his Nagual creations against an old nemesis and the geopolitical forces standing in the way of his greater destiny.
Meanwhile, the emergent Nagual, Adam and Cain, have plans of their own.
Book 2 of 3 in this four part series, "Love, Death, & The After: Abandoned Spaces" brings a science-fiction take on cutting edge bioengineering that pits the limits of romance, loyalty, and community against a violent world hell-bent on devouring it all.
Book 1: Love, Death, & The After: Darkness
Book 2: Love, Death, & The After: Abandoned Spaces
Book 3: Love, Death, & The After: Never Again
Love, Death, & The After: Abandoned Spaces
July 12, 2018
Word Count: Information not available
Summary: As the Conover family drives from L.A. to Chicago strange things begin to happen. Nine year old Michael sees a face form in the window of the family car. Two creepy children stare at fourteen year old Alison at a motel. A car follows the family for many miles, then hits their car and drives away. Wherever the Conover family goes, wherever they look, they see a large woman and her children coming closer. The woman and her children are superhumanly strong. They can enter a locked room without opening the door. Confused and scared, the Conovers can't comprehend what is happening to them. Everywhere they turn they see the woman and her children. The woman is Mama, and as she teaches her children, like a lioness teaching her cubs to hunt, the Conovers realize that they are the prey.
Mama
May 4, 2011
Word Count:
132,220
Summary: Bobby Gene is a man who stands out even among his people. Guided by the knowledge of his heritage as a backwoods shaman and more perceptive than many, he's grown to be a valuable asset to those he knows. While he isn't surprised to be the first to know when the woods around him begin to show clues that something isn't right, he doesn't expect just how much these omens and signs will prove to foretell something far more sinister to come. Soon strange dreams and inexplicable encounters have him questioning everything he knows- and then the people who live in his woodland Appalachian community begin to disappear. It's his job to protect and guide the others, what will he do when he's the only thing between them and the end of life as they know it?
Night is Falling
January 22, 2022
Word Count: Information not available
Summary: In a city whose gritty underbelly might try to eat you... weird creatures that normally inhabit band dreams roam the streets. Lovecraftian horror have day jobs, things that defy imagination are running convenience stores and fast food joints. Twila Matthews, an underpaid shapeshifting private detective is hired on a simple missing person's case. But when she finds her target dead, an unraveling conspiracy leads Twila and her crew into the darkest parts of the city in direct confrintation with the most evil and diabolical of monsters. Published by Black Bed Sheet Books
Night Shall Overtake
June 1, 2014
Word Count:
125650
Summary: My sister broke her neck, and the Red Sisters suspect I pushed her. They're watching me now. I'm afraid but also ready for them. I am too young to be trapped in the most wretched spot of any scheme: accused of killing the Matron's heir. Dark Elves live for intrigue in our underground city of Sivaraus, and justice means nothing to the Red Sisters who enforce the Queen's edict. Yet, I know the rules bend for the cunning and the bold, if only I can seize on the aspirations of those who succeeded before me. I must confront what lies beneath the ravening eyes of the Sisterhood, for they will give me no choice. I must discover that which is unspoken as they gaze at me. If I would thrive in pervasive webs of conspiracies, I must fight to reweave my place within them. In No Demons But Us, A.S. Etaski spins the first threads of an intense and epic tale, in which the trials of a young Davrin test her resolve to rise from the depths of the fear and hatred tearing her down. Sister Seekers is adult epic fantasy series with an ever-broadening scope, perfect for fans of entwined plots, challenging themes, elements of erotic horror, and immersive worldbuilding. Sexuality and inner conflict play into the character growth with intrigue, action, and fantastical magic.
No Demons But Us: Sister Seekers 1
August 8, 2018
Word Count:
254
Summary: Nukekubi are a form of Japanese goblin that during the day look like ordinary folk. At night they separate their head from their body and fly around scaring people to death to feed on the energies released. Ray McAndrues, a Pagan wizard/priest, encounters a Nukekubi that is feasting on the people of Toronto and decides that he has got to put a stop to it. Ray gains allies in his quest in the form of two Japanese martial artists who have made hunting Nukekubi their life's work and his on-again, off-again girlfriend Cathy, who is also a mystic. Problems arise when east and west do not communicate wall and Cathy is his on-again, off-again girlfriend. Also, what is the centuries-spanning tie that binds Ray to the Nukekubi and will it help or hinder the quest?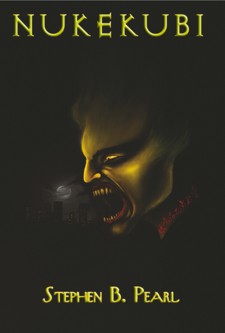 Nukekubi
January 8, 2012
Word Count:
94560
Summary: Leah Corybn was a regular mail carrier who thought she had been bitten by a dog, until the next full moon revealed that she had become a werewolf. After months of hiding her secret in the city of London, she is about to learn she is not alone. As she attempts to navigate a world she never knew existed, can she find her place among the wolves of Londinium, or will she fail to prove herself in time?
Orphan's Cry
February 26, 2022
Word Count:
95000
Summary: "Reality took a greasy slide off-kilter. He had to be mistaken. Please, please God let him be mistaken…" Miles Baumgartner lost his boyfriend. His house. His job. Worst of all, he lost his nephew when Ian—his almost-son—died, crushed to death in a car accident nine months ago. So how is there a recent photo of Ian on Facebook? A series of lies and half-truths leads Miles far north to a long-abandoned orphanage. Secrets slink within St. Hamelin's shadowed halls, and when Miles starts piecing the truth together, the horrors that walk within its rooms tighten their grip. They say that time heals all wounds, but time is running out for Miles. How can he start his life over now, knowing what really happened to Ian and the children of that unholy place? To have any chance, he must escape before dark forces curse him to walk eternally with the evils inhabiting St. Hamelin's.
PLANK CHILDREN
October 8, 2020
Word Count:
105000
Summary: A girl detective. A boy genius. A warrior princess. A young magician. Four young people with extraordinary gifts. For years, they solved mysteries, caught crooks, and slayed monsters. They were secret heroes, keeping an idyllic small town in the middle of America safe from the things that lurked in the dark. Then, the year of their high school graduation, the darkness came for them. During what the media called "New Year's Evil," a demonic force rose to turn their hometown into a literal Hell on Earth. They gathered to stop it. They fought. And they won. The rest of the world never discovered the truth behind the disaster. For 20 years, the four tried living like normal people. Now their past is coming back to haunt them. The darkness is gathering once more. They're summoned back to their hometown to face it, along with everything else they left behind. Last time, they saved the world. This time, they'll have to do something much harder. They'll have to save each other. For fans of Stephen King, Neil Gaiman, and Victoria Schwab, REUNION is the story of what happens when the good guys grow up.
Reunion
June 13, 2022
Word Count:
47,845
Summary: In the dark heart of our imagination, and the haunted corners our past there are places we fear to tread. As much as we might try to outrun them, as much as we might try to deny their truths, we are owned by their shape, molded by their claws. The story of our being, they form a Sacrum Umbra, a sacred shadow of improbable origin- our own dark heart.
Sacrum Umbra
June 3, 2019
Word Count: Information not available
Summary: For some, the zombies are a good thing. The man who calls himself Marcus Black spent years hiding his true identity from the world, killing to feed the shadow that lives inside him. Now the dead walk the earth and he's just trying to survive. With the dead a constant threat, Marcus is forced to suppress his true self and fight against the shadow that lives inside him. Losing that fight will leave him exposed and could cost him his life. When he discovers an abandoned camp deep in the forest Marcus believes he's finally found a home. A place where he can once again unleash the shadow. Isolated. Quiet. Safe. It's perfect. Until the outside world intrudes and Marcus finds himself caught between the living and the dead. Hiding behind a veneer of humanity, Marcus struggles to find a way to get rid of the new arrivals. But as his mask begins to slip, he discovers that he may not be the only one with a deadly secret. Dexter meets The Walking Dead in this gripping new horror series. Get Serial Killer Z today and face the dead.
Serial Killer Z
October 5, 2017
Word Count: Information not available
Summary: Every patient zero has a doctor. Edward Taylor just killed a man. It wasn't the first time but it could be the last. For the last twenty years, he's been careful, hiding his true self behind a mask of humanity. But now someone out there knows what Edward is, and he has no idea what they're planning to do with that knowledge. When he's approached by a journalist working to bring down controversial research lab, Hunter Neurologics, Edward's personal and work life collide. Cornered, and with his paranoia growing, he's forced to take action and triggers a sequence of events that might just unleash a plague of the dead on the world. Dexter meets The Walking Dead in this gripping prequel to the brand new horror series, Serial Killer Z.
Serial Killer Z: Infection
February 3, 2018