Word Count:
65000
Summary: Loner, bumpkin, self-destructive teenager, Matina thought her life's adventures would reach no further than paddling under night cypress or falling through the parchment of a good book. But she owns a great secret, one coming with her approaching womanhood like the mouths of gnashing teeth. Boraor Rehton, the inept shaman, would love nothing more than to leave this wretched town, continuously appointing him their spiritual leader. He knows little about the earthly arts, but the same cannot be said for black magic; tools he uses, which, if caught, would earn him a place on Amden's impaling stakes. Add Pauthor Quithot, recluse, Grubilius Motty, lowlife drunkard, and other malcontents all involved with a mysterious force let loose upon the bog. As the force's mystery wanes, old feuds are inflamed, murder is ready to run rampant, and the threshold separating the living from the dead is hopped over with wicked glee. The second book to expose the grim world of Mulgara: Alluring, unpredictable, dripping with idiosyncratic folk, AMDEN BOG is dark fantasy where beauty and brutality often hang from the same sagging vine.
Amden Bog: A Novel in Stories
October 6, 2020
Word Count:
20000
Summary: Living in a quiet house on the outskirts of town, Ginger isn't like the other girls. When she wakes up and discovers the unthinkable about her adoptive parents, she runs away and goes on a rampage straight to the only friend she has. Can she control what they both become? With a violent, growing hunger and more questions than answers, Ginger has nowhere to turn.
As Fast as She Can
April 11, 2022
Word Count: Information not available
Summary:
Withrow Surrett, cantankerous vampire lord of North Carolina, is passing the long winter nights of the off-season in the sleepy resort town of Sunset Beach. When the nights are long and humanity slumbers, where else would a vampire go but the beach? This is no mere vacation for Withrow and his cousin Roderick, though. They're hunting down a nest of nasty elder vampires who want to take over the world!
Of course it's not that simple, because for Withrow nothing ever is. Withrow and Roderick - and their team of frienemies, rivals, and allies - soon learn there are stranger things afoot than vampiric machinations among the dunes of Sunset Beach: mysterious mortals, twisted sorceries, and fleeting apparitions. Through sabotage, espionage, and bare-knuckled brutality Withrow must find and stop the elder vampires before they play the ace up their sleeve!
Kick back in the sand with the fourth installment of this vampire and urban fantasy series, perfect for fans of Rick Gualtieri, Jeff Strand, or Christopher Moore.
Attempted Immortality
August 21, 2017
Word Count:
90000
Summary: Intenze is the newest designer drug. Take it, and nightmares come alive. "Edging" is a better rush than the Tower of Terror. It's a fraction of the price of a Six Flags admission. And it's the most addictive high that the tiny suburb of New London has ever known. For Rick Carlson, the junkies roaming the streets don't even scratch the surface of what worries him. He's trying to win back his cheating wife. He's trying to protect his residents at Belmont Assistant Living from their own drug-addled grandchildren. And he's trying to save his twin boy and girl from their mother's murderous paranoia. But he can't save them all. The fears of all those who edge summon the Thirst—a living miasma that thrives on terror. It is bringing a storm. And time is running out.
EDGING
March 30, 2017
Word Count:
42,203
Summary: Katja has long spent her life buried in the pain and sorrow of her past, a vampire abandoned to her fate for over 300 years, she never expects to meet another who could help her reclaim her existence. Raven, a poet and fellow lost soul, could be the one to spur her on, but in order to have the future she has only begun to grasp, she must uncover the truth about her origins and the awful event which left her alone centuries before. If she cannot face her past and reclaim her strength, she will lose everything.
Eyes Like Blue Fire
July 18, 2019
Word Count: Information not available
Summary: Here you'll find tales of the supernatural, betrayal and murder; the mistakes that lead to the fall of empires and the constant tug of war that haunts mankind. There's a blend of science fiction, fantasy and horror - from a modern day detective facing a serial killer to a future utopia filled with disloyalty. Lovers of romance will find a little something for them too, but within these bright sparks of hope shades of darkness lurk.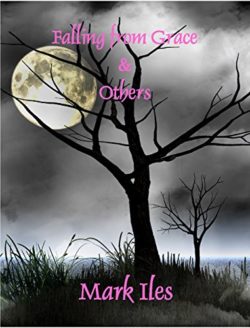 Falling from Grace, & Others
October 27, 2014
Word Count:
41000
Summary: When a satanic wizard runs the insane asylum, nobody believes the inmates, even when they're sane. Jonah is entirely normal in every respect but one: whenever he's frightened he turns into his evil alter ego, Maldeus. When Jonah discovers Maldeus is working with the asylum doctor to sacrifice women on a giant pentagram, he's thrust into the middle of a diabolic plot involving occult magic, invisible people, and a perverted, sex-crazed blue demon! Will he keep his wits about him as he pretends to be Maldeus and stop the rise of Satan?
Five Maidens on the Pentagram
September 13, 2020
Word Count: Information not available
Summary: Coasters, carousels, an old cemetery, and a sprawling hotel on a stormy lakeside. Visit this haunted tour of scrapbook memories where legendary summers intersect with history and rumor. Told in vignettes that weave stories, newspaper clippings, postcards, and images, Ghastly Tales follows four families through the decades at a lakeside resort and amusement park where everyone eventually returns.
Ghastly Tales of Gaiety and Greed
March 10, 2020
Word Count:
32,507
Summary: In Sacrum Umbra you were treated to tales from the shadows, the literary darkness that lives within all of us. Here you will find tales of another sort, the type you might find in the less wholesome end of the collective unconscious and the very depths of the gut. From stories of childhood gone horribly wrong to sex and madness with an impossible cost, this is where you'll find the more gruesome end of the spectrum.
In Ventre Tuo
June 3, 2019
Word Count:
36000
Summary: INK (NOUN) Five definitions to inspire writers around the world and an unlimited number of possible stories to tell: 1) A colored fluid used for writing 2) The action of signing a deal 3) A black liquid ejected by squid 4) Publicity in the written media 5) A slang word for tattoos Ink features 300-word speculative flash fiction stories from across the rainbow spectrum, from the minds of the writers of Queer Sci Fi.
Ink
August 10, 2021
Word Count:
41000
Summary: The dream of a mad scientist has evolved into a nightmare! Jennifer will do anything to be famous. She thinks she's gotten her big break after a night at the club lands her in bed with a producer, and the next morning he offers her a jungle adventure show. But instead, she and her two friends are unwittingly trafficked to the Congo for a sinister purpose. A cult lives in the jungle that worships the dark legacy of Ilya Ivanovich Ivanov as they work to accomplish his insane life's goal. Will Jennifer escape the jungle compound, or will she fulfill their twisted vision of humanity's future and become a broodmare to make an inhuman monster?
Jungle Jitters
July 11, 2021
Word Count: Information not available
Summary: Who doesn't crave a little escape? Dreaming of small town life and rural charm, Alex and Rainey find a deal on an old rustic home they can't resist. But soon after Rainey moves, her preoccupation with weird local history and the complications of living alone in the woods take a toll. Alex worries that the long nights and growing isolation are driving her stir crazy. When the Sugar House is damaged and Rainey goes missing, Alex doesn't know where to turn. Was it a storm, vandals, or something worse? What happened at the Sugar House? The only thing worse than wondering is finding out.
Liar: Memoir of a Haunting
February 22, 2021
Word Count:
132,220
Summary: Bobby Gene is a man who stands out even among his people. Guided by the knowledge of his heritage as a backwoods shaman and more perceptive than many, he's grown to be a valuable asset to those he knows. While he isn't surprised to be the first to know when the woods around him begin to show clues that something isn't right, he doesn't expect just how much these omens and signs will prove to foretell something far more sinister to come. Soon strange dreams and inexplicable encounters have him questioning everything he knows- and then the people who live in his woodland Appalachian community begin to disappear. It's his job to protect and guide the others, what will he do when he's the only thing between them and the end of life as they know it?
Night is Falling
January 22, 2022
Word Count: Information not available
Summary:
The action-packed conclusion to the award-winning series!
Withrow, Roderick, the Technopagans, the Book People, and all the rest of Withrow's friends, allies, and accomplices are back again to bring the fight to their enemies – and to finish it once and for all!
The elder vampires have issued their challenge and Withrow has taken them up on it. Now he and the rest of the gang have teamed up to go to where they've always known they shouldn't trespass: the stronghold of the elders, a gated community on the outskirts of Charlotte, North Carolina. Tucked away behind the high walls of their unholy fortress, the elders are ready to spring their villainy on the unsuspecting modern age and only Withrow stands in their way.
Withrow, Roderick, Jennifer, and their friends know they have only one chance to stop these ancient evils from roaring back out of the past – and it will take risking everything and everyone they hold dear if they're to succeed. Join the fight alongside these unlikely heroes as they risk life, limb, souls, and sanity itself in a no-holds-barred free-for-all against the monsters who stand ready to re-enslave the world!
Nobody Gets Out Alive
May 16, 2019
Word Count:
26000
Summary: Jealous angels with no genitals discover the passion and ecstasy that humans experience through sex. In revenge, the frustrated but impotent celestial beings banish the men to the wilderness. Will the women save the human race, or will they become the mothers of great evil?
Not Far from Eden
December 5, 2021
Word Count:
111,000
Summary:
New York: two years after the Third World War. Humanity is rebuilding its cities brick by brick; the damage done to the people, however, is a lot harder to repair.
Dan Hardacre is one of those people. An aspiring stage actor and experienced draft-dodger, Dan struggles to find his place within the Utopic rebuild of New York City. When he's not caught up with the duties of work, Dan lives a quiet life in mourning for his mother, Dyani, who went missing when he was a teenager.
One night, Dan experiences a vivid, terrifying nightmare that puts him right on the front lines of the war for which he dodged the draft; it ends with him facing Death itself in the form of a metallic, faceless humanoid creature that calls itself the Valkyrie. To investigate the reason behind his haunting experience, Dan seeks out a meeting with his estranged father, who reveals the startling truth about Dan's dream: it wasn't a dream.
With this newfound knowledge and the powers it brings, Dan makes it his mission to return to the scene of his nightmare. However, he soon comes to know that confronting the Valkyrie not only endangers him but the war-withstanding world he leaves behind.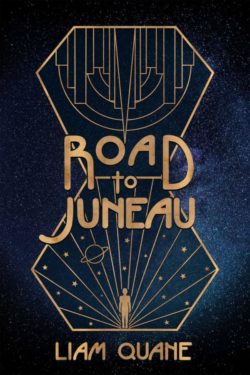 ROAD TO JUNEAU
May 18, 2021
Word Count:
47,845
Summary: In the dark heart of our imagination, and the haunted corners our past there are places we fear to tread. As much as we might try to outrun them, as much as we might try to deny their truths, we are owned by their shape, molded by their claws. The story of our being, they form a Sacrum Umbra, a sacred shadow of improbable origin- our own dark heart.
Sacrum Umbra
June 3, 2019
Word Count: Information not available
Summary: On a mission to recover an ancient artifact, an amnesiac girl unlocks the terrible secret of humanity's past and future. The implementation of a radical new technology sends an unlucky test pilot into a dimension of enlightenment and horror. A mystic obsessed with higher-order camouflage uncovers the true face of the world. Lovers on a wilderness trek encounter the unspeakable in a place where time and space turn on themselves. A harmless question posed to a Ouija board unleashes an unusual plague. And a crack team of mutants and monstrosities storms the stronghold of a mad god in a last-ditch effort to rescue Reality itself from delirium and decay. In Shout Kill Revel Repeat, the debut collection of short fiction from Scott R. Jones, you'll be introduced to nihilistic shapeshifters, deranged billionaire magicians, surf champions, survivalists, sadists, and soldiers, all of whom learn that to live is to enter into a never-ending cycle of fury and fear, dark revelation and deepest regret. Shout. Kill. Revel. Repeat.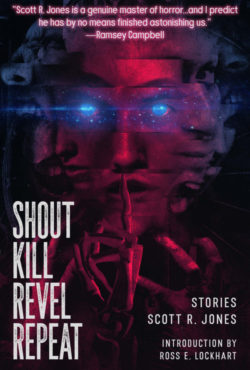 Shout Kill Revel Repeat
December 6, 2019
Word Count: Information not available
Summary: A short story collection of dark and ghoulish delight. Are you ready to ready Some Scary Stories? Take a ride in someone's head as they try to survive the rigors of a demonic exorcism. Step back in time as a young Puritan lad is tempted by the children of the forest. Find out what it's like to be haunted by a spirit that both loves, and loathes you. Go on an innocent date that ends up opening the gates of Hell, here on Earth. And More.  Dim the lights and settle in. It's time for Some Scary Stories.
Some Scary Stories
October 8, 2019
Word Count:
98000
Summary: Edward Lee meets Clive Barker… Gord is getting married to a woman he recently met, named Venus Baer. His best friend, Chris, is invited to be the best man. The bride-to-be is incredibly sexy, manipulative, and evil. Chris and Gord realize something is horribly wrong with the Baer family and soon find out escaping the family is going to be one hell of a task. The huge family stretches around the world making a clean getaway an impossibility. But that's just what Gord, Chris and Gord's sister, Elizabeth, are going to try and do. The Bride Stripped Bare takes the backwood freaks of classic Edward Lee books and slams them together with Clive Barker and his Nightbreed world. Lots of blood, drugs, sex, and violence make this a perfect addition to the Necro family. New blood extreme horror ready to take you on a drug-crazed, chaotic race against evil. Find out what happens when the bride is stripped bare.
The Bride Stripped Bare
November 9, 2021