Word Count: Information not available
Summary: Dan Ackerman received the 2018-2019 Rainbow Award for Gay Contemporary General Fiction. Two titles shared the honor: The Things that Come and That Doesn't Belong Here. Dan is a dominant, innovative, unique voice in LGBTQ fiction. Angels shouldn't pal around with demons, especially not ones they've been sent to assassinate. They shouldn't work with them or cook them dinner, or strike a deal with the Devil for them either. Sunshine probably isn't a very good angel. The demon in question is Felix Specter. He's forgiven Sunshine for stabbing him all those years ago. He's got a lot on his plate: a curse, his mental health, and a questionable love life. Finding out Sunshine owes the Devil a few favors doesn't help. Neither did that kiss, not that Felix will talk about it anyway. On top of everything else, Sunshine and Specter have a case to solve. They handle issues that human detectives can't, like monsters in the sewer, mages doing illegal charms, and runaway witches. But they've always dealt with anything the city has to offer. Would could be different this time?
A Lady Who Looks Good When She's Crying
Word Count: Information not available
Summary: James Spencer is hardly the typical troubled youth who ends up at Whisperwood School for Boys. Instead of hating the strict schedules and tight oversight by staff, James blossoms, quickly making friends, indulging in his love of writing, and contemplating the merits of sneaking love poems to the elusive and aloof William Esher. The rumours about William's sexuality and opium reliance are prime gossip material amongst the third years…rumours that only further pique James' curiosity to uncover what William is really like beneath all that emotional armor. And, when the normally collected William stumbles in one night, shaken and ranting of ghosts, James is the only one who believes him. James himself has heard the nails dragging down his bedroom door and the sobs echoing in the halls at night. He knows others have, too, even if no one will admit it. The staff refuses to entertain such ridiculous tales, and punishment awaits anyone who brings it up. Their fervent denial and the disappearance of students only furthers James' determination to find out what secrets Whisperwood is hiding...especially if it prevents William and himself from becoming the next victims.
A Light Amongst Shadows
Word Count:

11500
Summary: A dark fairy tale in a modern Welsh setting. The lives of a diver and a reclusive mermaid collide. Will one be the death of the other? When Erin comes to the aid of a sea creature caught in fishing nets, she's shocked to discover she's rescued an injured mermaid. Though it quickly disappears, Erin is determined to find the creature again. A twist of circumstance finds her trapped in the mermaid's lair, wrestling with her own conscience and the instinct to survive... This is a standalone novelette of about 11,500 words, and is the third installment in the Dark Folklore series.
Across Screaming Seas
Word Count: Information not available
Summary: Aegis Alight (2020 Collection) is a free collection of twelve stories published in each month of 2020. These are stories of other worlds, other places. Stories of creatures helping, of cryptids descending from otherness to join those in need. The stories can be read on Ava Kelly's website or on their Patreon. The collection is available for download as an .epub file.
Aegis Alight 2020
Word Count:

50655
Summary: 'Old actors never die' shouldn't be literally true. Carrington Loveless III, skim-blood vampire and senior officer of Philly's paranormal police department, has long suspected that someone's targeting his squad. The increasingly bizarre and dangerous entities invading their city can't be a coincidence. So when a walking corpse spouting Oscar Wilde attacks one of his officers, Carrington's determined to uncover the evil mind behind it all. As a rare books librarian, Erasmus Graham thought he understood some of the stranger things in life. Sharing a life with Carrington has shown him he didn't know the half of it. They've survived attack books and deadly dust bunnies together and got through mostly unscathed. Now his world and his vampire's appear ready to collide again. Books are missing from the Rare Book collection—old tomes of magic containing dangerous summonings and necromancy. He's certain whoever has been stalking the Seventy-Seventh is composing their end game. It's going to take a consolidated effort from paranormal police, librarians and some not-quite-authorized civilians to head off the impending catastrophe.
All The World's An Undead Stage
Word Count:

65000
Summary: Loner, bumpkin, self-destructive teenager, Matina thought her life's adventures would reach no further than paddling under night cypress or falling through the parchment of a good book. But she owns a great secret, one coming with her approaching womanhood like the mouths of gnashing teeth. Boraor Rehton, the inept shaman, would love nothing more than to leave this wretched town, continuously appointing him their spiritual leader. He knows little about the earthly arts, but the same cannot be said for black magic; tools he uses, which, if caught, would earn him a place on Amden's impaling stakes. Add Pauthor Quithot, recluse, Grubilius Motty, lowlife drunkard, and other malcontents all involved with a mysterious force let loose upon the bog. As the force's mystery wanes, old feuds are inflamed, murder is ready to run rampant, and the threshold separating the living from the dead is hopped over with wicked glee. The second book to expose the grim world of Mulgara: Alluring, unpredictable, dripping with idiosyncratic folk, AMDEN BOG is dark fantasy where beauty and brutality often hang from the same sagging vine.
Amden Bog: A Novel in Stories
Word Count:

1100
Summary: A muddy trench in France during the Great War wasn't the most auspicious place for Tom and Michael to reach an understanding of their own natures. A small, individual tragedy unfolds … But then Tom discovers a place beyond, where he and other men like him are blessed with all that life denied them.
An English Heaven
Word Count:

90000
Summary: If Romeo had wings and Juliet a barbed tail, could they find happiness in the City of Angels? After their escape from the ashes of Lost Angels, the succubus Lorelei and the angel Azaziel want nothing more than to enjoy each other's company. Unfortunately, Asmodeus, the Demon Prince of LA, has threatened to devour Lorelei's new-grown soul if she doesn't bring about Azaziel's downfall. Meanwhile, Aza is keeping secrets of his own that threaten the tenuous peace between Heaven and Hell. Three archangels come to town to try to set things right, but friendships are fracturing. The demon in charge of fallen angels is sniffing around. And Los Angeles is about to catch fire between a devil and the deep blue sea.
Angelus Rose
Word Count:

20000
Summary: A story born in the hollers of Eastern Kentucky. Elizabeth Robinson. An Elizabeth Robinson has lived in the hills of Eastern Kentucky as long as people have built permanent settlements in the lush, green forests. While the mountains recover from the War of Northern Aggression, the simple folk seek the healings of the Robinson women. Three generations, working the ways from the old country, live in isolation. The youngest Elizabeth Robinson, a healer by happenstance, despises her role in the family. She longs for freedom, the wilderness of her youth, an escape from a dark secret. Alone in the forest, she stumbles upon the ghost of a Yankee soldier, Samuel Henry. Determined to help Samuel pass beyond the veil, Elizabeth brings him back to her mountain home. Turning of the wheel of fortune, prosperity changes to misfortune for the Robinsons, and a menacing figure lingers like a thick fog. Generations, built on lies, force Elizabeth to face a bleak reality and make the ultimate sacrifice.
Apparitions of Elizabeth Robinson
Word Count:

20000
Summary: Living in a quiet house on the outskirts of town, Ginger isn't like the other girls. When she wakes up and discovers the unthinkable about her adoptive parents, she runs away and goes on a rampage straight to the only friend she has. Can she control what they both become? With a violent, growing hunger and more questions than answers, Ginger has nowhere to turn.
As Fast as She Can
Word Count: Information not available
Summary:
Withrow Surrett, cantankerous vampire lord of North Carolina, is passing the long winter nights of the off-season in the sleepy resort town of Sunset Beach. When the nights are long and humanity slumbers, where else would a vampire go but the beach? This is no mere vacation for Withrow and his cousin Roderick, though. They're hunting down a nest of nasty elder vampires who want to take over the world!
Of course it's not that simple, because for Withrow nothing ever is. Withrow and Roderick - and their team of frienemies, rivals, and allies - soon learn there are stranger things afoot than vampiric machinations among the dunes of Sunset Beach: mysterious mortals, twisted sorceries, and fleeting apparitions. Through sabotage, espionage, and bare-knuckled brutality Withrow must find and stop the elder vampires before they play the ace up their sleeve!
Kick back in the sand with the fourth installment of this vampire and urban fantasy series, perfect for fans of Rick Gualtieri, Jeff Strand, or Christopher Moore.
Attempted Immortality
Word Count:

11500
Summary: A dark fairy tale in a modern Greek setting. Hiding in the mountains, a harpy and her adopted daughter struggle to survive. Iphis has always known that survival comes hand in hand with loneliness, but when she catches feelings for a girl in the nearby town, her heart yearns for a different kind of future. When she's suddenly attacked by a group of enraged harpies, things only become more complicated... and dangerous.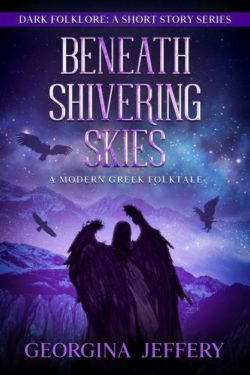 Beneath Shivering Skies
Word Count:

8700
Summary: A dark fairy tale in a modern Norwegian setting. Ida, a young girl grieving the loss of her mother, is wandering in the snowy wilderness when she meets the mysterious Maja - a huldra from myth and legend. Taking comfort in Maja's kind arms, Ida makes a desperate wish for her family to be whole again... and gets far more than she bargained for. With her own home turned against her, Ida must race across the wild valley to save her Pappa and confront the huldra before time runs out.
Beyond Thundering Waters
Word Count:

90000
Summary: MANKIND IS NO LONGER THE DOMINANT SPECIES. When Harrison Kent suggests an outing to a remote campsite in Colorado, his friends are all eager for a few days of fun and adventure. What awaits them, though, is far more than they ever bargained for. They learn that Sasquatch is real, but these are not the shy creatures of legend. A madness has claimed them, erasing their once peaceful nature and leaving in its wake a ravenous horde of monsters that's about to descend upon the unsuspecting residents of a remote town. But the woods hold more than one secret. The cast of a low budget reality show is filming in the area and they have information that could even the odds. Harrison and his friends will need to team up with them for a desperate last stand against the rampaging beasts. Because if not, they'll all learn what it truly means to be at the bottom of the food chain.
Bigfoot Hunters
Word Count:

83000
Summary: THERE ARE REASONS WE FEAR THE NIGHT. HE'S NOT ONE OF THEM. Bill Ryder was a dateless dork, but then he met a girl to die for – so he did. Too bad his death is about to make his life a hell of a lot more interesting. Now he's a vampire, surrounded by creatures stronger, deadlier, and much cooler than he is. They're giving him just ninety days to prove he has what it takes to be an apex predator of the night, assuming he doesn't give them a reason to dust his ass sooner. Bill isn't exactly average, though. A vamp like him hasn't been seen in centuries. He's got a few tricks up his sleeve, unexpected allies, and an attitude that makes him too obnoxious to quit. Good thing, too, because he'll need all the help he can get if he wants to keep from dying – again. Join him in this hilarious tale of bloodthirsty monsters, gory mayhem, and an unlikely hero who, fangs or not, is still at the bottom of the food chain.
Bill The Vampire
Word Count:

135000
Summary: I am the dark foreigner among pale-skinned mercenaries, crossing exposed grasslands. My only ally is a sinister scholar hiding scars from past rituals. He alone knows I carry a child. Each day assaults my senses and leads me farther away from home. Inevitably, my mission will lead out of isolation to the first Human settlement in my path. With few watching my back and more tempted to exploit it, I wade into an unforgiving test of my training and vigilance, determined not to be pulled down. Twisted portents and pious zealotry expose danger in every direction, while new, threatening dreams of distant sands muddle my Queen's past with my present. As all close in around me, I must find a way to serve the Valsharess and slip free of man-made chains which would enslave me. In Black Witch, Death Mage, far-reaching threads and mystical visions constrict to bind those within it, pulling the tales of present and past closer than they've been in thousands of years. Sister Seekers is dark epic fantasy for adults with an ever-broadening scope. The saga genre-hops a bit so things never get stale. Found Family is a core theme throughout. Perfect for fans of entwined plots, challenging themes, immersive worldbuilding, and elements of erotic horror. Sexuality and inner conflict play into character growth with nuanced intrigue, intense action, and fantastical magic.
Black Witch, Death Mage: Sister Seekers 5
Word Count:

45000
Summary: Mundo Lopez, a minor player in the criminal underworld of Los Angeles, has killed a man of unexpected importance to the Mayan gods of war and death. After his release from prison, Mundo journeys with his lover, Pedro, through the jungles of Guatemala to steal a fortune in sacred gold from the Pyramid of the Dead. It is there among the ruins of Tikal that the dark gods, in their quest for vengeance, force him to make a monumental and horrific choice…
Bleeding Stone
Word Count:

120000
Summary: U.S. Marshal James Creed has known loss, starting from the untimely death of his wife and daughter in a sudden fire. His work, chasing down and arresting outlaws across the Wild West, is all he has left to live for. Then one day, in 1876, the infamous killer Corwin Blake catches Creed by surprise and guns him down. Creed awakes after a mysterious young woman resurrects him in a basement laboratory beneath a brothel. Half alive, Creed feels torn between his need for justice and his desire to fall back into the peace of death. Creed's instincts drive him to protect the city of Santa Cruz, California, from the outlaws it harbors while searching for Blake. He uncovers a secret criminal organization, likely protecting Blake, determined to use resurrection technology for its own ends. The former marshal, now faster, stronger, and a more deadly shot than ever before, must work with a brothel madam, a bounty hunter, and the remaining marshals to uncover the criminal syndicate before they can misuse the machines of rebirth and create more mindless zombies. Meanwhile, he must also stop Blake, before the outlaw kills the only people he cares about. His own death can wait.
Bodacious Creed
Word Count:

30000
Summary: There are creatures lurking in our world. Obscure creatures long relegated to myth and legend. They have been sighted by a lucky—or unlucky—few, some have even been photographed, but their existence remains unproven and unrecognized by the scientific community. These creatures, long thought gone, have somehow survived; creatures from our nightmares haunting the dark places. They swim in our lakes and bays, they soar the night skies, they hunt in the woods. Some are from our past, and some from other worlds, and others that have always been with us—watching us, fearing us, hunting us. These are the cryptids, and Systema Paradoxa tells their tales. * * * 1942. Gallup, New Mexico. Marine recruiters have come to town looking to fill their ranks with a secret weapon against the Axis powers—what would become Navajo Code Talkers—but not everyone supports the prospect of young native men going off to war. When one new recruit is found dead, and a rancher's cattle are mutilated, whispers of witchcraft and skinwalker filter through the town and interest in enlisting wanes. Is there evil afoot, or is that just what opponents to the cause want everyone to think? Whether guided by magic, mischief, or malevolence, without a doubt, nothing is as it seems…
Breaking the Code
Word Count:

60,000
Summary: Queer Handmaid's Tale meets hyper-capitalist dystopia. Nonbinary, queer main character BREEDER is set in a distant but bleakly familiar future, where each person exists to repay Units to the violent Corporation. But girls and women can only be Breeders in this world, and can only repay the Corporation through reproduction. Is the price of survival worth the cost of submission? Will Meadows is a seemingly average fifteen-year-old Westie, who lives and works in Zone F, the run-down outermost ring of the Corporation. In the future state of the Corp, a person's value comes down to productivity: the right actions win units, the wrong ones lose them. If Will is unlucky and goes into unit debt, there's only one place to go: the Rator. But for Zone F Breeders, things are much worse—they're born into debt and can only accrue units through reproduction. Every day in Zone F is a struggle, especially for Will who is fighting against time for access to an illegal medical drug, Crystal 8. Under the cover of night, Will travels to the Gray Zone, where life is less regulated and drugs—and people—are exchanged for gold. There, Will meets Rob, a corrupt member of the Corporation running a Breeder smuggling operation. Will also meets Alex, another teen whom he quickly recognizes as a Breeder in disguise. Suddenly, Will has an illicit job and money, access to Crystal, and a real friend. As the pair grows closer, Alex shares her secret: she is part of the Response, an uprising to overthrow the Corporation. Caught up in the new friendship, Will and Alex become careless as the two covertly travel into Zone B for a day of adventure. Nothing goes as planned and Will's greatest fear is realized. Will his true identity be revealed?
BREEDER