Word Count: Information not available
Summary:
The war is over. Resources are scarce. The population is dwindling in the Forkstream Territories.
Pinnacle Officer Wilcox has created FERTS amidst the chaos, a facility designed to protect the female population from raiding hordes.
Beth 259201, a newly-demoted Epsilon Internee, suspects that there is something more that lurks beneath the carefully constructed order of the facility.
She has a gift, one that could brand her a defective. A novice fighter, she must use her intellect to survive. Her own life, and the lives of many more may be at risk. Will she succumb to the plans in store for her or will she conceal her secret long enough to discover her own path?
FERTS
June 26, 2015
Word Count:
41000
Summary: When a satanic wizard runs the insane asylum, nobody believes the inmates, even when they're sane. Jonah is entirely normal in every respect but one: whenever he's frightened he turns into his evil alter ego, Maldeus. When Jonah discovers Maldeus is working with the asylum doctor to sacrifice women on a giant pentagram, he's thrust into the middle of a diabolic plot involving occult magic, invisible people, and a perverted, sex-crazed blue demon! Will he keep his wits about him as he pretends to be Maldeus and stop the rise of Satan?
Five Maidens on the Pentagram
SALE
September 13, 2020
Word Count:
65535
Summary: After the first war in Heaven, Lucifer's defeat and banishment was all but definitive. While peace reigned for a millennium, the Father of Lies dwelled in the void of the Pits of Hell. Fueled by vengeance and blinded by his destiny during his imprisonment, Lucifer plotted against those who would stand in his way. Upon his release, Lucifer sets off a series of events that draws the attention of a handful of angels as Heaven remains skeptical of any danger. In an unsanctioned mission to thwart Lucifer's plans, a small group of angels set off on their own. Do they have the fortitude to endure Hell's forces and convince Heaven or will Lucifer threaten all of creation?
Gates of Divinity: The First Light
January 11, 2021
Word Count:
81000
Summary: BORN OF SUPERNATURAL MONSTERS. HUNTED BY HER ENEMIES. READY TO KICK ASS. Secrets are hard to keep in a town like High Moon, especially the one hanging over Tamara Bentley's head like the sword of Damocles. Her mother's a witch and her father's a werewolf. The blood of two ancient races flows through her veins. Pity that they hate each other's guts. When the leader of the wolf pack finds out what she is, he decides she's an abomination that needs to die – even if it means slaughtering everyone who gets in his way. Too bad for him she's not willing to go down without a fight. His army of werewolves is terrifying enough, but now they're about to become even more powerful thanks to a rare lunar event. Tamara will need to call upon every last ounce of her strength if she wants to survive the night, protect her home, and stop the rampage before it carves a bloody path through everything she's ever cared about.
Get Bent!
Word Count: Information not available
Summary: Coasters, carousels, an old cemetery, and a sprawling hotel on a stormy lakeside. Visit this haunted tour of scrapbook memories where legendary summers intersect with history and rumor. Told in vignettes that weave stories, newspaper clippings, postcards, and images, Ghastly Tales follows four families through the decades at a lakeside resort and amusement park where everyone eventually returns.
Ghastly Tales of Gaiety and Greed
March 10, 2020
Word Count:
46100
Summary: Miller College's Parapsychology Department has a student-run ghost hunting group that's all the rage on basic cable. The third season is about to begin filming, and the producers want to up the ante. The three macho, pseudoscience brosephs - Quinn, Tyler and Brent - are about to be joined by a very female psychic, Emma Ray. The team is instantly resentful of her presence on their show, and lead investigator Quinn has made it clear that he doesn't believe in psychics. They're going to give Emma the hardest of hard times until they can expose her as a phony. They're going to learn that Emma is the real deal, and that it's not always wise to bully a psychic when you don't know how many ghosts are in her posse...or exactly what you'll be facing in the next haunted house. "Ghosted by You" is a medium-burn Reverse Harem paranormal ghost-hunting adventure. Not suitable for readers under 18 years of age.
Ghosted By You
May 15, 2020
Word Count:
56250
Summary: GHOSTS, GIRLS, & OTHER PHANTASMS is a comprehensive collection of Stephen Goldin's solo short fiction, containing most of the stories from his earlier collection THE LAST GHOST AND OTHER STORIES. (The "Angel in Black" stories have been broken out into their own volume.) It includes some of his best-known stories, such as the Nebula Award finalist story "The Last Ghost" and the oft-anthologized "Sweet Dreams, Melissa." The complete Table of Contents lists:
Sweet Dreams, Melissa
The Girls on USSF 193
Nice Place to Visit
When There's No Man Around
Xenophobe
Grim Fairy Tale
Of Love, Free Will, and Gray Squirrels on a Summer Evening
Stubborn
But As A Soldier, For His Country
The World Where Wishes Worked
Apollyon Ex Machina
Prelude to a Symphony of Unborn Shouts
Portrait of the Artist as a Young God
The Last Ghost
Haunted Houses
The stories in this book run the gamut from humor to pathos, and demonstrate the evolution of a prolific writer in the speculative fiction field. Enjoy!
Ghosts, Girls, & Other Phantasms
Word Count: Information not available
Summary: Miss Mona is the sweet old lady who lives on the fourth floor. Or, at least, that's what all her neighbors think. But the true soul underneath the cardigan is much, much darker than anyone would ever suspect. Mona is hiding some very disturbing secrets in her home. After all, everyone has their little obsessions, don't they? Includes the bonus short story "Spark."
Gingerbread: A Dark Fiction Short Story
October 22, 2019
Word Count:
7000
Summary: Emma and her Aunt Agathe share a family resemblance - they can both speak to ghosts. But Agathe, rejected by her family and constantly beset by heartache, has spent her whole life fleeing her unusual gift. Emma, however, embraces it. Grave Songs for the Dead is a cycle of three interconnected short stories, gothic with a touch of magic realism, set in the late 19th century.
Grave Songs for the Dead: A Short Story Cycle
April 5, 2022
Word Count: Information not available
Summary: Queer horror ekphrasis. A widowed witch with Schizoaffective Disorder moves from Los Angeles to Reno, Nevada. Watching "American Horror Story," as exposure therapy for PTSD. Identifying and departing from it at key plot moments. No copyright infringement intended. Sequel to Hollywood Hedgewitch.
Grieving Through American Horror Story
January 16, 2021
Word Count:
102,000
Summary: Can you hear it? Whispering in the dark. Secrets only the dark knows. Joseph Moore, choir director for the First Baptist Church of Lenora, Nebraska, has secrets of his own. Terrible, lonely secrets. One that involves natural human desire. One that calls forth powers he cannot begin to understand. Both with the potential to destroy him and those he loves. Now the world is changing. The darkness, the shadows, the ghosts, are closing in—and Joseph and his lover, Kevin, are being stalked by a merciless demon, hell-bent on possession. Can you hear it now? There in the dark. It's whispering your name.
Hallelujah
April 1, 2020
Word Count:
79,000
Summary: Left for dead behind enemy lines, prince Dominel seeks refuge in an abandoned stronghold of the slaughtered wizards. There he is recruited and trained by undead mages in the once forbidden magics so that he can close the doors into the world of man and halt the advance of the horde of monsters known as the storm. Can the strength of a lone wizard stand against a god of evil bent on ruling all the worlds of monsters and men. Will other races stand as friends or foes in Dominel's quest? Can Dominel open himself to memories of his past lives without fracturing his sanity and becoming a worse threat than the monsters he seeks to halt? And what of the man who is prince, king and wizard? What space is left for him in a life of crushing duty and wondrous enchantment? For the answers read on
Havens in the Storm
February 10, 2020
Word Count:
64,178
Summary: It is said that long ago Herne, the god of the Hunt, could use his Horn to make wolves obey his commands. A legend that Amy Oakley, Alpha of the Howlers pack, learned as a child and stopped believing in long before her first change beneath the full moon. After spending three years fighting for her lovers and packmates' right to live among the werewolves of Londinium, all she wants is a chance to breathe, go back to running her pub, and never see the manipulative Marcel Charron again. As an ancient prophecy begins to unfold, can Amy and the Howlers find the Horn of Herne and keep it out of Marcel's hands, or will his web of schemes and plots spell doom for their pack and the rest of London's werewolves?
Herald's Call
June 4, 2022
Word Count: Information not available
Summary: The twisted truth to the beginning of Hookman. A boy linked to Hookman through an unlikely kinship. Killers with puppets and blenders as tools dealing in death. And plenty of legends that give Hookman a run for his money. You know the Hookman legend, but not like this. Fourteen authors share new tellings of the legend and bring their own twisted tales to life. Featuring stories by:
Daniel R. Robichaud
John Adam Gosham
Heinrich von Wolfcastle
Richard Beauchamp
Fred Williamson
Robert P. Ottone
Colin Newton
Scott McGregor
Patrick Barb
Sarah Cannavo
Chisto Healy
Jamie Zaccaria
Jim Eldred
Clark Boyd
Hookman and Friends
August 21, 2020
Word Count:
80,350
Summary: The sun and moon have been devoured by the cosmic wolves Skoll and Hati. Fimbulwinter has enveloped the world in the cold and darkness. Men prey on each other in order to survive. Amid the chaos, in the struggle for the throne, comes a war between brothers. Hakon, the illegitimate heir to the throne of Norveig, has obtained a horn that can summon a terror from the depths of the ocean. This monstrosity has been sinking the vessels of his half-brother, Jarl Erik Bloodaxe. Erik sends a company of untried heroes to infiltrate Hakon's stronghold and steal the horn. As with all things political, there are other agendas. Fjorn, the leader of the team, is Erik's half-brother who could challenge Erik for the throne. Erik's wife Gunnhild is a powerful sorceress with her own ambitions- could her goals derail the heroes? In life, sometimes a Jarl wins, and other times a Jarl wins.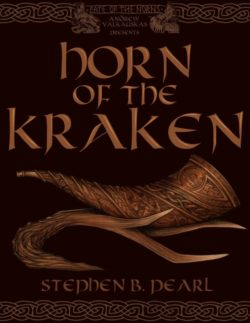 Horn of the Kraken
July 17, 2015
Word Count:
99000
Summary: Gavin Booker, a school librarian at Cooper Road Elementary, Raleigh, Northern Carolina, leads an orderly, normal life. Work, jogging, friends from work, his son every other weekend. Gavin is also a secret. He is a hybrid, or part-fairy, and in the Columbian Empire, hybrids are under an automatic death sentence. Magic is illegal. So is loving another man, another capital crime. Fairies are locked away in ghettoes, magical beasts, such as gryphons, unicorns, and pegasi are kept in zoos. The others, the tree and water spirits, the talking beasts, fauns, and the rest, are in hiding. This is the world in which Gavin grew up. He survived, thanks to his mother. He can never forget he is different: ministers preach against people like him constantly; hating the other is a part of every school's curriculum. But now, things are changing fast, and apparently, for the worst. Earthquakes, volcanoes, killer storms are all frequent occurrences. The medicine Gavin takes to suppress his body's glowing, isn't working. The spells cast by his doctor, a witch, are losing their power. If anyone finds out what Gavin is, he is dead. Under threat, the Empire always goes after its marginalized people. Can Gavin survive the coming catastrophe? Will he ever recover from losing the boys he loved? Can he find the fairy man who has haunted his dreams all his life before it is too late? Can his scarred heart ever heal?
In Light's Shadow
September 3, 2022
Word Count: Information not available
Summary: Some ghosts want your soul. For these ghosts, it is only the beginning. Two brothers try to forget the tragic encounter they had with the spirits of the dead. But the years, and miles, they've run aren't enough distance between them and their tormentors. As the attacks escalates, no one is safe, including their friends. In their efforts to rid themselves of the spreading evil, they find themselves in places that blur the lines of reality, life, and death.
In Shadows of The Wicked
May 4, 2018
Word Count:
63000
Summary: "You can't keep running from your past, especially when it has four legs and fangs." In the exciting second installment of Tales of a Gay Witch, we return to Jason and his friends six months later as they are coming to terms with the events of last year. Jason thought he could move on with his life after Damien left in search of information about his mother, after finding out she might be alive after all, but is struggling to adjust to life without him. He is persuaded to go out and meet up with his friends at his favorite night club 1470 West, where he meets a handsome young man named Mickey. That same night, Jason is informed by Detective Miller, now a good friend of his, to be on the lookout for Jo's ex-husband Rex, who might be coming their way. There have been a number of sexual assaults and murders targeting young lesbian women up in northern Ohio, and Rex is suspected of being involved. Jo's ex-husband was always a nasty, abusive piece of work, but to make things worse Rex is a werewolf and an alpha to boot. It's up to Jason to rally his friends again, as he is tasked with protecting the people he cares about, before it's too late…
In the light of the moon
June 7, 2021
Word Count:
32,507
Summary: In Sacrum Umbra you were treated to tales from the shadows, the literary darkness that lives within all of us. Here you will find tales of another sort, the type you might find in the less wholesome end of the collective unconscious and the very depths of the gut. From stories of childhood gone horribly wrong to sex and madness with an impossible cost, this is where you'll find the more gruesome end of the spectrum.
In Ventre Tuo
June 3, 2019
Word Count:
36000
Summary: INK (NOUN) Five definitions to inspire writers around the world and an unlimited number of possible stories to tell: 1) A colored fluid used for writing 2) The action of signing a deal 3) A black liquid ejected by squid 4) Publicity in the written media 5) A slang word for tattoos Ink features 300-word speculative flash fiction stories from across the rainbow spectrum, from the minds of the writers of Queer Sci Fi.
Ink
August 10, 2021