Word Count:
66000
Summary: Sarah Wright woke up a few times after parties in strange places―but the morgue's a first. At eighteen, she's eager for a taste of independence, moving out of state to attend college. A change of scenery is extra-needed due to a bad breakup with her boyfriend, Scott. However, soon after escaping the body cooler, she makes two startling realizations: vampires are real, and she is one. There's nothing quite like an untimely death to ruin plans. California's sunny beaches aren't the best place for vampires to chill, and worse, not only does she wind up stuck in Seattle, she's still living (figuratively) with her parents. They take the news surprisingly well―after all, it's better than burying her―even helping move her bedroom to the basement. A disinterested sire, distraught friends, nosy Men in Black, and awestruck younger siblings complicate her adjustment to the new normal of being an immortal still subject to her parents' rules. Undeath has its perks, but it also brings enemies. Without a copy of 'Fangs for Dummies,' Sarah's left scrambling for answers when one such new enemy attacks her siblings and friends. If she can't figure out how to vampire, her attempt to spare her family the grief of losing her may wind up killing them.
A Nighttime of Forever
February 20, 2018
Word Count:
50655
Summary: 'Old actors never die' shouldn't be literally true. Carrington Loveless III, skim-blood vampire and senior officer of Philly's paranormal police department, has long suspected that someone's targeting his squad. The increasingly bizarre and dangerous entities invading their city can't be a coincidence. So when a walking corpse spouting Oscar Wilde attacks one of his officers, Carrington's determined to uncover the evil mind behind it all. As a rare books librarian, Erasmus Graham thought he understood some of the stranger things in life. Sharing a life with Carrington has shown him he didn't know the half of it. They've survived attack books and deadly dust bunnies together and got through mostly unscathed. Now his world and his vampire's appear ready to collide again. Books are missing from the Rare Book collection—old tomes of magic containing dangerous summonings and necromancy. He's certain whoever has been stalking the Seventy-Seventh is composing their end game. It's going to take a consolidated effort from paranormal police, librarians and some not-quite-authorized civilians to head off the impending catastrophe.
All The World's An Undead Stage
January 2, 2018
Word Count:
36000
Summary: Being invisible makes it really hard to get laid. When half-human Kai Schiffer steps into the Interstices—the post-creation gaps between realms—his supernatural half kicks in and he literally disappears unless…well, don't ask. But in a stroke (heh) of good fortune, Kai finally has a chance to show his face (and other parts, stars willing) to his long-time crush Jovan Kos—Interstitial Law Enforcement agent, wolf warrior, occasional berserker, and best man at their mutual best friends' Imbolc wedding. Jovan, who's half in love with Kai already, is grateful his best man duties are light enough that he can focus all his attention on Kai. After all, with Enchanted Occasions Event Planning handling the Olesson-Pakulski wedding, what could possibly go wrong?
Best Beast
January 17, 2021
Word Count:
52,500
Summary: The cerebral interface has revolutionised society. Need a ride? With a thought, the cab is on its way. Want an adventure? Enter a VR 5 computer game nearly indistinguishable from reality. Amanda arranges for her Big Sisters Program little sister, Rachel, to spend a day gaming as a fourteenth birthday present. Amanda never suspects that her insane ex-boyfriend, Jim, will use a computer virus to trap her and her companions in the game. A pleasant diversion becomes a life and death struggle as her party seek a way to come back to the real world without triggering a program that will cause nanobots to rip their brains to shreds. To complicate matters, in the game scenario the adventurers have been transformed into cats. Will the party survive? Will Amanda admit that Rachel's older brother, Tyrell, might just be her future? Will the computer virus Jim used to trap them become a cyber plague that could kill thousands?
Cats
November 12, 2018
Word Count:
75000
Summary: Temp worker David Evans has been dreaming of Dr. Alun Kendrick ever since that one transcription job for him, because holy cats, that voice. Swoon. So when his agency offers him a position as Dr. Kendrick's temporary office manager, David neglects to mention that he's been permanently banished from offices. Because, forgiveness? Way easier than permission. Alun Kendrick, former Queen's Champion of Faerie's Seelie Court, takes his job as a psychologist for Portland's supernatural population extremely seriously. Secrecy is paramount: no non-supe can know of their existence. So when a gods-bedamned human shows up to replace his office manager, he intends to send the man packing. It shouldn't be difficult—in the two hundred years since he was cursed, no human has ever failed to run screaming from his hideous face. But cheeky David isn't intimidated, and despite himself, Alun is drawn to David in a way that can only spell disaster: when fae consort with humans, it never ends well. And if the human has secrets of his own? The disaster might be greater than either of them could ever imagine.
Cutie and the Beast
July 24, 2017
Word Count:
4000
Summary: Who expects a haunted doll to be such a nuisance? When Dare's dog discovers an abandoned doll on their doorstep, Dare assumes it's nothing more than a lost toy… until it begins to talk. After the doll offers up a string of bad suggestions and unhelpful advice, Dare is left wondering if the isolation of lockdown has finally proved too much. Struggling to get rid of the bad-tempered toy, Dare has no idea that this not-quite-scary fiend will accidentally change everything. With a dash of humour, this queer cosy-horror short story is a fun, quirky tale – perfect for readers who like the idea of being scared more than the reality of it.
Dare vs the Doll
May 17, 2021
Word Count:
75000
Summary: After decades of unrequited love, this kangaroo will jump at the chance for a date. Any date. Lovelorn kangaroo shifter Hamish Mulherne, drummer for the mega-hit rock band Hunter's Moon, waited years for the band's jaguar shifter bassist to notice him. Instead, she's just gotten married and is in a thriving poly relationship. How is Hamish supposed to compete with that? But with everyone else in the band mated and revoltingly happy, he needs somebody. Since he can't expect true love to strike twice, he signs up with Supernatural Selection. Because what the hell. When Zeke Oz was placed at Supernatural Selection through the Sheol work-release program, he thought he was the luckiest demon alive. But when he seems responsible for several massive matchmaking errors, he's put on notice: find the perfect match for Hamish, or get booted back to Sheol for good. The only catch? He has to do it without the agency's matchmaking spells, and Hamish simply will not engage. But Zeke starts to believe that the reason all of Hamish's dates fizzle is because nobody in the database is good enough for him. And Hamish realizes that his perfect match might be the cute demon who's trying so hard to make him happy.
Demon on the Down-Low
February 25, 2019
Word Count:
55000
Summary: Can a chance meeting rekindle their incendiary attraction? While cutting through the Interstices—the post-creation gap between realms—Smith, half-demon tech specialist for Enchanted Occasions Event Planning, spies the person he yearns for daily but dreads ever seeing again: the ifrit, Hashim of the Windrider clan. On their one literally smoldering night together, Smith, stupidly besotted, revealed his true name—a demon's greatest vulnerability. When Hashim didn't return the favor, then split the next morning with no word? Message received, loud and clear: Thanks but no thanks. Although Hashim had burned to return Smith's trust, it was impossible. The wizard who conjured him holds his true name in secret, and unless Hashim discovers it, he'll never be free. When their attraction sparks once more, the two unite to search for Hashim's hidden name—which would be a hell of a lot easier if they didn't have to contend with a convention full of food-crazed vampires on the one day out of the century they can consume something other than blood. But if they fail, Hashim will be doomed to eternal slavery, and their reignited love will collapse in the ashes. Luckily Smith is the guy who gets the job done—and Hashim is never afraid to heat things up. Devouring Flame is a 54,000-word enemies-to-lovers, second-chance paranormal rom-com featuring a down-at-heels carnival with sinister undertones, a minotaur with an affinity for flowers, a prima donna goblin berserker chef with serious knife skills, and a guaranteed HEA.
Devouring Flame
January 8, 2019
Word Count:
40000
Summary: Officer Alex Wolf responds to a lot of 'paranormal' calls that aren't. Exotic pet birds aren't monsters and unusual dog breeds aren't aliens. It's a good thing he likes the animal control officers, but he both yearns for and dreads those calls where he runs into ACO Jason Shen. Jason's scent is so delicious that Wolf has a difficult time humaning around him. Animal control calls take a disturbing turn, though, when Wolf and his lizard-man partner, Krisk, discover the impossibly mummified bodies of rats and an unfortunate mother cat. The rescue of the cat's sole surviving kitten not only gives Wolf more time with Jason, which is both perplexing and wonderful, but also leads to dangerous discoveries. Something inconceivable stalks the city and its officers of the law. Wolf has to figure out what it is before it can attack and drain the life from the people and the kitten he loves.
Feral Dust Bunnies
May 23, 2017
Word Count:
26085
Summary: Sometimes the unexpected becomes magical. When August Shaw takes an unplanned vacation at the Oaks B & B, he decides on a bold step—to slip into his vintage feminine wardrobe and let himself feel beautiful. He usually plans every detail of his life, but is counting on bestie, Nicole, to boost his courage. When Nicole can't join him, and Jan Koskinen—the man August has crushed on for years—arrives instead, August risks accepting Jan's invitation to join in the Beat the Winter Blues Festival. The spontaneous weekend turns romantic, but August can't help his uncertainties, even as the people at the Oaks—along with a very uncanny house—encourage him to live in the moment. Can August accept the spontaneous whirlwind winter romance… or will his questions leave him standing in the cold?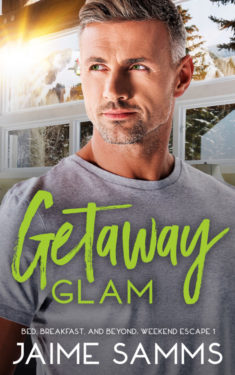 Getaway Glam
January 15, 2021
Word Count:
76000
Summary: Sometimes it's harder to teach a young dog new tricks. That's why werewolves embark on a Howling: a three-year rite of passage in which they're sent to a group residence to wrestle with their wolfy instincts and assimilate into the Wider World. But Tanner Araya's Howling is almost over, and he could be called back to his remote pack at any moment. His twenty-first birthday might be his last chance to act on his strongest instinct and finally kiss Chase Denney. Chase is RA at the Howling residence affectionately dubbed "the Doghouse," and he takes his job seriously. So seriously that when he realized he was developing feelings for a resident, he forced himself to keep Tanner at a distance. But now that Tanner's twenty-one, he's not Chase's charge any longer. They could be friends or—if Chase is lucky—something more. At least until they both return to their home packs for good, as tradition demands. It would take a miracle for them to get together—especially when the other Doghouse werewolves insist on "helping." Warning: Many Frisbees are harmed in this story, forgiveness is not always easier than permission, and the five-second rule does not apply.
Howling on Hold
January 13, 2020
Word Count:
36000
Summary: INK (NOUN) Five definitions to inspire writers around the world and an unlimited number of possible stories to tell: 1) A colored fluid used for writing 2) The action of signing a deal 3) A black liquid ejected by squid 4) Publicity in the written media 5) A slang word for tattoos Ink features 300-word speculative flash fiction stories from across the rainbow spectrum, from the minds of the writers of Queer Sci Fi.
Ink
August 10, 2021
Word Count:
69861
Summary: A loving boyfriend, generous friendships, and a thriving business—Arnold Kreed should be ecstatic. So why does he feel like he's standing on the edge of an abyss? When Kreed took a chance on a thief—letting Lucky into his world, his life, his heart—he hardly imagined he would find the love and acceptance he didn't dare dream of. Lucky draws people to him, and his extended found family embraces Kreed. Now in an established relationship, despite Kreed's ex causing trouble again, Lucky and Kreed are working toward making a life together. But Kreed is unsettled, unable to find his bliss. He is getting grumpier, and he can feel his people, including his beloved self-aware house, Mildred, pulling away… How can Kreed get back to the joy he so recently found if he has no idea what's wrong?
Innkeeper's Blues
December 27, 2020
Word Count:
36000
Summary: IN-NO-VA-TION (Noun) 1) A new idea, method, or device. 2) The introduction of something new. 3) The application of better solutions to meet unarticulated needs. Three definitions to inspire writers around the world and an unlimited number of possible stories to tell. Here are 120 of our favorites. Innovation features 300-word speculative flash fiction stories from across the rainbow spectrum, from the minds of the writers of Queer Sci Fi.
Innovation
August 8, 2020
Word Count:
57949
Summary: Hoax animals and a consulting vampire on the prowl—Jason never thought having a cop boyfriend would be this hard. All Animal Control Officer Jason Shen ever wanted was a quiet life of rescuing lost kittens and helping animals in need. Having a paranormal cop boyfriend guarantees an end to the quiet part. What at first seems a random encounter with jackalopes in the park might be more than chance and when State Paranormal sends a handsome, charming vampire to consult with the Seventy-Seventh, he finds his relationship with Alex on shaky ground. Officer Alex Wolf hoped his humaning skills were improving but now he can't unravel the strange politics at State Paranormal or why Jason's family seems to hate him. There's no time to puzzle things out either. Bizarre animals are loose in the city, Jason's acting strange, and is the vampire captain from State flirting with him? Wolf's going to have to keep his head in the game if he's going to have any chance of putting the pieces together and keeping the city safe from the strange critters terrorizing its streets.
Jackalopes & Woofen-Poofs
September 5, 2017
Word Count:
11000
Summary: What if you staged the best haunted house in the history of the holiday, but nobody came? Brady is prepared with mounds of treats, stellar special effects, and an extraordinary welcome for the throngs of trick-or-treaters he expects in his first year at his new place—a gloriously gothic house with the reputation for really being haunted! But the trick's on Brady: Halloween is almost over and not one person has knocked on his door. Once a top Interdimensional Law Enforcement agent, Rej was busted down to Creature Control after a run-in with his arch-nemesis. When he tracks a non-sentient construct across the dimensional barrier, he's sure he's about to confront Gorvenath again. But the person who bursts onto the porch in a swirl of tuxedo coattails is a monster of a very different sort—but is he Gorvenath's accomplice or his victim? Monster Till Midnight is an 11,000-word gay romance featuring a hopeful samhainophile, a suspicious LEO, gratuitous candy corn, and a relationship that threatens to be really, really, really long distance.
Monster Till Midnight
October 26, 2018
Word Count:
26000
Summary: Jealous angels with no genitals discover the passion and ecstasy that humans experience through sex. In revenge, the frustrated but impotent celestial beings banish the men to the wilderness. Will the women save the human race, or will they become the mothers of great evil?
Not Far from Eden
December 5, 2021
Word Count:
54000
Summary: With his heart's desire at stake, can he resist giving Fate a little nudge? Half-norn event planner Anders Skuldsson is under strict orders from Asgard not to meddle with Fate. But with Enchanted Occasions' latest booking—the competition for the hand of Faerie's one true prince—crashing around his ears, it's really, really, really difficult to toe that particular line. So… if Andy just happens to pose as a contender for the prince? It's an emergency, damn it. Besides, it's only temporary, so Odin can hardly blame him. Right? If Conall of Odstone hadn't sworn a blood oath to protect his half-brother, Prince Reyner, he'd murder the idiot himself. Rey was supposed to be here, choosing a mate before being crowned and wed. Instead, he's disappeared, leaving Con to impersonate him. Again. But when Con meets Andy, his anger turns to desire… and despair. Even if Andy forgives him for pretending to be someone he's not, how could a man as appealing and accomplished as Andy—a man who's eligible for a prince's hand, for pity's sake—settle for the court outcast? As for Andy, his burgeoning feelings for the prince are both unfortunate and hopeless because hello? Half-norn? Faerie prince? Not exactly a match made in Valhalla. When the Faerie Queen herself hands down an ultimatum, the double deception isn't their only obstacle. Unless Andy makes the right decision, both their fates could be sealed by… well… Fate. Nudging Fate is a 54,000-word paranormal rom-com featuring mistaken identity, royalty in disguise, interfering coworkers, an iron knight with a soft heart, a temperamental goblin chef, and a guaranteed HEA.
Nudging Fate
May 15, 2018
Word Count:
70000
Summary: When you have chaos magic, the only thing you can do is expect the unexpected. Zombies. Shoestorms. Illicit unicorn rides. A talking red panda. Before today Max never believed in magic, despite bad luck so terrible he used to jokingly call it a curse. Now he's a reluctant believer. His first day as a mage he draws the attention of the magic police, not to mention the mysterious hooded figures chasing him all over downtown Portland trying to kill him with magic. With the help of his new speed-demon red panda familiar, his fortune-telling neighbor, a gadget-obsessed witch, a grumpy vampire, and his maybe-brother, Max needs to learn to use his chaos magic, and quickly, or his 'curse' is going to be the end of him and the people he loves.
Red Pandamonium
June 13, 2022
Word Count:
82000
Summary: Does a bear shift in the woods? Well, partially. That was what got grizzly shifter Ted Farnsworth into trouble. He wasn't trying to break the Secrecy Pact. He just wants people to see the real him. So he signs up with the mate-matching service Supernatural Selection — which guarantees marriage to a perfect partner. Not only will Ted never be lonely again, but once his new beaver shifter husband arrives, they'll build Ted's dream wilderness retreat together. Win-win. Quentin Bertrand-Harrington, scion of an incubus dynasty, has abstained from sex since nearly killing his last lover. When his family declares it's time for him to marry, Quentin decides the only way not to murder his partner is to pick someone who's already dead. Supernatural Selection finds him the ideal vampire, and Quentin signs the marriage agreement sight unseen. But a mix-up at Supernatural Selection contracts Quentin with Ted. What's Ted supposed to do with an art historian who knows more about salad forks than screwdrivers? And how can Quentin resist Ted's mouthwatering life force? Yet as they work together to untangle their inconvenient union, they begin to wonder if their unexpected match might be perfect after all.
Single White Incubus
October 22, 2018