Word Count: Information not available
Summary: I didn't think things could get worse… …but people started dying, and it was my fault. At first, I thought someone was playing a cruel trick on me, but that didn't explain the bizarre truth that defied scientific explanation: I had unwillingly become part of something ominous and evil. I'm not the kind of guy who cries often, and I'm certainly not a killer. I wouldn't even wish death upon my worst enemy, if I had one. But after losing two of my closest friends, I questioned my morals and beliefs: could I kill to survive? I didn't have time to mourn because I needed to discover where I fit in the supernatural world of Vampires, Lycan, and Spellcasters. If the crazy old priest and the Fae were right, then my place is second only to Lucifer Morningstar himself. Children of the Sun is the third book of The Snakeheart Series (Season 1), a supernatural novella series about Dante Coranguis and the ancient prophecy of the End Times.
Children of the Sun
Word Count:

33000
Summary: Clarity (noun) Four definitions to inspire writers around the world and an unlimited number of possible stories to tell: 1) Coherent and intelligible 2) Transparent or pure 3) Attaining certainty about something 4) Easy to see or hear Clarity features 300-word speculative flash fiction stories from across the rainbow spectrum, from the minds of the writers of Queer Sci Fi.
Clarity
Word Count: Information not available
Summary: Lucifer has been waiting for me to awaken… …and now I welcome the growing darkness inside me as I become who I'm meant to be. The Vampires are afraid of me, the Lycan want to disembowel me, the Spellcasters want to harvest my power, the Fae want to control me, and the Roman Catholic Church wants to murder me. The Soul Hunters… well, who knows what they want with me. I've never been on the run from anyone before, but after I started running from the Devil, I decided the only way to survive was to run back to him and embrace the evil power within and claim my destiny. My name is Dante Coranguis, but you might know me as The One, the Herald of Satan, or the Antichrist. From here on out, you can call me Snakeheart, the most feared man throughout the ages. Darkness Awakens is the sixth book of The Snakeheart Series (Season 1), a supernatural novelette series about Dante Coranguis and the ancient prophecy of the End Times. Get it now.
Darkness Awakens
Word Count:

110100
Summary: Nate's no supernatural expert, but even he knows a murdered man coming back to life to kill him can only mean one thing—the necromancer is back and out for revenge. Recruited by Department Seven in a desperate attempt to stop Peter before he claims new victims, Nate quickly realizes he's in way over his head. His powers are failing him, he's haunted by Peter's ghost, and he can't even remember how he stopped Peter the first time—or why he feels that someone very important is missing from his life. Ben is fighting for his afterlife. Trapped in the supernatural version of solitary confinement, he knows freeing himself will destroy New Camden's fragile peace—but what choice does he have? The longer he spends in his magical prison, the harder it becomes to resist his inner vampire. But if Ben wants to help Nate prevent Peter taking over the city, he has to prove himself to his sire—Saltaire, a thousand-year-old vampire with no qualms about using his immense power to suppress Ben's free will. As the casualties mount and the city descends into chaos, Ben and Nate must overcome their worst fears and impossible odds—or be written out of existence entirely.
Dead Wrong
Word Count:

70000
Summary: Music from Hell has gone viral … and you'll love it to death. Devastated by the car crash that killed his bandmate, guitarist David Fairburn has given up on life—until Vince Buckley returns from the dead to complete the band's final album. Jessica Chandler needs something new and different to save her struggling record label. But those who stand in the way of the music's release begin to die one by one, and when the first single is posted on the web, listeners become "Loopers," addicted to the music—and murderous. As the violence spreads, David and Jessica must survive the chaos to prevent Vince from releasing the entire album on the Internet. But can David sacrifice the most brilliant work he's ever done to save Jessica and prevent a global bloodbath?
Death Metal
Word Count: Information not available
Summary: He killed the only family she had. Now he's after her. When Maia Gellman loses her home, job, and family in one night, she does the only thing she can do: run. It's easy to get lost on the road with a new band, new friends, perhaps a new life. But the demon she left behind is gaining ground, and it awakens something sinister within her. Will Maia find a way to stand and face the demon, or will she succumb to the fate he has in store for her?
Demon Veil
Word Count:

80435
Summary: A modern-day knight in shining armor is a man with a secret. He's an immortal direwolf shifter. A man who can trace at will into a lethally dangerous canine who holds the ability to step into the stillness and achieve any goal. When he finds himself without a career after retiring disabled from his last mission in the military, he has to rethink the direction of his life. He needs to reinvent himself before anyone realizes that he stopped aging at the age of thirty-five. He's learned just enough to make his existence a bit dangerous. The sexy high school teacher neighbor he's been near stalking has her own secret. She feels like everything and claiming her is all he can focus on. He's determined to win her as his own until a shadowy evil attacks her and reveals a situation that forces him to be the man of action that he's always been. To keep the woman he loves safe, he'll become the alpha pack leader he was born to be. A Pack Forms is the first volume in the steamy paranormal romance saga of Draoithe.
Draoithe: A Pack Forms
Word Count:

118937
Summary: Frank Grimes is a lowlife, no count, barely classifiable as a human, male who just happens to have enough sense to hire and retain qualified construction workers. He landed the contract to build most of Draoithe in January of 2016. He's not only worthless, but he's also criminal filth. He will do anything for an easy dollar. After the Draoithe housewarming party, his true colors shine through when he attempts to rape the architectural designer in her apartment after driving her home. Luke can't afford to let Jace kill him or allow Flame to turn him as dragonsworn, but there is no way that Frank can be allowed to just get away with what he's done. Even the Assassin King wants him dead, and he is the dragon called to serve one miscreant underking. Sentenced to house arrest and forced labor, Grimes seeks a way to fulfill the requirements Luke sets on him to gain enough respect that Javier will turn him into a canine shifter until he meets a blood demon who wants to help Luke out. Is it possible to totally rehabilitate the walking filth that is Frank Grimes into a real man in order to help him avoid certain death and turn him into a wolf? Or will the demon simply drink him dry and slowly end his miserable existence?
Draoithe: Filth and Death
Word Count:

107884
Summary: Julian Gypsun used to be a young man on his way to becoming a contractor. Everything changed when he died and was resurrected as a wizard's familiar. He was immortal and far better off physically than he had been as a human. Still, he was trapped with his life chained to a giant of a wizard who had no problem abusing him in every way imaginable. Julian was powerless to stop it without ending his own existence. That is until he was yanked bodily through his own portal, transported to Draoithe, and assigned to babysit the visiting dignitary, Amazon Warrior Princess Zephyra, and try to convince her that her people should ally themselves with Luke and Draoithe. That sounded easy, but it wasn't. He liked her. He had no clue how to act on that. Best to avoid that altogether. Keeping her safe just might equal his death. (Please see her warrior princess title.) She was old and so far out of his league. Worse, she liked him and was determined to have him. He can't even consider that. She has no idea how broken he really is.
Draoithe: Midnight Magic
Word Count:

91154
Summary: Flame is scarred from a past filled with lies, deceptions, and heartbreak. He is not guilty of what his brothers believe, but Blaze is the only one who knows the truth. He was betrayed by the king he had served. The girls he gave the dark gift to had been innocent. When he finds his Valkyrie, beaten, raped, broken, and fading after having been forced to accept the dark gift without her consent, Flame vows that he will do anything to save her. The light seems gone from both her and the world she finds herself in. Little does Flame know that for her to have the light again, he will sacrifice his honor, his integrity, and his life after breaking every law he can manage to break and even demand absolution for crimes he never committed. Many men say they will die for the love of their life. Flame somehow needs to do it four damn times, find a way to fix not only her broken magic, but fix her broken spirit as well, and then figure out how to live for her! All men wish to love a vampire, but Flame burns in his soul for one who holds the fire and has been granted the dark gift of an immortal vampire princess.
Draoithe: The Dark Gift
Word Count:

135408
Summary: Alexio Asmodai is the demon king of Eaglafonn, a small outpost kingdom in the Netherworld overruled by the Demon Lord Asmodeus. It is Alexio's responsibility to protect and police the frontier borders against any threats. He is an accomplished knight, so that part came easy. Eaglafonn is a cold and isolated kingdom. Alexio needed to stay and build his castle atop the hot springs to beat an addiction to seduction sickness. After over seven centuries, he thinks his loneliness has finally come to an end when he opens a crate to find a woman sent by Asmodeus for him to keep safe. He falls for her instantly. She is a human woman, fragile, timid, and irresistible. He must follow his liege's directive, convince her to become his queen, and see that she is cared for properly in a place that is inhospitable to her existence. This leads to a realization that his castle lacks a lot to be a first-class home for a lady. Can a tainted demon prince rise to the challenge to become a true king and win the woman who stole his heart? Dread Allies 7-14 The Shadow king of Eaglafonn has chosen his queen, but his castle lacks the feminine element. To make her more comfortable, he orders the demon princes to seek out and claim their own mates. That is easier said than done. Eaglafonn is a cold dark isolated kingdom in the Netherworld. It might be easier to claim mates from the Domhain, but not everyone could survive on the brutal dangerous frontier. The other options afforded from the Netherworld come with their own dangers. The magic is unbalanced and balancing comes with a price. Claiming their mates lead the demon princes on epic mini journeys and reveals the need for Eaglafonn to take a greater role in helping Luke aid the dream. Dread Allies is a miniseries set in the Netherworld in the dream. It is an ancillary group of stories to the Draoithe saga. While it is set in that world, it is not in the direct series lineup. The dream just got darker and colder. Welcome to Eaglafonn.
Dread Allies: Shadow King
Word Count:

42,203
Summary: Katja has long spent her life buried in the pain and sorrow of her past, a vampire abandoned to her fate for over 300 years, she never expects to meet another who could help her reclaim her existence. Raven, a poet and fellow lost soul, could be the one to spur her on, but in order to have the future she has only begun to grasp, she must uncover the truth about her origins and the awful event which left her alone centuries before. If she cannot face her past and reclaim her strength, she will lose everything.
Eyes Like Blue Fire
Word Count: Information not available
Summary: Here you'll find tales of the supernatural, betrayal and murder; the mistakes that lead to the fall of empires and the constant tug of war that haunts mankind. There's a blend of science fiction, fantasy and horror - from a modern day detective facing a serial killer to a future utopia filled with disloyalty. Lovers of romance will find a little something for them too, but within these bright sparks of hope shades of darkness lurk.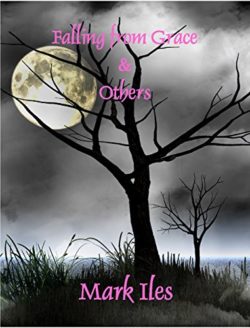 Falling from Grace, & Others
Word Count:

41000
Summary: When a satanic wizard runs the insane asylum, nobody believes the inmates, even when they're sane. Jonah is entirely normal in every respect but one: whenever he's frightened he turns into his evil alter ego, Maldeus. When Jonah discovers Maldeus is working with the asylum doctor to sacrifice women on a giant pentagram, he's thrust into the middle of a diabolic plot involving occult magic, invisible people, and a perverted, sex-crazed blue demon! Will he keep his wits about him as he pretends to be Maldeus and stop the rise of Satan?
Five Maidens on the Pentagram
Word Count:

75000
Summary: The neon lights of Las Vegas mask the horrors hiding in the shadows. Horrors like my ancient vampiric maker, the Goddess Tawaret. Tawaret promises me power in exchange for helping her. She wants to be worshiped again, and has me gathering vampire followers. My boyfriend, Jack, tries to warn me about her, but I don't listen. Too late, I realize my mistake in accepting. Now there is no escape. After the slaughter she left behind in Portland, no one wants to risk her wrath. With Jack suddenly abandoning me, no one will come to my rescue. I'd rather die than be bound to her for eternity. It just might come to that.
Goddess of the Ancients
Word Count:

102,000
Summary: Can you hear it? Whispering in the dark. Secrets only the dark knows. Joseph Moore, choir director for the First Baptist Church of Lenora, Nebraska, has secrets of his own. Terrible, lonely secrets. One that involves natural human desire. One that calls forth powers he cannot begin to understand. Both with the potential to destroy him and those he loves. Now the world is changing. The darkness, the shadows, the ghosts, are closing in—and Joseph and his lover, Kevin, are being stalked by a merciless demon, hell-bent on possession. Can you hear it now? There in the dark. It's whispering your name.
Hallelujah
Word Count:

36000
Summary: INK (NOUN) Five definitions to inspire writers around the world and an unlimited number of possible stories to tell: 1) A colored fluid used for writing 2) The action of signing a deal 3) A black liquid ejected by squid 4) Publicity in the written media 5) A slang word for tattoos Ink features 300-word speculative flash fiction stories from across the rainbow spectrum, from the minds of the writers of Queer Sci Fi.
Ink
Word Count:

26000
Summary: Jealous angels with no genitals discover the passion and ecstasy that humans experience through sex. In revenge, the frustrated but impotent celestial beings banish the men to the wilderness. Will the women save the human race, or will they become the mothers of great evil?
Not Far from Eden
Word Count: Information not available
Summary: The nightmares tormented me for years… …and shortly after my thirty-third birthday, I learned why. My name is Dante Coranguis, and I have a great life, a solid job, amazing friends, and most importantly, lots of crazy sex. But on the night I met the vampires, everything changed, including my nightmare. My life's ambitions and dreams were snatched out of my hands because I was destined to become The One, the Herald of Satan, the Antichrist, the most feared man throughout the ages. And here I thought that was just a crazy horror movie about a poor kid named Damien Thorne. Prophecy Rising is the first book of The Snakeheart Series (Season 1), a supernatural novella series about Dante Coranguis and the ancient prophecy of the End Times.
Prophecy Rising
Word Count:

38000
Summary: RISE (noun / verb) Eight definitions to inspire writers around the world, and an unlimited number of possible stories to tell: 1) An upward slope or movement 2) A beginning or origin 3) An increase in amount or number 4) An angry reaction 5) To take up arms 6) To return from death 7) To become heartened or elated 8) To exert oneself to meet a challenge Rise features 300-word speculative flash fiction stories from across the rainbow spectrum, from the minds of the writers of Queer Sci Fi.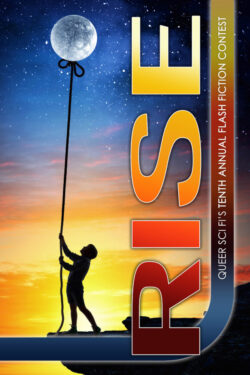 Rise