Word Count:

85788
Summary: Kris Starr used to be famous. Rock and roll. Sold-out shows. Literal magic. Empathic talents and screaming fans. But he has a problem or two. He's having a hard time writing new music. It's Midwinter, which means he's surrounded by depressing holiday cheer. And he's in love with Justin, his manager, who has a talent for rescuing almost- or once-famous bands ... and who's hiding secrets of his own. Justin Moore, on the other hand, is very good at keeping those secrets -- he's had to be for years. One secret involves a demonic inheritance that would make him a target of suspicion. Another involves his past. And the third involves Justin's feelings for Kris Starr, rock and roll icon and now his client ... and a powerful empath.
A Demon for Midwinter
Word Count: Information not available
Summary: James Spencer is hardly the typical troubled youth who ends up at Whisperwood School for Boys. Instead of hating the strict schedules and tight oversight by staff, James blossoms, quickly making friends, indulging in his love of writing, and contemplating the merits of sneaking love poems to the elusive and aloof William Esher. The rumours about William's sexuality and opium reliance are prime gossip material amongst the third years…rumours that only further pique James' curiosity to uncover what William is really like beneath all that emotional armor. And, when the normally collected William stumbles in one night, shaken and ranting of ghosts, James is the only one who believes him. James himself has heard the nails dragging down his bedroom door and the sobs echoing in the halls at night. He knows others have, too, even if no one will admit it. The staff refuses to entertain such ridiculous tales, and punishment awaits anyone who brings it up. Their fervent denial and the disappearance of students only furthers James' determination to find out what secrets Whisperwood is hiding...especially if it prevents William and himself from becoming the next victims.
A Light Amongst Shadows
Word Count: Information not available
Summary: In the fourth and final installment for the series, Alex faces his most difficult case yet: the school bully. For two years, Kyle had no qualms making Alex's life even more complicated than it already was. Choosing to single him out for his psychic abilities, the angry teen took every chance to undermine Alex's well-being. But When Kyle is unexpectedly murdered, his ghost seeks out Alex for the very power he'd been stigmatized for. Despite their fraught history, Alex must set aside old wounds to help a soul in need. Searching for the killer, Alex uncovers why Kyle had victimized him so intensely, and it's not what he ever could have expected.  The truth, it turns out, will set them both free.
Alex McKenna & Death Is Not The Beginning
Word Count: Information not available
Summary: For a minute, everything in Alex McKenna's life was perfect. He only had one year left of high school, his girlfriend Margaret was the love of his life, and he couldn't ask for a more supportive family. His psychic powers were growing and he was learning more and more about his family's abilities as Strega witches. Things were good. Until the night it all fell to pieces. As Margaret lies in the hospital after a serious car accident, her disembodied spirit searches for a way back to the living. Alex is desperate to save her and the victims of his next case: an ominous being haunting the hospital and stealing the souls of infants and the elderly, sending them straight to Hell.
Alex McKenna and A Winter's Night
Word Count: Information not available
Summary: The highly anticipated second installment in the award-winning Alex McKenna Series, this LGBTQ teen paranormal adventure perfect for fans of Aidan Thomas' CEMETERY BOYS and LOST IN THE NEVER WOODS. After surviving a harrowing case, Alex McKenna just wants to rest. Unfortunately, his plans are interrupted by the ghost of seven-year-old Haven, who is lost in an in-between realm. Despite his great-grandmother's warning, Alex crosses the bridge between the living and the dead, which sends him and his girlfriend into the world of the Academy of Souls, a high school for dead teens who are unable to complete their journey. There, Alex meets Ophelia, Haven's teenage sister, who's been searching for her for more than a century. With new companions, Alex must cross the treacherous terrain of the Underworld in-between, to save Haven from the clutches of the Soul Gatherer and reunite the sisters.
Alex McKenna and The Academy of Souls
Word Count: Information not available
Summary: An LGBTQ teen paranormal adventure perfect for fans of Aidan Thomas' CEMETERY BOYS and LOST IN THE NEVER WOODS. For Alex McKenna, high school is just a distraction until he can go to college and spend more time with Margaret, the love of his life. Alex an average seventeen-year-old boy...except for the fact he's a transgender medium born from a long line of Strega witches, possessing the ability to communicate with ghosts. With the help of Margaret and his Strega great-grandmother, Alex will learn how to strengthen his abilities. The dead need Alex to help them resolve their unfinished business, and he finds that he needs them, too. As his abilities strengthen, assisting the dead becomes an outlet to channel his new energy, giving him the strength to come to terms with his identity and how far he will choose to go.
Alex McKenna and The Geranium Deaths
Word Count:

50655
Summary: 'Old actors never die' shouldn't be literally true. Carrington Loveless III, skim-blood vampire and senior officer of Philly's paranormal police department, has long suspected that someone's targeting his squad. The increasingly bizarre and dangerous entities invading their city can't be a coincidence. So when a walking corpse spouting Oscar Wilde attacks one of his officers, Carrington's determined to uncover the evil mind behind it all. As a rare books librarian, Erasmus Graham thought he understood some of the stranger things in life. Sharing a life with Carrington has shown him he didn't know the half of it. They've survived attack books and deadly dust bunnies together and got through mostly unscathed. Now his world and his vampire's appear ready to collide again. Books are missing from the Rare Book collection—old tomes of magic containing dangerous summonings and necromancy. He's certain whoever has been stalking the Seventy-Seventh is composing their end game. It's going to take a consolidated effort from paranormal police, librarians and some not-quite-authorized civilians to head off the impending catastrophe.
All The World's An Undead Stage
Word Count:

1100
Summary: A muddy trench in France during the Great War wasn't the most auspicious place for Tom and Michael to reach an understanding of their own natures. A small, individual tragedy unfolds … But then Tom discovers a place beyond, where he and other men like him are blessed with all that life denied them.
An English Heaven
Word Count: Information not available
Summary: An ancient, powerful evil is loose in San Francisco. The heart of Silicon Valley must fight back the only way they know how — with compassion, unwavering determination, and, of course, super-technology. Anne Perrin is resigned to a life driven by an adolescent trauma: a strict routine, no socializing (outside of the safety of her waitressing job), and no romantic relationships. When her cautious lifestyle lets the perfect partner slip through her fingers, Anne vows she won't let it happen again and ventures into San Francisco to find happiness. Her first night out in a decade becomes a nightmare when her date turns on her with sadistic intent. But his nefarious plans for Anne are unexpectedly interrupted by a mysterious savior. Valiant, smart, compassionate … Charlie is exactly the partner Anne has been looking for. And best of all, he likes her too. Things go well between her and Charlie until an assailant with unexpected strength plunges Anne into a world she didn't know existed — nor could have imagined — where super-science and an eclectic group of extraordinary individuals may be the solution to Anne's lifelong loneliness … and humanity's only hope against an ancient threat.
Angels In the Mist
Word Count: Information not available
Summary: A vampire hunter has his sights on Anne Perrin, threatening to unleash the very evil she and her friends are fighting to contain. Robbing Anne of her pulse hasn't stopped her from living un-life to its fullest: she's balancing two relationships, has returned to her waitress job, and is trying her best to not eat her customers. But Calum sees through her disguise, and no amount of charm can dissuade him from eradicating Anne and everyone like her from the face of the Earth. While Charlie is out of the country seeking help from the one person who might be able to save his life, Anne is abducted, leaving the rest of the Z-Tech crew with the desperate task of finding her before the vampire hunters finish her off — or a grief-stricken Zima destroys the city looking for her lost love. But Anne's abduction could be just the first part of a larger, darker plan that may unwittingly unleash the very plague Calum seeks to prevent.
Angels Lost
Word Count:

83400
Summary: Artists use all manner of materials to express their vision, to interpret the world around them, to affect the hearts and minds of their audience. But what if the artist himself were the medium? And what if artistic inspiration weren't the only force at work? If painter Stefan Cobbe and art investigator Luke Morganstern don't answer those questions fast, they stand to lose their reputations, their relationship — and their lives. **Omnibus edition contains both The Artist's Touch and Tested in Fire
Art Medium
Word Count:

70000
Summary: As far as rock star Gareth Kendrick, the last true bard in Faerie, is concerned, the only good Unseelie is . . . well . . . there's no such thing. Two centuries ago, an Unseelie lord abducted Gareth's human lover, Niall, and Gareth has neither forgotten nor forgiven. Niall O'Tierney, half-human son of the Unseelie King, had never lost a wager until the day he swore to rid the Seelie court of its bard. That bet cost him everything: his freedom, his family—and his heart. When he's suddenly face-to-face with Gareth at the ceremony to join the Seelie and Unseelie realms, Niall does the only thing inhumanly possible: he fakes amnesia. Not his finest hour, perhaps, but he never revealed his Unseelie heritage, and to tell the truth now would be to risk Gareth's revulsion—far harder to bear than two hundred years of imprisonment. Then a new threat to Gareth's life arises, and he and Niall stage a mad escape into the Outer World, only to discover the fate of all fae resting on their shoulders. But before they can save the realm, they have to tackle something really tough: mending their own broken relationship.
Bad Boy's Bard
Word Count:

36000
Summary: Being invisible makes it really hard to get laid. When half-human Kai Schiffer steps into the Interstices—the post-creation gaps between realms—his supernatural half kicks in and he literally disappears unless…well, don't ask. But in a stroke (heh) of good fortune, Kai finally has a chance to show his face (and other parts, stars willing) to his long-time crush Jovan Kos—Interstitial Law Enforcement agent, wolf warrior, occasional berserker, and best man at their mutual best friends' Imbolc wedding. Jovan, who's half in love with Kai already, is grateful his best man duties are light enough that he can focus all his attention on Kai. After all, with Enchanted Occasions Event Planning handling the Olesson-Pakulski wedding, what could possibly go wrong?
Best Beast
Word Count:

75000
Summary: Sleepwalking may be the death of me… again. I thought things would get better now that I no longer had assassins after my head. Although it's fun eating people who misgender me, I'm just so thirsty all the time. And until I improve, I'm barred from seeing Jack, my were-jackal boyfriend. My babysitter, I mean 'vampire mentor,' isn't much help either. As if things weren't bad enough, the amulet that started this mess is whispering to me. Calling me somewhere. I think it might be my mysterious maker. Judging by the trail of bodies they're leaving across the globe, I don't want to know what will happen if I can't keep resisting.
Bloodline of the Ancients
Word Count:

18543
Summary: Life with Vic isn't exactly what Christopher Minnick was expecting. His boyfriend has given him a new lease on life - literally - but he doesn't have a job, Jessie thinks he's a ghost, and there are only so many closets on hand for shoving Jonathan into. Now, with Lee back in the limelight, things just might become more than Christopher can handle. Lee Hellstrom is hitting the big screen after more than three decades and, with the much younger Grant Cooper at his side on the red carpet, he plans to make a lasting impression. The only problem is that not all the attention Lee has drawn is good. When Lee goes missing, it's up to Christopher, Vic, and Grant to save the old man from a most horrible of fates. Christopher's life may not have been perfect, but his death is a pain in the ass.
Body of Work
Word Count:

73027
Summary: If blood really is thicker than water, are the ties that bind a found family stronger than the ties of blood? After a decade of homelessness and living off his own wits, Tris has lost all faith in the kindness of strangers. And after years of letting his friends down time after time, Ozzy knows he's the last person anyone should count on. When Tris's search for his lost younger brother lands him in a small town at an overly-friendly Bed and Breakfast, everyone, including the B and B herself, seem to be pushing Tris and Ozzy together. Tris learned a long time ago, under the fists of his manipulative step-father, that family can't be trusted, and love means nothing. Torn between the desire to see Tris thrive in his new home, and the need to protect the very younger brother Tris came looking for, Ozzy has some hard choices ahead. Welcome back to Griffon's Elbow and The Oaks B&B, aka Mildred. She's not the only sentient house in town.
Brother's Keeper
Word Count:

17651
Summary: Damien is a 14 year old orphan that has grown up  in foster homes all his life. He finds out that he is a "Vampeal" , a child born from a vampire and human. If that wasn't bad enough Damien is a teenager that is dealing with his feelings for other boys. Damien is put into a home that the foster parents are very religious and he ends up on the street. Patrick is Damien's caseworker and if fresh out of college is assigned to look after him but finds out that Damien is no longer at the foster home. So Patrick sets out to look for him, which turns out to be a very dangerous road for both of them.
Child under the stairs
Word Count:

33000
Summary: Clarity (noun) Four definitions to inspire writers around the world and an unlimited number of possible stories to tell: 1) Coherent and intelligible 2) Transparent or pure 3) Attaining certainty about something 4) Easy to see or hear Clarity features 300-word speculative flash fiction stories from across the rainbow spectrum, from the minds of the writers of Queer Sci Fi.
Clarity
Word Count:

22277
Summary:
Witch's corpse. Witch's ticket. Witch's party.
As a counter-boy at a high-end men's boutique, Charlie Jessup's life consists of little more than work and sleep. That, and enough flirting to help guarantee his commission on sales will pay his rent. So when a twist of fate, and some behavior unbecoming that of a Ganymede employee, leaves him in possession of a dead man's pass to a mysterious Club 669, Charlie has no desire to waste it.
Every seventeen years, the House of Witches throws a party like no other. It's invitation-only, and for centuries it has helped ensure peace between the covens. It's the last place Caspian wants to be, but with the death of Queen Avel, and his own imminent rise to the throne, it's more important than ever that he attends. The stability of the House depends on it.
In four days a new king will be crowned, but when Charlie unintentionally crashes a gathering of the most secretive of all the Great Houses, he sets in motion a series of events that could disrupt the transition of power, and threaten the future of the House of Witches forever.
Club 669
Word Count:

72000
Summary: Vampires and werewolves live long lives. The Sleepless City saga might have ended but the story continues… Welcome to the Vampire Guard, where legend and myth meet science and technology.   Vampires make the best spies. Throw a smart-mouthed werewolf in with three vampires, mix well, and The Vampire Guard's newest team is bound to become one of their greatest assets. Super spies with a full range of skills. Warrior, hacker, thief, and scientist.  They get in, do the job and get out before the bad guys ever know what hit them. Forge, Blair, Declan, and Lucas are thrust into the world of high-tech spies and top-secret espionage conspiracies. Recruited into the world's most elite and secret organization with one singular mission. Protect those who can't defend themselves from ruin. Life becomes complicated when an impending Presidential visit to their town, Boggslake, throws them headlong into the world of the vampires and werewolves of the Vampire Guard. Very quickly they uncover and confront a werewolf terrorist organization known as the Qiguan. Together they must thwart an assassination attempt on the open waters of Lake Superior while tracking a previously unknown biological weapon controlled by the Qiguan—a weapon which may very well mean death for one of them.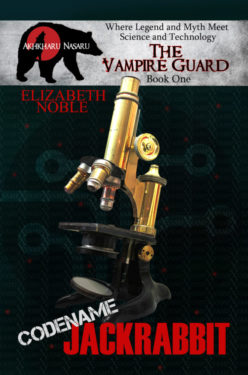 Code Name Jack Rabbit