Word Count: Information not available
Summary: Devin Marshall is alone and on the run from a coven of dark witches. New to the world of magic, Devin tries his best to outrun and outlast the coven he once swore loyalty to in order to save his soul. In a last ditch attempt at freedom he discovers help where he least expects it, but also manages to upset a pack of deadly werewolves along the way. Two supernatural cultures clash as Devin discovers hidden secrets about his past in an all or nothing attempt at survival. Coven of Wolves takes readers around the globe and back into time as a new universe of hidden societies, powerful witches, and sinister creatures dominate the landscape in their fight for control of an unsuspecting world.
Coven of Wolves
Word Count: Information not available
Summary: Two friends. Two worlds. A selfish desire that threatens them both. Raijin killed a witch and found himself cursed. Sandro went to Raijin's aid and became an assassin's target. Neither expected that they would trigger the biggest upheaval their world had seen in a thousand years. And that it was the love between them that would lift the curse. Cursed, the second book in the Balance of Magic series, is a slow-burn m/m fantasy romance featuring friends-to-lovers who become soulmates, irate death gods, curses, inept, narcissistic politicians, curious, compassionate witches, and a found family.
Cursed
SALE
Word Count:

75000
Summary: Temp worker David Evans has been dreaming of Dr. Alun Kendrick ever since that one transcription job for him, because holy cats, that voice. Swoon. So when his agency offers him a position as Dr. Kendrick's temporary office manager, David neglects to mention that he's been permanently banished from offices. Because, forgiveness? Way easier than permission. Alun Kendrick, former Queen's Champion of Faerie's Seelie Court, takes his job as a psychologist for Portland's supernatural population extremely seriously. Secrecy is paramount: no non-supe can know of their existence. So when a gods-bedamned human shows up to replace his office manager, he intends to send the man packing. It shouldn't be difficult—in the two hundred years since he was cursed, no human has ever failed to run screaming from his hideous face. But cheeky David isn't intimidated, and despite himself, Alun is drawn to David in a way that can only spell disaster: when fae consort with humans, it never ends well. And if the human has secrets of his own? The disaster might be greater than either of them could ever imagine.
Cutie and the Beast
Word Count:

70000
Summary: When ghosts reach across the veil, Daniel Collins is there to tell their stories. Dan is a vlogging ghost hunter. He has devoted his life to documenting paranormal activity. In his converted van, he travels around the country exploring haunted sites. He loves the thrill of filming restless spirits. Chad Brewer, skeptic, works for an insurance company. He doesn't believe in ghosts, but watching Dan's vlog is his guilty pleasure. The cute vlogger is accident prone. He has Chad's work extension on speed-dial. The two talk whenever Dan gets hurt during an investigation, a frequent occurrence. When Chad loses his job for approving too many claims, Dan offers him a position as his personal assistant. The pair sets out to investigate a haunted dairy barn for the vlog's next video series. The catch is that they must live and work together in Dan's tiny traveling home. As the paranormal activity at the haunted dairy ramps up, so does the romantic tension between the two men. Can the love between a skeptic and a social media sensation conquer a vengeful ghost? Dan's Hauntastic Haunts is a paranormal MM romance between a gay vlogger and his trans personal assistant. Buckle up for a hauntastic good time.
Dan's Hauntastic Haunts Investigates: Goodman Dairy
Word Count:

64000
Summary: When ghosts cry out, Dan and Chad heed their call. Daniel and Chad are on the road to Hawk Lake, Maine, to investigate rumors of a haunting. With his new role in Daniel's life, Chad feels like he has something to prove. He is determined to make the Hawk Lake haunting videos the best Hauntastic Haunts has ever aired. Daniel gets sidetracked when he realizes that he might have gotten in over his head with his long distance apprenticeship to a genuine medium. Old insecurities rear their heads and threaten the budding relationship between Dan and Chad. Neither member of the Hauntastic Haunts crew is ready for what they uncover when they discover the truth behind the ghost ship haunting Hawk Lake. Secrets and lies that threaten to tear apart a community that is still healing from their grief might be better left buried. Daniel and Chad have to decide which is more important, telling the stories of the living or preserving the memories of a handful of ghosts. Get ready for another hauntastic adventure with this paranormal trans M/M romance.
Dan's Hauntastic Haunts Investigates: Hawk Lake
Word Count:

74000
Summary: When a curse comes calling, Dan and Chad confront their greatest challenge yet. Hauntastic Haunts is investigating the historic Ivarsson School. With Halloween right around the corner, the vlog is in peak season. Dan and Chad are eager to explore the decades-long string of strange deaths among the school's young scholars. While they delve into the mystery, both men must come to grips with Chad's newfound talents as a medium. Dan and Chad's efforts to uncover the haunting's truth meet with mixed messages from both the living and the dead. They're left wondering if this month's site is full of tricks, or if there's a treat awaiting discovery. The locals blame a curse for all the misfortune at the one-room schoolhouse, and if the pattern holds, the guys are at risk of becoming the latest victims. Join ghost hunters Dan and Chad on their third hauntastic adventure in this trans M/M paranormal romance.
Dan's Hauntastic Haunts Investigates: Ivarsson School
Word Count:

78000
Summary: A blind merman fleeing the sunken city of Atlantis is torn between the family he left behind and the love he swims toward. When Dax lost his family to a shark attack he swam away from everything he had ever known. Now he has come to Atlantis, hoping to reconnect with those he left behind. When he finds his birth clan torn apart, he realizes his journey is just beginning. Kai is an Oracle, a blind merman, who only has sight when he has a vision. Atlantis, a sanctuary for so many merpeople, is his prison. Desperation drives him to beg the Atlantean Goddess of Love for help. With the goddess's promise of love to tempt him, Kai persuades Dax to take him along when he leaves the sunken city. Although Dax has some reservations about traveling through the ocean with a blind merman in tow, he quickly discovers Kai isn't as helpless as he appears. Attraction comes easy, but Kai doesn't seem to feel the same way. Kai knows he must seduce Dax if he hopes to win his heart, but his inexperience may be his downfall. With Dax's former lover waiting at the end of their journey, he knows time is running out. A goddess can only help so much, especially when another immortal would see them part. If the two stubborn mermen want a life together, they will have to learn to communicate and fight for their love.
Dangerous Waves
Word Count:

4000
Summary: Who expects a haunted doll to be such a nuisance? When Dare's dog discovers an abandoned doll on their doorstep, Dare assumes it's nothing more than a lost toy… until it begins to talk. After the doll offers up a string of bad suggestions and unhelpful advice, Dare is left wondering if the isolation of lockdown has finally proved too much. Struggling to get rid of the bad-tempered toy, Dare has no idea that this not-quite-scary fiend will accidentally change everything. With a dash of humour, this queer cosy-horror short story is a fun, quirky tale – perfect for readers who like the idea of being scared more than the reality of it.
Dare vs the Doll
Word Count:

22000
Summary: All Jet wants is a fun night out at the club he's finally old enough to get into. Okay, not all -- he also wants mystery, adventure, love, college tuition, and a new best friend who isn't too busy to spend time with him. But he wasn't expecting any of those to find him at Club Nox. And he definitely wasn't expecting a gorgeous stranger to offer him his heart's desire in exchange for ... his actual heart? What kind of crazy deal is this? And what does the alluring Darken mean when he says it's too late for Jet to change his mind? Why can't Jet take off the heart-shaped pendant? Darken feels a little guilty about tricking the cute goth boy at the club into taking on his curse. But what choice did he have? Any one person can only wear the heart pendant for so long before it drains them, and he's served his three years. As curses go, this one honestly isn't so bad. And maybe Jet will let Darken sweeten the deal with a few kisses. He isn't sticking around now that he's free, though. And he definitely isn't falling in love again. That's what got him into this mess in the first place. Soon Jet realizes Darken told him the truth: Jet has made a bargain he can't escape. Does he even want to, if Darken is part of the package? If only human hearts were as easy to win as magical ones...
Dark Arts For Bright Hearts
Word Count: Information not available
Summary: Lucifer has been waiting for me to awaken… …and now I welcome the growing darkness inside me as I become who I'm meant to be. The Vampires are afraid of me, the Lycan want to disembowel me, the Spellcasters want to harvest my power, the Fae want to control me, and the Roman Catholic Church wants to murder me. The Soul Hunters… well, who knows what they want with me. I've never been on the run from anyone before, but after I started running from the Devil, I decided the only way to survive was to run back to him and embrace the evil power within and claim my destiny. My name is Dante Coranguis, but you might know me as The One, the Herald of Satan, or the Antichrist. From here on out, you can call me Snakeheart, the most feared man throughout the ages. Darkness Awakens is the sixth book of The Snakeheart Series (Season 1), a supernatural novelette series about Dante Coranguis and the ancient prophecy of the End Times. Get it now.
Darkness Awakens
Word Count:

110100
Summary: Nate's no supernatural expert, but even he knows a murdered man coming back to life to kill him can only mean one thing—the necromancer is back and out for revenge. Recruited by Department Seven in a desperate attempt to stop Peter before he claims new victims, Nate quickly realizes he's in way over his head. His powers are failing him, he's haunted by Peter's ghost, and he can't even remember how he stopped Peter the first time—or why he feels that someone very important is missing from his life. Ben is fighting for his afterlife. Trapped in the supernatural version of solitary confinement, he knows freeing himself will destroy New Camden's fragile peace—but what choice does he have? The longer he spends in his magical prison, the harder it becomes to resist his inner vampire. But if Ben wants to help Nate prevent Peter taking over the city, he has to prove himself to his sire—Saltaire, a thousand-year-old vampire with no qualms about using his immense power to suppress Ben's free will. As the casualties mount and the city descends into chaos, Ben and Nate must overcome their worst fears and impossible odds—or be written out of existence entirely.
Dead Wrong
Word Count:

70000
Summary: Music from Hell has gone viral … and you'll love it to death. Devastated by the car crash that killed his bandmate, guitarist David Fairburn has given up on life—until Vince Buckley returns from the dead to complete the band's final album. Jessica Chandler needs something new and different to save her struggling record label. But those who stand in the way of the music's release begin to die one by one, and when the first single is posted on the web, listeners become "Loopers," addicted to the music—and murderous. As the violence spreads, David and Jessica must survive the chaos to prevent Vince from releasing the entire album on the Internet. But can David sacrifice the most brilliant work he's ever done to save Jessica and prevent a global bloodbath?
Death Metal
Word Count:

112,000
Summary: Where does magic end and love begin? ​Oliver Evans spent his youth spinning one tall tale after another until it got him over his head in trouble. Now he has returned to his grandmother's cottage in Aberdaron, determined to put his past behind him and settle down. But the misty Llŷn Peninsula hides dangerous secrets and Olly is torn between the Longing, a powerful force driving him away from the only home he has ever known, and the growing conviction that the prince of his childhood make-believe is real and in need of Olly's help. There is more truth in Olly's stories than he realises. If he is to have any chance of righting past wrongs and rescuing his prince, Olly must navigate the truth in his old stories and discover the magic right in front of him. But Olly has a powerful enemy on the ​Llŷn, an ancient king who would like to end Olly's story-telling permanently. Written for the M/M Romance Groups 2015 Don't Read in the Closet event, Deep Magic was produced with the support and effort of members of the M/M Romance Group. You can find out more about the event and discover hundreds of other free stories here. Cover art produced by Bree Archer. Deep Magic does contain adult material.
Deep Magic
Word Count:

60000
Summary: A teen without a home. A dangerous residence. Can she survive one terrifying night to secure her future? Charlene Griffin never thought she'd be without a home. But when she's kicked out on her eighteenth birthday, she has no choice but to sleep inside an ominous Victorian mansion. And with the owner offering the estate to anyone who can spend a full night in the haunted property, Charlene decides to risk life and limb to get off the streets. Refusing to heed the warnings of those sent running in fear for their lives, Charlene is confident she can last from sunset to sunrise. But she'll need all her wits about her to withstand the hours of terror, because these ghosts are determined to get rid of her. Will Charlene outsmart her supernatural foes and make it to dawn? Defying the Ghosts is an eerie YA haunted house story. If you like heart-racing action, fearless heroes, and survival adventures, then you'll love Joan Marie Verba's thrilling tale. Buy Defying the Ghosts to explore forbidden shadowy corners today!
Defying the Ghosts
Word Count:

75000
Summary: After decades of unrequited love, this kangaroo will jump at the chance for a date. Any date. Lovelorn kangaroo shifter Hamish Mulherne, drummer for the mega-hit rock band Hunter's Moon, waited years for the band's jaguar shifter bassist to notice him. Instead, she's just gotten married and is in a thriving poly relationship. How is Hamish supposed to compete with that? But with everyone else in the band mated and revoltingly happy, he needs somebody. Since he can't expect true love to strike twice, he signs up with Supernatural Selection. Because what the hell. When Zeke Oz was placed at Supernatural Selection through the Sheol work-release program, he thought he was the luckiest demon alive. But when he seems responsible for several massive matchmaking errors, he's put on notice: find the perfect match for Hamish, or get booted back to Sheol for good. The only catch? He has to do it without the agency's matchmaking spells, and Hamish simply will not engage. But Zeke starts to believe that the reason all of Hamish's dates fizzle is because nobody in the database is good enough for him. And Hamish realizes that his perfect match might be the cute demon who's trying so hard to make him happy.
Demon on the Down-Low
Word Count:

34000
Summary: Zepheira is the best Demon Tracker working for the Good side. With her unusual looks, her phenomenal sense of smell, and her bravery, she quickly draws 'The Big 7's attention to her talent. They hire her to find one of them. Leaving her familiar surroundings and regular work environment unsettles Zepheira at first. But the challenge to prove herself and to increase the reputation of her infallibility tempts her. She is convinced she will be a great asset to 'The Big 7'. Little does she know she will be a much greater asset in Heaven's fight against Evil. Zepheira suddenly becomes more than a hired tracker. She finds herself an important pawn in the game of love, heat, and fire. Will her courage and sacrifice be sufficient to dance with the flames? [video width="1920" height="1080" mp4="https://www.limfic.com/wp-content/uploads/2023/02/Demon-Tracker-Book-Trailer-v2.mp4"][/video]
Demon Tracker
Word Count: Information not available
Summary: He killed the only family she had. Now he's after her. When Maia Gellman loses her home, job, and family in one night, she does the only thing she can do: run. It's easy to get lost on the road with a new band, new friends, perhaps a new life. But the demon she left behind is gaining ground, and it awakens something sinister within her. Will Maia find a way to stand and face the demon, or will she succumb to the fate he has in store for her?
Demon Veil
Word Count:

26900
Summary:
Lord Marcus is on a quest to slay the dragon, rescue the princess, and live happily ever after. Falling for the dragon was never part of the plan.
When Lord Marcus set out on his quest, it seemed a simple enough task to accomplish. Slay the dragon and rescue the princess, securing his father's approval and earning his happily ever after--only the princess is a witch and the dragon is nowhere to be seen. Instead he finds a young man who has a very big secret and is in far greater need of rescuing. Marcus's well planned quest might have taken an unexpected turn, but his happy ending could still be within his grasp, if he can earn the trust of a dragon who has been betrayed and hurt by everyone he has ever known.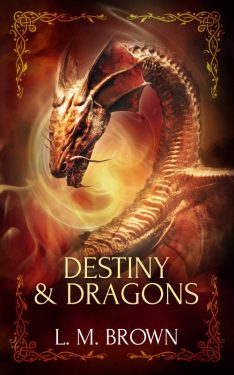 Destiny & Dragons
Word Count:

98659
Summary: Many obstacles stand in Warrick Synclaire's way. A baronet's son, he's in love with his best friend, Thomas Smythe. Same-sex love is illegal in early 20th century England. To complicate things, Warrick is heading for Canada, while Thomas is destined for the military college at Sandhurst. Warrick isn't sure he can bear the separation. The day before Warrick leaves, Thomas persuades him to see a fortuneteller. The old gypsy woman's warnings don't scare Warrick, but another gypsy, Nicolae, intrigues, arouses, and terrifies him. Later that evening, Nicolae breaks into Warrick's bedchamber, bedding then biting him. But Warrick convinces himself it was just a bad dream and sails off to Canada to start a new life. There Warrick renews his acquaintance with Fox Sullivan, who he first met during the war. Soon the two become lovers, but for Warrick, the relationship is purely physical. Thomas still owns his heart. When he can no longer bear their separation, Warrick returns to his ancestral home in Kent, determined to reunite with Thomas, who now has a lover of his own. But the encounter with Nicolae changed Warrick considerably. Every full moon he turns into a ravenous creature, which seems able to rule his life even during daylight hours. Determined to win over Warrick, Fox sells his medical practice and heads for England. But will he be too late to save the man he loves?
Destiny's End
Word Count:

55000
Summary: Can a chance meeting rekindle their incendiary attraction? While cutting through the Interstices—the post-creation gap between realms—Smith, half-demon tech specialist for Enchanted Occasions Event Planning, spies the person he yearns for daily but dreads ever seeing again: the ifrit, Hashim of the Windrider clan. On their one literally smoldering night together, Smith, stupidly besotted, revealed his true name—a demon's greatest vulnerability. When Hashim didn't return the favor, then split the next morning with no word? Message received, loud and clear: Thanks but no thanks. Although Hashim had burned to return Smith's trust, it was impossible. The wizard who conjured him holds his true name in secret, and unless Hashim discovers it, he'll never be free. When their attraction sparks once more, the two unite to search for Hashim's hidden name—which would be a hell of a lot easier if they didn't have to contend with a convention full of food-crazed vampires on the one day out of the century they can consume something other than blood. But if they fail, Hashim will be doomed to eternal slavery, and their reignited love will collapse in the ashes. Luckily Smith is the guy who gets the job done—and Hashim is never afraid to heat things up. Devouring Flame is a 54,000-word enemies-to-lovers, second-chance paranormal rom-com featuring a down-at-heels carnival with sinister undertones, a minotaur with an affinity for flowers, a prima donna goblin berserker chef with serious knife skills, and a guaranteed HEA.
Devouring Flame