Word Count:
110100
Summary: Nate's no supernatural expert, but even he knows a murdered man coming back to life to kill him can only mean one thing—the necromancer is back and out for revenge. Recruited by Department Seven in a desperate attempt to stop Peter before he claims new victims, Nate quickly realizes he's in way over his head. His powers are failing him, he's haunted by Peter's ghost, and he can't even remember how he stopped Peter the first time—or why he feels that someone very important is missing from his life. Ben is fighting for his afterlife. Trapped in the supernatural version of solitary confinement, he knows freeing himself will destroy New Camden's fragile peace—but what choice does he have? The longer he spends in his magical prison, the harder it becomes to resist his inner vampire. But if Ben wants to help Nate prevent Peter taking over the city, he has to prove himself to his sire—Saltaire, a thousand-year-old vampire with no qualms about using his immense power to suppress Ben's free will. As the casualties mount and the city descends into chaos, Ben and Nate must overcome their worst fears and impossible odds—or be written out of existence entirely.
Dead Wrong
February 26, 2018
Word Count:
112,000
Summary: Where does magic end and love begin? ​Oliver Evans spent his youth spinning one tall tale after another until it got him over his head in trouble. Now he has returned to his grandmother's cottage in Aberdaron, determined to put his past behind him and settle down. But the misty Llŷn Peninsula hides dangerous secrets and Olly is torn between the Longing, a powerful force driving him away from the only home he has ever known, and the growing conviction that the prince of his childhood make-believe is real and in need of Olly's help. There is more truth in Olly's stories than he realises. If he is to have any chance of righting past wrongs and rescuing his prince, Olly must navigate the truth in his old stories and discover the magic right in front of him. But Olly has a powerful enemy on the ​Llŷn, an ancient king who would like to end Olly's story-telling permanently. Written for the M/M Romance Groups 2015 Don't Read in the Closet event, Deep Magic was produced with the support and effort of members of the M/M Romance Group. You can find out more about the event and discover hundreds of other free stories here. Cover art produced by Bree Archer. Deep Magic does contain adult material.
Deep Magic
August 9, 2015
Word Count:
60000
Summary: A teen without a home. A dangerous residence. Can she survive one terrifying night to secure her future? Charlene Griffin never thought she'd be without a home. But when she's kicked out on her eighteenth birthday, she has no choice but to sleep inside an ominous Victorian mansion. And with the owner offering the estate to anyone who can spend a full night in the haunted property, Charlene decides to risk life and limb to get off the streets. Refusing to heed the warnings of those sent running in fear for their lives, Charlene is confident she can last from sunset to sunrise. But she'll need all her wits about her to withstand the hours of terror, because these ghosts are determined to get rid of her. Will Charlene outsmart her supernatural foes and make it to dawn? Defying the Ghosts is an eerie YA haunted house story. If you like heart-racing action, fearless heroes, and survival adventures, then you'll love Joan Marie Verba's thrilling tale. Buy Defying the Ghosts to explore forbidden shadowy corners today!
Defying the Ghosts
September 26, 2020
Word Count:
75000
Summary: After decades of unrequited love, this kangaroo will jump at the chance for a date. Any date. Lovelorn kangaroo shifter Hamish Mulherne, drummer for the mega-hit rock band Hunter's Moon, waited years for the band's jaguar shifter bassist to notice him. Instead, she's just gotten married and is in a thriving poly relationship. How is Hamish supposed to compete with that? But with everyone else in the band mated and revoltingly happy, he needs somebody. Since he can't expect true love to strike twice, he signs up with Supernatural Selection. Because what the hell. When Zeke Oz was placed at Supernatural Selection through the Sheol work-release program, he thought he was the luckiest demon alive. But when he seems responsible for several massive matchmaking errors, he's put on notice: find the perfect match for Hamish, or get booted back to Sheol for good. The only catch? He has to do it without the agency's matchmaking spells, and Hamish simply will not engage. But Zeke starts to believe that the reason all of Hamish's dates fizzle is because nobody in the database is good enough for him. And Hamish realizes that his perfect match might be the cute demon who's trying so hard to make him happy.
Demon on the Down-Low
February 25, 2019
Word Count: Information not available
Summary:
A rock band, demons, roadies and angels. The road trip from hell is about to begin. A wild supernatural ride!
For roadie Maia Gellman, life is simple until one catastrophic night destroys everything she holds dear. The lone survivor of a demon attack, she escapes from the one evil she cannot name. An evil that calls out to the hidden part of her she refuses to face. Branded a murderer, Maia takes to the road to stay one step ahead of those who wish to destroy her. A chance meeting with a mysterious musician finds her in the company of new friends, but can they trust their new roadie? And can Maia trust herself? As the end of the tour grows near, the evil draws closer, and Maia cannot run forever. For Maia to face the demons, she must discover the truth about who she is, and what she has become.
Demon Veil
June 26, 2018
Word Count:
26900
Summary:
Lord Marcus is on a quest to slay the dragon, rescue the princess, and live happily ever after. Falling for the dragon was never part of the plan.
When Lord Marcus set out on his quest, it seemed a simple enough task to accomplish. Slay the dragon and rescue the princess, securing his father's approval and earning his happily ever after--only the princess is a witch and the dragon is nowhere to be seen. Instead he finds a young man who has a very big secret and is in far greater need of rescuing. Marcus's well planned quest might have taken an unexpected turn, but his happy ending could still be within his grasp, if he can earn the trust of a dragon who has been betrayed and hurt by everyone he has ever known.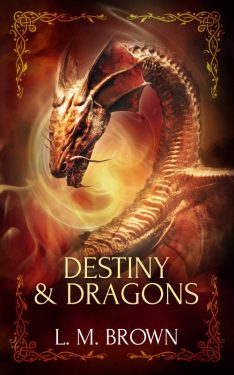 Destiny & Dragons
June 25, 2019
Word Count:
98659
Summary: Many obstacles stand in Warrick Synclaire's way. A baronet's son, he's in love with his best friend, Thomas Smythe. Same-sex love is illegal in early 20th century England. To complicate things, Warrick is heading for Canada, while Thomas is destined for the military college at Sandhurst. Warrick isn't sure he can bear the separation. The day before Warrick leaves, Thomas persuades him to see a fortuneteller. The old gypsy woman's warnings don't scare Warrick, but another gypsy, Nicolae, intrigues, arouses, and terrifies him. Later that evening, Nicolae breaks into Warrick's bedchamber, bedding then biting him. But Warrick convinces himself it was just a bad dream and sails off to Canada to start a new life. There Warrick renews his acquaintance with Fox Sullivan, who he first met during the war. Soon the two become lovers, but for Warrick, the relationship is purely physical. Thomas still owns his heart. When he can no longer bear their separation, Warrick returns to his ancestral home in Kent, determined to reunite with Thomas, who now has a lover of his own. But the encounter with Nicolae changed Warrick considerably. Every full moon he turns into a ravenous creature, which seems able to rule his life even during daylight hours. Determined to win over Warrick, Fox sells his medical practice and heads for England. But will he be too late to save the man he loves?
Destiny's End
November 5, 2016
Word Count:
55000
Summary: Can a chance meeting rekindle their incendiary attraction? While cutting through the Interstices—the post-creation gap between realms—Smith, half-demon tech specialist for Enchanted Occasions Event Planning, spies the person he yearns for daily but dreads ever seeing again: the ifrit, Hashim of the Windrider clan. On their one literally smoldering night together, Smith, stupidly besotted, revealed his true name—a demon's greatest vulnerability. When Hashim didn't return the favor, then split the next morning with no word? Message received, loud and clear: Thanks but no thanks. Although Hashim had burned to return Smith's trust, it was impossible. The wizard who conjured him holds his true name in secret, and unless Hashim discovers it, he'll never be free. When their attraction sparks once more, the two unite to search for Hashim's hidden name—which would be a hell of a lot easier if they didn't have to contend with a convention full of food-crazed vampires on the one day out of the century they can consume something other than blood. But if they fail, Hashim will be doomed to eternal slavery, and their reignited love will collapse in the ashes. Luckily Smith is the guy who gets the job done—and Hashim is never afraid to heat things up. Devouring Flame is a 54,000-word enemies-to-lovers, second-chance paranormal rom-com featuring a down-at-heels carnival with sinister undertones, a minotaur with an affinity for flowers, a prima donna goblin berserker chef with serious knife skills, and a guaranteed HEA.
Devouring Flame
January 8, 2019
Word Count:
100,000
Summary: When Fancy sent Richard from Barbados, she did not tell him her plans. Richard arrives unexpectedly after she and Kirk go to Ireland. Richard discovers she has adopted Kirk's daughter, and he concludes she will never abandon Kirk. Brokenhearted, Richard returns to the future before Fancy can tell him her marriage to Kirk is void. Richard's departure allows Kirk to woo Fancy again in earnest and they remarry. The couple sail to Bermuda, where Kirk leaves Fancy and the children at Spring Haven to sail to Barbados. A hurricane destroys the Spring Haven house. Fancy takes the children to the mainland and on to the safety of McCarron's Corner. En route, she learns Kirk's ship was destroyed in the hurricane and Kirk is believed to be dead. At McCarron's Corner, Fancy manages to go forward in time, where Richard finds her. She gives Richard another chance. They fall in love again, marry, and she writes a best-selling memoir, which attracts unwanted attention. Will they survive when a stalker's dangerous obsession threatens to destroy their future?
Diary of the Reluctant Duchess
December 20, 2019
Word Count:
82000
Summary: The Blackwood Pack saga begins…Follow the journey of the Blackwood Pack, seven brothers who are wolf shifters in search of their fated mates – stories about love at first sight with twists and turns, angst and humor, romance and adventure. Each book has two men who meet, fall in love, mate and achieve an HEA but the stories also chronicle the continuing saga of the Blackwood Pack. For more than 100 years, Steel, one of the last Dire Wolves, has been looking for his mate the Fates promised him. Discouraged after meeting his latest date, he takes a short cut home, seeing in a naked hitchhiker everything he envisions the man of his dreams to be. His wolf and body tell him the man is his fated mate but why can't he pick up his scent? Robbed of his car, clothes and money, Jackson, Alpha of the Blackwood Pack, is left with no choice but to thumb a lift, frantic to get home to his six brothers. He's been protecting them from a rival pack who massacred most of his family and wants to finish off the rest. When Steel rolls down his window, Jackson knows he's found his fated mate but it would be too dangerous to claim him with his pack under attack. After the intervention of an Oracle and a Witch, Jackson finds the Fates gave him an unusual gift that made him unique-- and just for Steel. Navigating the mine field this revelation brings, Jackson and Steel must figure out how to make their relationship work while dealing with external forces determined to kill them and the rest of the Blackwood pack.
Dire Warning
October 23, 2017
Word Count:
7300
Summary: Two brothers find misery in California's Gold Rush until a Chinese doctor promises them riches. They should have asked, at what price? Set in the Trinity Mountains, this is the first book - a single story - in a series of short reads in science fiction and fantasy.
Dragon Bones - A Fantastic Tale
October 19, 2018
Word Count:
103456
Summary: In the wake of birth and betrayal, Ushna takes the God Ashur to Tristan in a last desperate bid to save Tristan's life—and is helpless to do anything but watch as Ashur instead buries him in a grave. Though he has no desire to go on living, having now lost Brian and Tristan, Ushna has no choice. Not only do their children need him, the mysterious Simurgh has come out of hiding and forces him to continue on—for there is much to do and little time to do it, especially with treachery and danger closing in on them from every side. Note: Dragon's Eye is the 5th book in the Sumeria's Sons series and features a poly (M/M/M) relationship. This book was previously released by another publisher and has been re-edited.
Dragon's Eye
November 18, 2019
Word Count:
51700
Summary: The Mythric Kingdom has raided the Five Cities. Sebastian has been rescued and Christopher is now the one in chains. The leader of the rescue team, the ice dragon Prince Azanel, says that Sebastian is his Mate. The face Sebastian dreamed while he was in captivity belongs to Azanel, but he still loves Christopher – but is that love real, or is it only conditioning? A soldier named Cavan claims to be Sebastian's closest friend, and the King of Mythria, Goxtli, has sent him and a strange creature named Kliyo to bring Sebastian home. Nothing feels familiar, and Sebastian knows that he's surrounded by lies. His time in the Countess's custody is over, but the battle for Sebastian's soul is just beginning. And the Countess and Lord Ashmar cast a very long shadow... This is a dark LGBT science fiction/fantasy romance not suitable for anyone under 18 years of age. Contains dark, adult themes, graphic gay sex and BDSM elements.
Dragon's Gambit
April 25, 2020
Word Count:
57000
Summary: Previously on Dragon War Chronicles, the first strike was made against their enemies, but the cost was heavy. Mourning their losses Danica still must prepare for dragons that will be coming to woo her. She already knows the dragon she wants to mate to, but will she convince Kollin that she's ready to commit? Of all the dragons going to Toulouse to meet Danica and see if they have a chance only one has a completely different agenda. He knows which dragon he wants and it isn't Danica. Will Xavier win the heart of Danica's brother? Anchin Luu, Danica's brother and manager of her Las Vegas casino, Dragon's Hoard, has spent his whole life alone due to his deadly nature. A broken experiment and retired assassin Anchin isn't sure what to make of the water dragon that has invaded his life. Love is in the air, but so is gunpowder. SLIPs going missing, Coyotes crashing parties, and a mating you'll never forget are all in store for you on the next exciting installment of Dragon War Chronicles. Attention: This book contains explicit sexual content between consenting dragons, depictions of relationships that are MF and MM with a dash of doublemint fun. Dragon War Chronicles is a continuous series. It is best read in order. SYN Consulting Secrets Revealed First Strike Dragon's Hoard
Dragon's Hoard
September 26, 2019
Word Count:
80435
Summary: A modern-day knight in shining armor is a man with a secret. He's an immortal direwolf shifter. A man who can trace at will into a lethally dangerous canine who holds the ability to step into the stillness and achieve any goal. When he finds himself without a career after retiring disabled from his last mission in the military, he has to rethink the direction of his life. He needs to reinvent himself before anyone realizes that he stopped aging at the age of thirty-five. He's learned just enough to make his existence a bit dangerous. The sexy high school teacher neighbor he's been near stalking has her own secret. She feels like everything and claiming her is all he can focus on. He's determined to win her as his own until a shadowy evil attacks her and reveals a situation that forces him to be the man of action that he's always been. To keep the woman he loves safe, he'll become the alpha pack leader he was born to be. A Pack Forms is the first volume in the steamy paranormal romance saga of Draoithe.
Draoithe: A Pack Forms
May 28, 2018
Word Count:
118937
Summary: Frank Grimes is a lowlife, no count, barely classifiable as a human, male who just happens to have enough sense to hire and retain qualified construction workers. He landed the contract to build most of Draoithe in January of 2016. He's not only worthless, but he's also criminal filth. He will do anything for an easy dollar. After the Draoithe housewarming party, his true colors shine through when he attempts to rape the architectural designer in her apartment after driving her home. Luke can't afford to let Jace kill him or allow Flame to turn him as dragonsworn, but there is no way that Frank can be allowed to just get away with what he's done. Even the Assassin King wants him dead, and he is the dragon called to serve one miscreant underking. Sentenced to house arrest and forced labor, Grimes seeks a way to fulfill the requirements Luke sets on him to gain enough respect that Javier will turn him into a canine shifter until he meets a blood demon who wants to help Luke out. Is it possible to totally rehabilitate the walking filth that is Frank Grimes into a real man in order to help him avoid certain death and turn him into a wolf? Or will the demon simply drink him dry and slowly end his miserable existence?
Draoithe: Filth and Death
February 14, 2020
Word Count:
107884
Summary: Julian Gypsun used to be a young man on his way to becoming a contractor. Everything changed when he died and was resurrected as a wizard's familiar. He was immortal and far better off physically than he had been as a human. Still, he was trapped with his life chained to a giant of a wizard who had no problem abusing him in every way imaginable. Julian was powerless to stop it without ending his own existence. That is until he was yanked bodily through his own portal, transported to Draoithe, and assigned to babysit the visiting dignitary, Amazon Warrior Princess Zephyra, and try to convince her that her people should ally themselves with Luke and Draoithe. That sounded easy, but it wasn't. He liked her. He had no clue how to act on that. Best to avoid that altogether. Keeping her safe just might equal his death. (Please see her warrior princess title.) She was old and so far out of his league. Worse, she liked him and was determined to have him. He can't even consider that. She has no idea how broken he really is.
Draoithe: Midnight Magic
October 23, 2020
Word Count:
91154
Summary: Flame is scarred from a past filled with lies, deceptions, and heartbreak. He is not guilty of what his brothers believe, but Blaze is the only one who knows the truth. He was betrayed by the king he had served. The girls he gave the dark gift to had been innocent. When he finds his Valkyrie, beaten, raped, broken, and fading after having been forced to accept the dark gift without her consent, Flame vows that he will do anything to save her. The light seems gone from both her and the world she finds herself in. Little does Flame know that for her to have the light again, he will sacrifice his honor, his integrity, and his life after breaking every law he can manage to break and even demand absolution for crimes he never committed. Many men say they will die for the love of their life. Flame somehow needs to do it four damn times, find a way to fix not only her broken magic, but fix her broken spirit as well, and then figure out how to live for her! All men wish to love a vampire, but Flame burns in his soul for one who holds the fire and has been granted the dark gift of an immortal vampire princess.
Draoithe: The Dark Gift
July 29, 2019
Word Count:
65000
Summary: Will Logan and Luke Warren are still running, with no refuge in sight. After stopping in Tennessee to meet up with teammates Ron Perry and Jake Wilson, they head for Atlanta, to rendezvous with the remaining member of their team, Todd Jackson. Kowalski told Logan he murdered Jackson, but Logan knows all too well how hard it is to kill any of them now. He's hopeful that Jackson survived and is waiting to meet them. Once they arrive in the city, they find Jackson easily enough. They soon discover, however, that he's involved in a strange and savage situation, a member of a vicious fight club in the basement of an Atlanta club. When he tells Logan he's in trouble and can't extricate himself, Logan finds an oppressive atmosphere of evil in the club, seeming to center around the club's owner, a charismatic man named Austell. Logan is disgusted by the illegal fighting, but Luke and the others are all inexplicably drawn to it. Something or someone is influencing the men, infusing them with violence and cruelty. A chain of events begins to unfold that will test Logan and Luke's bond to the breaking point. Logan's life is turned upside down as he has to fight for the lives of his friends and the man he can't live without. When they're kidnapped, and everything Logan holds dear is in deadly danger, will he be strong enough to save them all? In this book, the second in a three part series, new clues and revelations emerge as to what happened to Logan and his friends in book 1, Origins, Gods of War, to change their lives. They face a new and savage threat to their safety, and receive intervention from Heaven itself? Or could it be Hell?
Dread
January 10, 2019
Word Count:
135408
Summary: Alexio Asmodai is the demon king of Eaglafonn, a small outpost kingdom in the Netherworld overruled by the Demon Lord Asmodeus. It is Alexio's responsibility to protect and police the frontier borders against any threats. He is an accomplished knight, so that part came easy. Eaglafonn is a cold and isolated kingdom. Alexio needed to stay and build his castle atop the hot springs to beat an addiction to seduction sickness. After over seven centuries, he thinks his loneliness has finally come to an end when he opens a crate to find a woman sent by Asmodeus for him to keep safe. He falls for her instantly. She is a human woman, fragile, timid, and irresistible. He must follow his liege's directive, convince her to become his queen, and see that she is cared for properly in a place that is inhospitable to her existence. This leads to a realization that his castle lacks a lot to be a first-class home for a lady. Can a tainted demon prince rise to the challenge to become a true king and win the woman who stole his heart? Dread Allies 7-14 The Shadow king of Eaglafonn has chosen his queen, but his castle lacks the feminine element. To make her more comfortable, he orders the demon princes to seek out and claim their own mates. That is easier said than done. Eaglafonn is a cold dark isolated kingdom in the Netherworld. It might be easier to claim mates from the Domhain, but not everyone could survive on the brutal dangerous frontier. The other options afforded from the Netherworld come with their own dangers. The magic is unbalanced and balancing comes with a price. Claiming their mates lead the demon princes on epic mini journeys and reveals the need for Eaglafonn to take a greater role in helping Luke aid the dream. Dread Allies is a miniseries set in the Netherworld in the dream. It is an ancillary group of stories to the Draoithe saga. While it is set in that world, it is not in the direct series lineup. The dream just got darker and colder. Welcome to Eaglafonn.
Dread Allies: Shadow King
May 15, 2020