Word Count: Information not available
Summary: Charlie Harrington not only sees the dead and speaks with them, he can make them real. Lucky for him, because the love of his life, Ethan, isn't among the living. While their relationship is unusual, things are good between them until Charlie is accused of murder and Detective Daniel Briggs walks into his life. Then, for the first time in years, Charlie is attracted to someone alive. Ethan knows he should step aside and let Charlie live his life, but he just can't give Charlie up--even if staying with Charlie may eventually kill him.
He Speaks Dead
July 20, 2014
Word Count:
23000
Summary: Shax, the Demon Prince of Thieves, has reconciled himself to exile. He has a grand time careening around the galaxy as a high-end, intergalactic purloiner of pretties. Everything's going just fine, thank you very much. All right, fine, the anti-gravity cows are a bit problematic and some of his buyers are bad for his health, but he manages until he comes across an injured angel in a psychedelic alien jungle. He only rescues the wing boy for his golden feathers, but what Shax doesn't know about angels could fill an intergalactic encyclopedia. Ness, since his full, angelic name is too much to deal with, is shockingly naïve and seems convinced that Shax and Verin have brought him aboard to torture him or perhaps eat him. Little by little, Shax begins to earn his trust in the quest to wheedle a golden feather or two from him until to Shax's dismay, the yearning after pretties becomes a different sort of yearning entirely.
Hell For The Company: Brimstone 2
January 4, 2014
Word Count:
79500
Summary: Lost beneath the ocean, Atlantis has become a myth. When it rises from the deep everything will change for Kyle, Finn and the merpeople. Jake Seabrook, a human descendant of Medina, the Atlantean Goddess of Love, never asked for magical powers. Unfortunately, not only does he have them, but they are also growing stronger as more of the Atlantean gods wake from their long slumber. When Jake develops the power to hear the thoughts of anyone thinking about love, lust or sex, it is strange and embarrassing, but also reveals cracks in his relationship with his mermen lovers, Kyle and Finn. If they are going to continue to live as a ménage, they will have to learn to be honest with each other. With Jake's powers out of control and their relationship on shaky ground, the last thing any of them need is a crisis in the sunken city. The Atlantean gods want to regain the powers they lost when the Atlantean people were banished from the city, but the solution will leave the mer who live in the city no choice but to evacuate and search for a new home or risk exposing the existence of the mer to the whole world. Kyle and Finn return to Atlantis to help with the evacuation and insure the safety of their families, but time is not on their side. When Atlantis rises, the consequences could tear apart their ménage forever.
Hidden Depths
October 30, 2018
Word Count:
4820
Summary: A love that spans centuries, violent passion, and undeniable, forbidden attraction. Gunnarr has loved Vidar since they were brothers in arms back in the Viking days. In this day and age, Vidar- now the modern, proper gentleman, Ciernan Stewart- is bound by even more expectations and obligations that make his newly awakened attraction to his old friend, Gunnarr, a shameful secret. When the two men are forced to hide their involvement with each other in a house full of guests for the holidays, will the distance make their hearts grow fonder or rip them apart forever?
Him for the Holidays
December 26, 2018
Word Count:
80000
Summary: Lily Van Der Houghton, a newly licensed physician, is lost and unsettled on which way her life is leading her when she goes hiking to the Jacks River Falls. Lily stumbles through a hole in time and finds herself in 1763. She is not on the trail to the falls anymore but is in Indian Territory in the aftermath of the French and Indian War. To her surprise, Lily learns she has a key role in an ancient Cherokee prophecy. The tribal elders prayed for the right woman to come from Beyond to be Red Moon Woman and the right woman for Marcus McCarron. Lily Van Der Houghton, fresh from the new millennium, is the right woman for the job.
Home to McCarron's Corner
September 16, 2018
Word Count:
22000
Summary: Spaceman meets wolfman. When his own world is destroyed, Aldiss and his crew barely manage to escape, leaving friends and lovers behind. What was meant to be an exploratory trip back to the home world becomes a mad dash for survival. When they awaken from deep sleep on Earth, abandoned by humanity five centuries before, they must quickly learn about their new home. While exploring the region around the ship, Aldiss meets Hari, a human-wolf hybrid, whose people harbor secrets which just might cost the crew their lives. Will Hari and Aldiss uncover the secrets of the past and find common ground? Or are Aldiss and his team doomed to failure?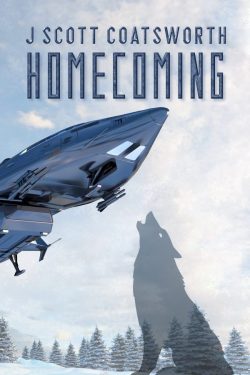 Homecoming
June 26, 2019
Word Count:
80,350
Summary: The sun and moon have been devoured by the cosmic wolves Skoll and Hati. Fimbulwinter has enveloped the world in the cold and darkness. Men prey on each other in order to survive. Amid the chaos, in the struggle for the throne, comes a war between brothers. Hakon, the illegitimate heir to the throne of Norveig, has obtained a horn that can summon a terror from the depths of the ocean. This monstrosity has been sinking the vessels of his half-brother, Jarl Erik Bloodaxe. Erik sends a company of untried heroes to infiltrate Hakon's stronghold and steal the horn. As with all things political, there are other agendas. Fjorn, the leader of the team, is Erik's half-brother who could challenge Erik for the throne. Erik's wife Gunnhild is a powerful sorceress with her own ambitions- could her goals derail the heroes? In life, sometimes a Jarl wins, and other times a Jarl wins.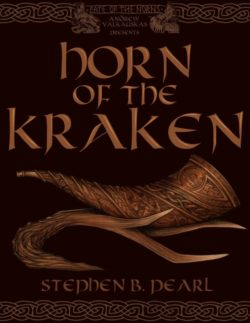 Horn of the Kraken
July 17, 2015
Word Count:
28000
Summary: Derek Herman is living a nightmare. Long before he was born, the planet was taken over by a mind-controlling alien race, and everyone is affected except for him. Derek does his best not to draw attention to himself, but it's not going well. Ocren Starburst is obsessed with his human neighbor. Every time he sees Derek, he wants nothing more than to grab him, hold him, and keep him forever. And four years of chasing him up the stairs in their apartment building has resulted in Derek refusing to even acknowledge his existence. That is, until Derek accuses Ocren of breaking into his apartment. Derek found a button on his living room floor, the same kind of button Ocren wears on his police uniform. And while Ocren hasn't broken in, he knows the button means someone has. Ocren's race has kept their shape-shifting abilities secret for years, but now his other form wants out to slaughter everyone that dares to get too close to Derek. And staying in control proves hard when threats toward Derek increase. Will they be able to keep Derek safe without Ocren losing control of his dragon self?
How to Soothe a Dragon
November 13, 2021
Word Count:
76000
Summary: Sometimes it's harder to teach a young dog new tricks. That's why werewolves embark on a Howling: a three-year rite of passage in which they're sent to a group residence to wrestle with their wolfy instincts and assimilate into the Wider World. But Tanner Araya's Howling is almost over, and he could be called back to his remote pack at any moment. His twenty-first birthday might be his last chance to act on his strongest instinct and finally kiss Chase Denney. Chase is RA at the Howling residence affectionately dubbed "the Doghouse," and he takes his job seriously. So seriously that when he realized he was developing feelings for a resident, he forced himself to keep Tanner at a distance. But now that Tanner's twenty-one, he's not Chase's charge any longer. They could be friends or—if Chase is lucky—something more. At least until they both return to their home packs for good, as tradition demands. It would take a miracle for them to get together—especially when the other Doghouse werewolves insist on "helping." Warning: Many Frisbees are harmed in this story, forgiveness is not always easier than permission, and the five-second rule does not apply.
Howling on Hold
January 13, 2020
Word Count:
50800
Summary: Dr. Grady Hunter has a vampire infestation on his hands in the town of Shady Pines but he's been deserted by those best suited to help. After enlisting Chris Reed, a techno-mage, they find the vampires might only be the tip of a deadly iceburg. Returning home from his dream travels, Ethan Roam is eager to experiment with his newly discovered powers. But Ethan isn't the only familiar arrival in Grady's life. As more reminders of his dark past crop up daily, Grady and Ethan are swept up in a mystery of cosmic proportions. Grady must fight to keep an ever-evolving Ethan on his side while being challenged by the ghosts of his past.
HUNTER
April 8, 2019
Word Count: Information not available
Summary: Jax's little brother Mason is all grown up and finds himself longing for a life of adventure. He finds it in a way he never planned late one night while walking home to the lodge beneath a full moon, when he is attacked, bitten and left for dead by a huge black werewolf. As he's dying and all hope is fading, he is discovered on the trail and believes he's being saved. Instead, he's bitten a second time, and this time by a vampire. Mason finds himself in the middle of an ancient war between the vampires and the Dire werewolves, and during a raid, he's captured by the wolf who first bit him, a strong alpha named Finn. Finn is powerfully attracted to him, but Mason is changing, becoming something not quite wolf and not quite vampire—a new creature with powers of his own.
Hybrid
March 29, 2017
Word Count:
63000
Summary: "You can't keep running from your past, especially when it has four legs and fangs." In the exciting second installment of Tales of a Gay Witch, we return to Jason and his friends six months later as they are coming to terms with the events of last year. Jason thought he could move on with his life after Damien left in search of information about his mother, after finding out she might be alive after all, but is struggling to adjust to life without him. He is persuaded to go out and meet up with his friends at his favorite night club 1470 West, where he meets a handsome young man named Mickey. That same night, Jason is informed by Detective Miller, now a good friend of his, to be on the lookout for Jo's ex-husband Rex, who might be coming their way. There have been a number of sexual assaults and murders targeting young lesbian women up in northern Ohio, and Rex is suspected of being involved. Jo's ex-husband was always a nasty, abusive piece of work, but to make things worse Rex is a werewolf and an alpha to boot. It's up to Jason to rally his friends again, as he is tasked with protecting the people he cares about, before it's too late…
In the light of the moon
June 7, 2021
Word Count:
32,507
Summary: In Sacrum Umbra you were treated to tales from the shadows, the literary darkness that lives within all of us. Here you will find tales of another sort, the type you might find in the less wholesome end of the collective unconscious and the very depths of the gut. From stories of childhood gone horribly wrong to sex and madness with an impossible cost, this is where you'll find the more gruesome end of the spectrum.
In Ventre Tuo
June 3, 2019
Word Count: Information not available
Summary: In a world where a werecat virus has changed society, Roan McKichan, a born infected and ex-cop, works as a private detective trying to solve crimes involving other infecteds. The murder of a former cop draws Roan into an odd case where an unidentifiable species of cat appears to be showing an unusual level of intelligence. He juggles that with trying to find a missing teenage boy, who, unbeknownst to his parents, was "cat" obsessed. And when someone is brutally murdering infecteds, Eli Winters, leader of the Church of the Divine Transformation, hires Roan to find the killer before he closes in on Eli. Working the crimes will lead Roan through a maze of hate, personal grudges, and mortal danger. With help from his tiger-strain infected partner, Paris Lehane, he does his best to survive in a world that hates and fears their kind… and occasionally worships them.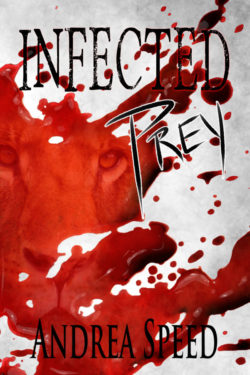 Infected: Prey
June 16, 2010
Word Count: Information not available
Summary: When a shifter and a human are bound by fate, neither man knows if their connection will be enough to save not only their growing love, but their lives. Shahin Halcón has been taught that if and when he meets his soul mate, he'll know immediately. Always the rebel, he doesn't believe it until the day he crosses paths with Cai, a full-human. Plagued by unsuccessful relationships and heartache, Cai Banes's life is quiet and unexciting. When he meets young and wild Shahin, his life is turned upside down, and he's not sure he likes it. But neither can deny the powerful pull that draws them together. Old secrets and ancient myths about cross-species relationships plague their romance and threaten to put their happiness and life at risk. Will their love for each other be strong enough to survive?
Infinite Blue
September 8, 2018
Word Count: Information not available
Summary: It's 1919. Matty returns home to the family farm from the trenches only to find his brother Arthur dying of an unknown illness. The local doctor thinks cancer, but Matty becomes convinced it's connected to the mysterious books his brother left strewn around the house. Rob knows something other than just Arthur's death is bothering Matty. He's know him for years and been in love with him just as long. And when he finds something that looks like a gate, a glowing, terrifying doorway to the unknown, it all starts to fall in to place. Matty's looking sicker and sicker in the same way Arthur did. What is Rob prepared to sacrifice to save him? The answer is in the esoteric books…and with the mysterious Lin of the Frem, who lives beyond the gate to nowhere. It's taken Matty and Rob more than a decade to admit they have feelings for each other and they are determined that neither social expectations or magical illness will part them now. A stand-alone 35k novella set in the Lost in Time Universe, beginning with the 7.5k short story The Gate.
Inheritance of Shadows
April 6, 2020
Word Count:
36000
Summary: INK (NOUN) Five definitions to inspire writers around the world and an unlimited number of possible stories to tell: 1) A colored fluid used for writing 2) The action of signing a deal 3) A black liquid ejected by squid 4) Publicity in the written media 5) A slang word for tattoos Ink features 300-word speculative flash fiction stories from across the rainbow spectrum, from the minds of the writers of Queer Sci Fi.
Ink
August 10, 2021
Word Count:
69861
Summary: A loving boyfriend, generous friendships, and a thriving business—Arnold Kreed should be ecstatic. So why does he feel like he's standing on the edge of an abyss? When Kreed took a chance on a thief—letting Lucky into his world, his life, his heart—he hardly imagined he would find the love and acceptance he didn't dare dream of. Lucky draws people to him, and his extended found family embraces Kreed. Now in an established relationship, despite Kreed's ex causing trouble again, Lucky and Kreed are working toward making a life together. But Kreed is unsettled, unable to find his bliss. He is getting grumpier, and he can feel his people, including his beloved self-aware house, Mildred, pulling away… How can Kreed get back to the joy he so recently found if he has no idea what's wrong?
Innkeeper's Blues
December 27, 2020
Word Count:
36000
Summary: IN-NO-VA-TION (Noun) 1) A new idea, method, or device. 2) The introduction of something new. 3) The application of better solutions to meet unarticulated needs. Three definitions to inspire writers around the world and an unlimited number of possible stories to tell. Here are 120 of our favorites. Innovation features 300-word speculative flash fiction stories from across the rainbow spectrum, from the minds of the writers of Queer Sci Fi.
Innovation
August 8, 2020
Word Count:
100000
Summary: Psychic suspense: "Welcome to Paradise," archaeologist Susan Dunne hears on arrival at the Caribbean island to research petroglyphs and unravel the mystery of her brother's drowning there.  But this sunny tourist paradise conceals dangerous secrets – violent native unrest, a sunken treasure guarded by legendary Jumbies, and a bloodthirsty cult. She's more troubled by her own psychic visions of a shadowy murderer. Susan literally dives into her investigation of the sunken treasure ship where John drowned, and its link to the photo of underwater petroglyphs he'd sent before his death.  To find the truth, she must work with her number one suspect – Vic Manden, the salvage expert who was working the site with John.  Resisting her attraction to the unpredictable combat vet Manden, Susan is soon in over her head in more ways than one. The only way through the murky intrigue is to dive deeper into the tantalizing clues of her visions.
Islands
March 15, 2014