Word Count: Information not available
Summary: He believes in science, but only magic can help his mom. Twelve-year-old Finn is used to people in his family disappearing. His twin sister, Faith, drowned when they were three years old. A few months ago, his mom abandoned him and his dad with no explanation. Finn clings to the concrete facts in his physics books—and to his best friend, Gabi—to ward off his sadness. But then his grandmother tells him a secret: the women in their family are Travelers, able to move back and forth in time. Finn's mom is trapped somewhere in the timeline, and she's left Finn a portal to find her. But to succeed, he'll have to put his trust in something bigger than logic. "This is an incredible book, no matter which time universe you're in. I couldn't put it down. One of my favorite debut novels of the year."—Erin Entrada Kelly, New York Times bestselling author and 2018 Newbery Medal winner
A Time Traveler's Theory of Relativity
Word Count:

94000
Summary:
To have a future, they must face their past. Magda, Ascara, and Lucinda must draw upon the strength of their trinity to seek out the truths of the past that hold the key to their future. They travel north, to Magda's place of birth amongst the Oceanics. For Magda, this is an unwelcoming place, a reminder that she was banished and dealt a cruel fate. Named Stoner and landlocked, for an Oceanic this is a dishonour and a fate worse than death. To return to the float again would place her life, and those with her, at risk. In the freezing waters of the far north, Magda finds herself defending her honour and birthright.  She must succeed as their fate depends upon it. Failure is not an option, the costs are too high. Will Magda allow the past to hold her back, or will she find her destiny? A Touch of Ice is the fourth book in the Towers of the Earth fantasy adventure series.
A Touch of Ice
Word Count:

20000
Summary: Arianh had one wish. Yewlow made it real. And Time turned it into a regret. Anachrony takes you on a journey to the bleak future of Aegea and the darkest places of the mind. Can fate be avoided, or is the future just someone else's past?
Anachrony
Word Count:

144000
Summary: Ancient evil meets modern-day waitress — and a mysterious organization known as Z-Tech. Anne Perrin is resigned to a life driven by an adolescent trauma — a strict routine, no socializing (outside of the safety of her waitressing job), and no romantic relationships. Determined to change her life before it's too late, Anne's first date in a decade turns into a struggle of life-and-death, plunging her into a world she didn't know existed, where super-science may be humanity's only hope against an ancient threat.
Angels in the Mist
Word Count:

128000
Summary: In the wake of a worsening climate crisis, magic runs rampant and demons roam across the Canadian prairies. A long-dead god stirs in the Pacific Ocean, while the wilderness is choked by invasive, screaming grass. The Cascade has shattered political stability, leaving a scandal-plagued government clinging to power in Ottawa. As catastrophe looms ahead, a precognitive rainman, Ian Mallory, stands between run-of-the-mill corruption and a nightmarish, dystopian future. It is up to a diverse and unlikely band of activists, scientists, journalists, and one underpaid, emoji-spell wielding intern to save their beleaguered country from its own worst impulses
Cascade
Word Count:

130000
Summary: The world was forever changed when a government genetic experiment created the Chromodecs from a dead alien in 1952. Decades later, when it became apparent that society needed a way to deal with a hybrid humans with unheard of powers, the CORP was created. The Chromodec Office of Restraint and Protection was a special government police agency formed to keep track of the Chromodecs. This particular tale involves two refugees, young babies who were sent down to Earth to escape being used as pawns in an interplanetary war, despite the fact that Earth itself wasn't so safe. Destined to be Q'sirrahna, or soul mates as the humans called it, Amari Losira Del Rey and Zendara Inyri Baen-Tor would grow to be more powerful than any other beings on the planet, if they could find each other first. After being forced to hide from the CORP when it's realized their powers could level entire cities, Amari and Zen will have to answer one question. Who will save the world when it all falls apart?
Children of the Stars
Word Count:

33000
Summary: Clarity (noun) Four definitions to inspire writers around the world and an unlimited number of possible stories to tell: 1) Coherent and intelligible 2) Transparent or pure 3) Attaining certainty about something 4) Easy to see or hear Clarity features 300-word speculative flash fiction stories from across the rainbow spectrum, from the minds of the writers of Queer Sci Fi.
Clarity
Word Count:

72000
Summary: Vampires and werewolves live long lives. The Sleepless City saga might have ended but the story continues… Welcome to the Vampire Guard, where legend and myth meet science and technology.   Vampires make the best spies. Throw a smart-mouthed werewolf in with three vampires, mix well, and The Vampire Guard's newest team is bound to become one of their greatest assets. Super spies with a full range of skills. Warrior, hacker, thief, and scientist.  They get in, do the job and get out before the bad guys ever know what hit them. Forge, Blair, Declan, and Lucas are thrust into the world of high-tech spies and top-secret espionage conspiracies. Recruited into the world's most elite and secret organization with one singular mission. Protect those who can't defend themselves from ruin. Life becomes complicated when an impending Presidential visit to their town, Boggslake, throws them headlong into the world of the vampires and werewolves of the Vampire Guard. Very quickly they uncover and confront a werewolf terrorist organization known as the Qiguan. Together they must thwart an assassination attempt on the open waters of Lake Superior while tracking a previously unknown biological weapon controlled by the Qiguan—a weapon which may very well mean death for one of them.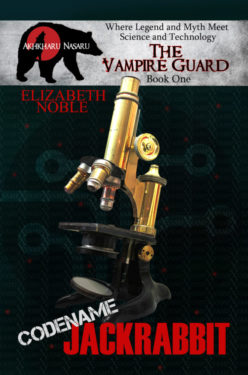 Code Name Jack Rabbit
Word Count:

106,300
Summary: 2018/19 RAINBOW AWARD WINNER First Place: Best LGBTA Book First Place: Best Contemporary General Fiction, Fantasy & Sci-Fi / Futuristic The Taking Shield series comes to its shattering conclusion in Day of Wrath, the fifth and final book. In less than a week, Bennet will finally return to the Shield Regiment, leaving behind the Gyrfalcon, his father, his friends… and Flynn. Promotion to Shield Major and being given command of a battle group despite the political fallout from Makepeace the year before is everything he thought he wanted. Everything he's worked towards for the last three years. Except for leaving Flynn. He really doesn't want to leave Flynn. There's time for one last flight together. A routine mission. Nothing too taxing, just savouring every moment with the best wingman, the best friend, he's ever had. That's the plan. Bennet should know better than to trust to routine because what waits for them out there will change their lives forever.
Day of Wrath
Word Count:

71,661
Summary: A dead-end job, a slob for a boyfriend, and neglectful friends: this is Kat Wallace's life. Ever since her best friend got married, Kat has been struggling to find happiness. All that changes when she meets Melody Adebayo, a field agent with the mysterious transdimensional company Clockwork & Associates. Melody's job is to send the consciousness of others to a scarier dimension in order to make them kinder and more grateful for their lives, which, in theory, will influence them to do good. But when Kat is sent to B-215, she awakes in a world beyond her wildest dreams. She's wealthy, well-liked, and has a successful career. Kat realizes she doesn't need to find happiness in her own world ... she can just steal it from her other self. Because of a certain (ahem) incident, Melody owes a lot of money to her evil ex-girlfriend, and Kat works out a deal with her in order to keep visiting B-215. With each visit, a sinister plot unfolds. Kat discovers her life is at risk, and she isn't alone in this dimension. To eliminate the threat, she must team up with Melody, but can the two uncover the truth before Kat loses her life? More important, will they be able to move on from the mistakes they made in the past and find love with each other?
Duality
Word Count:

62,900
Summary: A werewolf and seven vampires are all that stand between the world and complete annihilation. When Kai Richter and Ori Bier met, sparks flew. Then a train blew up. Tracking an organism deadly to not only humans, but vampires and werewolves alike, brings Kai and Ori into the Vampire Guard. Decades later, they, along with Operative Team Jack Rabbit, come face to face with the horrors that same virus produces. Dead bodies are coming back to life, and rational people are becoming violent and brutal killers. A massacre is taking place nearly a mile under the Atlantic Ocean. Two teams of The Vampire Guard are in the thick of it, fighting to survive.
Endosymbiont
Word Count:

50000
Summary: Can Scott and his new friends survive a trip to the "Dead Zone". Is it REALLY dead? if not who or WHAT lives there?
Enimnori Discovery
Word Count:

87400
Summary: At the end of You Can't Kill the Multiverse (But You Can Mess With its Head), Doctor Alhambra, the chief scientist of the Transdimensional Authority, set up an alarm to warn him if a universe is succumbing to the universe-killing machine that is at the heart of the story. But how would the Transdimensional Authority respond if that alarm went off? In Good Intentions, the first book in the Multiverse Refugees Trilogy, but also the sixth Transdimensional Authority novel, we find out. In the process we not only meet the most unusual refugees in fiction (probably), learn what Noomi Rapier's brother does (and with whom), revisit Dingle Dell, and finally discover what happened to chapter seventeen of The Multiverse is a Nice Place to Visit But I Wouldn't Want to Live There.
Good Intentions: The Multiverse Refugees Trilogy: First Pie in the Face
Word Count:

95,100
Summary: Earth's last known colony, Albion, is fighting an alien enemy. In the first of the Taking Shield serial, Shield Captain Bennet is dropped behind the lines to steal priceless intelligence. A dangerous job, and Bennet doesn't need the distractions of changing relationships with his long-term partner, Joss, or with his father—and with Flynn, the new lover who will turn his world upside-down. He expects to risk his life. He expects the data will alter the course of the war. What he doesn't expect is that it will change his life or that Flynn will be impossible to forget.
Gyrfalcon
Word Count:

93,900
Summary: Shield Captain Bennet is on Telnos, a unpleasant little planet inhabited by religious fanatics and unregistered miners running illegal solactinium mines. It's about to be about to be overrun by the Maess. Bennet's job is to get out as many civilians as he can, but the enemy arrives before the evacuation is complete. Caught in a vicious fire fight, Bennet is left behind, presumed dead. His family is grieving. Joss, his long-term partner, grieves with them; lost, unhappy, remorseful. First Lieutenant Flynn has no official 'rights' here. He isn't family. He isn't partner or lover. All he is, is broken.
Heart Scarab
Word Count:

40289
Summary: For many, the United States is a land of opportunity and new beginnings – unless you happen to be 'different' from everyone else.  Hadi Shahir is one of those people, different in more ways than one. Hadi can manipulate fire; he is 'Evolved'. All he wants is a new life and new adventures in this land of opportunity. His dreams become endless nightmares, however, that begin with an inexplicable hate crime that leaves the young man traumatized and untrusting of the world around him. A chance encounter with a pretty face cracks that shell, showing him that not everyone in Chicago is out to get him until a rash of violent, deadly fires breaks out around the city. Suddenly, all eyes focus on Hadi when too many coincidences bring his abilities to the forefront. In a matter of moments, Hadi jumps to the top of the AEC's most-wanted list. His quiet life as a bartender quickly turns into a tangled mess of chaos, lies, and murder that drag the entire city of Chicago down in flames with the remnants of Hadi's ruined life.
Hellfire
Word Count:

118337
Summary: Astrin Raphael wakes up in a strange place, frightened and confused. He is told to trust someone who seems to hate him, and he tries—he really tries. However, things change rapidly when he discovers his friend is actually his archenemy, Rowan Gabriel, whose abusive behavior stems from a deeply ingrained, if unwarranted, hatred over something that happened many years before, and simply wasn't Astrin's fault. When Rowan's uncle and Astrin's father are kidnapped by Strebo Michael, the two crown princes are catapulted into an adventure that forces them to work together, and along the way their feelings for each other grow. Rowan is quick to let his hate go, but Astrin can't release his inhibitions. It takes Astrin almost dying from a poisoned dagger before he finally accepts Rowan's love. When they return home, their problems continue as their Houses try to negotiate a way for the young men to be together. It soon becomes clear at least one of them will need to relinquish his throne.
Hostage
Word Count:

36000
Summary: INK (NOUN) Five definitions to inspire writers around the world and an unlimited number of possible stories to tell: 1) A colored fluid used for writing 2) The action of signing a deal 3) A black liquid ejected by squid 4) Publicity in the written media 5) A slang word for tattoos Ink features 300-word speculative flash fiction stories from across the rainbow spectrum, from the minds of the writers of Queer Sci Fi.
Ink
Word Count:

36000
Summary: IN-NO-VA-TION (Noun) 1) A new idea, method, or device. 2) The introduction of something new. 3) The application of better solutions to meet unarticulated needs. Three definitions to inspire writers around the world and an unlimited number of possible stories to tell. Here are 120 of our favorites. Innovation features 300-word speculative flash fiction stories from across the rainbow spectrum, from the minds of the writers of Queer Sci Fi.
Innovation
Word Count:

270000
Summary: Oberon is unique among the Common Worlds - a half-world with a strange past and an uncertain future. Jameson Havercamp and Xander Kinnson are thrust into the middle of a world-ending event and have to scramble to save the world - and themselves. Along the way, they peel back the layers of the onion to discover secrets wrapped in secrets that will eventually take them to where it all started - and may provide the key to saving Oberon and everyone on it. SKYTHANE Jameson Havercamp, a psych from a conservative religious colony, has come to Oberon—unique among the Common Worlds—in search of a rare substance called pith. He's guided through the wilds on his quest by Xander Kinnson, a handsome, cocky skythane with a troubled past. Neither knows that Oberon is facing imminent destruction. Even as the world starts to fall apart around them, they have no idea what's coming—or the bond that will develop between them as they race to avert a cataclysm. Together, they will journey to uncover the secrets of this strange and singular world, even as it takes them beyond the bounds of reality itself to discover what truly binds them. LANDER The world needs saving, again. Xander and Jameson thought they'd fulfilled their destiny when they brought the worlds of Oberon and Titania back together, but their short-lived moment of triumph is over. Reunification has thrown the world into chaos. A great storm ravaged Xander's kingdom of Gaelan, leaving the winged skythane people struggling to survive. Their old enemy, Obercorp, is biding its time, waiting to strike. And to the north, a dangerous new adversary gathers strength, while an unexpected ally awaits them. In the midst of it all, Xander's ex Alix returns, and Xander and Jameson discover that their love for each other may have been drug-induced. Are they truly destined for each other, or is what they feel artificial? And can they face an even greater challenge when their world needs them most? ITHANI Time is running out. After saving the world twice, Xander, Jameson and friends plunge headlong into a new crisis. The ithani―the aliens who broke the world―have reawakened from their hundred millennia-long slumber. When Xander and Jameson disappear in a flash, an already fractured world is thrown into chaos. The ithani plans, laid a hundred thousand years before, are finally coming to pass, and they threaten all life on Erro. Venin and Alix go on a desperate search for their missing and find more than they bargained for. And Quince, Robin and Jessa discover a secret as old as the skythane themselves. Will alien technology, unexpected help from the distant past, destiny and some good old-fashioned firepower be enough to defeat an enemy with the ability to split a world? The final battle of the epic science fiction adventure that began in Skythane will decide the fate of lander and skythane alike. And in the north, the ithani rise….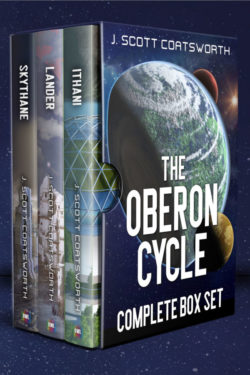 Liminal Sky: Oberon Cycle Complete Box Set