Word Count: Information not available
Summary: Memories of another life and lover guide her, but are they even hers? She is a Bearer—keeper of past lifetimes and gifted with strange talents. Ember must find her answers away from safe Longquan Village, snared instead in the sensuality and dangers of The City. Hidden among spider farmers and slaves, prostitutes and weavers, a nest of people like her are waiting. A powerful man outside The City raises his forces, determined to hunt down the 'demons' who could taint his followers. Threatened from without and within, can the Bearers even trust each other? Powers will rise and alliances will be forged in a dark new world. The Memory Bearers are coming. This book includes violent and mature content. Reader discretion is advised.
After the Garden
Word Count: Information not available
Summary: It's her first job...and it's already going wrong. Freshly graduated from university with a degree in engineering, Crystal approaches her placement on the wormhole-constructive ship Crossing Paths with nothing but enthusiasm. But while Crystal gets used to the ins and outs of a multispecies, multicultural ship, tension brews both at work and back home. Not murdering her coworker Jai is hard enough; the last thing she needs are the terrifying errors cropping up on her maps. Reality and space are either tearing themselves apart - or someone else is attacking them. With conspiracies lurking everywhere, friendship won't be enough to see her through these dangerous new problems... Fans of Becky Chambers' Wayfarers series will enjoy this sometimes joyful, sometimes dark personal adventure set in a world of politics, bureaucracy - and piracy.
And The Stars Will Sing
Word Count:

21,400
Summary: When do dreams become reality? Orin sells dandelion latex at a no-name market, barely scraping by. Mette is a princess. Maybe. What Orin does know is that for thirty seconds every night, Mette visits Orin in xir dreams. Orin has long since written the fancy ghost woman off as a recurring nightmare, but when Mette insists upon meeting in real life, Orin's inner world turns out to be more substantive than imaginary. Along with best friend Blathnaid, Orin embarks on a journey to discover the truth behind xir otherworldly connection--determined to free xir mind and finally get a good night's sleep. But it's an ancient, planetary magic that binds Orin to Mette, and Orin's dandelions may be their only chance to survive the separation. If you want a fun, queer romp through a sci-fi planet with magic and dragons (of a sort), download Awry with Dandelions today! Note: this book uses xie/xir pronouns for Orin. Genres: Space Opera / Science Fiction / Romance / LGBT Lesbian Non Binary Market: Adult and New Adult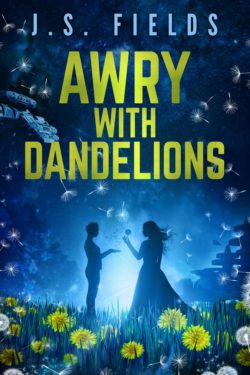 Awry With Dandelions
Word Count:

18000
Summary: ★A novella-length collection of female-centered MF, MMF and MFM★ Detailed SF erotica with wisps of romance and hints of humour. Female p.o.v. Women with sass and men who know how to be deeply intimate. With her and each other. Alien Tryst Planetary Surveyor Icara believes she is alone on the frozen planet, until she stumbles into Alien Hybrid Benj'in and his bonded mate, veteran Cyborg Jake. Survival in the cold soon gives way to the heat of passion, and the intimate promise of being fully filled. But Icara's debt to her employers threatens to tear the new lovers apart. Hot Pursuit Starship Captain Lanie Talbot prides herself on being responsible, until forbidden passions rise between her, Lt. Commander Nico Demelov, and his genetically modified partner Az. As the three pursue dangerous hijackers, Lanie craves submission to Az's primal nature, but she's already violated one rule by taking her First Officer Nico to her bed... Dirty Diplomacy Captain Siva is stranded in deep space with two demanding, lustful aliens. The demonic-looking alien ambassador wants an apology for the delay, while his well-built warrior husband is brazenly trying to seduce the Captain... and succeeding. If Siva can swallow her pride and say sorry, interplanetary relations will take a very passionate turn.
Bisexual Alien Collection: Three Hot and Steamy Sci-Fi Menage Shorts
Word Count:

137000
Summary: Have you ever made a ship's AI proud? Really, truly proud? Captain Alastri has. She's a child of Doro, a frontier world governed by a temperamental AI that represents the thoughts and feelings of all its citizens. Never heard of it? Well, it did get destroyed, which is where her ship's AI steps in, to regale us with how Alastri's past led directly to this catastrophe. When Alastri was 17, she witnessed a failed mediation between the ever-wronged citizen Ceres and Doro's governing AI. That day didn't just reveal a range of competing philosophies. It also led to treason, the loss of her ship, and the destruction of her home 25 years on. Connecting the dots from that day is the only way Alastri can hope to prevent further disaster for her system. And yes, this she does, most splendidly—at least, if you can believe a ship's ridiculously proud AI. Inspired by The Brothers Karamazov, a.k.a. "Dostoevsky in Space"!
Children of Doro
Word Count:

89000
Summary: THE POWER TO DESTROY A KINGDOM. THE POWER TO HEAL A HEART. Ari's new powers have awakened, threatening to tear apart a kingdom already on the edge. Sent back to Valon to face her father's—and the people's—judgement, Ari must decide how far she'll go to reclaim her former life, if that's even possible anymore. In the heart of the turmoil, Iata, the reigning ruler, is losing control of his increasingly unstable magics. As his secrets threaten to spill out, his brother's wife, Haneri, draws ever closer—and he's not sure he wants her to stop. At the border to Kidaa Space, Rhys grapples with the ominous and impossible patterns in the Kidaa attacks, and comes face to face with the Kidaa themselves in a harrowing meeting that could change the future of the kingdom. And Dressa, who secretly married an enemy prince, must now face the consequences of that marriage. Because Lesander was activated by her family. And Lesander has a choice: obey her family, or betray her wife. With enemies without and enemies within, can the Truthspoken save their kingdom, or is this kingdom doomed to fall? Court of Magickers collects episodes 94-150 of The Stars and Green Magics, previously published in serial form. Note: This book has main characters who use gender-neutral pronouns (they/them/their, fae/faer/faerself).
Court of Magickers
Word Count: Information not available
Summary: Give the Enemy Hell! At the ass-end of the galaxy, Allied Forces-including the 142nd Mobile Special Ops Team, better known as Daire's Devils-stand ready to defend the contested colony planet Demeter from military invasion and corporate exploitation. But when the Allied Forces are infiltrated by those determined to secure the top-secret designs of AeroCom's new prototype flagship, the Cromwell, the newest member of the Devils, Corporal Katrion Alexander, finds herself facing off against an unexpected menace, synthetic operatives indistinguishable from living beings. She and the Devils must neutralize this new threat, but how when the enemy wears a trusted face?
Daire's Devils
Word Count:

132,000
Summary: Rules were made to be broken. From terraformed outposts to magical realms, journey to worlds where deadly plants, rampant biodiversity, or failed colonies have created irresistible opportunities for those brave enough to seize them. New worlds, found family, mystical secrets, and deadly science weave together in this lesbian-centric anthology focusing on a very different kind of first time—a first encounter with a world, or being, entirely unlike our own. If you like diverse stories with lesbian heroines practicing science, magic, and seduction, buy Distant Gardens today!
Distant Gardens
N.L. Bates , Sara Codair , Robin C.M. Duncan , J.S...
Word Count:

130000
Summary: Life after the Crash. Over a century after the end of the Earth, life goes on in Redemption, the sole remaining Lunar colony, and possibly the last outpost of humankind in the Solar System. But with an existential threat burrowing its way into the Moon's core, humanity must recolonize the homeworld. Twenty brave dropnauts set off on a mission to explore the empty planet. Four of them—Rai, Hera, Ghost and Tien—have trained for two-and-a-half years for the Return. They're bound for Martinez Base, just outside the Old Earth city of San Francisco. But what awaits them there will turn their assumptions upside down—and in the process, either save or destroy what's left of humanity.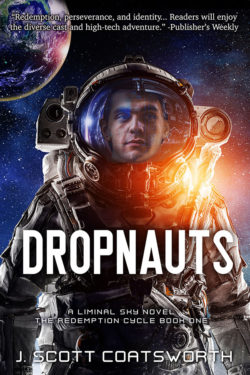 Dropnauts
Word Count:

97000
Summary: The seas spell freedom. Pirates and kraken, boats and submarines, deadly sirens, mermaids, and the women who face them all. These are our heroes. High seas adventure, fantasy, and magic weave together in this sapphic anthology focusing on the joy of the unbounded oceans. If you like diverse stories with lesbian and sapphic heroines exploring oceans, battling sea monsters, and seducing pirates, buy Farther Reefs today! With stories by: Sarah Day and Tim Pratt, Kim Pritekel, Kyoko M. Sara Codair, William C. Tracy, N.L. Bates, Robin C.M. Duncan, Vanessa Ricci-Thode, Margaret Adelle, and J.S. Fields Genres: Science Fiction / Fantasy / Adventure / Lesbian / LGBT and Non Binary Market: Adult
Farther Reefs
Word Count:

37,450
Summary: Giddeus Modesto and Mitsuko Yamato, two well-connected junior officers, get a front-row seat to the build-up to liberate Amargosa. Between a completely avoidable crash on frozen Demeter to the distant core world of Metis to the burgeoning new world of Hanar, they will train with both human and Gelt to retake Amargosa from its occupiers. What happens next is anyone's guess. However, they'll find their biggest battle with not be with the invaders. It will be with each other.
Flight Blade (Gathering Storm Arc 3)
Word Count:

37,067
Summary: The son of a wealthy woman and an admiral tries to run away to the center of humanity only to end up… on a farm. There, he is introduced a radical new concept called "hard work." As he has to deal with life without the universe at his fingertips, he captures the attention of a farmer's daughter. And a local constable who believes an alien invasion is imminent.
Gimme Shelter (Seeds of War Book 3)
Word Count:

95,100
Summary: Earth's last known colony, Albion, is fighting an alien enemy. In the first of the Taking Shield serial, Shield Captain Bennet is dropped behind the lines to steal priceless intelligence. A dangerous job, and Bennet doesn't need the distractions of changing relationships with his long-term partner, Joss, or with his father—and with Flynn, the new lover who will turn his world upside-down. He expects to risk his life. He expects the data will alter the course of the war. What he doesn't expect is that it will change his life or that Flynn will be impossible to forget.
Gyrfalcon
Word Count:

93,900
Summary: Shield Captain Bennet is on Telnos, a unpleasant little planet inhabited by religious fanatics and unregistered miners running illegal solactinium mines. It's about to be about to be overrun by the Maess. Bennet's job is to get out as many civilians as he can, but the enemy arrives before the evacuation is complete. Caught in a vicious fire fight, Bennet is left behind, presumed dead. His family is grieving. Joss, his long-term partner, grieves with them; lost, unhappy, remorseful. First Lieutenant Flynn has no official 'rights' here. He isn't family. He isn't partner or lover. All he is, is broken.
Heart Scarab
Word Count:

94000
Summary: Braxton Thorpe has discovered a threat to the entire Solar System, but he has a problem: he's dead. Frozen at death, he awakens to find himself uploaded into an electronic matrix. Exploring beyond the matrix and the larger GlobalNet, he discovers the Oort, a distributed electronic entity older than humanity, with an unnerving secret: aliens wiped out nearly all life on Earth once, and are coming back to do it again. The mathematical entity that is Thorpe has to find a way to convince humans of the threat, and in time to do something about it. But how, and what? If you've read Niven's A World Out of Time or Taylor's We Are Legion, the opening of Icicle will only seem familiar. Buckle up for a wild ride; you ain't seen nothing.
Icicle: A Tensor Matrix
Word Count: Information not available
Summary:
The Past doesn't easily Forgive. Or Forget.
Distraught over the loss of his crewmates, Caspian Robeaux no longer believes he can pretend to be part of the crew of the
USCS Tempest
. He has to face the fact he's become an outsider and that's who he'll always be. He has no place on a Coalition starship anymore. But the mission must continue and until it's complete, he's stuck on board. Will he find a way to cope, or will the ghosts of his mistakes drive him mad first? Meanwhile Commander Evelyn Diazal is dealing with her own issues. After a visit with her infirmed father goes horribly wrong, she begins to see and hear things that aren't really there. Afraid her father somehow passed his madness on to her; Evie does everything she can to cover up her problems until it puts another crewmember in mortal danger. Amidst all of this, the
Tempest
has traveled far beyond the borders of Coalition space, searching for the mysterious
Andromeda
threat. However what they find is far more dangerous and destructive than they ever could have imagined. Will Cas and Evie manage to pull the crew together to survive, or will their ailments cripple them before the
Tempest
can escape?
Full of action, humor and characters you can't help but root for, JOURNEY'S EDGE is the rousing fourth chapter in the hugely popular INFINITY'S END saga!
Journey's Edge
Word Count:

5200
Summary: There's something in the dark … but is Lem's imagination worse than reality? Out in the vast emptiness of the galaxy, anything can happen. It's a fact that Lem and her trusty companion Spock know all too well. Sometimes, the things lurking in the darkness are all in your head. Then again, maybe there really is something out there. With her talking dog and an infuriatingly literal AI by her side, Lem must rely on nothing but her strength and wits to help her.  As a humorous homage to Arthur C Clarke's classic A Walk in the Dark, this short adventure is a not-actually-scary sci-fi horror story that's perfect for fans of Martha Wells and John Scalzi. 
Jurassic Dark
Word Count: Information not available
Summary: Kal has always been considered too "fragile" to participate in the village activities. Her lithe stature links her to her father and distances her from everyone else. He left the village to fight in the Teristaque Wars and never returned. She meets Sarge, a strange star species of the human race who seems to know the secret of the patch from her father's uniform. Kal has always known she is different than her fellow villagers, and finally she may be closer to finding out why.
Kal's Fall
Word Count:

270000
Summary: Liminal Sky chronicles humankind's first journey to the stars. The first three books - the Ariadne Cycle - cover the creation and launch of Ariadne (aka Forever) as she was grown from seed on an asteroid and then launched across the interstellar void. The books are told in epic fashion, with each broken into three parts that span generations. THE STARK DIVIDE Some stories are epic. The Earth is in a state of collapse, with wars breaking out over resources and an environment pushed to the edge by human greed. Three living generation ships have been built with a combination of genetic mastery, artificial intelligence, technology, and raw materials harvested from the asteroid belt. This is the story of one of them—43 Ariadne, or Forever, as her inhabitants call her—a living world that carries the remaining hopes of humanity, and the three generations of scientists, engineers, and explorers working to colonize her. From her humble beginnings as a seedling saved from disaster to the start of her journey across the void of space toward a new home for the human race, The Stark Divide tells the tales of the world, the people who made her, and the few who will become something altogether beyond human. Humankind has just taken its first step toward the stars. THE RISING TIDE The Earth is dead. Five years after the Collapse, the remnants of humanity travel through the stars inside Forever: a living, ever-evolving, self-contained generation ship. When Eddy Tremaine and Andrissa "Andy" Hammond find a hidden world-within-a-world under the mountains, the discovery triggers a chain of events that could fundamentally alter or extinguish life as they know it, culminate in the takeover of the world mind, and end free will for humankind. Eddy, Andy, and a handful of other unlikely heroes must find the courage and ingenuity to stand against the rising tide. Otherwise they might be living through the end days of human history. THE SHORELESS SEA Rise of the Inthworld. The fight for the future isn't over yet. It could lead to a new beginning, or it might spell the end for the last vestiges of humankind. The generation ship Forever has left Earth behind, but a piece of the old civilization lives on in the Inthworld—a virtual realm that retains memories of Earth's technological wonders and vices. Lilith leads the uprising, and if she sets its inhabitants free, they could destroy Forever. But during the ship's long voyage, humanity has evolved. Liminals with the ability to connect with the world mind and the Inthworld provide a glimmer of hope as they face not only Lilith's minions, but the mistrust of their own kind as homotypicals fear what they can't understand. The invasion must be stopped, the Inthworld healed, sothe people of Forever can let go of their past and embrace their future.
Liminal Sky: Ariadne Cycle Complete Box Set
Word Count: Information not available
Summary: She wanted to meet aliens… … she wasn't expecting to die for them. Life on Unity space station is tough but so is Kayla. When Kayla learns that her half-human friend Salfera is being treated as a slave, Kayla jumps to her defense. But, Kayla doesn't understand the consequences of her activism. A genetically-engineered hybrid, Salfera has spent her life as a science experiment. She knows Kayla needs to end her crusade before she gets hurt . . . or worse. When Kayla starts hearing voices, it's too late. She is part of the experiment now. Join Kayla's fight to save her friend and avoid dissection. -- Advanced Review Copies are available here. Pre-orders are available here.
Nebula's Edge