Word Count:
130000
Summary: Life after the Crash. Over a century after the end of the Earth, life goes on in Redemption, the sole remaining Lunar colony, and possibly the last outpost of humankind in the Solar System. But with an existential threat burrowing its way into the Moon's core, humanity must recolonize the homeworld. Twenty brave dropnauts set off on a mission to explore the empty planet. Four of them—Rai, Hera, Ghost and Tien—have trained for two-and-a-half years for the Return. They're bound for Martinez Base, just outside the Old Earth city of San Francisco. But what awaits them there will turn their assumptions upside down—and in the process, either save or destroy what's left of humanity.
Dropnauts
SALE
May 10, 2021
Word Count:
37,450
Summary: Giddeus Modesto and Mitsuko Yamato, two well-connected junior officers, get a front-row seat to the build-up to liberate Amargosa. Between a completely avoidable crash on frozen Demeter to the distant core world of Metis to the burgeoning new world of Hanar, they will train with both human and Gelt to retake Amargosa from its occupiers. What happens next is anyone's guess. However, they'll find their biggest battle with not be with the invaders. It will be with each other.
Flight Blade (Gathering Storm Arc 3)
July 4, 2020
Word Count:
37,067
Summary: The son of a wealthy woman and an admiral tries to run away to the center of humanity only to end up… on a farm. There, he is introduced a radical new concept called "hard work." As he has to deal with life without the universe at his fingertips, he captures the attention of a farmer's daughter. And a local constable who believes an alien invasion is imminent.
Gimme Shelter (Seeds of War Book 3)
September 14, 2018
Word Count:
95,100
Summary: Earth's last known colony, Albion, is fighting an alien enemy. In the first of the Taking Shield serial, Shield Captain Bennet is dropped behind the lines to steal priceless intelligence. A dangerous job, and Bennet doesn't need the distractions of changing relationships with his long-term partner, Joss, or with his father—and with Flynn, the new lover who will turn his world upside-down. He expects to risk his life. He expects the data will alter the course of the war. What he doesn't expect is that it will change his life or that Flynn will be impossible to forget.
Gyrfalcon
December 5, 2016
Word Count:
93,900
Summary: Shield Captain Bennet is on Telnos, a unpleasant little planet inhabited by religious fanatics and unregistered miners running illegal solactinium mines. It's about to be about to be overrun by the Maess. Bennet's job is to get out as many civilians as he can, but the enemy arrives before the evacuation is complete. Caught in a vicious fire fight, Bennet is left behind, presumed dead. His family is grieving. Joss, his long-term partner, grieves with them; lost, unhappy, remorseful. First Lieutenant Flynn has no official 'rights' here. He isn't family. He isn't partner or lover. All he is, is broken.
Heart Scarab
December 6, 2016
Word Count: Information not available
Summary:
The Past doesn't easily Forgive. Or Forget.
Distraught over the loss of his crewmates, Caspian Robeaux no longer believes he can pretend to be part of the crew of the
USCS Tempest
. He has to face the fact he's become an outsider and that's who he'll always be. He has no place on a Coalition starship anymore. But the mission must continue and until it's complete, he's stuck on board. Will he find a way to cope, or will the ghosts of his mistakes drive him mad first? Meanwhile Commander Evelyn Diazal is dealing with her own issues. After a visit with her infirmed father goes horribly wrong, she begins to see and hear things that aren't really there. Afraid her father somehow passed his madness on to her; Evie does everything she can to cover up her problems until it puts another crewmember in mortal danger. Amidst all of this, the
Tempest
has traveled far beyond the borders of Coalition space, searching for the mysterious
Andromeda
threat. However what they find is far more dangerous and destructive than they ever could have imagined. Will Cas and Evie manage to pull the crew together to survive, or will their ailments cripple them before the
Tempest
can escape?
Full of action, humor and characters you can't help but root for, JOURNEY'S EDGE is the rousing fourth chapter in the hugely popular INFINITY'S END saga!
Journey's Edge
July 10, 2019
Word Count: Information not available
Summary: Kal has always been considered too "fragile" to participate in the village activities. Her lithe stature links her to her father and distances her from everyone else. He left the village to fight in the Teristaque Wars and never returned. She meets Sarge, a strange star species of the human race who seems to know the secret of the patch from her father's uniform. Kal has always known she is different than her fellow villagers, and finally she may be closer to finding out why.
Kal's Fall
December 6, 2014
Word Count:
270000
Summary: Liminal Sky chronicles humankind's first journey to the stars. The first three books - the Ariadne Cycle - cover the creation and launch of Ariadne (aka Forever) as she was grown from seed on an asteroid and then launched across the interstellar void. The books are told in epic fashion, with each broken into three parts that span generations. THE STARK DIVIDE Some stories are epic. The Earth is in a state of collapse, with wars breaking out over resources and an environment pushed to the edge by human greed. Three living generation ships have been built with a combination of genetic mastery, artificial intelligence, technology, and raw materials harvested from the asteroid belt. This is the story of one of them—43 Ariadne, or Forever, as her inhabitants call her—a living world that carries the remaining hopes of humanity, and the three generations of scientists, engineers, and explorers working to colonize her. From her humble beginnings as a seedling saved from disaster to the start of her journey across the void of space toward a new home for the human race, The Stark Divide tells the tales of the world, the people who made her, and the few who will become something altogether beyond human. Humankind has just taken its first step toward the stars. THE RISING TIDE The Earth is dead. Five years after the Collapse, the remnants of humanity travel through the stars inside Forever: a living, ever-evolving, self-contained generation ship. When Eddy Tremaine and Andrissa "Andy" Hammond find a hidden world-within-a-world under the mountains, the discovery triggers a chain of events that could fundamentally alter or extinguish life as they know it, culminate in the takeover of the world mind, and end free will for humankind. Eddy, Andy, and a handful of other unlikely heroes must find the courage and ingenuity to stand against the rising tide. Otherwise they might be living through the end days of human history. THE SHORELESS SEA Rise of the Inthworld. The fight for the future isn't over yet. It could lead to a new beginning, or it might spell the end for the last vestiges of humankind. The generation ship Forever has left Earth behind, but a piece of the old civilization lives on in the Inthworld—a virtual realm that retains memories of Earth's technological wonders and vices. Lilith leads the uprising, and if she sets its inhabitants free, they could destroy Forever. But during the ship's long voyage, humanity has evolved. Liminals with the ability to connect with the world mind and the Inthworld provide a glimmer of hope as they face not only Lilith's minions, but the mistrust of their own kind as homotypicals fear what they can't understand. The invasion must be stopped, the Inthworld healed, sothe people of Forever can let go of their past and embrace their future.
Liminal Sky: Ariadne Cycle Complete Box Set
SALE
March 17, 2021
Word Count: Information not available
Summary: She wanted to meet aliens… … she wasn't expecting to die for them. Life on Unity space station is tough but so is Kayla. When Kayla learns that her half-human friend Salfera is being treated as a slave, Kayla jumps to her defense. But, Kayla doesn't understand the consequences of her activism. A genetically-engineered hybrid, Salfera has spent her life as a science experiment. She knows Kayla needs to end her crusade before she gets hurt . . . or worse. When Kayla starts hearing voices, it's too late. She is part of the experiment now. Join Kayla's fight to save her friend and avoid dissection. -- Advanced Review Copies are available here. Pre-orders are available here.
Nebula's Edge
April 12, 2021
Word Count:
85,000
Summary: Oh, so you thought your quarantine was bad? John Farno wakes up in a rover on a Mars-like world to discover the rest of the planet has been purged of all human life. With only the contents of his rover, he must figure out how to survive. He has no communications off-world, no ship to use for escape, and no human being within 40 light-years. It is the ultimate in social distancing.
No Marigolds in the Promised Land
March 22, 2020
Word Count: Information not available
Summary: Hawk's people need the truth to survive. The Protected only care about saving themselves. Having traveled the world to find a cure for a city-wide malady, Hawk is anxious about his return home. Although facing a death sentence, he believes the medicine he's brought can save his city from extinction. But when he and the captain start behaving oddly, the crew suspects a hybrid is pulling the strings in Rocan, altering people's perceptions, and even occluding the cause of the malady itself. Hawk's resistance to the altered reality raises red flags among the Protected, a group of humans living in a neighboring realm that relies on Rocan to exist. The Protected also want the cure, and they plan to steal it. Exposing the Protected could collapse the walls of the city, killing everyone in Rocan. Can Hawk fight the control of the Protected to save himself, his family, and his city? Occlusion is the final installment of the New Dawn space opera series. If you enjoy found family stories, psychic powers blended with technology, you'll love this riveting, multi-realm space opera.
Occlusion
June 1, 2022
Word Count:
83000
Summary: Seeing the future is not the same as saving it. When the first premonition hits, Amanda thinks it's a hallucination. She doesn't have psychic power; she echoes the powers of others. No one on the ship has that power, but the Confluence stones they acquired on Terrana seems to have extended her range. Her sudden ability to see the future has done little to help her crew prepare. Led off course, their ship finds Nola, a peaceful farming town celebrating their annual Festival. The moment she enters the city, Amanda feels more echoes of power than she can control. Overwhelmed by both the Festival and the spirit power in the city, Amanda begins a hunt for a powerful human-spirit half-breed that can help her, and finds herself at the center of the city's battle to purge spirit-kind from their midst. Can Amanda's borrowed powers give the crew the edge the need? Find out in this epic sci-fi thriller, because knowing the future is only half the battle.
Premonition
December 5, 2020
Word Count: Information not available
Summary: These two stand-alone short stories set in "The New Dawn" universe, free to my newsletter subscribers. A Reason to Walk Saskia lost everything the day she was shot. The bullet that paralyzed her started a Revolution on her world. Rescued by an outsider, she's taken from her world and declared a deserter. Her physical recovery has been slow. Then a new captain arrives on her ship and gives her a reason to walk. The Lost Ingredient Long before the Matthews brothers bought their spaceship, they were forcibly separated. In these three vignettes, Tray Matthews uses his love of cooking to cope with the loss of his brother, and to reconnect when they find each other again three years later. Each memory includes the recipe Tray is cooking.
Second Chances
April 28, 2018
Word Count: Information not available
Summary:
Beyond the Edge Things get Weird.
Having barely survived their encounter with the mysterious race known only as Andromeda, the crew of the
USCS Tempest
now must find a way to repair the ship if they ever want to get back to the Coalition to warn them of what's coming. Their comms are down, their engines are shot and unless the god Kor himself makes an appearance, they'll have to rely on local help if they want a way out of this mess. But finding friendly species in an uncharted region of space is easier said than done. They've already captured one pirate attempting to take advantage of their ship and have spent the last few weeks fending off even more. If this doesn't let up soon, there won't be anything left of the
Tempest
to save. However, their new prisoner offers a solution. He knows where to find exactly what they need, if they're willing to let him out. If that weren't enough, he knows where they can find out more about Andromeda before returning to the Coalition. The catch is they have to put their trust in a bunch of strangers they know nothing about.
If you love space adventure, robots, aliens and a bevy of characters with more mystery than Pandora, you'll love SECRETS PAST and the INFINITY'S END series!
Secrets Past
August 10, 2019
Word Count:
73,900
Summary: Three complete novellas: The Roots of War - Beware the alien with a potato. The "hew-man" Marq offers such a tuber to Kai and Tishla as the face a famine. But there's more at stake than the failure of a prison colony on a poisonous planet. Marq says three planets are really rogue colonies causing a mysterious "Compact" trouble. Invade away, and they're problems are solved. Only Kai smells the Gelt equivalent of a rat. But can he stop two species from going to war? Read an excerpt! The Marylinists - Douglas Best has found three colonies for his backward world of Jefivah. Just remove the military's weapons of mass destruction. But Compact Intelligence is not happy. The weapons have disappeared. They think Best knows where they are. And to avoid prison, Best is going to have to turn to Jefivah's only major religion for help: A cult to the Blessed Mother, Marilyn Monroe. Read an excerpt! Gimme Shelter - JT Austin has it all. His mother is a wealthy shipping heiress leading the Compact's largest corporate entity. His father is a newly minted admiral. But when he abuses his mother's wealth one too many times, they decide he needs military school. He decides he needs to flee to Tian, humanity's richest and most advanced world. Instead, he ends up on the distant farming world of Amargosa, lusted after by a farmer's daughter, suspected by a shady constable, and in the crosshairs of an alien invasion. Read an excerpt! All three novellas now in one volume. Get yours today!
Seeds of War Omnibus
November 3, 2018
Word Count: Information not available
Summary: He dreamed of escaping. She had a plan. Had Douglas found his chance to break free, or had he allied himself with crazy? He'd never flown his patchwork biplane, but he and his father had dreamed of flying it over the mountains. His father's work had been sanctioned, Douglas' was not. The stolen parts and the fuel were sure to land him in prison. Or worse, dead. But the moment Sky saw the plane, she knew she'd found her escape. Sky wasn't like any woman in Rocan. She seemed to appear from nowhere. She spoke a dozen languages, and she claimed to be over a hundred years old, though she didn't look it. She knew how to fix ancient technology, and carried devices unlike anything they had in Rocan. And she was determined to fly his plane out of the city whether he wanted to go or not. She claimed there were places to go – cities they could run to. Spaceships that would take them to the moon and back. She would take him as far as he wanted to go. Was she crazy? Was he? You'll love this sci-fi adventure, because freedom is worth fighting for, even if it requires a giant leap of faith. Buy it now.
Sequestered
November 3, 2017
Word Count:
85000
Summary: When Tabitha first whispered to the ship, she never expected it to answer. A pilot yearning for adventure, Tabitha proudly flies missions scavenging supplies for her space-borne city. But when the Navicorp sends her to scavenge a derelict ship, it triggers a psychic link to the ship and the alien enemy that drove her people from their home planet. The unexpected connection puts Tabitha and her people in the crosshairs of the telepathic invaders who are determined to exterminate the human race. Her rapidly evolving ability to communicate with the alien ship unlocks a chain of secrets about her past that shakes her identity. The Captain's eagerness to push her into danger challenges her loyalty. Can she use her new ability to save them? Will they turn on her and leave her at the mercy of the aliens? If you love technopaths, psychics, AI friends, and thrilling heroics, you'll love this military sci-fi adventure. Pick up this page-turner today.
Ship Whisperer
October 14, 2021
Word Count:
66,000
Summary: Two star systems are colliding... ...And Mike Christopher of the Earth starship Asaph Hall is rushing to unlock their secrets. But two alien races on the journey are keeping their own potentially deadly secrets. It doesn't help that the love of Mike's life can't handle the emotional stress of being near him, and that he has to give the Earth ambassador on-the-job training!
SOME DISTANT SHORE
May 25, 2020
Word Count:
99,800
Summary: The Storm has arrived. For Davra Andraste, redemption comes as she accompanies the resistance commander to confront the human warlord fighting against both sides. And the newest overlord on Amargosa. For an ambitious politician, control of human evolution is almost in his grasp. Only a very old foe threatens to undo his plans. For Laral Farad, it is his family's last hope to tame the "rogue colony" called Cyal, which humans call Amargosa. For JT Austin, it's a now or never moment to prove himself as he trains to liberate his adopted homeworld. For Amargosa, it's a chance to end a year-long nightmare. The Amargosa Trilogy comes to a thrilling conclusion!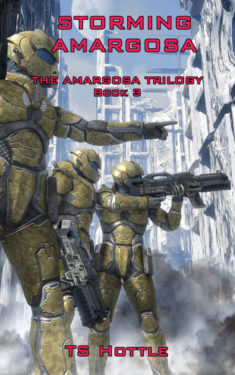 Storming Amargosa (The Amargosa Trilogy Book 3)
September 13, 2020
Word Count:
83,000
Summary: Life on Amargosa was supposed to be quiet for Cui Yun, better known by her call sign Suicide. But when a baby is dropped on her doorstep, the mother's disappearance leads her across the galaxy to a world of Neanderthals, a colony devoted to Marilyn Monroe as a goddess, and a planet still in a post-apocalypse and rife with monster plants. She and her protege will find themselves above the galactic plain facing down an enemy that wants control of human evolution itself. Suicide Run marks the return of one of TS Hottle's most popular characters. Find out where she came from, how she became a pilot, and why her call sign is 'Suicide".
Suicide Run
August 13, 2021