Word Count: Information not available
Summary:
Beyond the Edge Things get Weird.
Having barely survived their encounter with the mysterious race known only as Andromeda, the crew of the
USCS Tempest
now must find a way to repair the ship if they ever want to get back to the Coalition to warn them of what's coming. Their comms are down, their engines are shot and unless the god Kor himself makes an appearance, they'll have to rely on local help if they want a way out of this mess. But finding friendly species in an uncharted region of space is easier said than done. They've already captured one pirate attempting to take advantage of their ship and have spent the last few weeks fending off even more. If this doesn't let up soon, there won't be anything left of the
Tempest
to save. However, their new prisoner offers a solution. He knows where to find exactly what they need, if they're willing to let him out. If that weren't enough, he knows where they can find out more about Andromeda before returning to the Coalition. The catch is they have to put their trust in a bunch of strangers they know nothing about.
If you love space adventure, robots, aliens and a bevy of characters with more mystery than Pandora, you'll love SECRETS PAST and the INFINITY'S END series!
Secrets Past
Word Count:

85000
Summary: When Tabitha first whispered to the ship, she never expected it to answer. A pilot yearning for adventure, Tabitha proudly flies missions scavenging supplies for her space-borne city. But when the Navicorp sends her to scavenge a derelict ship, it triggers a psychic link to the ship and the alien enemy that drove her people from their home planet. The unexpected connection puts Tabitha and her people in the crosshairs of the telepathic invaders who are determined to exterminate the human race. Her rapidly evolving ability to communicate with the alien ship unlocks a chain of secrets about her past that shakes her identity. The Captain's eagerness to push her into danger challenges her loyalty. Can she use her new ability to save them? Will they turn on her and leave her at the mercy of the aliens? If you love technopaths, psychics, AI friends, and thrilling heroics, you'll love this military sci-fi adventure. Pick up this page-turner today.
Ship Whisperer
Word Count:

83,000
Summary: Life on Amargosa was supposed to be quiet for Cui Yun, better known by her call sign Suicide. But when a baby is dropped on her doorstep, the mother's disappearance leads her across the galaxy to a world of Neanderthals, a colony devoted to Marilyn Monroe as a goddess, and a planet still in a post-apocalypse and rife with monster plants. She and her protege will find themselves above the galactic plain facing down an enemy that wants control of human evolution itself. Suicide Run marks the return of one of TS Hottle's most popular characters. Find out where she came from, how she became a pilot, and why her call sign is 'Suicide".
Suicide Run
Word Count:

93000
Summary: To resuscitate his fading celebrity, tech CEO Stephen Lucas would sell his soul for one more hit. When the subspace network for his holographic gaming empire crashes, his hardware guru makes a discovery proving that Einstein was right once again—information can be sent into the past. They accidently created a simple time machine. In a culture built on instant gratification, Lucas is sure he's stumbled upon the next big thing,  the game-changer that will make Wall Street give him the accolades he craves—a device that makes instant delivery possible. Want a pizza now? Send your order back in time 30 minutes. Forgot to make reservations at that chichi french restaurant two weeks ago? No worries now you can make purchases of anything in the past and have it appear when you want it—now. So, buy last weeks PowerBall ticket. Invest in that stock you wish you bought last year. Share a FaceTime call with a loved one that passed away last month. Finally time really is on your side. A time machine for the rest of us. But when he rushes into beta testing, he learns that the stuff dreams are made of can quickly become the stuff of nightmares. It turns out Move Fast and Break Things is terrible policy when developing a time machine.
The Dent in the Universe
Word Count: Information not available
Summary: "It is so packed with action that there was no place where I could say, 'Ok time for bed now. I'll finish it tomorrow.' A must read." ~Amazon Reviewer Fale doesn't know why she has visions of the queen's past life. All she knows is that her magic becomes dangerously faulty every time she sees into the past. Through the visions, the mystery of Effailya's banishment and life of slavery is solved; the reasons of her heated parting with Gryndoll are revealed, as well as who was the queen's secret lover. And how that could possibly relate the Source Wizard to the Queen of Mages, herself. The Source Wizard Gasten sends out his best efforts, but the new queen stays one step ahead of him. He may have found a way to send his spell to her. And if not, he's found the old wizard's journals, which are sure to give her weaknesses. The Final Rescue is a face-paced adventure as the wizards and mages race toward their mutual destruction. A strong female lead not only survives her dystopian society… she solves the mystery of a hidden war, only to cause a new one, then battles both sides to rule it herself. It's a conclusion for fans who fell in love with The Hunger Games, Divergent, and The Reader series. If you're hooked on genre-blending, suspenseful, fantasy romance novels, with adventure, you'll love The Final Rescue!
The Final Rescue
Word Count:

161800
Summary: Following the dramatic events in The Starchild Compact, the starship Starchild departs on a 185-year interstellar journey. Meanwhile, the Iapetus Federation in cooperation with the Founders, descendants of the people who originally constructed Iapetus, expands to include the Mirs Complex at L-4, the Lunar Complex, a new habitat being constructed at L-5, the growing Mars settlements, and several asteroids including Daphne and Ceres. On Earth, America turns away from its world leadership position to focus on internal matters and the idea of an all-inclusive, multicultural society. Saeed Esmail, the stowaway Jihadist who played a significant role in The Starchild Compact, becomes the guiding prophet of a new form of Islam that quickly dominates the vanquished Persian Caliphate territories, and threatens the rest of the planet. Aided by Founder Asshur, the besieged Israelis reluctantly forge a new homeland on Mars, while the United States balkanizes into a half-dozen smaller units dominated by the Lone Star Conservancy under the leadership of Texan Sam Houston, who had earlier established the Lone Star Settlement on Mars. Science does not stand still. Founder researchers develop a longevity treatment that has the potential to extend human life indefinitely. The Starchild Institute, headed by former U.S. President Marc Bowles, develops advanced spacecraft, and a new form of transportation based on artificial wormholes. As the global Jihad on Earth heats up, most of the planet falls under the domination of Saeed Esmail, with only the Lone Star Conservancy, Columbia Freehold, Australia, and New Zealand left as independent territories. The Institute opens evacuation portals between Earth and Iapetus to rescue as many people as possible. While Earth sinks into medieval barbarism, the focus of human activity shifts from Earth to the Iapetus Federation as humans settle virtually every potentially habitable spot in the Solar System and begin planning for expansion into the rest of the Galaxy.
The Iapetus Federation: Exodus From Earth
Word Count:

155000
Summary: Eighteen years after the Chromodec Uprising in Children of the Stars, the world is a very different place. Kaelen Ra-Evon lands on Earth, a planet where aliens exist and refugees are fast-tracked to citizenship in many countries. Her tale encompasses the age-old notions of loss, love, and found family. Kaelen tries to navigate her new life on Earth, as well as a romance with genius CEO, Lea Lockheed-Tuck, all while honoring her family's legacy as the last of her house. She's wary of the Chromodec Office of Restraint and Protection, a US agency tasked with policing people of power regardless of their race or planet of origin. In an attempt to protect the woman she loves, Kaelen becomes a vigilante: Scion. She won't let laws or the CORP stop her from doing what's right.
The Last Scion of Ra
Word Count:

100000
Summary: They say, "Never work with androids or children." Quirk had one job to do, deliver papers to a Milan mafia boss, before leaving Earth for his home in the asteroids. But that was before being tailed, poisoned—oh, yes—and hijacked into raising foulmouthed fourteen-year-old convent girl Angelika Moratti, aka Moth, who'd rather see him asphyxiate in space. Fleeing assassins, Quirk, Moth and her syRen® android S-0778 ride the space elevator to the Moon, where Quirk hires on to hunt an ex-terra-former who somehow used an android to murder his doctor. But which android of the two hundred under Lunaville's dome? The trail of bodies grows, time is running out; the only way they can save the dome and the two thousand souls beneath it is to solve The Mandroid Murders. Genres: Science Fiction / Thriller / Mystery / Adventure / LGBT and Non Binary Market: Adult
The Mandroid Murders
Word Count:

112000
Summary: The first battles against Artemis ended with both sides bloodied. Six months have passed, six months of meaningless negotiations but no hostilities. What is Artemis up to now? To a degree, it doesn't matter. Cass and Ken can't stop building, improving, tinkering:
A new, larger, more capable habitat, a true city in space.
An improved starship
A true space fighter, not just a shuttle with popguns
And they're expanding their reach onto Luna itself, trying to discover and disrupt from the inside. But a secret is about to emerge, a secret so dark and devastating even Kendra doesn't know she's been carrying it her entire life. One which could smash their plans without a shot being fired.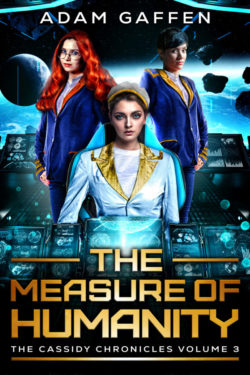 The Measure of Humanity
Word Count:

107000
Summary: As the Oort Federation becomes a major force in the Solar System, Braxton Thorpe passes the Federation chairmanship to former US President John Butler. Thorpe's group offers humanity virtual immortality, but Isidor Orlov and his Udachny Enterprises oppose their every move. While terraforming Mars for more living space, the Mars Reds prove formidable as resisters. If the Asterian starship fighter pilots are released, will they align with Phoenix or Udachny, and who will develop the right FTL technology? In this tense space adventure, Thorpe, his team, and Max the tabby cat travel to Proxima Centauri and beyond to the Aster system, 84 lightyears distant. Will Thorpe bring together humans and Asterians in their quest for intergalactic travel? Will long life prove more than mere humans can handle?
The Oort Federation: To the Stars
Word Count:

87000
Summary: In the interstellar kingdom of Valoris, the balance of power has changed. Dressa Rhialden has all she ever wanted—except she only wanted Lesander, gorgeous prince of an enemy high house, not the kingdom meant for her sister. Unfortunately, her betrothal came with both, and now she has a lot of catching up to do. But she's falling hard for Lesander in the meantime, and with her kingdom on the line and Lesander maybe her enemy, is falling in love really a good idea? When alien attacks that shouldn't be possible plague her kingdom's distant worlds, Dressa's new position is put to the test. Why are the pacifist Kidaa attacking now, and were the attacks made by the Kidaa at all? There's more going on than an internal power shift, and she has far more secrets to uncover to keep her kingdom safe. Ari Rhialden had her whole life planned out: excel at being the Truthspoken Heir, controlling her kingdom with her shapeshifting powers, and then one day excel at ruling the kingdom. But when she contracts an incurable illness and loses her ability to shapeshift, those plans are derailed. Ari's sent undercover to a resort world for treatment, but all is not right in paradise. A young gardener with a mysterious past is taking too much interest in Ari's new persona, and a possessive duke is bent on capturing her attention for himself. Are these just the ordinary machinations of noble guests or something far more sinister? In a kingdom where subterfuge is the norm, coincidence is never just that, and now events are rapidly spinning out of control. Can Dressa and Ari find their way to truth before the kingdom comes crumbling down around them? The Shadow Rule is the second season of The Stars and Green Magics, an epic space fantasy serial set in a diverse, queernorm universe with shapeshifting royals, plotting nobles, and space magic! The Shadow Rule collects episodes 37-93, the complete second season. This book has main characters who are queer, nonbinary, trans, agender, genderfluid, ace and/or aro, lesbian, fat, POC, disabled, ND, and generally awesome. (Not all rep is stated, some is implied.) Barring the occasional burst of strong language, this book is PG-13.
The Shadow Rule
Word Count:

366200
Summary: This is a Kindle book and Audible book of all three volumes in the set.      The Starchild Trilogy begins with building a Space Launch Loop enabling massive movement off Earth and subsequent settlement of Cislunar-Space, Mars, and beyond.      Slingshot is the story of the struggle behind constructing the largest machine ever built stretching between Baker and Jarvis Islands in the Equatorial Pacific, and how the men and women behind Slingshot overcome the project's physical, economic, and human obstacles.      In The Starchild Compact, a team exploring Saturn's moon Iapetus discovers it to be a derelict starship, and meets the Founders, remnants of an ancient, advanced race, the Ectarians, that arrived in the Solar System 150,000 years ago. Together, they create the Starchild Institute governed by a document they call the Starchild Compact to further develop and introduce Ectarian technology to the Solar System. Using Ectarian technology, they develop near lightspeed spacecraft, artificial wormholes, FTL starships, and human longevity.      As human colonies expand into the Solar System, they form a governing coalition: The Iapetus Federation. While a united Islam pursues a global Jihad that rages across the planet putting millions to the sword, the Federation enables an exodus from Earth using artificial wormholes. From hand-to-hand combat in the oceans, to battles on Earth's surface, to the challenge of living off-Earth and reaching for the stars, our heroes fight to survive and to expand humankind to the far reaches of the universe.
The Starchild Trilogy
Word Count:

67000
Summary: In the interstellar kingdom of Valoris, everyone knows the royal family is watching. They can be anyone and anywhere with their shapeshifting abilities—they are Truthspoken and to be feared. Of course, that doesn't stop the high houses from trying to take them down by any means they can. Arianna is the perfect Truthspoken Heir: beautiful, intelligent, and a master of her shapeshifting craft, determined to one day rule with the same control as her father. Her dreams come crashing down, though, when she's attacked by a rogue Green Magicker at her betrothal to a rival high house prince, when it's known that magickers can't do violence. Was it treachery, was it personal, or was it something else? Arianna has been slowly getting ill for weeks, and Truthspoken don't get sick. Dressa is the second Truthspoken heir and would like to stay that way, thank you very much. She's the glittering socialite of her father's court, more loved than feared. But when her older sister falls ill and is secretly sent away from court, there's still the matter of a much needed marriage alliance with a rival high house—and an absolutely gorgeous prince, who her sister wasn't keen on marrying anyway. When her father orders her to take her sister's place until she returns—her name, her appearance, everything—can Dressa carry on the act without falling for her sister's intended bride? Paranoia around Green Magickers is growing, noble plots are closing in, and in deep space, the only aliens humans have met are showing signs of not being pacifists after all. Can the Truthspoken hold their kingdom against the coming storm when it's already crumbling from within? The Truthspoken Heir collects the first season of The Stars and Green Magics, an epic space fantasy serial set in a diverse, queernorm universe with shapeshifting royals, glittering court intrigue, and space magic! This book has main characters who are queer, nonbinary, trans, agender, genderfluid, ace and/or aro, lesbian, fat, POC, disabled, ND, and generally awesome. (Not all rep is stated, some is implied.) Barring the occasional burst of strong language, this book is PG-13.
The Truthspoken Heir
Word Count: Information not available
Summary: In the Hybrid Nation, the only thing worse than showing weakness is being born a little too human. Jode is a throwback, given up by his parents and raised in an institute that was never meant to serve his needs. All he wants is to get free and find his mother, and when Rowla Arl shows up to study the children in the facility, he sees his chance. Jode tries to convince the wolf to help him, but Rowla has her own agenda. And her own secrets. The kid's atypical blood might hold the answers to her genetic problems, too. But if she wants to unlock the kid's DNA, Rowla's going to have to convince him to trust her, to drop everything, and to take a chance so big it could shake the whole Hybrid Nation. They're going to have to work together to keep Jode out of enemy hands, to keep his DNA away from a psychotic monkey, and to keep the biggest secret in Hybrid Nation history from destroying them both.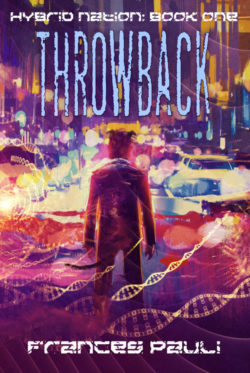 Throwback
Word Count: Information not available
Summary: Forty years after landing on Lida, the colony still isn't finished. Agetha has survived many more battles than she anticipated when she first landed on her new home planet. She's older and wiser, has gained family and lost loved ones. And yet her reward for four decades of service is to be pushed to the colony's outer edges with the other aging Generationals. But that was only the beginning of her adventure. The biomass has spent years studying the intruders who landed on its surface, carving a new home from its very essence. Never satisfied in its attempt to communicate with this new and invasive species, finally it has found a way to express its intentions. The colonists may never be the same. Discover the fate of the colony in the second book of The Biomass Conflux trilogy!
To a Fungus Unknown
Word Count:

143365
Summary: Viva la revolucion! The Primus, Vasilia Newling, is facing her worst nightmares: A revolution on Luna Titan and the Asteroids abandoning the Solarian Union. Defections from within her own government. All because of those damned Cassidys! But she's still as ruthless as ever. And if Aiyana and Kendra thought she was playing dirty before? They're going to see how filthy she really can get. There isn't room for both the Terran Federation and the Union. This time, one is going down. For good. Return to the future for the fifth installment of The Cassidy Chronicles: Triumph's Ashes.
Triumph's Ashes
Word Count: Information not available
Summary: Our visions of the future - whether dark or hopeful, thrilling or mundane - have always challenged us to examine our world. How can we improve? What challenges will we face? Are we even ready? Top Science Fiction authors, collectively holding 25 Hugo, Nebula, Locus, and Sturgeon awards (a few for Vital stories!), employ the power of engaging fiction to explore these questions and today's most critical issues in medicine. But Vital doesn't stop at speculation. Proceeds will be donated to the COVID-19 Solidarity Response Fund for the World Health Organization, the global guardian of public health, coordinating the worldwide pandemic response. Read on to build a better future of Healthcare! Featuring stories by Paolo Bacigalupi, David Brin, Tananarive Due, Sally Wiener Grotta, Congyun ("Mu Ming") Gu, James Patrick Kelly, Justin C. Key, Seanan McGuire, Annalee Newitz, Julie Nováková, Lola Robles, Eric Schwitzgebel, Alex Shvartsman, Caroline M. Yoachim Edited by RM Ambrose
Vital: The Future of Healthcare
RM Ambrose , Paolo Bacigalupi , David Brin , Tanan...
Word Count:

50,000
Summary: J. Manfred Weichsel's versatility, unique style, and refusal to be bound by genre conventions have made him a force to be reckoned with in the world of speculative fiction. Now, Weichsel invites you to strip down and expose yourself to his raw and unfiltered imagination with Warrior Soul & Other Stories. Weichsel's stories peel away the veneer of societal norms and delve deep into the human psyche, exposing the rawest and most vulnerable parts of our existence. Through his boundary-shattering tales of science fiction, adventure, horror, and humor, Weichsel fearlessly explores the fringes of what is possible in fiction, revealing the naked truth of our humanity. From the mind-bending science fiction of "Warrior Soul", to the fantastical realm of "The Rainbow-Colored Rock Hopper", from the light comedy of "Queen of the House", to the darkest depths of horror of "Complicit in Their Bondage", these twelve tales will leave you feeling exposed and vulnerable in the best possible way. The bold and daring themes that run throughout Weichsel's work strip away all pretense and artifice to reveal the unvarnished truth of the human experience. So if you're ready to shed your inhibitions and explore the depths of what's possible in fiction, then get your copy of Warrior Soul & Other Stories now. It's time to embrace your innermost desires and take the plunge into the raw, unbridled world of J. Manfred Weichsel.
Warrior Soul & Other Stories