Word Count:
60,000
Summary: What happens when you die, but the universe isn't done with you? You might end up as the pet of a giant worm-a-pede alien and…if you survive your evolved descendants and rogue aliens of 1 million A.D…discover you have more in common with intelligent worms than you ever thought possible. Yes, all this might happen if you are Albert Rudyard Goldstein—the discoverer of the Biomic Network Algorithm—who thought his time had come. He had done his part to make the world a better place. Now he deserved—even looked forward to—a peaceful and mercifully succinct death. But the universe had other plans...
A Once-Dead Genius in the Kennel of Master Morticue Ambergrand
May 31, 2018
Word Count:
108000
Summary: Now what? As Kendra recovers from her wounds, Artemis is planning their next strike. But so are others. Artemis has been too corrupt for too long; their own people are ready to take control. It's just going to take a little encouragement...
A Quiet Revolution
April 16, 2021
Word Count: Information not available
Summary: Rudyard Albert Goldstein, inventor of the Biomic Network Algorithm, made piece with death once in the 22nd century, but an idiot doctor hijacked his mind, placing it in the care of Nessie, an impish AI guardian. Nessie preserved him from a civilization-ending asteroid strike so that he could help his descendants survive contact with an alien species 923,000 years, four months, and three days later. Then, he died again, merged with a worm-a-pede alien male who narrowly survived fulfilling his mating duties. They expired peacefully on a cliff top, pondering the nature of existence—and the promise of abominable liaisons. Two deaths should be quite sufficient for any genius to endure. Somehow, Nessie resurrected him from oblivion. His descendants needed him again. New hostile aliens roamed the Earth—along with an immortal, alien-human hybrid whose agenda was unclear. Was the healthy young body Nessie had prepared for him, along with the prospect of finally discovering "the meaning of it all" enough of a bribe to risk dying a third time? Apparently so. Readers of Raham's A Singular Prophecy (Biostration, 2011), and A Once-Dead Genius in the Kennel of Master Morticue Ambergrand (Penstemon Publications, 2018) will reconnect with old friends (both human and alien). But even those new to the author's quirky sense of humor will enjoy this third and final adventure that spans the breadth of time and space.
A Twice-Dead Genius Comporting With Misunderstood Abominations
September 15, 2020
Word Count:
80,0-00
Summary: MIKE CHRISTOPHER RETURNS TO EARTH TO BATTLE AN OLD NEMESIS! Mike Christopher, an artificial Human spurned and abused by much of Earth society, left Earth to become a Galactic explorer. Now, 25 years later, he returns to battle the Jenregar, an alien enemy he's fought before. But the key to defeating the alien threat also presents a soul-crushing moral dilemma!
ALL HUMAN THINGS
May 26, 2020
Word Count: Information not available
Summary: Olson lives in a city that has been sealed from the outside world. He's an Eleven Year and close to citizenship. His life is upended when one of the few adults who cares about him commits suicide - or so it appears at first. While investigating, Olson meets a girl named Natalie snooping around his school. He soon learns that one of her friends died under similarly mysterious circumstances. Together, they start looking for answers, and end up discovering the city's darkest secrets.
Atmospheric Pressure
September 9, 2016
Word Count:
112,000
Summary: Chanda Kasmira devotes years of her life and career to saving the inhabitants of the planet Splendor from the planet's coming destruction. Her latest effort fails. Life on Splendor faces more danger than ever before. Disheartened, Chanda places herself into a "long sleep," intending to awaken decades later to a brighter future for Splendor and its people. She doesn't. Instead, an even more difficult path lies ahead after CHANDA'S AWAKENING.
CHANDA'S AWAKENING
May 26, 2020
Word Count:
50000
Summary: Fourteen-year-old Samantha spends her days exploring the shallow reef behind her island home. With her world locked in a battle against rising seas, scientists deploy genetically modified corals to rebuild reefs and protect the coastline. No one expects the reefs to be a hotbed of evolution, but they are. When an octopus flows off a rock in her lagoon, Samantha is startled. When he purposefully arranges pieces of coral on the sand, trying to communicate, she is shocked. How she responds may determine the fate of life on Earth. The year is 2045, and fourteen-year-old Samantha lives in a world where ocean levels are rising, destroying coastal cities and swallowing islands. Millions of displaced people are homeless. The planet is in a climate tailspin that threatens civilization. Researchers deployed genetically modified corals that can grow in warmer waters. They aimed to sequester carbon dioxide and stabilize the climate. The successful project produced an extensive barrier reef system along the coasts of Georgia and Florida. Samantha lives on a research island off the coast of Georgia with her scientist parents. She becomes obsessed with the ocean, spending all her time exploring the reef. One day, she encounters an octopus attempting to communicate with her. The story dives deep into an exploration of species' intelligence and the quest to save the planet.
Charlie's Story
March 1, 2022
Word Count:
416800
Summary: Colonists struggle to build their lives, but first they have to survive. Read the complete series through generations.
Glory on Mars - Emma joins the first settlers amid death and betrayal. She must learn the truth before Mars kills them all.
Born on Mars - Jake didn't ask to be born into a failing habitat, but new arrivals bring hope and peril. Can he save his friends and family?
Hermit on Mars - Sig will rescue the ungrateful Martian prospectors, even if it kills him.
Water on Mars - Scoundrels on Mars and Earth drag Bliss into their lethal schemes.
Storm on Mars - An AI may be a psychopath's only friend. Zeker's always close by when something weird happens.
Colony on Mars - All 5 Books
January 12, 2018
Word Count:
80000
Summary: Other stories will take you to Mars. This one will take you inside the boardroom, the pub, and the bedroom with the people planning the mission. Gurdeep is an engineer and a soldier. Georgie's a food scientist. One is pragmatic with a tough outer shell; the other's an optimist, a person of ideas and compassion. In the span of a single afternoon, the couple find themselves in charge of planning a self-sustaining colony on Mars. Together, they're humanity's last hope for survival. They have 160 slots to fill with experts from all over the world as they set about designing an all-new society with its own government, economy, and culture – and that's just the tip of the iceberg. Among those chosen for the mission is Devon, an autistic scientist with a unique skill set who finds life on Earth strange and alienating. Maybe a whole new planet is exactly what's needed. With 1,114 days until the launch, excitement and tensions run high. Earth's second chance hangs in the balance. Between strict genetic requirements and the dangers of the dystopian almost-present, will everyone make it to the final countdown? This is a work of neurodiverse, culturally diverse, gender-bendy, socio-politico-economic, drunken-arguments-in-the-pub science fiction – not bang-bang-pew-pew science fiction.
Devon's Island
January 20, 2020
Word Count:
130000
Summary: Life after the Crash. Over a century after the end of the Earth, life goes on in Redemption, the sole remaining Lunar colony, and possibly the last outpost of humankind in the Solar System. But with an existential threat burrowing its way into the Moon's core, humanity must recolonize the homeworld. Twenty brave dropnauts set off on a mission to explore the empty planet. Four of them—Rai, Hera, Ghost and Tien—have trained for two-and-a-half years for the Return. They're bound for Martinez Base, just outside the Old Earth city of San Francisco. But what awaits them there will turn their assumptions upside down—and in the process, either save or destroy what's left of humanity.
Dropnauts
SALE
May 10, 2021
Word Count:
83000
Summary: Desperate for a cure, Amanda will trade anything. Even her supernatural echo power. Plagued by schizophrenia, Amanda often has trouble distinguishing her delusions from the insights of her supernatural echo power. When her case catches the interest of a Cordovan geneticist, she soon discovers there's a fine line between a patient and a test subject. Even worse, the treatment for her disease might also erase her power. With Amanda left vulnerable by her treatment, the crew is in a race to save both her and the other test subjects. But their lone ship is no match for the Cordovan's advanced technology.  Can Amanda use her power to save them before her consciousness is erased? Echo is the thrilling continuation of the New Dawn science fiction series. If you like complex characters, clashing cultures, and supernatural powers, you'll love this multi-realm space opera.
Echo
July 15, 2021
Word Count:
120412
Summary: Sarah's got daddy issues. He lives in her head, built her out of fish, and killed millions of people. But he's really sorry. Honest. A father that lives in your head wouldn't be so bad if he wasn't the killer of millions. At least it's comforting to know that he didn't murder the fishes used to create your body. Or the seagull. Sarah hides her illegal nanite origins in an effort to build an ordinary life, but the legacy of dad's horrors makes it difficult. Especially when new but familiar zombie-like abominations begin to appear in the city.
Echoes of Erebus
June 12, 2010
Word Count:
214000
Summary: Starship lost in eternity... Ghost ship Impris, lost during the War of a Thousand Suns, is the stuff of legend. Her very name conjures the perils of interstellar travel. But no mere legend, she is real—glimpsed on occasion in the hyperdimensional Flux, and then gone. Her passengers and crew live on in a strange limbo, their fate hopelessly caught up in quantum defects in space-time, interstellar piracy, and galactic coverup. To the pirates of Golen Space, she is a perfect lure, drawing passing ships to their doom. Many innocent star riggers have been captured in such raids and forced to pilot for the murderous pirates. One such rigger, Renwald Legroeder, makes a daring escape and flees to the presumed safety of the Centrist Worlds. But instead of finding asylum, he is framed for treason. Something is terribly wrong in the Guild of Riggers and the government that should be protecting him. To clear his name--and perhaps to avert a disastrous war between worlds—he must escape a second time, and partner with the amphibious Narseil to return to the Deep Flux and search for the lost Impris. Legroeder's journey takes him back into the heart of raider territory, where he encounters a bewildering array of motives, conspiracies, and even deep-cyber romance. Forging friendships and finding love in the unlikeliest of places, Legroeder must nevertheless put his life on the line to protect the innocent, and preserve a shaky interstellar peace. A finalist for the Nebula Award, Eternity's End stands as a highlight of the Star Rigger saga, and one of Jeffrey A. Carver's most memorable novels. Can be read as a stand-alone book, or as part of the future history. PRAISE FOR ETERNITY'S END: "True love, cognitive dissonance, divisions among the enemy, ambitious schemes, another mission—this one deeper than anyone has ever gone before into the substrata of the Flux—and a final resolution that leaves the reader both breathless and satisfied." —Analog "You don't want to wait for the paperback." —Science Fiction Chronicle "A mesmerizing tale of human perseverance and courage under pressure that updates the legend of the Flying Dutchman." —Library Journal "Carver never runs out of new plot twists to keep the reader coming back for more." —The Washington Post
Eternity's End
December 11, 2010
Word Count: Information not available
Summary: Here you'll find tales of the supernatural, betrayal and murder; the mistakes that lead to the fall of empires and the constant tug of war that haunts mankind. There's a blend of science fiction, fantasy and horror - from a modern day detective facing a serial killer to a future utopia filled with disloyalty. Lovers of romance will find a little something for them too, but within these bright sparks of hope shades of darkness lurk.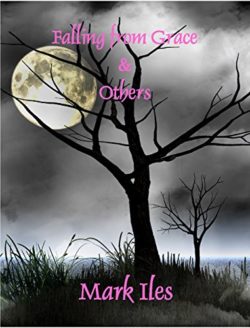 Falling from Grace, & Others
October 27, 2014
Word Count:
85000
Summary: ALSO AVAILABLE FROM INGRAM FOR BOOKSTORES We're a world beset by crises. Climate change, income inequality, racism, pandemics, an almost unmanageable tangle of issues. Sometimes it's hard to look ahead and see a hopeful future. We asked sci-fi writers to send us stories about ways to fix what's wrong with the world. From the sixty-five stories we received, we chose twelve most amazing (and hopefully prescient) tales. Dive in and find out how we might mitigate climate change, make war obsolete, switch to alternative forms of energy, and restructure the very foundations of our society, The future's not going to fix itself.
Fix the World Anthology
SALE
April 10, 2021
Word Count:
79700
Summary:
First settlers on Mars may be the last.
Emma Winters wants to explore with her robotic walkabouts.
When the tiny colony's psychologist walks out an airlock, she takes the one-way journey to Mars despite misgivings. As more deaths and illness plague humanity's tiny foothold, Emma must discover the truth before the Red Planet kills them all.
Glory on Mars
November 8, 2015
Word Count:
20000
Summary: An Artificial Superintelligence bent on destroying humanity. A mech warrior determined to stop it. No one is safe. Not before, not now, not ever. Jedidiah Martin survived the AI apocalypse that almost destroyed America. He was there when they took down Isaac, the superintelligence responsible for nearly ending humanity. But is Isaac dead for good? From the ashes, a new threat has emerged. The people from a neighboring town are missing, as is Jedidiah's nephew, Blake. All hell is about to break loose. With his band of mechanized warriors, Jedidiah sets out to find answers. But the questions keep coming: Is Isaac back from the grave? What does he want with Blake? Will he try to finish humanity for good this time?
Gods of War
April 6, 2021
Word Count: Information not available
Summary: Elderly, unarmed, and extremely dangerous. Ajay Andersen was the best hacker the NSA had ever hired. He sank corporations, toppled governments, and broke cryptography. All of it. Retirement hasn't slowed him down one bit, thank you very much. When his estranged daughter shows up on his doorstep with his two granddaughters, Ajay will do anything to keep them safe. He'll hack biotech corporations and criminal enterprises alike. He'll brave the woods of Minnesota. Nobody after his girls will be safe, but the more he digs, the more he dredges up the shadows of his own dangerous past. He only needs to know one thing: What makes his granddaughters so darn dangerous?
Grandfather Anonymous
July 5, 2021
Word Count: Information not available
Summary: Retired, reclusive, and too smart to die. Hacker Ajay Andersen knows his retirement isn't always going to be sunshine and roses. He's committed to protecting those he loves, and sometimes that's not going to be easy. But things get complicated fast when he finds Silas Cardoso's body in his living room. An environmentalist entrepreneur threatens the very wilderness he once protected. Mercenaries hold information that could endanger Ajay's granddaughter Kylie. If he's going to make things right, Ajay will need to venture somewhere he never wants to go during the harsh Minnesota winter: Outside. Too old to race a snowmobile through a dense forest? Maybe. Too old to be a pain in the butt? Not this Grandfather.
Grandfather Ghost
February 7, 2022
Word Count: Information not available
Summary: Seasoned, strange, and dangerously clever Some invitations are impossible to refuse. When Ajay and Kylie are invited to a dinner party hosted by one of the wealthiest women around, Ajay sees it as an opportunity to dig into her past. He needs to find what shady business she's been up to and how dangerous she really is. Never mind that she's Kylie's grandmother. What starts out as a dinner party turns quickly to trouble when a guest is murdered. Was the killer the billionaire socialite, the odd chef, or one of the other guests? Ajay needs to cut through the complex connections between the reluctant guests, because one of them is a killer–but they aren't the only one. Too old to learn decent manners? Maybe. Too old to solve a murder? Not this grandfather.
Grandfather-Guardian
May 2, 2022