Word Count:

153,500
Summary: The Guardian is a guilty pleasure, time travel, erotic M/M fantasy novel about twin witches Robbie and Rowan, who take a job at a mineral mining company. They soon discover something is lurking in the darkened mine. Robbie and Rowan are thrown back in time and find themselves stranded in the year 1647 with no foreseeable way back. Robbie is maliciously catapulted forward in time to the year 1918. Separated from Rowan for the first time in his life, Robbie is scared and alone. Robbie finds his young grandfather in post-war Connecticut. He is forced to witness a secret relationship between his grandfather and a man. Robbie learns of the existence of werewolves and knows he will need his brother to help him fight in the battle that has the potential of becoming the next apocalypse.
The Hallowed Bloodline: The Guardian
Word Count:

150,500
Summary: A guilty pleasure novel that combines a thrilling tale of time travel, magic, erotic M/M fun, and adventure. Follow Ehane Freeman, a native American witch, as he journeys back to 1636, right before the Mystic massacre, the darkest time in Connecticut's history. Ehane is determined to save his ancestor, Sassascus, the sachem of the Pequot tribe, from the massacre. However, his brother, Dohate, is against the idea. He is more concerned with the ramifications of tampering with the timeline. Ehane goes against his brother's counsel and travels back in time and inadvertently destabilizes the natural course of history, leaving Dohate to clean up his mess, yet again. Dohate and his friends have to assimilate into the 17th century to help nudge history back on course. They fight on the side of the Native Americans as their battle with the Puritans grows to a fever pitch.
The Hallowed Bloodline: Us vs. Them
Word Count:

43000
Summary: Shax can't walk away from an abandoned, hungry kitty. The fact that she can eat him in three bites is irrelevant. Someone abandons a pedigree hellcat right where Shax can conveniently claim her and sets off a cataclysmic domino line of events. It's time for the other shoe to drop since the Brimstone has a shadow cabal after them—partly due to Shax's own, er, interesting decisions and partly due to the presence of Agent Julian Parallax onboard. As ship security officer, Ness has a lot on his mind—a dangerous new pet, even more dangerous criminals tracking the Brimstone, and yet another unexpected rescued guest. The last thing he needs is a distraction and Julian, who confuses and confounds him more every moment, is exactly the distraction he doesn't need. Between Shax's reckless gambits and Julian's disregard for his own safety, how is Ness supposed to keep anyone safe? The Brimstone and her intrepid crew do all they can to stay one step ahead, but this time the hunters are closing in.
The Hunt for Red Fluffy: Brimstone 6
Word Count:

161800
Summary: Following the dramatic events in The Starchild Compact, the starship Starchild departs on a 185-year interstellar journey. Meanwhile, the Iapetus Federation in cooperation with the Founders, descendants of the people who originally constructed Iapetus, expands to include the Mirs Complex at L-4, the Lunar Complex, a new habitat being constructed at L-5, the growing Mars settlements, and several asteroids including Daphne and Ceres. On Earth, America turns away from its world leadership position to focus on internal matters and the idea of an all-inclusive, multicultural society. Saeed Esmail, the stowaway Jihadist who played a significant role in The Starchild Compact, becomes the guiding prophet of a new form of Islam that quickly dominates the vanquished Persian Caliphate territories, and threatens the rest of the planet. Aided by Founder Asshur, the besieged Israelis reluctantly forge a new homeland on Mars, while the United States balkanizes into a half-dozen smaller units dominated by the Lone Star Conservancy under the leadership of Texan Sam Houston, who had earlier established the Lone Star Settlement on Mars. Science does not stand still. Founder researchers develop a longevity treatment that has the potential to extend human life indefinitely. The Starchild Institute, headed by former U.S. President Marc Bowles, develops advanced spacecraft, and a new form of transportation based on artificial wormholes. As the global Jihad on Earth heats up, most of the planet falls under the domination of Saeed Esmail, with only the Lone Star Conservancy, Columbia Freehold, Australia, and New Zealand left as independent territories. The Institute opens evacuation portals between Earth and Iapetus to rescue as many people as possible. While Earth sinks into medieval barbarism, the focus of human activity shifts from Earth to the Iapetus Federation as humans settle virtually every potentially habitable spot in the Solar System and begin planning for expansion into the rest of the Galaxy.
The Iapetus Federation: Exodus From Earth
Word Count:

111,600
Summary: **First Place Winner 2019 Rainbow Awards: Best Gay Historical Romance. ** **Third Place Winner 2019 Rainbow Awards: Best Gay Book.** SECOND EDITION: Something is stalking the Aegyptian night and endangering the archaeologists excavating the mysterious temple ruins in Abydos. But is it a vengeful ancient spirit or a very modern conspiracy… Rafe Lancaster's relationship with Gallowglass First Heir, Ned Winter, flourishes over the summer of 1900, and when Rafe's House encourages him to join Ned's next archaeological expedition, he sees a chance for it to deepen further. Since all the Houses of the Britannic Imperium, Rafe's included, view assassination as a convenient solution to most problems, he packs his aether pistol—just in case. Trouble finds them in Abydos. Rafe and Ned begin to wonder if they're facing opposition to the Temple of Seti being disturbed. What begins as tricks and pranks escalates to attacks and death, while the figure of the Dog—the jackal-headed god Anubis, ruler of death—casts a long shadow over the desert sands. Destruction follows in his wake as he returns to reclaim his place in Abydos. Can Rafe and Ned stand against both the god and House plots when the life of Ned's son is on the line?
The Jackal's House
Word Count:

75000
Summary: The once-beautiful domed neo-Victorian city of Bridges is split between four crime families in an uneasy cease-fire. Social disparity increasing and its steam-driven infrastructure failing, a new faction is on the rise: the Red Dogs. Jacqueline Spadros has a dream life: a wealthy husband, a powerful family. But her life is not what it seems. Kidnapped from her mother's brothel and forced to marry, the murder of her best friend Air ten years before haunts her nightmares. She finds moments of freedom in a small-time private eye business, which she hides in fear of her sadistic father-in-law. Air's little brother disappears off his back porch and the Red Dogs are framed for it. With the help of a mysterious gentleman investigator hired by the Red Dogs to learn the truth, Jacqui pushes her abilities to their limits in hope of rescuing the child before the kidnapper disposes of him.
The Jacq of Spades: Part 1 of the Red Dog Conspiracy
Word Count:

75000
Summary: What if the person who hated you most was the only one who could save you? Thousands of gentlemen have gone bankrupt in Bridges and trouble brews between the Diamond and Spadros crime families. Yet the city is united in its desire to exact vengeance for those murdered in the zeppelin disaster. Penniless and alone, private eye Jacqueline Spadros confronts the lowest point of her life. Seen as an accomplice in the financial crisis and accused of a crime she didn't commit, Jacqui faces trial in front of a hostile jury - and could receive the death penalty. Jacqui knows she's been framed by the illusive Red Dog Gang. But will the jury believe her?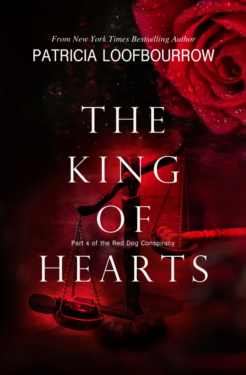 The King of Hearts: Part 4 of the Red Dog Conspiracy
Word Count:

91000
Summary: She barely survived the last round. As the Red Dog Gang closes in on her Family, can she survive the next? After the devastating events of our last chapter, all private eye and mafia wife Jacqueline Spadros wants is to get her life back. Then a missing person she thought she'd never track down falls into her lap. Jacqui is thrown into a series of events which not only puts her and everyone around her into danger, but changes her life forever. Warning: on-screen murder, major consent issues, smoking, language, infidelity, betrayal, description of injury, gore, on-screen suicide, child injury This is chapter 9 of a 13-part serial novel. Please read these books in order: * The Jacq of Spades * The Queen of Diamonds * The Ace of Clubs * The King of Hearts * The Ten of Spades * The Five of Diamonds * The Two of Hearts * The Three of Spades * The Knave of Hearts <-- you are here Book 10 coming October 2023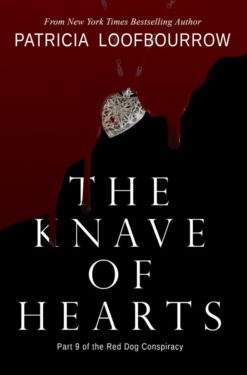 The Knave of Hearts
Word Count:

155000
Summary: Eighteen years after the Chromodec Uprising in Children of the Stars, the world is a very different place. Kaelen Ra-Evon lands on Earth, a planet where aliens exist and refugees are fast-tracked to citizenship in many countries. Her tale encompasses the age-old notions of loss, love, and found family. Kaelen tries to navigate her new life on Earth, as well as a romance with genius CEO, Lea Lockheed-Tuck, all while honoring her family's legacy as the last of her house. She's wary of the Chromodec Office of Restraint and Protection, a US agency tasked with policing people of power regardless of their race or planet of origin. In an attempt to protect the woman she loves, Kaelen becomes a vigilante: Scion. She won't let laws or the CORP stop her from doing what's right.
The Last Scion of Ra
Word Count:

51000
Summary: Escaping intergalactic kidnappers has never been quite so ridiculous. When Lem and her faithful dog, Spock, retreat from the city for a few days of hiking in Algonquin Park, the last thing they expect is to be kidnapped by aliens. No, scratch that. The last thing they expect is to be kidnapped by a bunch of strangely adorable intergalactic bounty hunters aboard a ship called the Teapot. After Lem falls in with an unlikely group of allies – including a talking horse, a sarcastic robot, an overly anxious giant parrot, and a cloud of sentient glitter gas – the gang must devise a cunning plan to escape their captors and make it back home safely. But things won't be as easy as they first seem. Lost in deep space and running out of fuel, this chaotic crew are faced with the daunting task of navigating an alien planet, breaking into a space station, and discovering the real reason they're all there… Packed with preposterous scenarios, quirky characters, and oodles of humour, The Left Hand of Dog tackles complex subjects such as gender, the need to belong, and the importance of honest communication. Perfect for fans of Charlie Jane Anders' Victories Greater than Death – especially ones who enjoy endless references to Red Dwarf, Star Trek, and Doctor Who. This book will show you that the universe is a very strange place indeed. Scroll up and grab your copy now!
The Left Hand of Dog
Word Count:

54,000
Summary: Welcome back to Charybdis Station and the crew of the Blue Solace: (Fourth Book in the series) Sebastian Dolarnio has a past. His parents sold him into indentured servitude when he was seventeen which led him to enforced prostitution. Fortunately, with the help of some very good friends, him and his daughter are safe and have a home - a beautiful, accepting place with more family than he ever dreamed of having. Then there's his mate. A handsome, wonderful man calls Sebastian "mate" and Sebastian knows he doesn't deserve him. He has to find a way to be worthy of his new home and his new mate. A strange Crellic book provides him with the answer to his problems, but it comes with complications of its own. Alois has been dreaming of finding his life-mate since he was a kid. He knows that Sebastian is a dream come true, but how can he convince his mate of that plus fight the baggage he carries from his own past? When Sebastian begins a strange, wonderful journey, Alois knows that he has to be the loving and supportive mate that Sebastian deserves. The two men build a life together and learn to love one another, but the galaxy is in turmoil and Charybdis Station is in the middle of it all.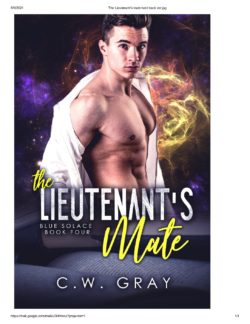 The Lieutenant's Mate (Blue Solace Book 4)
Word Count:

122000
Summary: As the heir to the throne, Royal Connate Olivienne Dracore cannot escape having a Shield team protecting her wherever she goes. But with the addition of Shield Commander Castellan Tosh, she has a team that doesn't just guard her person but also aids in her job as a historical adventurist. She knows without a doubt that together they can unravel the Divine Mystery of who the Makers were and why they created the great temples. With the conclusion of their last mission, Olivienne acquired the map needed to find the mysterious third great temple of Psiere. And there is no one better to accompany than her beloved Cmdr. Tosh. But before they can leave to brave the dangers of the unknown, first they must brave their own oathing ceremony. They will need each other for the coming mission because as with all things related to the Makers, mystery often begets mystery and danger is always just a wrong step away. Especially when the prize is something that could change Psiere forever.
The Lost Temple of Psiere
Word Count: Information not available
Summary: Nightmares bleed into the waking world. A city of shadows lurks underground. Restless ghosts, eerie dolls, and spiteful stepmothers. Haunting stories of love, madness, and small disasters. Featuring a full-length novel and eleven stand-alone short stories, this collection blends fairy tales, horror, and science fiction. The Underlighters is a dystopian horror coming-of-age adventure that follows the life of Janelle Cohen from insignificance to bitter-sweet triumph. Footsteps in the Snow is a Lovecraftian nightmare set in a Canadian winter. A Shot of Vodka, a darkly realistic exploration of life after trauma, rounds out the collection. More and stranger stories fill in the gaps. Gender and sexual mores are rewritten, primal fears take physical form, and dreams and reality merge. Prepare yourself: nothing is safe.
The Loved, The Lost, The Dreaming
Word Count:

100000
Summary: They say, "Never work with androids or children." Quirk had one job to do, deliver papers to a Milan mafia boss, before leaving Earth for his home in the asteroids. But that was before being tailed, poisoned—oh, yes—and hijacked into raising foulmouthed fourteen-year-old convent girl Angelika Moratti, aka Moth, who'd rather see him asphyxiate in space. Fleeing assassins, Quirk, Moth and her syRen® android S-0778 ride the space elevator to the Moon, where Quirk hires on to hunt an ex-terra-former who somehow used an android to murder his doctor. But which android of the two hundred under Lunaville's dome? The trail of bodies grows, time is running out; the only way they can save the dome and the two thousand souls beneath it is to solve The Mandroid Murders. Genres: Science Fiction / Thriller / Mystery / Adventure / LGBT and Non Binary Market: Adult
The Mandroid Murders
Word Count: Information not available
Summary: Worlds collide and peace shatters in Book 3 of The Meaning Wars… On the way to a new wormhole-building gig, Crystal and her husband Jai fight over the future of their family. But the safe haven of their base is paradise compared to Pluto. Recovering from her imprisonment, Sarah and her cousin Toby try to scrape their lives back together and stay out of trouble on the icy planetoid. Rebel leader Patience Ngouabi's actions have triggered a growing insurrection on the colony planet of Indus, and the shock waves have reached even the Solar system's worlds. Both Crystal and Sarah will have to decide between uneasy peace and constant danger - if they get to choose at all. Content advisory: this book contains references to abuse, sexual scenes, torture, and mental health issues. Reader discretion is advised.
The Meaning Wars
Word Count: Information not available
Summary: Two best friends looking for love. An oppressive interstellar government. Adulthood has never been so stressful... For the first time, all five books in The Meaning Wars are united as a complete collection. In this queer space opera featuring a diverse cast, a found family navigates the politics of revolution and freedom. Join Crystal, a wormhole engineer, and Sarah, an English Literature graduate with a chip on her shoulder, as they try to find romance and friendship - while an oppressive interstellar government watches their every move. As Crystal deals with her faltering marriage, Sarah makes risky career decisions - by doing what's morally right. Running from the surveillance state of the Human Conglomerate, will the Interfederation's multi-species alliance prove their salvation? A crew of old friends and a union of renegade space pirates may be their way out. But first, they have to save rebel icon Patience Ngouabi from arrest and certain torture - and make sure they all get out alive. Fans of Ruthanna Emrys' A Half-Built Garden and Becky Chambers' Wayfarers series will love the cosy yet intense adventures of this crew of misfits fighting for political and social justice.
The Meaning Wars Omnibus
Word Count:

41000
Summary: Welcome to the mercenary ship, The Blue Solace: Leti Ando needs off planet and fast. He has a best friend and a new half-sister to rescue, and he needs to be sneaky about it. Unfortunately sneaky isn't really his thing. With the help of a friend, Leti and his menagerie, along with his two companions, stow away aboard a mystery ship. Little does he know that The Blue Solace belongs to the infamous mercenary, Captain Will Hackett, a man he'll come to love with everything inside him. Will has been in a bitchy ass mood for the past six months. He's restless and grumpy, but doesn't know why. He knows he needs something and he can't find it, but his crew are out of patience and insist on some R &R back home at Charybdis Station. Then Hack finds a stow away angel and everything changes. Leti is his mate and he'll do anything to keep him safe and happy, even smile. The galaxy's not a safe place, though, and The Blue Solace has a job to do: pick up a renowned scientist and his mysterious artifact. Then get them safely back to Charybdis Station. Hack and Leti don't realize their romance story is about to get hijacked by Concord mercenaries. Their love is easy, it happens just like that. Staying alive and keeping the galaxy safe? That's a little harder. Author's Note: 41,801 words. (Previously published as "Happens Just Like That"). This is a m/m love story with no angst and no cheating, just a HEA. There is lots of action, sex, mpreg, and a few potty mouths involved in the story. 18+ readers only, please. It is also the first of two books about this specific couple.
The Mercenary's Mate
Word Count:

90000
Summary: In 1915, gay men don't get married, they don't take care of children together, and if they do, they don't get caught. Gael and Jack are a lot of firsts to each other. Gael is the first other gay man Jack has ever met, kissed, or wanted. Jack is the first really decent man who only see an Irish gangster and whore  that Gael has ever known. Gael and Jack just work for each other. First love is fabulous, even if it's forbidden. Enduring love is hard, extra hard in the face of WWII, Prohibition, and a world that can't know them as they are.  The story is presented as a serial and is free to read.
The Moon's Permission
Word Count:

107000
Summary: As the Oort Federation becomes a major force in the Solar System, Braxton Thorpe passes the Federation chairmanship to former US President John Butler. Thorpe's group offers humanity virtual immortality, but Isidor Orlov and his Udachny Enterprises oppose their every move. While terraforming Mars for more living space, the Mars Reds prove formidable as resisters. If the Asterian starship fighter pilots are released, will they align with Phoenix or Udachny, and who will develop the right FTL technology? In this tense space adventure, Thorpe, his team, and Max the tabby cat travel to Proxima Centauri and beyond to the Aster system, 84 lightyears distant. Will Thorpe bring together humans and Asterians in their quest for intergalactic travel? Will long life prove more than mere humans can handle?
The Oort Federation: To the Stars
Word Count:

75000
Summary: She just wanted an easy case ... Private eye Jacqueline Spadros, recovering from her harrowing experiences the week prior, wants nothing more than a simple, straightforward case - preferably one the Spadros Family won't find out about. Aristocratic jewel merchant Dame Anastasia Louis, aka "The Queen of Diamonds," seems to be offering the perfect arrangement. But Jacqui can't leave the madman "Black Jack" Diamond's crimes unpunished. And the more she learns, the more she begins to believe that this particular job wasn't such a good idea after all ...
The Queen of Diamonds: Part 2 of the Red Dog Conspiracy