Word Count:

15473
Summary: Three superheroes in love! Or one superhero, one former sidekick, and one redeemed supervillain, at least... Ryan, John, and Holiday have been partners -- in every sense of the word -- for two years. They've saved the world, fallen in love, and remodeled the secret base to include bookshelves and a bigger bed. But Ryan and John have always been the public face of the team. The world still believes Holiday's a villain. And he's been using that reputation to stay undercover and share information. Tonight, though, Holiday comes home injured, and his partners aren't sure the mission's worth his life. Contains lasagna, superhero theatrics, home renovation, a thunderstorm, and very enjoyable use of superpowers in bed.
Sundown, Holiday, Beacon
Word Count:

170000
Summary: In the not so distant future…  Kiah Hasan, a young, talented computer scientist haunted by her war-torn past, is reaching for something just past the edge of theoretical possibility. Her best friend, physicist Nigel Evans, is obsessed with pushing the boundaries of space travel. And Captain Josh Walker? He's just out here for the adventure – and Kiah. Together with the crew of Trinity Station, they head toward the Kuiper Belt and disappear just as simmering political tension on Earth erupts into outright war. A hundred years later… Admiral Darren Winters leads a mission to the Kuiper Belt to find out what happened to Trinity Station. To his, and Earth's, surprise, not only have the Trinity Station scientists survived, but have reached levels of advanced technology due to the success of Dr. Hasan's AGI experiments. After shaky negotiations with Earth that ends with the birth of the new nation of Survey, Admiral Winters is offered a new position with the AI ship Musashi. His first mission is to figure out what happened to the youngest AI, Loki, whose first crew was killed in a tragic accident. With psychologist Dr. Alex Campos, they uncover a secret that could endanger the newly formed Survey nation and its AIs. Can Darren and Alex find Loki before it's too late?
Survey
Word Count:

489,500
Summary: In this Rainbow Award-winning space opera/military sci-fi series, Earth is a dead planet, dark for thousands of years; lost for so long no one even knows where the solar system is. Her last known colony, Albion, has grown to be regional galactic power in its own right. But its drive to expand and found colonies of its own has threatened an alien race, the Maess, against whom Albion is now fighting a last-ditch battle for survival in a war that's dragged on for generations. Taking Shield charts the missions and adventures of Shield Captain Bennet, scion of a prominent military family. Bennet, also an analyst with the Military Strategy Unit, uncovers crucial data about the Maess to help with the war effort. Against the demands of his family's 'triple goddess' of Duty, Honour and Service, is set Bennet's relationships with lovers and family—his difficult relationship with his long term partner, Joss;  his estrangement from his father, Caeden, the commander of Fleet's First Flotilla; and Fleet Lieutenant Flynn, who, over the course of the series, develops into Bennet's main love interest. Over the Taking Shield arc, Bennet will see the extremes to which humanity's enemies, and his own people, will go to win the war. Some days he isn't able to tell friend from foe. Some days he doubts everything, including himself, as he strives to ensure Albion's victory. And some days he isn't sure, any longer, what victory looks like.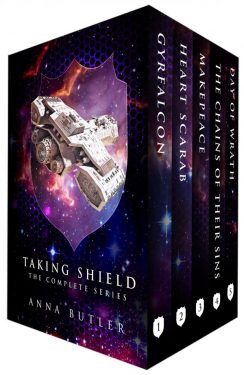 Taking Shield : The Complete Series
Word Count: Information not available
Summary: Before Ardulum, there was the Mercy's Pledge. One year after saving the Neek homeworld and redefining the people's religion, the crew of the Scarlet Lucidity returns to the Charted Systems for a much-needed break. For Nicholas and Yorden, the Systems will always be home, but for Emn and Atalant, too many memories compound with Emn's strange new illness to provide much relaxation. Tales from Ardulum continues the journey of Atalant, Emn, Yorden, Nicholas, and Salice as they try to define their place in a galaxy that no longer needs them while battling the artifacts of Ardulan colonization. Other stories include Yorden's acquisition of the Mercy's Pledge (and his grudge against the galaxy), Atalant's exile from her homeworld, Ekimet and Savath's romance, and many others.
Tales From Ardulum
Word Count:

45000
Summary: These three tales tell the story of Tharassas before the Tharassas Cycle, including the origin of the hencha queens, the ce'faine, and the colonization of the Highlands, essential companions for the four novels that make up the cycle: The Fallen Angel Charlie Fah, Cha'Fah to most of the world, has never fit in with the other citizens of Gully Town, thanks to his darker skin that sets him apart. But one day, an Angel arrives on a supply run from Earth, and what happens next sets Charlie on a new path that will turn his life upside down. The Last Run Sera is the last runner from Earth, bringing badly needed supplies to the Tharassas Colony across a twenty-five year gulf between the planets. Jas works on a hencha farm to make ends meet, harvesting berries from the semi-sentient plants. Neither one that knows their lives—and worlds—are about to change forever. The Emp Test Jey awakens to find himself in the care of a handsome stranger—a cheff from one of the mountain tribes. Afraid for his life, Jey has no choice but to let the man take care of him and his broken leg. Avain is on his Aud'ling—the coming-of-age test that requires him to spend a couple months away from his own people. The two of them will have to come to an understanding if they're going to help one another. The Last Run and The Emp Test have been published before in previous stand-alone editions, but The Fallen Angel is a new story written exclusively for this collection.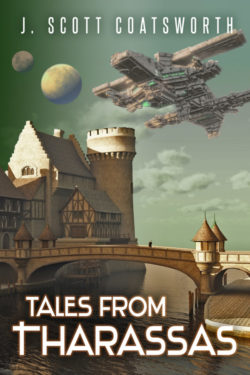 Tales From Tharassas
Word Count: Information not available
Summary: Discover ten planets, joined through music-based magic and an immense sentient crystal. This anthology contains ten stories from the popular Dissolutionverse universe! Journey with a new majus as he investigates the Pixie homeworld and tries to avert a war. Learn how to change the Symphony during a search for a majus' lost brother. Find a new relationship on an island at war! Travel with merchants in an old war train transporting suspicious cargo. Fly with the first majus in space! Discover the food and culture of the ten species. Uncover what lurks in the basement of the House of Potential. Investigate magic, mystery and murder when a miscreant attacks the secret Society of Two Houses! Confront other-dimensional entities alongside an ancient being. Climb to the top of a miles-high wall with a crew riding a giant steampunk beetle! If you like space opera, fast-paced adventure, music-based magic, and complex, diverse characters, then you'll love this collection of stories from William C. Tracy's Dissolutionverse. Pick up Tales of the Dissolutionverse to discover the music today! There's more adventure in The Dissolution Cycle (Epic Space Opera, LGBT): Book 1: The Seeds of Dissolution Book 2: Facets of the Nether Book 3: Fall of the Imperium Book 4: Tales of the Dissolutionverse
Tales of the Dissolutionverse
Word Count:

45000
Summary: Tangents & Tachyons is Scott's second anthology - six sci fi and sci-fantasy shorts that run the gamut from time travel to hopepunk and retro spec fic: Eventide: Tanner Black awakes to find himself in his own study, staring out the window at the end of the Universe. But who brought him there, and why? Chinatown: Deryn lives in an old San Francisco department store with his girlfriend Gracie, and scrapes by with his talent as a dreamcaster for the Chinese overlords. But what if a dream could change the world? Across the Transom: What if someone or something took over your body on an urgent mission to save your world? Pareidolia: Simon's not like other college kids. His mind can rearrange random patterns to reveal the images lurking inside. But where did his strange gift come from? And what if there are others like him out there too? Lamplighter: Fen has a crush on his friend Lewin, who's in a competing guild. But when the world goes dark, only a little illumination can save it. And only Fen, Lewin and their friend Alissa can light the spark. A Liminal Sky short. Prolepsis: Sean is the closeted twenty-five-year-old editor of an 80's sci-fi 'zine called Prolepsis. When an unabashedly queer story arrives from a mysterious writer, it blows open Sean's closet door, and offers him the chance to change the world - and the future. Plus two flash fiction stories – The System and The Frog Prince, never before published. This is the first time all of these stories have all been collected in one place.
Tangents & Tachyons
Word Count:

75000
Summary: The one secret which could destroy everything ... After financial disaster and the zeppelin bombing, the city of Bridges is reeling. Three of the four Families are implicated, and an inquest is called to investigate. After her failure to prove Jack Diamond's guilt in David Bryce's kidnapping and the deaths of her friends, private eye and mobster's moll Jacqueline Spadros has had enough. While she and her former lover Joseph Kerr try to learn who killed their family friend, they also begin making plans to leave the city. But the secrets Jacqui has kept over the years are coming back to cause her serious trouble. Will she be able to escape Bridges? Or will she be forced to face the terrible consequences of her lies and trickery once and for all?
The Ace of Clubs: Part 3 of the Red Dog Conspiracy
Word Count: Information not available
Summary: The emperor of the galaxy has fallen, leaving his exiled daughter to pick up the pieces. The once-idyllic Andlios Republic has fallen into chaos after the passing of Emperor Freeman. His son, Cronus, a madman bent on total control of the galaxy, rules in his stead. Adrift on the fringes of republic space, Katrijn Freeman must return home and fulfill her father's dying wish: restore democracy to their fractured republic. There are more forces in play, though. Another princess with a claim to the throne and the Earth Ministry on the other side of the galaxy, bent on domination. It's a race to restore order as Katrijn must traverse the cosmos with her closest allies, caught between humanity's two great civilizations. All while Katrijn and her friends explore their own humanity, trying to avoid repeating the same mistakes that have led to much suffering. It's a space adventure for the ages. This bundle includes: Cydonia Rising Ganymede's Gate Monolith's End
The Andlios Collection: Books One - Three
Word Count:

45500
Summary: Brave paladin. Royal princess. Fierce dragon. Simple. Being all three at once? Way too complicated. Paladin Snillek's mother was human and ruled a planet. That's about the extent of her knowledge since they didn't see each other much. When her mom dies in a freak accident, her father tells Snillek she's inherited the title, and she has to learn how to pass as the mostly human Princess Siel for a planet she never thought about much. The dresses alone are horrifying and the courtiers aggravating. ​ In a moment of frustrated rage, Snillek's princess persona slips and frightened palace staff misinterpret what they see. Now Paladin Snillek has been called upon to rescue Princess Siel…from herself. Gruyere wants desperately to journey into the wilds of Tarribotia, but it's too dangerous to go alone and so far, everyone's laughed at her for suggesting it. When she spots a Dzedek paladin sulking in a tavern, she offers her services, hoping to pass herself off as a rogue guide. Two women with secrets and possibly opposing goals head out into the hinterlands of a planet neither one of them knows well. They might both make it back by Winterfest if nothing eats them first. This book contains one out-of-her-element paladin, the perils of academia, deadly cake, and unconventional dragons.
The Anti-Quest
Word Count: Information not available
Summary: Reclaiming Earth from the Zhen was only the first battle. Now Tajen Hunt and his fellow colonists must fight for their fledgling colony's survival. Tajen's mission to seek aid from the Kelvaki Assembly is cut short when the Zhen invade Earth. Now he, Liam, and Kiri must return to Earth and liberate the colony from brutal occupation.  When Tajen learns the Zhen plan to destroy a human fleet amassing in preparation to help Earth, he and his crew must escape the planet once more and warn them.
The Blood-Dimmed Tide
Word Count:

44366
Summary: The Brimstone. Cargo ship, hive of thievery and profiteering. Captained by a demon prince and manned by a crew that puts any batch of misfits to shame. You've come along with a cargo of anti-gravity cows and one of jeweled-toned potatoes. You've shared the horrors of frogs and nightmares. Now share some, more or less, quieter moments with the Brimstone crew—small snippets plucked from various spots in each personal timeline, from Shax and Verin's childhood in Hell to after the events of Beside a Black Tarn. The Brimstone Journals, Collection One also includes an exclusive holiday short story, never published as part of the blog series. Shax would probably like to keep it that way, but too bad.
The Brimstone Journals: Collection One
Word Count:

59337
Summary: The Brimstone. Demon owned and—mostly—demon operated. Shax, an exiled prince of Hell, has gathered only the best misfits for his motley crew. You've been with us from the rescue of a runaway angel in a psychedelic nightmare jungle to the house that Poe built. Now share some in-between moments with the Brimstone crew – flash fiction snippets plucked from various spots in each personal timeline, from Shax and Verin's youth in Hell to after the events of Beside a Black Tarn. The Brimstone Journals, Collection Two also includes an exclusive short story, never published as part of the blog series. Leopold meets his formidable grandmama, much to his father's dismay.
The Brimstone Journals: Collection Two
Word Count:

55,000
Summary: Welcome back to Charybdis Station and the crew of the Blue Solace: (Sixth Book in the series) Draif Ando started life as a slave on Vextonar. When he was fifteen, he met his best friend, Leti Ando, and life got a lot better. Now he's a Charybdis Station captain and works closely with the Lord Admiral of the Station. He is a free man, finally has a purpose of his own, and has the the best lieutenant in the galaxy by his side. If he's so content, why does he yearn for more, and why is he suddenly picturing children with his eyes and Lucas' ears and tail? Lucas Meluth knew that Draif was his life mate from the moment they met. He also knew that Draif was demisexual and wasn't attracted to Lucas. Not at first. Now, Lucas notices the way Draif's eyes follow him and the way Draif's innocent touches are suddenly not so innocent. Has the time come for their friendship to turn into more? Draif and Lucas may finally be figuring their relationship out, but their enemies are approaching and it's time to protect Charybdis Station and rid the galaxy of Humans First, once and for all.
The Captain's Mate
Word Count:

117000
Summary: You can choose your friends, but you can't choose your family… Quirk and Moth have avoided killing each other long enough to solve another case. They decide on a local job next, and take up the search for a missing scientist. How could Quirk know this new mystery put them on a headlong collision course with his troubled past, a plethora of personal issues, and a hoard of genetic hybrid creatures with an appetite for anything that moves? When their client dies in mysterious circumstances, law enforcement pursues the dysfunctional duo all the way to a research lab in frozen Yellowknife. Can Quirk and Moth find the scientist before they are banged up for murder, or has she already been eaten? Is it coincidence Quirk's father-in-law bought the company? Can they expose the shadow from Quirk's past and clear their names? Quirk and Moth need time, but it's fast running out, and the bodies are piling up. Find out what happens in The Carborundum Conundrum!
The Carborundum Conundrum
Word Count:

97,600
Summary: **First Place Winner 2017 Rainbow Awards: Best Gay Sci-fi//Futuristic. ** **Third Place Winner 2017 Rainbow Awards: Best Gay Book.** Shield Captain Bennet arrives on the Gyrfalcon to take up his final year's posting before returning to the Shield Regiment after his rotation out. On Gyrfalcon he faces up to the fallout from Makepeace—ethical, political and above all, personal. Will he be able to accept necessity: that knowing what the Maess are up to outweighs the humanitarian issues surrounding the prisoners he rescued from Makepeace? Can he ride out the political furore that follows the loss of the dreadnought Caliban? How will he cope with an entire year of serving under his father, Caeden? And worst of all, how in the name of every god in the Pantheon can he stand to see Flynn every single day, with the Fraternisation Regs standing between them and keeping them apart? It will be an interesting year. Bennet can hardly wait for it to be over. Of course, things never really do go to plan…
The Chains of Their Sins
Word Count:

120000
Summary: A circus takes down a crimeboss on the galaxy's infamous pleasure moon. Hunted by those who want to study his gravity powers, Jes makes his way to the best place for a mixed-species fugitive to blend in: the pleasure moon. Here, everyone just wants to be lost in the party. It doesn't take long for him to catch the attention of the crime boss who owns the resort-casino where he lands a circus job. When the boss gets wind of the bounty on Jes' head, he makes an offer: do anything and everything asked of him, or face vivisection. With no other options, Jes fulfills the requests: espionage, torture, demolition. But when the boss sets the circus up to take the fall for his about-to-get-busted narcotics operation, Jes and his friends decide to bring the mobster down together. And if Jes can also avoid going back to being the prize subject of a scientist who can't wait to dissect him? Even better.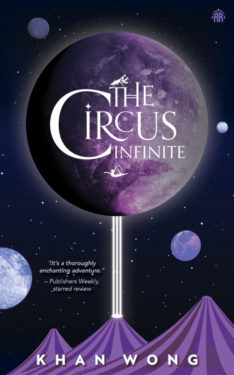 The Circus Infinite
Word Count:

7150
Summary: In a four-gendered world where correct gender identity is law, Venk struggles with his inability to choose one sexual orientation over another. His body has matured, but he still shows the multi-colored crest of a juvenile, someone who has not yet presented proper orientation. With his family losing patience and others beginning to whisper, Venk must find a way to change his crest or be labeled an aberration. But the only choice he sees is a dishonest one.
The Color of His Crest
Word Count:

88046
Summary: Dr. Nicholson may be the Man in White who inspires fear in his underlings, but when the lab coat comes off, he's just a man. Meeting Dr. Aaron Spencer at a medical convention sparks an interest he thought was long gone. His heart wants to thaw, but to be the Man in White, he needs to stay, calm, cool, and collected. Memories stir of a time when science ruled the day, but his heart was still capable of being destroyed. Aaron is bringing him back to life, but he's still consumed by the need to possess the source. Aaron has secrets of his own. Claudia Belle is caught between her connections. She has no control around Quentin, but she's chosen to give her heart to John Slater. Quentin isn't going to let John stand in his way, but when danger strikes Claudia, an uncomfortable alliance will have to form to keep her safe. John Slater is ready to give up everything he's ever wanted for Claudia. A surprise visit from Dr. Nicholson leaves him feeling betrayed by Joseph, who is feeling guilty himself. With the Man in White sniffing around, John and Joseph must work together to keep Claudia safe from The Company. Joseph knows his time with John is coming to an end. One way or another, their relationship will be irrevocable severed after graduation. Either John will be forced to return to The Company's training facility and undergo confinement, or Joseph will have to let John go in a more permanent way. John doesn't want to forget Milton or Claudia, so there's only one real choice. Can John and Joseph pull off the escape plan under the watchful eye of the director?
The Director
Word Count:

93700
Summary: Raven's a thief who just swallowed a dragon. A small one, sure, but now his arms are growing scales, the local wildlife is acting up, and his snarky AI familiar is no help whatsoever. Raven's best friend Aik is a guardsman carrying a torch for the thief. A pickpocket and a guard? Never going to happen. And Aik's ex-fiancé Silya, an initiate priestess in a magical crisis, hates Raven with the heat of a thousand suns. This unlikely team must work together to face strange beasts, alien artifacts, and a world-altering threat. If they don't figure out what to do soon, it might just be the end of everything. Things are about to get messy.
The Dragon Eater